WISCONSIN DELLS – The Dells are a funny place to take a teenager who would rather be Snapchatting than seeing the world through her own eyes.
If you do it right, however, you can merge those two into one. Because, as the kids say, the Dells' aesthetic is perfect for sharing, as I witnessed by my daughter's 10 million selfies she sent to friends this week.
Much has been written on OnMilwaukee about Wisconsin Dells' spectacular natural landmarks and outdoor activities, and personally I love them. But when it comes to entertaining an almost 14-year-old girl with her dad after a jam-packed summer, you might have to think a little outside the box.
There's so much to experience, that even if you brought your daughter here several times throughout her childhood as I have, memories fade and you can score parental points by repeating old favorites and finding new ones that are more suited to "big kids" instead of "little kids."
However you do it, you can easily spend a bunch of time and money in this uniquely Wisconsin destination. Or, you can travel as we did: pack a bunch of fun into just 24 hours, one more quick getaway before school starts.
Whether your jam is lazy river or actual river, the Dells remain an extremely accessible vacation less than two hours from Milwaukee. Still, if you're tasked with finding the right activities for an incoming eighth grader who isn't as dazzled by waterslides as she once was, read on and soak up the end of the summer like we did.
Home base and hot tubs
Speaking of water parks, they really are hard to beat when it comes to choosing your hotel for the ultimate Dells experience. Our friends at the Wisconsin Dells Visitor and Convention Bureau set up this trip for us, selecting the Wilderness Resort as our home base. While they offered a bunch of ideas for us to explore, we deliberately kept it loose, so we could see which way the wind took us.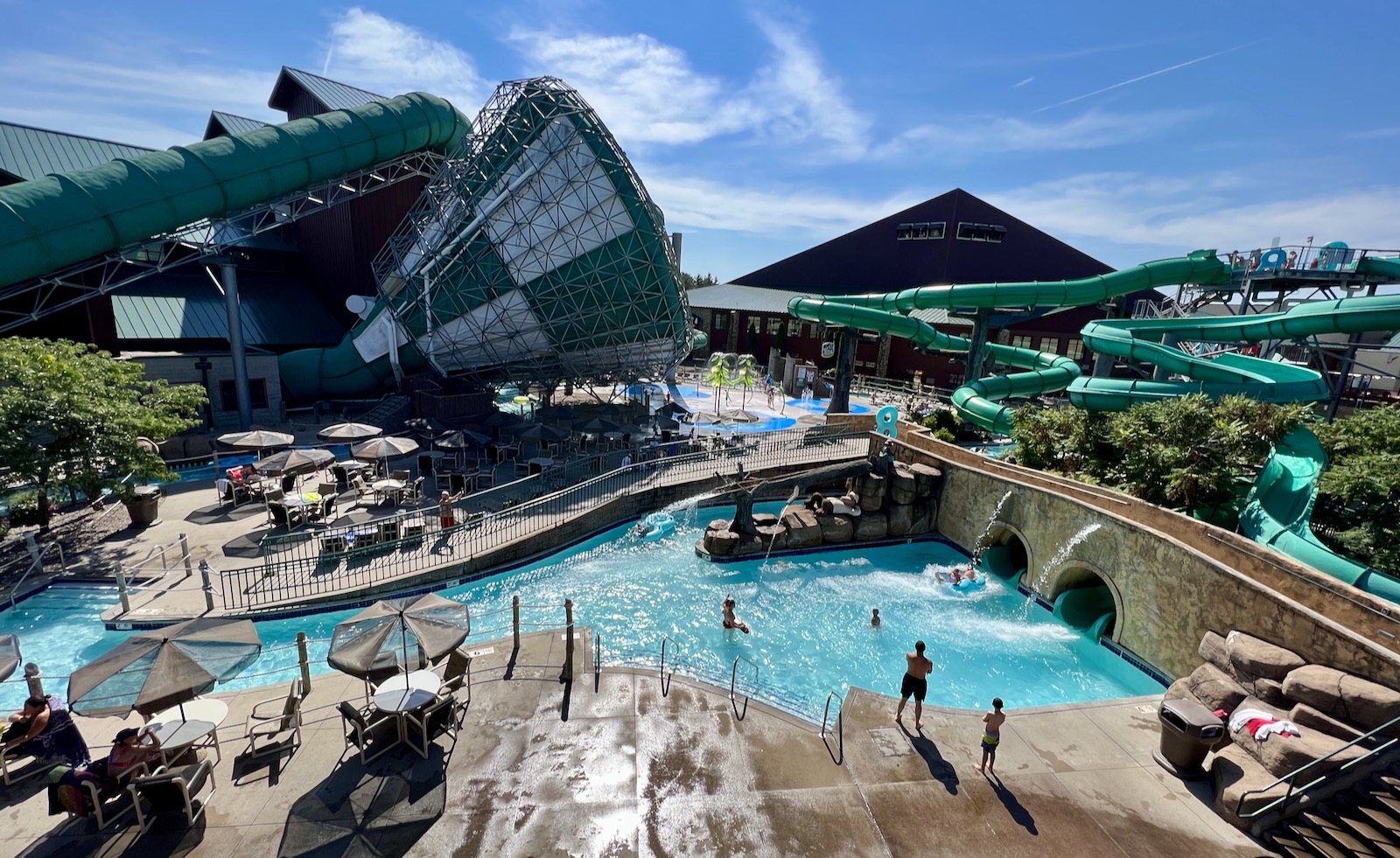 We've stayed at Wilderness before, but it's been a long time, and I can report that the experience is greatly improved. While the sprawling campus of indoor and outdoor waterparks was never in question, the rooms (ours, anyway) are now much fresher and more posh. A decade ago, the property felt a little dated even for its time. Now, the double suite with a pool view is clean and modern – the nicest resort I've personally stayed at in my handful of visits to the Dells.
Add in attractions like the Take Flight Aerial Adventure Ride – an immersive IMAX-like "airplane" ride over scenic views of America, complete with little mists of water when your "plane" swoops down on lakes and rivers – and there's too much to try at the Wilderness in just 24 hours … unless you never leave the resort. Which you could easily do and still have a great trip.
But for my teen, the thrill of waterslides has passed – though hopefully not forever – so she got the biggest kicks from the lazy river, the wave pool and the hot tubs. She's a chip off the old block; this dad could've stayed with that plan indefinitely.
Alas, we had more to explore.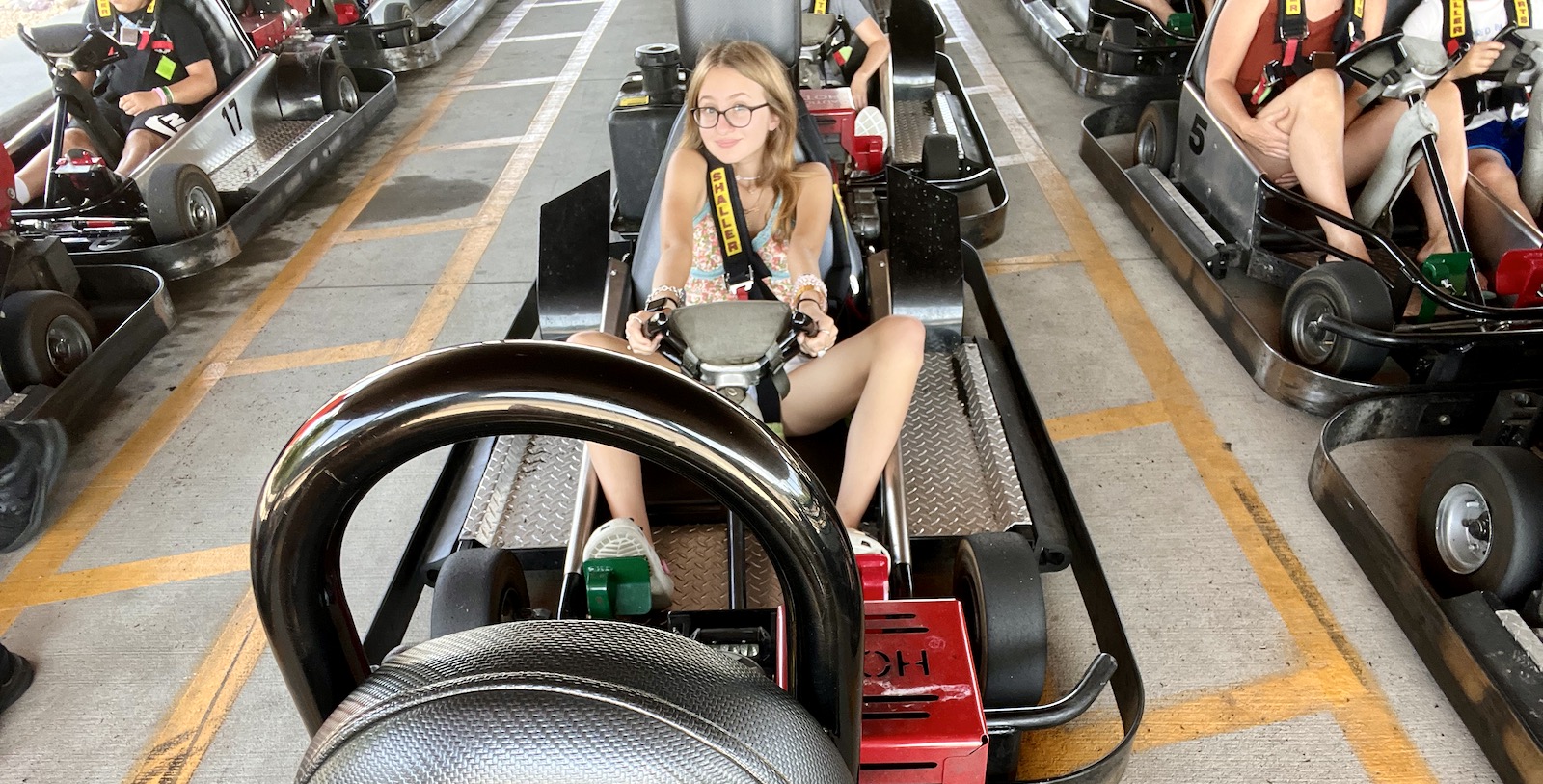 Of course, we rode go-karts and wandered around the gigantic property, but our highlight at Wilderness was most definitely the Canyon Zip Line tour.
Mara had zip lined at camp, and I tried it once in Door County, but the Wilderness' offering was higher and longer than what either of us have done.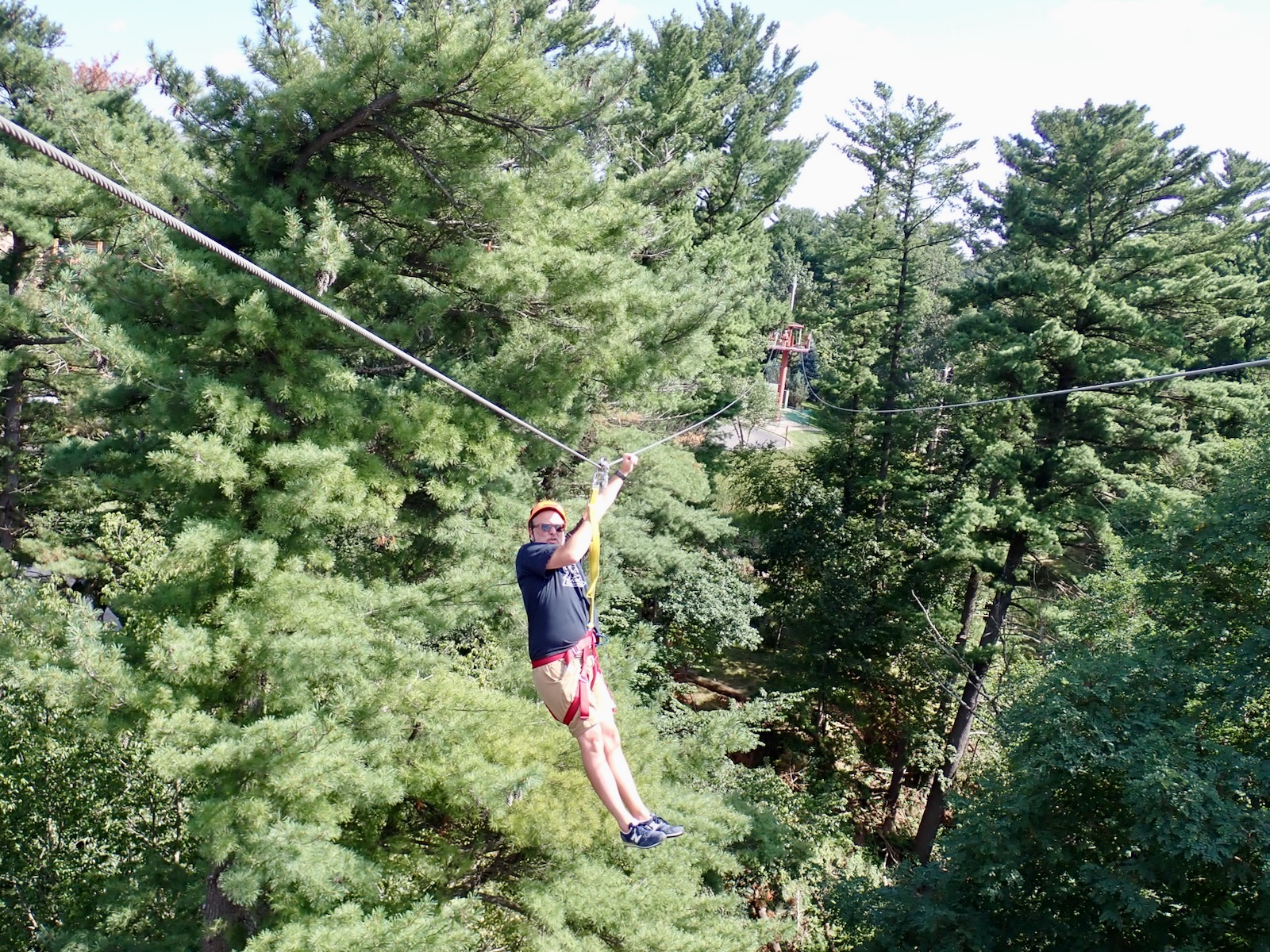 If you've never zip lined, it can be a little scary, but the two-person team of guides had us fully covered, and we felt safe throughout. With six towers and five "zips," we found ourselves soaring some 60 feet in the air at speeds up to 25 miles per hour. It was less than an hour of total zipping, but it felt very thrilling and just the right length. You can take your own pictures on the tour, but you'd be insane to hold your phone as you glide over the canyon floor – so yes, we sprung for a few digital prints taken by our guides to capture these memories forever.
Contrast and exposure
Speaking of photos, two bookending memories stood out on our getaway. Our first night included one of the silliest photographic adventures I've ever done – the Totally 80s photo experience. And the next morning, we went in a completely different direction with the educational and artistic tintype portrait shoot at the H.H. Bennett Studio.
I cannot more highly recommend the '80s photo shoot that we gobbled up on Tuesday night. In essence, you choose an outfit from their wardrobe collection of extremely ridiculous period pieces that oddly didn't feel quite as ridiculous when I was a teenager in that decade. Add accessories, sunglasses, leg warmers, glam makeup, you name it – the more outrageous the better.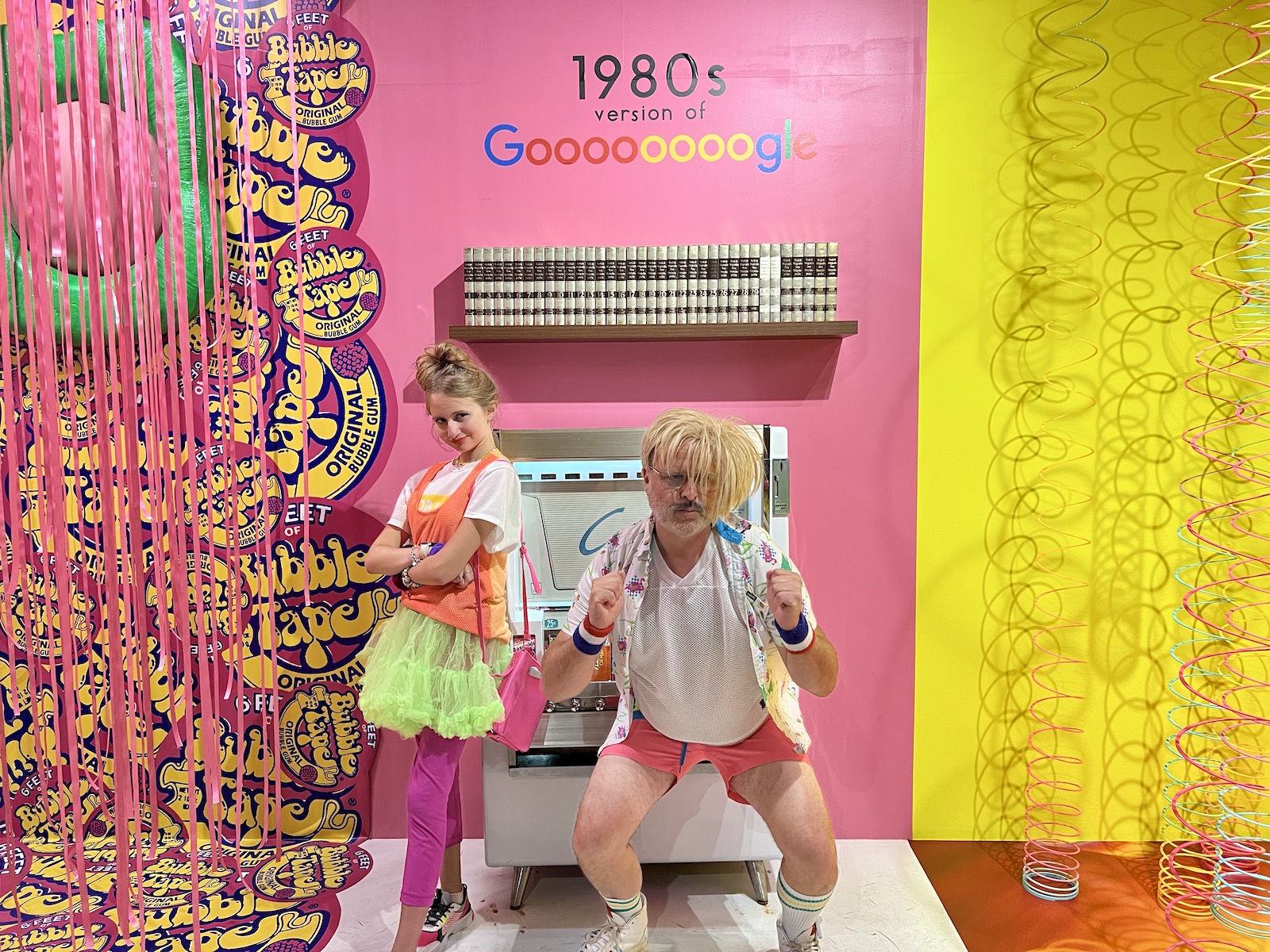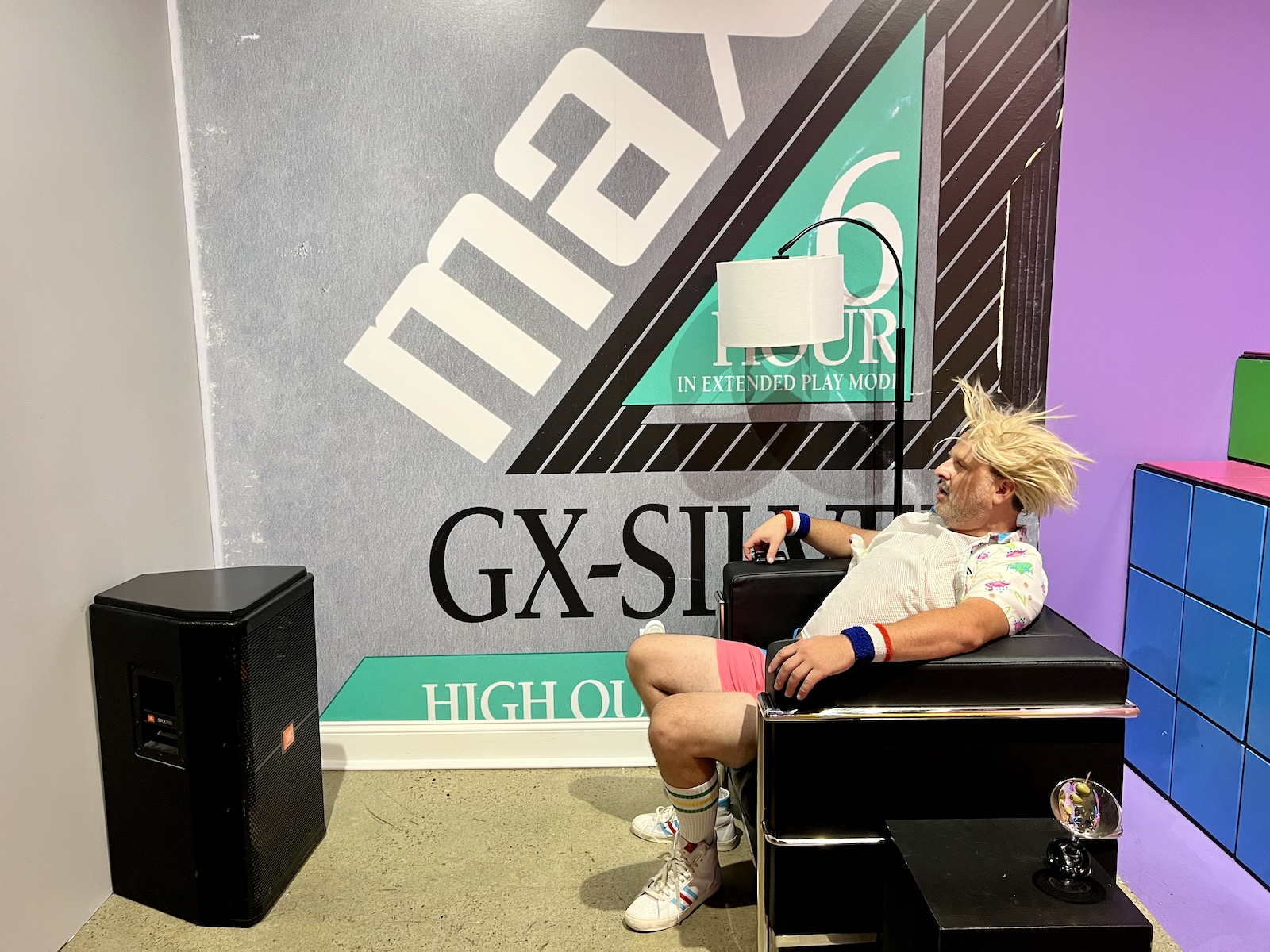 My daughter went with a Valley Girl look, while I opted for a hodgepodge of very short neon shorts, a mesh tank top, wig and hightops. Mara looked like a cute middle schooler from 1987. I looked like a tubby 48-year-old Euro-trash man child who found himself time-traveling into a Duran Duran video after too chugging too much Bartles & Jaymes wine coolers.
But the best part was what transpired after we picked our getups. In four rooms, this studio has painstakingly recreated a bunch of iconic '80s scenes, and you're encouraged to go wild with your camera (they even lent us a tripod so we could shoot photos together). You're on your own as you wander from the Miami Vice Ferrari to the E.T. bicycle scene to the set of Super Mario Brothers, and my favorite: Ferris Bueller's bedroom. The stage is set for hilarity to the max. We could've lingered around this place for hours, and we now have hundreds of bizarre and hilarious (and for me, very unflattering) photos and videos to treasure.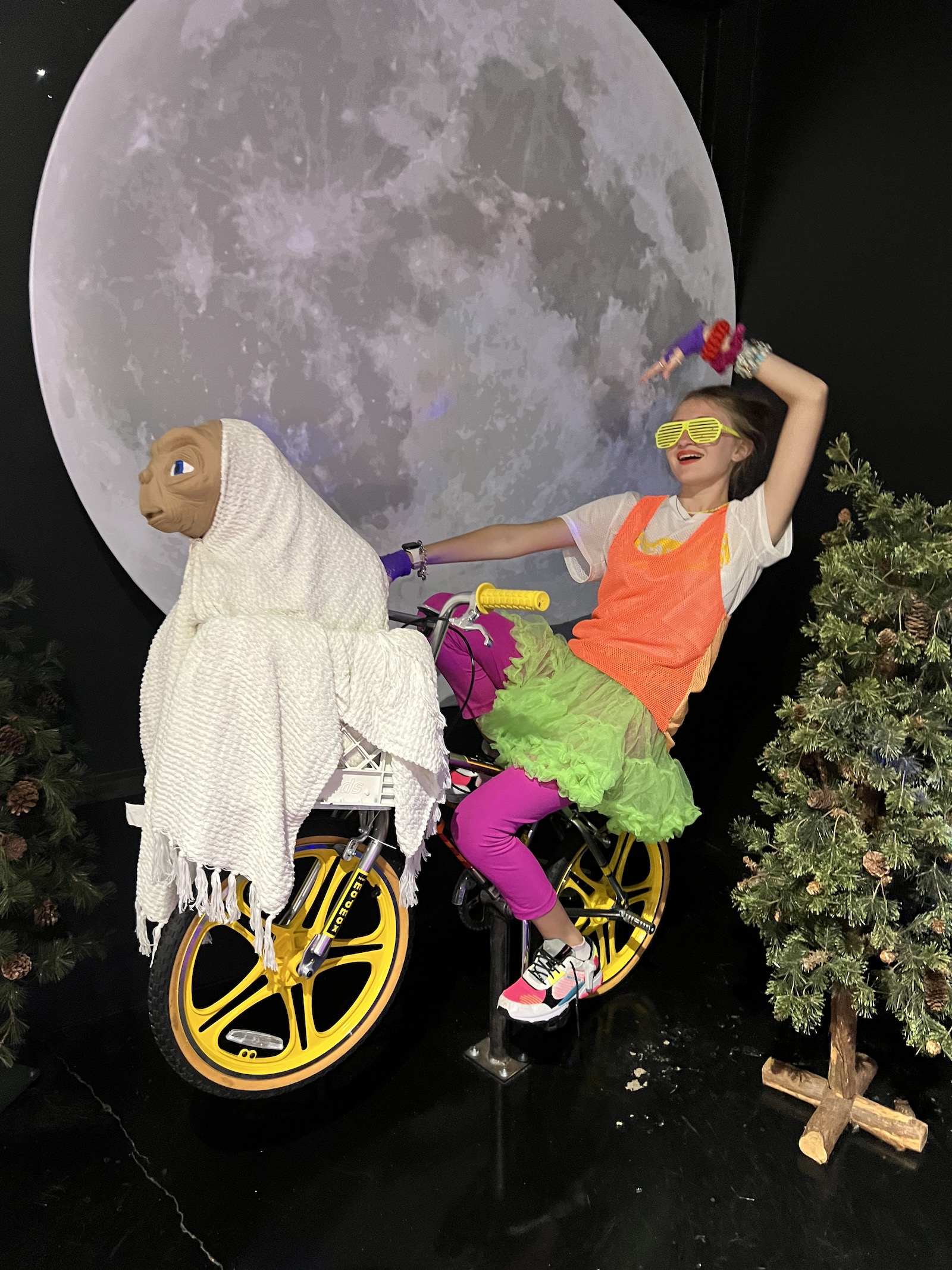 On the other end of the photographic spectrum is the H.H. Bennett Studio and photographic museum. This is no kitschy old-timey sepia tourist trap: the studio is an original tintype office, and pictures here are produced exactly like they were in 1875, when Henry Hamilton Bennett, one of Wisconsin's most famous photographers, set up shop.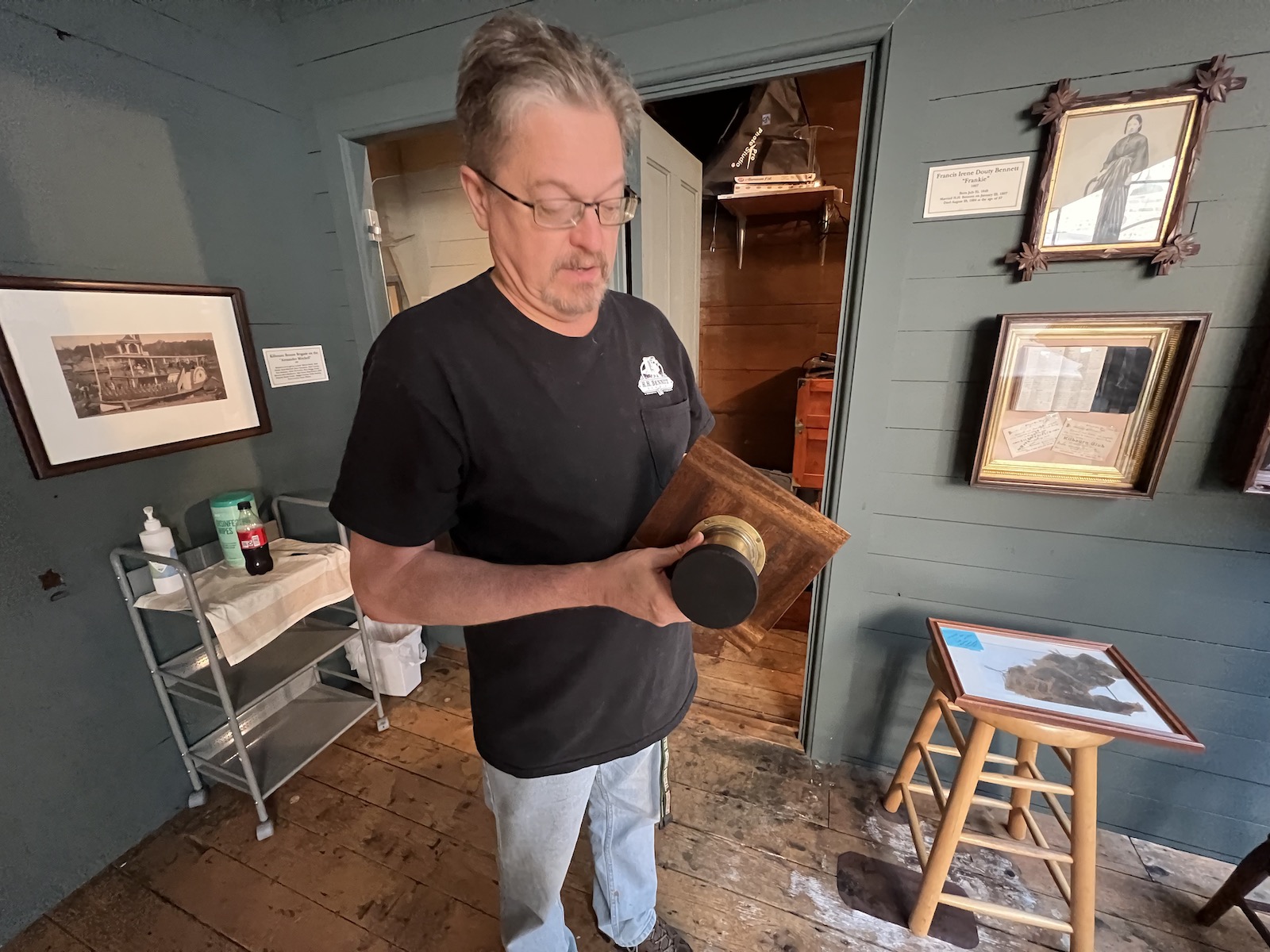 This isn't the only place in Wisconsin you can get a tintype photo printed on metal – I had one taken in Milwaukee some time ago – but to do so while watching and learning about the meticulous process and chemicals involved (there's ether!), and doing so in the actual studio used 150 years ago, was a real treat. On top of that, there's a cool museum dedicated to the history of photography. The juxtaposition of a throwback-analog '80s fever dream and the rarest of antique cameras shooting eerie photos on metal plates – both documented on my iPhone in 4K video – was not lost on me.
The clock on our trip was ticking, however, so we had to keep it moving. My teen wanted to check out the Outlets at the Dells for back-to-school sales, and so we did. I've always enjoyed this semi-outdoor mall, because it has the only Levi's outlet store in the state. Mara was particularly thrilled by the Crocs store, because it had the "best" Jibbetz for trading, whatever the hell that means.
Two huge meals
Of course, we had to squeeze in a few meals, too, so we hit up Moosejaw Pizza & Dells Brewing Co. for dinner. Mara didn't remember visiting there as a toddler, so hey, it was new to her, and despite how slammed it was, the deep-dish pizza was really great.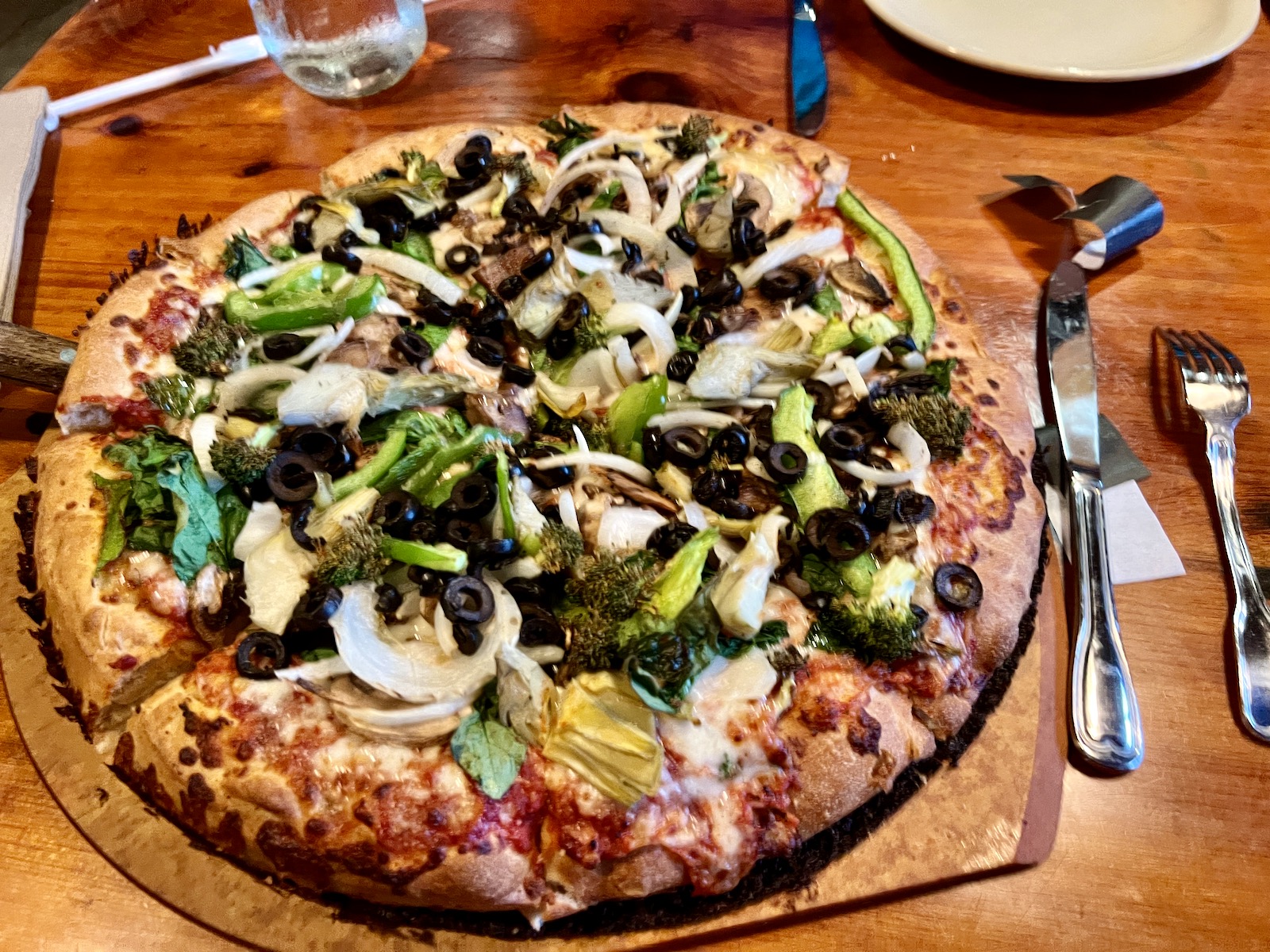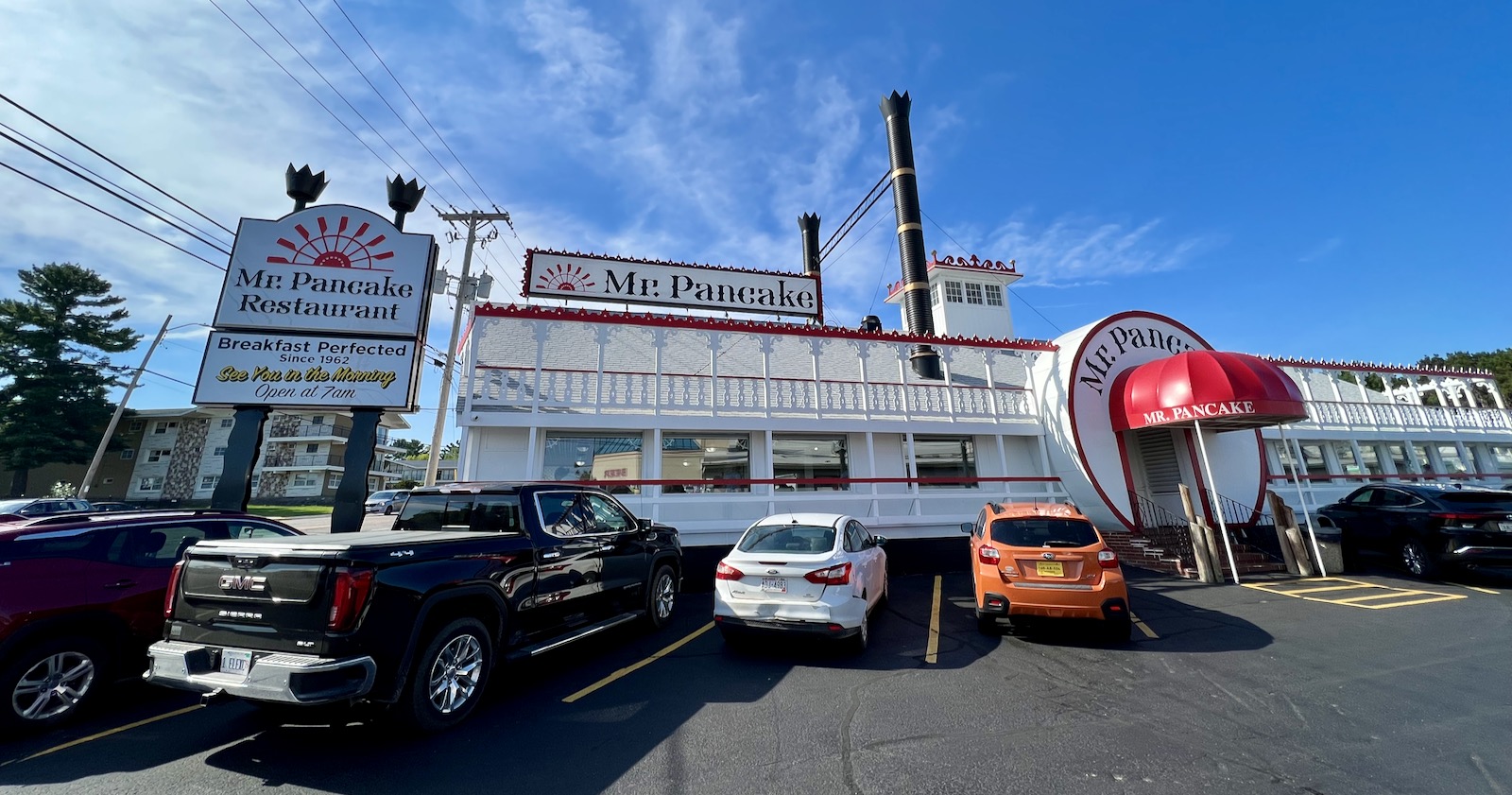 And for breakfast, we returned to Mr. Pancake, a Tarnoff family favorite. My amazing blueberry pancakes and Mara's chocolate chip ones stuffed us until we got home, a mere two hours away.
I mean, we still found room for candy and ice cream from the delightfully vintage Goody Goody Gum Drop, because YOLO, I guess.
Why go now?
No, a mere 24 hours isn't really enough time to visit the Dells, and we left lots on the table – although this was hardly our first rodeo here. Hitting this spot at the very end of the summer is especially nice, though, because the weather is still great and the crowds are pretty small.
But because I'm such a great dad, I wanted to pack in a few "work" trips with my kid before school started. The week prior we visited Door County, and Mara had already proclaimed her preference of the peninsula over the Wisconsin Dells.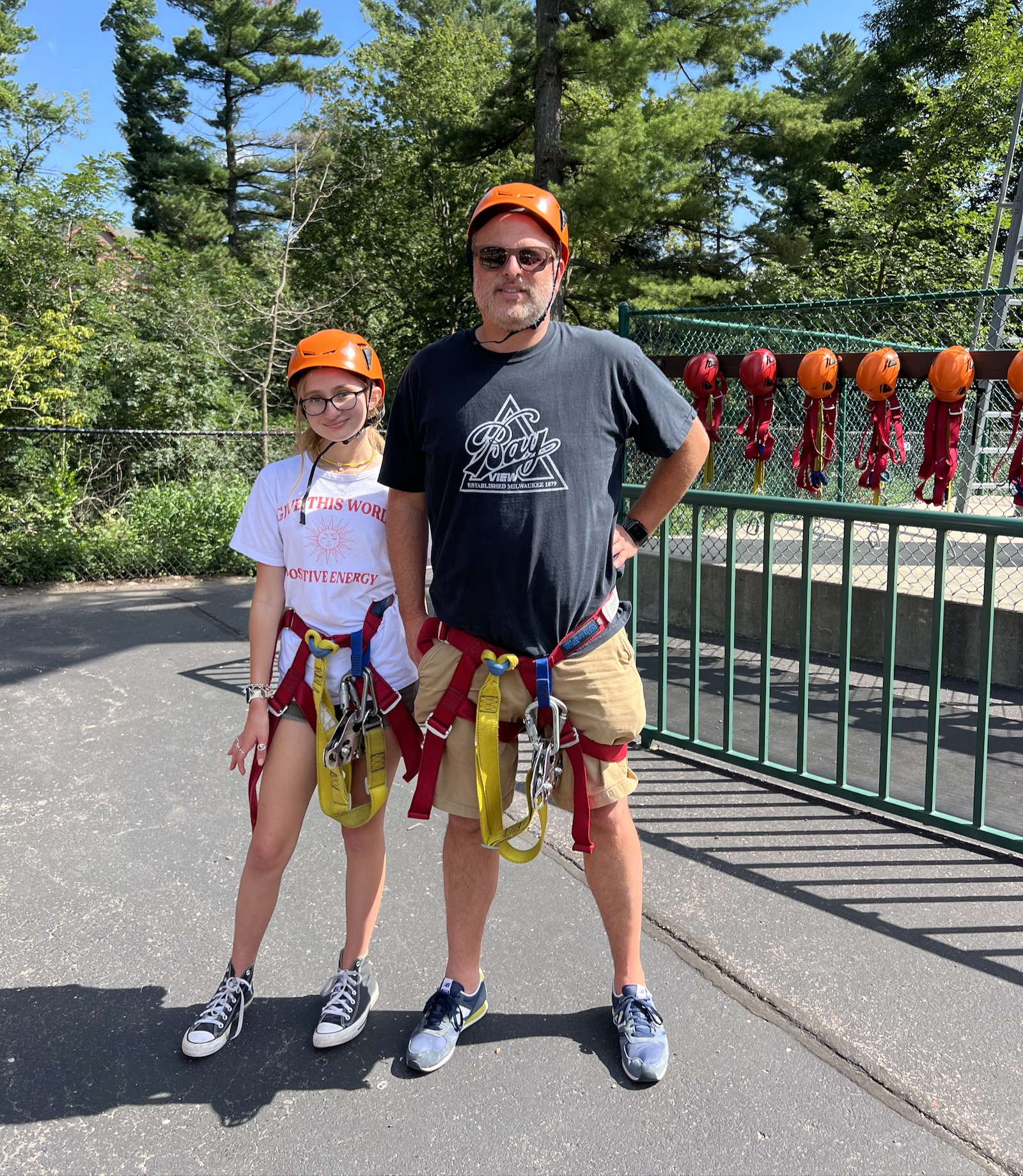 Moody as eighth graders may be, however, even this kid with sky-high expectations had to concede that we had a ton of fun – and the Dells from her early childhood has plenty in store for her as she gets older, too.
Even on a mini trip that was devoid of Wisconsin Dells' natural splendor, there's plenty to do here to make it a different vacation, every time, at every age.
Andy is the president, publisher and founder of OnMilwaukee. He returned to Milwaukee in 1996 after living on the East Coast for nine years, where he wrote for The Dallas Morning News Washington Bureau and worked in the White House Office of Communications. He was also Associate Editor of The GW Hatchet, his college newspaper at The George Washington University.
Before launching OnMilwaukee.com in 1998 at age 23, he worked in public relations for two Milwaukee firms, most of the time daydreaming about starting his own publication.
Hobbies include running when he finds the time, fixing the rust on his '75 MGB, mowing the lawn at his cottage in the Northwoods, and making an annual pilgrimage to Phoenix for Brewers Spring Training.