This article created in collaboration with Elkhart Lake.
There are no tides on beautiful Elkhart Lake, but you'd be forgiven for thinking otherwise.
"The 'rising tide lifts all boats' (idea)," says the visitors bureau's Kathleen Eickhoff, "here it's a real thing."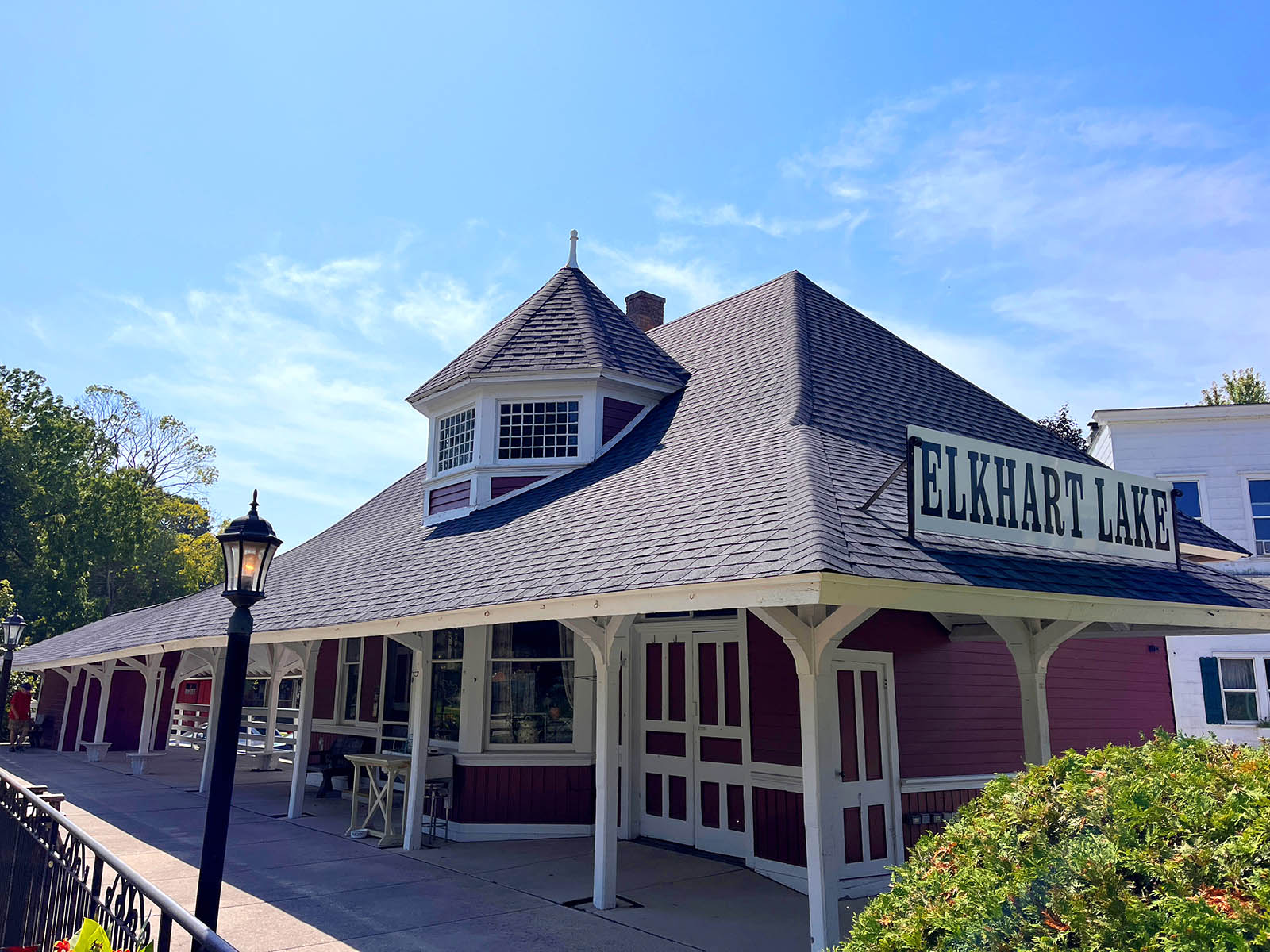 Restaurateur Lynn Shovan, seated with us on the patio of her long-lived Lake Street Cafe, nods in agreement.
I hear the same from quite literally every business owner I talk to in Elkhart Lake. It's almost as if they've rehearsed a script.
But no, later that evening, when I dine at the respected Paddock Club, who's sitting at the bar, enjoying dinner with family? Lynn Shovan, who also partners with a couple entrepreneurs on Amasa, a Mexican food truck in a space next to her restaurant.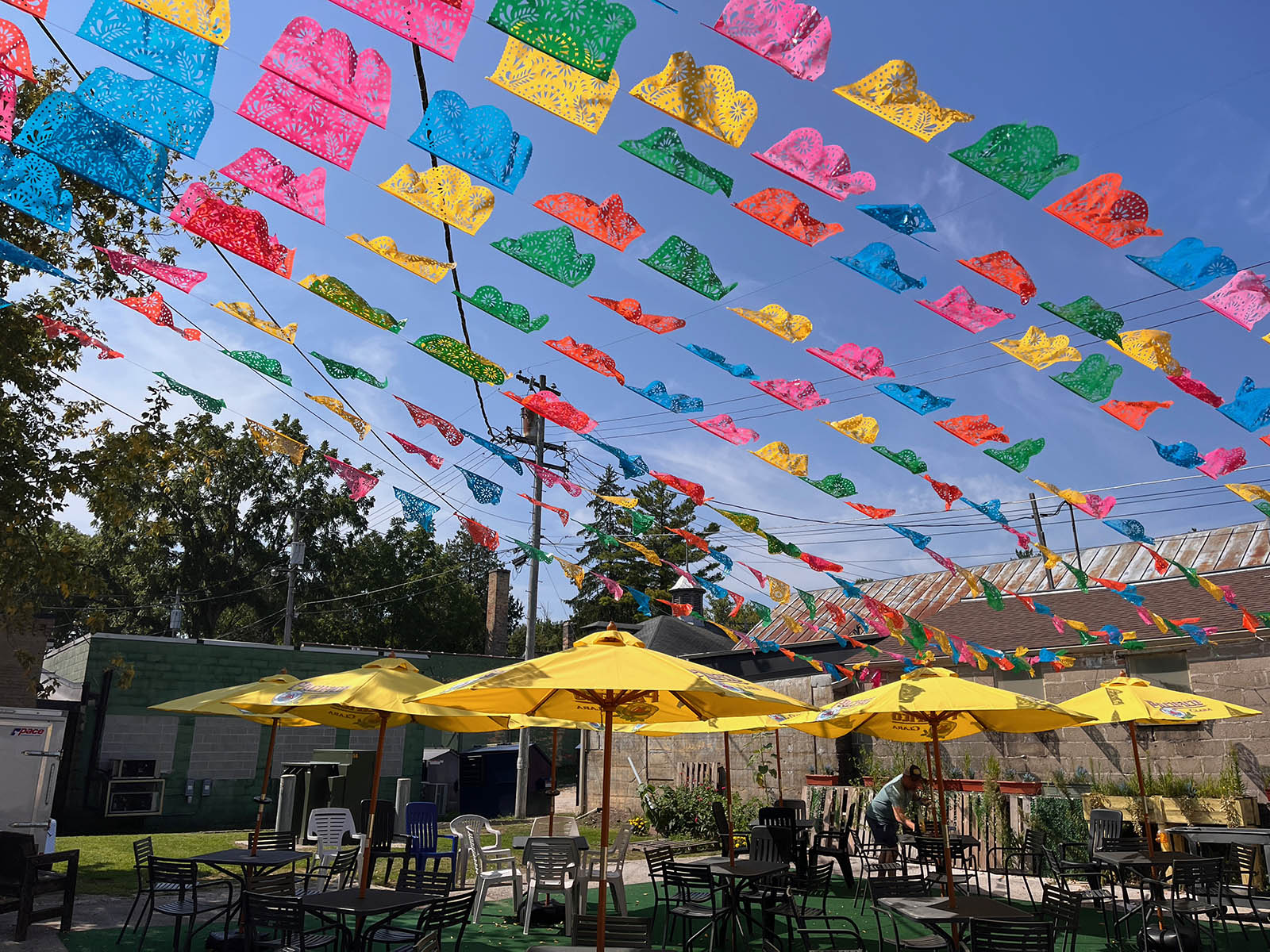 At SwitchGear Brewing, located in the village's old trackside feed mill, owner and brewer Dustin Dutter tells me pretty much every restaurant, bar and hotel in town stocks his beer.
Across the street at Vintage Elkhart Lake wine shop, owner Jaclyn Stuart says she's collaborated with area restaurants – which, it should be noted, sell their own wine and could view her as competition – on wine dinners.
At Off The Rail, occupying an 1871 train depot later converted to feed mill use, owner Daniel Sadiq praises the food at the Paddock Club (as does, again, everyone I talk to).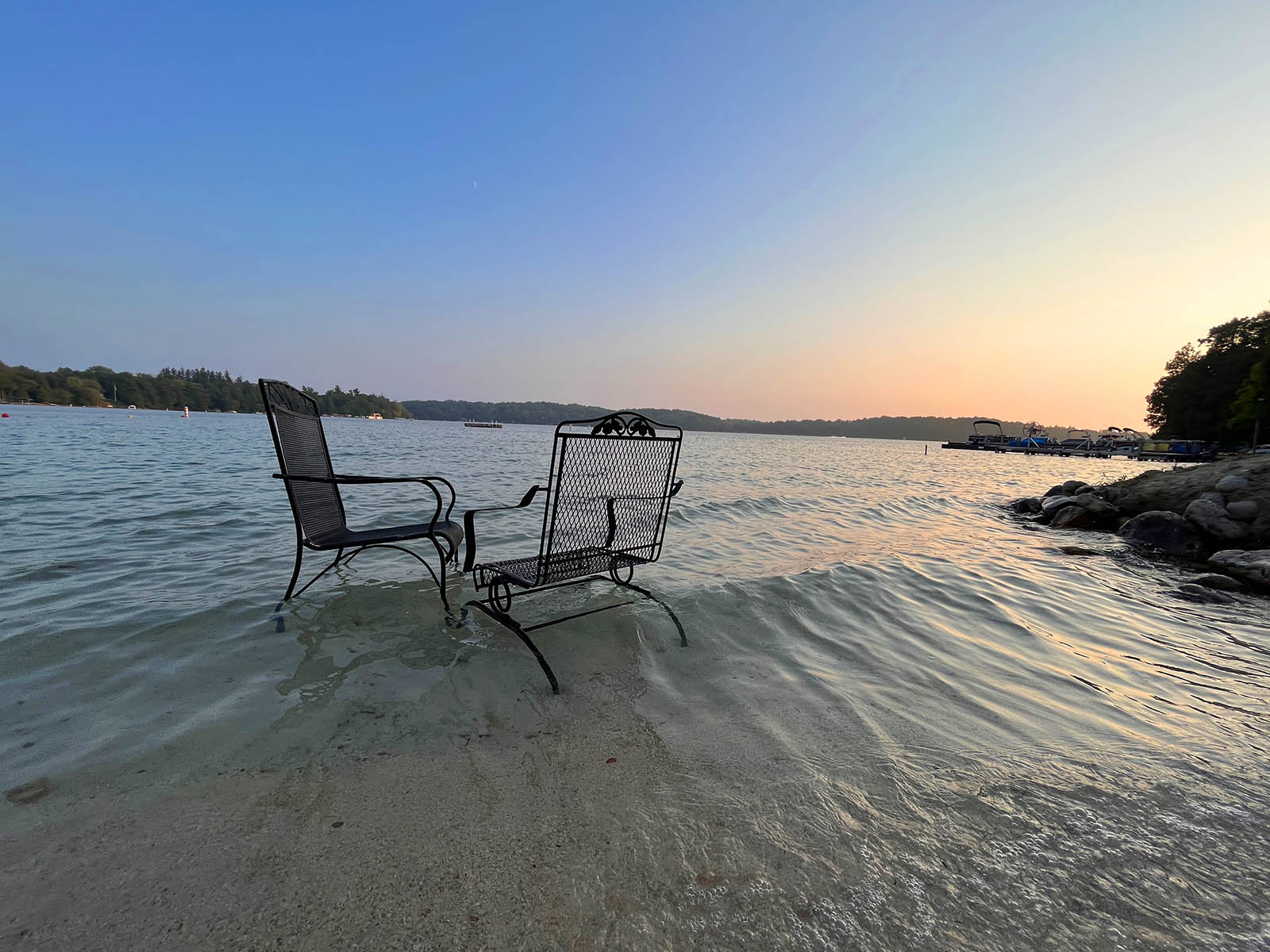 Elkhart Lake walks the walk.
Really, it makes sense. There's plenty of natural beauty on the lake to go around. There is a trio of lakeside resorts that offer amenities and views galore. There is a wide variety of activities, not least of which is a famous, world-class auto racing facility less than two miles from the public beach.
And, let's be honest, how many towns can say every restaurant in town is a great one?
When Harry's Pizza of Sheboygan opened a new restaurant just steps away from all the others, the town's restaurateurs did not grouse or grumble. Instead, they went to the soft opening and raved about the experience.
The Paddock Club posted about its new "competitor" across the street on Facebook, writing, "They are open ... help us in welcoming our new neighbors."
And on Harry's opening night, all these restaurants were booming.
Welcome to Elkhart Lake, just an hour's drive from Milwaukee.
Although this town of fewer than 1,000 people is clearly a summer paradise, it's also a great place to visit in autumn, when the changing colors in the surrounding countryside and around the lake itself create stunning vistas.
Out at Road America you can expect to find fall events including a Halloween Disc Golf Challenge, Track & Treat and Wisconsin Fear Fest.
Meanwhile, downtown Elkhart Lake will come alive the last weekend in September for the annual Elktoberfest, which includes the launch of SwitchGear Brewing's Oktoberfest beer, a Wine & Beer Run 5K, Stein Social, and farmers' market, a 5K and much more.
Recently, I got to spend a few days exploring Elkhart Lakes and here's what I found...
Where to stay
There are three great resorts located adjacent to one another on the shore of Elkhart Lake.
The Shore Club and Siebkens are venues with histories that date back more than a century and are rich in the town's Prohibition-era gangsters, gambling and bootlegging lore.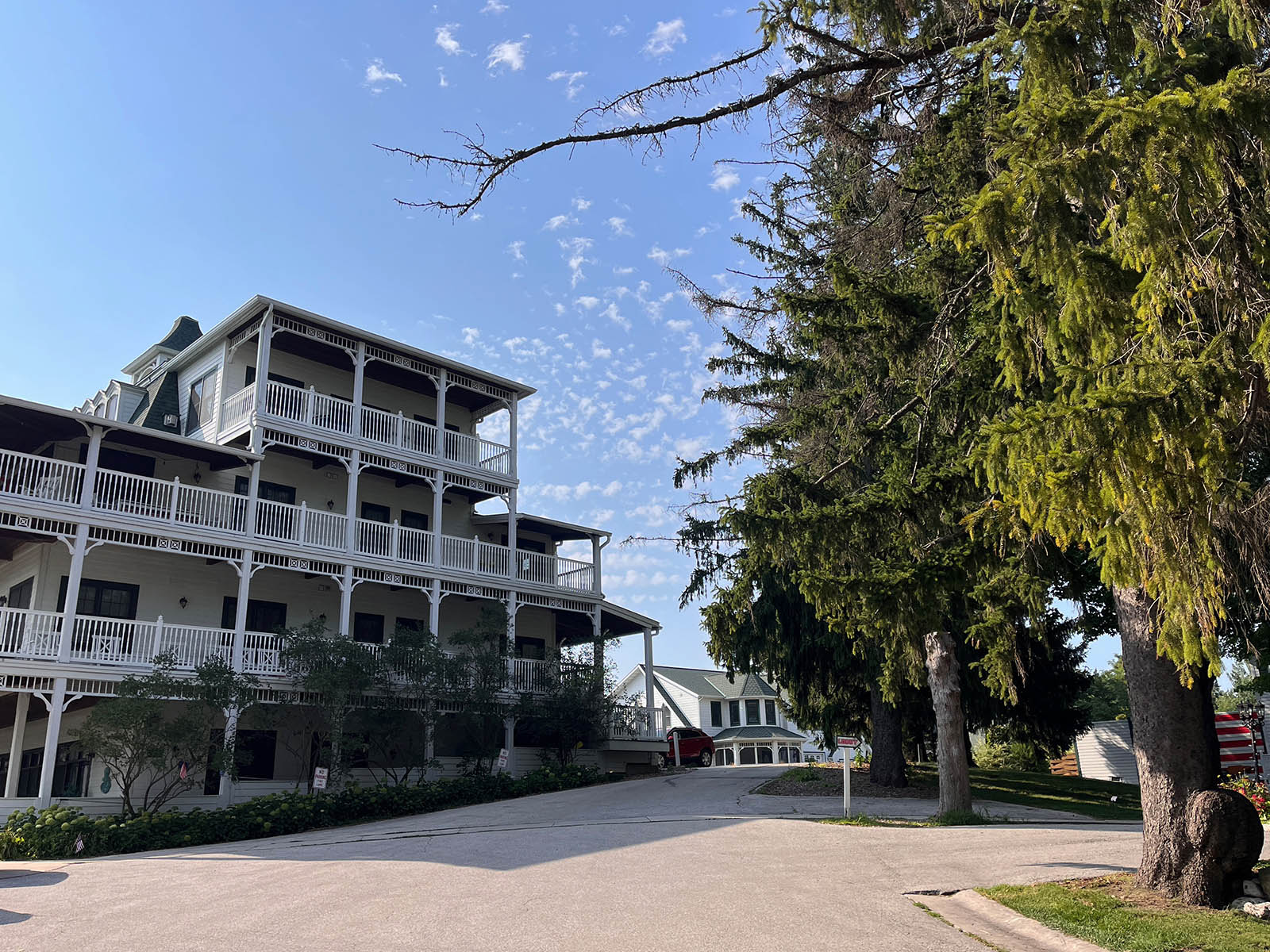 Next door is The Osthoff Resort, a sprawling more modern venue that also has an interesting history. William Schwartz built what is now Siebkens, and the current Osthoff Resort's site was home to the Harand Camp of the Theatre Arts, attended by the likes of singer Lissie, Sen. Russ Feingold, writers Laura Lippman and Jessica Poter, and actors Jeremy Piven, Billy Zane and Virginia Madsen.
While The Osthoff Resort has the most modern facilities, don't discount its neighbors, which offer a more intimate atmosphere and the feeling of the classic summer resort experience.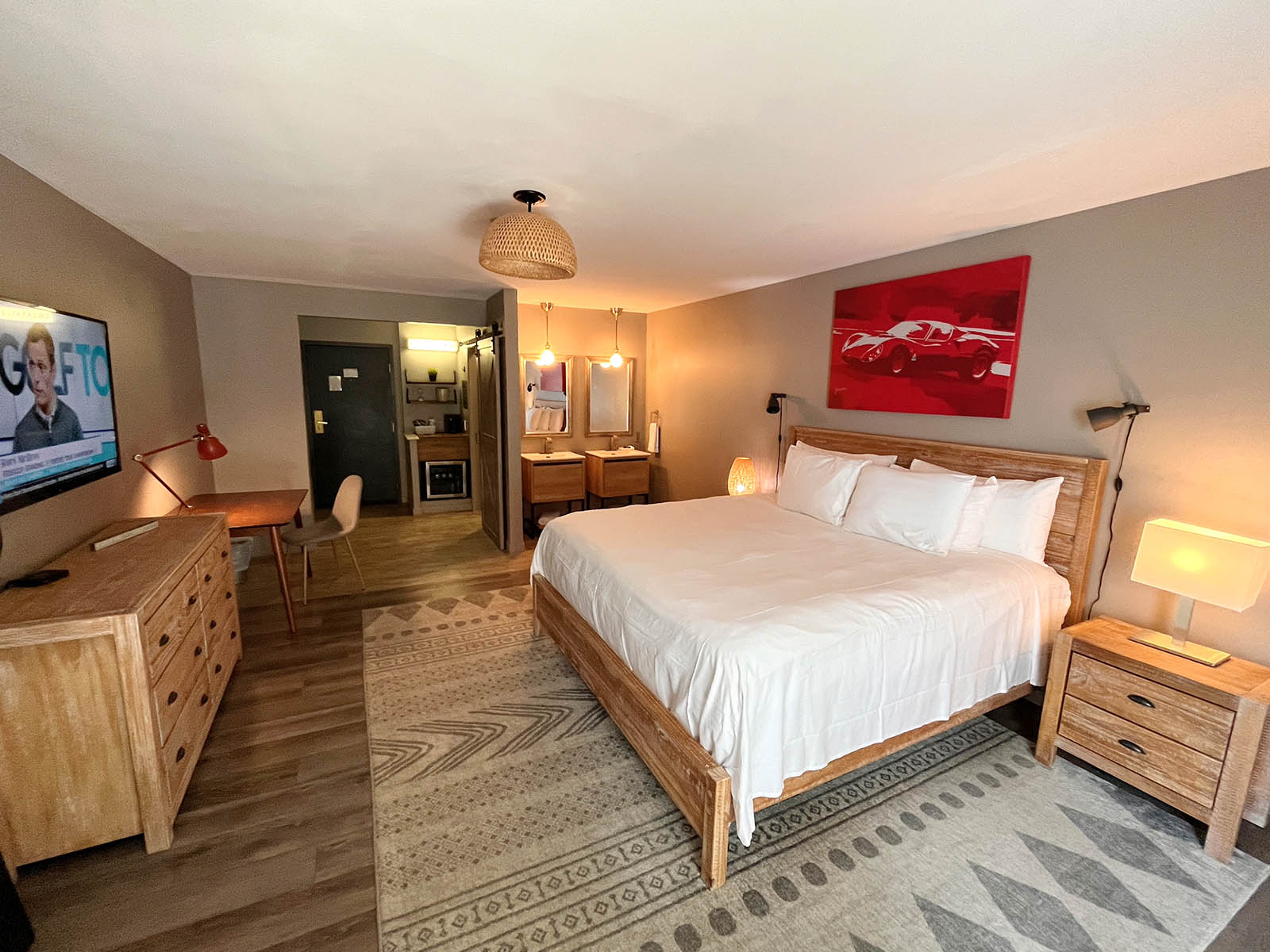 The Shore Club, where I stayed, has recently renovated rooms, indoor and outdoor pools, a jacuzzi, a lively lakefront tiki bar, the speakeasy-themed The Social restaurant and a theater that offers performances every Wednesday during the summer.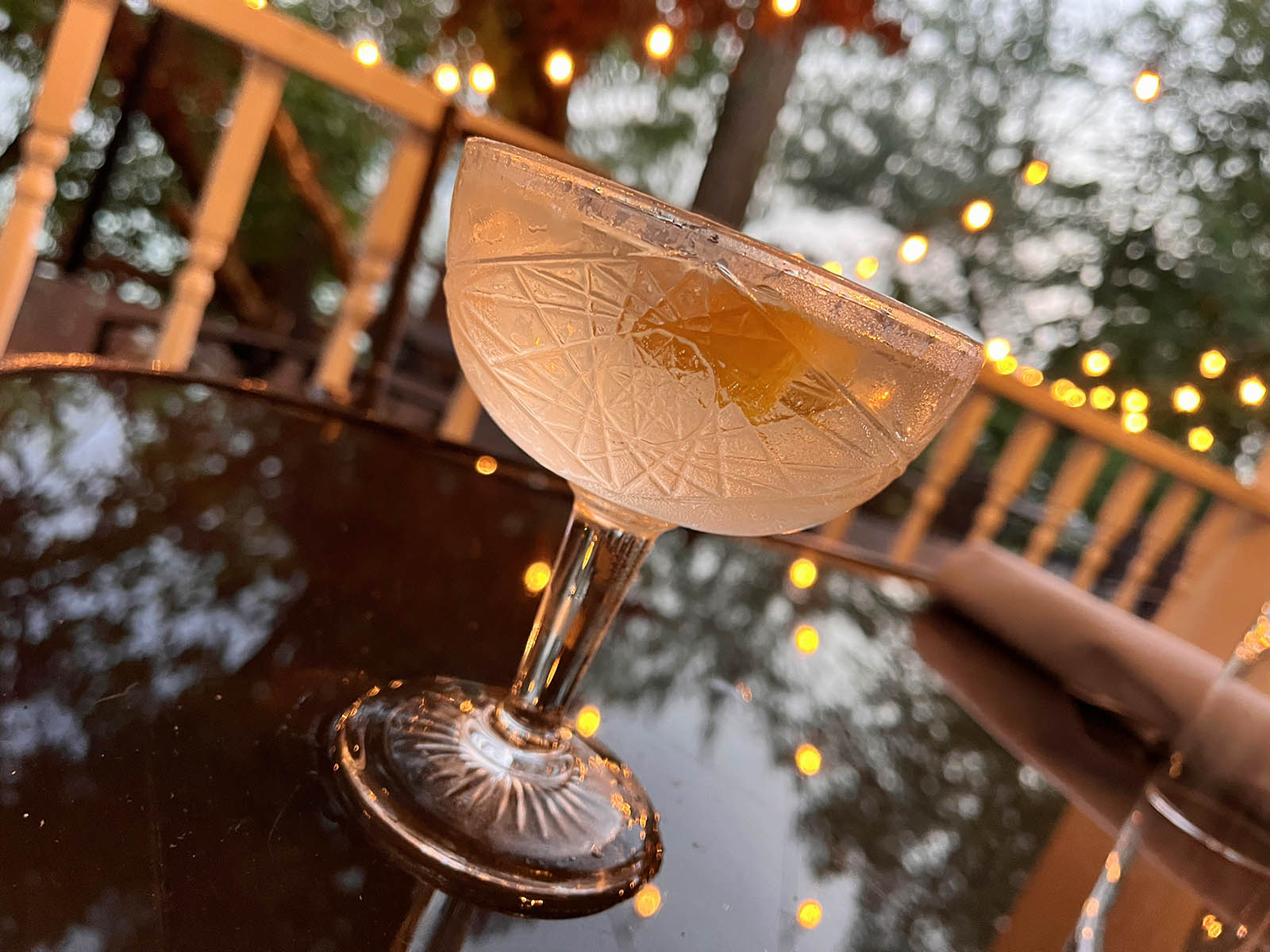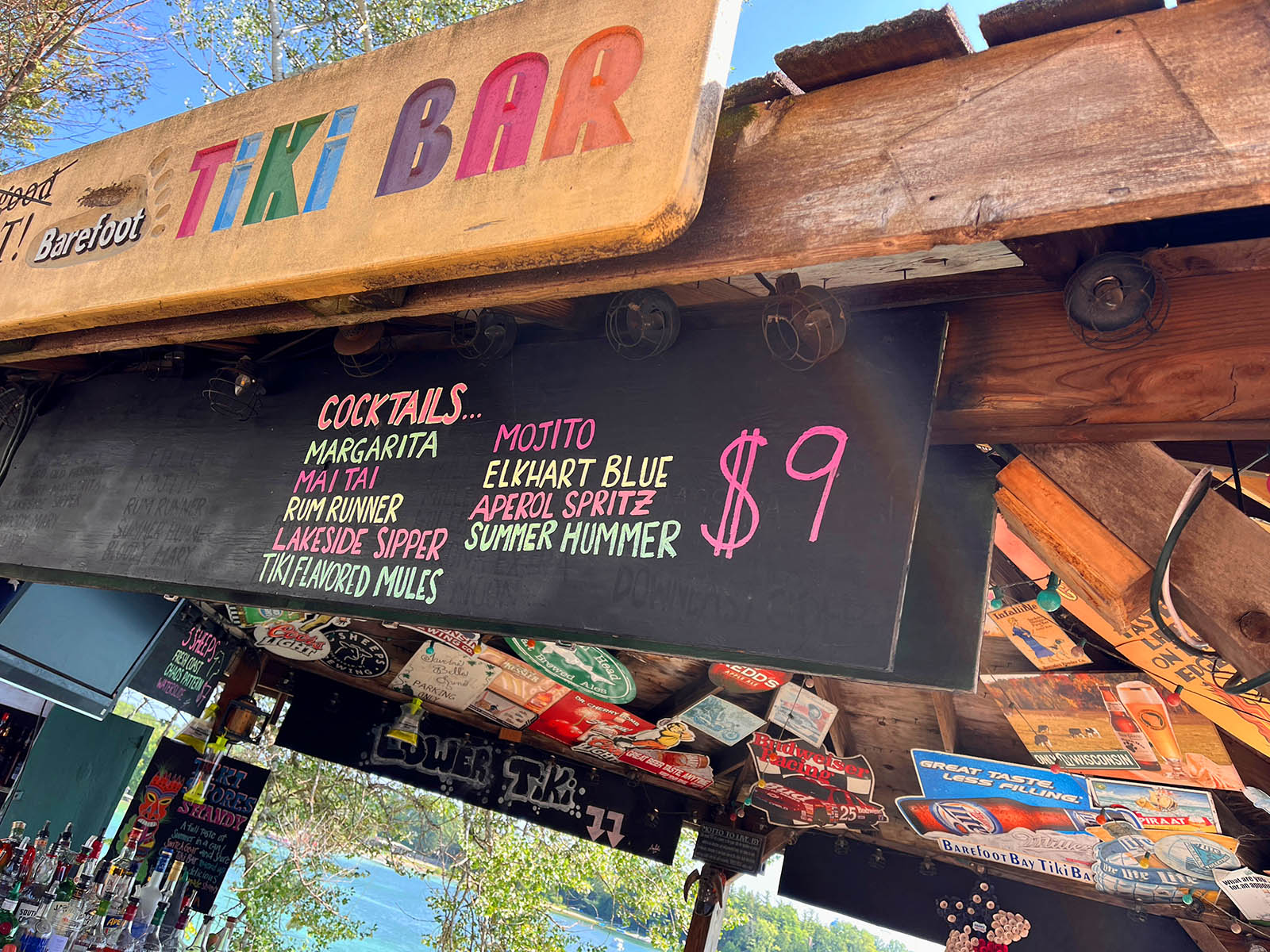 Don't skip The Social restaurant, which has really good, inventive cocktails and well-crafted entrees. Plus, the unique deep-fried cheesecake is a taste of State Fair up at the lake, and you can enjoy it all either in an evocative dining room (which has great historic photos of the place) or outside on the patio.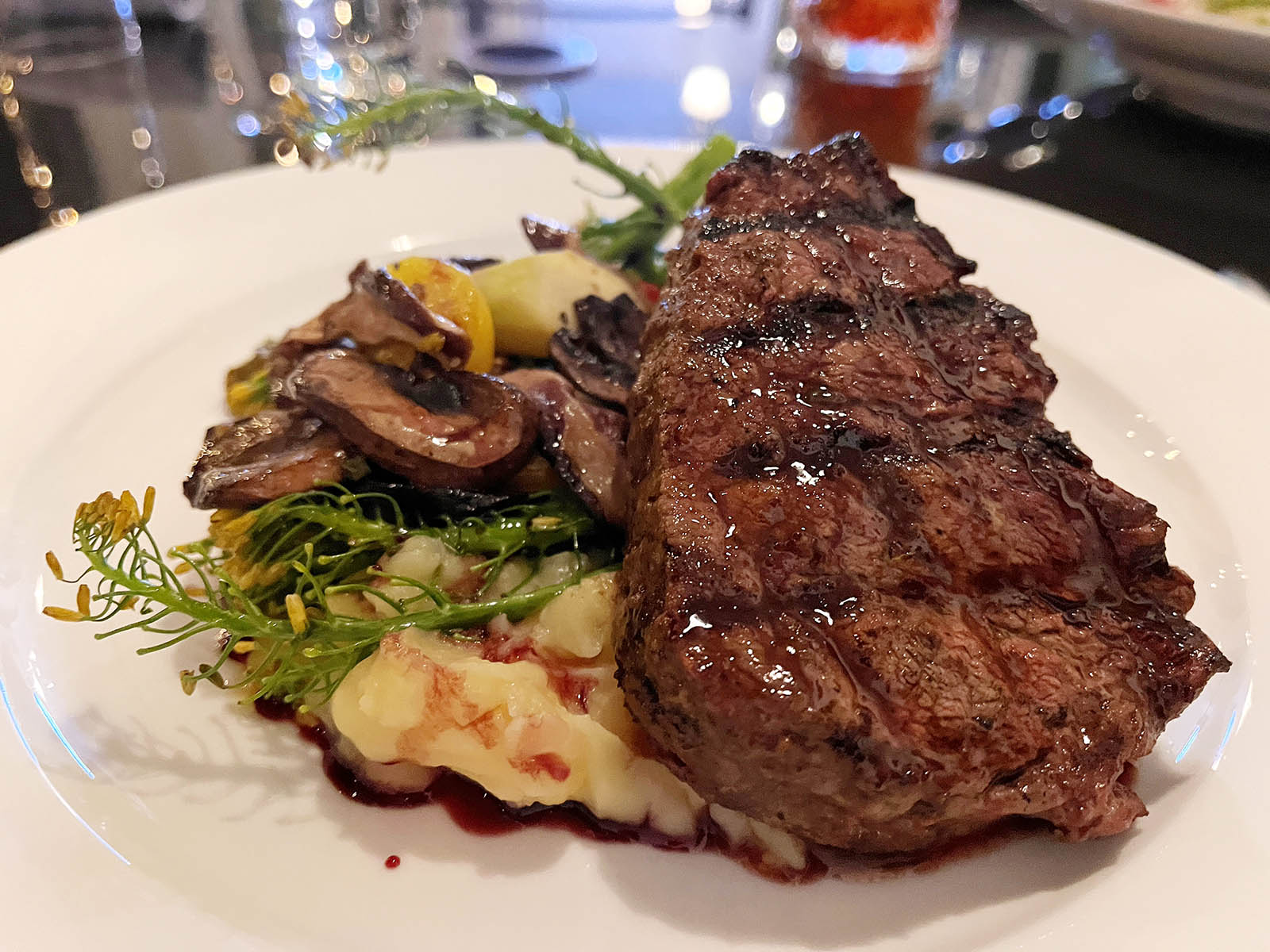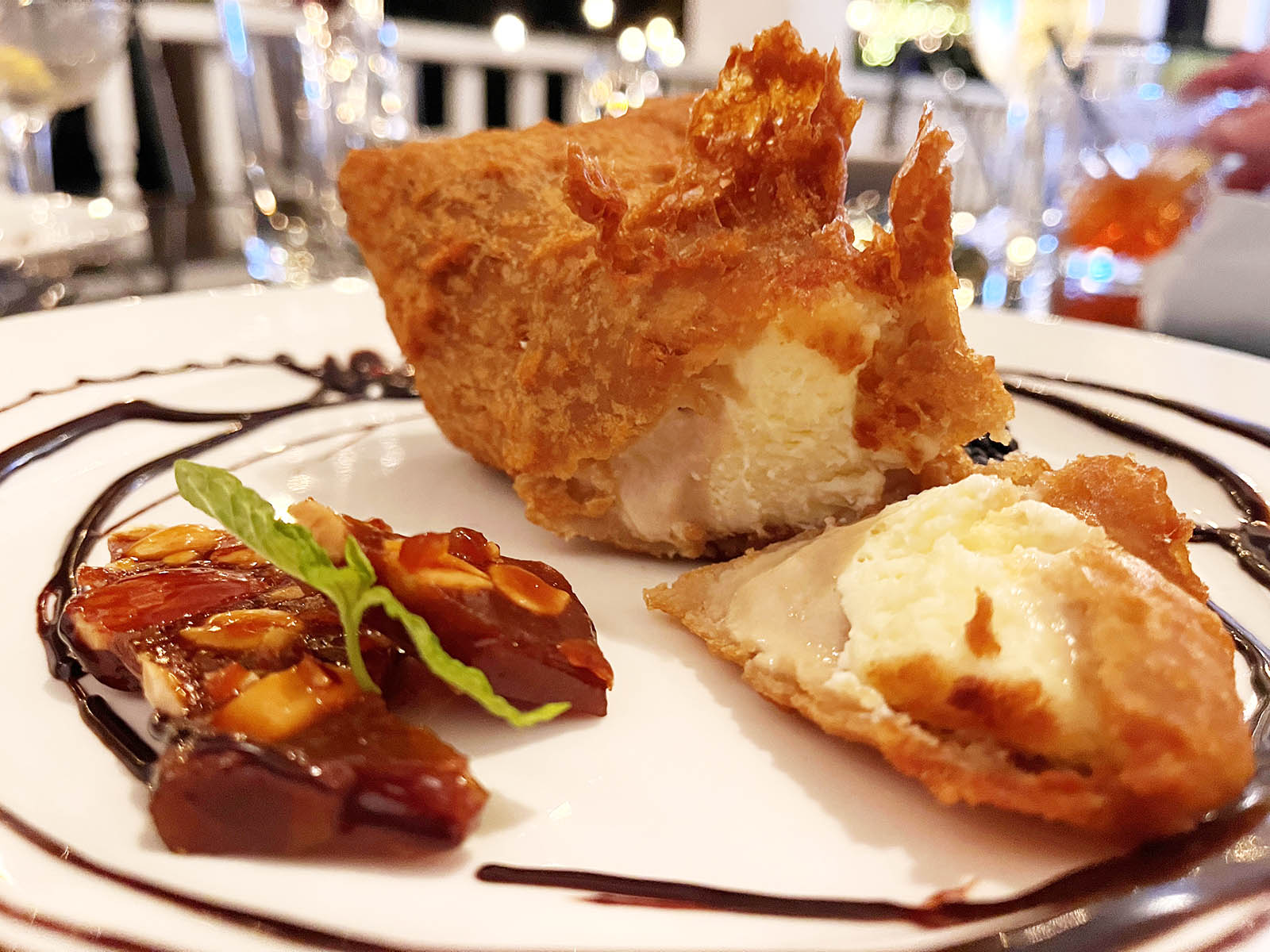 As I said to owner Tom Shortt – who bought the place with his wife, Kristin Pagel, a Chicago Public Schools teacher, in 2018 – staying there has the allure of the kind of Catskills experience you see in the movies, with the owner is often right there on site.
Where to eat
Rather amazingly, Elkhart Lake doesn't just have great restaurants; it appears to ONLY have great restaurants. I was hard-pressed to find any place that wasn't busy and/or heartily recommended by locals.
Here are the places at which I dined – and they don't include respected restaurants like the ones in The Osthoff Resort or the brand new Harry's Pizza e Vino, which held its grand opening the weekend I visited. I didn't make it there at that time, but I did visit the Sheboygan location when that opened in 2020.
For a casual and/or quick breakfast or lunch, there's no better option than Off The Rail, literally adjacent to the old (disused) train tracks that run through town. There's a cute little patio out front right on the town's main intersection and, inside, the place is bustling.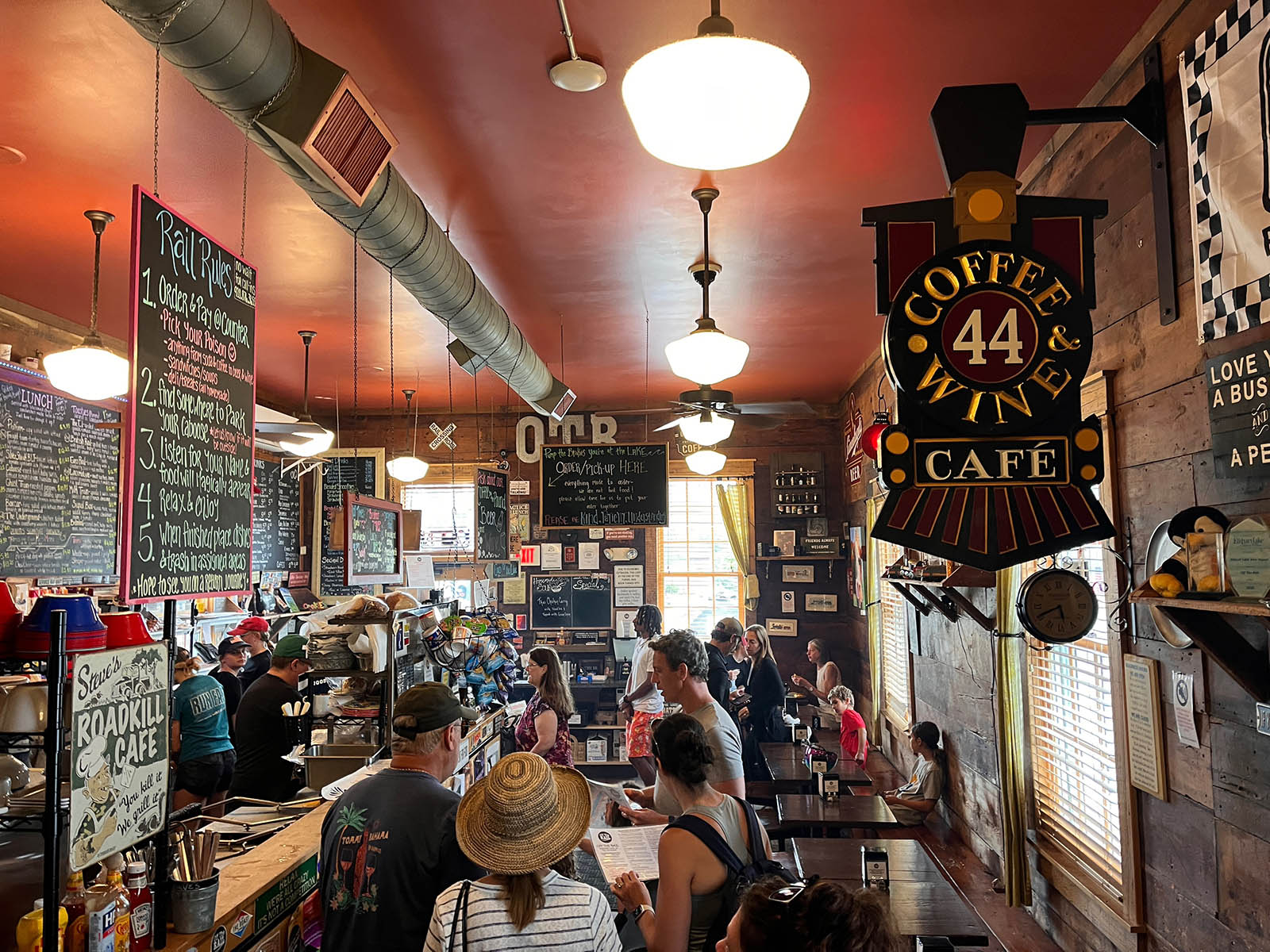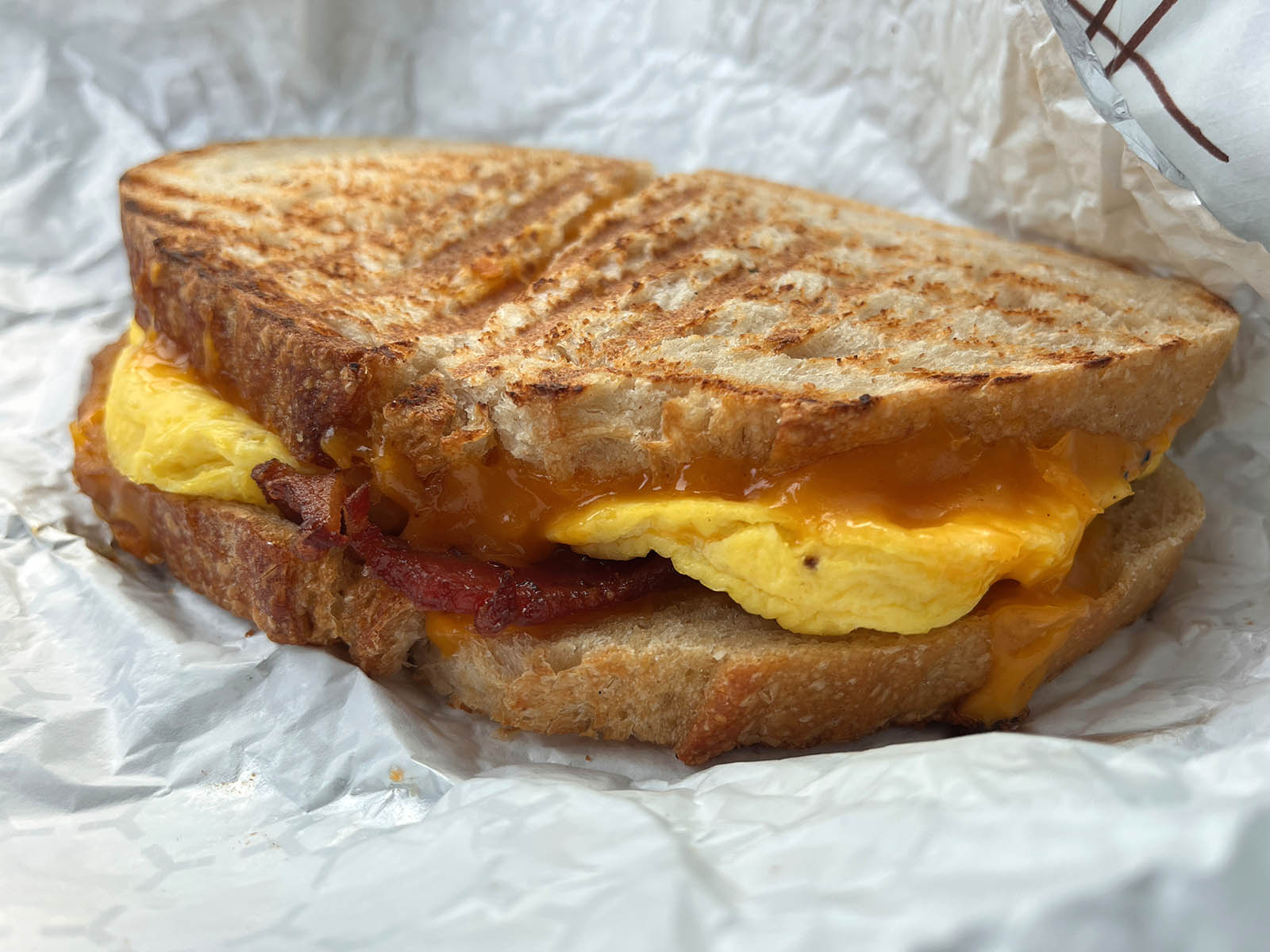 Order at the counter either to go or grab a seat and they'll bring you soups (like Thai chicken curry with noodles), delectable baked goods, espresso and coffee, and great sandwiches, including the seemingly universally praised Commuter panini with bacon, eggs and sharp cheddar on sourdough. (The McRail version is the same, but on an English muffin.)
I grabbed a Commuter to go for my ride back to Milwaukee and decided I needed a Conductor, too. That's Nutella and cream cheese smeared inside a toasted plain bagel.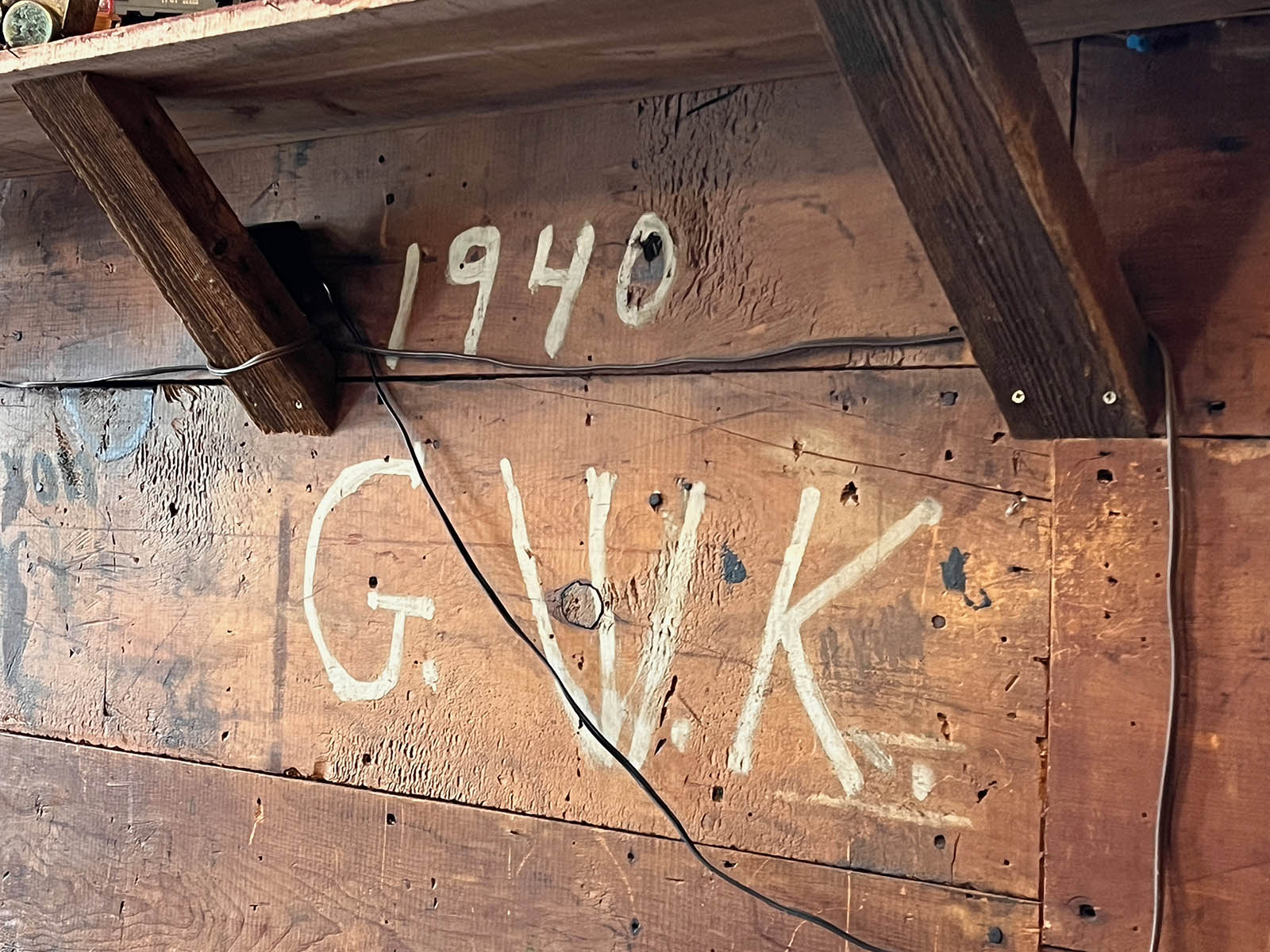 While you're in there, check the walls for the some really old graffiti. Some is dated, while others are in handwriting that looks like it might be from the 19th century.
Lake Street Cafe is located in one of the many handsome vintage "main street" structures in Elkhart Lake – there's a cool old bank, and a former rail depot that's now a local history museum just across the street, too. This one was a former tavern and retail building dating to 1914.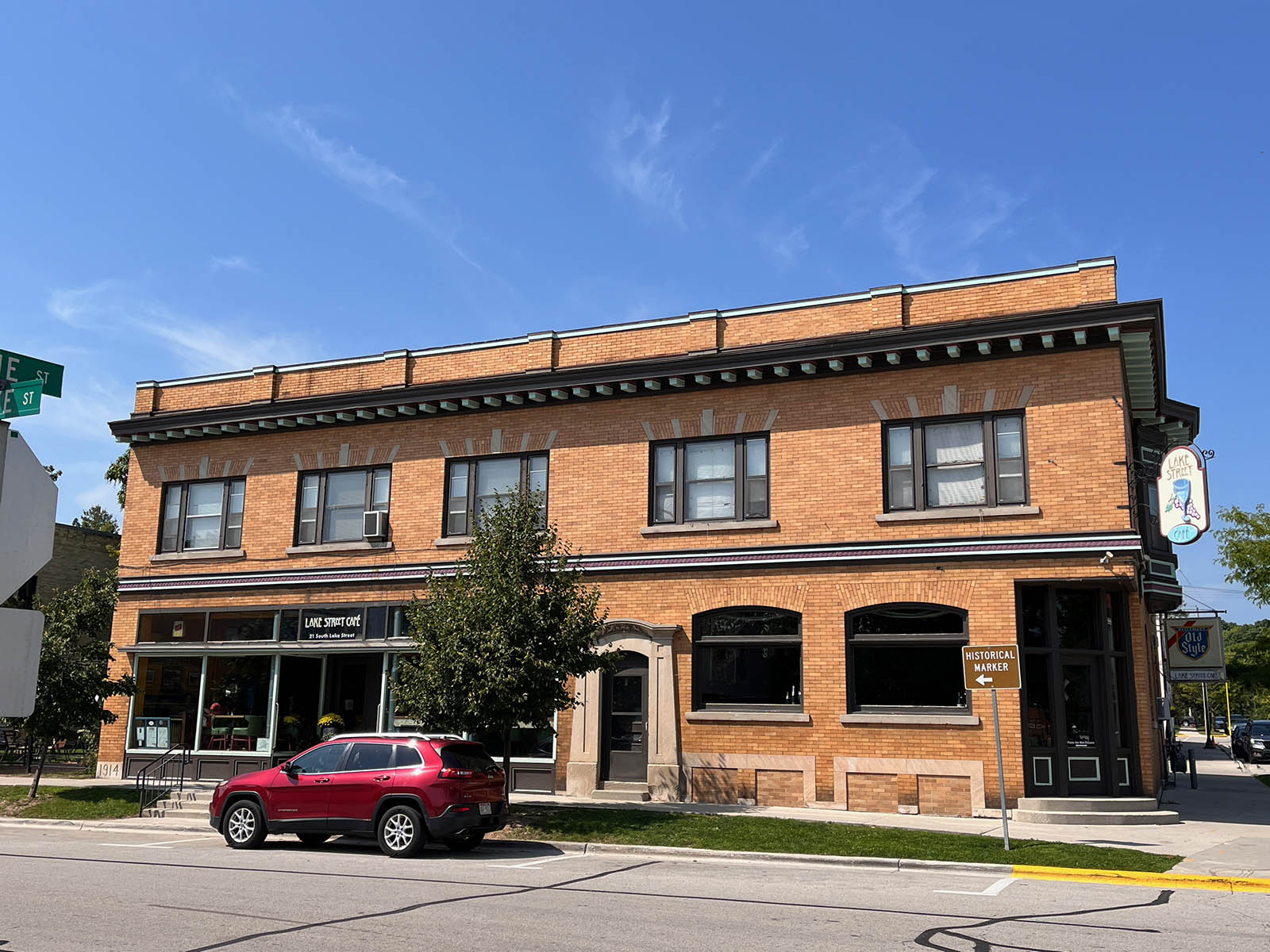 Owner Lynn Shovan opened it nearly a quarter-century ago and it's still going strong, serving lunch and dinner to locals and tourists alike. The former retail space – home over the years to a grocery and a hardware store – is now the bar and casual dining room decorated with breweriana, and the former tavern space on the corner is a more upscale dining room with white linen tablecloths.
There's also a nice patio outside. All three spaces are open when the cafe is busy, which seems to be pretty often, thanks to great pizzas – cooked in a wood-fired oven that's been built into the wall in the kitchen – great appetizers (try the scallops), salads, sandwiches, steak, fish, pasta and other entrees.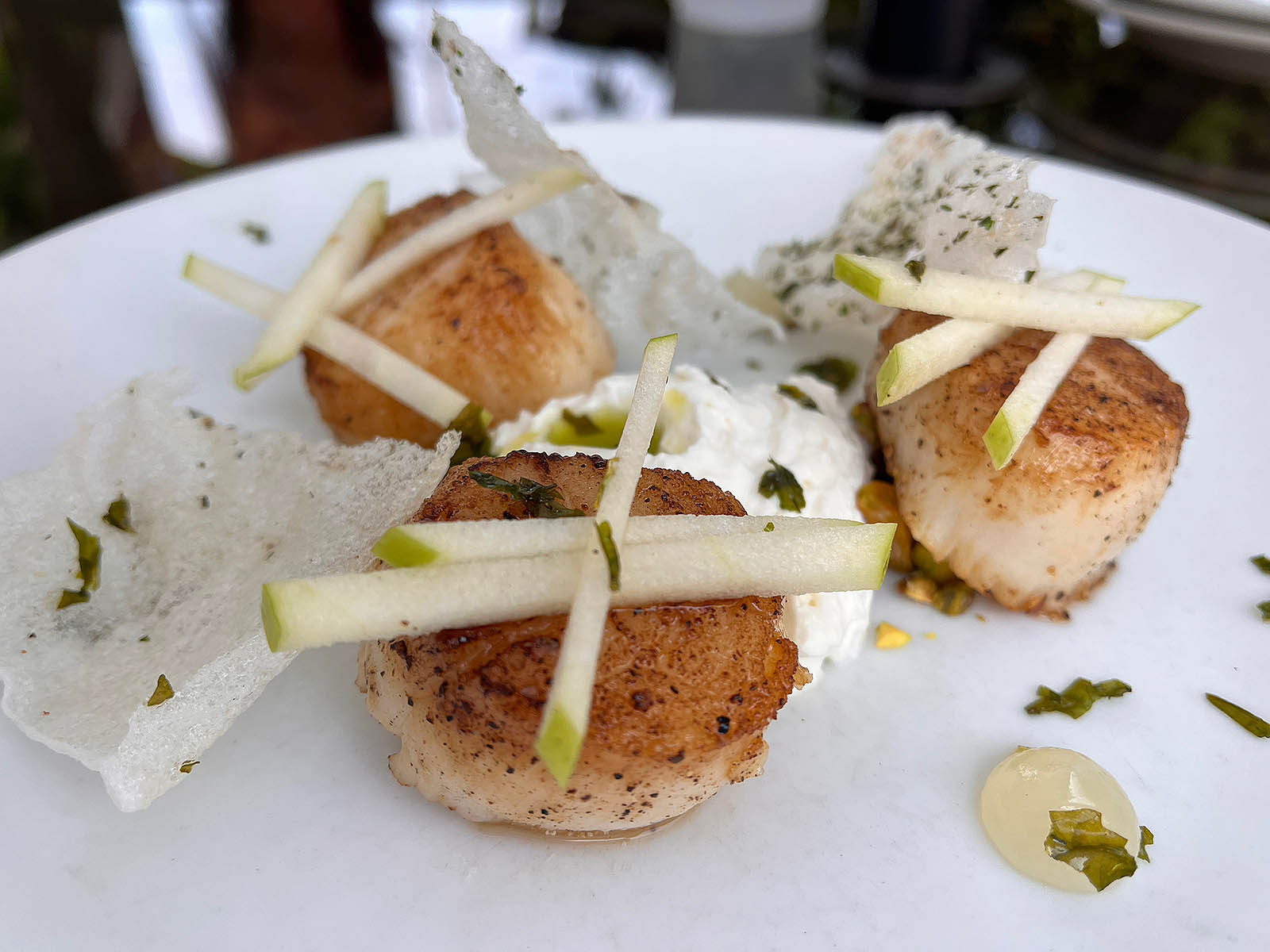 Just beyond the patio you'll find the Amasa food truck, which occupies Lake Street's parking lot – which has been decorated with colorful flags and a mural – and shares the cafe's kitchen. A partnership between Shovan, a Chicago restaurateur and a couple of extremely talented chefs from Mexico, the truck serves out of this world tacos – I had the shrimp and the calamari – and great ceviche.
Don't sleep on the array of baked goods, either. They're made in-house at Lake Street before the sun comes up.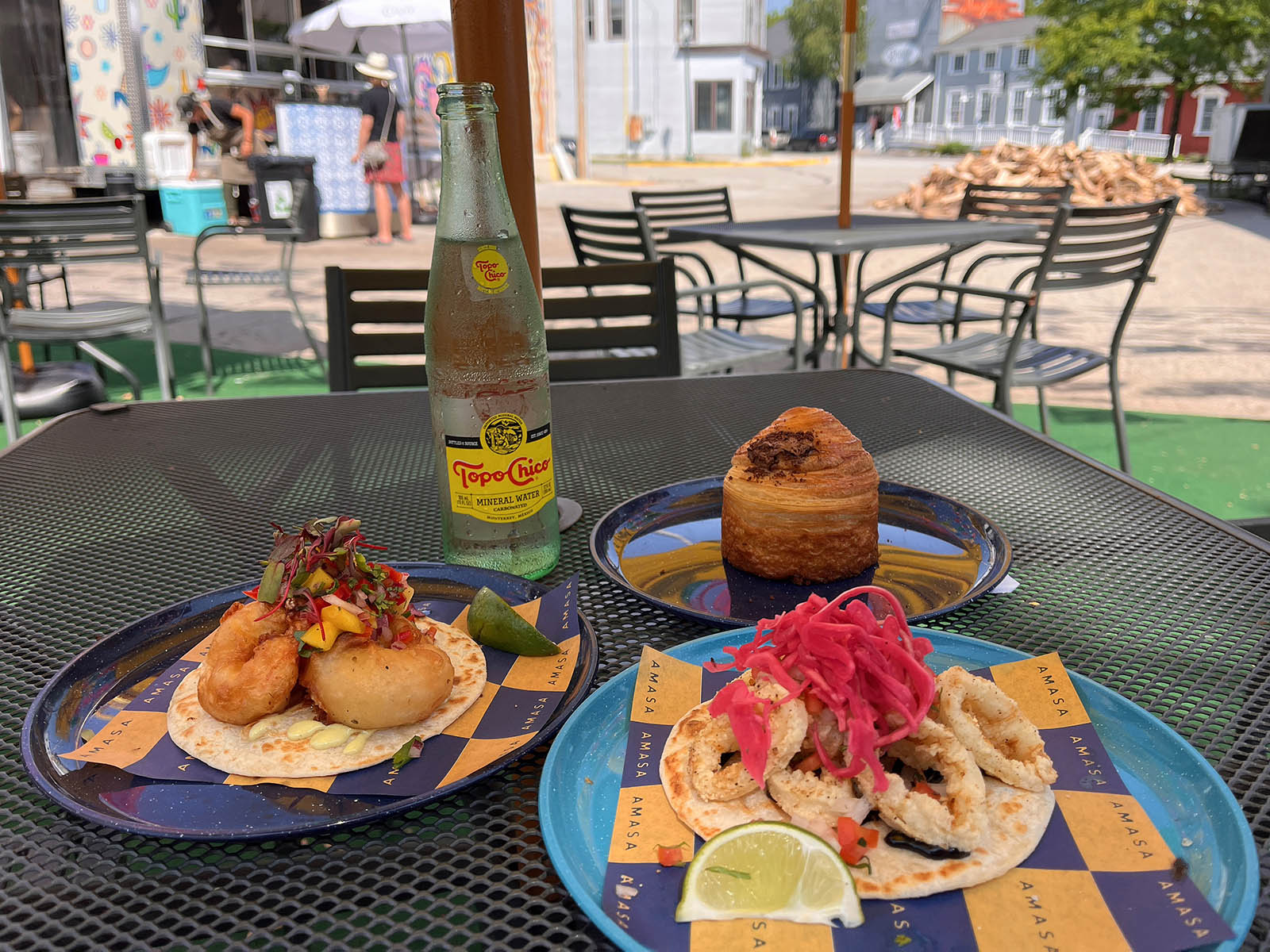 In winter, Amasa moves its menu into Lake Street, but Shovan says that's temporary. She plans to raze a building she owns next door and build a dedicated new home for Amasa there. Stay tuned for more on that!
Just on the other side of Lake Street Cafe's outdoor dining space is another former retail building that since June 2007 has been home to the Paddock Club, a restaurant whose name is a tribute to the old Elkhart Lake Paddock Club that was a nexus of the town's outlaw past of a century ago.
However, Chef Lynn Chisholm seems more like a culinary saint than a sinner, with a menu and a venue so well-loved that even on a mid-week evening – after many families are back home with their kids back in school – the place is packed.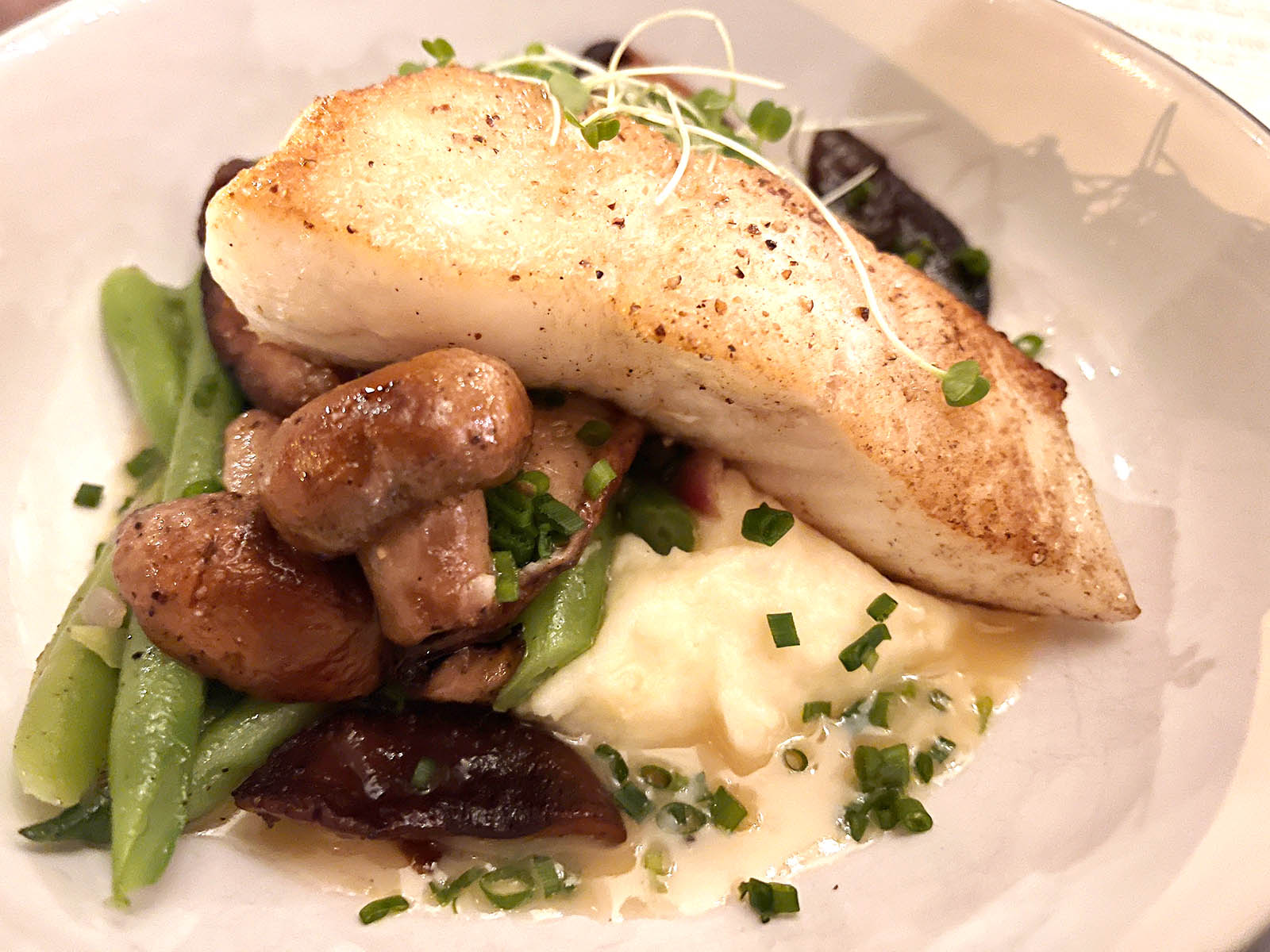 Though she worked in Milwaukee restaurants, Chisholm is from the Elkhart Lake area and returned home to open the Paddock Club, where she takes the simplest of ingredients – grilled broccoli, blistered shishito peppers – and works magic.
Even a watermelon salad that looks, on paper, like it might not work – lime feta yogurt, cherry tomatoes, cucumbers, pistachio and chaat masala, dosed with a key addition of basil – comes together and is a revelation.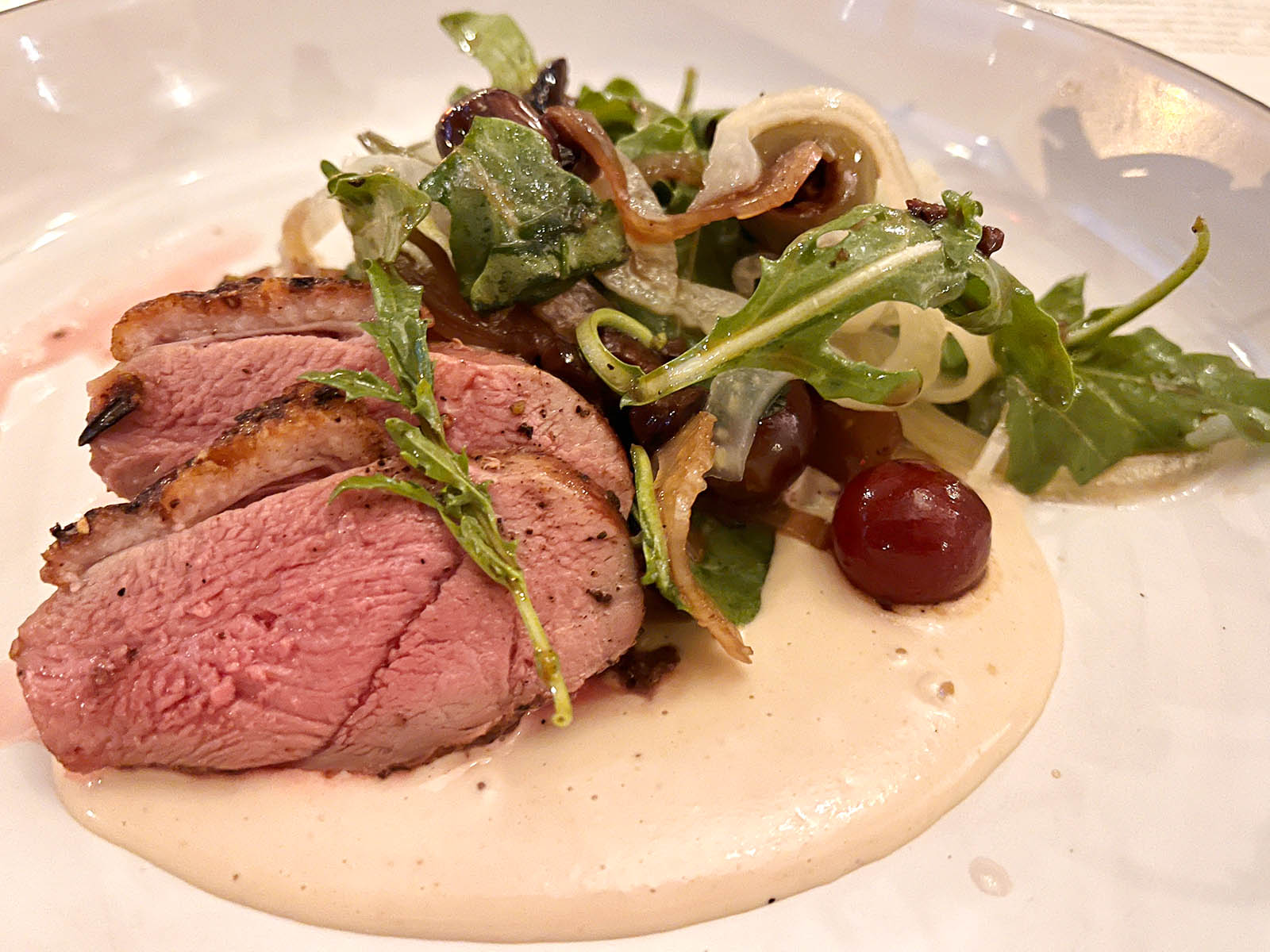 Sliced duck breast was delicious, and was pitch perfectly paired with red grapes, olives, arugula and shaved fennel in a sherry balsamic vinaigrette. But that small pool of cashew cream beneath the slices made the entire dish soar.
Then there are the desserts. If, like me, you can't choose between the vanilla panna cotta and the chocolate hazelnut cake, then don't. Get both.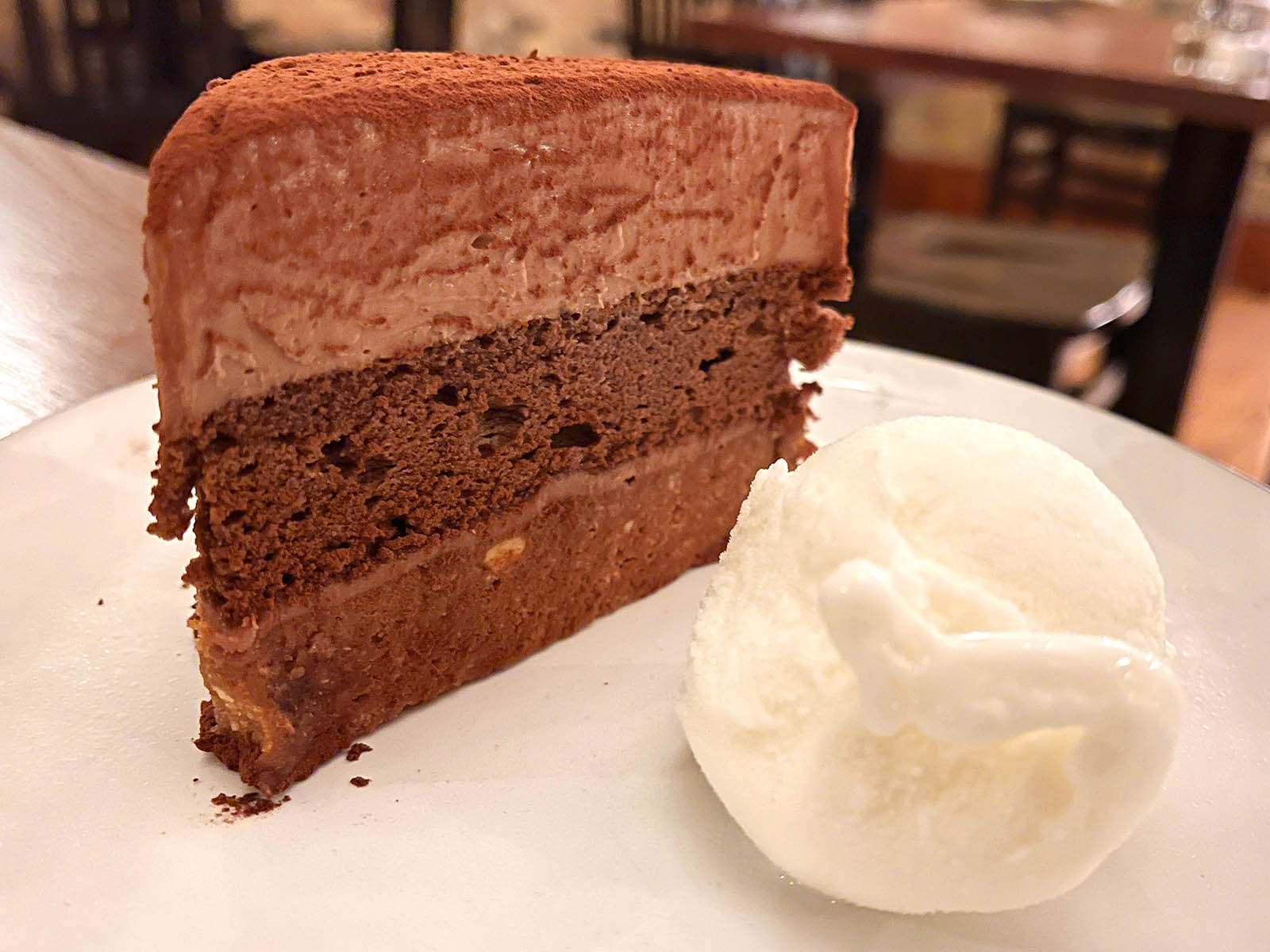 I could go on, but I'll just say the entire dinner was a treat, as was chatting with Chef and her sister Cheri Hau, who was expediting plates at the pass ... and the fact that every other diner I could see appeared to be having a great time speaks volumes.
Plus, the Brunswick back bar is a stunner.
What to do
First and foremost, get out onto or into the water! One of the deepest lakes in Wisconsin (at 119 feet), Elkhart Lake is generally calm and invariably beautiful. The resorts all have beaches and there's a public beach nearby, too. On the far side of the lake is a public boat launch.
A couple of businesses offer equipment rentals and the like, and I went over to The Osthoff Resort on two consecutive days to feed my need for water fun.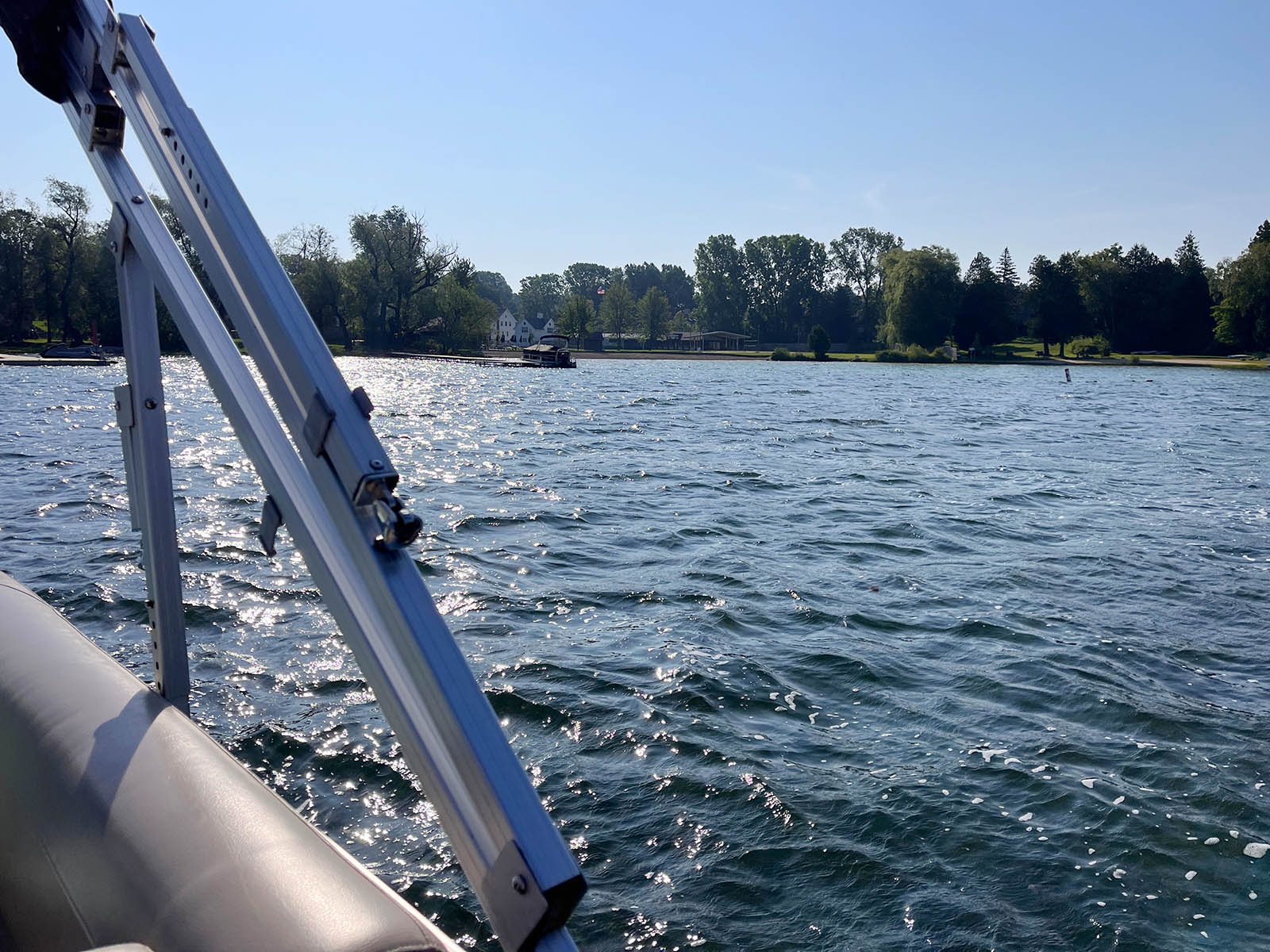 One morning I took the 9 a.m. Coffee Cruise on a pontoon boat. The small group of guests quickly get acquainted and the captain offers interesting facts about the lake and the area, making for a low-key, fun morning on the lake.
The next morning at the same hour, I returned, climbed into a kayak and had the most peaceful paddle across the lake and back. Before 10 a.m. there's no wake allowed on the lake and on Sundays no gas-powered conveyances are allowed, so there are plenty of opportunities to recreate my experience.
For an altogether speedier option, I went over to Road America.
I intended to run the four-mile, 14-turn race track as part of the Four Miles of Fitness event, during which the track is open to runners, walkers and bikers every Monday and Wednesday (6-8 p.m.) from May through August as well as 5:30-7:30 p.m. in September.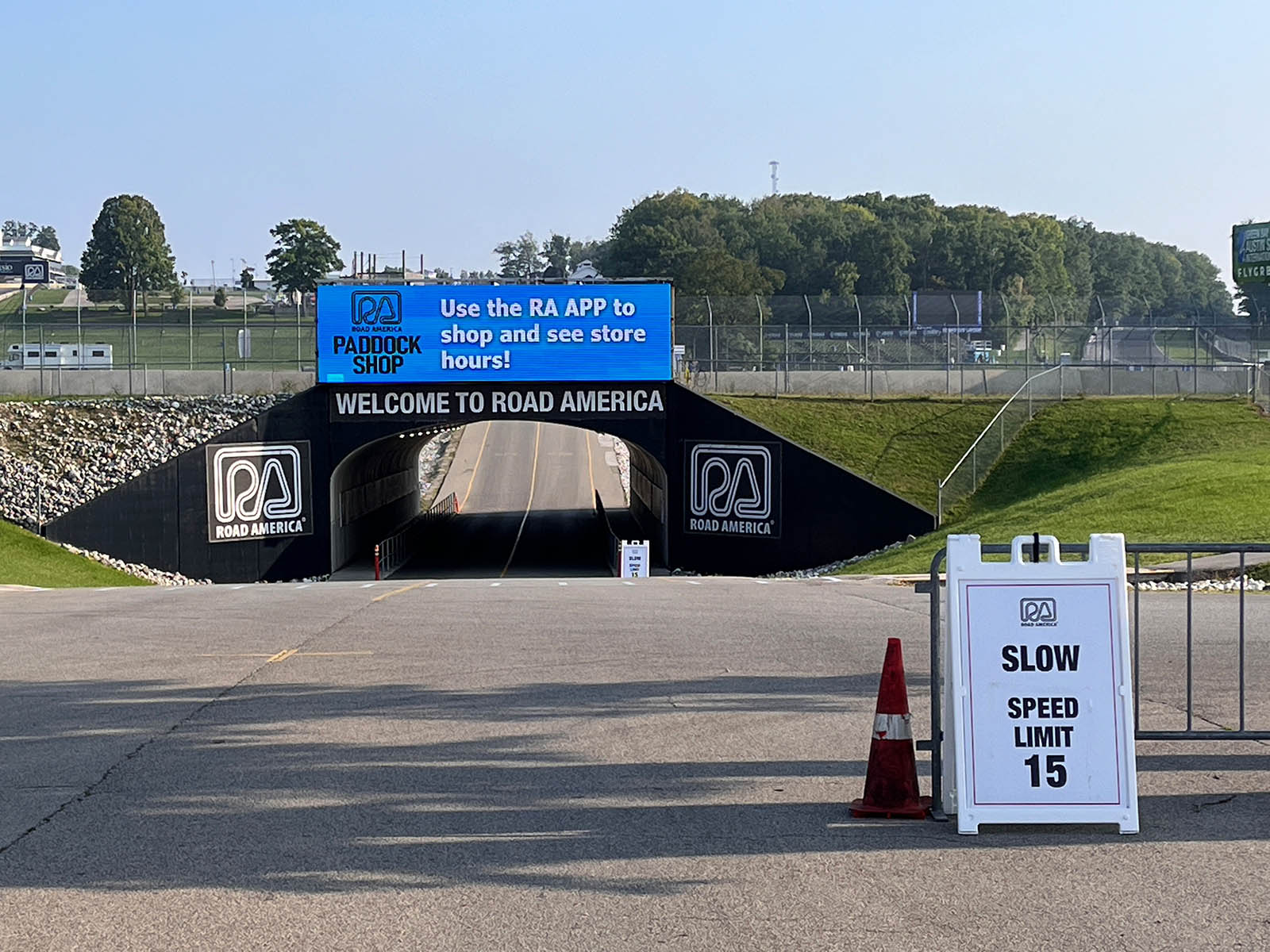 However, with the mercury nearly bubbling at 100 degrees I decided that jogging four miles, especially on a freshly repaved black asphalt track that had been cooking all day didn't seem like the best of ideas. Instead, I arrived a tad earlier, loaded myself into a Corvette C8 pace car and was driven twice around the track on a so-called Hop Lap that reached speeds of more than 100 mph.
Considering this is America's National Park of Speed, I think I chose pretty well.
But I was also amazed at the extent of the 640-acre campus and the variety of activities available, beyond NASCAR and IndyCar racing. There are also ATV trails, driving classes, go-karts and much more.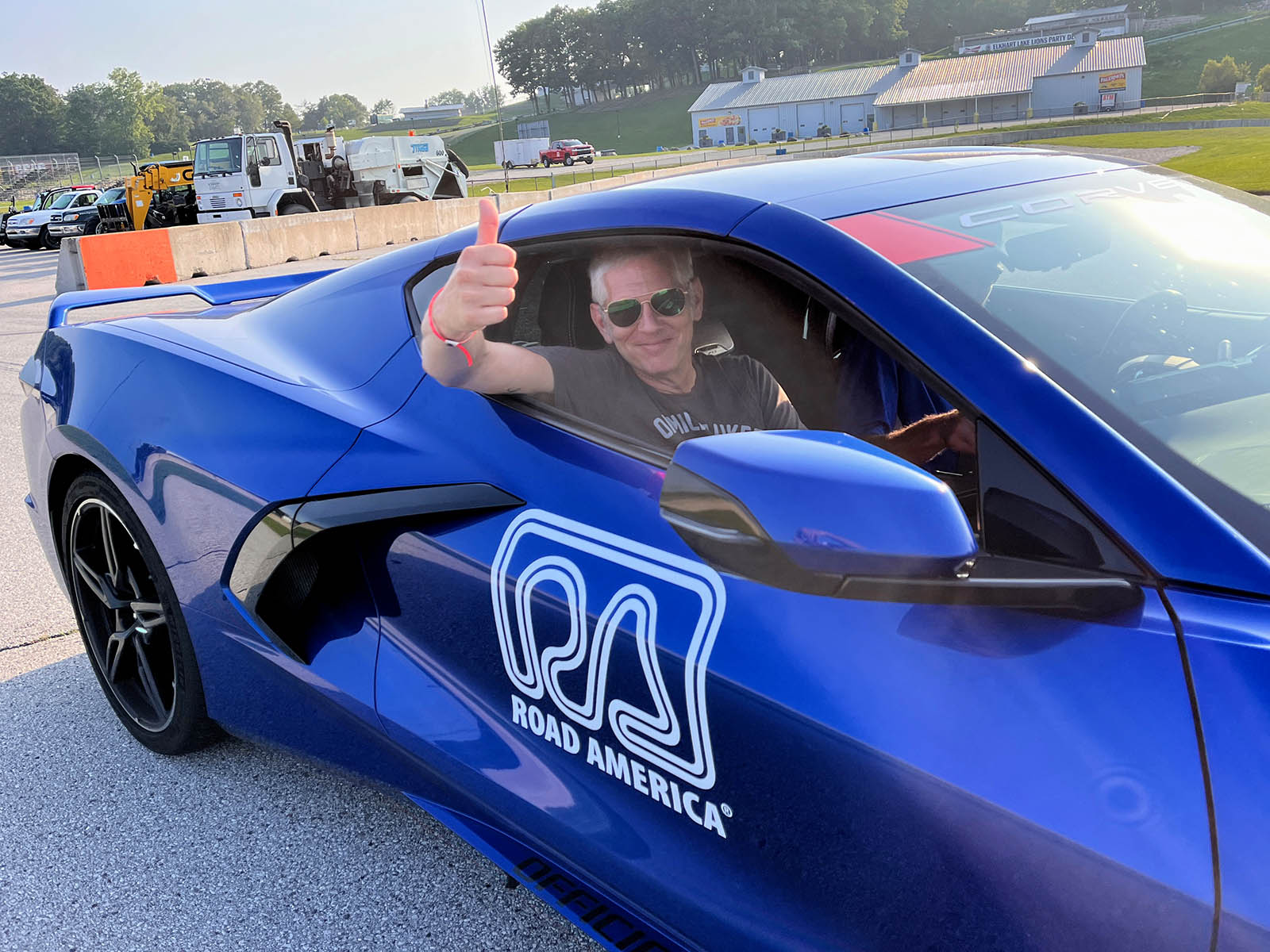 Elkhart Lake is, of course, famous for racing, which – before the current track was built in the 1950s – used to take place on the streets of the town.
Every now and then you'll see a historic marker detailing a feature of the track, like the Hard Left sign on the tight curve between Siebkens and The Shore Club and it's easy to close your eyes and picture the cars zooming by.
For more auto-fueled fun, check out Throttlestop, a big, modern complex on the edge of the town that has a consignment luxury sports car dealership, a detailing and storage business, and an automobile and motorcycle museum.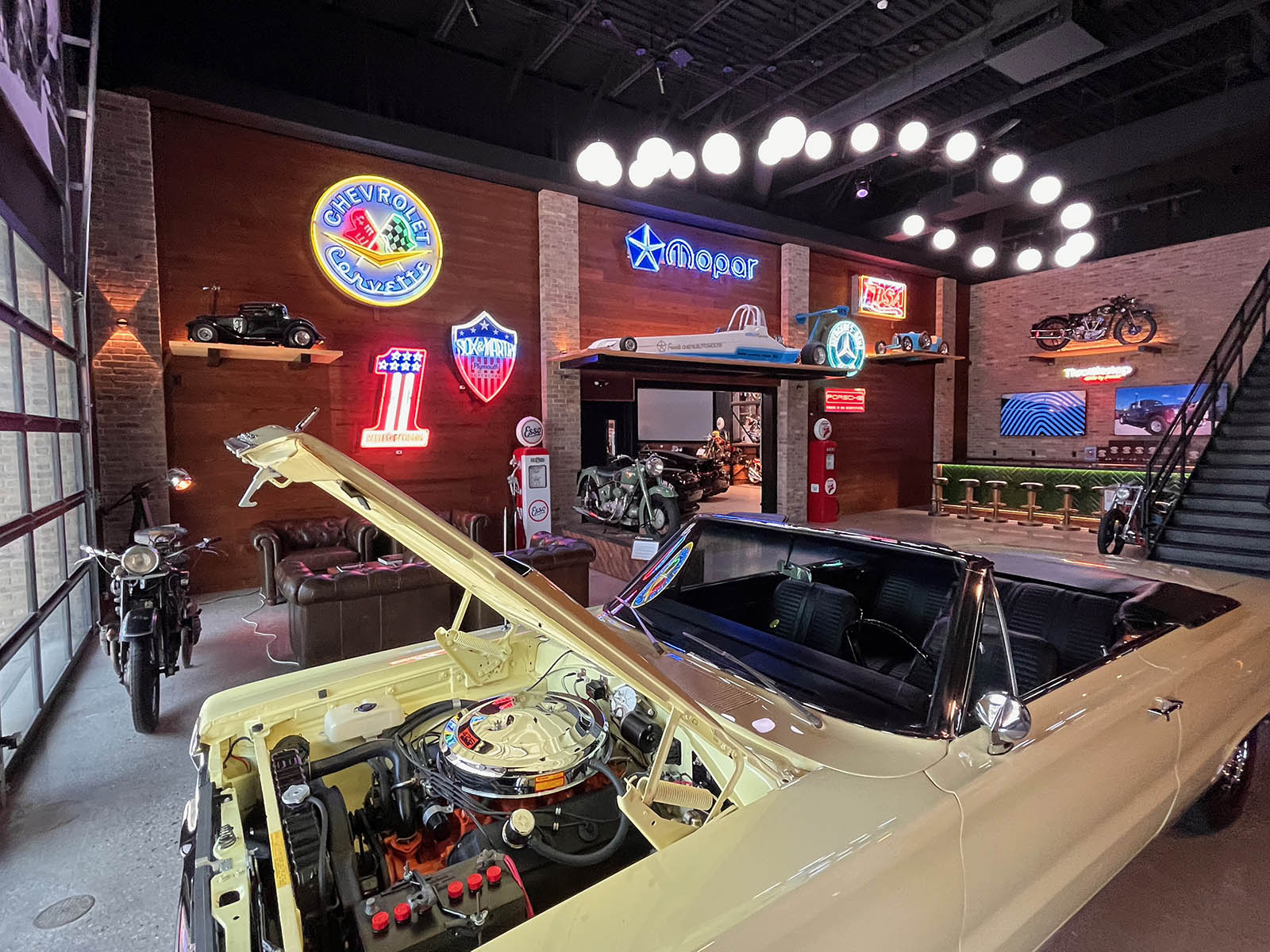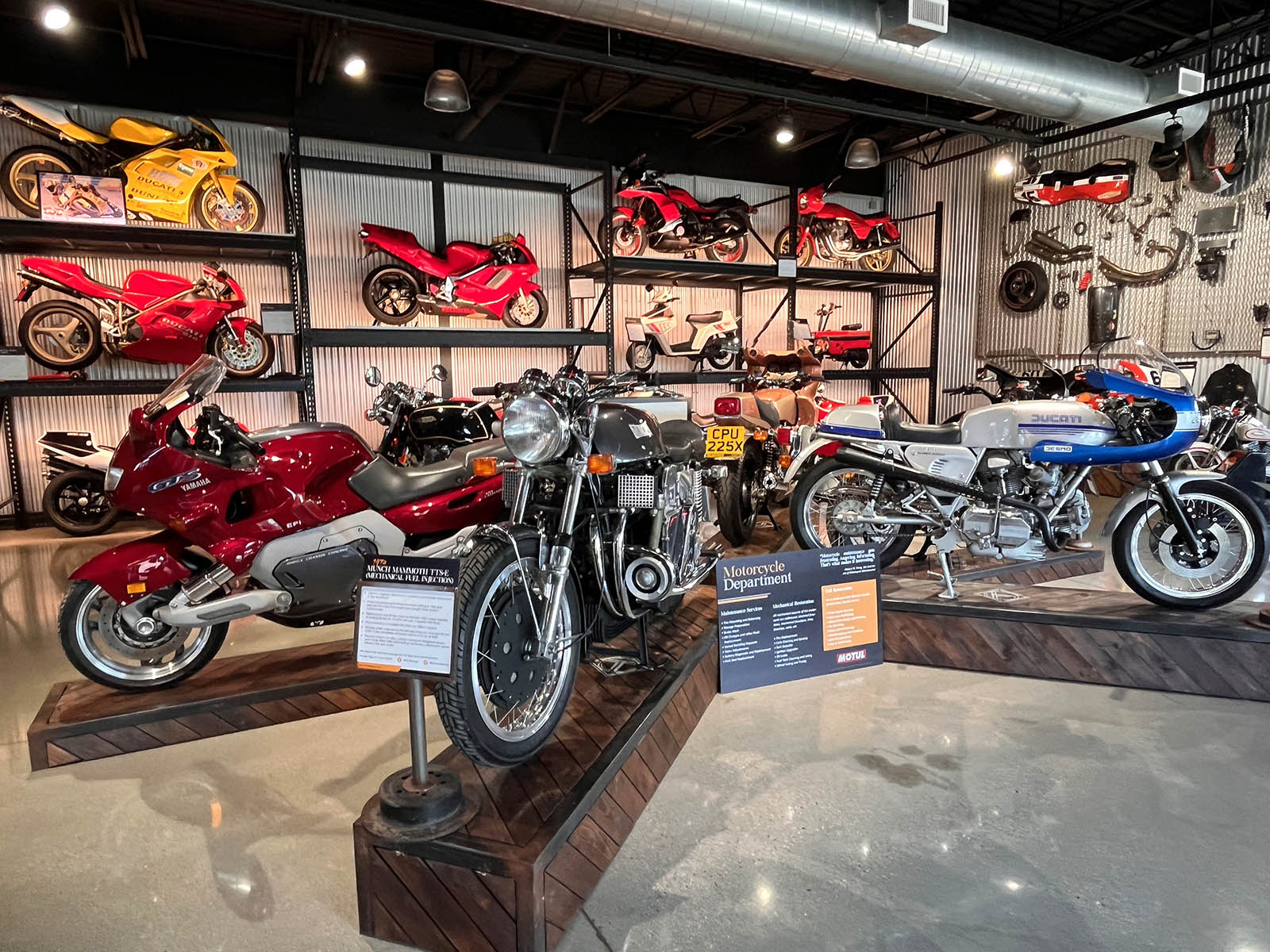 I'm not a huge aficionado of cars or bikes, but even I couldn't believe the range and depth of the collection here, to say nothing of the sheer size of it.
I especially enjoyed the classics like early Corvettes, but also the more recent Italian sports cars, which are for sale. Because I apparently have Champagne taste, I immediately picked out my favorite Ferrari only to learn its asking price is a cool $2 million.
As you can see from the dining section above, Elkhart Lake is as, ahem, geared toward food and beverage as it is toward racing, and so there are some other stops that should definitely be on your radar.
One is Gessert's, which in 2022 celebrated a century of scooping up ice cream to Elkhart Lakers, in its evocative old-time setting. There's a soda fountain counter, beautiful wooden booths, tin ceiling, terrazzo floors and leaded glass cabinets.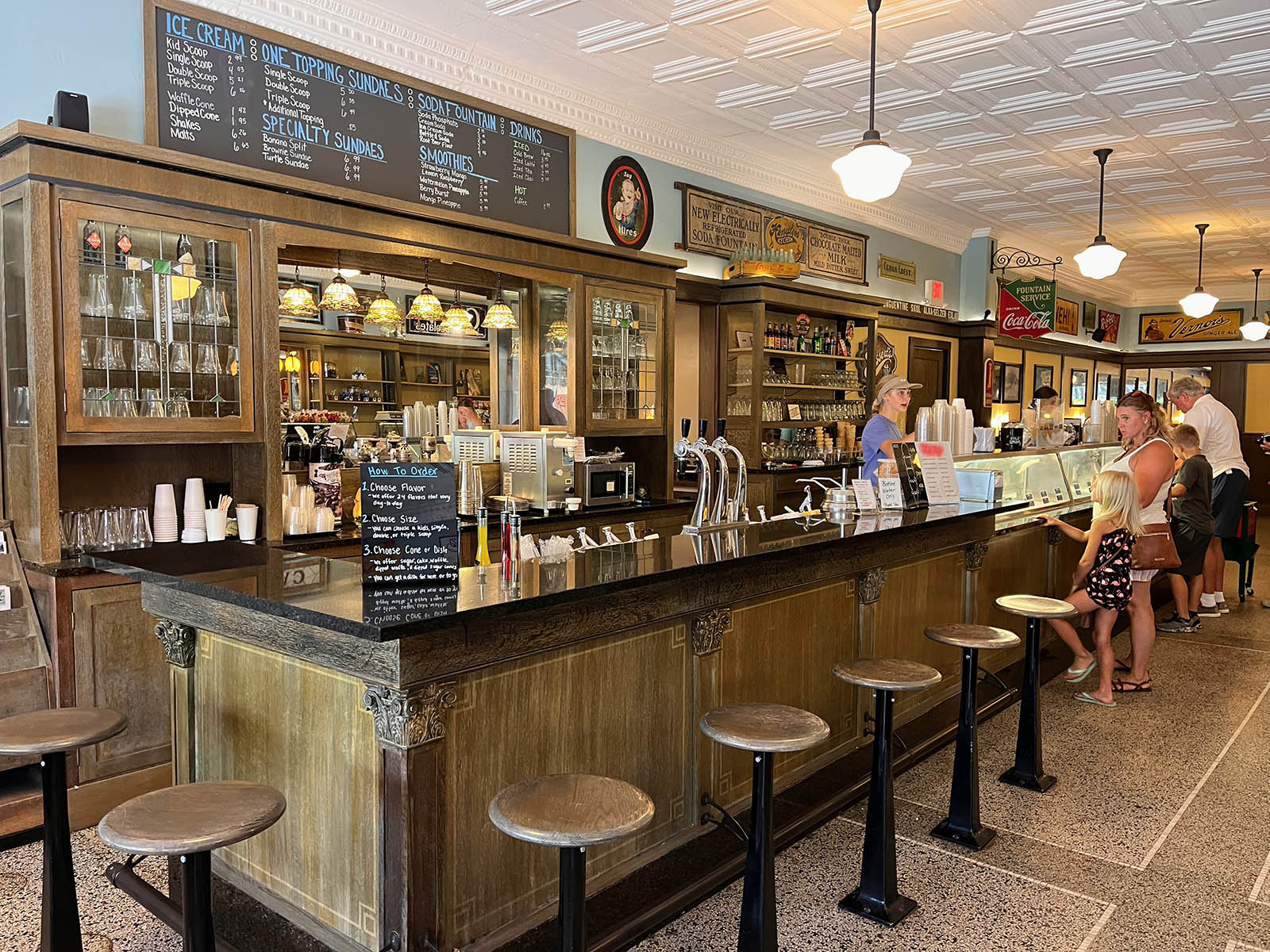 In addition to sweet treats, Gessert's serves a hearty helping of history, with vintage Elkhart Lake postcards on display near the entrance and, at the back, a little ice cream and Elkhart Lake museum that's not to be missed.
In the former feed mill building, on the end opposite Off The Rail, is SwitchGear Brewing, which I first visited in 2020.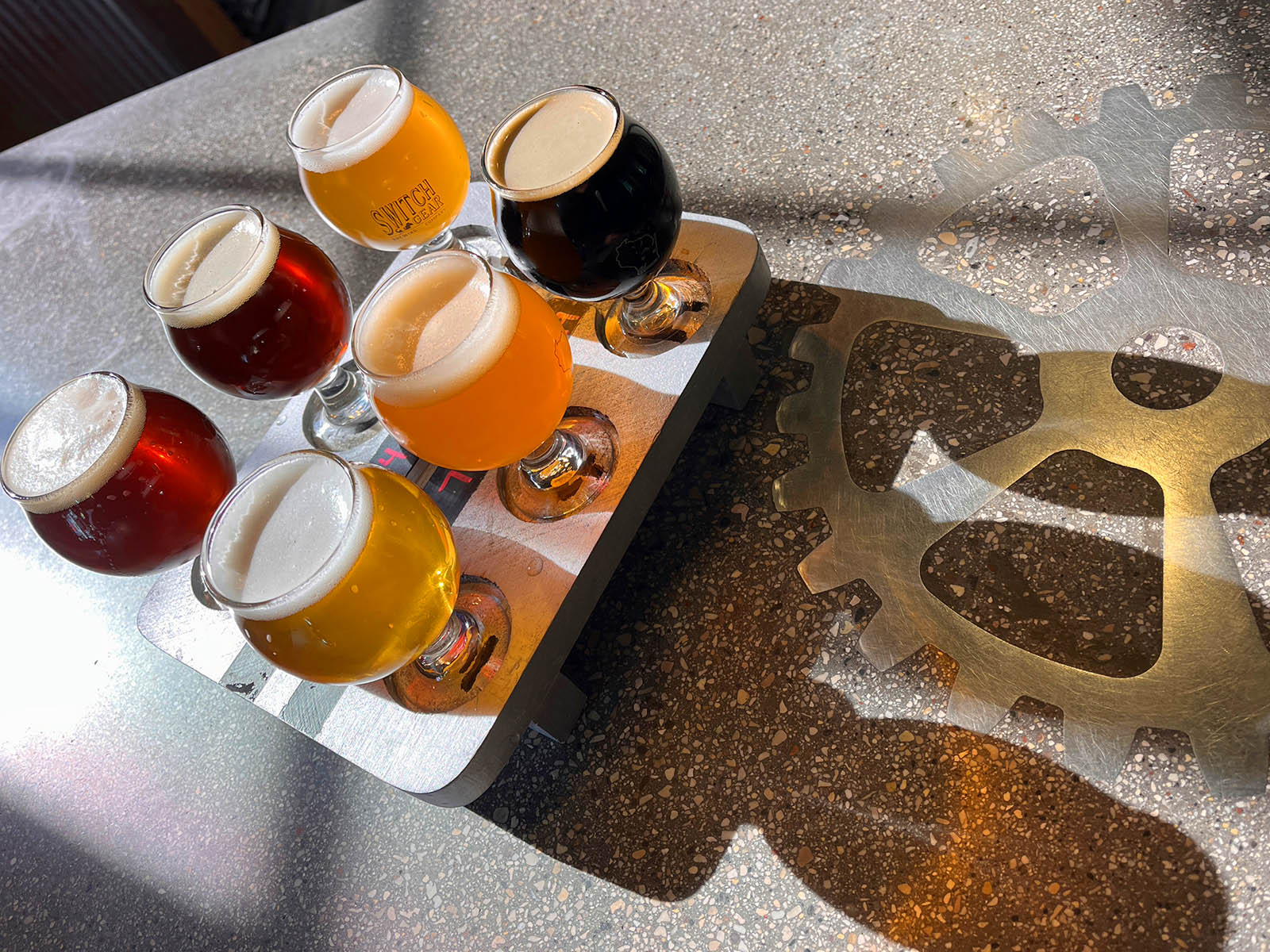 Since then, the brewery has new owners and some new recipes – but the same great taproom and patio – and it has become so popular in its hometown that the crew is brewing as much as possible to keep up with demand.
When I visited, current co-owner Dustin Dutter showed me the brewhouse and even let me taste the still-lagering Oktoberfest that will be tapped at Elktoberfest at the end of September!
Across the street, I checked in at Vintage Elkhart Lake, a wine and fine foods shop owned by Milwaukee ex-pat Jaclyn Stuart, who is a certified sommelier with accreditations from the Wine & Spirits Education Trust (WSET), Court of Master Sommeliers, and the French Wine Society.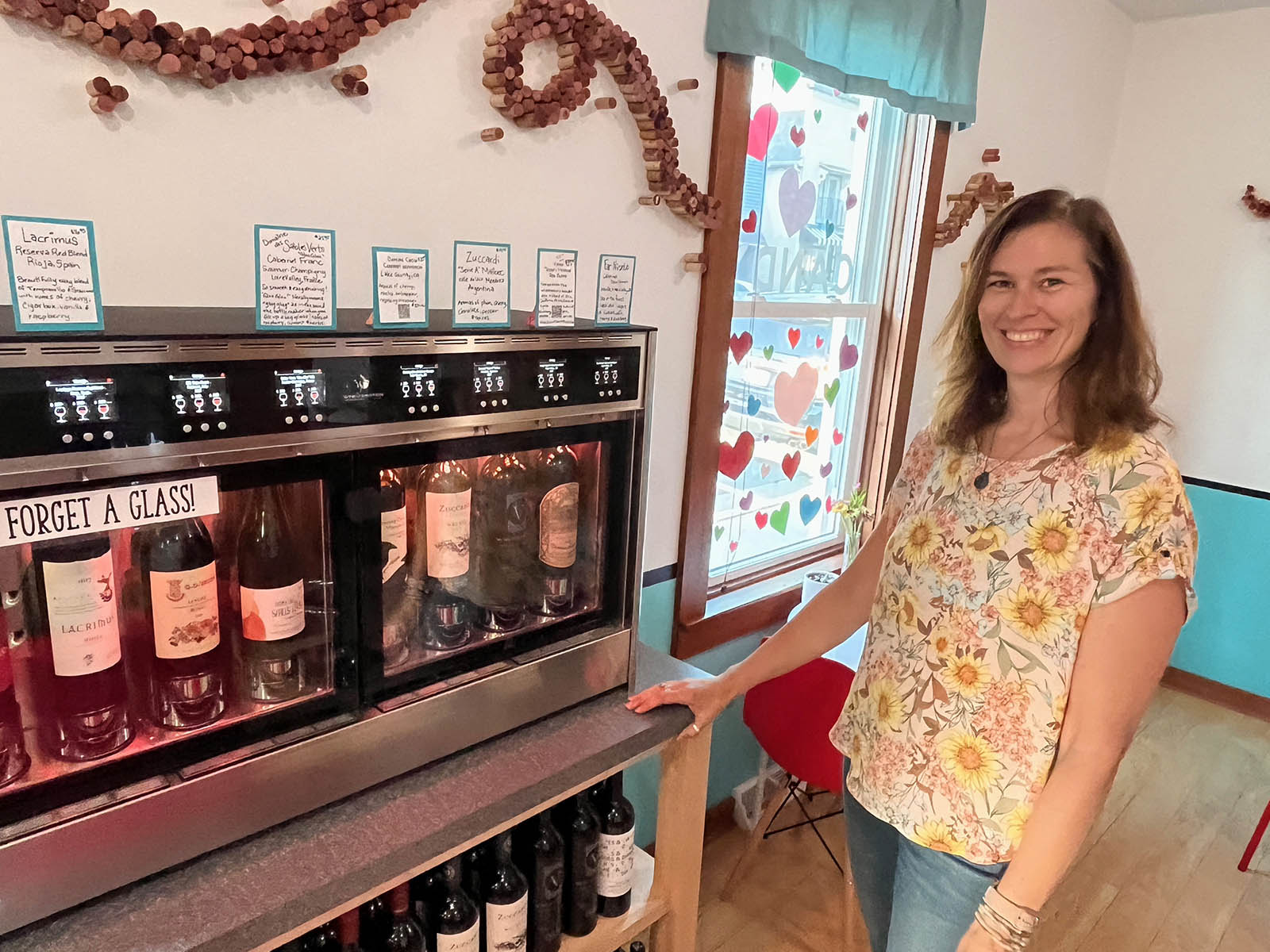 In addition to an incredible selection of curated wines from around the world, Stuart has a Wine-O-Matic machine for customers to pour their own. There's also a great selection of craft beer, spirits (especially whiskey), cheese, olive oils, vinegars and other items.
The Wine-O-Matic lounge is bright and welcoming, and the customers follow suit. When I visited, some town residents were celebrating a birthday party in style, and in classic Elkhart Lake hospitality, they ran over to pour me a glass of bubbly and lead me over to the charcuterie tray.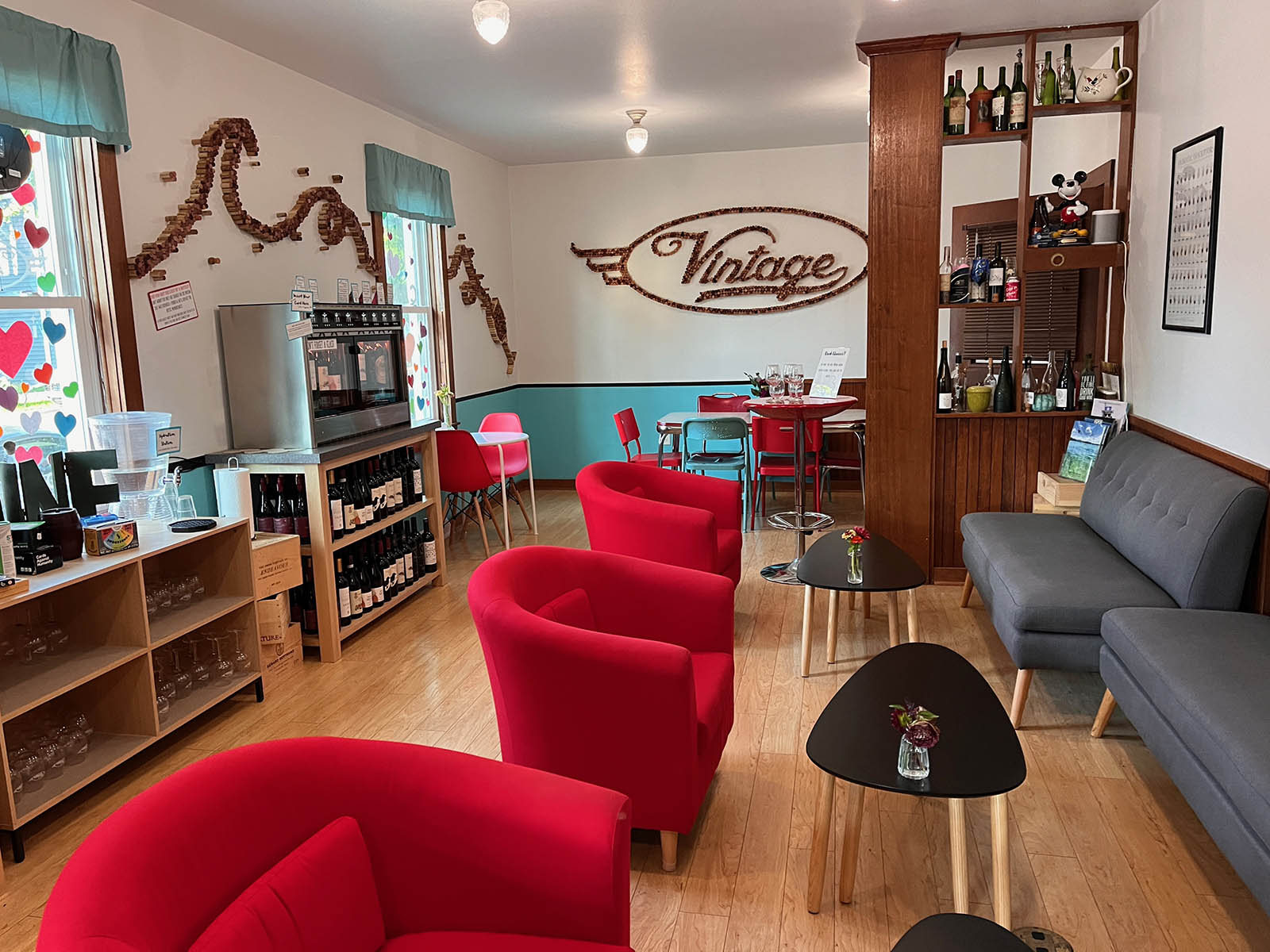 Close out a perfect Elkhart Lake day with a beer or cocktail at Siebkens' almost dive-bar-style Stop-Inn Tavern, which hosts live music and also serves bar food until 10 p.m.
There's also live music most nights and when the weather allows, it's performed outside, adding to the festive vibe that makes Elkhart Lake a beautiful place to be.
Born in Brooklyn, N.Y., where he lived until he was 17, Bobby received his BA-Mass Communications from UWM in 1989 and has lived in Walker's Point, Bay View, Enderis Park, South Milwaukee and on the East Side.
He has published three non-fiction books in Italy – including one about an event in Milwaukee history, which was published in the U.S. in autumn 2010. Four more books, all about Milwaukee, have been published by The History Press.
With his most recent band, The Yell Leaders, Bobby released four LPs and had a songs featured in episodes of TV's "Party of Five" and "Dawson's Creek," and films in Japan, South America and the U.S. The Yell Leaders were named the best unsigned band in their region by VH-1 as part of its Rock Across America 1998 Tour. Most recently, the band contributed tracks to a UK vinyl/CD tribute to the Redskins and collaborated on a track with Italian novelist Enrico Remmert.
He's produced three installments of the "OMCD" series of local music compilations for OnMilwaukee.com and in 2007 produced a CD of Italian music and poetry.
In 2005, he was awarded the City of Asti's (Italy) Journalism Prize for his work focusing on that area. He has also won awards from the Milwaukee Press Club.
He can be heard weekly on 88Nine Radio Milwaukee talking about his "Urban Spelunking" series of stories.