Season's eatings! The weather may be getting colder, but Dining Month on OnMilwaukee is just cooking up, dishing out your winning picks in this year's Best of Dining poll. Dining Month is brought to you by Fein Brothers, your premier food service equipment and supply dealer in Wisconsin since 1929. Congratulations to all of the winners, and happy eating for all those who voted! See all the winners for the month so far here.
Dining month here at OnMilwaukee is sadly coming to a close – but like any good meal, let's wrap up with dessert! The OnMilwaukee editors made some brutal "Sophie's Choice"-esque decisions and gathered together their favorite sweet treats from restaurants around the city.
Here's the delectable desserts they dream of long after their meals are over.
Carolynn Buser
Editorial Director
The BEST dessert in Milwaukee is hands down the Irish Car Bomb Cake at La Merenda. This delectable cake is soaked – literally – in Guinness, Bailey's Irish Creme and a few other amazingly tasty things, all topped with a cream cheese frosting that ALSO has Bailey's in it. It is heaven on a plate. I read somewhere they were thinking about getting it patented. They should; it is THAT good!
(PHOTO: Eating Milwaukee)
Jimmy Carlton
Sports Editor
My favorite dessert is the creme brulee at Lake Park Bistro, a decadent custard made with Madagascar vanilla beans and coated with caramelized sugar and honey madeleines. It's hot and cold and creamy and sweet and perfect.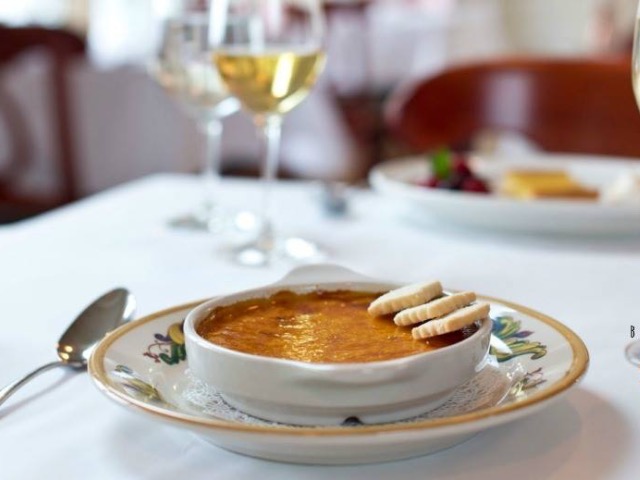 Lori Fredrich
Senior Writer, Food & Dining
Among desserts I've found myself enamored of this year is the Rolo Mousse from Artisan 179 in Oconomowoc. It's such a simple concept – essentially chocolate mousse layered with caramel sauce – but it's a win-win for anyone who appreciates the slight bitter notes of dark chocolate paired with salty caramel. Fermented Belgian dark chocolate keeps the mousse from getting too cloyingly sweet and salted caramel pearls offer up both texture and a fun whimsical look that keeps the dessert from taking itself too seriously.
Matt Mueller
Pop Culture Editor
As my dentist knows all too well, I'm very easy to please when it comes to sweets and desserts. Kopp's has always been a sentimental favorite. Growing up in Hales Corners, my family and I would often waste away a lazy summer licking our favorite custard flavors at the Greenfield location, while mini-Matt sat mesmerized by the wall of waterfalls surrounding the seating area. (And if Kopp's was too busy, Ferch's old-school ice cream shop – you know it's old school because they spell it "Shoppe" – in downtown Greendale made a beyond acceptable substitute.)
As I've moved away from my old stomping grounds, however, I've also found new sweet treats to love. Honeypie's always-eclectic and always-addictive pie selection is impossible to say no to – even after a big, hearty meal at the homey Bay View restaurant – while few desserts cap off a dinner better than the cake selections at Buckley's, made from scratch by Pam Buckley, the wife of owner Mike. There's plenty of palate-pleasing options at both, but I find that I gravitate toward the tart treat of key lime pie at both when it's available. But really, you can't go wrong at either – or really anywhere. Who's going to complain about dessert?
Jeff Sherman
Co-founder & President
Let's see. Where to begin? First – no frosting. Hate it. Plus, my grandfather lived to nearly 100 and never ate frosting either, and I follow in his frosting-hating footsteps. But on to the good desserts! Milwaukee favorites of mine include the gelato and tiramisu at San Giorgio, the apple tart at Bacchus, the key lime tart at Elsa's and anytime I can get my hands on a Pete's Pop.
Molly Snyder
Senior Writer/Editorial Manager
My favorite Milwaukee dessert is Purple Door ice cream. It's in my neighborhood, it's rich in flavor and it convinced me that a cold treat doesn't have to be custard. I like so many flavors – the whiskey, the salted caramel – but my favorite is probably the straight-up vanilla bean.