'Tis Dining Month, the tastiest time of year! This means we're dishing up fun and fascinating food content throughout October. Dig in, Milwaukee!
Owamni by The Sioux Chef, one of a few full-service Indigenous restaurants in the country, opened this summer in the heart of Minneapolis. Since then it's received an avalanche of positive press from around the world and new reservations for weeks in advance fill up almost immediately.
Upon hearing about Owamni, our interests were piqued, and so we made the five-hour trek from Milwaukee to experience Indigenous culture through food, drink and the spiritual energy that permeates the space.
Located inside a former mill building next to Haha Wakpa (Mississippi River), Owamni overlooks the Owámniyomni (St. Anthony Falls), which means "place of swirling waters" in Dakota. It is also the origin of the restaurant's name.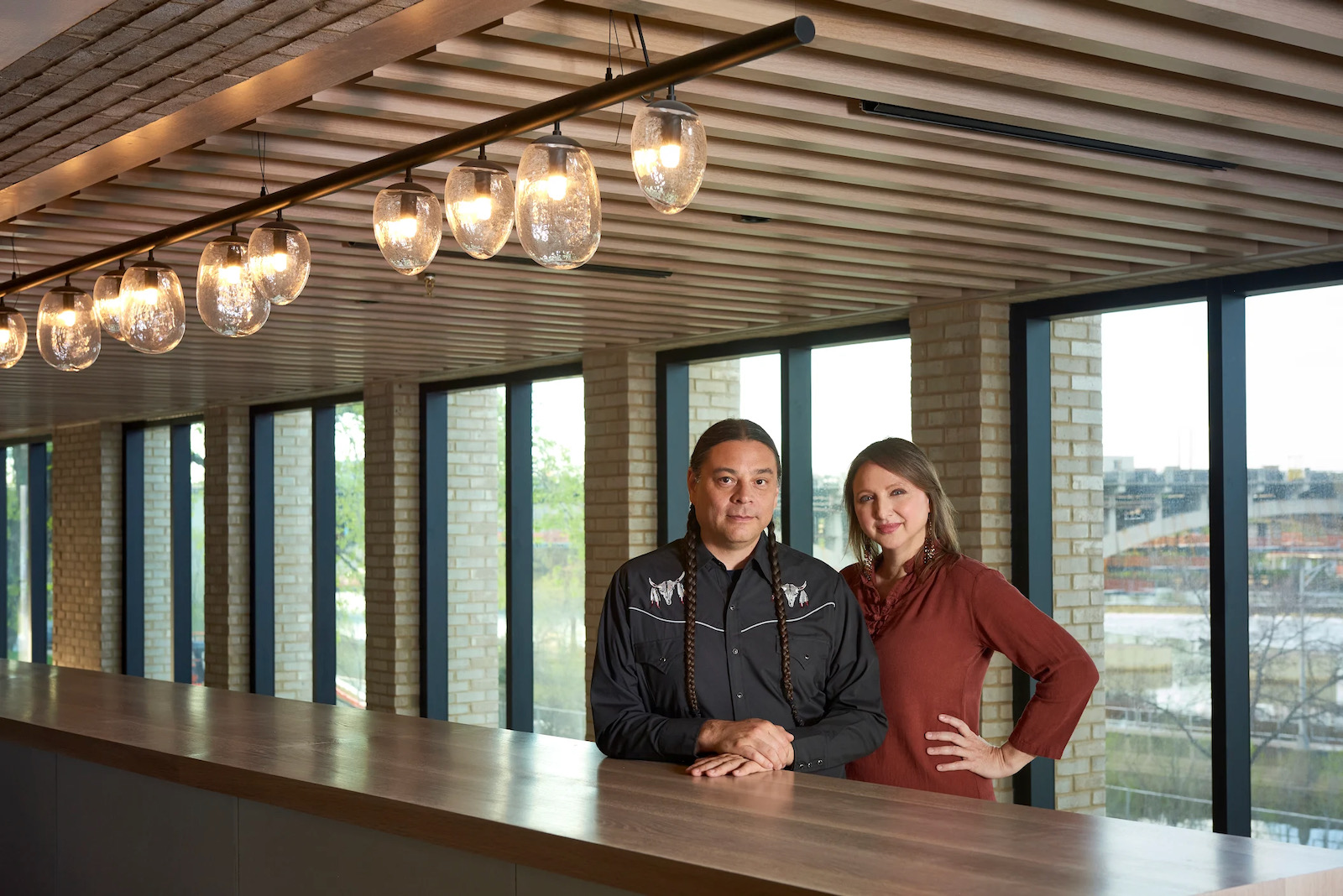 The restaurant was born from a catering and educational nonprofit called The Sioux Chef that was founded by Chef Sean Sherman and Dana Thompson in 2014. As of this week, just in time for Indigenous Peoples Day, they also opened a food truck.
While dining at Owamni guests indulge in Indigenous food in its truest form; prepared from ingredients used long before Europeans settled on the land and introduced non-native ingredients.
Owamni features a decolonized menu, meaning the dishes are made entirely from original ingredients like game, corn and wild plants and don't include butter, dairy, wheat, sugar, gluten, pork, beef or chicken.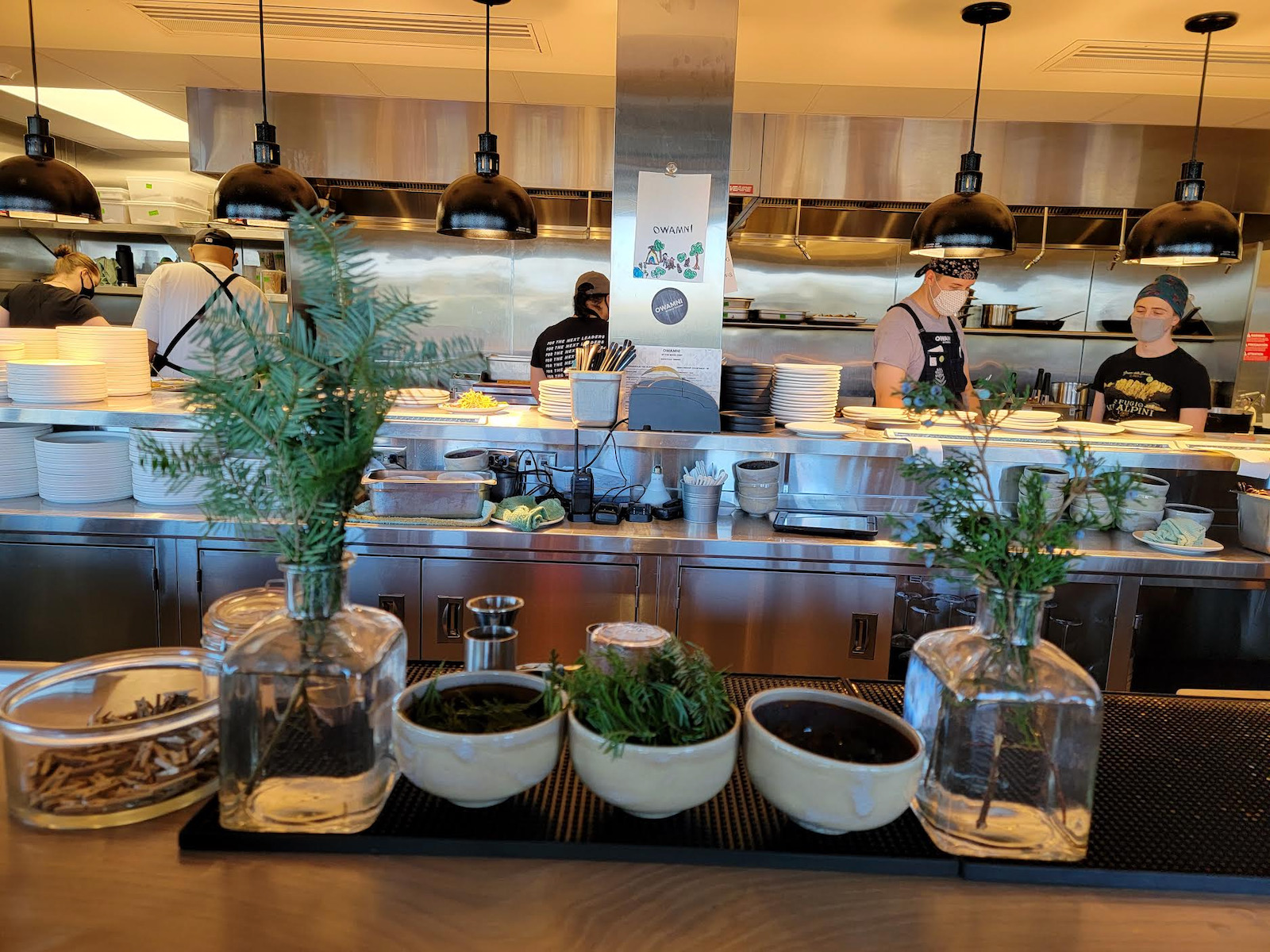 The menu changes seasonally and is primarily organic and locally sourced. It accommodates meat eaters, vegetarians and vegans alike.
"The menu is sourced first from Indigenous producers, second from local farms and third priority is organic," says Thompson. "Our mission is to promote Indigenous foodways education and facilitate Indigenous food access."
But the intent is for the experience to transcend taste and conjure dialogue around and insight into Indigenous people's resilience despite hardship, inexcusable treatment and loss.
Sherman, who received a 2018 James Beard Award for Best American Cookbook and a 2019 James Beard Leadership Award, has been interviewed in a multitude of articles and media programs. He presented dinners at the James Beard House in Manhattan and shared his culinary knowledge at Yale, the Culinary Institute of America and the United Nations.
During out visit, we feasted on cedar-braised Bison corn tacos with leeks and amaranth leaves; grilled forest mushroom corn tacos with pickled mustard seed and mustard greens; in-the-husk corn bread; grilled root vegetables in dandelion pesto and bison and turkey choginyapi (sandwiches) stacked on griddled corn patties called arepa. Nothing was priced over $20.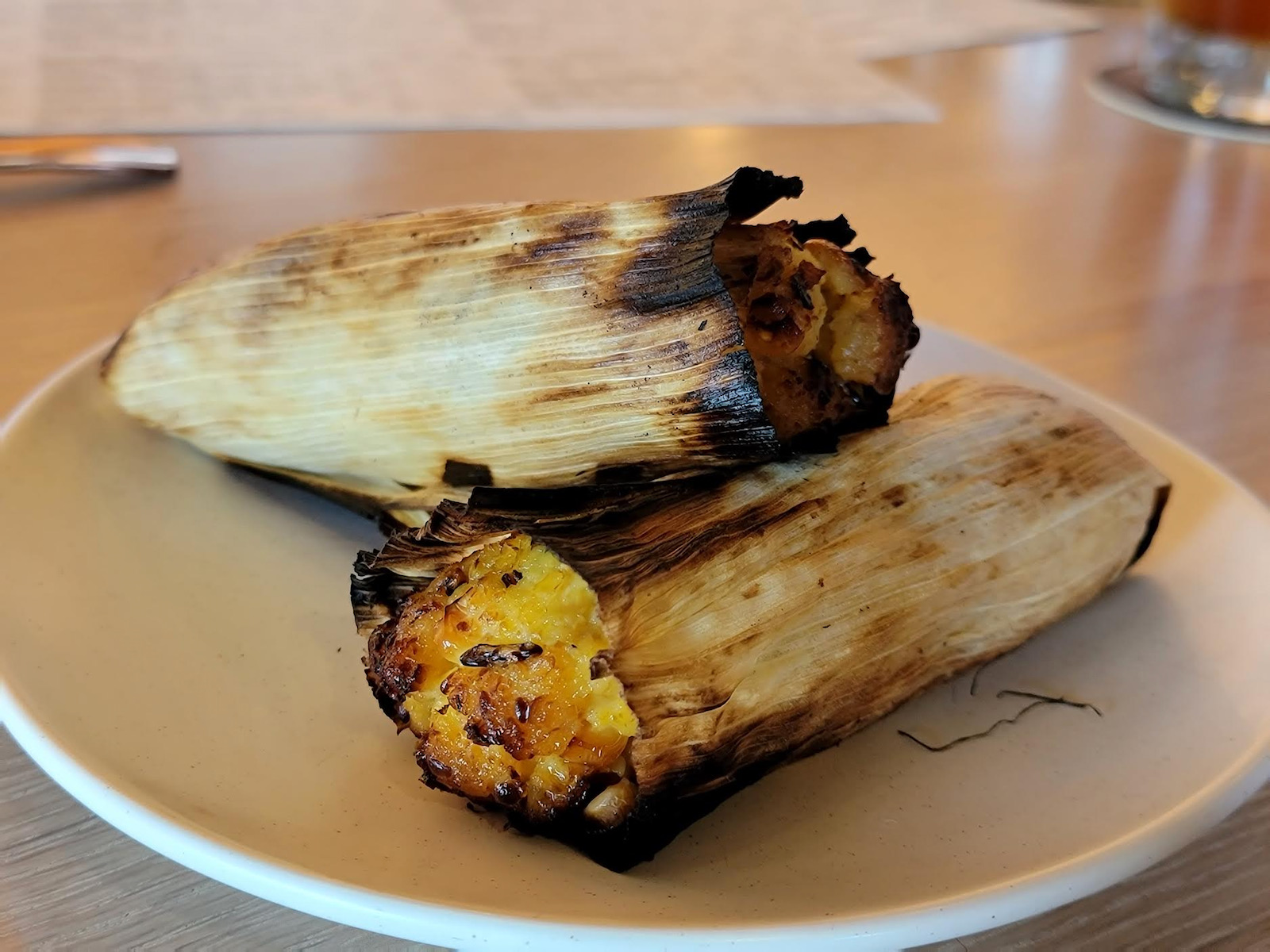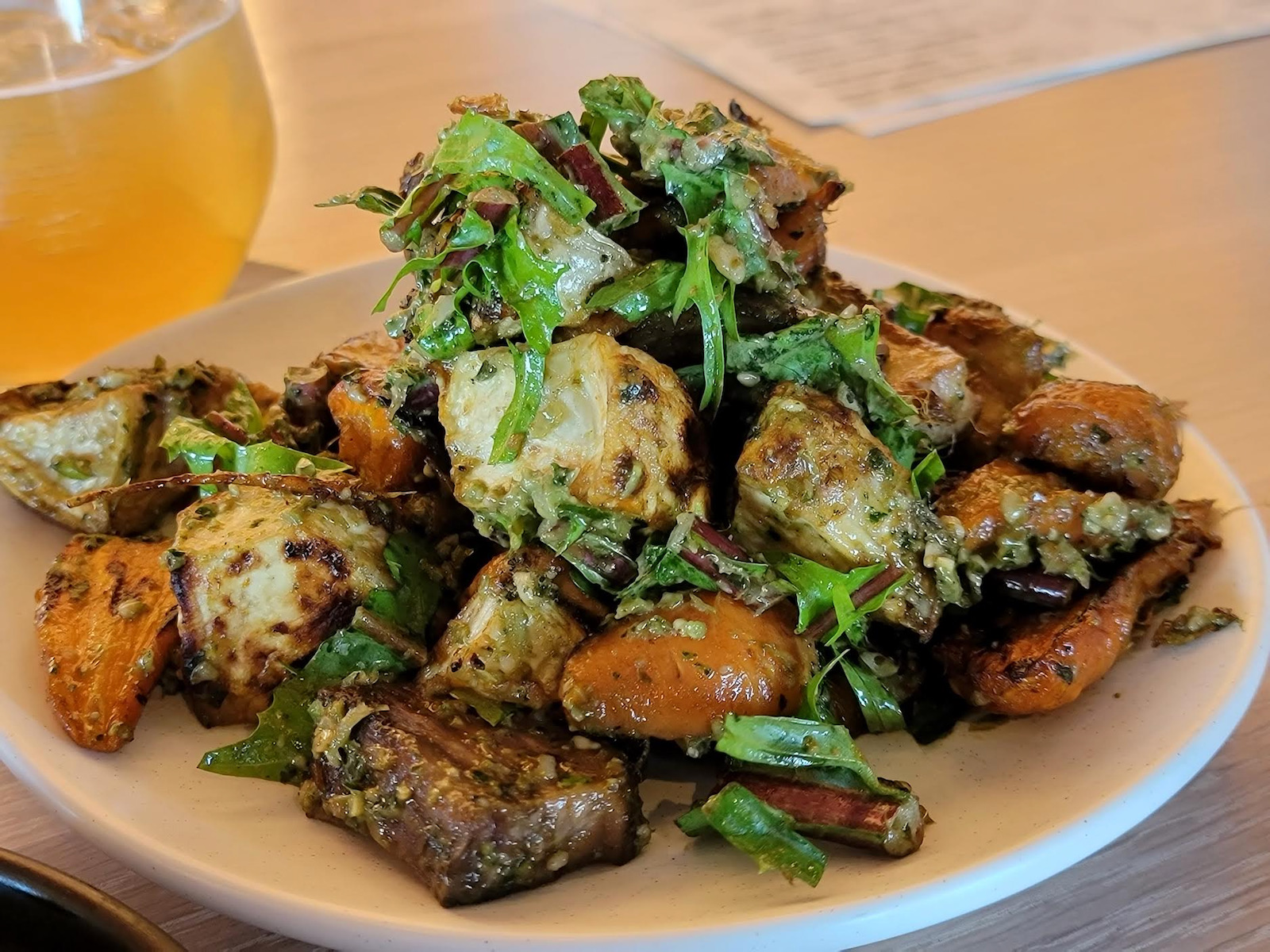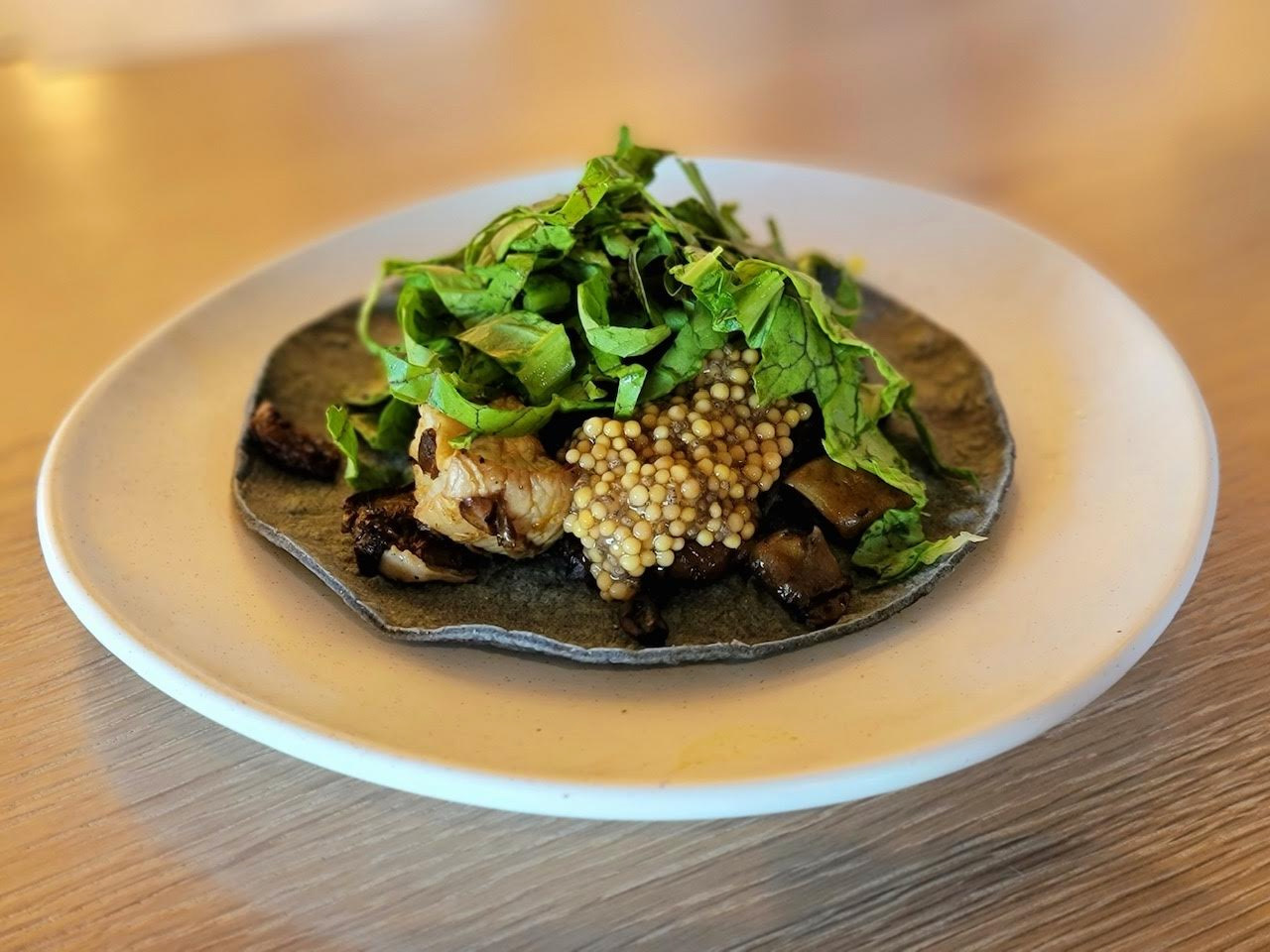 Every dish was presented simply and beautifully. Food items came out as they were ready and we enjoyed plate after plate of nourishing, ravishing food. Unfortunately, we were too full for dessert, but the forest berry compote with cream made from puréed walnuts looked delightful.
The drink menu features a lengthy list of zero-alcohol cocktails (mocktails) as well as beer made in breweries owned by women, Indigenous people and people of color.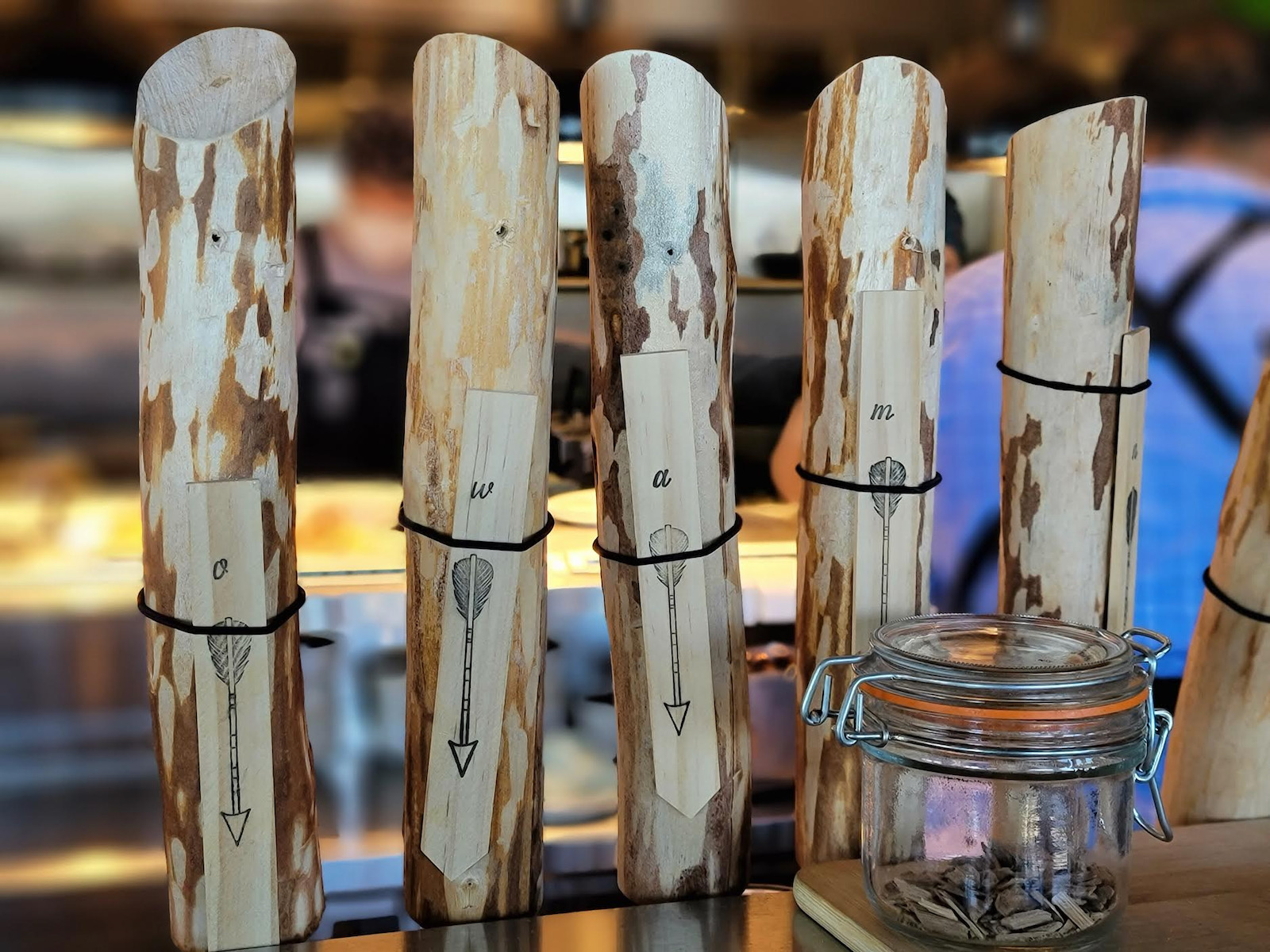 Stand-out beverages for us included the Amikomin, a concoction of black currant, juniper, sumac, birch and water, and the Oginii-Waabigwan, a soothing mix of rosehip, strawberry, lavender, agave, rosewater and pink peppercorn.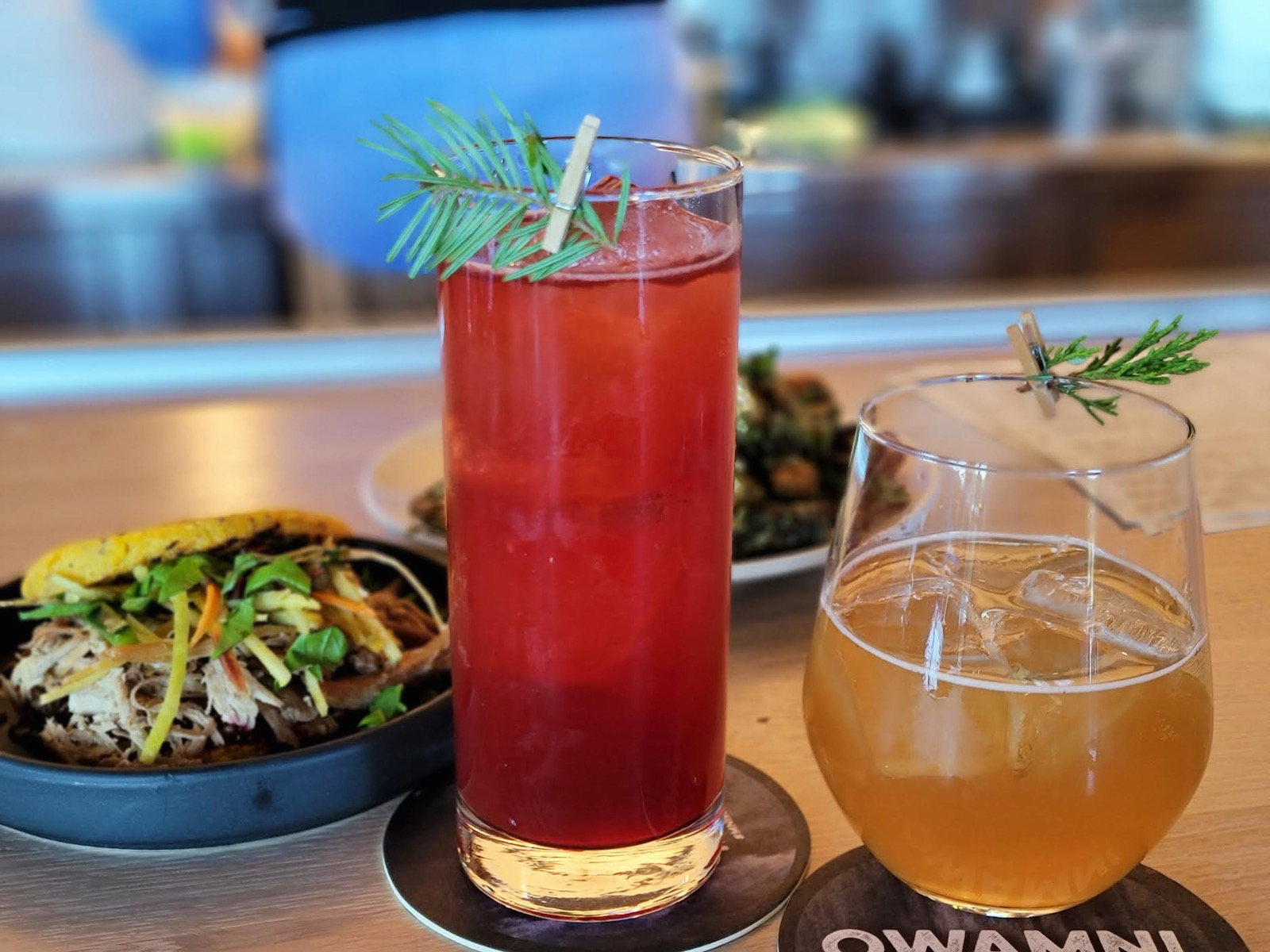 Sumac iced tea, Indigenous teas, single origin coffee and hot chagalate are also available.
Owamni's space, like the food, is natural, aesthetically pleasing and simple. The dining area is long and narrow, with fresh greenery on the tables, all of which offer a breathtaking view of the river. Bar seating provides a full view of the lively kitchen and the patio is shady, private and lush.
The genuine, attentive servers wore masks, made eye contact and referred to us as "friends." About 75 percent of Owamni's staff identify as Indigenous and represent Anishinaabe, Mdewakanton Dakota, Navajo, Northern Cheyenne, Oglala Lakota and Wahpeton-Sisseton Dakota.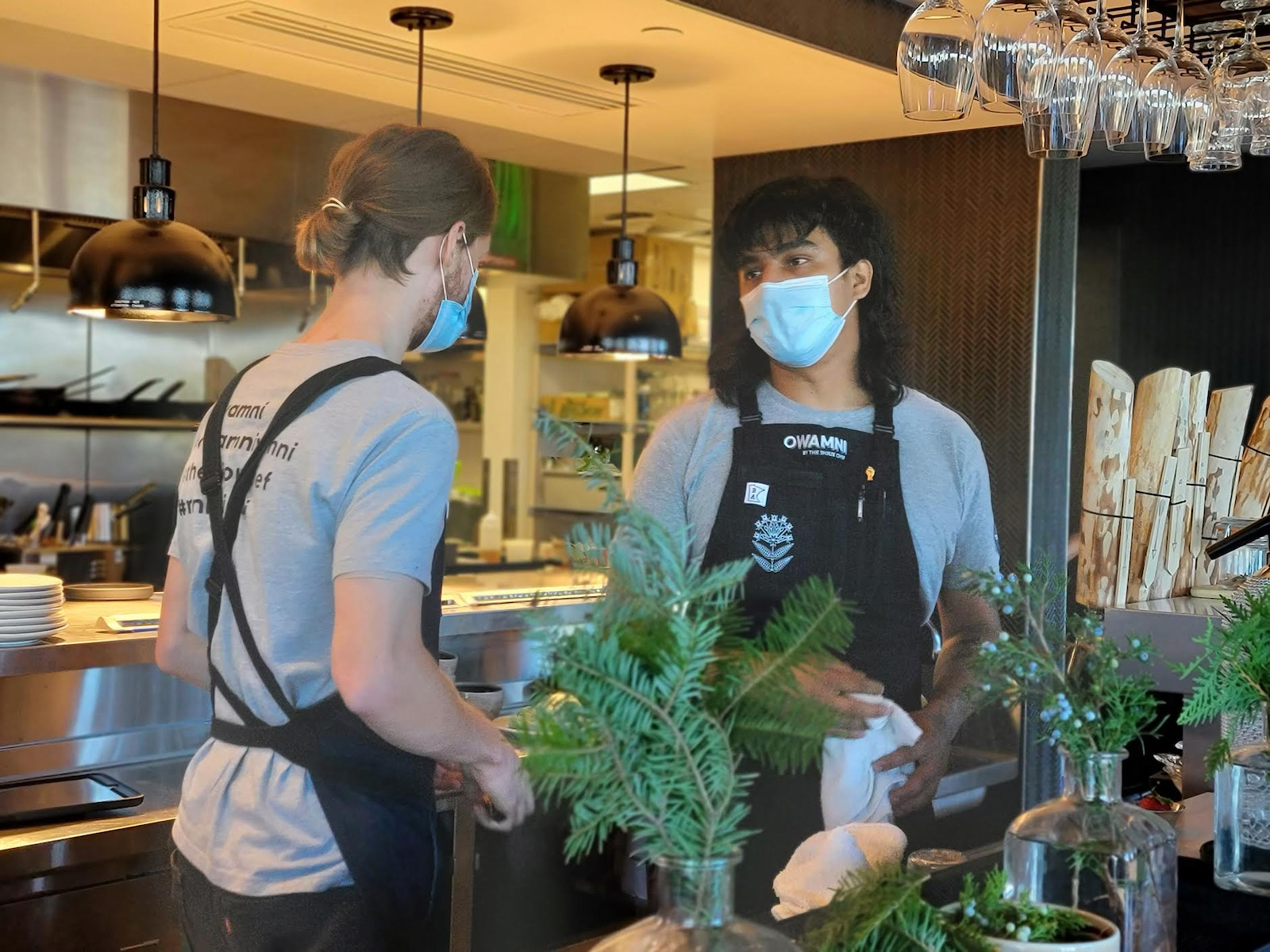 Owamni pays between $18 and $22 per hour and automatically adds 15 percent service charge to each bill.
"Making our staff happy is top priority," says Thompson.
Owamni is open for dinner on Tuesdays and Wednesdays, and for lunch and dinner Thursday through Sunday. Reservations for the dining area are booked almost immediately upon release, so plan ahead. Walk-ins are welcome at the bar and, weather permitting, the patio.
"Eating at Owamni isn't like eating at a regular restaurant, you get to experience not only the food, but culture, storytelling, sustainability, beauty and history," says Thompson. "The food is beautiful and delicious, but it's also medicine."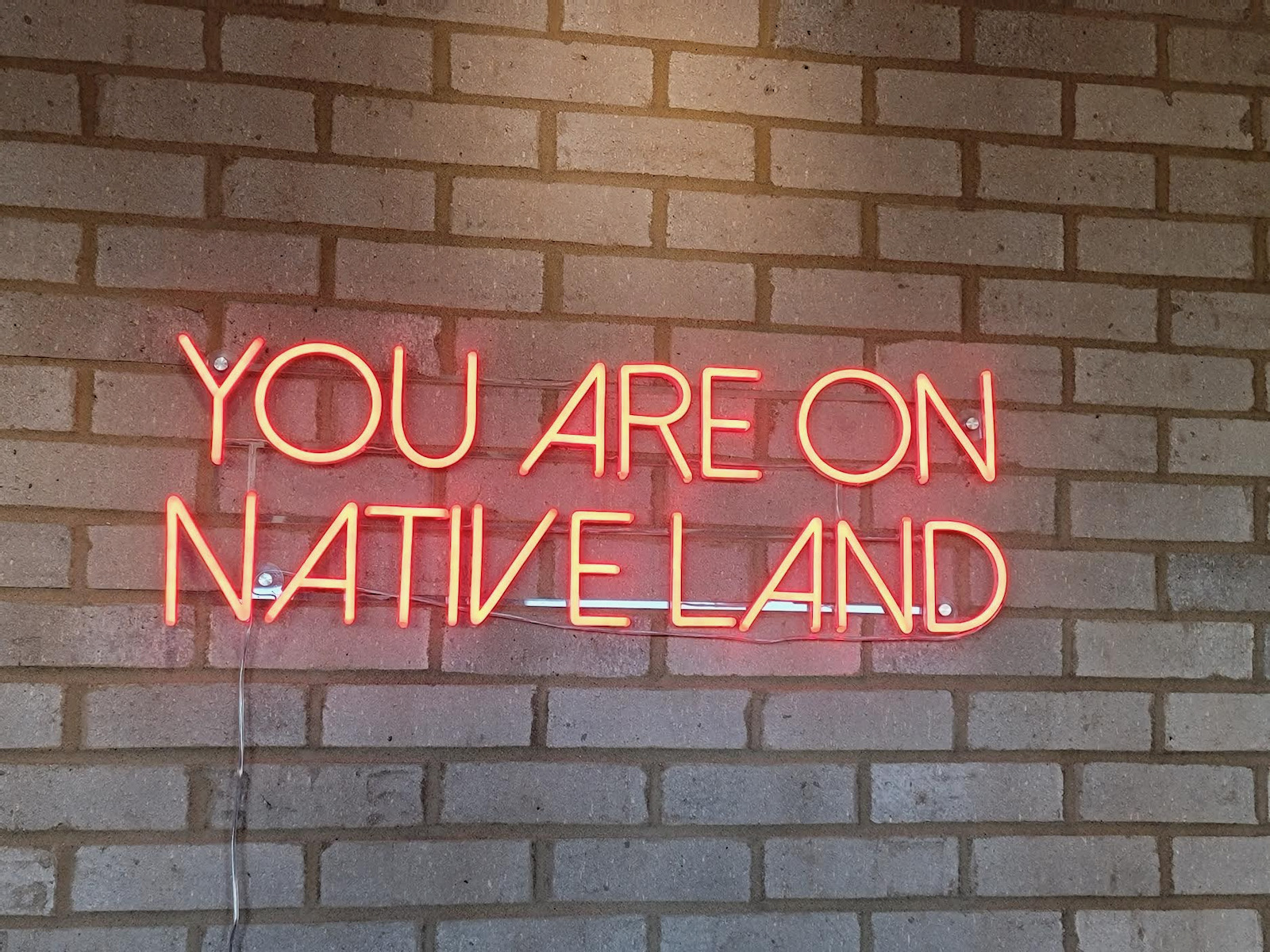 Molly Snyder started writing and publishing her work at the age 10, when her community newspaper printed her poem, "The Unicorn." Since then, she's expanded beyond the subject of mythical creatures and written in many different mediums but, nearest and dearest to her heart, thousands of articles for OnMilwaukee.

Molly is a regular contributor to FOX6 News and numerous radio stations as well as the co-host of "Dandelions: A Podcast For Women." She's received five Milwaukee Press Club Awards, served as the Pfister Narrator and is the Wisconsin State Fair's Celebrity Cream Puff Eating Champion of 2019.