At the end of 2019, OnMilwaukee's Lori Fredrich shared plans for Paloma Taco & Tequila, 5419 W. North Ave. The cute and casual Mexican joint opened in July and has so far been well received in the neighborhood as well as social media.
On a recent Tuesday night, the place was hopping around dinner time with every socially-distanced table taken on the patio. The masked-up staff was friendly and super accommodating, checking in regularly with those somewhat awkwardly waiting for a table on the sidewalk.
There is also a walk-up window for to-go orders and socially-distanced tables and bar seating inside the cute and cheerful cantina.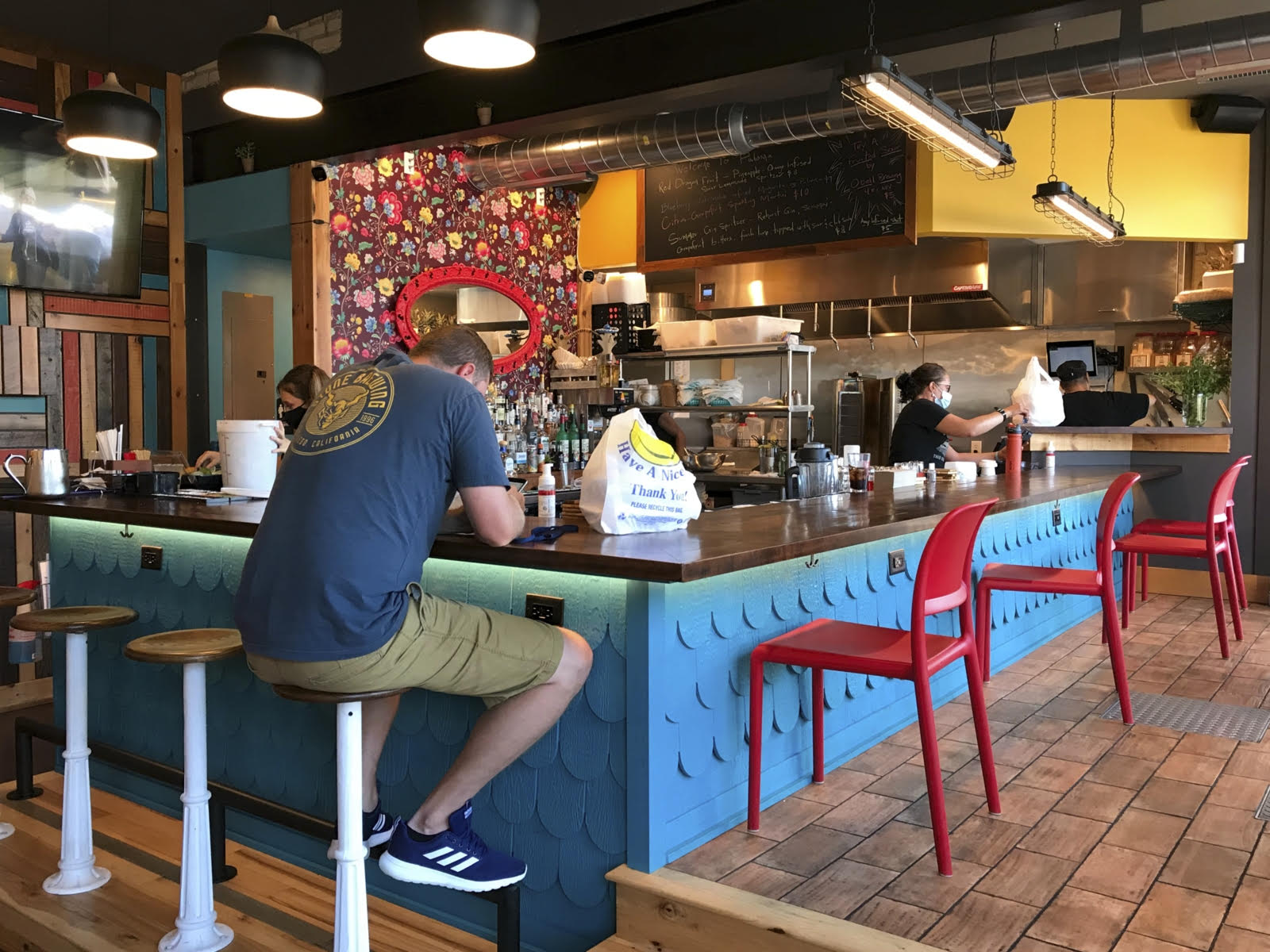 The two-sided menu has one page dedicated solely to drinks and the flip side lists all of the food options.
Tacos make up at least half of the food menu and are ordered a la carte on corn or flour tortillas or a bed of lettuce. Most stand-out for us was the flavorful and tender spicy chicken. Although it could have been warmer, the chicken was slow cooked to perfection and topped with a generous amount of Chihuahua cheese, lettuce, tomato, onion and crema. The vegetarian crispy sprout was also well done, with flash fried Brussel sprouts (they reminded us of the equally-as-yummy sprouts at Camino) mixed with elotes corn salad and Cotija cheese.
Tortas, burritos, tuna tostados and vegan (tofu) offerings are also available. Prices range from $3.50-$4 per taco to $12 for a burrito or torta.
A couple of my dinner mates started with the house-made taquitos which they reported as crispy and satisfying with tender chicken and crema sauce. Chips and salsa are not automatically served, but available for $3.
Paloma is also dog-friendly and features the Fat Puppy on the menu which is a flour tortilla slathered in peanut butter and banana.
Cocktails include five or six different margaritas, numerous Old Fashioneds including a spicy Mexican version, homemade hard lemonade, a Mango Mamba and more. They also have a dozen different tequilas, a large selection of bottled beer, wine, champagne and dozens of other spirits made globally and locally.
Non-alcoholic beverages include Jarritos or Two Brothers sodas, Jamaican Hibiscus Tea, Topo Chico mineral water and Valentine Coffee.
Paloma Tacos & Tequila, owned by industry veteran Pattie Ford, has a great vibe and solid cuisine that reminded us of the locally-owned BelAir Cantina chain. Best of all, it's a community-centric space that seems to welcome everyone.
Paloma Taco & Tequila's hours are 4 to 9 p.m. Monday, Tuesday and Thursday, 4 to 10 p.m. Friday, 10 a.m. to 10 p.m. Saturday and from 10 a.m. to 8 p.m. Sunday. For takeout, call (414) 810-0404. For more information, visit the website.
Molly Snyder grew up on Milwaukee's East Side and today, she lives in the Walker's Point neighborhood with her partner and two sons.
As a full time senior writer, editorial manager and self-described experience junkie, Molly has written thousands of articles about Milwaukee (and a few about New Orleans, Detroit, Indianapolis, Boston and various vacation spots in Wisconsin) that range in subject from where to get the best cup of coffee to an in-depth profile on the survivors of the iconic Norman apartment building that burned down in the '90s.
She also once got a colonic just to report on it, but that's enough on that.
Always told she had a "radio voice," Molly found herself as a regular contributor on FM102, 97WMYX and 1130WISN with her childhood radio favorite, Gene Mueller.
Molly's poetry, essays and articles appeared in many publications including USA Today, The Writer, The Sun Magazine and more. She has a collection of poetry, "Topless," and is slowly writing a memoir.
In 2009, Molly won a Milwaukee Press Club Award. She served as the Narrator / writer-in-residence at the Pfister Hotel from 2013-2014. She is also a story slam-winning storyteller who has performed with The Moth, Ex Fabula and Risk!
When she's not writing, interviewing or mom-ing, Molly teaches tarot card classes, gardens, sits in bars drinking Miller products and dreams of being in a punk band again.