Enjoy one of our favorite pieces from the past year – and here's to a wonderful start to 2023!
The crisp exterior of the pastry audibly shatters as you bite into a slice of warm burek, the seemingly endless layers of dough yielding to a tender center teeming with tender spinach and creamy, slightly briney Serbian cheeses.
The dish, painstakingly layered by hand in the kitchen at Three Brothers, 2414 S. St. Clair St., is a labor of love. It tells the story of a family who risked their lives to come to America to escape Communist rule. It tells the stories of the dreams they made for a new future. It also embodies memories of home, the bonds of family and the love that has seen them through the decades.
But it also tells the story of a strong, determined woman who sacrificed her dreams for those of her family. It's the tale of a native New Yorker who mastered the Serbian language to communicate with her mother-in-law, and who funneled her passion and love into learning to cook Serbian cuisine to preserve the family's legacy.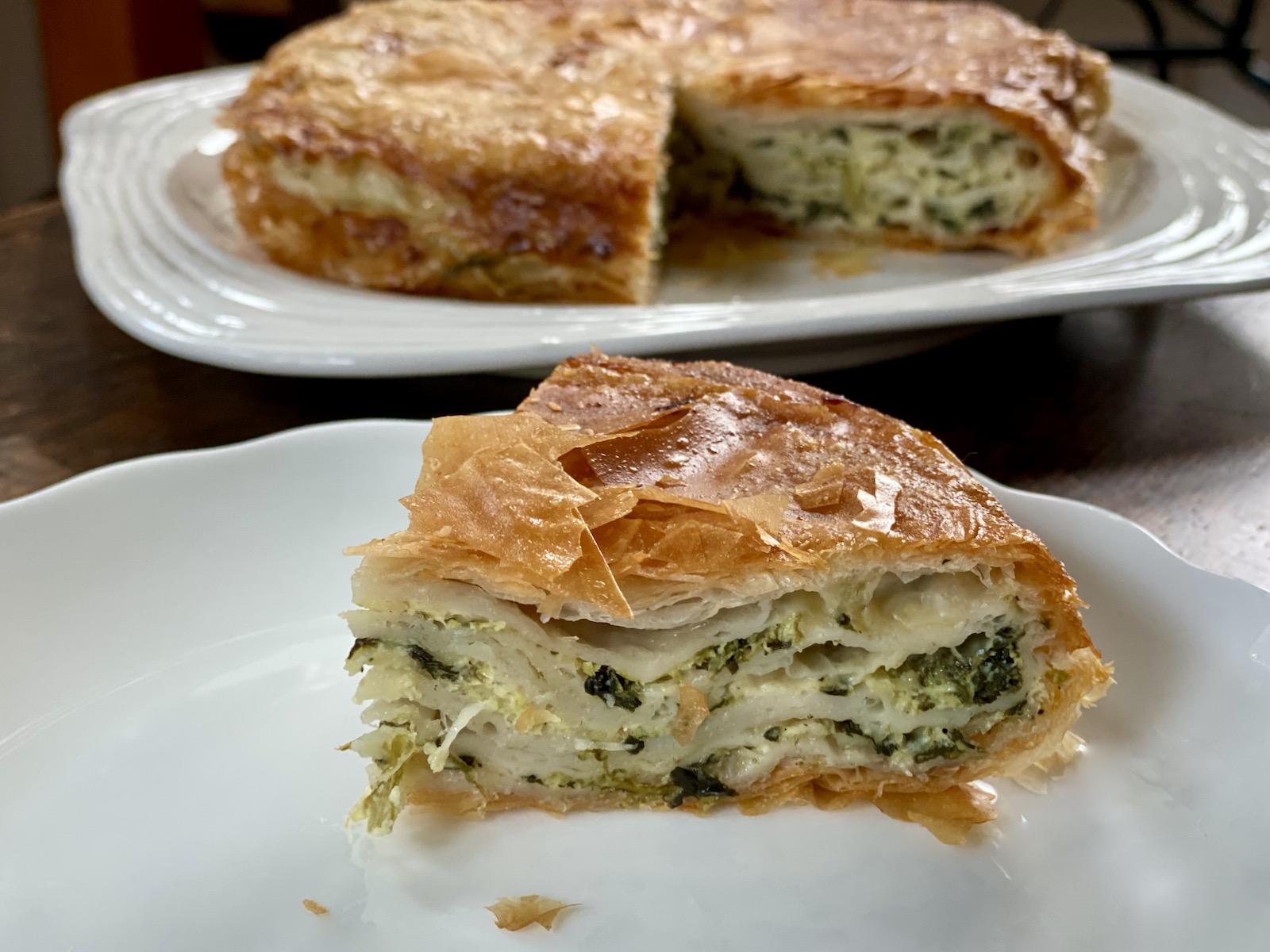 Most people would never guess that Patricia Radicevic is on the cusp of celebrating her 80th birthday. Her skin glows. Her eyes shine with energy. And she still wakes up most mornings –, as she has for 50 years – and spends her day preparing comforting Serbian fare for guests.
Over the years, she's folded layers upon layers of burek, painstakingly filled and folded grape leaves around tender seasoned beef and rice. She's attended to the suckling pig as it roasts slowly in the oven, its meat rendered milky and sweet and its skin uncomparably crisp. She's also funneled her passion for sweets into delectable desserts, from struden and baklava to (her favorite) walnut torte.
But if you would have told her 60 years ago that she'd celebrate her 80th birthday while at the helm of a Serbian restaurant in Milwaukee, it's doubtful she would have believed you.
Building a life
Patricia Joan Reardon grew up on Staten Island in New York. Her parents were first generation immigrants, her mother from Lithuania and her father from Ireland.
"Staten Island wasn't what it is today," Radicevic recalls, noting that she grew up in a neighborhood populated largely by Irish, Italian and Polish immigrants. The island was accessible only by ferry, and she says the journey to Manhattan took at least an hour and a half.
But her childhood was filled with a collage of diverse experiences, from the smells of various traditional foods wafting from apartment windows to the chatter of neighbors as they went about their daily tasks.
"I was used to hearing languages that I didn't necessarily understand and my ears grew attuned to understanding various accents," she recalls, noting that it was a skill which would serve her well decades later.
She grew up with a love for trying new things. She loved to eat new foods and travel, when she could. When the time came, she went to college, though she says she didn't finish because she couldn't clearly see a path for herself. Instead, she entered the working world and secured a job in the banking industry.
While she was working, she met a man who would change her life. Branko Radicevic had made the journey to New York after earning his degree at UW-Milwaukee. The two worked together at the Bank of America (at one point, when Branko was promoted, Patricia was moved into his former role) and, as time passed, they fell in love and got married. When the bank transferred them to new posts in California, they moved across the country, built a life for themselves and started a family.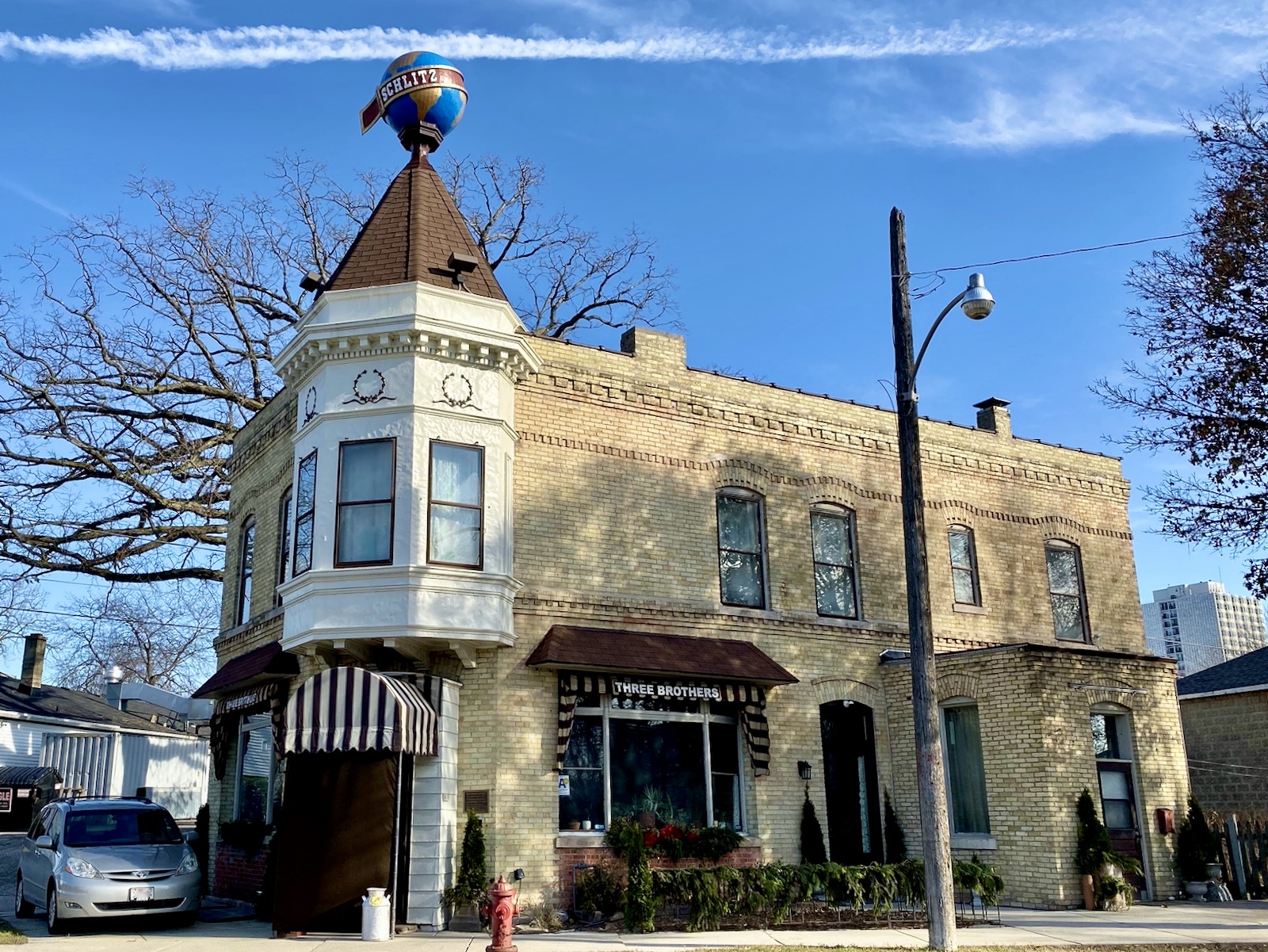 Family calls
But in 1972, Radicevic's life would be forever changed. Branko's father Milun had fallen ill, and – as the eldest of three sons – Branko was asked to come and assist in running the family's restaurant, Three Brothers, in Milwaukee, Wisconsin.
By his side, Patricia made the 2000+ mile move from Los Angeles, California with her daughters Milunka, Branislava and Jelena in tow. At the time, she had no idea what was in store for her family.
"I trusted him [Branko]," she says. "But I was very worried about it. He was in his late forties, and I was fearful about him leaving his job. I was also afraid that I just wouldn't be able to do it. Always, in the back of my mind, I thought: 'What if this didn't work?'"
But Radicevic leaned in, and despite her reservations, she pressed onward, answering the call of duty that awaited her.
"Initially I worked at the restaurant as a waitress," she says, "And during the day I helped out in the kitchen. But the intention was that I would take over the cooking at the restaurant."
Her mother-in-law Milunka, had arrived in Milwaukee in 1956. Even at that time, she was nearly 60 and she suffered from rheumatoid arthritis. But her recipes were among the few things that she brought with her from her homeland in the former Yugoslavia and her passion for cooking became the catalyst for the success of the restaurant.
"I always thought my mother-in-law was somewhat of a genius," says Radicevic. "She came here and started over. So many of the ingredients she needed weren't the same as what she had back home. But she adapted. She used what she could find, and she made the rest. And that was really remarkable."
Radicevic says she approached Milunka's kitchen with an open mind.
"I loved to travel and I loved food," she says. "I also loved to try new things. I knew how to cook, but until I began watching her in the kitchen, I don't think I realized that I was really all that interested in it."
As she watched, she absorbed every movement as Milunka created the dishes that she'd been preparing for decades. Her movements were rote, and she moved in a rhythm that no written recipe could ever record.
"It was hard," she admits. "I had never eaten Serbian food before I moved here. There were so many different things to learn. Milunka cooked by feel. She didn't use measuring cups. So, I had to watch her closely."
Despite their language barrier and an overall lack of familiarity with the cuisine, Radicevic persisted. She translated Milunka's movements into recipes, writing down measurements for ingredients and learning the rhythms that brought things together. More than that, she showed up in the kitchen each day, ready to learn.
"I made the pastries, the stews," she says. "I learned to make musaka, roasted duck and lamb. It took a couple of years before things began to click. Even then, Milunka was always watching and making sure that I was doing everything correctly."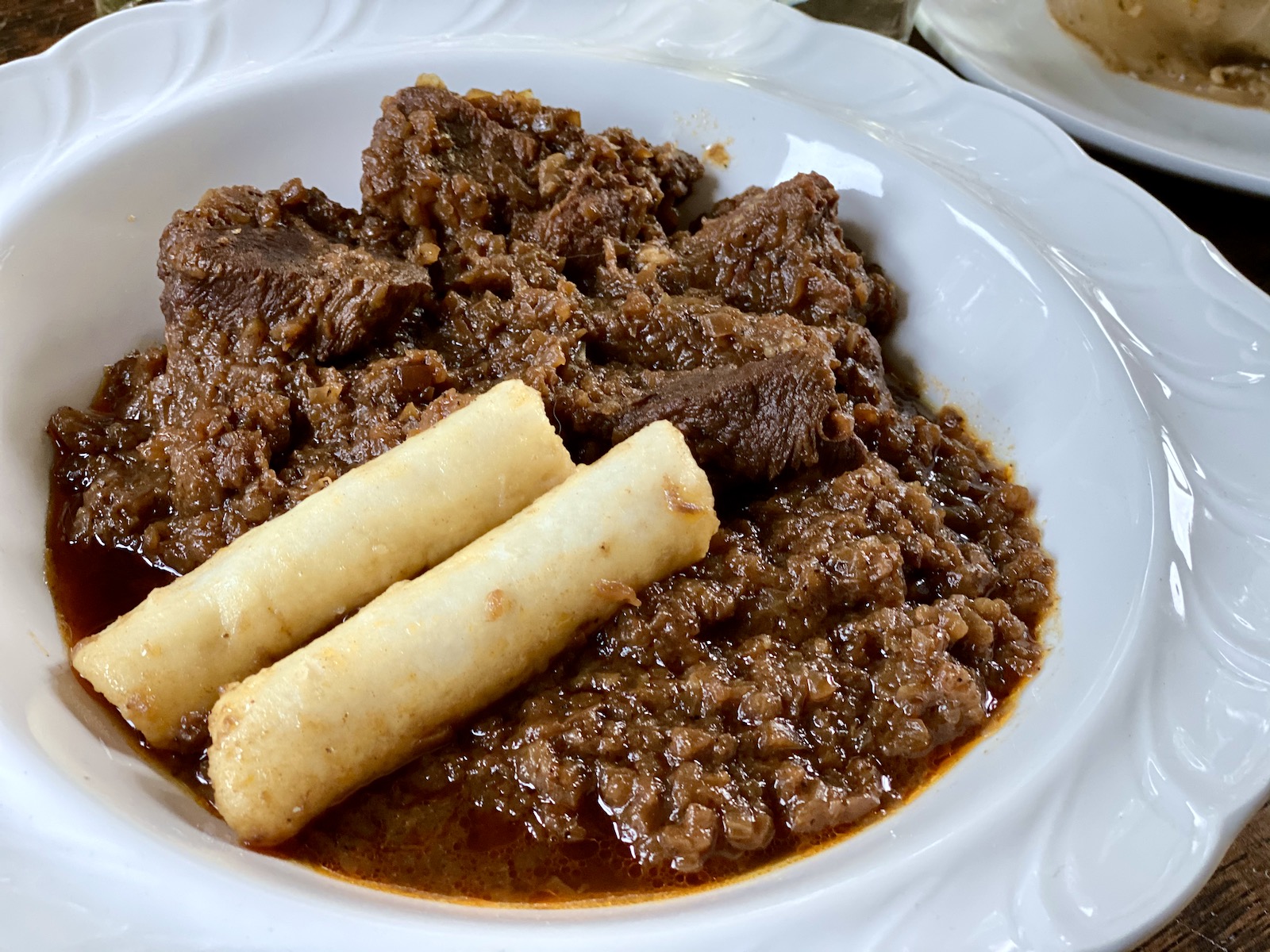 Sacrifices
The path wasn't easy, and it required Radicevic to balance family and work in a way that she never imagined she would have to tackle.
"It was definitely an adjustment," she says. "I was still raising my kids at the time and there was no daycare. The whole family lived upstairs, and the only kitchen was in the restaurant. So we had to carefully plan our meals and make sure the children ate before restaurant service began.
"Between caring for my children and the restaurant, I'd sometimes exist on five hours of sleep. I remember how my mother would call and encourage me. She'd say: "I know it's hard. But be glad that you can still look after your children.'"
To compound it all, restaurant work allowed for very little down time, with the exception of Mondays when the family would gather for a relaxing meal together.
"The first time my husband and I decided to close the restaurant for a week to go on vacation, my father-in-law went bonkers," she says. "...he thought the customers wouldn't come back."
Finding passion
Radicevic says she grew to enjoy her time in the kitchen. But a particular bright spot was learning to craft Milunka's cadre of Serbian desserts. Some, like her favorite walnut torte composed of seven cake layers and chocolate filling, took hours of painstaking work to create.
"I always had a big sweet tooth," says Redicevic with a broad smile. "In fact, she [Milunka] would often be in awe of me because after dinner service, I'd often eat a slice of each of the tortes that were left."
Over the course of a decade, she stood at Milunka's side in the kitchen. Eventually, she achieved mastery of Milunka's recipes. Along the way, she developed a passion for a cuisine which wasn't hers by birth, but which she grew to know as well as if she'd grown up with it.
When Milunka passed away in 1982, Radicevic says that – despite her doubts – she was ready to take over the kitchen.
"Sometimes I felt intimidated because so many chefs had culinary backgrounds, and I was like 'What am I doing here?'" she says. "I often wished that I could take some culinary courses, especially in baking. But I never had the time."
But she says her confidence in her abilities was both established and validated time and time again by customers who continued to come and enjoy meals at Three Brothers.
"One of the nicest compliments I've ever received was after my mother-in-law passed away," she recalls. "A customer told my husband that the food was so good they would have never known that Grandma wasn't here. And I thought: 'Oh, my goodness, I've made it!'"
50 years later
Today, Patricia Joan [Reardon] Radicevic works almost daily in the kitchen of which she's been at the helm for over 40 years. Remarkably, that's 14 years longer than her mother-in-law, with whom she shared the space for a decade.
Over those years, she saw Three Brothers acknowledged by national publications, including "Bon Appetit," "Gourmet" and the "New York Times". She also felt the pride as stood alongside her husband Branko as the James Beard Foundation honored the restaurant with its American Classic award in 2002.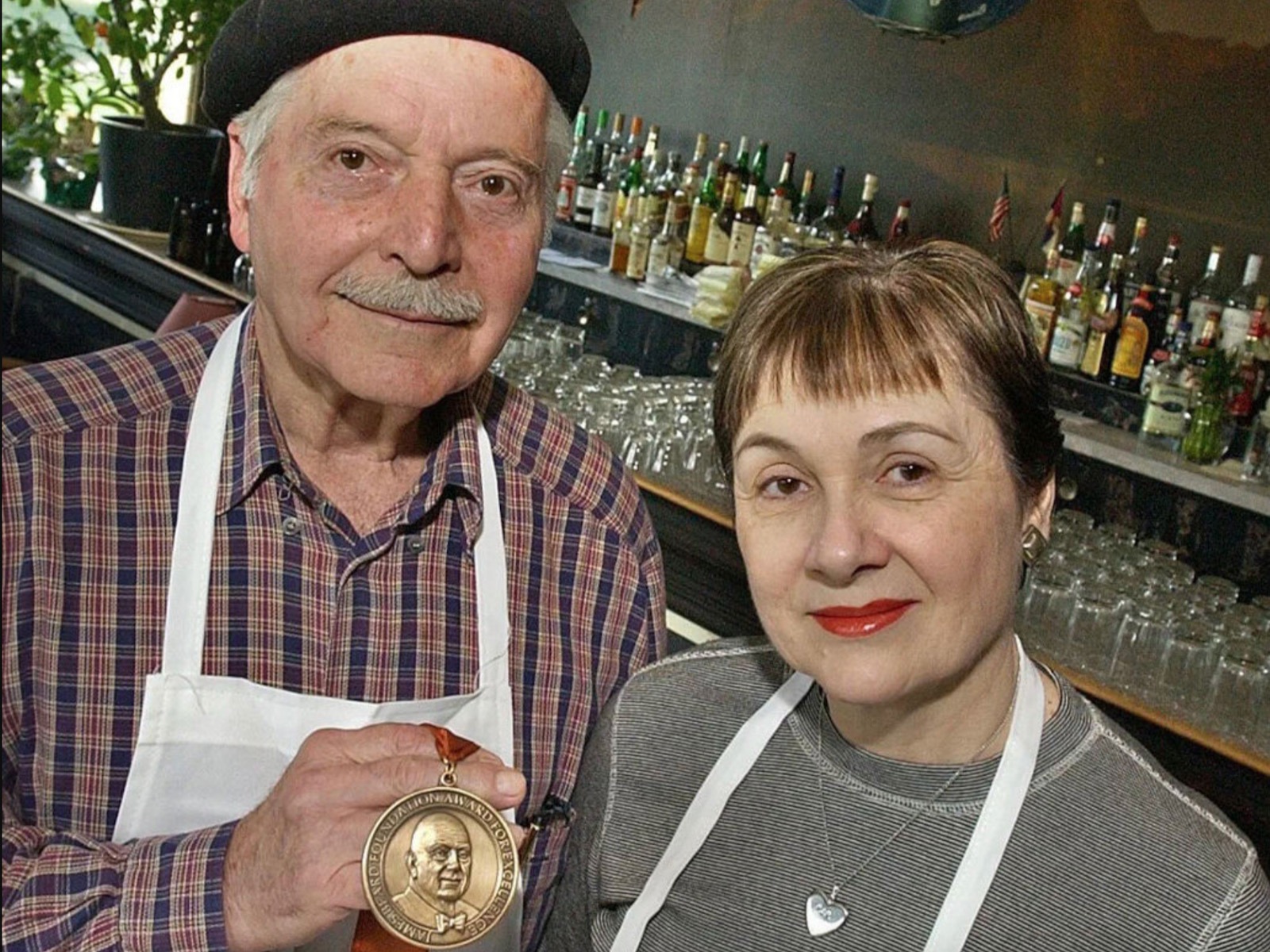 Under her watch, the restaurant has survived multiple recessions provoked by the oil crisis, the energy crisis, the collapse of the dot.com bubble, September 11th and the subprime mortgage crisis. But, maybe most remarkably, she has seen the restaurant through two years of a global pandemic, a hardship which threatened the livelihoods of restaurant owners across the nation and beyond.
"COVID-19 has probably been the hardest thing we've been through," she says. 'It was so strange to have an empty restaurant when you're so used to having it full of people. There were things we couldn't offer because they just wouldn't carry-out well. And, there was one point where we couldn't even buy chicken to serve. We were worried, at some points, that we wouldn't make it. But – in the end – the biggest thing we all learned was adaptability."
Radicevic says the pandemic has also given her a great deal of admiration for other strong women who have taken the opportunity to pursue their dreams.
"I'm so impressed by so many of these women who, during COVID, have stepped away from jobs and gone off to do what they really want to do. I came into something that was already established. But they are taking such a big leap of faith, giving up the security of a traditional job for something that they have a passion for."
Ultimately, Radicevic says that, even after 50 years, she still finds joy in the feedback from restaurant customers who come to enjoy a taste of the Old World.
"Sometimes I look back and I can't imagine that I've done this," she admits. "But overall, just the idea that I'm able to do this… and that so many people come here to eat and they still enjoy what we're preparing. Those are the things that make this so rewarding."
Lori is an avid cook whose accrual of condiments and spices is rivaled only by her cookbook collection. Her passion for the culinary industry was birthed while balancing A&W root beer mugs as a teenage carhop, fed by insatiable curiosity and fueled by the people whose stories entwine with each and every dish. She's had the privilege of chronicling these tales via numerous media, including OnMilwaukee and in her book "Milwaukee Food." Her work has garnered journalism awards from entities including the Milwaukee Press Club.
When she's not eating, photographing food, writing or recording the FoodCrush podcast, you'll find Lori seeking out adventures with her husband Paul, traveling, cooking, reading, learning, snuggling with her cats and looking for ways to make a difference.