For the 10th straight year, October is Dining Month on OnMilwaukee, presented by the restaurants of Potawatomi Hotel & Casino. All month, we're stuffed with restaurant reviews, dining guides, delectable features, chef profiles and unique articles on everything food, as well as voting for your "Best of Dining 2016."
On opening night of Bastille Days 2012, OnMilwaukee co-founder Jeff Sherman asked me if I would like to write for the online publication. I was flattered to be asked and jumped at the chance.
I submitted a few ideas to Managing Editor Bobby Tanzilo, including a pizza of the week blog. He liked that idea the most, and I went to work. He took a concept from my first blog about wanting to find the perfect pizza from my childhood, and he titled my first blog "In search of the perfect pizza." I loved it, so I asked them to keep that title and add the pizzeria name after it.
It was a challenge to visit and write about a different pizzeria each week – not to mention the health challenges – so I suggested to that I switch to one blog per month.
After the first 50 blogs, I highlighted a few of the pizzas I enjoyed the most, so I thought it would make sense to highlight a few of the pizzas I enjoyed most from the last 50 blogs, as a couple of favorites from my first 50.
As I reviewed my spreadsheet looking for the listings with X's for the pizzas I would go back for, I counted 20 pizzerias – and that's just from the last 50! Let's begin, shall we?
I'll start with Wells Brothers in Racine. The crust is very thin and crispy with a little cornmeal left on after pulling the pie out of the oven. I enjoyed the sauce, spicy sausage and pepperoni. DeRango's is also very good, especially the location on 6 Mile Road and Highway 32, which is owned by a different family than most of the other DeRango's locations, but Wells Brothers edges them out for me.
On the way back from Racine, you can stop in South Milwaukee and visit Paisano's for a light thin crust, a spicy sauce and an Italian sausage full of flavor.
Sticking with the southeast side of town, there were several Bay View pizzas that I liked, starting with Tenuta's. Their thin crust pizza is one of the best I've had, and deep dish pie fans may enjoy Tenuta's version that reaches almost two inches high. However, the crust isn't buttery or oily if that is important to you.
Scotty's Bar & Pizza on Clement exceeded my expectations with some tasty pizzas. The dough is made locally by Canfora bakery, and the Italian sausage was among the very best I've tasted on a pizza with a solid fennel flavor. My only disappointment was the use of canned mushrooms, which I know some of you prefer.
Vinchi's Pizza is located inside a bar called The Bubbler. You'll want to call to confirm hours on the day you want to visit because advertised pizza hours aren't always followed. The thin crust pizza tastes great, but my pizza was a bit overcooked for my liking. I might ask them to take the pie out 3-5 minutes sooner than usual on my next visit.
Fixture opened a few months ago in Walkers Point, and I'm looking forward to going back for their thin crust pie with the sauce on top of the cheese, instead of the more common cheese on sauce. They also offer a Chicago-style deep dish, minus the buttery or oily crust.
It's time to talk North Side pizza – but not before you stop Downtown at the Calderone Club first. The thin crust pizza here is easily among my top three favorites, and they also make a hand-tossed crust that resembles a Neapolitan pie. The owner's family has ties to the Original Caradaro Club, where pizza was born in Milwaukee in 1948. Speaking of Neapolitan pies, keep an eye out for Pizzeria San Giorgio, the true Neapolitan style pizzeria opening next door to the Calderone Club, and by the same owner, within the next couple of months. I might come back to tell you more about that one.
The next stop is Pizza Man. There are two locations, but I only visited the East Side location on Downer Avenue. This is another place where the pizza prices can creep up on you, but I'm a fan of their thin crust, spicy sausage and pepperoni that curls into a crispy bowl when it bakes. They also have amazing sounding specialty pies and offer a pan style crust, too.
Just up the street from Pizza Man is SALA. They just celebrated their 15th year in business and added fresh made hand-tossed crust pizzas to their menu around four years ago. On my visit, I ordered the carbonara, and it rocked my world! A house made Alfredo sauce is accompanied by red onion, pancetta, nutmeg and a cracked egg.
I went as far north as Sheboygan to try the pizza at the VPN certified Il Ritrovo. The hand-tossed Neapolitan pizza there is made using the rules set by the Associazione Verace Pizza Napoletana, the non-profit organization founded in 1984 in Naples, Italy to protect the old school way of making Naples-style pizzas. There are currently four VPN certified pizzerias in Wisconsin, two in Madison and two in Sheboygan. Two Milwaukee pizzerias are also hoping to add the certification.
Let's bring things back and visit the southwest suburbs of Milwaukee, where I found great thin crust pizzas at Michaelangelo's and Crossroads II in Franklin. Crossroads also has a New Berlin location and made me one of the best taco pizzas I've had in town, second only to Ricardo's Pizza in Greendale and Milwaukee's Third Ward. Ricardo's puts the veggies on fresh after the pizza comes out of the oven, keeping the lettuce crisp.
In Hales Corners, Ann's Italian Restaurant serves their delicious thin crust into pie slices, as opposed to the popular rectangular slice cut found with most thin crust pizzas. While I enjoyed my sausage, pepperoni and fresh mushroom pizza, the Shrimp Margarite really left a strong impression with me. I will tell you that Ann's is some of the priciest pizza in the area, but I think it's worth it.
In Waukesha County, I was impressed with the pizzas I had at Doc's Dry Dock in Pewaukee and Albanese's in Waukesha, which both offer thin crust pies. The barbecue chicken pizza at Doc's was one of the best I've had. In addition to diced onions and green peppers, they add a seasoning blend that elevates the flavor.
Remember when I mentioned the Original Caradaro Club earlier? Well, the Caradaro Club is still in business with its fourth owner and locations in West Allis and Washington Heights serving up great thin crust pizza.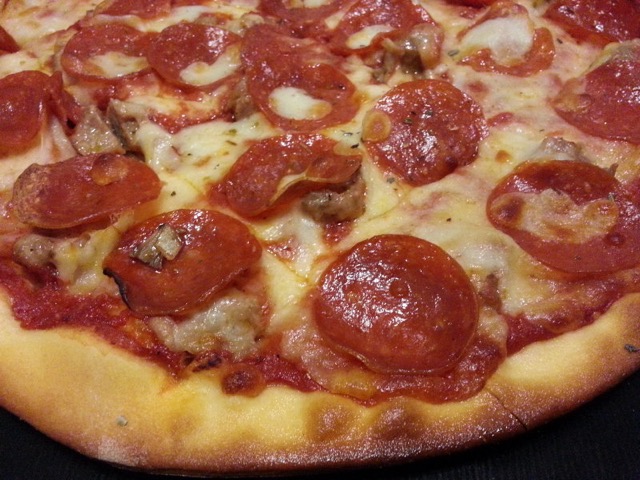 There is one more pizzeria linked to the Original Caradaro Club, and that is Balistreri's Pizza whose founder Jim Balistreri made pizzas at the Caradaro Club from 1958 to 1964.
Lalli's Pizza in Wauwatosa rounds out my favorites from the last 50. They offer thin and hand-tossed crusts and a thick pizza sauce with a combination of sweet and heat – at least that is what I tasted.
The first 50
Finally, for those that joined us late, I want to simply list a few of my favorite pizzerias from the first 50 that I visited. The thin crust pizzerias I plan to visit first from that group include
More recently tried pies
As a parting gift to you, I want to tell you about two more delicious thin crust pizzas I've enjoyed very recently. The first is at Swagger, a sports pub at the Root River Center in Franklin. Their kitchen is too small to make the dough from scratch, so they use a frozen crust, but their pizzas are very good, especially the barbecue chicken and chef Johnny's Favorite, topped with a four-cheese blend, sausage, pepperoni, bacon, pineapple, banana peppers and Italian seasoning. Yeah, that's good stuff!
Do any of you remember the Southridge Athletic Club and the onsite pub, Jimmy K's? Well, they have new owners who are remodeling and breathing life back into the health club, which will open soon, but Jimmy K's has already been transformed into On The Edge Bar & Grill, located on 68th and Edgerton. Jimmy K's owner passed his pizza recipe to the new owners, and it is a good one. The garlic cheese bread is also excellent!
Gluten-free pizza
For the Gluten intolerant pizza lovers, you can get your pizza at
Parting words
Alright, enough with the pizza talk and on to the mushy stuff. Look, when I started writing these blogs four years ago, I didn't think I'd be writing them this long, and I certainly did not think I'd write about 100 pizzerias!
Thank you to Jeff Sherman for inviting me to write for OnMilwaukee! Thank you to Bobby Tanzilo, Lori Fredrich, Matt Mueller and every other staff member and intern that touched and tweaked my pizza blogs over the past four years.
Thank you to the owners, managers, servers and pizza makers who took the time to educate me on pizza and give me valuable information on the history of your pizzas and businesses.
Thank you to the friends who joined me on my pizza outings. I'm sure it was a sacrifice to take time out of your day to eat great pizza!
Last but not least, thank YOU readers! I appreciate the seven readers who recognized me around town and came up to say hello and that you enjoy the blog, and I appreciate the monthly email I received from Rob after each blog posted to OnMilwaukee.
Whether you've read every blog or just one, thank you! Whether you posted supportive comments when OnMilwaukee posted the pizza blog on Facebook, or you commented on how little I know about pizza, thank you!
Some of you are mad at me for not blogging about Zaffiro's, Transfer, Pizza Shuttle or whatever your favorite pizza may be. It's not because I don't like their pizza, because I do. I've enjoyed their pizza many times, but I feel like everyone knows about them, especially Zaffiro's.
I wanted to use this blog to tell you about other great pizzas in the area because I don't think it's reasonable to crown the best pizza if you've only been to one pizzeria or even ten pizzerias. There is a lot of great pizza out there, so go explore. You might find a new favorite. I have 40 more pizzerias on my list, and I keep adding to it.
The blog led to an opportunity to write the cover story for Edible Milwaukee last year about the history of pizza in Milwaukee, and I learned recently that I am quoted in a book listing the best pizzas in the world because I answered a survey that was sent to me because of the pizza blog.
So yeah, this has been a pretty cool experience that generated other cool experiences, and I learned a ton about my favorite food in the process, so thank you again!
You're probably wondering if I ever found the perfect pizza, aren't you? If I had a dollar for every time I was asked where the perfect pizza was or where the best pizza in town was … then I get the same look of disappointment when I tell them there is no such thing.
We all have our preferences, but to answer the question about whether I found MY perfect pizza, I think the readers who have followed the blogs since the beginning know that answer. The rest of you have some reading to do to catch up. Instead, I'll leave you with a link to a short (just under 17 minutes) and entertaining video that answers a more important question: Why pizza?
I was born and raised in Milwaukee, and I plan to stay in Milwaukee forever. I'm the oldest of three children and grew up in the Riverwest neighborhood. My family still lives in the same Riverwest house since 1971.

I graduated from Rufus King High School and the University of Wisconsin-Whitewater with a business degree.

My true passion for Milwaukee probably started after I joined the Young Professionals of Milwaukee (now called FUEL Milwaukee) which just celebrated its one year anniversary at the time. The events that I attended, and sometimes organized, really opened my eyes to what Milwaukee had to offer, as well as its potential for the future. So for the past, present, and future FUEL Milwaukee corporate sponsors out there, that organization does produce results (editorial)!

I love all of the Milwaukee Sports teams, professional and amateur. I love the Milwaukee arts scene and all of the festivals. I love that you can find a free concert in the summer just about every day of the week. I love the various neighborhoods around the Milwaukee area and the unique characteristics that they offer. I love the people who take the time to tell us about those unique characteristics. I have to hold my breath and count to ten when someone tells me that there is nothing to do in Milwaukee. Then I prove them wrong.

Most of all, I love the Milwaukee dining scene. I love how it continues to evolve with modern dishes and new trends while the classic restaurants continue to remind us that great food doesn't have to be "fancy schmancy." However, I also love the chefs that create the "fancy schmancy" dishes and continue to challenge themselves and Milwaukee diners with dishes we've never seen before.

Our media provides attention to the new restaurants, which is great, but I don't like seeing the older great restaurants close their doors (Don Quijote, African Hut) because they've been forgotten, so I try to do my part to let Milwaukeeans know that they're still out there, too. I do that through social media, online reviews, and a dinner club I run for my friends, where we visit restaurants they haven't heard of before or try ethnic cuisine they haven't had before.

My dream is that one day I can mention a great experience in Milwaukee and not have someone respond with "have you been to Chicago?" I don't like those people very much.