For the second year in a row, Milwaukee's traditional Pride festivities were cancelled in 2021 due to COVID-19 concerns. And again, for the second year in a row, the usual Pride proceedings were replaced by a grassroots, street-level activist march fueled with all the passion, color and fury of Milwaukee's earliest Pride gatherings.
On Sunday, June 14, the second Annual Pride March for Black Lives Matter stepped off at 2 p.m. from the PrideFest/Summerfest gates at Henry W. Maier Festival Park, winding two miles through the Third Ward and Walker's Point before ending with a rally and celebration at Juneau Park. Nearly 3,000 people participated in this year's events.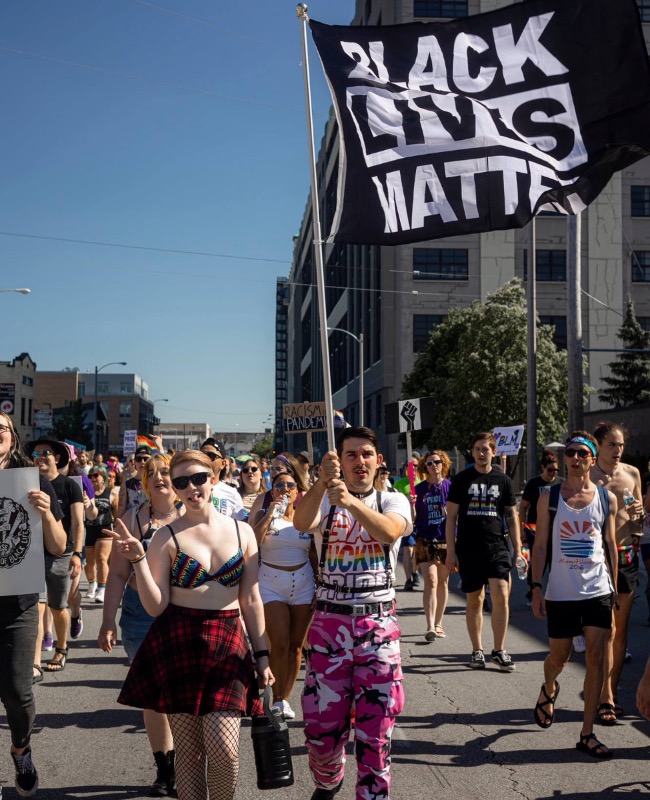 "Unlike last year, we didn't have any issues on the route," said co-organizer Elle Halo, "but I was so scared people would try to disrupt us. I literally had my heart in my throat the whole time. This year was beautiful. The community supported us so wholeheartedly. We added the block party this year, so people had choices on how they could participate."
"Last year, there was a heckler who threw homophobic slurs along the march, directed at myself and other volunteers," said co-organizer Kat Klawes. "Their actions just reminded me why Pride is necessary, and how much work is needed to support LGBTQ inclusion."
This year's Pride March for BLM had spiritual connections to earlier, more community-driven pride events, including the Pride Marches of 1989-1990, which brought 1,500 protestors from Walker's Point to Cathedral Square, and the earliest PrideFests in Juneau Park from 1991-1993. Rainbow crosswalks were installed in Cathedral Square in 2018 to commemorate the 1989 march.
"Juneau Park was selected for our celebration because of its ties to the original PrideFests," said Klawes. "The organizers wanted to return to a more community-focused, community-operated Pride. We felt Juneau Park allowed to achieve that, while honoring the history. I know many folx were grateful for a more grass roots event."
"It was a beautiful, full circle moment to return to Juneau Park," said Elle Halo. "I think we've lost the true meaning of Pride, as we've been living out the liberation we have fought for so far.
"Let's remember that Pride was started by Black and Brown trans women – and we are still dying. For some, this is just an event or a special time of the year. For women like me, and our trans and non-binary siblings, this is life or death, losing your family, sacrificing your body and safety, facing abuse, assault, depression, dysphoria, addiction and homelessness, just to be who we are born to be. We are in danger. Black and Brown, queer and trans, we are in danger and I'm going to fight. For myself, for my girls, and for anybody that doesn't get a voice."
"Some people were vocal about the march, upset that there was not a traditional PrideFest," said Klawes. "I feel folx who don't support BLM forget that we owe pride to the actions of BIPOC individuals. I think this march is more true to the traditional spirit of Pride. Pride isn't supposed to be just a party; it's supposed to be a protest."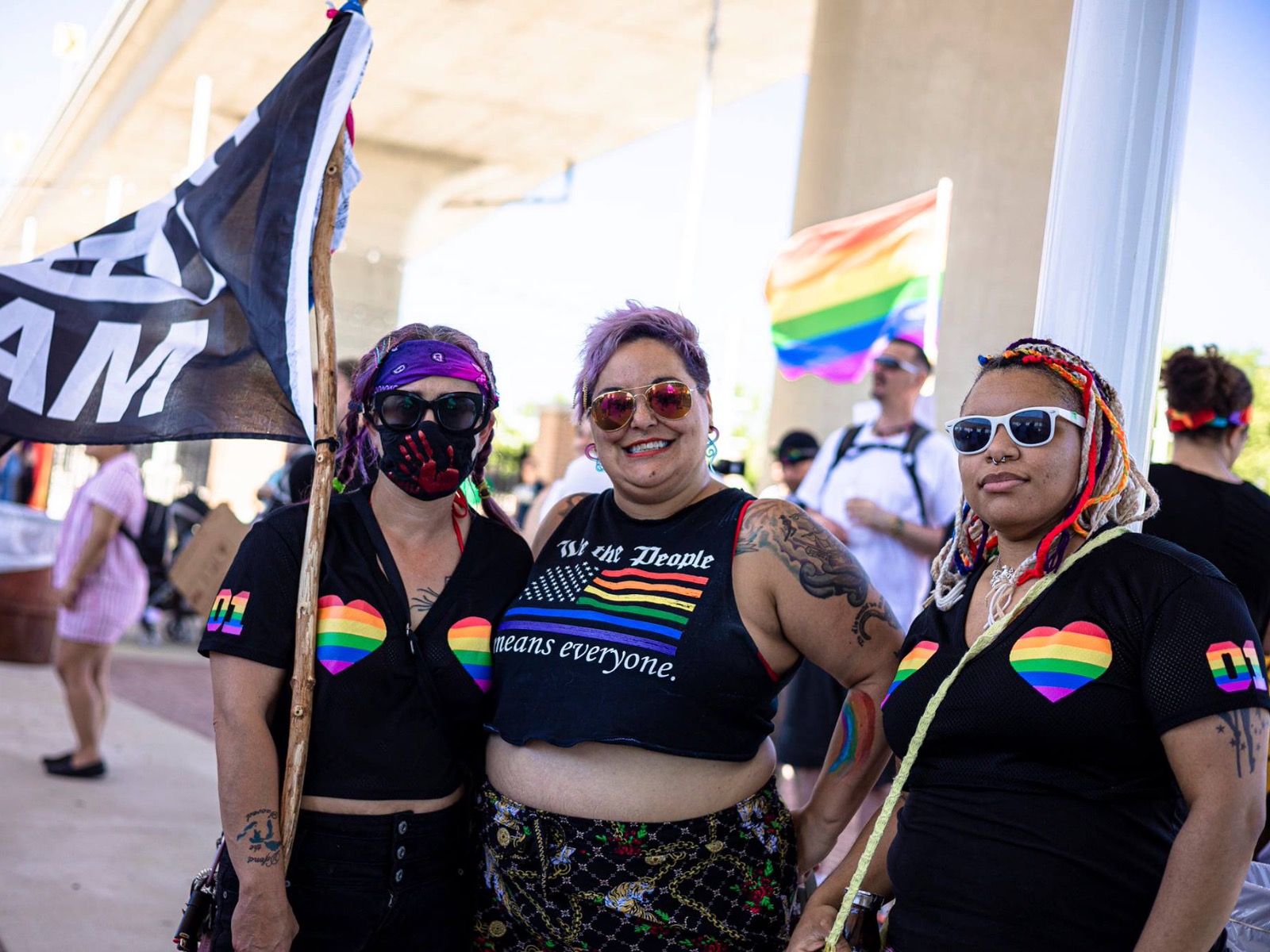 About the march
The Pride March for Black Lives Matter was founded by Montell Infiniti Ross in June 2020, as an expression of outrage and a demand for social and racial reckoning following the unjust killings of George Floyd, Breonna Taylor and Ahmaud Arbery. Montell brought a small group of volunteers together, including Elle Halo, Angel Vega, Hugo Beam and Kat Klawes, to plan a meaningful and memorable local event.
Amazingly, the march came together in just four days.
On June 8, 2020, the Pride March for Black Lives Matter brought over 5,000 marchers to the streets of Walker's Point. It made Wisconsin history – as the state's only in-person expression of LGBTQ Pride for the entire year.
Organizers explain that they are an independent organization. The Pride March for Black Lives Matter is not operated by Milwaukee Pride or the Milwaukee Pride Parade.
"March with Pride for BLM is a separate organization with its own leadership group," said Kat Klawes. "Montell is the reason the march exists. He created the march to stand united as a community and show our solidarity for the BLM movement.
"In particular, this march was for members of the LGBTQ community and allies to come together. We recognize that Black and Brown folx are disproportionately killed by police, have higher murder rates and face numerous other issues affecting LGBTQ/BIPOC people. We collaborate with different organizations to support the march and make Milwaukee's LGBTQ community more inclusive for all, especially Black and Brown folx."
This year's march relied on the collective efforts of the five organizers, who invested well over 200 planning hours, as well as over 100 volunteers. The 2021 event was sponsored by BestD Clinic, Froedtert & The Medical College of Wisconsin, Planned Parenthood, Wisconsin LGBT Chamber of Commerce, Courage MKE, Beard MKE, This is It, Kruz, Health Connections Inc., Zao MKE and the Prevent Anal Cancer Self-Swab Study.
"We were pleasantly surprised by the community support both years," said Klawes. "Having a march during a pandemic is a challenge. We had to balance our need to protest with the need for safety. Masks were supported at both marches, as well as hand sanitizer and other precautions. This year, we had a COVID-19 testing and vaccine test.
"Special thanks to Zao MKE for collecting donations, including masks, supplies and other items."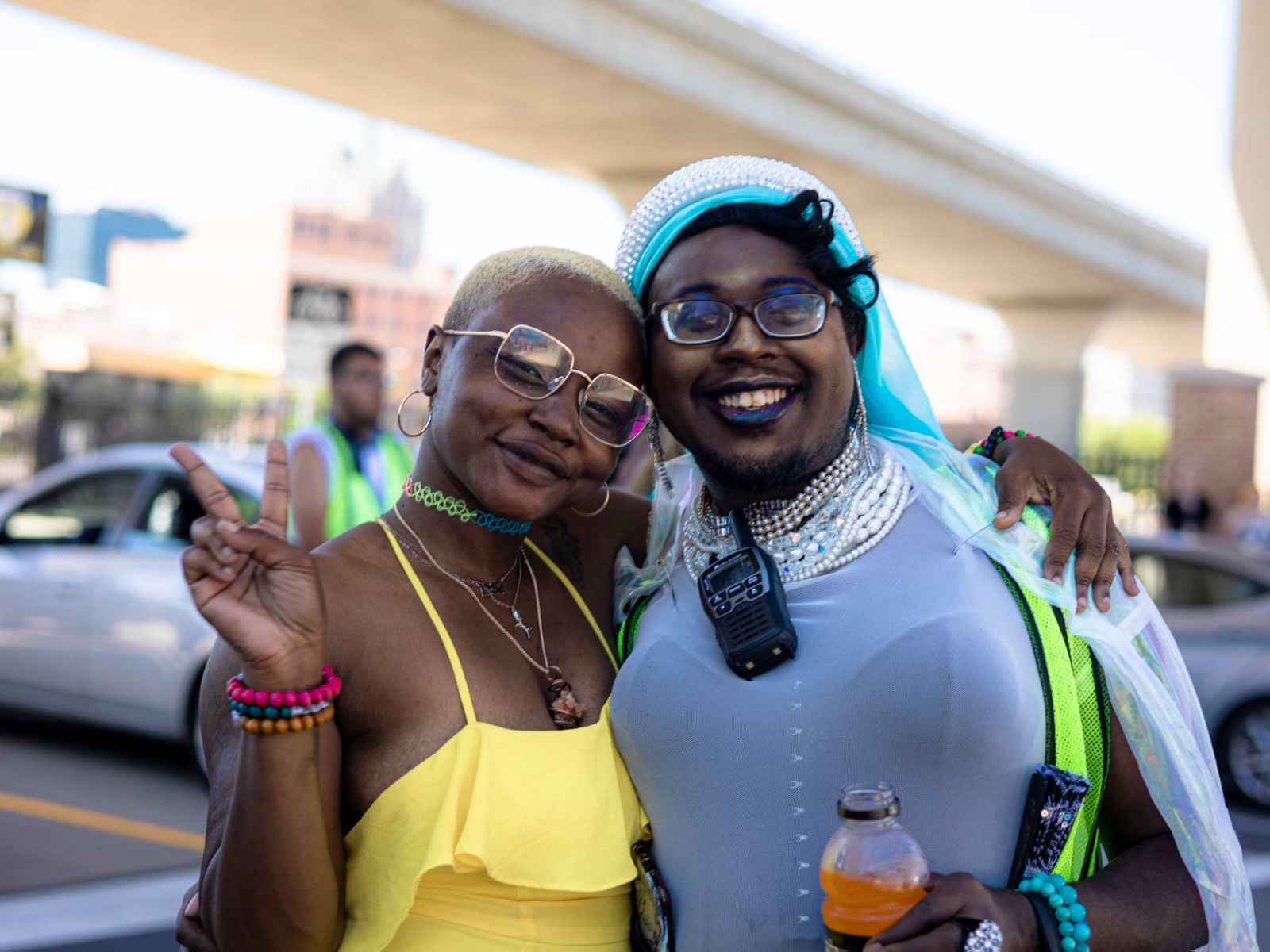 About the organizers
"I asked to help any way I could," said Elle Halo, "and Montell asked me to speak. I felt a personal conviction to try to represent our whole community and honor it with my words."
Halo is an LGBT health equity advocate, educator and activist. She is a founder of the Black Rose Initiative as well as a six-year member of SHEBA (Sisters Helping Each other Battle Adversity). She received the "Individual of the Year" Pride Award at PrideFest 2019. Last year, Halo raised funds for a group to attend the National Action Network's Commitment March at the National Mall in Washington D.C., organized last year's Juneteenth Celebration March with the Black Womxn's Emancipation BWE Group, and joined the Protect Black Womxn March following the verdict in the Breonna Taylor case. More recently, Halo and the Black Rose Initiative coordinated a week of in-person and virtual events for Black Trans Visibility Celebration Week, including Wisconsin's first Black Trans Visibility Celebration March.
"These experiences have made me a better speaker and organizer, but more importantly a better sister and a better womxn," said Halo. "I've been able to participate in our delegation to the Black National Convention – composed of all black womxn – and I've also completed the African American Roundtable's Inaugural Leadership Development Cohort.
"Last year literally changed my life. I saw seeds I've been planting for myself not just grow, but flourish and blossom. I was honored with community murals. I received community donations. I was uplifted by supportive messages. I truly want to thank everyone from the bottom of my heart. I am so proud of how our whole community showed up over the last year, and I know that we are moving towards a better Milwaukee for all of us.
"I am humble, grateful and honored to be in service with so many brilliant people, and in alignment with our ancestors and transcestors. I know that they are smiling down on us. I also know there is so much work left to do!"
Kat Klawes is a queer woman who works in legislative advocacy. She has organized other marches in Wisconsin and Michigan.
"As the only white person on the organizing team, my purpose was to support the others in any way possible," said Klawes. "Being a true ally means showing up, listening and doing anything possible to support the cause."
The March continues
"I will reissue the challenge I gave everyone at last year's march," said Halo. "I don't want to just see you today at the march. I want to see you out fighting and taking your power back one step at a time, every day for the rest of the year. Y'all challenged me to do the same, and I hope to make everyone who supports me, as proud of me, as I am proud of all of you."
Halo asks that the community support and follow The Black Rose Initiative and SHEBA: Sisters Helping Each other Battle Adversity.
"The important message for folx to take away from this event is that Black and Brown lives matter," said Klawes, "and that they will continue to matter, despite the fact that the attention surrounding 2020 has died down."
Klawes shared that the March with Pride for BLM is pursuing registration as a 501c3 non-profit organization. They are currently raising $1,000 to cover registration, event and advocacy costs. Donations can be sent by CashApp ($BLMprideMKE) or PayPal (@BLMpridemke). They are also seeking volunteers to support their ongoing work.
The group has long-range goals to grow both the event and the organization, while continuing to advocate for social change and community activation.
"BLM is more than a moment," Klawes said. "It is a movement."
The March with Pride for Black Lives Matter will return in June 2022.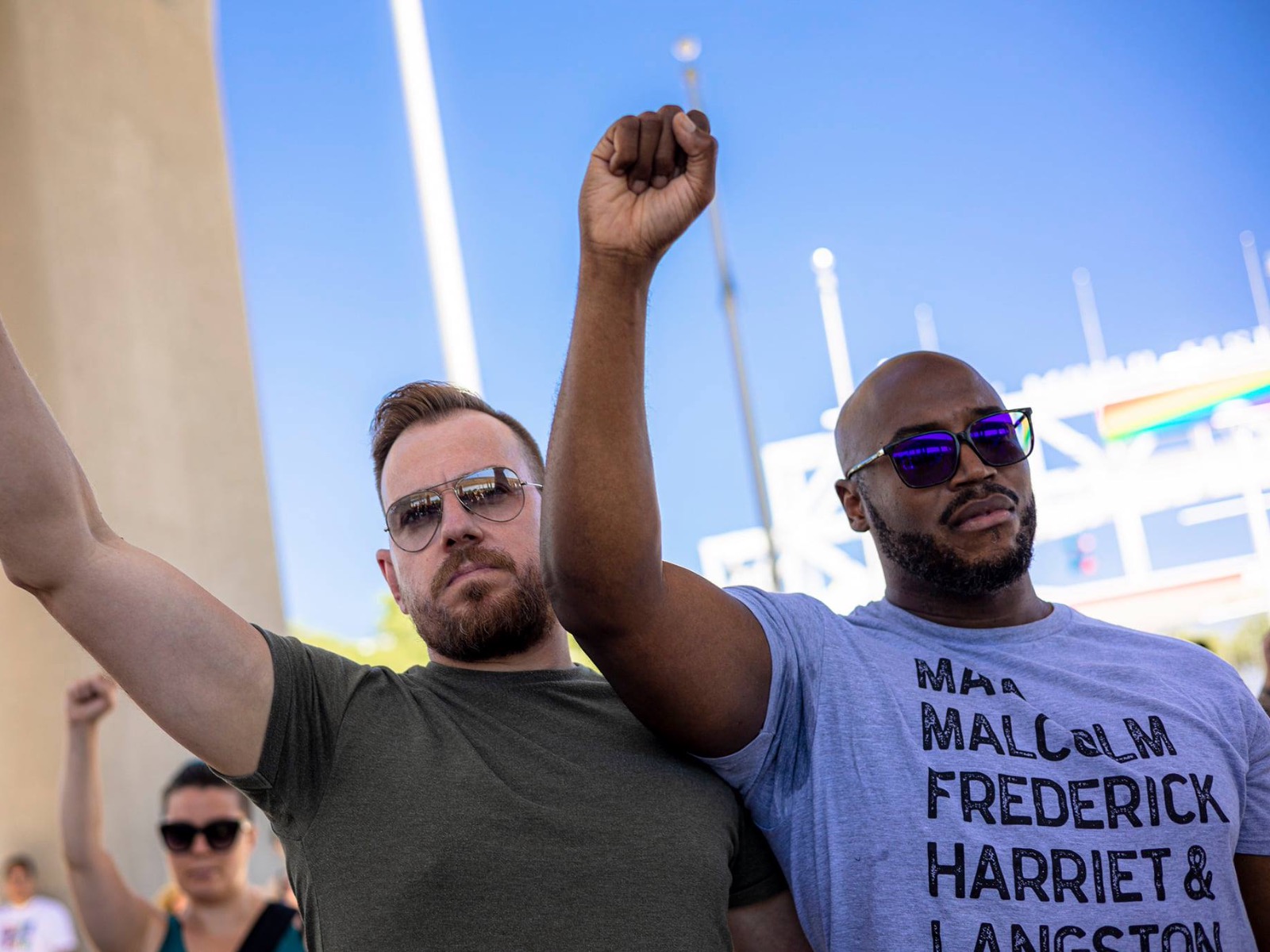 Growing up in a time of great Downtown reinvention, Michail Takach became fascinated with Milwaukee's urban culture, landmarks and neighborhoods at a young age. He's been chasing ghosts ever since. Michail, a lifelong Milwaukeean, dreaGrowing up in a time of great Downtown reinvention, Michail Takach became fascinated with Milwaukee's urban culture, landmarks and neighborhoods at a young age. He's been chasing ghosts ever since. Michail, a lifelong Milwaukeean, dreams of the day when time travel will be possible as he's always felt born too late. Fearlessly exploring forbidden spaces and obsessively recording shameless stories, Michail brings local color to the often colorless topic of local history. As an author, archivist and communications professional, Michail works with community organizations (including Milwaukee Pride and Historic Milwaukee) to broaden the scope of historical appreciation beyond the "same old, same old."