Did you hear those iron horses roaring through the city last weekend?
After last year's pandemic cancellation, the third Ride with Pride returned with a vengeance. This year's 90-minute, 40-mile route took more than 200 bikes from the House of Harley-Davidson, 6221 W. Layton Ave., to Bradford Beach, the Harley-Davidson Museum, Walker's Point and beyond. Residents were thrilled to see the pride-colored caravan spreading a message of visibility, support and inclusion throughout Milwaukee County.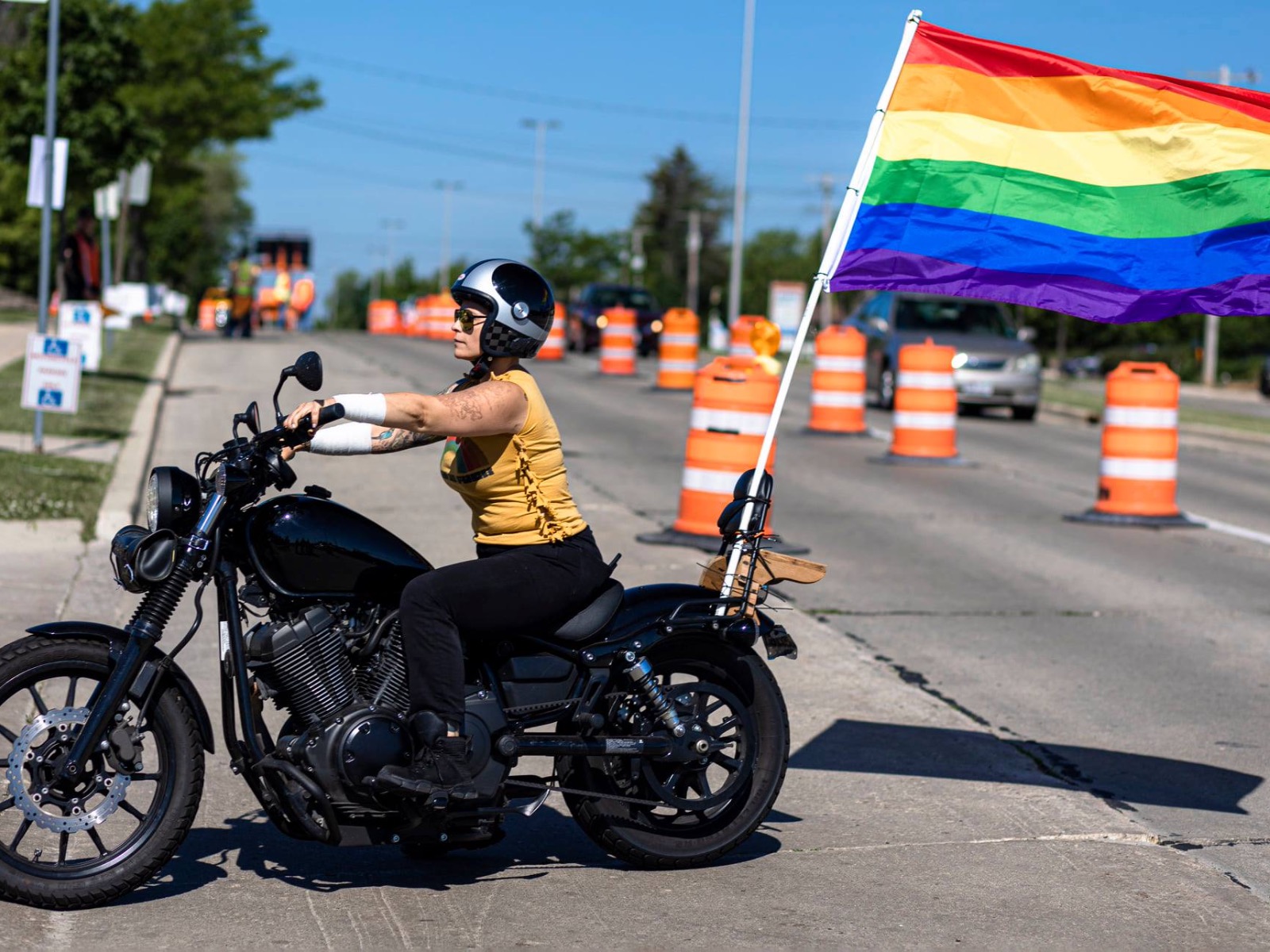 The Ride with Pride originated in 2018 as a partnership between Milwaukee Pride and local motorcycle enthusiast Cormac Kehoe. Today, the event is completely independent, with its own planning committee, marketing partnerships and funding. The only event expenses – a police escort permit required by the city – was generously covered by House of Harley-Davidson.
"It's a bit surreal, as a straight man, to be the founder of this massive pride event," Kehoe admitted. "Tons of my friends are in the motorcycle and LGBTQ communities, and the Ride was a chance to bring them all together, hang out and have fun, and do something meaningful for Milwaukee."
The Ride with Pride wasn't the product of a board, an organization or a corporation. This all started as one person's idea – and now it's the unofficial largest LGBTQ motorcycle ride in the world. While Guinness doesn't list a category for "largest LGBTQ motorcycle ride," Kehoe has yet to find anything, anywhere in the world to surpass it.
"If you Googled 'Milwaukee pride events,' this spring, the Ride with Pride was the number one Google search result. And number three was a drag performance – for cats," Kehoe noted. "We couldn't believe it! This really got us fired up. On Pride weekend, with no festival and no parade this year, we were still going to fill the streets with pride."
This meant a lot to riders like Chris Sadowski, who has been out in the local LGBTQ community since 1982 and riding motorcycles since 2016.
"It was just so liberating to be on those first two Rides," he said. "I never thought anything like this would happen in Milwaukee, much less that I would be riding in it."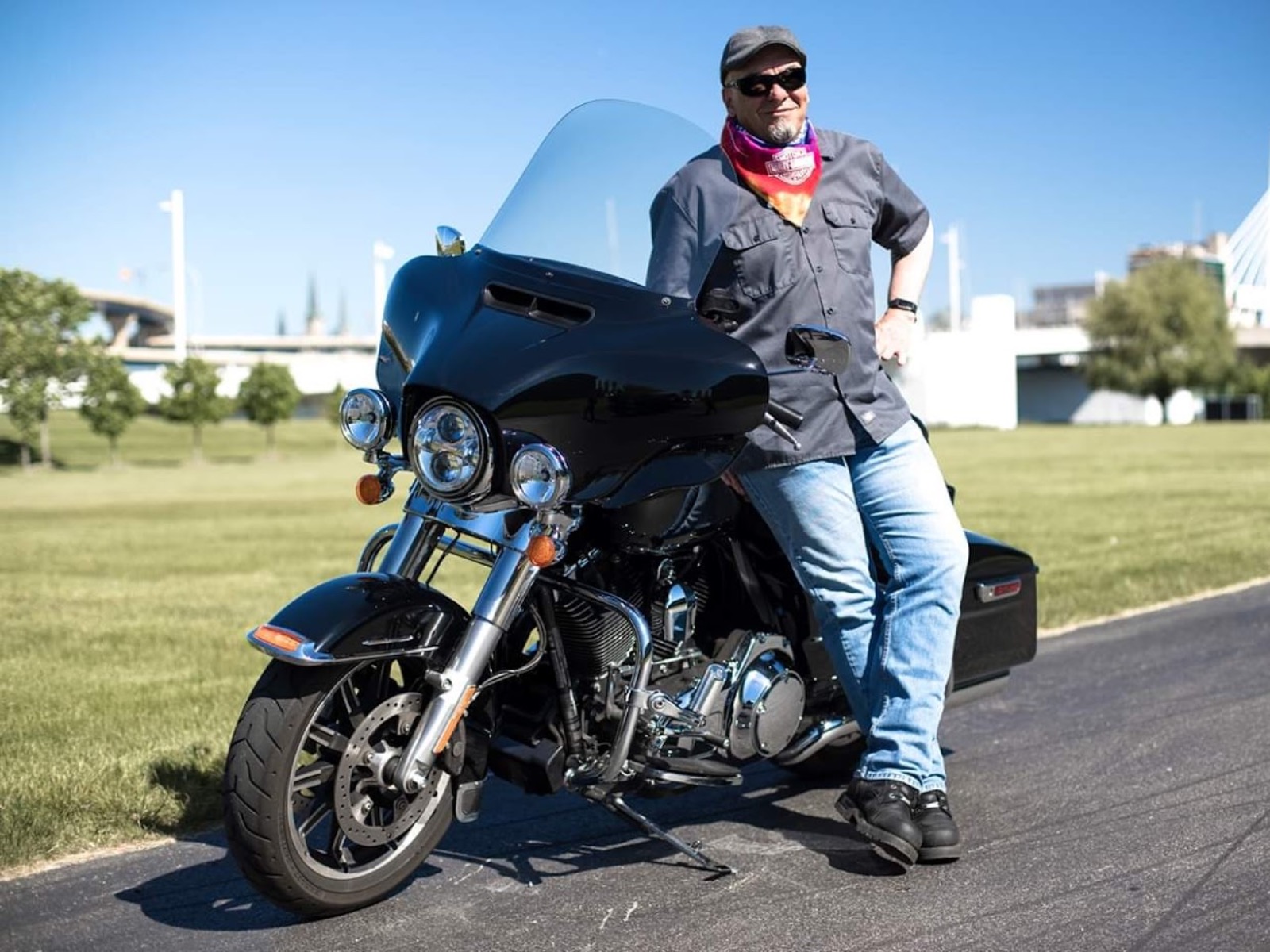 Matt Fitzgerald and Ed Zamora agree. They've formed a year-round LGBTQ motorcycle group, Pride Rides Wisconsin, to keep the momentum of the annual Ride rolling.
"To me, Ride with Pride is about visibility, representation and freedom," Fitzgerald said. "All too often, LGBTQ bikers feel like they have to conceal that part of their identity in order to fit in with motorcycle culture. Ride with Pride lets our community come together and gives them a place where they can ride free and proud. Visibility is so incredibly important, and this ride is all about showcasing that visibility to not only our LGBTQ community, but to the greater motorcycle community, and all of Milwaukee!"
"The Ride shows that it's okay to be LGBTQ and to love your LGBTQ people," Zamora said. "It shows that even without a PrideFest, you can always celebrate pride on your terms."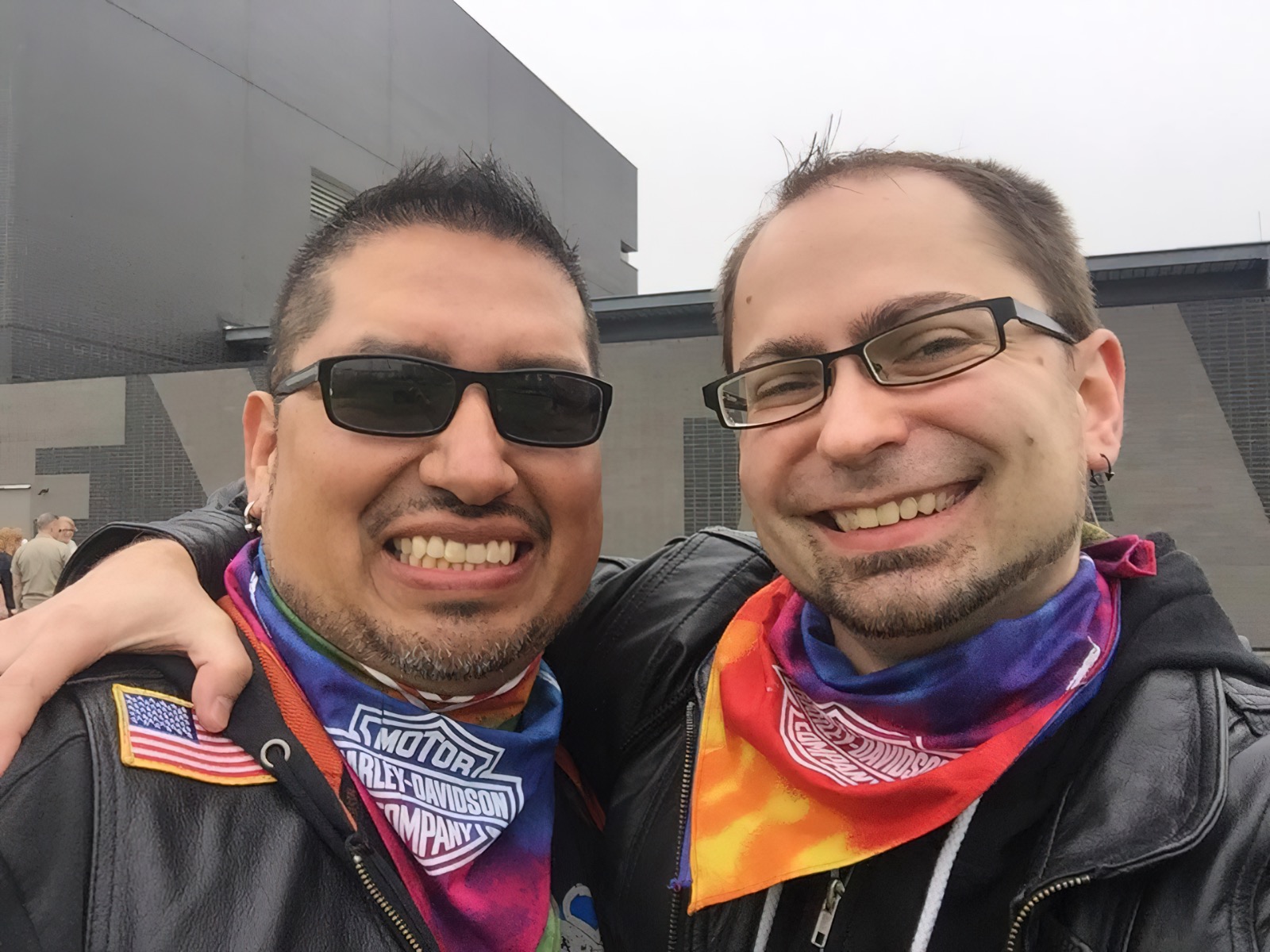 Zamora's interest in motorcycles started when he was 20 years old, but took several years off after an accident. He started riding again about four years ago. Fitzgerald is only a passenger – for now – but hopes to become a rider himself someday soon.
"After meeting Cormac at that first event, we decided this was too cool to be a once a year thing," Fitzgerald said. "Seeing the outpouring of support for the Ride with Pride – and the staggering number of bikes that turned out – we started Pride Rides Wisconsin as an LGBTQ motorcycle group. We've been deeply involved with planning the annual Ride with Pride ever since!"
"I've seen a lot more acceptance of LGBTQ people since I was 21 years old," Zamora said. "And since the Ride, and Pride Rides Wisconsin started, there's also been greater acceptance of LGBTQ motorcycle riders, as well."
"I remember looking up and seeing Milwaukee Police Department motorcycles arriving in formation," said Sadowski. "Seeing their arrival was cool, but even more special, was that they were there to escort the Ride with Pride. They were there for us! There was a time that never would have happened in Milwaukee."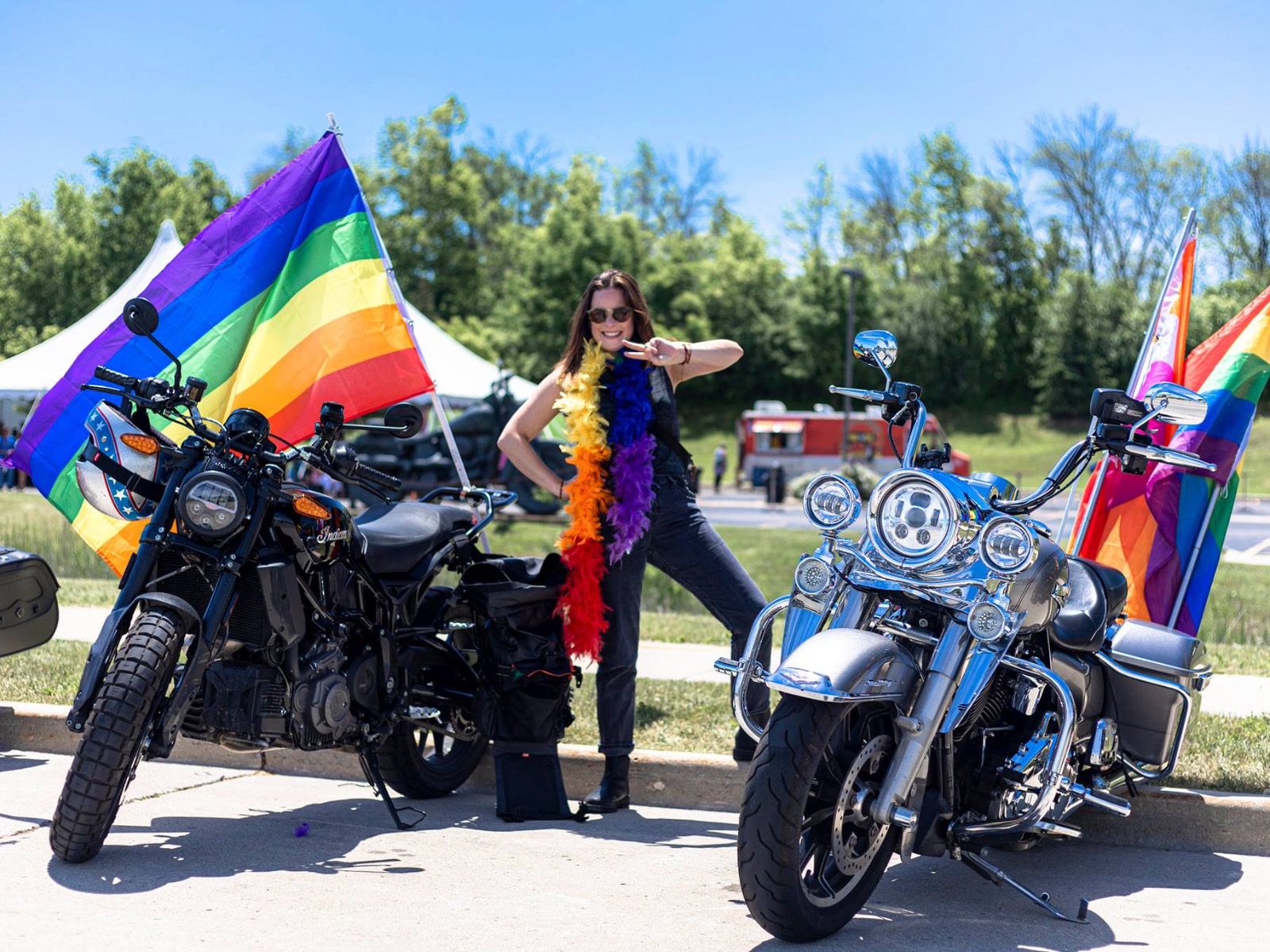 Because accessibility and inclusion are important to Ride organizers, the ride is free for all participants. There is no admission fee, there are no eligibility requirements, and everyone – of every gender or sexual identity – receives the same warm welcome.
"A motorcycle is a representation of individuality," Sadowski said. "And the Ride with Pride is a departure into a whole new world. I met a trans woman from Illinois who was riding right behind me. She had never been on anything like this before. She had no idea what to expect. She thought it was magical."
"We bring the plans. People bring the bikes," Kehoe said. "Our partners, like Harley-Davidson Museum and House of Harley, give us a starting place and support staff. They are partners, not sponsors, because we've never needed money. We just need community support."
This year's ride attendance saw a 33 percent decline from 2019, when a record-setting 300 motorcycles participated.
"We would have been overjoyed to get five people riding, after being locked up inside for 15 months," said Kehoe. "Two hundred friends on motorcycles was glorious!"
If you're wondering how die-hard motorcycle enthusiasts are reacting to the LGBTQ-themed Ride, you might want to check your bias. Kehoe shares that one of the Ride's greatest supporters is the Harley-Davidson Motor Company itself.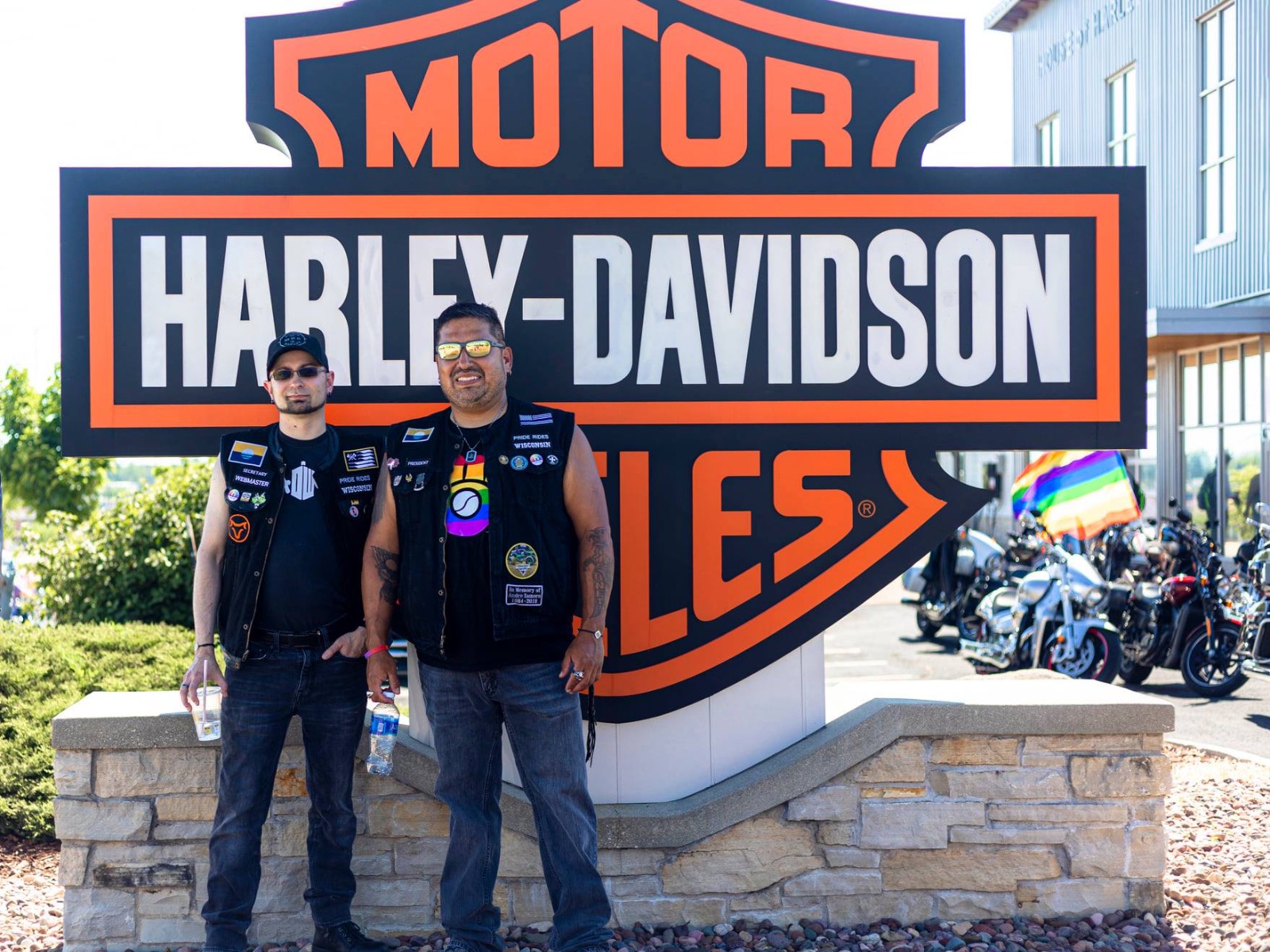 "Harley loves our ride," Kehoe said. "They ran ride photos on their corporate LinkedIn page last year. That wasn't 'Pride Month marketing' or 'corporatization of pride.' LGBTQ riders, along with female riders and persons of color, have been a strong part of motorcycling since Harley- Davidson started in 1903. Today, Harley-Davidson embraces this heritage and includes everyone who wants to be a badass on a bike."
"It's been all applause," Sadowski said. "Before I joined the Milwaukee H.O.G. Chapter, I wanted them to know I was gay in case that was an issue. I was told absolutely not. Many of my Chapter family have family or friends of their own who are LGBTQ. They stepped up to help the 2021 Ride with Pride by staffing registration, staging the ride and parking bikes. This is what riders do. We're charitable. We're supportive. We help. Yes, we know there is pushback out there, but my Chapter won't stand for it."
"Most of the comments we get are from people excited to see LGBTQ representation in an area otherwise regarded as an extremely hetero-male dominated space," Fitzgerald said. "We've even had quite a few motorcycle riders ask how to get involved because they have children or relatives in the LGBTQ community, and want to show support for them."
"Yes, we've had online trolls," Kehoe said. "Some jackass posted on the House of Harley-Davidson Facebook page that the business shouldn't support the ride. The House manager simply replied we support ALL motorcyclists. Period.
"While we're on the ride, we get plenty of waves and smiles, and that's worth every complaint. Two hundred motorcycles sound like tornadoes on a freight train. There are 30 motorcycle police officers ahead of us to clear the path. I'm on one of the first bikes. All of our five-foot-wide pride flags pop into view. So, people hear us coming, step outside to see what's going on, and then they see the rows and rows of pride flags. Their faces light up. They jump around with excitement. There's so much wow. That's the best moment, over and over, along the 90 minute route."
Zamora agreed.
"Even if we have nothing else in common with them," he said, "we have one thing in common: the love of motorcycles!"
"Riding over the Hoan Bridge on a motorcycle is amazing," Sadowski noted. "It is glorious to see two hundred bikes rolling as far as the eye can see – in front of you, as well as in your rear view mirrors. Realizing that all of those people are there to support the same cause, the same community ... it's humbling."
"I remember looking out over the PrideFest grounds as we crossed the Hoan Bridge," Fitzgerald said. "It was an amazing experience: being part of this amazing group, being safely escorted over the bridge by a brigade of motorcycle police, seeing from above the buzzing activity at PrideFest, hearing the thumping dance music, hearing the roar of our bikes.
"Once we had made it to the bottom of the bridge, and turned around towards the gates of PrideFest, I looked up to see a solid stream of bikes and rainbow flags still crossing the bridge above. It was incredibly special to know I was a part of that."
"The ride was enthusiastically attended," Sadowski said. "PrideFest may be on hiatus, but we are still here, loud and proud! We carried the torch proudly, and there was no missing us. We are neither disappeared nor diminished. We showed our true colors. Our riders kicked off Pride Month in Milwaukee by invading all five senses!"
"The community is just bursting with pent-up energy," Fitzgerald added. "Vaccine rollout and the easing of CDC guidelines is giving everyone hope and optimism for a great summer. Ride with Pride was just the thunderous kickoff!"
"The Ride with Pride shows what can happen when someone takes their passion and makes something happen," Kehoe said. "We need to stop waiting for things to happen and start making things happen in Milwaukee.
"Look at the March with Pride for Black Lives Matter. It's another expression of LGBTQ pride that flourished – because it was fed with passion, purpose and conviction. It was one of last year's most meaningful community experiences. We hope to see you there on Sunday!"
What can people expect from next year's Ride with Pride?
"Our wish is to arrive at PrideFest to a hero's welcome," Kehoe said. "After a wonderful ride throughout the city, we pull up to PrideFest and everybody there joins the celebration. Maybe one year, we'll do a slow parade roll through the festival grounds, to bring more fun to a perfect day?
"We'd also like to see 500 motorcycles at next year's Ride with Pride, so tell your friends to save the date!"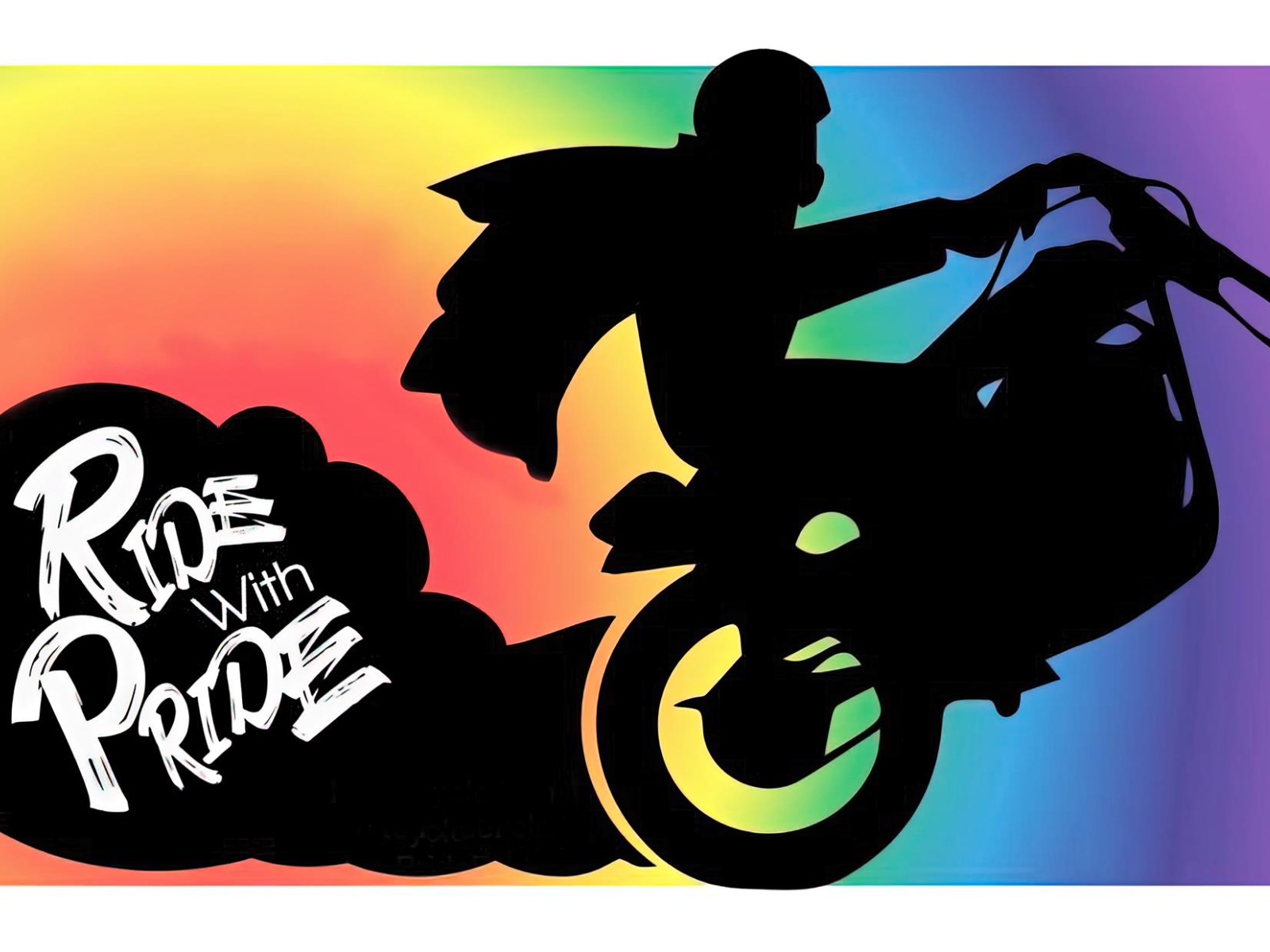 The Ride with Pride will return to Milwaukee in early June 2022. Follow Ride with Pride MKE on Facebook. For year-round ride events, follow Pride Rides Wisconsin on Facebook or visit their website.
Growing up in a time of great Downtown reinvention, Michail Takach became fascinated with Milwaukee's urban culture, landmarks and neighborhoods at a young age. He's been chasing ghosts ever since. Michail, a lifelong Milwaukeean, dreaGrowing up in a time of great Downtown reinvention, Michail Takach became fascinated with Milwaukee's urban culture, landmarks and neighborhoods at a young age. He's been chasing ghosts ever since. Michail, a lifelong Milwaukeean, dreams of the day when time travel will be possible as he's always felt born too late. Fearlessly exploring forbidden spaces and obsessively recording shameless stories, Michail brings local color to the often colorless topic of local history. As an author, archivist and communications professional, Michail works with community organizations (including Milwaukee Pride and Historic Milwaukee) to broaden the scope of historical appreciation beyond the "same old, same old."