Pride Month didn't look or feel the same this year. It was a time of protests instead of parties. And that is exactly what needed to happen.
By focusing on the intersectionality of Black Americans and the LGBTQ community, the combined efforts were able to address some of the urgent and often overlooked hardships of being Black and gay and / or Black and transgender.
The fusing of Black Lives Matter and Pride Month super-ignited two powerful separate movements and created a necessary third. Hopefully, June 2020 was truly the beginning of justice for all.
Chalk drawings were one way people expressed themselves during this time of unrest and chalk events took place all over Milwaukee – as well as the entire world. Some were gargantuan full-day affairs, others were drawn by individuals or families in front of their homes. All of them were created with love – something that the rain will never wash away.
Thanks to everyone who submitted to OnMilwaukee's Rainbow City Chalk Project. And keep chalking, Milwaukee!
Here are a few of the submissions: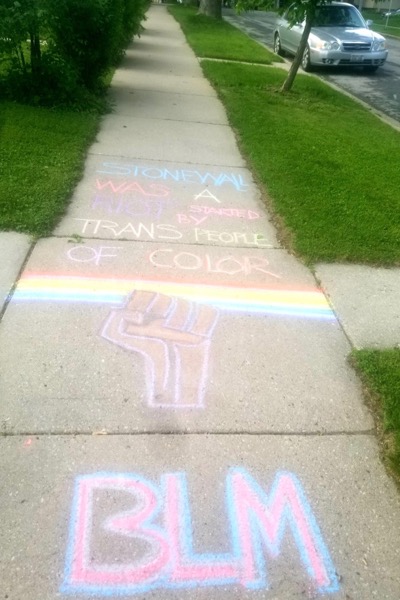 Molly Snyder started writing and publishing her work at the age 10, when her community newspaper printed her poem, "The Unicorn." Since then, she's expanded beyond the subject of mythical creatures and written in many different mediums but, nearest and dearest to her heart, thousands of articles for OnMilwaukee.

Molly is a regular contributor to FOX6 News and numerous radio stations as well as the co-host of "Dandelions: A Podcast For Women." She's received five Milwaukee Press Club Awards, served as the Pfister Narrator and is the Wisconsin State Fair's Celebrity Cream Puff Eating Champion of 2019.