This is Brew City, so it should come as no surprise that we value Milwaukee's beer-soaked history. And Regano's Roman Coin, 1004 E. Brady St., has been a part of that tradition for five decades, since Joe Regano bought the place in December 1966.
The building was erected by Pabst as a tied-house, which meant it was a brewery-owned bar, in 1890. You can read more of its history here.
In honor of its half-century serving thirsty East Siders, owner Teri Regano – Joe's daughter – has organized a street party on Saturday, Oct. 15 that will run the length of Astor Street between Brady and Pearson Streets.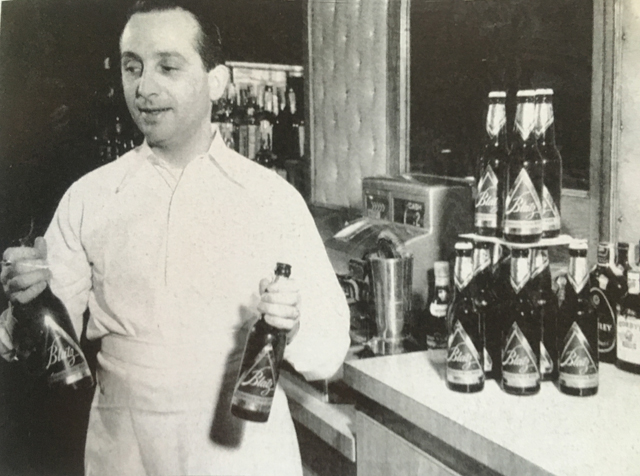 Joe Regano behind the bar at O'Reilly's, before he bought Roman Coin. (PHOTO: Courtesy of Teri Regano)
"I'm going to start at noon with DJ Shawna," says Regano. "After that, I will have Dr. Chow's Love Medicine around 2, 2:30-ish. After them, Marcus Doucette is going to come and DJ, and probably around 5, 5:30, I'll have all 10 pieces of De La Buena."
The party will go until about 8 or 9 p.m., and there will be food offered by the Gypsy Taco food truck, a fundraiser for Empty Bowls, Pabst on hand of course serving PBR and Old Tankard Ale outside, and Central Standard Craft Distillery will do some samples, as well.
"We're also going to do a signature drink," says Regano. "Probably a bourbon old fashioned that's made with orange infused honey, simple syrup. It will be my honey (from my bees)."
Evan Barnes will mix the signature cocktail.
We asked Regano to tell us more about her long-standing East Side family and its history with the bar on the corner of Brady and Astor that bears her name. Enjoy this edition of Milwaukee Talks with Teri Regano.
OnMilwaukee: So, it's the 50th anniversary...
Teri Regano: Yeah, my dad bought it in 1966. He drank whiskey if he drank. He was a very moderate drinker. I hardly drink at all anymore. Very rare. When it started taking me two days to recover from going out, I thought, "You know what, I'm not having that much fun ... that I'm suffering for two days afterward." So yeah, it's few and far between that I do that.
How has Brady Street changed over that time?
I think Brady Street changed for the better. The '70s were obviously very interesting. The '80s were a little scary. I guess now too with this recent thing around here. I am a little upset with the media for sensationalizing it. I want to say to them, "You should have been around here in the late '80s if you think things were bad, because it was terrible." Half the storefronts were empty and there were many blighted properties in the area. It was just not a good neighborhood.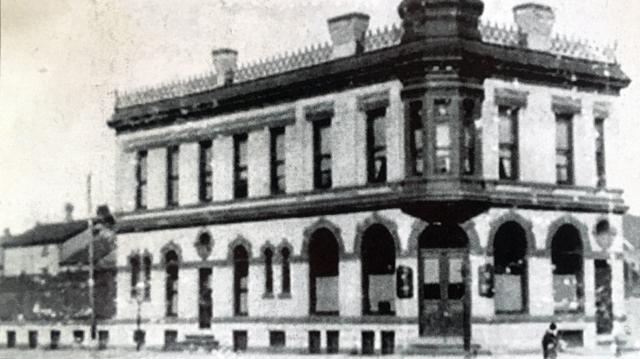 The bar in the old days. (PHOTO: Courtesy of Teri Regano)
That's actually how the Brady Street Association got started. We all met one night for a meeting with the police department. They wanted us to get block watches together. Afterward, there were a number of us sitting there, and we were looking at each other going, "Wow. We've all got businesses on the street. Nobody knows each other." It was shortly after that that we formed the association.
What happened I think is that the business realized that they needed the neighborhood. The neighborhood realized that with a viable business district it was safer. That was the thing that was unique. Most associations are just one or the other, and ours was both. I think it just improved from there. In the '90s, the BID was formed and that was, I think, the turning point because the street changed. The look of the street changed. It was updated; it was made nicer looking. The street signs and everything, it designated a business district.
Could you see yourself running a bar anywhere else?
I live about six blocks away. I don't know anything but this. I get criticized sometimes for being so hands-on, but I don't know any other way. I don't think it's a bad thing. I don't know how people (with multiple) businesses ... can sit back and not be right in it; depend on somebody else to do it. I would not be comfortable with that.
How old were you when your dad bought it?
Twelve.
So you grew up in the bar?
Yes, I did things like cleaning. I can remember one of my least favorite jobs. When he bought it those four windows were open. There were big heavy drapes, and my mom would send me down to the laundromat with the drapes to clean them. There was so much nicotine that it was just like brown water.
During the Astor Tavern years, when the basement alleys were still open. (PHOTO: Courtesy of Teri Regano)
In fact, one time, she told me, "Just put this much soap in when you do it." It's like, wow, they're so dirty, so I put some more in, and I was standing in the laundromat I watched the brown foam start coming up through the top of the washing machine, running down the side. I thought, "oh my god, I've ruined the machine." I ran back to the bar. My mom said, "Where are the drapes?" I said, "Oh, they're washing." It was terrible. I helped out with cleaning, stocking, things like that. I actually started tending the bar probably when I was around 15, 16. Helping for events like the old Brady Street Festivals.
I graduated high school when I was 17. I probably could have been out even earlier than I did. I went the full senior year. I had taken overloads every year. I was in the college prep program. I first went to Colorado State for a year and a half. I was having too much fun, came back home and went to UWM.
Where did you go to high school?
I went to Messmer for three years, and for my senior year, I went to John Marshall. It was right across the street from where we lived. I grew up on 66th and Capitol. My family was down here. My grandparents lived on Lyon and Cass. My aunt lived in the house that I live in now off of Farwell. My other aunt lived on Farwell. They both had businesses. The old Chico's that was on Farwell where Maharaja is – that was my one aunt's business. The original O'Reilly's that was on Franklin and Ogden was my other aunt. My dad's other sister.
So your dad grew up in this neighborhood?
They actually all grew up in the UP, in Caspian. My dad's sisters moved down here. He was the youngest of four, and his next oldest sister was 10 years older than him. They were all down here in Milwaukee and had gotten married, started businesses, and when he got out of the service, he came here. My grandparents eventually moved down.
My grandmother was quite the woman. She came here when she was 17 from northern Italy. Outside of Torino: Borgiallo (is) where her family was from. She came here on an arranged marriage – to Tower, Minnesota, though. She married; his name was Bracco. Had her three girls, right in a row. Turns out that he was a little bit of an alcoholic and abusive, so she packed up the girls and went back home. I guess she was there for a year and half or so. This is right before World War I, and things are starting to get dicey over there. She wrote to him, and she said, "I'll come back with the girls if you send boat fare for the four of us," which he did. She came back to the states but went to Caspian, Mich., instead and divorced him.
Joe Regano and his bowling team, September 1976. (PHOTO: Courtesy of Teri Regano)
She was excommunicated from the church, of course. She married my dad's father some years after that. Had my dad. He was killed in a hunting accident when my dad was 3. He didn't really remember him at all. Shortly after that, she married the third husband who was the one that we all knew as our grandfather. Here he marries a woman with four children, never had children with her. He was a miner. His name was Marzo. I think, he was from northern Italy. I don't recall, but my dad's father was Sicilian.
I remember when I was about, I don't know, I was pretty young – 8, 10 years old – there was this big commotion in the family about, "Oh, grandma and grandpa are going to get married in the church." I'm like, "They're married." I didn't understand it, but then it was explained to me that when grandma had divorced, she was excommunicated, so technically her marriage to the grandfather we knew was not legal. It was legal, but not according to the church. Because her first husband had died, Grandma was no longer excommunicated and they were married in the church, and it was a great big deal.
She was a trooper. She outlived all three of them. She lived to be like 96. I was dating a guy in high school, and Grandma was pretty old then, and we used to stop and visit to make sure she was okay, because she lived at home until probably three months before she died. We stopped there one day, and we were there for maybe a half an hour in the middle of the afternoon, and of course they want to feed you. It doesn't matter what time of the day it is. It can be a half an hour after lunch, and they want to feed you. Anyway, when we left he said to me, "What was your grandma talking about?" I looked at him and started to laugh. I said, "She was speaking English the whole time." She never lost that accent.
When you were growing up on 66th and Capitol, was it fun for you to come to this neighborhood? Were you excited to come here and work at the bar?
I was so used to being on the East Side because of the my grandparents being here and then both of my aunts. When I was 10 years old or 12 years old, I was answering phones in the kitchen at the restaurant at Chico's. When I first came back, I waitressed while I was going to school at Pieces of Eight. I worked there for two years. I did couple other jobs, like summer jobs. When I moved back home, I moved back in with my mom.
My parents separated when I was a freshman, but they never divorced. They actually got a long much better after they weren't living together. They kept the business together right 'til the end. I was living with my mom when I came back from Colorado which didn't work out so well because I had been gone and I wasn't used to people saying, "When are you coming home? What are you doing?" We were kind of at each others' throats. Next door is the house I own as well, and the upstairs became available. I asked my dad, "Can I move upstairs next door?" He said yeah. It worked out really well because I was close to UWM, I was close to work.
I just worked part time, and I was going to school. Loved school. It took me 10 years to get my degree because I kept changing my major. I just loved going to school. I finally got it in criminal justice and social welfare. My intention was to, and I actually did, go into the police department. While I was in training school, I got shin splints so badly that I couldn't do the running. When I couldn't do the running, the sergeant at the academy said, "Well, if you can't run, we're going to fire you at the end," so I resigned. I had a lot of friends in the department, and it was kind of like, "This is a blessing in disguise." In the meantime, I started working here and, again, I was finishing school so it was convenient because it was flexible. Depending on when my classes were, I could work whatever shift I needed to here. I don't know; you just get sucked into it.
Did you guys get along when you worked together, you and your dad?
Oh my god, yeah.
That was never an issue?
No. I worked with him every day. I think there's a special bond between fathers and daughters. Yeah, I don't know; he had an amazing work ethic probably to a fault because I can remember thinking as a kid thinking, "Why don't we go on vacations like other people? Why don't we do this, and why don't we do that?" At that time, we were open seven days a week from seven in the morning because there was such a third shift: the tanneries, the printing place that was over here, the Journal, Sentinel, the breweries. We had a huge crowd that would come in from the breweries. We did some of our best business between seven and ten in the morning. That was his life.

Brady Street Festival 1979. (PHOTO: Courtesy of Teri Regano)
He was dedicated to it. I think that's why it was successful. Kept it pretty much the way it was. It was a corner bar. It's still a corner bar. Apparently people like that. I mean, people come in ... I had people in this weekend that were from out of town actually for the Badgers game last weekend. They were like, "Wow, I really like this place." I wish my dad had seen the changes in here.
When did he pass away?
He died 15 years ago, in 2001. It was in '02 that I painted the building, opened the windows, tore out the old flooring. Probably he knew this (hardwood floor) was underneath. I think he had it covered with tiled and then carpeting. The whole thing with the windows: I may have told you before, after the riots, apparently insurance years ago didn't cover big windows like that so you had to have a separate rider. You had to pay more. I can remember my dad saying, "I'm not paying that extra money. We're covering them up." That happened, and they never got reopened until I did it in 2002. I begged him I can't tell you how many times. "The neighborhood's changing, pa; let's just open it up. People are afraid to come in." It's a big dark building because it was charcoal grey with black trim then.
People would open the front door and peek in, but their eyes couldn't adjust so they weren't sure what was in here. They were just afraid. When I opened up the windows, my god. It was like, people went, "Wow, it's nice in here. We never knew." I wish he would've seen it. I think, he really would've liked it.
I'm proud to carry on my father's legacy of a neighborhood corner bar. I'm able to do that with the help of excellent staff and loyal customers, all of whom have become like family.
Born in Brooklyn, N.Y., where he lived until he was 17, Bobby received his BA-Mass Communications from UWM in 1989 and has lived in Walker's Point, Bay View, Enderis Park, South Milwaukee and on the East Side.
He has published three non-fiction books in Italy – including one about an event in Milwaukee history, which was published in the U.S. in autumn 2010. Four more books, all about Milwaukee, have been published by The History Press.
With his most recent band, The Yell Leaders, Bobby released four LPs and had a songs featured in episodes of TV's "Party of Five" and "Dawson's Creek," and films in Japan, South America and the U.S. The Yell Leaders were named the best unsigned band in their region by VH-1 as part of its Rock Across America 1998 Tour. Most recently, the band contributed tracks to a UK vinyl/CD tribute to the Redskins and collaborated on a track with Italian novelist Enrico Remmert.
He's produced three installments of the "OMCD" series of local music compilations for OnMilwaukee.com and in 2007 produced a CD of Italian music and poetry.
In 2005, he was awarded the City of Asti's (Italy) Journalism Prize for his work focusing on that area.
He can be heard weekly on 88Nine Radio Milwaukee talking about his "Urban Spelunking" series of stories.