This is another edition of OnMilwaukee's Milwaukee Talks, where we meet people around the greater Milwaukee area and talk to them about what they do, how they feel about the community, their businesses and much more.
Recently, I had the opportunity to talk to Richard Kessler, founder and president of Kesslers Diamonds. Kesslers is an OnMilwaukee partner and a fixture in the Milwaukee area since the 1980s. Kessler, who is transitioning to the role of chief executive officer, talked about the business, diamonds, Milwaukee, his celebrity and more.
OnMilwaukee: Why don't we start with a three or four minute Richard Kessler story. I know it's probably hard to compile into three or four minutes, but tell us about your life – how did you get here?
Richard Kessler: I'm originally from Detroit, ran away from home when I was 26. My father, who was a house painter, lent me $700 and said, "Best of luck, stay in touch." Got to Milwaukee, found a job in a very small jewelry store, became instantly successful not because I knew anything about jewelry, but because I had to listen, because I didn't know anything about jewelry. I simply listened to clients and then found out how to meet their needs.
I worked there – my first small store called C.R. Gems – for 10 months and opened my own jewelry store in Menomonee Falls with the $10,000 I had saved up. That was in January 1980.
We struggled hard for a number of years, because I really didn't know how to run a business or market it or merchandise it properly. And in 1991 I met – oh, no, oh goodness, 1991; wow, long time ago – Tony Robbins, who changed my life.

He said, "If you want to be successful in the jewelry business, you need to figure out a way to serve the customer better than anybody." I had never really considered that was my job. I thought my job was to buy a ring, sell it, take the profit and pay the expenses. And when I changed my mindset into serving the customer better than anybody, our business took off like a rocket ship. I took myself out of the equation; I took my challenges out of the equation and focused totally on the customer. And we went into 50 percent annual growth for over 10 years.
Congratulations. Was the Tony Robbins meeting at a seminar?
It was a weekend deal down in Rosemont, just outside of Chicago. We did the fire walk, too – that was quite an adventure. Absolutely changed my life.
OK, since I'm sitting here in Kesslers and have a beautiful wife at home that maybe needs some diamond earrings, tell me why I should buy from you. What sets you guys apart?
Going back to serving the customer better than anybody, we have found ways to differentiate ourselves. And that's basically what you're talking about.
So one of the things that we did to differentiate ourselves is we created the Kessler 81 Diamond, which is an amazingly brilliant diamond. It sparkles more than any diamond I've ever compared it to, through proper technical testing. The Kessler 81 Diamond is exactly like no other diamond on Earth. You can set it next to any diamond, even one you think is the best, it'll jump off the counter.
If you want a pair of diamond earrings, we'll help you with that. We'll set you up with diamond earrings that really, really sparkle. You don't have to buy the biggest ones to get the biggest look. But the greatest part is, next year when you're stumbling for what will I do for Christmas or anniversary, you can bring those back, trade them in, get 100 percent of what you paid for them, and go to the next size.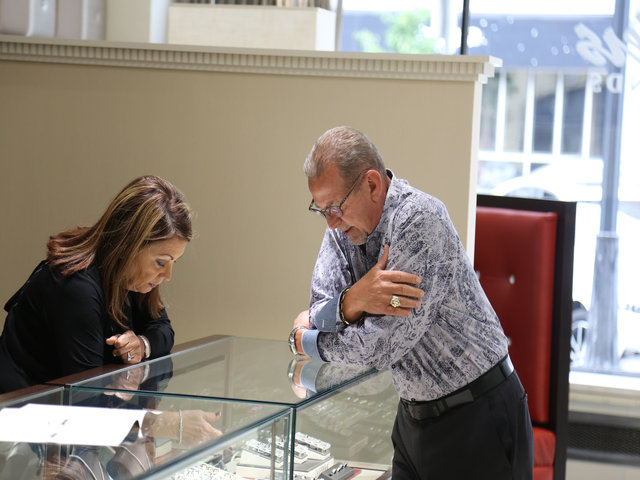 You talked a little bit about the growth and growing the business, and part of that has been really good promotions, really good marketing and a solid consistency with your radio spots. I think to a lot of people, you have become the business through your radio spots, and built personality and built the business on those. How do you adjust to the local celebrity of all that? Have you had any interesting encounters with customers or any fun stories there?
To be perfectly honest with you, it makes me uncomfortable. It can be fun at times, but that's really not my personality to be a celebrity, if you will. But it's interesting when I do meet people and I introduce myself, "I'm Richard Kessler." "You're the Richard Kessler?" "No, I'm just Richard Kessler. I live around the corner." So it does make me a little bit uncomfortable. But it's fun.
Fun is very important. You talked a little bit about your first jewelry business and the first job you had. Was there a passion for jewelry or design, really, in your childhood that set you on that path, or was that just, I don't know, was it just meant to be?
The answer is absolutely not. When I grew up, my father – who again, was a house painter – his best advice to me was, "Whatever you do, son, don't do this. Get a job where you can wear a tie." Because the people he worked for, they all wore ties. So in his opinion, that was the next level up – the middle class, if you will. And when I had an opportunity to go to work in this jewelry store, his words rang out, and I could wear a tie in the jewelry store. As you can see now, we don't wear ties in the jewelry store.
You wear great shirts, though.
Thank you. This is actually my son's invention in this shirt. It's called Million Dollar Collar, and it keeps the collar standing tall and shapes the face. My son is an inventor and an actor. A great young man.
Anyway, I wanted to get a job where I could wear a tie. And it didn't matter what it was. So Kesslers really just turned into, I guess you might say, a marketing company, as opposed to just a jewelry store. We've taken it to a different level.
That's a good segue to the next question. In this world where a lot of companies are becoming marketing companies and media companies, talk about the change of the business through the last 20 years. With e-commerce, and so many options out there for people, what are a couple tangible ways you pivoted and changed, and just how the business has evolved through the years?
You know, when the internet first started getting big in terms of retail, we paid attention to it and tried to figure out, "Well, how are we gonna fit in here?" And it soon became clear that the internet is one thing, and brick and mortar is something else. To try to do both doesn't work. So then, how do we create a benefit for using brick and mortar as opposed to the simplicity of going on the internet and simply making a purchase?
Diamonds are not a commodity. That's the starter. The second thing is, we want to provide an extraordinary experience for people when they come in here. We take the time to educate, and we take the time to get to know them and what really are their needs. You can't get that over the internet. If you're simply looking to make a purchase, the internet's a great place to go. It's simple, and you know yourself – at night, you sit there and you think, "Oh, doggone it, I gotta get this," and you go on the Internet and then two days later, it's sitting at your house.
You could do that with jewelry, but that's not the client we're looking for. We're looking for the client that really wants us to hold their hand and guide them through what's a fairly mysterious proposition.
You recently hired a new president to run the operations. How does that affect your role moving forward, and what does that mean for the next phase of Kesslers?
We hired Joe Gehrke, who was senior vice president at Associated Bank. And Joe is a fairly young fellow, highly educated, he's got a very strong financial background. But his biggest qualification was being able to match the culture of Kesslers. We have a very, very unusual culture here. It's not for everybody. But it's a culture where the team comes first, the client comes second and you come last. And anybody who comes on board with Kesslers has to understand that that's the order of preference, and if you can't follow those rules, you can't work here.
The team is most important. If the team isn't happy, we can't serve the customer and make them happy. So those two things are critical. And then you have to take yourself out of the way. You'll get yours over time. It'll be there for you, if you're serving other people. So the culture was critical.
Joe is really adapting to the culture well, and I see him taking that going forward. He's a marvelous communicator. So our future is very bright. We're looking at opening a store every year and a half. It's hard to grow our company because our market share is so deep, our stores are about as busy as they can be in their communities. So for us to grow, we have to expand out to new locations.
Is that statewide? Regionally? All of the above?
It was statewide. Now it's become regional. We've gone into Michigan, we've opened one store in Grand Rapids. We have plans for a second store in Grand Rapids, Michigan in late 2019. But we need a marketplace of 500,000 people or more, but not to really go over a million people. Going into Chicago would not be a fit for Kesslers.
We are sitting in a relatively new store here in Downtown Milwaukee. Why did you make the choice for Downtown Milwaukee?
We do zip code analysis on a regular basis to see where our customers are coming from. And we saw this pocket in Downtown where we knew Downtown was growing, and we weren't getting our share that was going to our Brookfield store, our Greenfield store, our Germantown store. And it just seemed like there was a real need in Downtown that we could fill. Not a lot of jewelers Downtown, so we saw it as a great opportunity. We picked the Watts building, which I think is the perfect location, across from The Pfister, down the street from Northwestern Mutual – lots of activity around here.
And so we were very excited about getting into Downtown. We're seeing that most of the people that are clients are people who are like you, that work and live and spend time in Downtown.
I want to go back a little bit to the culture. And you had mentioned when we last met that Kesslers is now 100% employee owned. How does that affect the growth and the evolution of the company and continue to build the culture?
You know, there's a certain pride of owning your own business. For starters, it makes it fairly easy to hire people. It's quite appealing to think that I'm gonna go to work for a company that I'm gonna own shares in. So that's pretty important, especially with unemployment being as low as it is, that's very helpful. The way that the employees take care of a client has a lot to do with ownership. One very critical part is, you can imagine, is controlling our inventory. We got these little, itty-bitty pieces, and we've got $13 million worth of them, and it's hard to keep track of inventory.
Last year, because of employee ownership, I believe, we were (only) missing about $1,300 out of 13 million. That is an astounding number, but I think it has a lot to do with the pride that people take in controlling their inventory and keep track of it. And it also creates an atmosphere of ownership. When a client comes in, they know they're talking to an owner. They're not just talking to a clerk.
OK, a couple People Magazine-like questions. First, being in Downtown, living in Greater Milwaukee for a while, do you have a favorite restaurant, or restaurant you love to go to?
I think Mr. B's is my favorite restaurant, out on Capitol. It's close to my home, and I love steak, so Mr. B's.
Do you have a book you're reading now, or certain types of books that you like to read?
Yeah, Patrick Lencioni is my new favorite author. I recently completed "The Advantage," which is just an amazing book. And now I'm finishing up "The Ideal Team Player." And what I'm learning in there is, how do we pick teammates that are going to be a good fit? And what are the qualifications of that person? And Patrick boils it down to three things: They need to be hungry, they need to be humble and they need to be smart.
And we actually use that criteria now in our HR department. When we're interviewing, we ask those questions to ourselves. How does this person come across? Are they humble? Are they hungry? And are they smart? So, Patrick Lencioni.
Are you a sports fan?
I'm a Packers fan. I do attend Bucks games. I like to go to a Brewers game. But I have grandkids, and so they take up a big part of my time.
I always like to ask this. If you could have a coffee or a drink with anyone, living or deceased, who would it be and why?
I think I'd like to have a cup of coffee with Tony Robbins. My father passed away before any of this happened, so he never got to see what I was able to accomplish over the last 37 years. But Tony became such a huge influence. I would like to sit down with him and say, "This is what your guidance has done for me and my family, and for the 135 employee owners at Kesslers," and share with him his success in training.
Perfect, to wrap this all up – define success. I think it means something different to everyone, and I like hearing the answers. So I look forward to yours.
I think success has nothing to do with money. It has everything to do with sharing, helping other people succeed, making other people happy, and I know that I make a difference in the people's lives that work here. I know I make a difference in the lives of the people who come in here and shop, and we give them a memorable experience. That jazzes me, when I get a thank you note from a client that said, "What an experience. Thank you. I was nervous as heck and didn't know what to expect, and you did such a great job putting me at ease and helping me make a good decision." That's payday for me.
A life-long and passionate community leader and Milwaukeean, Jeff Sherman is a co-founder of OnMilwaukee.
He grew up in Wauwatosa and graduated from Marquette University, as a Warrior. He holds an MBA from Cardinal Stritch University, and is the founding president of Young Professionals of Milwaukee (YPM)/Fuel Milwaukee.
Early in his career, Sherman was one of youngest members of the Greater Milwaukee Committee, and currently is involved in numerous civic and community groups - including board positions at The Wisconsin Center District, Wisconsin Club and Marcus Center for the Performing Arts. He's honored to have been named to The Business Journal's "30 under 30" and Milwaukee Magazine's "35 under 35" lists.
He owns a condo in Downtown and lives in greater Milwaukee with his wife Stephanie, his son, Jake, and daughter Pierce. He's a political, music, sports and news junkie and thinks, for what it's worth, that all new movies should be released in theaters, on demand, online and on DVD simultaneously.
He also thinks you should read OnMilwaukee each and every day.