ROSEMONT, ILL. – Mother's Day is the perfect time for a mother-daughter getaway. Chicago, right?! The big city. With. All. That. Shopping. And the food. All. The. Food.
Then there's the distance. And the parking. The hassles and the costs.
If you just don't feel like dealing with it all this time around, you can find a nearby, alternative escape in Rosemont, the big little city in the shadows of Chicago. (The hamlet literally measures 2.5 square miles with about 4,000 inhabitants but sees up to 75,000 visitors a day.)
After a few tolls (totaling about $6) on the route from Milwaukee, it's smooth sailing. Hotels, restaurants, shopping and things to do … all within steps of each other. Park once and done.
If you want the convenience of excellent dining within the confines of your hotel footprint, look no further than Loews Chicago O'Hare, thanks to "Chef Tiny" at The Ashburn. His menu is at once inventive and experimental, familiar and comforting. Try the cheesy popcorn grits. Or the house-smoked, boneless beef short ribs from Darlington, Wisconsin. You're welcome.
Truth be told, I was surprised by Chef Tiny's talents. I mean, he's at an "airport hotel" restaurant. But then I thought about the global convention and traveler clientele, and it all made sense. He certainly deserves to be mentioned by his real name, Jose Garay, and hails from Mexico City.
The son of a chef, he worked his way up in the restaurant business, starting as a dishwasher and spending time on each rung of the ladder upward. His love for his job is palpable, and he speaks profusely about his focus on sourcing locally and regionally, avoiding all processed foods and skipping the sugar as much as possible.
Sure, the Loews Chicago O'Hare itself is your standard airport hotel, but well-appointed, clean and modern. (It's kind of cool to see the skyscrapers of The Windy City off in the distance, beyond the treetops outside your window.) And, again, it's about location and amenities.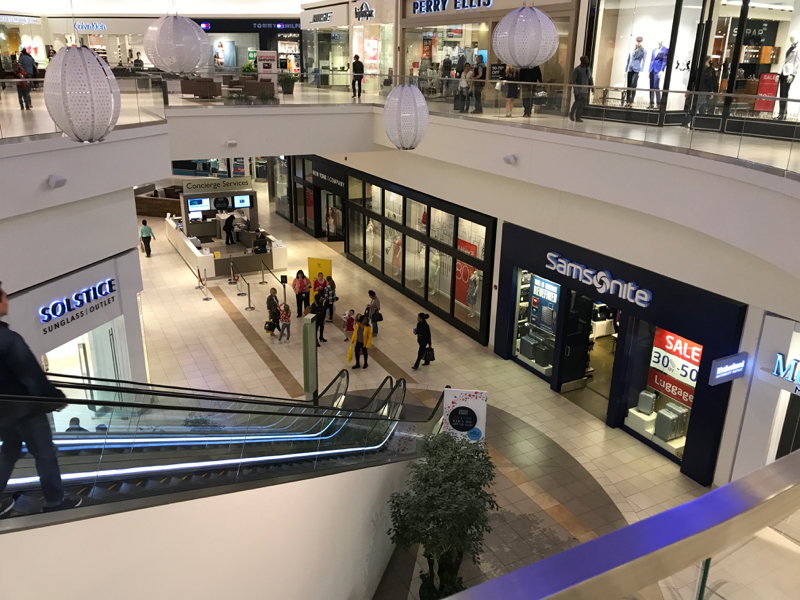 Take, for example, the Fashion Outlets Chicago – the only two-story, indoor outlet mall in the Midwest, about a two-minute walk away. Its offerings run the gamut, from Carter's Baby & Kids and The Disney Store to Allsaints and Armani. What's more, it's wisely organized, with stores of the same ilk grouped together. Wanna shop for the little ones? Here's your section. Want the higher-end glam? Here's yours. And you'll find everything in between.
The outlets' parking is ample and "smart." Literally. Green and red lights tell you where the vacancies are and aren't, so you can spend less time searching and more time shopping.
(Back to our hotel room for a moment. My daughter and I were graced with the presence of a framed print from The Bird Machine. We were and remain smitten. This isn't the exact one, but it's similar. Adorable.)
What Mother's Day weekend is complete without brunch? If you have a sweet tooth, you really must stop at The Sugar Factory. As the name suggests, it's half-restaurant, half-candy store. The fare is fair, but the vibe is fun and funky. The Sugar Factory plays up its many celebrity visits and endorsements, from the likes of Britney Spears, the Kardashians, Katy Perry and the other usual suspects you'd find in Star magazine. (That said, you probably won't run into any A-listers at the Rosemont outpost, as The Sugar Factory boasts locations in downtown Chicago, Los Angeles and Las Vegas.)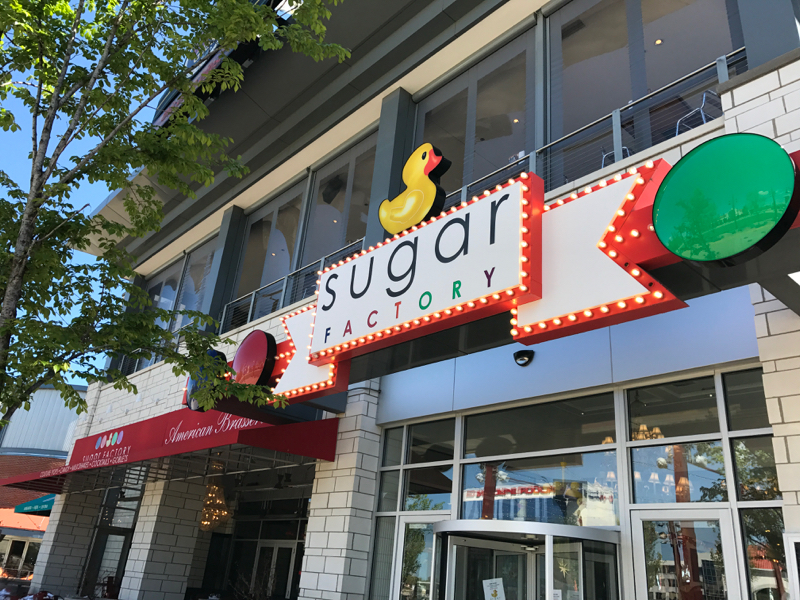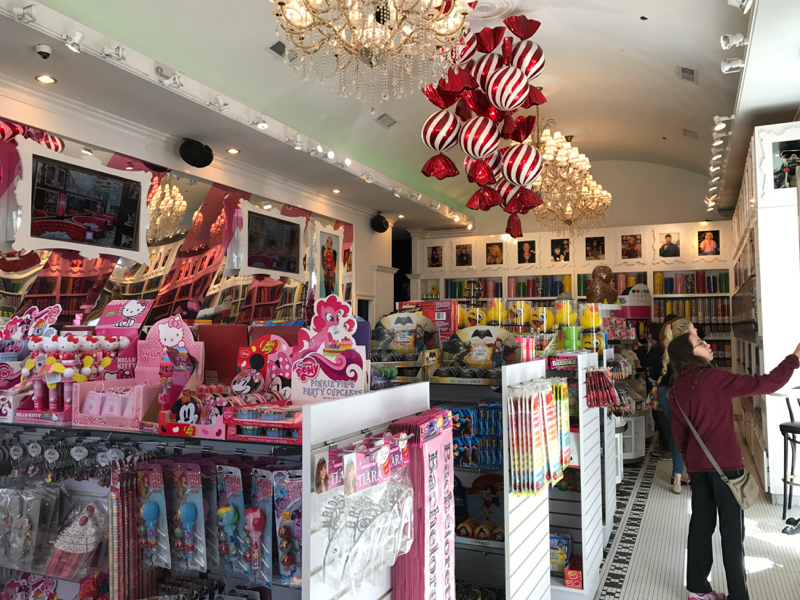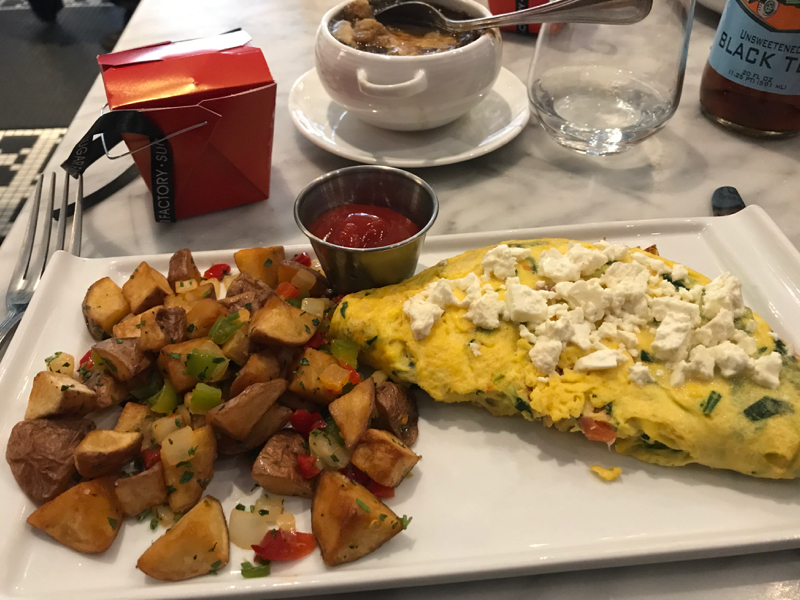 If you're like me, you'll spend the weekend in the Fashion Outlets Chicago. (Did I mention Barneys New York Warehouse?) If you're not and you need more diversion, you'll find that aplenty at the MB Financial Park just across from the outlet stores.
There's King's Bowling, for example. I've now experienced four flavors of bowling: salt-of-the-earth Milwaukee bowling; earnest Wisconsin northwoods bowling; retro rockabilly Los Angeles bowling; and nightclub-meets-bowling bowling, courtesy of Kings. Sure, all your bowling alley basics are there, but so are disco balls, flashing lights, dance music and big screen TVs, hanging literally above the lanes.
A "real" bowler would be appalled, but my daughter and I were delighted, especially with the gutter bumpers that automatically rise up – only if programmed – for the lesser-skilled bowlers in your midst. (They disappear again when the novice bowler's frame is over.) The last time my 8-year-old bowled, she felt discouraged by her high gutter-ball count and low score. Here, she boogied between frames, cheered on her fellow bowlers and squealed with glee when she got a strike.
If you're of a certain age, the last time you thought of Rosemont, you thought "Rosemont Horizon." You might also be thinking to yourself right now, "Why haven't I heard of all this Rosemont stuff?" It's all fairly new: Fashion Outlets Chicago opened in 2013 and the MB Financial Park popped up around the same time.
Rosemont is working hard to deserve some of your time and attention. Treat yourself – and your mom to a trip less than 90 minutes away.
Velia Tarnoff counts among the loves of her life her daughter, her husband, her friends, writing, developing theories, dancing, live music, Southern California, black coffee and red wine. She's happiest when she can put as many of those together as possible. WWith more than 20 years of experience as a radio reporter and public relations professional, Velia is a natural communicator who loves to hear stories, to share stories and to tell it like it is.
Velia earned her B.A. from the UW School of Journalism and is thankful for every moment she spent on that wonderfully wacky campus.
And, in the interest of full disclosure, Velia is the wife of OnMilwaukee.com Publisher Andy Tarnoff.