The only constant lately at the former Scottish Rite Masonic Center, 790 N. Van Buren St., in Downtown Milwaukee has been change.
When the building was sold in 2018, there was talk of adding a tower above it and creating a hotel.
When that fell through, a plan to create 25 apartments was hatched and approved, and that's where things stood when I toured the building with Eric Nordeen of Ascendant Holdings earlier this year.
Since then, Ascendant sold the property to Chicago-based Saxony Capital, which is still planning apartments at the historic building.
This time the plan calls for 22 of them – mostly three- and four-bedroom units, as well as a few duplex apartments – and large, with an average size of 2,500 square feet. At least one of them will encompass 6,000 square feet across three stories.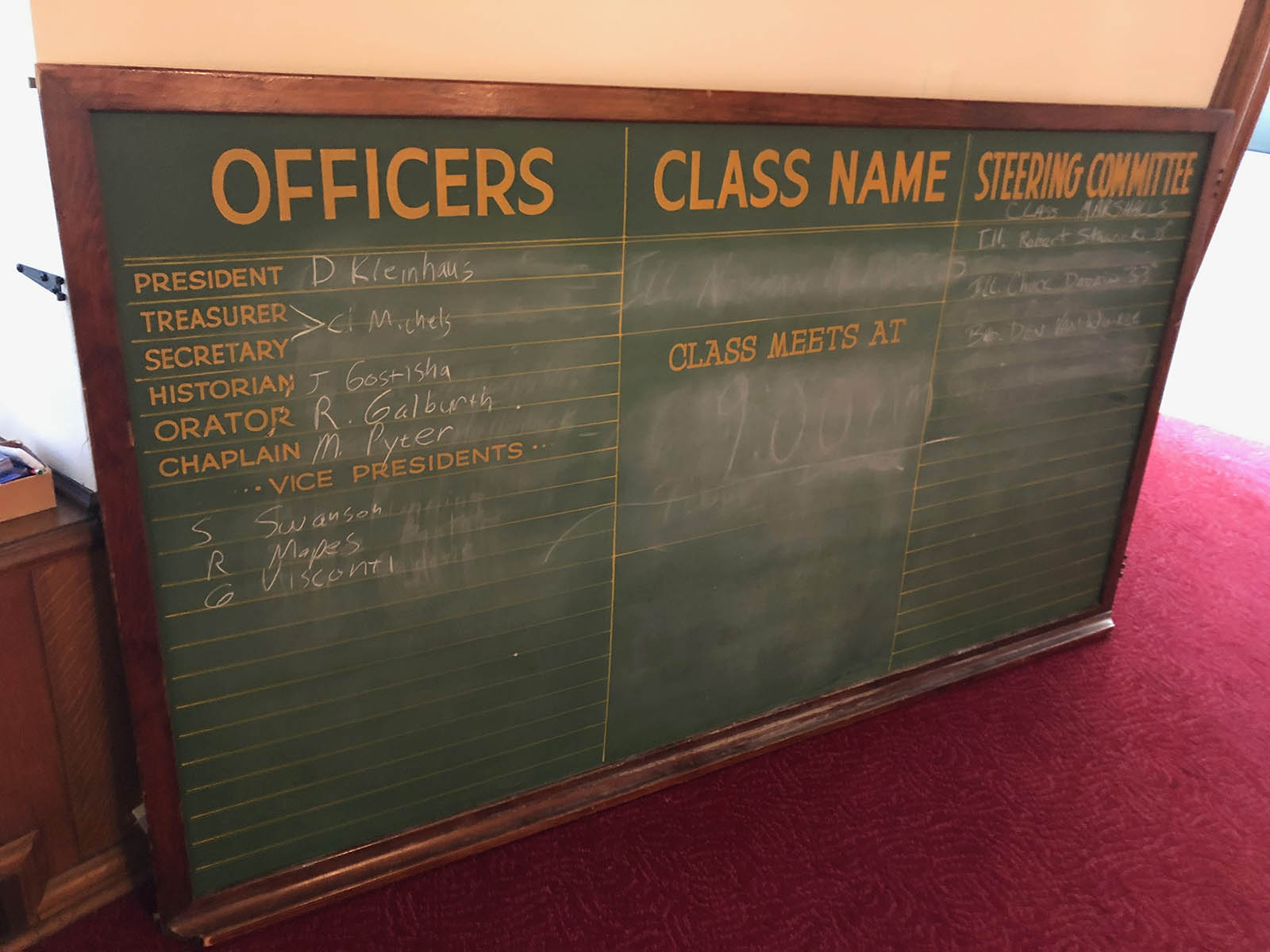 Some units will come with rooftop patios. Four will have direct access from the lower level garage and three along Van Buren Street will have direct access from the street.
"We have 10 duplexes and one triplex, which will also have an in-unit movie theater room," says Saxony Capital's Josh Mintzer. "Most of these units are really meant to live more like single-family homes, just inside the envelope of an apartment building."
Saxony is working with architects Ramlow Stein and hopes the apartments will be ready by spring 2023.
After so much attention in the past three years, I figured it was a good time to take a peek inside the building and its history.
The history
The Art Deco building you see today resembles its initial state only in broad terms. Designed as a Romanesque Revival structure by Edward Townsend Mix, the tower and window openings are in the same spot and the height is the same, but that's about it.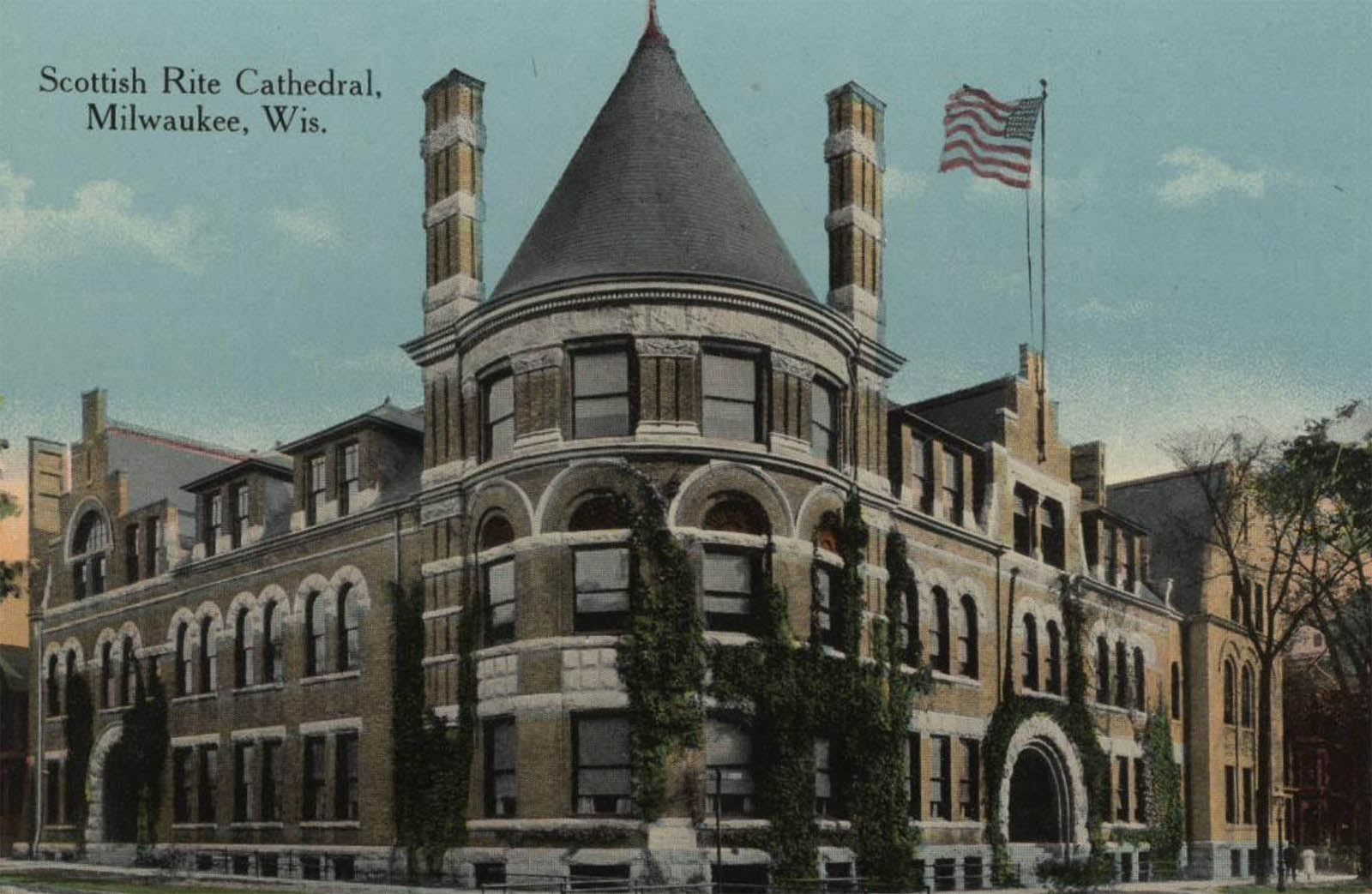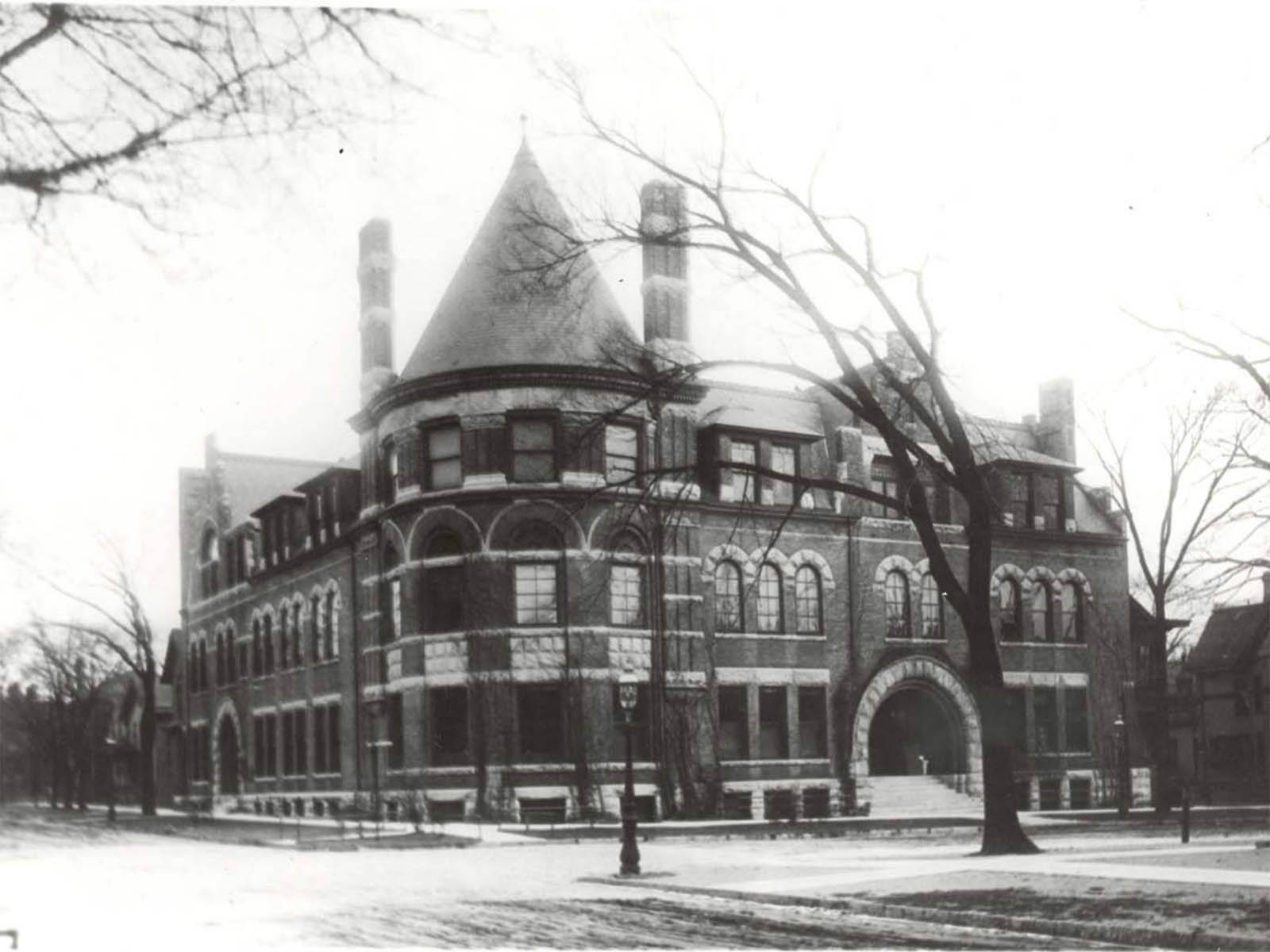 It was built by the Plymouth Congregational Church as its new home in 1889 and its architect, Mix, was a member of the church, alongside notables like Judge Jason Downer (who, like Mix, lived nearby), department store pioneer T.A. Chapman and Judge Arthur MacArthur (grandfather of Douglas).
The church was founded in 1841 and first held services in a building on the northeast corner of Plankinton and Wisconsin until it built its own brick church, a block west on the northeast corner of 2nd and Wisconsin, in 1844.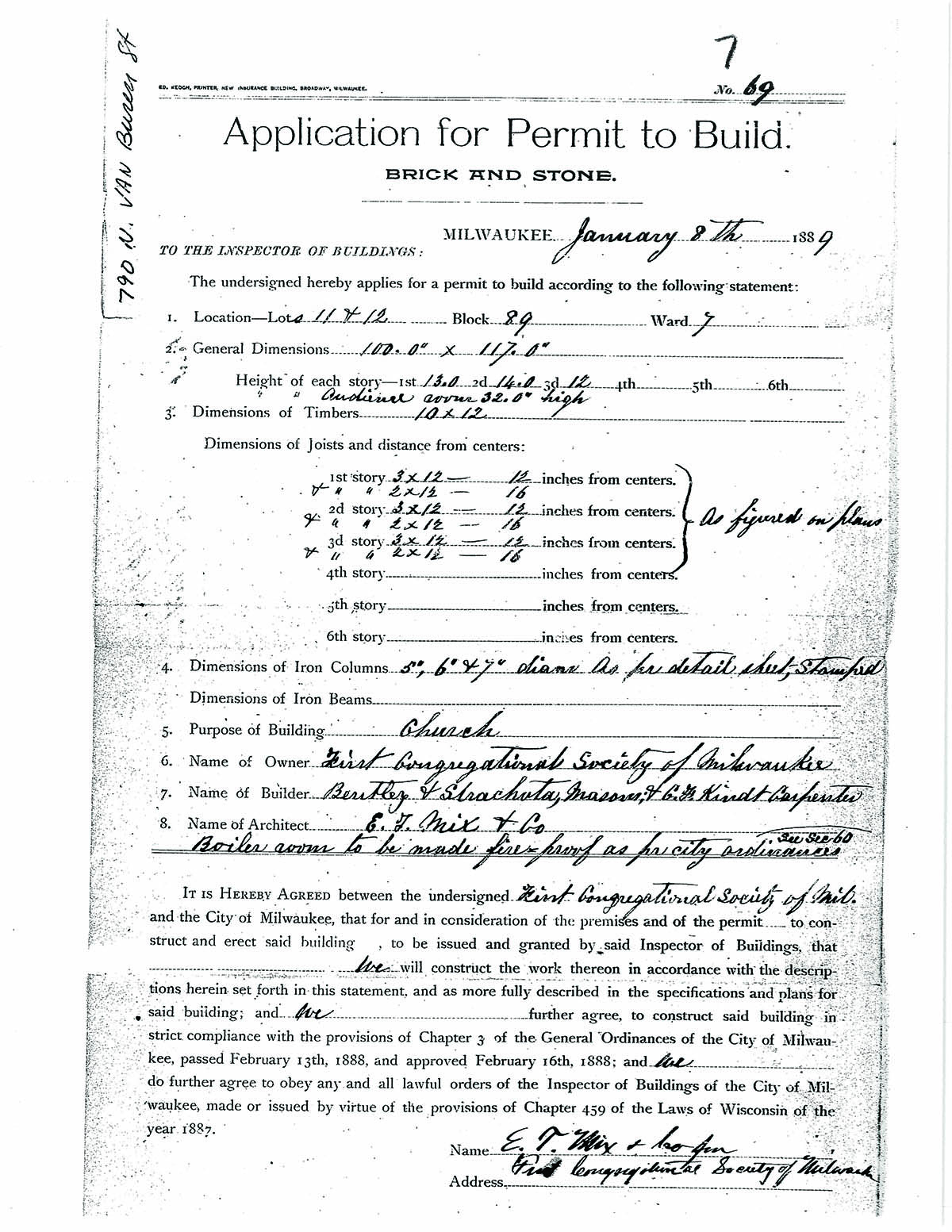 Seven years later, the congregation – which was active in 19th century abolitionist and temperance movements – sold its church and moved east of the river to the southeast corner of Milwaukee and Wells Streets, where it grew to become not only the largest congregational church in the state, but one of the most prominent and wealthiest, too.
When Rev. Judson Titsworth arrived from New York in 1883, the church began to devote more energy to community work and those efforts among immigrants, the homeless, the eldery and kids lacking parental oversight, led to the need for a larger building.
Titsworth asked Mix for drawings, though the completed building was heavily influenced by the pastor's ideas, which he developed in part while visiting other churches in Philadelphia and New York in the East, and Indianapolis and Chicago in the Midwest.
Titsworth led a cornerstone laying ceremony on March 26, 1889 and because his contribution was so strong, leaders surreptitiously included a photo of the pastor, against his wishes, in the time capsule.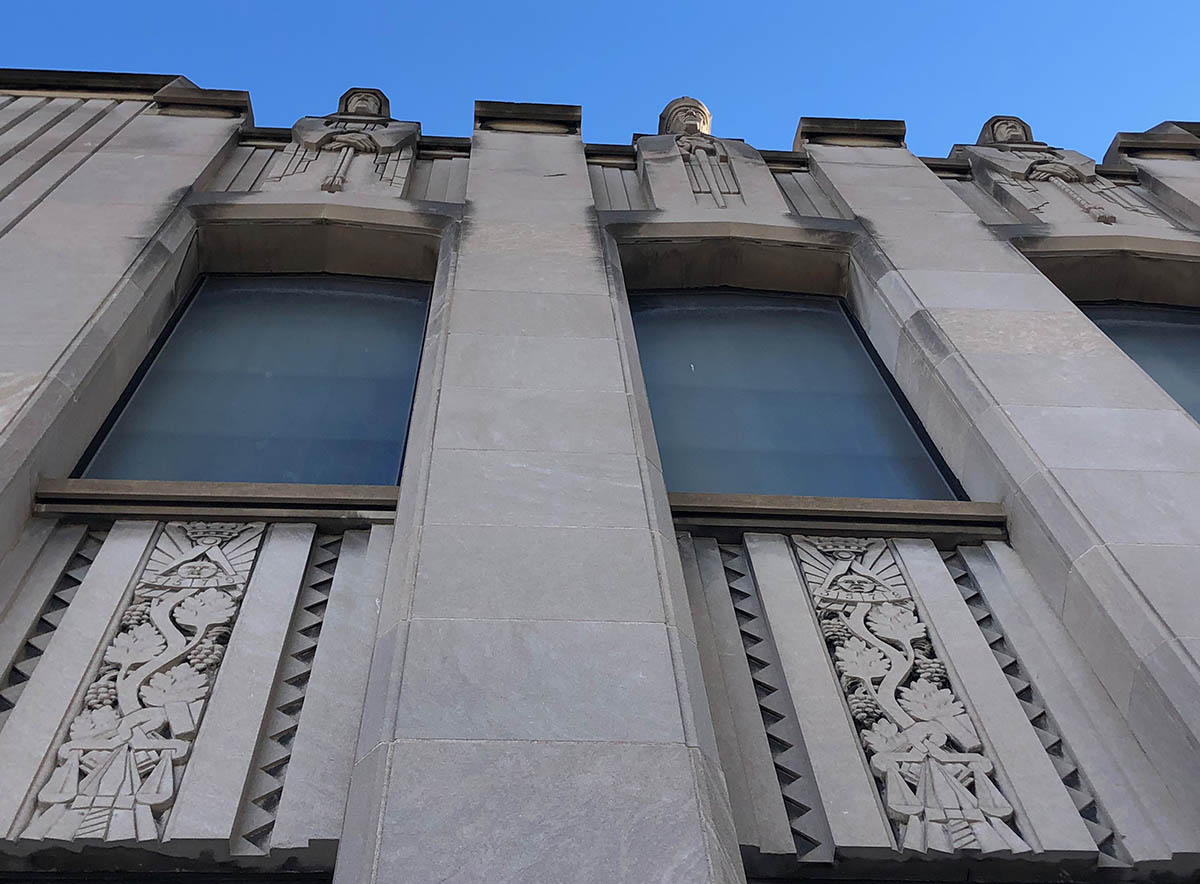 Among the items listed for inclusion in the capsule was, according to a newspaper report, "a photograph of the Rev. Judson Titsorth in an envelope containing also a statement of officers to the effect that the picture had been placed there without Mr. Titsworth's knowledge and contrary to his wishes, as a testimonial to his enterprise in securing this new edifice."
By the time construction began, Milwaukee already began to realize that this new church would resemble no other in the city.
"The Plymouth Church, now under way, will be ... a decided departure in style and the interior arrangements of churches in Milwaukee," wrote the Milwaukee Journal.
"The auditorium, which will be in the southeast portion, will be constructed with the inclined floor and circular ceiling converging to a central dome at the top of the building while the north and west sides will be three stories in height, divided into lecture room, reception rooms, club rooms and an amusement room, securing, at once and in complete and elegant arrangements, the unusual combination of church, home, entertainment hall, social reception rooms and general club quarters."
The building was reported to have cost no less than $90,000, including the land. Other later estimates put the cost at upwards of $102,000.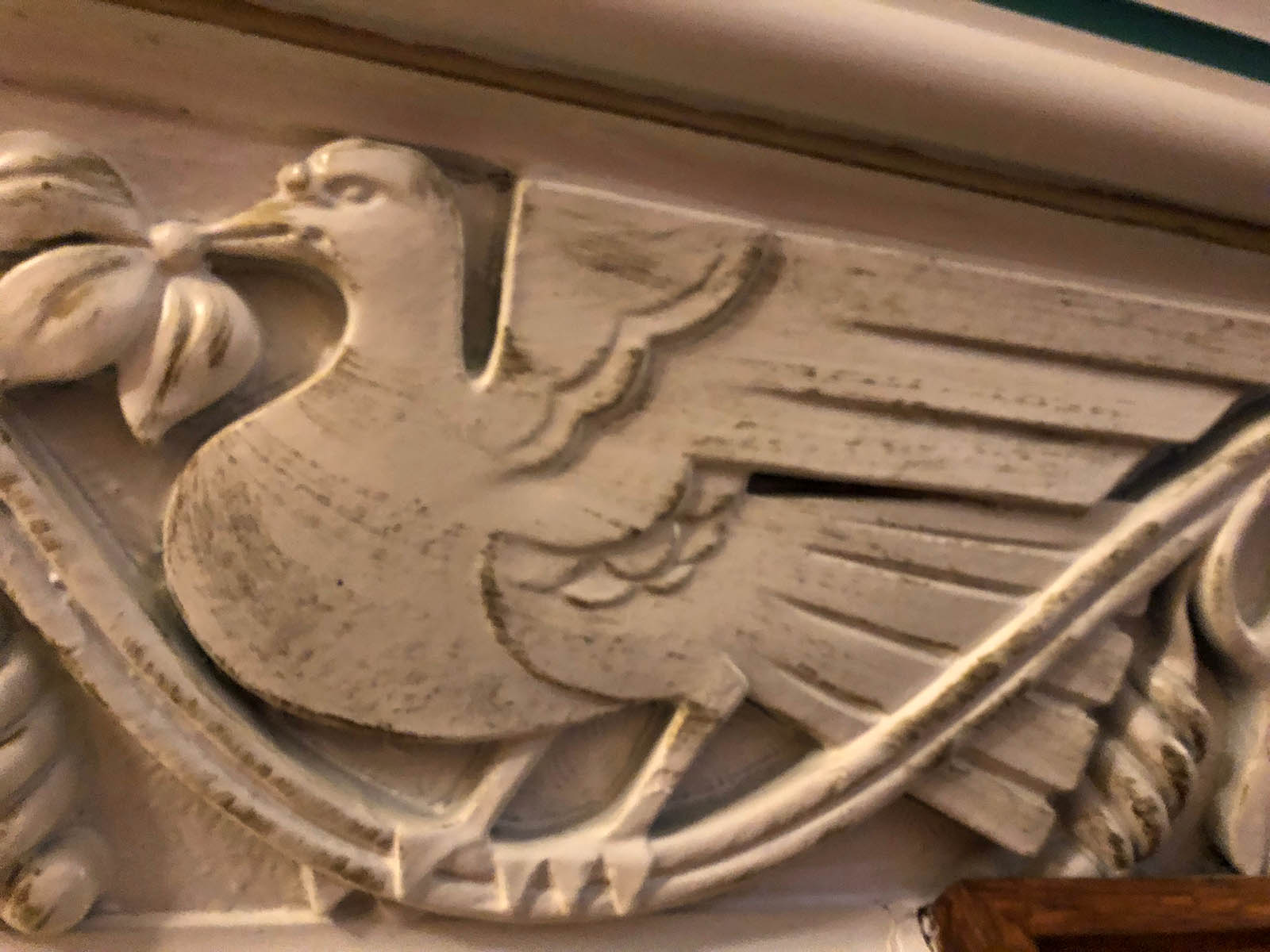 By December, the building was ready and a dedication ceremony, led by Titsworth and attended by pastors from around the country, was held on Dec. 19.
Newspapers again commented on the unusual aspect of this new house of worship – mistaking its Romanesque features for Moorish ones – and noting Titsworth's hand in its look.
"The feature of this house of worship is the fact that it is an entirely new and novel departure, in this part of the country, from the style and internal arrangements of other churches," wrote the Journal.
"The new Plymouth contains an amusement hall, with stage; a fine gymnasium, a large dining room, a comfortably-sized kitchen, young men's club room, a reading room, cloak and dressing rooms, etc. as well as a main auditorium for divine services, lecture room and prayer meeting room.
"Although merely a coincidence, and though of before that work became known, the internal arrangements of the new Plymouth have a remarkable similarity to the church so accurately described in 'Robert Elsmere' (an 1888 novel by Mrs. Humphry Ward) as the ideal church of that minister.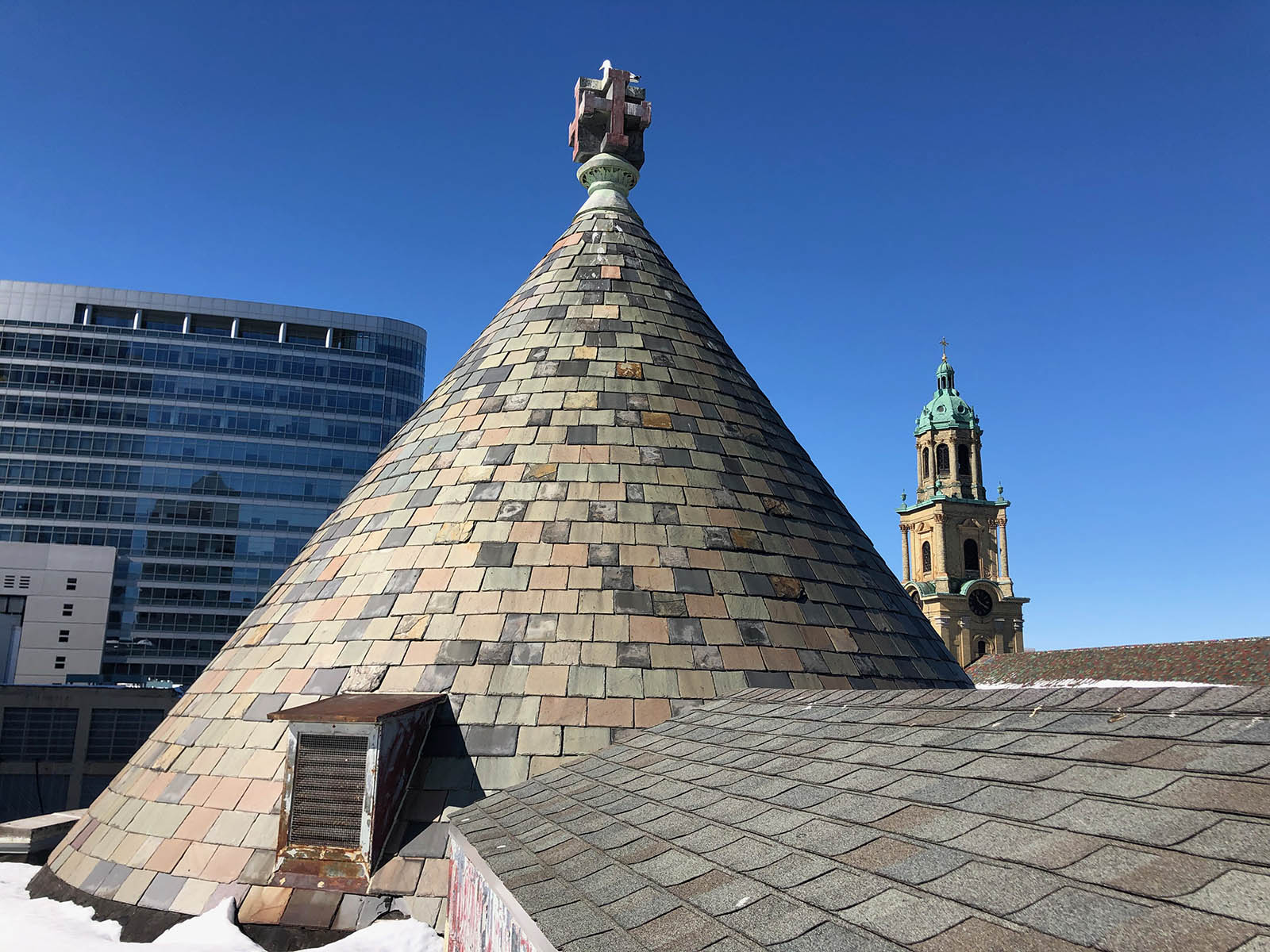 "The building is a handsome edifice of native brick and cut stone, fashioned after the ancient and attractive Moorish mosque, with its rounding corners, wide, low arch entrances, etc., and at once presents a pleasing, dignified and attractive appearance on the exterior, while the interior is finished with a taste and appropriate elegance that at once suggests comfort and solemnity. It will stand as an enduring monument to the enterprise and liberal religious view held by the pastor, the Rev. Judson Titsworth."
The building, however, wouldn't "stand" as long as Titsworth did, in a manner of speaking.
By 1910, the congregation had decided to sell and build a new home in the residential Kenwood Addition, on the corner of what is now Hampshire and Hackett, near UW-Milwaukee. And much to the chagrin of Titsworth, who had recently resigned in order to become chaplain at the Soldier's Home.
"I had witnessed and in my heart condemned the desertion by the churches of New York of the thousands of the population in its downtown wards," Titsworth told the Sentinel.
"I knew the religious history of other churches to be similar, and had promised myself that if opportunity ever came to me I would try to make a practical protest against what I believed to be one of the greatest mistakes of the city churches."
However, Titsworth remained involved at Plymouth and when his replacement, Rev. Charles Parker Connolly – who had come from Leavenworth, Kansas, where he'd been for 10 years – left for Rockford after just three years, Titsworth stepped back in to lead the congregation, which was in transition.
Immediately after the church announced its desire to move, Milwaukee Federated (Associated) Charities considered buying the Downtown building, but ultimately determined it preferred a location further west. Soon after, it was bought by the Scottish Rite.
The Scottish Rite is a branch of the Freemasons and the Wisconsin Consistory was founded in 1863. Milwaukee was one of five Scottish Rite "Valleys" in the state.
Along with other groups of Masons, the Scottish Rite met in a space at the Iron Block Building on Water and Wisconsin, before moving in 1880 to a Gothic building on the northwest corner of Broadway and Wisconsin. The group of Masonic orders then collaborated to build a six-story building, designed by Ferry & Clas, on the southwest corner of Jefferson and Wells in 1896.
Deciding it needed a space of its own, the Scottish Rite bought the old Plymouth Church for $44,000 in September 1912 and tapped architects Leenhouts & Guthrie to design a $40,000 addition on the south end of the building.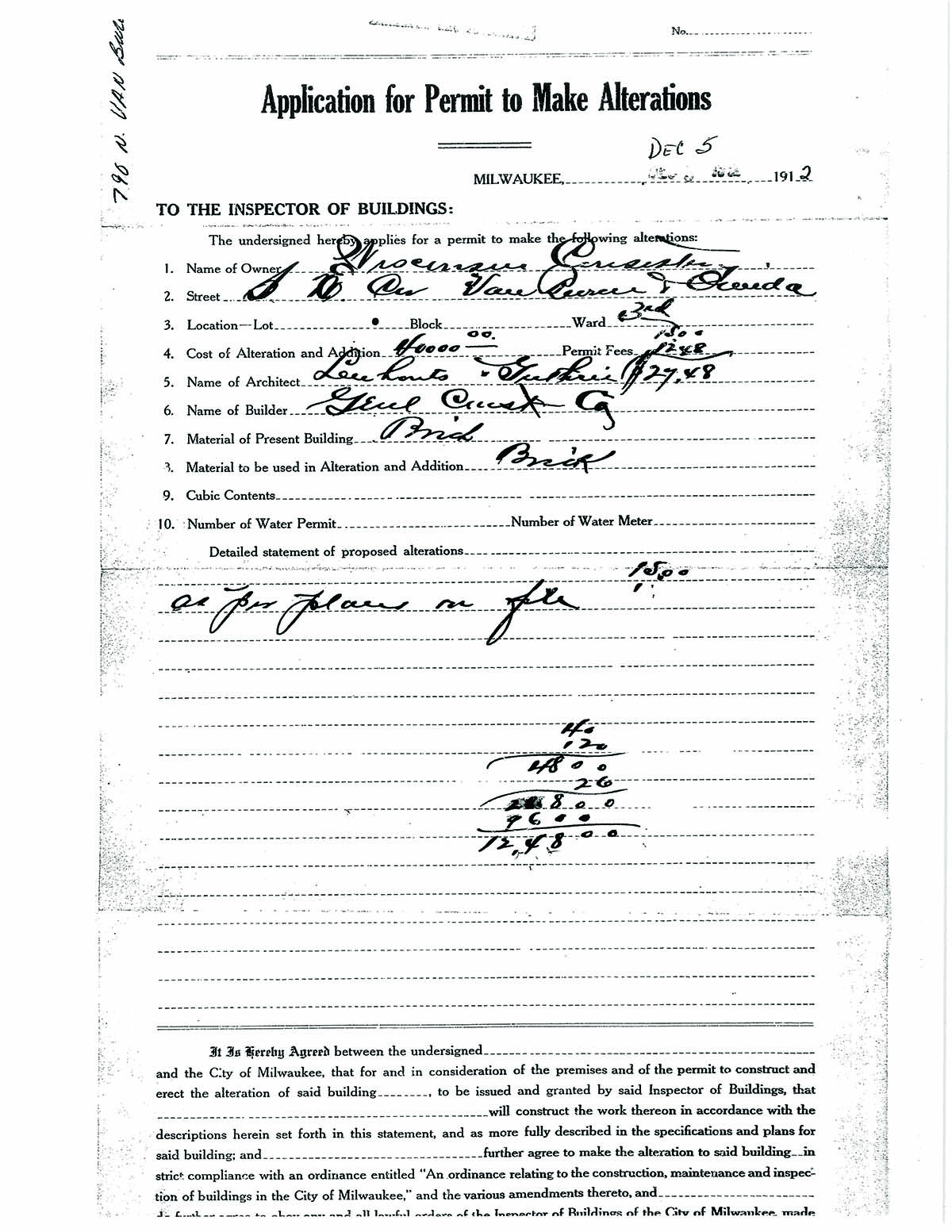 Begun in the first days of January 1913, the addition was completed around the end of May and it was officially dedicated when the Consistory convened on Nov. 17.
"The old church building has been transformed into one of the handsomest and best appointed Masonic temples in the west," wrote the Milwaukee Sentinel.
"It is arranged in a commodious manner, has every convenience for the meeting of the various degrees of the rite, and is provided with committee rooms, assembly halls, parlors, reception rooms, lockers and offices for the officers of the consistory. Here Grand Secretary Perry will have his offices as soon as the building is occupied."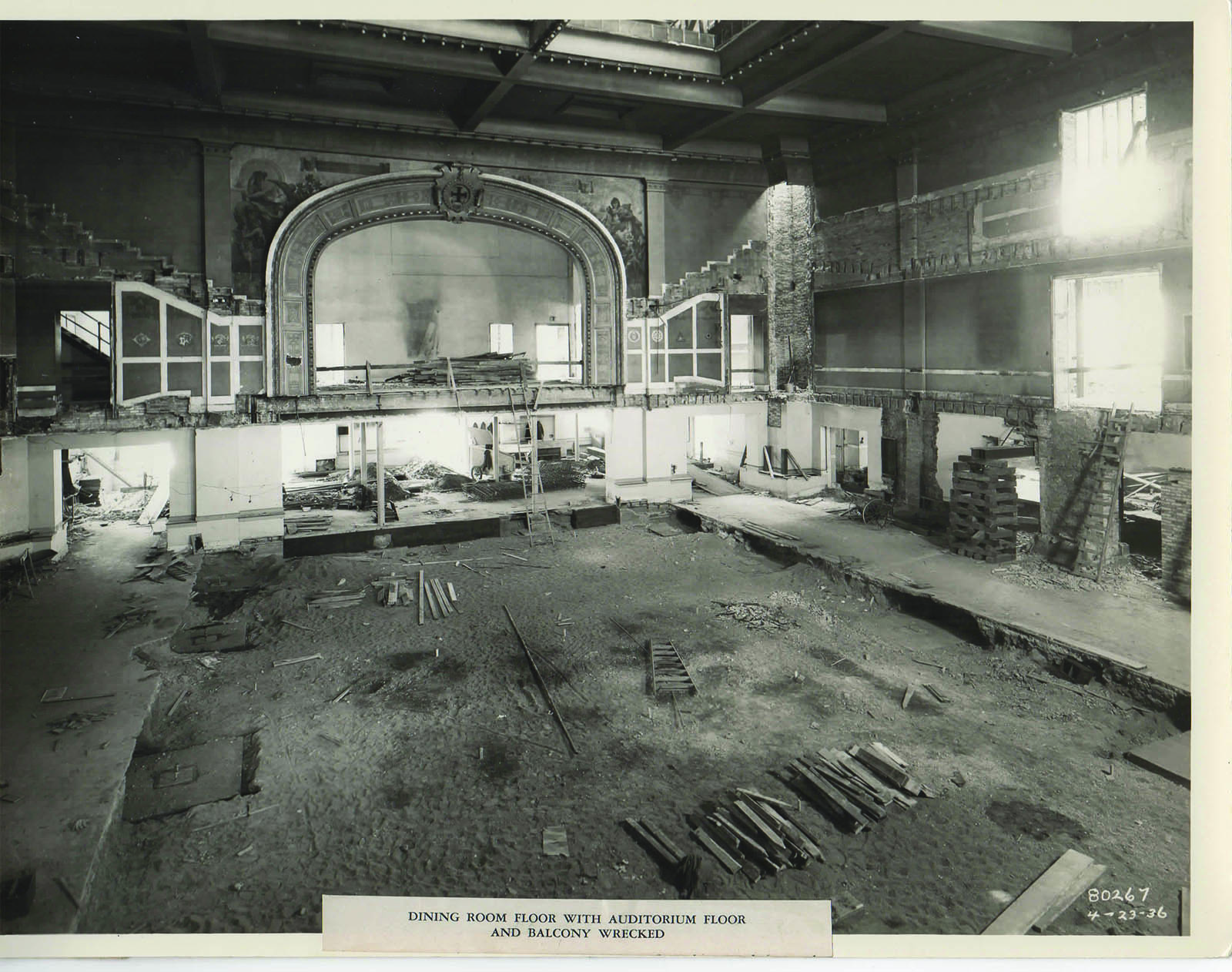 Three months later, after worshipping for a few years in a temporary barracks building at its new site, Plymouth celebrated the first services in its new East Side church, with new pastor Rev. Dr. Theodore M. Shipherd preaching his (and the building's) first sermon.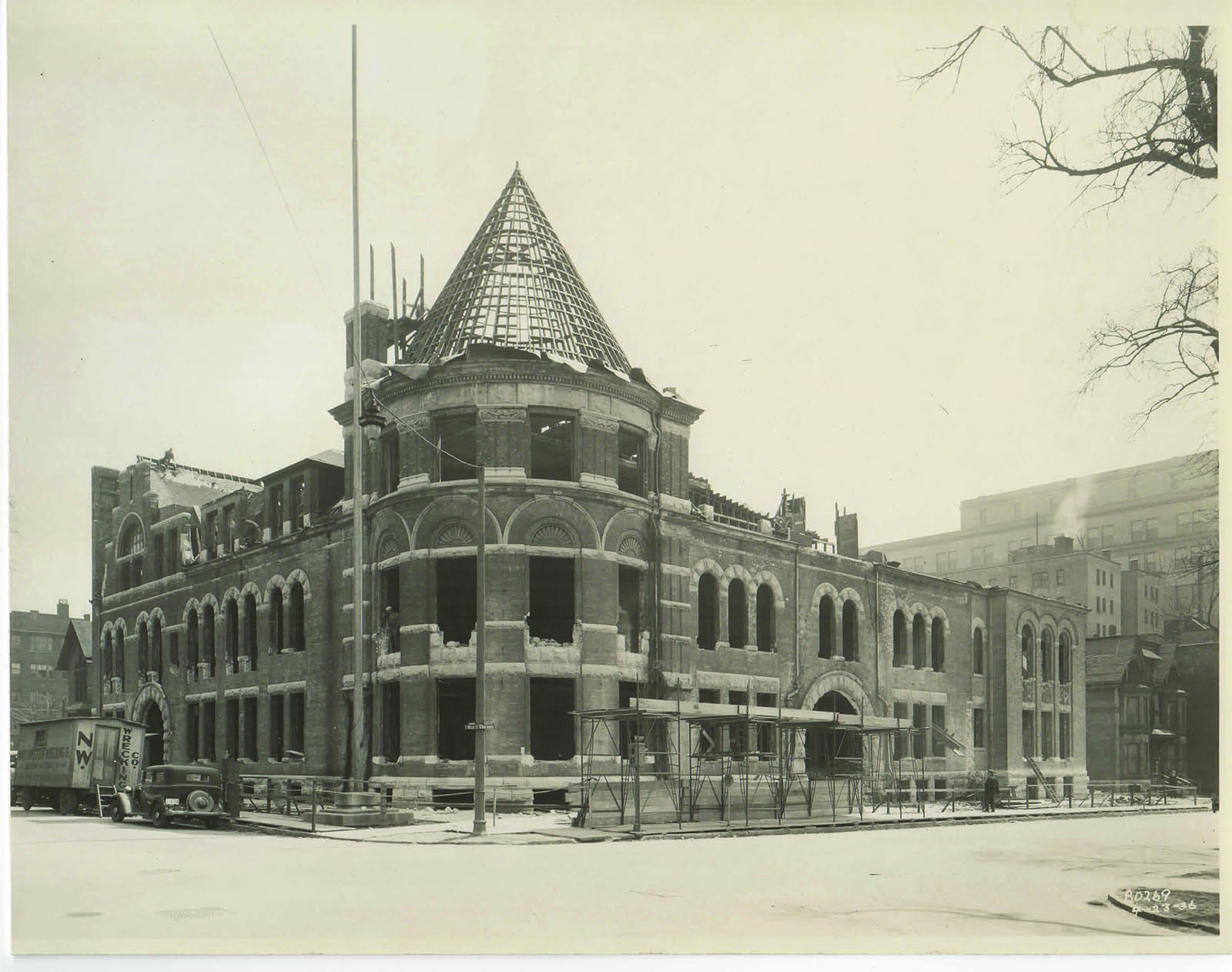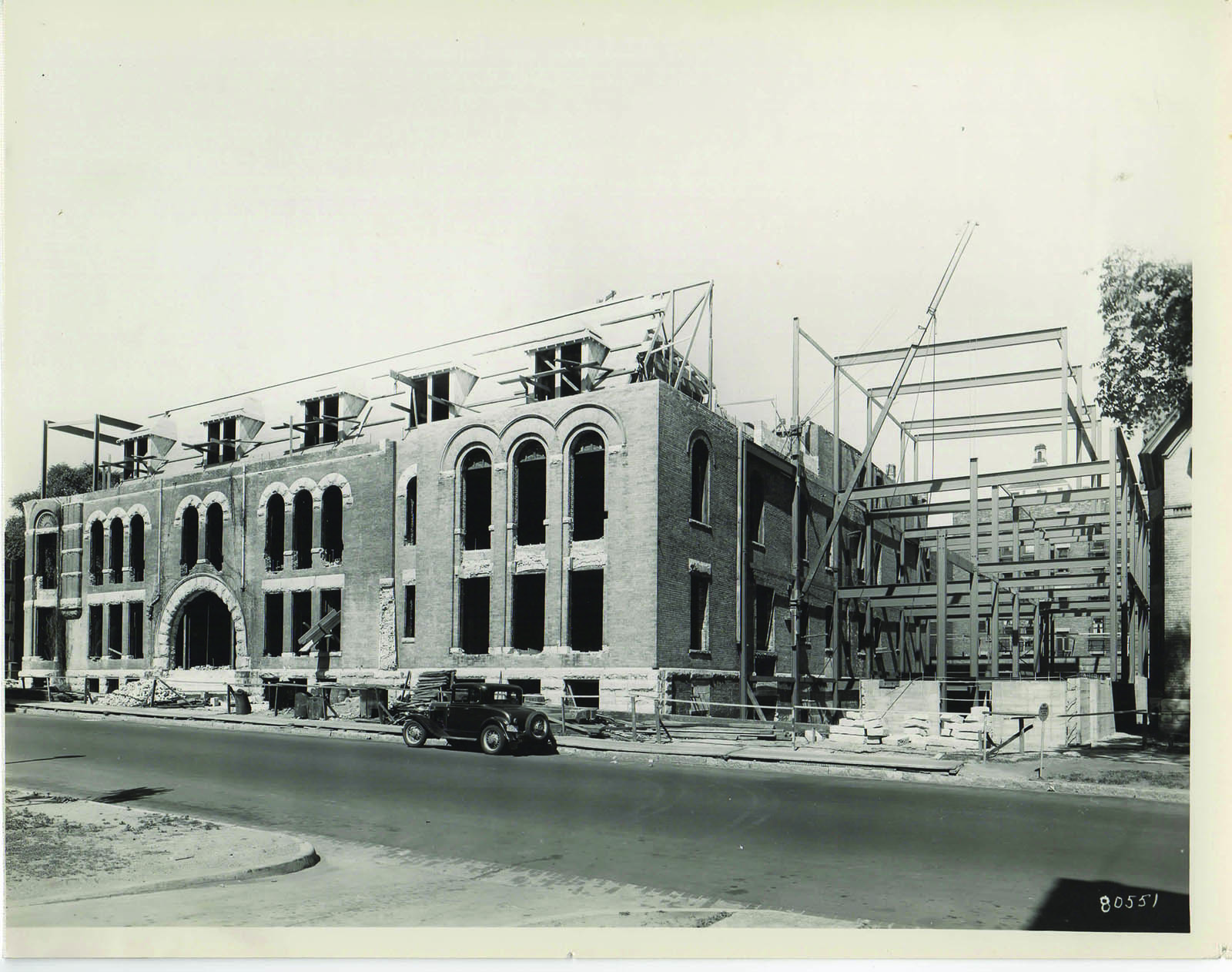 It wasn't long before the Consistory again considered a move, buying a chunk of land nearby, on the northwest corner of Astor and State from hotel mogul Walter Schroeder (who owned the Astor a block north) for $145,000.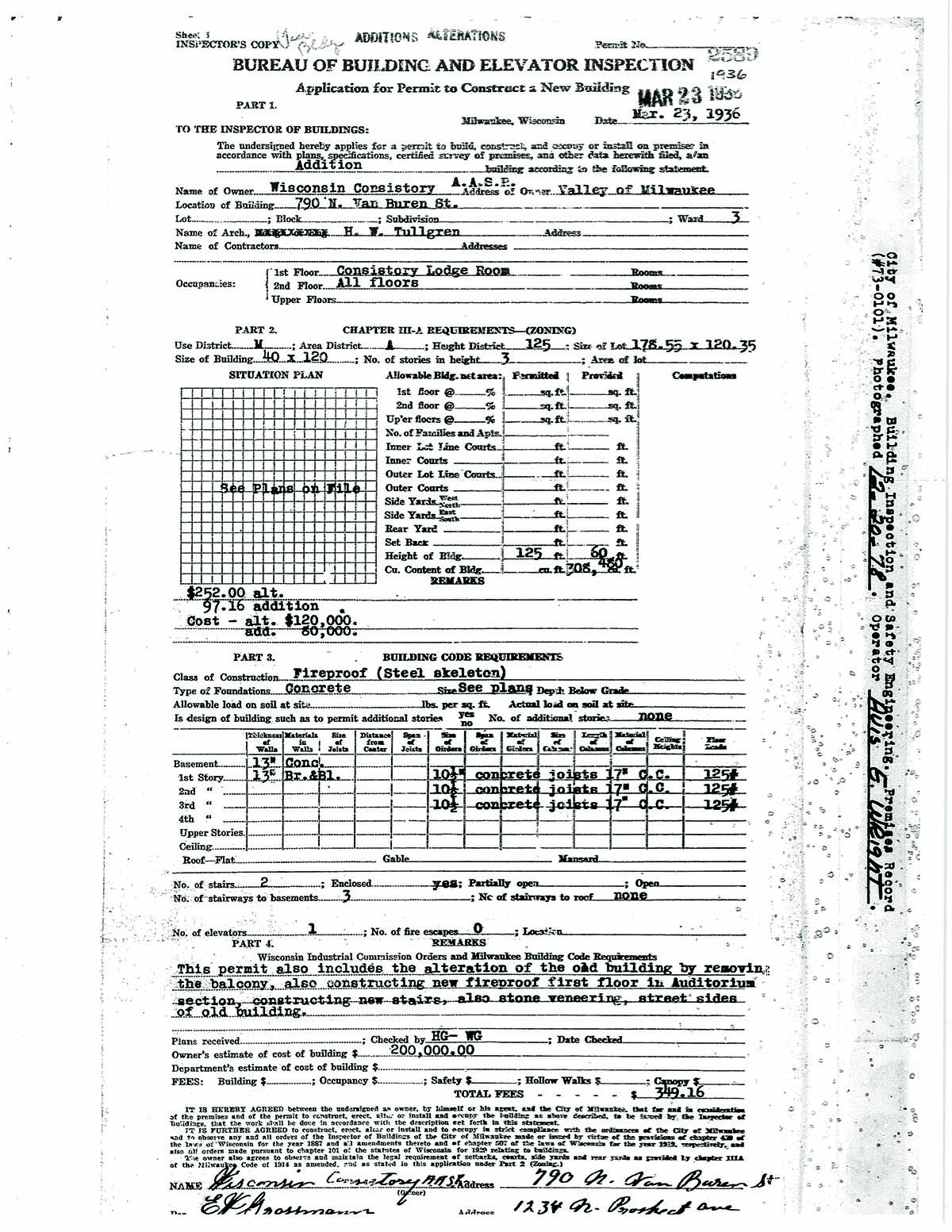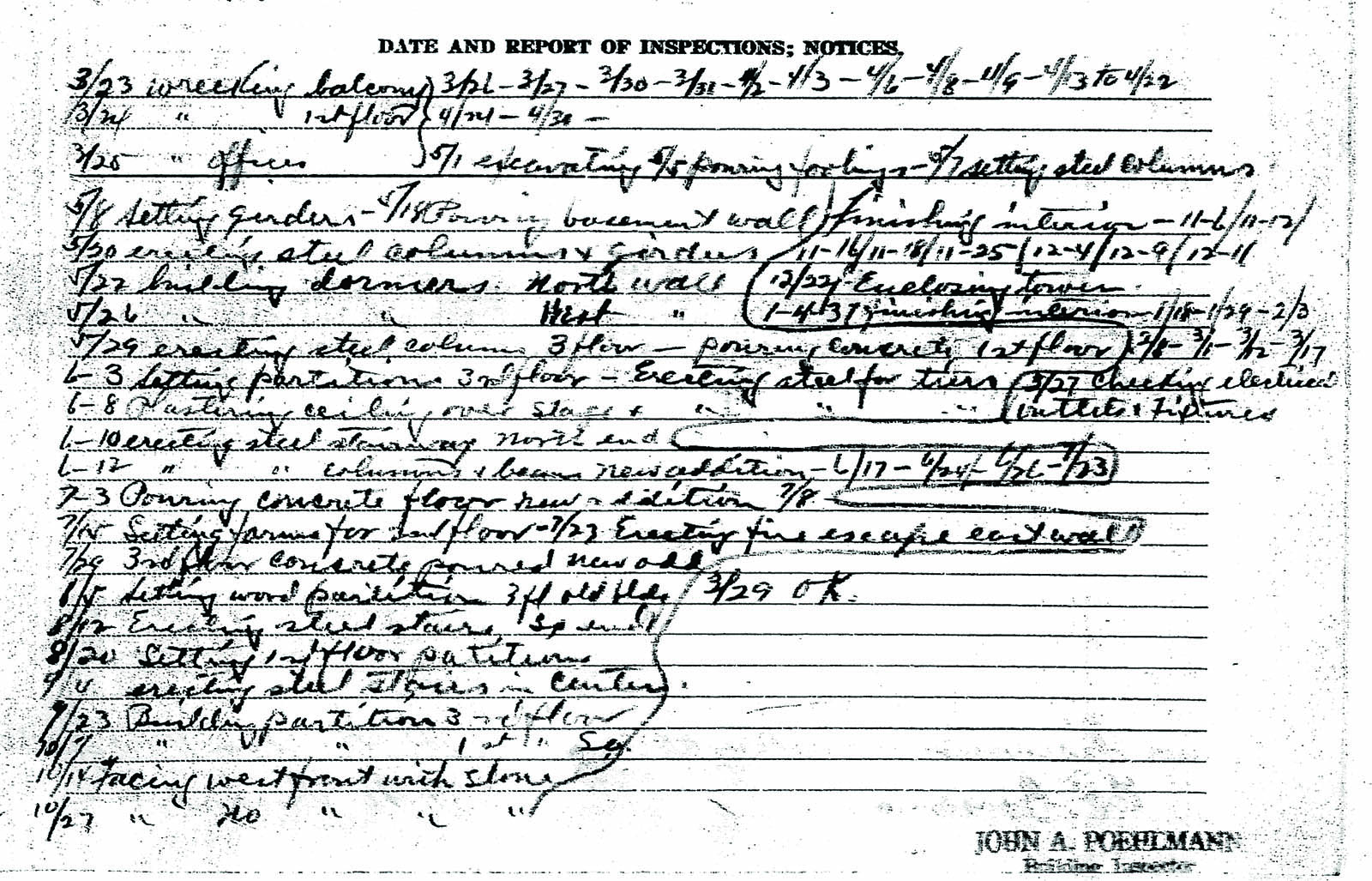 In the end, however, in the midst of the Depression, the members opted to remodel its existing building rather than build a new, million-dollar one. Echoing Titsworth's request of church member Mix, the Consistory asked its member, architect Herbert Tullgren, to design an addition to and remodeling of, its Van Buren Street building.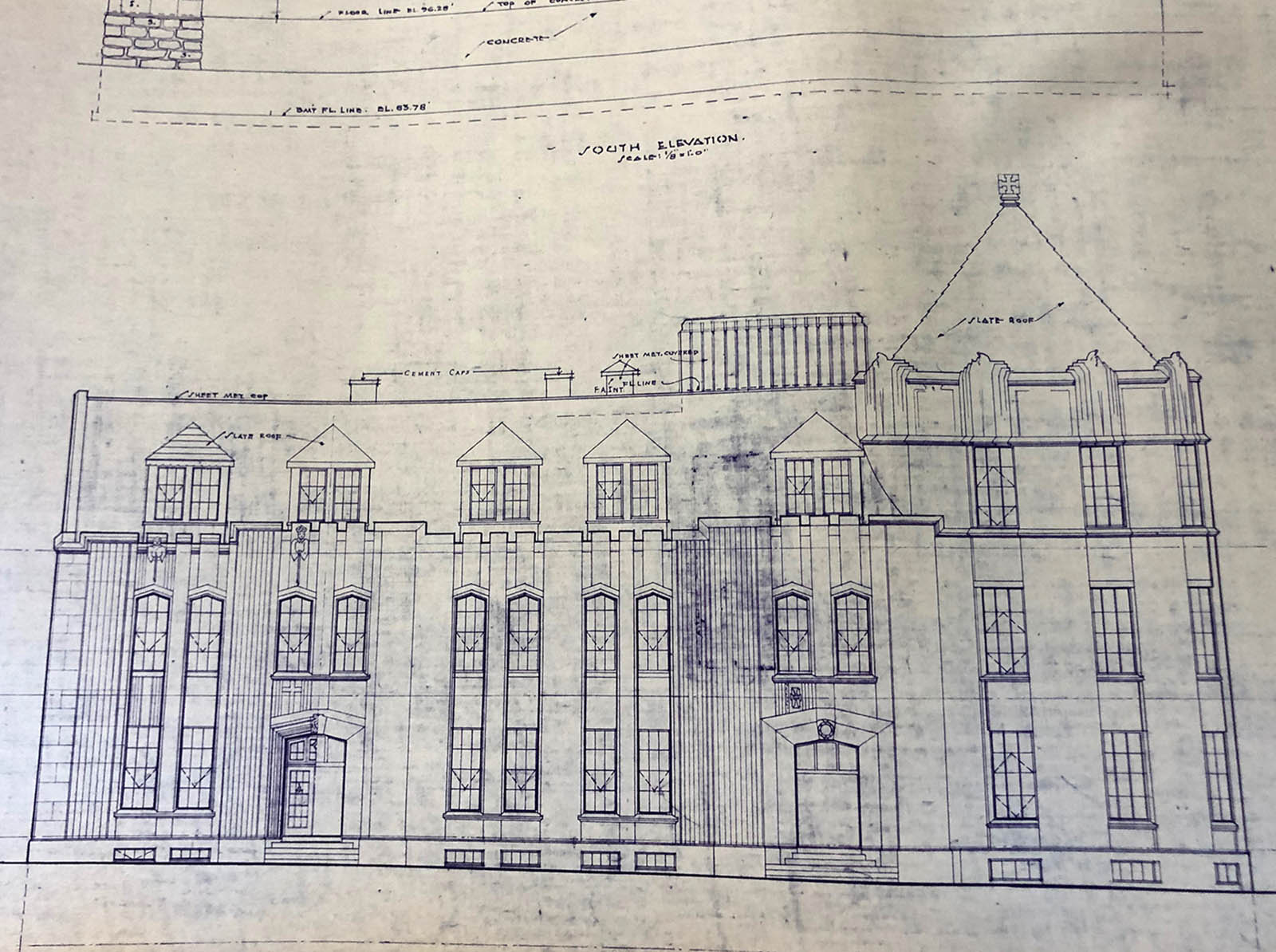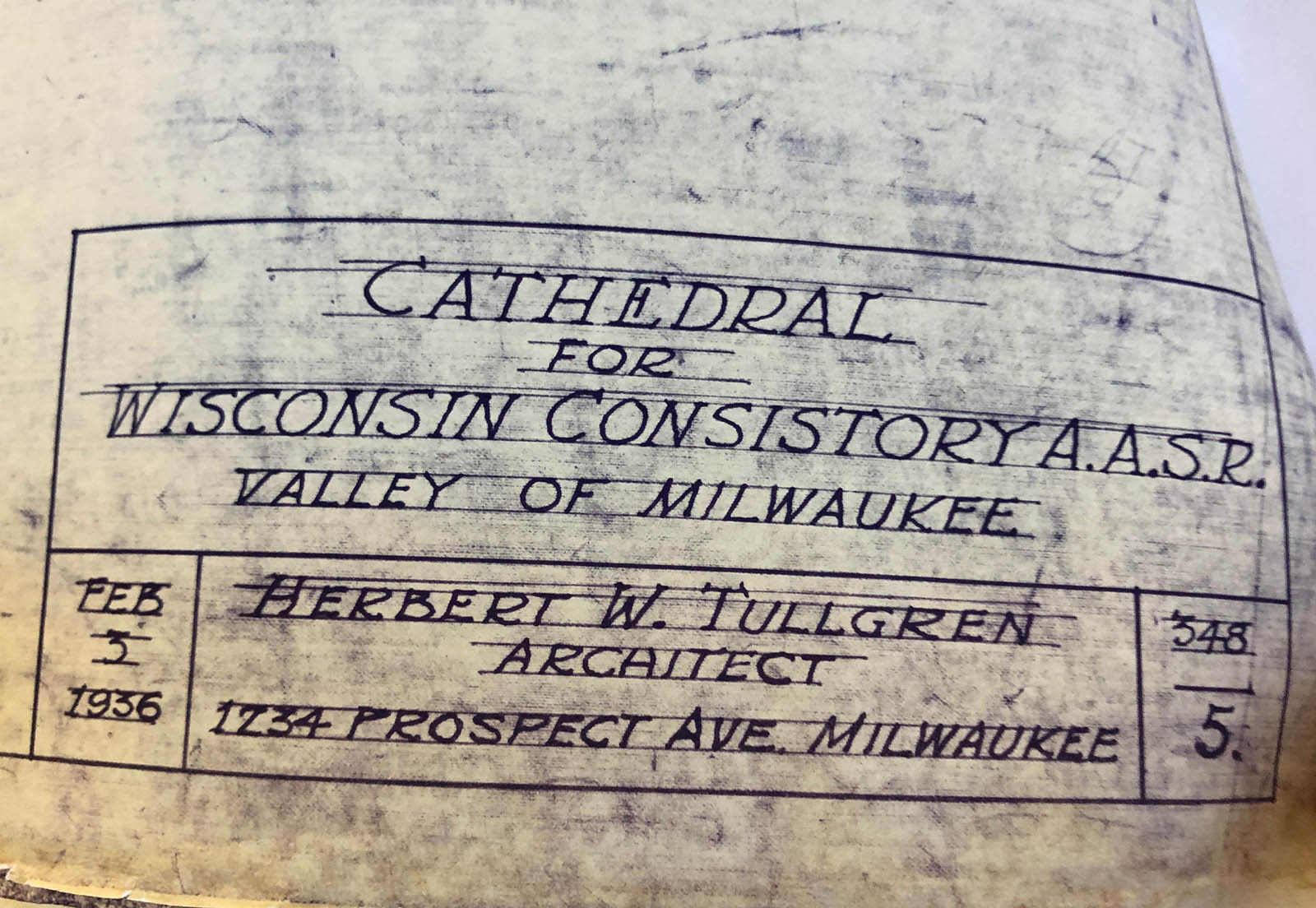 Out went the Romanesque arched doorways and windows and in came sleek limestone exterior walls adorned with stylized sculptures of figures, Art Deco speed lines that created a verticality and decorative carvings of grapes.
Inside, as before, there were a variety of specialized rooms, from offices to meeting rooms to restaurants to a ballroom to a barber shop, a library, lounges, kitchens and other spaces.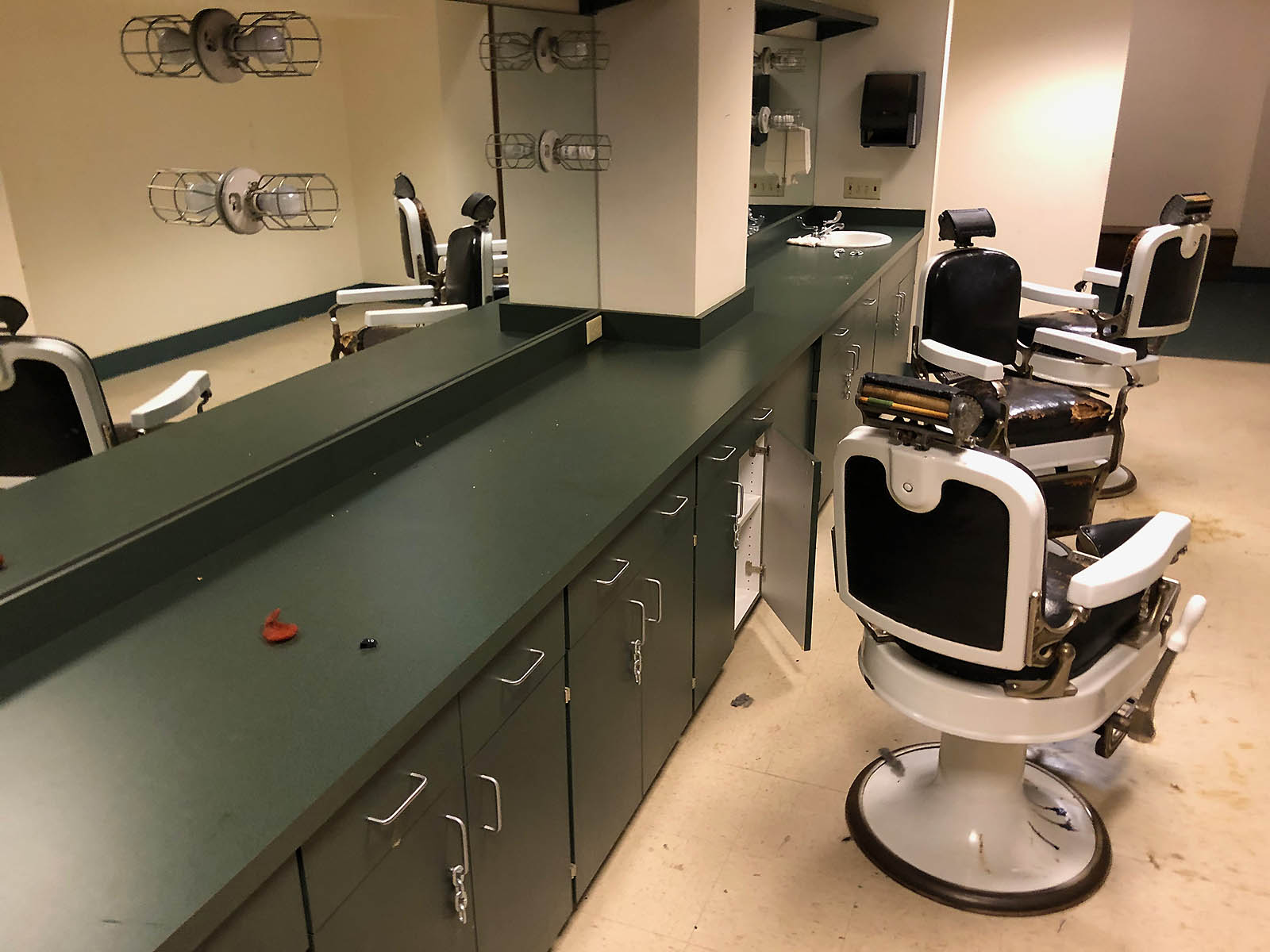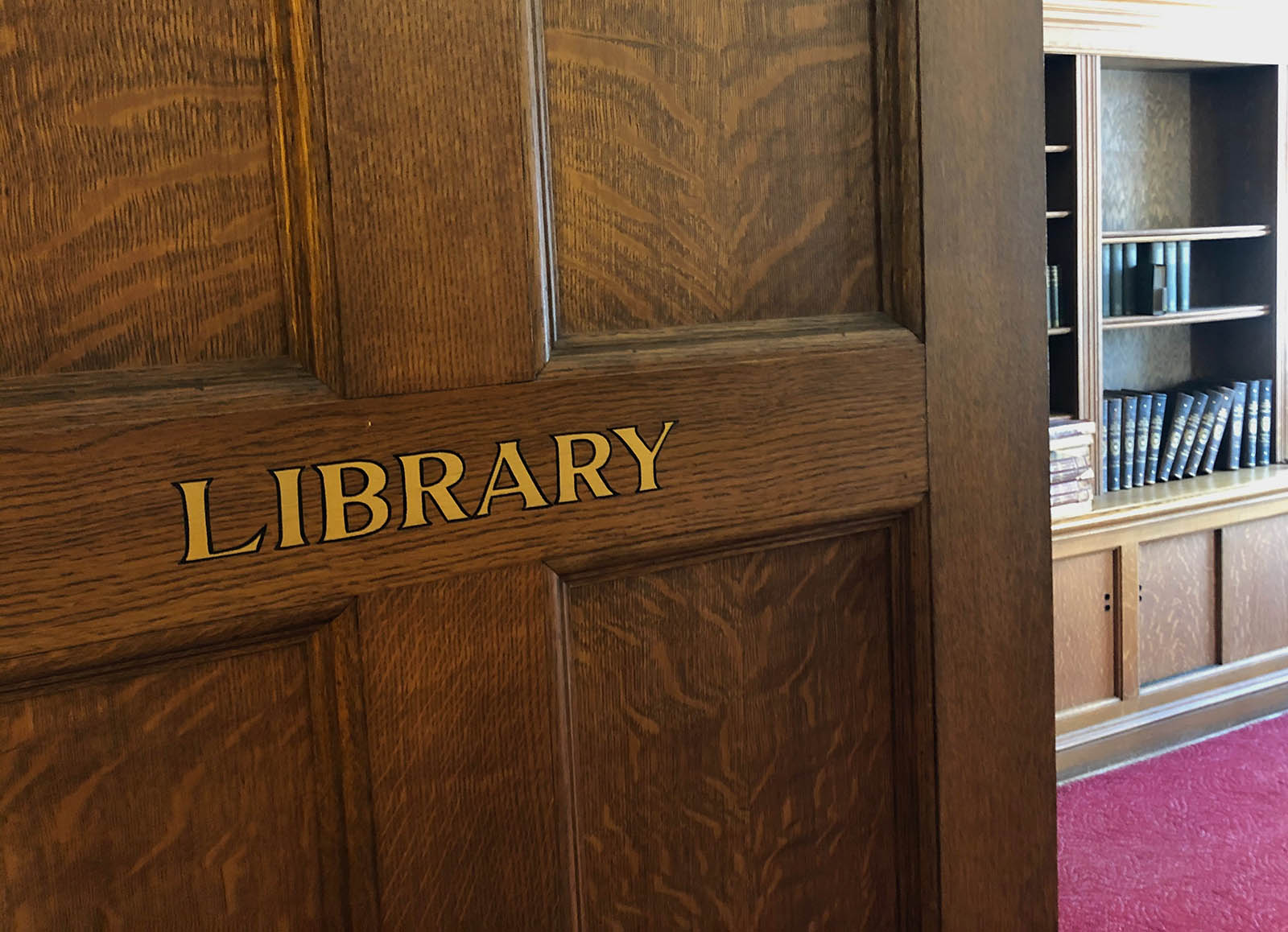 The most stunning was – and remains – the theater, with its fully equipped stage with fly loft and rigging and full backstage amenities, including costume storage, dressing rooms and a long mirrored makeup area.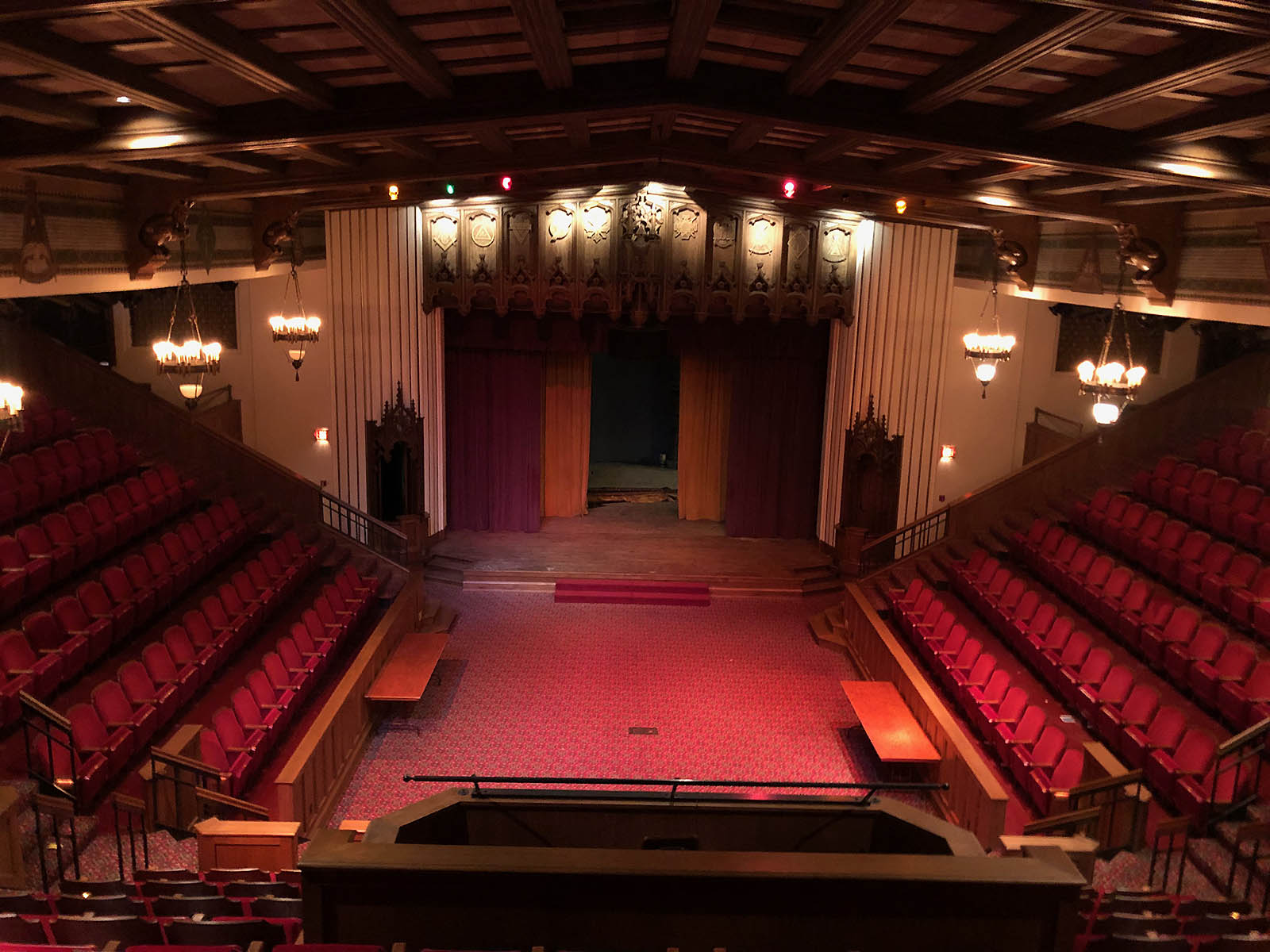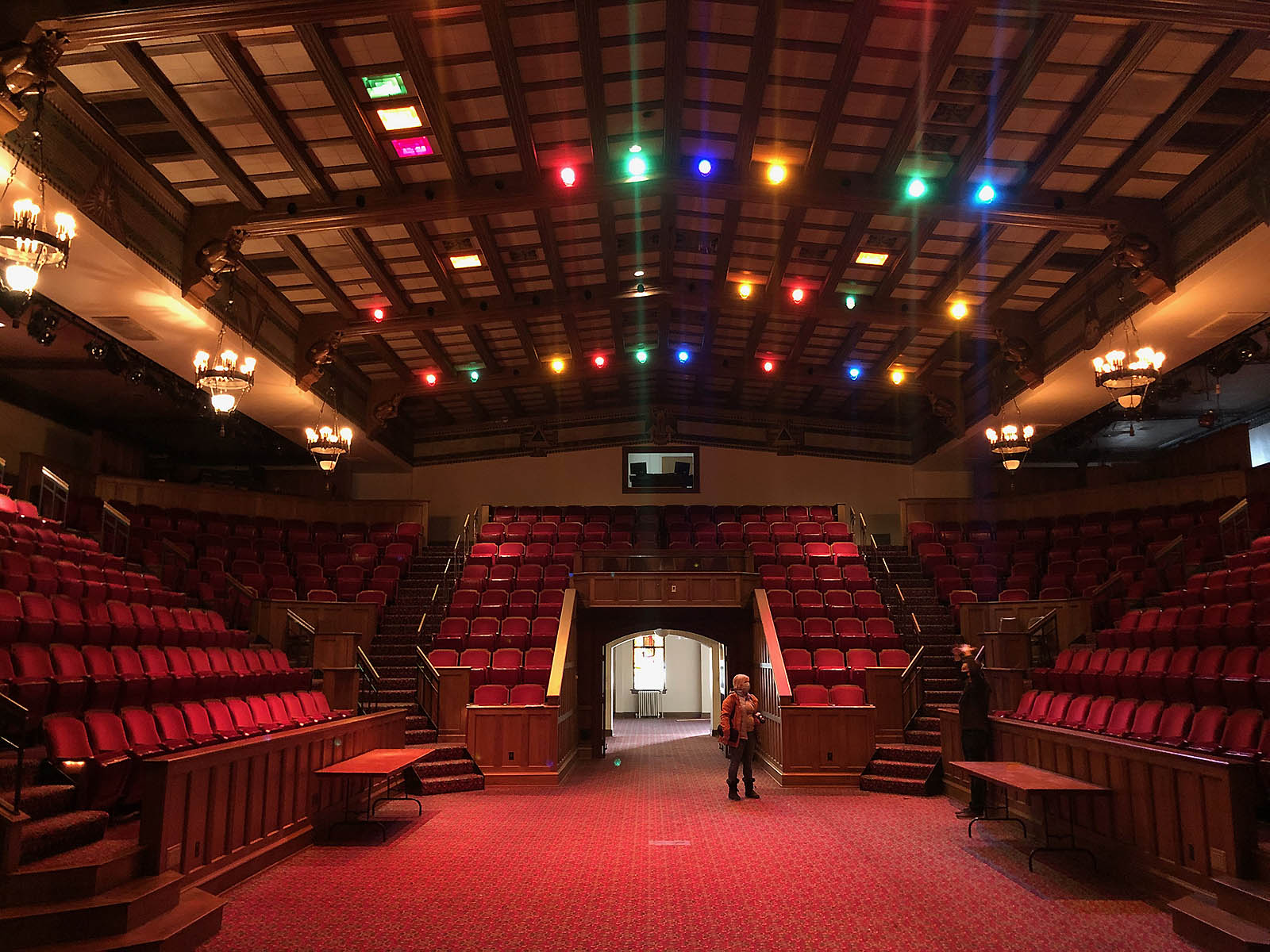 This soaring two-story space has gorgeous woodwork, including funky monkeys clutching hefty chandeliers.
Some of the other rooms have beautiful plasterwork and a couple have exposed beam ceilings with plaster beams and details painted to resemble wood (like the eagles and beams pictured below).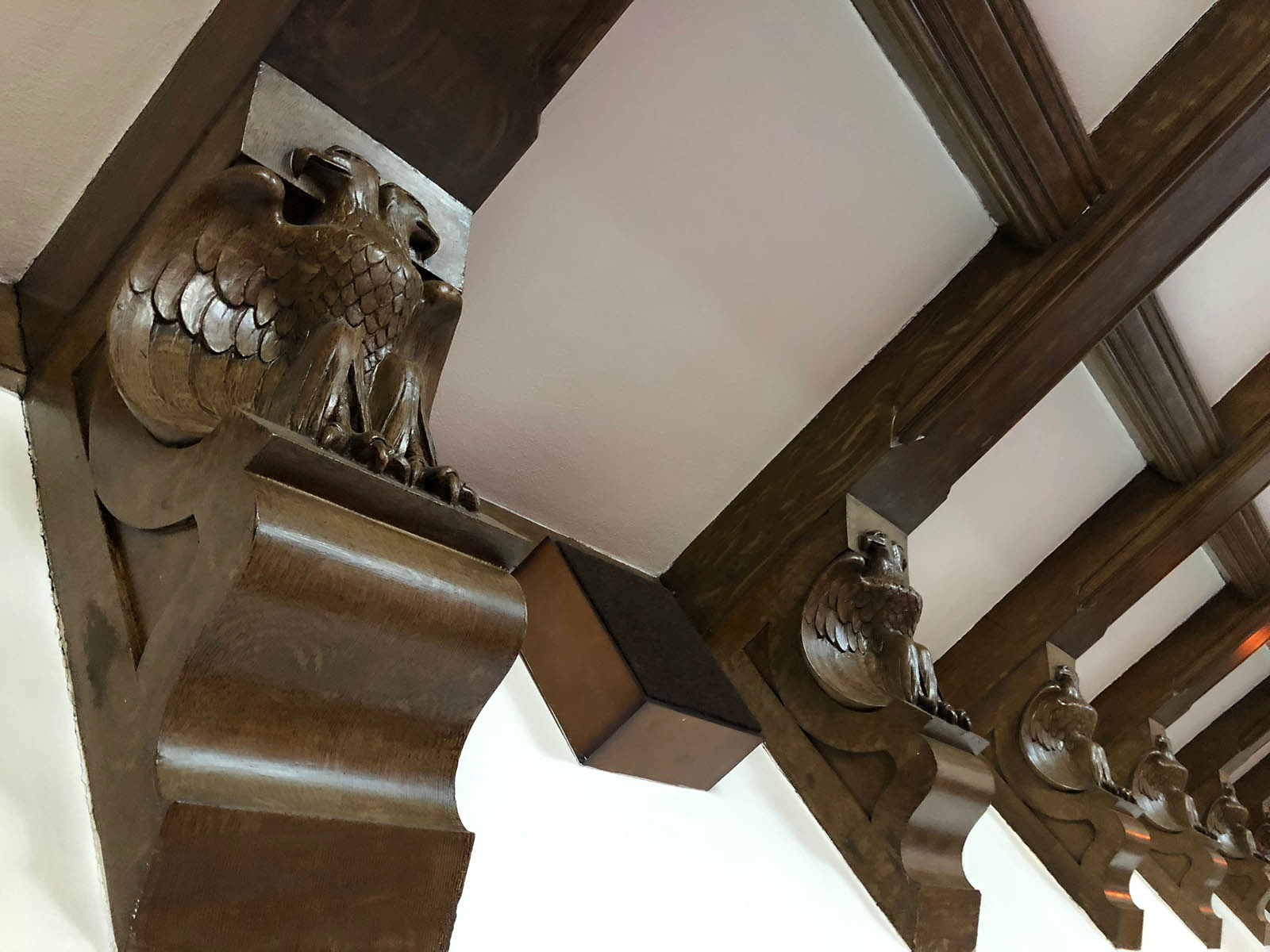 In the years after the opening of the refreshed building, 19 stained glass windows would be added, donated by a variety of Scottish Rite groups and members, including Gov. Julius P. Heil.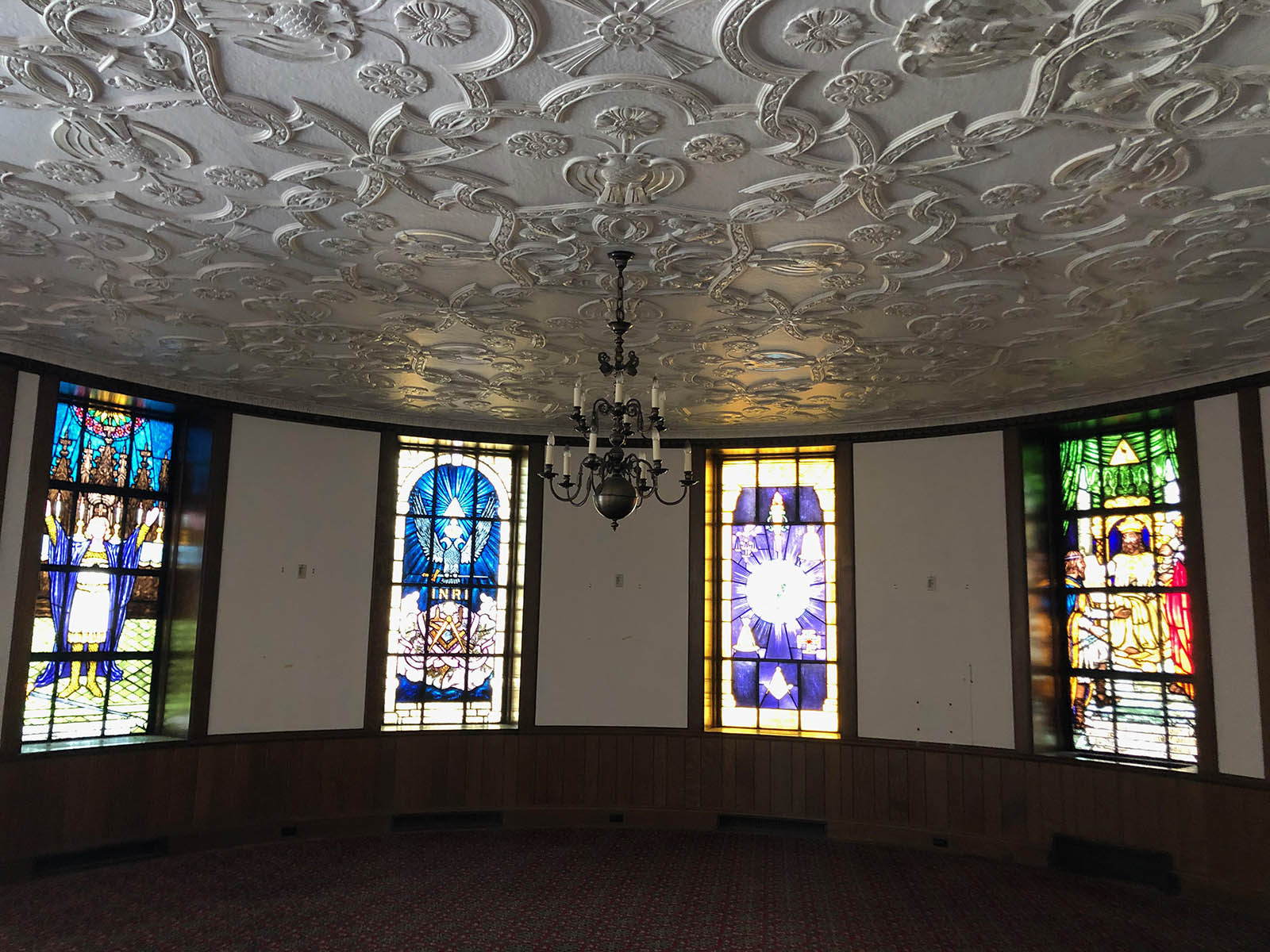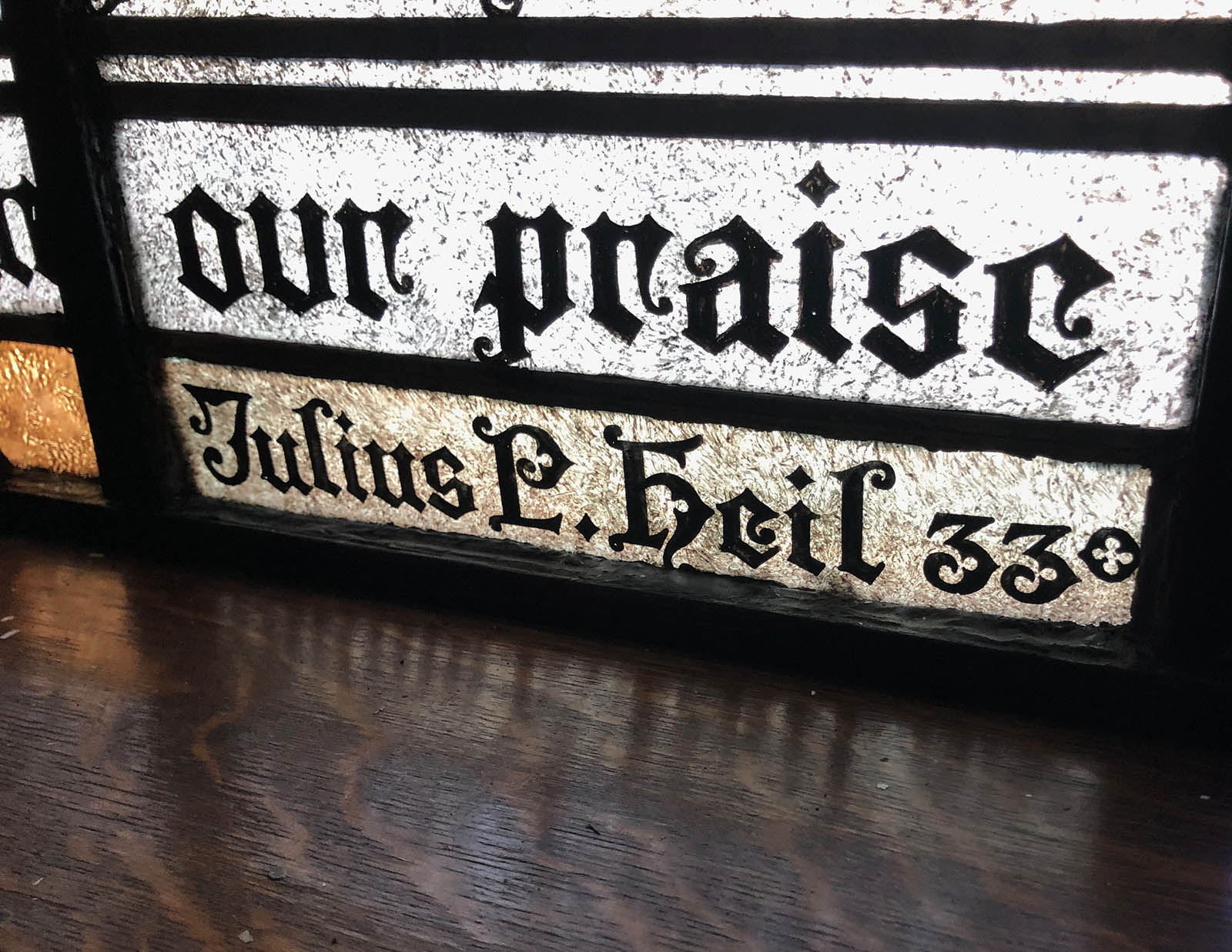 Interior demolition work began in late March 1936 with the wrecking of the balcony in the lodge room (for that theater space) and continued for almost exactly a year, with final utilities and fixtures being checked on March 27.
The building remained in use by the Scottish Rite for decades and was the scene of many meetings and other gatherings, and its pub and ballroom served many social functions, as well.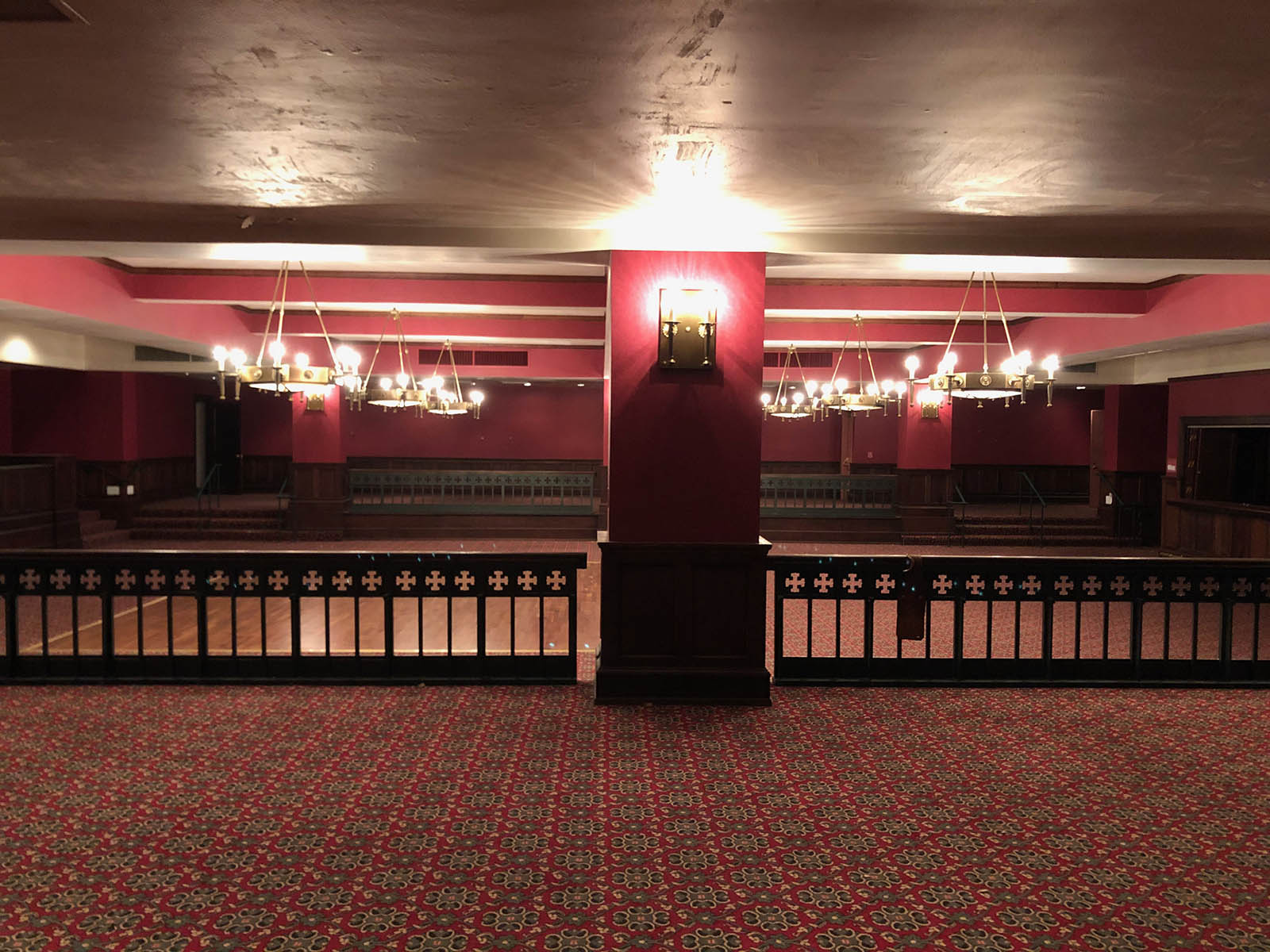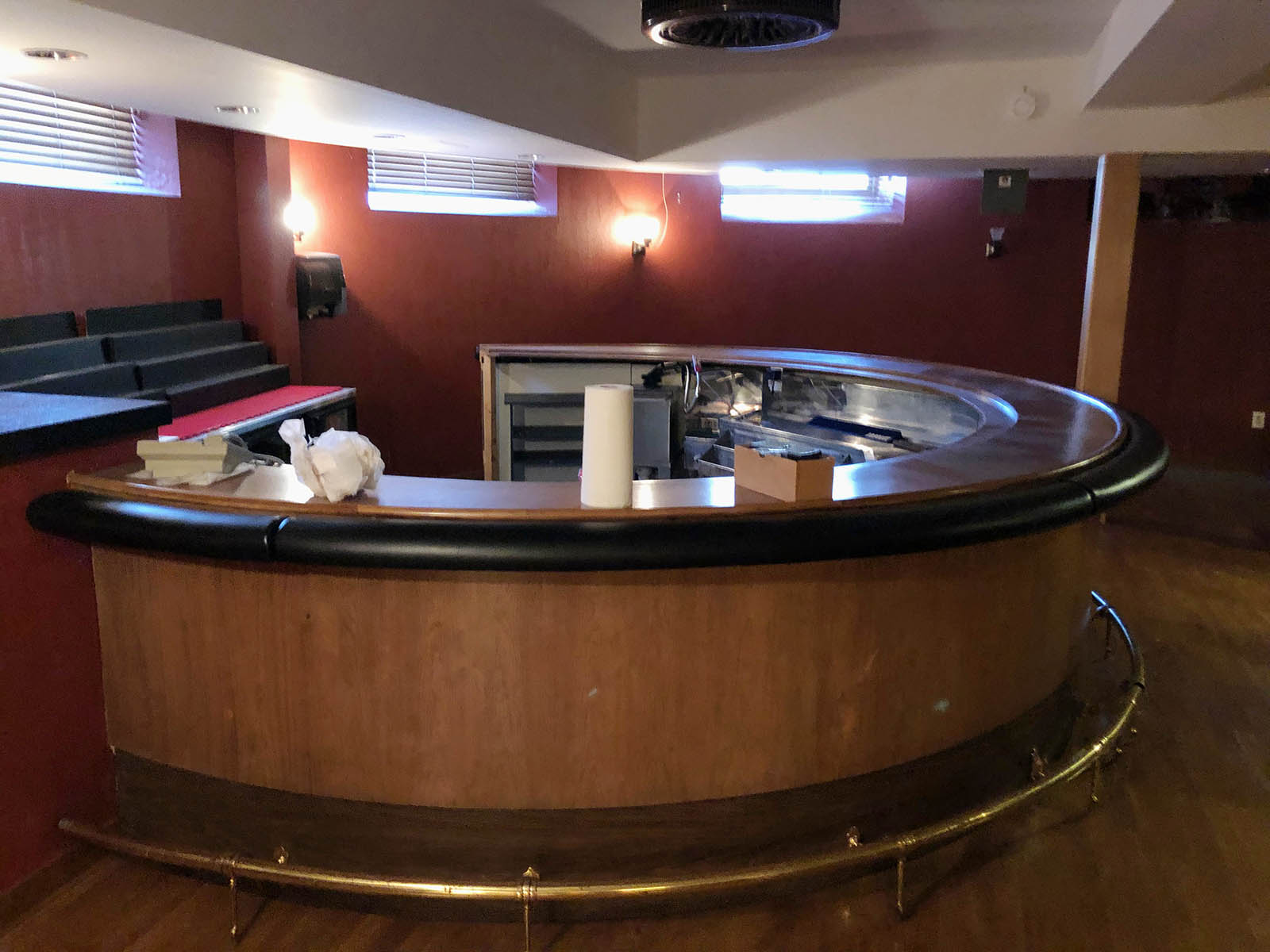 In 1992, Engberg Anderson was hired to create a plan for the building and it suggested a series of renovations, including making the building more accessible and updating some of the interior decor, which can be seen immediately upon entering the building.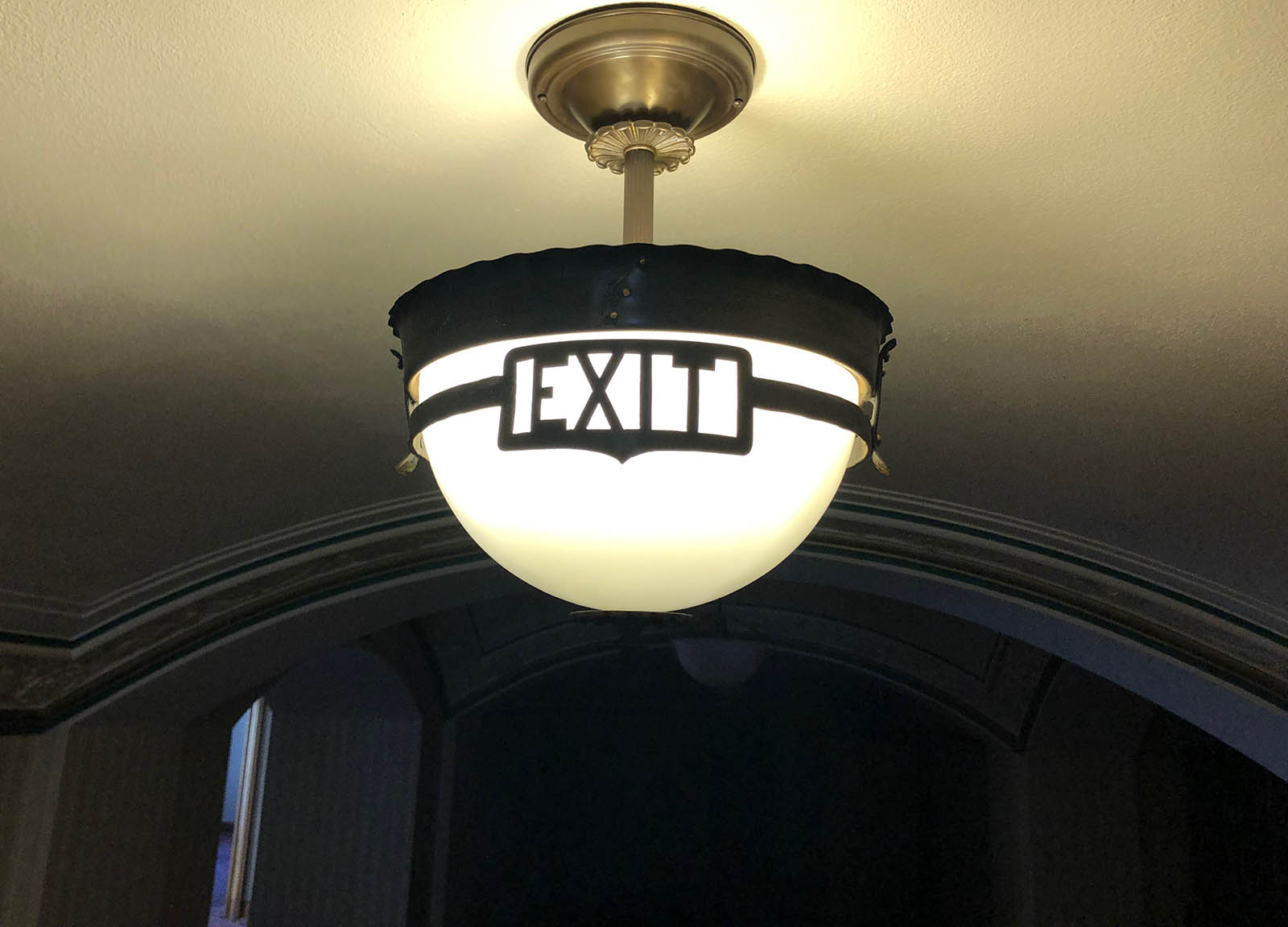 Two years later, with the work completed, the building opened to the public as the Scottish Rite Masonic Center and its pub hosted fish frys and its ballroom countless weddings and other event rentals.
In autumn 2018, the building was sold and the Scottish Rite moved out, leaving it vacant.
And that's how it remains today.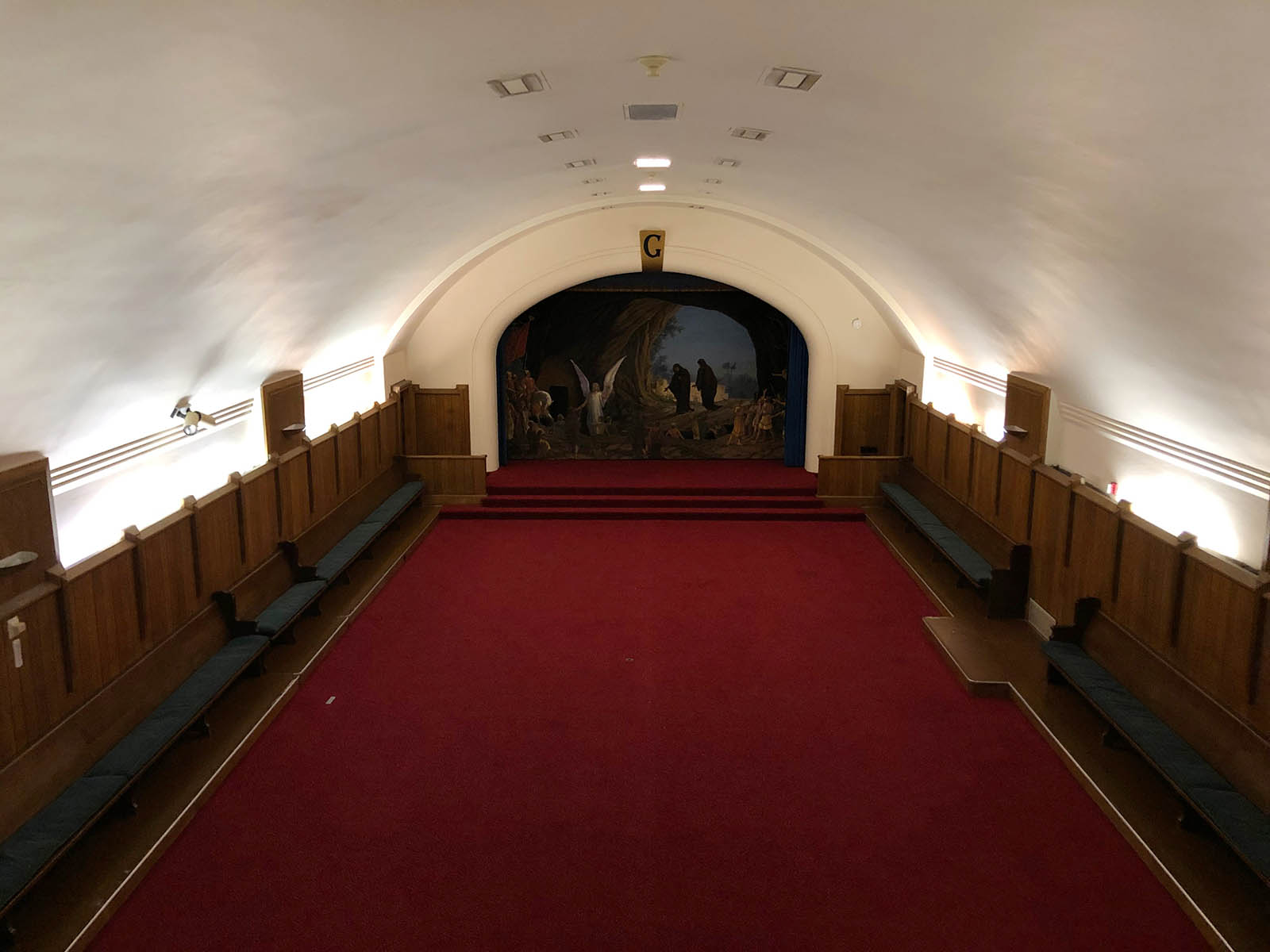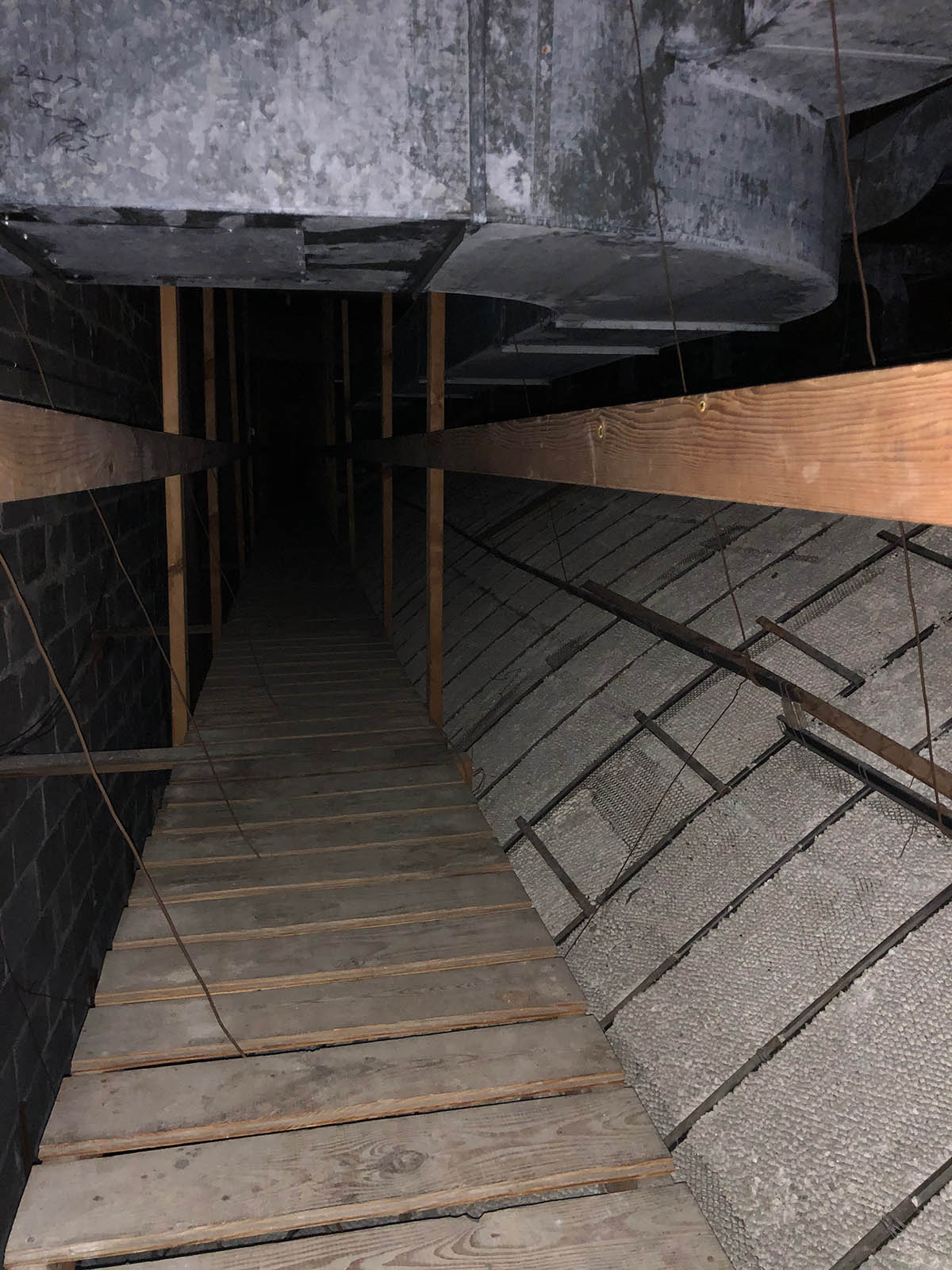 What's next
The building has many unique spaces, including two libraries, a pub space, a lower-level hall for events, an auditorium that's almost church-like and a barrel vaulted meeting room (pictured above).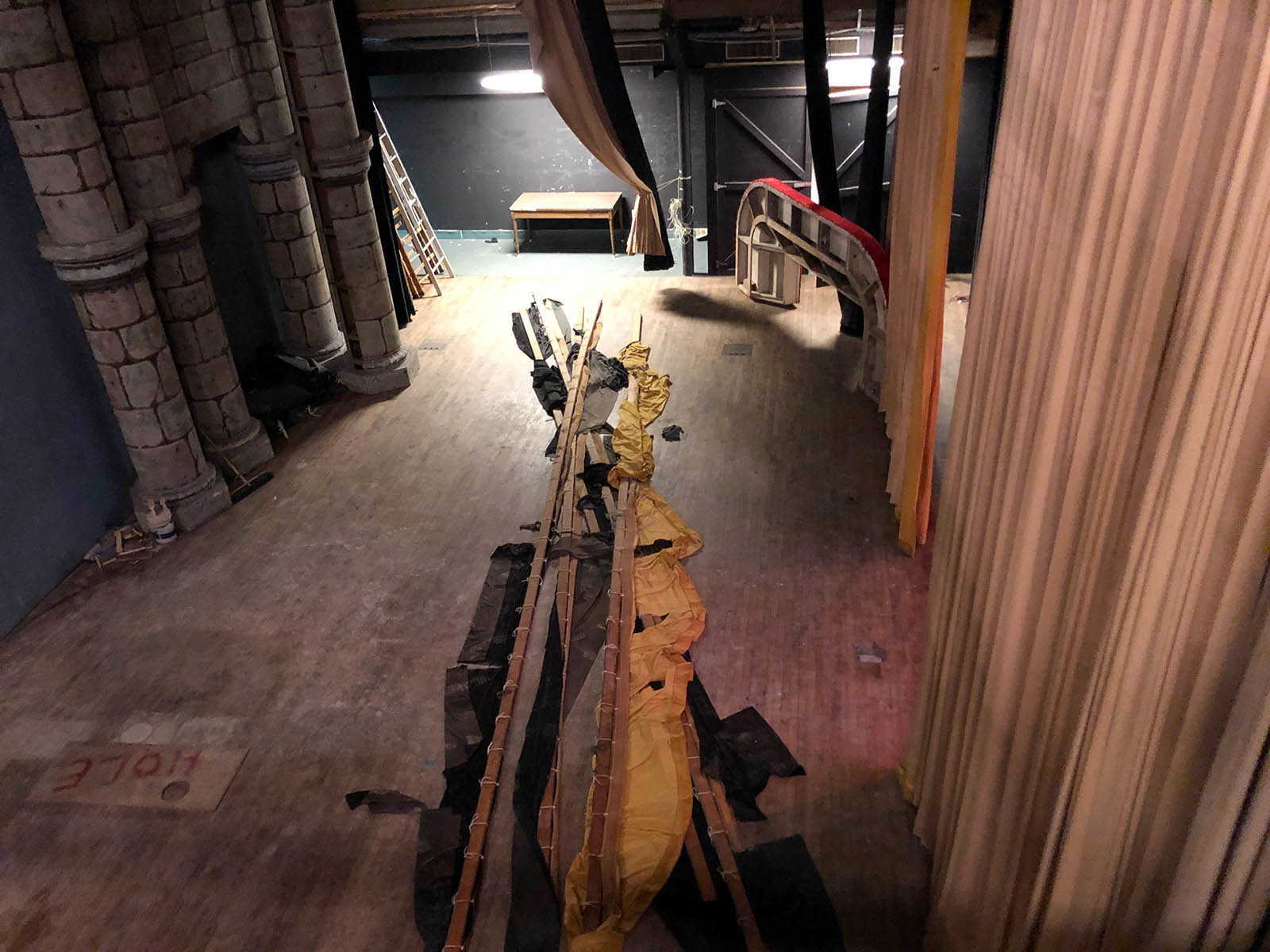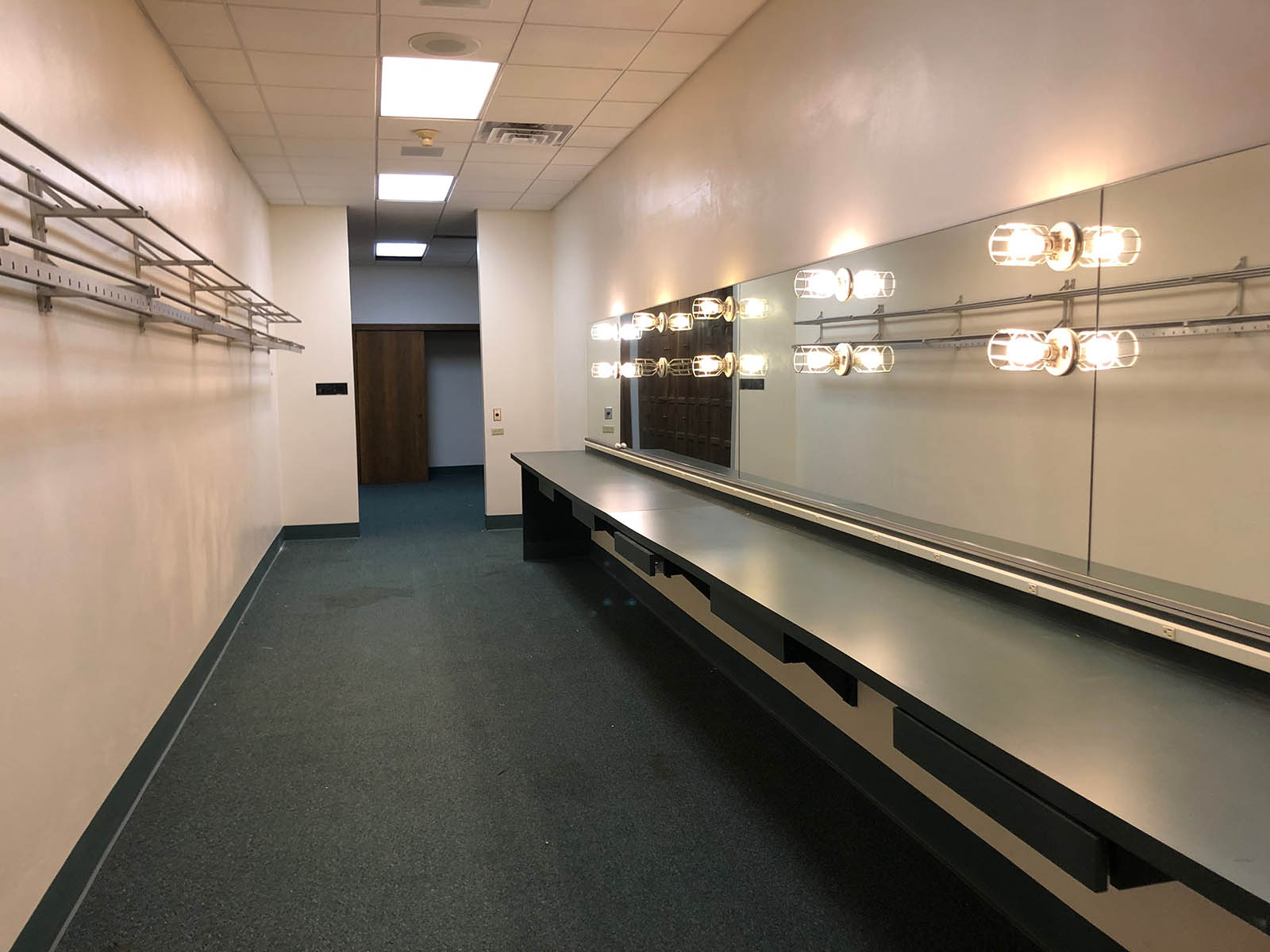 The turret rooms are quite distinctive, of course, in shape and in window arrangement.
The interesting layout – this is not a building with stacked identical floor plates – suggests each apartment in the new development will have a unique look and feel.
But Saxony's Mintzer isn't worried. He's taken on similar projects before.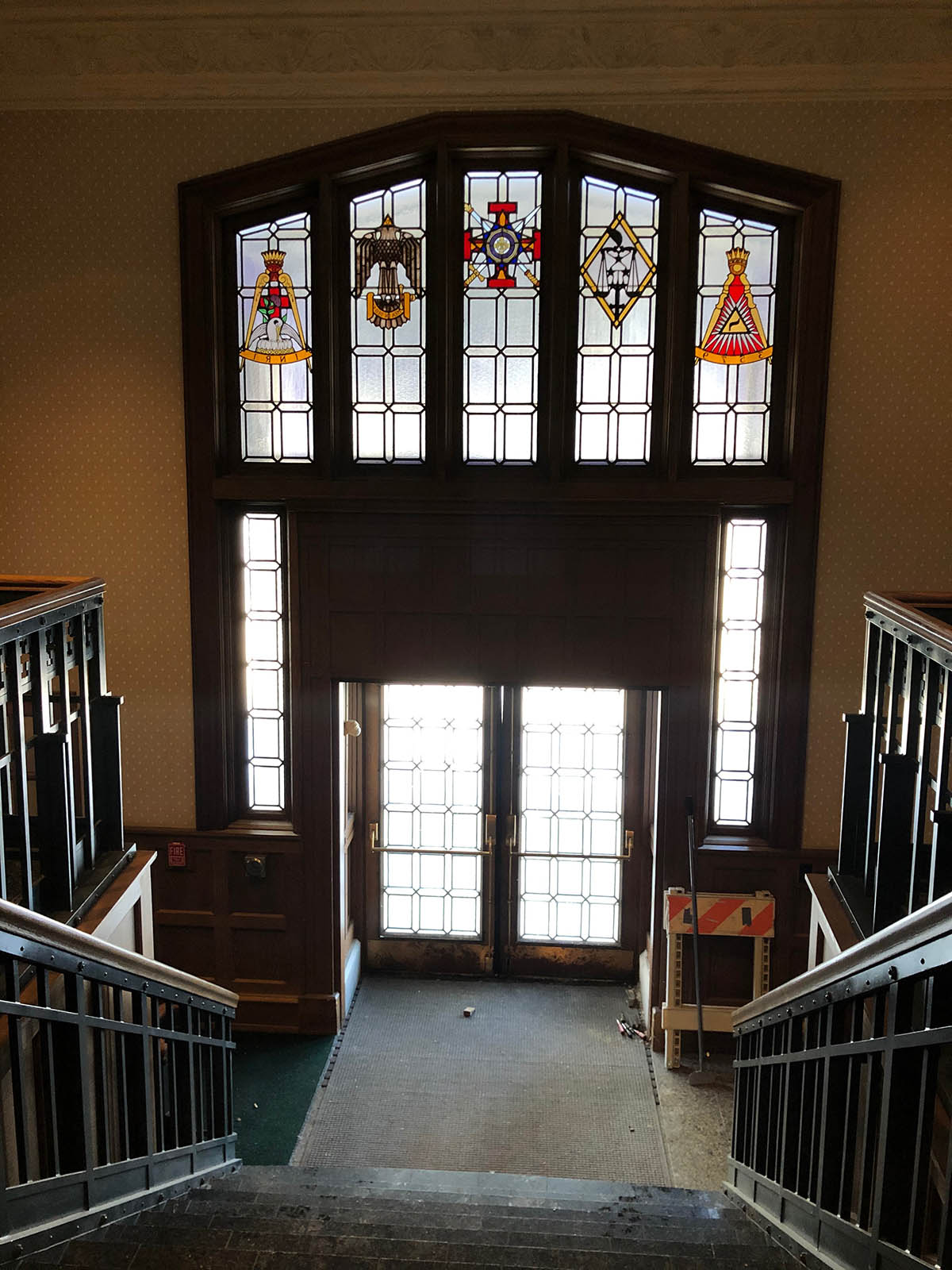 "(We) recently renovated a Masonic temple in Chicago and converted it to residential," he says. "The buildings have a lot of similarities so I felt it was easy to envision how to program the space."
He says he was also drawn to Milwaukee and to the specific location of the Scottish Rite.
"I think Milwaukee has the unique profile of being a mature city with still so much growth opportunity in the core central business district," Mintzer adds. "Northwestern Mutual's urban planning vision and execution of 7Seventy7 makes this location Main and Main."
Like his predecessor Eric Nordeen, Mintzer's aim is to preserve what he can in the building.
"I always try to incorporate the old with the new," he says. "I think that balance is what will make for unique units.
"I'm going to try where I can, (but) often it's hard to meet code and maintain the historic nature."
Mintzer told me that the 19 stained glass windows will be removed but kept in the building (Nordeen had the same plan).
"We went through the landmarks process and we agreed to keep them on site," says Mintzer. "They aren't truly historic in that they were not part of the original construction."
But news has since emerged that the developer is now seeking to move them to a Masonic lodge in Sheboygan, "To be preserved in an appropriate environment suitable for their subject matter," according to a Saxony filing with the city, which must approve the move.
Mintzer, who lives in llinois, expects this won't be his last Milwaukee project.
"This is my first of hopefully many more to come," he says. "I went to UW-Madison, grew up going to camp in the Northwoods and often drive up to get my Brat Stop fix, so my heart is in Wisconsin.
"I'm also trying to diversify my real estate holdings so Milwaukee for me makes total sense. Door to door, I'm an hour away."
Born in Brooklyn, N.Y., where he lived until he was 17, Bobby received his BA-Mass Communications from UWM in 1989 and has lived in Walker's Point, Bay View, Enderis Park, South Milwaukee and on the East Side.
He has published three non-fiction books in Italy – including one about an event in Milwaukee history, which was published in the U.S. in autumn 2010. Four more books, all about Milwaukee, have been published by The History Press.
With his most recent band, The Yell Leaders, Bobby released four LPs and had a songs featured in episodes of TV's "Party of Five" and "Dawson's Creek," and films in Japan, South America and the U.S. The Yell Leaders were named the best unsigned band in their region by VH-1 as part of its Rock Across America 1998 Tour. Most recently, the band contributed tracks to a UK vinyl/CD tribute to the Redskins and collaborated on a track with Italian novelist Enrico Remmert.
He's produced three installments of the "OMCD" series of local music compilations for OnMilwaukee.com and in 2007 produced a CD of Italian music and poetry.
In 2005, he was awarded the City of Asti's (Italy) Journalism Prize for his work focusing on that area. He has also won awards from the Milwaukee Press Club.
He can be heard weekly on 88Nine Radio Milwaukee talking about his "Urban Spelunking" series of stories.