Searching for the perfect pizza doesn't limit me to traditional restaurants and pizzerias. I'm not even limited to traditional bars and pubs that serve it. So when friends recommended pizza at Shaker's Cigar Bar, known more for its haunted tours than food or even cigars, I had to give the pie a try.
The website for Shaker's Cigar Bar includes enough articles to provide much of the information I try to learn about a business, including a couple featured right here at OnMilwaukee. Current owner and chef Bob Weiss opened Shakers, 422 S. 2nd St., in 1986.
Weiss inherited a building that came with "guests," leading to stories and testimonies from customers that landed Shaker's on lists for most haunted bars in America. People pay to go on haunted tours, and some will pay to spend the night on the third floor, hoping to have an encounter with a ghost. I think it's cool that Shaker's brings more publicity to Milwaukee.
Weiss owned several smoke shops, but closed them after cigars seemed to lose popularity. He affiliated cigars with "big-ticket" experiences and sought to provide a premium experience with Shaker's, which explains the visit I had with some of my Yelp friends a few weeks ago on a Monday night.
I reviewed the menu online before I visited to get a feel for what I might want to try and also to give my friends an idea of what to expect.
The menu tends to change monthly and is small, which is wise considering the kitchen is right behind the bar and doesn't allow for much flexibility. The June menu featured a handful of appetizers, including Moroccan hummus and larb, which I was very surprised to see on the menu. Larb is a staple in Laotian cuisine, typically very spicy, flavorful and made with ground chicken or beef. I don't even find the dish on most Southeast Asian menus in town, so I'd never expect to see it at a cigar bar. The small list of entrees shared a theme and featured Cajun flavors with andouille etouffee, bayou jambalaya and cajun garlic shrimp.
The appetizers ranged from $5.50 to $12.50, and the main dishes ranged from $7.50 to $28.50 for the cajun garlic shrimp (all reasonable prices), which is why I was very surprised to see pizzas ranging from $16.50 for a 10-inch pizza with meat toppings to $42.40 for a 14-inch "Shrimp-o-Rama" pizza. Yes, $42.50 for a 14-inch pizza. The average 14-inch pizza was $28.50.
The friends who referred me said the pizza was some of the best they've tasted, so my expectations were very high after seeing those prices.
The weather was perfect, so we sat out on the patio: a platform covering part of 2nd Street and enclosed by railings (to prevent diners from falling off their chairs and into the street, I suspect). We placed our orders and waited with anticipation for what was to come. There were six of us, so we ordered the Moroccan hummus and bruschetta con pomodoro y mozzarella to start, followed by three 14-inch pizzas.
We could see into the kitchen through the window from our table on the patio, which helped me get some of my usual questions answered about how the pizzas are made. I panicked when I saw a clear, plastic bag come out of a small refrigerator filled with discs that looked like pizza crusts. Then I saw the cook cut the discs into strips, and I figured the discs must have been large pita or naan for our hummus. I calmed back down.
The hummus and bruschetta arrived, and both were beautifully plated. Toasted baguette slices topped with freshly diced tomatoes sat on a bed of baked cheese, and balsamic vinegar was drizzled carefully over the entire platter. The hummus arrived in the center of a platter surrounded by the strips of baked flat bread. They had a cracker texture and were slightly bitter and very dry from being over-baked, and we all thought the hummus was pretty bland. The bruschetta was the better dish of the two, by far. I would recommend it if the same version is on the menu.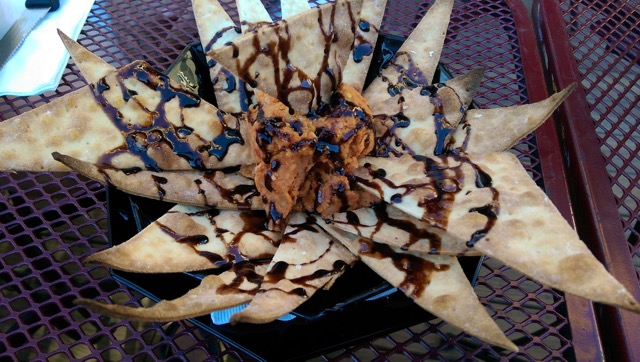 While eating our appetizers, I looked through the window again to watch for the pizza-making process. Again I saw the plastic bag come out of the refrigerator. The dry and bitter cracker-like strips served with our hummus were cut from pre-made pizza crusts, after all. I asked if they were made by a local baker; but the source turned out to be Restaurant Depot.
At this point, I feel I should remind all seven of you reading this that my pizza blog contains my opinions only and not those of the owners, management or staff at OnMilwaukee. Now I'm going to step onto my soap box.
Look, I don't have a problem with a business using pre-made pizza crusts. There are pizzerias all over town using pre-made frozen or refrigerated crusts, and I've blogged about a few of them here. Kitchen space, lack of proper equipment and city ordinances limit what some restaurants and pizzerias can do, so pre-made crusts from a supplier are necessary for a business at times, and I'm fine with that.
However, those pizzerias price their finished products accordingly. There are a couple of other pizza places in town that charge $25 to $30 for a 14- or 16-inch pizza, but they have more than two basic toppings on them, and I know that they don't use pre-made crusts because I've visited and inquired. If the two toppings are filet mignon and truffles, then I'll pay $30 or more for the pizza, but not for sausage and pepperoni. I can find better options in town for half the price.
Also, I think if a venue wishes to give its customers a perception that they are paying for premium food, drinks and a high-end overall experience, I don't believe a bag of pre-made pizza crusts sends that message. Although to be fair, I didn't see those crusts made. The bottom line is that if the crust comes from Restaurant Depot, how can I trust the quality of the other ingredients that, I assume, are intended to justify a $28 pizza? I'll step off my soap box now and tell you about the pizzas we ordered.
The pizzas are available on 10- and 14-inch thin crusts. We ordered three 14-inchers: the Basil Chicken, the Redondo, and a sausage and pepperoni pizza. Each was $28.50. Shakers has two stacked pizza ovens, and only one other table had diners, so all three of our pizzas arrived at the same time, and all three were cut into pie slices.
I started into the sausage and pepperoni pizza. The crust was crisp around the edge, but the pizza was cut into pie slices, so when I picked up a slice, it flopped. The slices were cut too narrow to fold in half "New York style," so I used two hands until I ate the first third of the slice and could hold it with one hand without it collapsing. The flavors were solid, but I thought the crust was a bit too dry. I liked the slightly spicy sauce, as well as the slightly spicy sausage and pepperoni.
Next up was the Redondo, which is listed as their most popular pizza and topped with Wisconsin goat cheese, sun-dried tomatoes, sweet caramelized red onions, citrus marinated artichokes, sweet roasted red peppers, house made pesto (according to the menu), oregano, and freshly chopped basil. I didn't see any basil, but there was plenty on this pizza, so I didn't care.
A couple of my friends grabbed a slice, but one of them noticed a strand of hair on the slice she was about to grab. She thought it might have been her own, so she went to remove it except when she did, it lifted the cheese and artichoke. It wasn't her hair. We looked at the cook's hair and determined it definitely wasn't his either, so the hair likely got into the cheese or other topping storage container during prep. I didn't bother asking if the hair was a premium topping, as well. I took the pizza back, and the bartender/server apologized, had another one made and took this pizza off the bill.
On that note, I want to acknowledge the outstanding service we received from our bartender/server, Jeff. He was very attentive, while playing the role of bartender and waiter and having customers inside the bar and outside on the patio. I think he did everything right and definitely impressed me, as well as my friends. He really helped salvage the experience.
We worked on the basil chicken pizza while we waited for the Redondo re-fire. The menu describes it simply as "fresh sweet basil tossed and rubbed chicken breast over mounds of mozzarella and fresh tomatoes and basil." The chicken was tender, and I really enjoyed the overall flavor combinations. Again, the pizza was cut into pie slices, so the crust was crisp at the edge but flopped in the center.
When the new hair-free Redondo pizza arrived, we dove in and, once more, I was pleased with the flavors and textures of the toppings. Normally I don't like the texture of artichokes on my pizza, but these were cut small enough to be balanced with the red peppers and sun-dried tomatoes. I could also taste the pesto, even though there was a base of red pizza sauce, so overall the pizza had a nice balance of flavors.
Other specialty pizzas that intrigued us included the Artiste with broccoli, cauliflower, marinated eggplant, mozzarella, Greek yogurt, blue cheese, basil, oregano and sesame seeds, as well as the Bernice, which is topped with sausage, pepperoni, caramelized onions, mushrooms, and black olives. The menu states that Bernice died there in 2008, and you should ask for her story.
Overall, I was glad that I satisfied my curiosity about the pizza at Shaker's, both after friends endorsed it and after Shaker's claimed on Facebook to have the best pizza in the city under the Milwaukee Restaurant Row alias. I'm also grateful that I have friends who are willing to trying new dining experiences and save me a few bucks in the process.
I think the toppings on the pizzas listed on the menu are well thought out. The flavor combinations I tasted seemed to work, but I think the crust can be improved. Some of the pizzas might be worth close to $28.50, but I recommend passing on a basic two-topping pizza if you decide to give Shaker's pizza a try and go with one of the more elaborate pies to improve your odds in the value game. Then again, you could just skip the menu, order a drink, light up a cigar and take a haunted tour to add your own story to the lore.
I was born and raised in Milwaukee, and I plan to stay in Milwaukee forever. I'm the oldest of three children and grew up in the Riverwest neighborhood. My family still lives in the same Riverwest house since 1971.

I graduated from Rufus King High School and the University of Wisconsin-Whitewater with a business degree.

My true passion for Milwaukee probably started after I joined the Young Professionals of Milwaukee (now called FUEL Milwaukee) which just celebrated its one year anniversary at the time. The events that I attended, and sometimes organized, really opened my eyes to what Milwaukee had to offer, as well as its potential for the future. So for the past, present, and future FUEL Milwaukee corporate sponsors out there, that organization does produce results (editorial)!

I love all of the Milwaukee Sports teams, professional and amateur. I love the Milwaukee arts scene and all of the festivals. I love that you can find a free concert in the summer just about every day of the week. I love the various neighborhoods around the Milwaukee area and the unique characteristics that they offer. I love the people who take the time to tell us about those unique characteristics. I have to hold my breath and count to ten when someone tells me that there is nothing to do in Milwaukee. Then I prove them wrong.

Most of all, I love the Milwaukee dining scene. I love how it continues to evolve with modern dishes and new trends while the classic restaurants continue to remind us that great food doesn't have to be "fancy schmancy." However, I also love the chefs that create the "fancy schmancy" dishes and continue to challenge themselves and Milwaukee diners with dishes we've never seen before.

Our media provides attention to the new restaurants, which is great, but I don't like seeing the older great restaurants close their doors (Don Quijote, African Hut) because they've been forgotten, so I try to do my part to let Milwaukeeans know that they're still out there, too. I do that through social media, online reviews, and a dinner club I run for my friends, where we visit restaurants they haven't heard of before or try ethnic cuisine they haven't had before.

My dream is that one day I can mention a great experience in Milwaukee and not have someone respond with "have you been to Chicago?" I don't like those people very much.