There's a new brunch spot to try in the Walker's Point neighborhood, and it takes inspiration from both Latin America and Southern soul food cuisines.
Snifters, the tapas bar which opened last year at 606 S. 5th St. has added brunch to its repertoire, serving every weekend on both Saturdays and Sundays from 11 a.m. to 3 p.m.
Even better, if the weather cooperates, you can enjoy your meal on its enclosed back patio, which features a number of dining tables, along with plenty of lounge furniture where you can sit and enjoy an extra mimosa or two.
In addition to mimosas ($6), you'll also find micheladas ($7) and a host of other craft cocktails, any number of which could make a stellar pairing for brunch.
The menu, created by Chef Noe Zamora, includes a nice variety of items, all of which are portioned well for individual eating (or sharing, if you're so inclined). Options include gluten-free pancakes ($8), Dijon-cayenne buttermilk fried chicken and a gluten-free waffle ($12), or a steak and egg skillet featuring grilled potatoes, ranchero salsa, peppers, onions and mushrooms topped with sunny-side-up eggs, cheddar and scallions ($12).
If you prefer something sweeter, indulge in Snifters's tender French toast, which features French bread sliced and soaked in Jack Daniel's and molasses, topped with candied bacon and served atop a lightly spiced dulce de leche that's just sweet enough to complement the tender bread ($9).
Other dishes take their cue from traditional Mexican street food. Empanadas are stuffed with chorizo, andouille and eggs and served with roasted arbol salsa and pico de gallo (four for $11). Meanwhile, the deliciously fresh Sope de la Morning features a housemade masa cake topped with refried beans, crema, lettuce, pico de gallo, an over-easy egg, queso fresco, ranchero sauce and avocado ($8).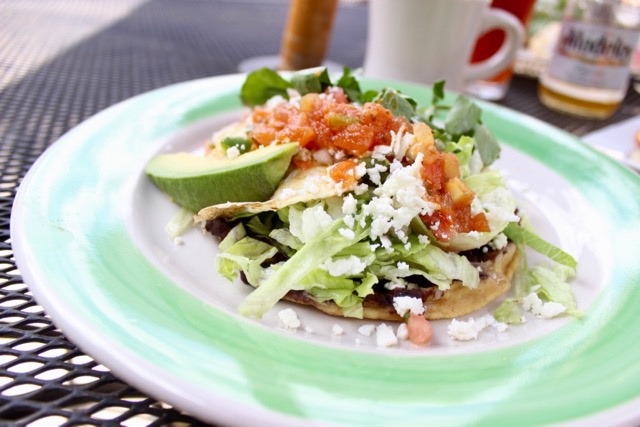 There's also a delicious eggs Benedict featuring an English muffin topped with carnitas, an over-easy egg and ancho hollandaise ($12).
Among other offerings, a chorizo omelette contains chorizo, potatoes, andouille sausage and cheese with ranchero sauce and a grilled half grapefruit on the side ($12), while the Southside tapa showcases a grilled bolillo roll topped with baked beans, sunny-side-up egg, queso fresco, ranchero sauce and crema ($9).
Follow Snifters on Facebook, Twitter and Instagram for information, updates and specials.
Lori Fredrich (Lo) is an eater, writer, wonderer, bon vivante, traveler, cook, gardener and girlwonder. Born and raised in the Milwaukee area, she has tried to leave many times, but seems to be drawn to this quirky city that smells of beer and alewives.
Some might say that she is a little obsessed with food. Lo would say she is A LOT obsessed with food. After all, she has been cooking, eating and enjoying food for decades and has no plans to retire anytime soon.
Lo's recipes and writing have been featured in a variety of publications including GO: Airtran Inflight Magazine, Cheese Connoisseur, Cooking Light, Edible Milwaukee, Milwaukee Magazine and the Milwaukee Journal Sentinel, as well as on the blog Go Bold with Butter, the web site Wisconsin Cheese Talk, and in the quarterly online magazine Grate. Pair. Share.