Anyone who has passed the distinctive retail building on the northeast corner of 56th and North will recognize its quirky-looking tower with the green oxidized copper point and the hexagonal, one-handed clock with letters instead of numbers.
Those letters spell out the name Schwantes and the letters 'B' and 'G.' But what does it mean?
Well, it's complicated.
A 1921 trade publication included an announcement that architect Hugo Haeuser was planning to open the bidding to contractors that November for a 32x64-foot bakery building on North Avenue on behalf of H. M. Schwantes that November.
The estimated cost of the project was $40,000 and Schwantes' address was listed as 1063 16th St.
Schwantes, born around 1889 and married in 1908, appears to have opened his own bakery around 1915 and in 1921 he was a partner with Louis H. Rotter (who the same year hired architect George Zagel to design a nice craftsman-style house not far away on Grant Boulevard) in the Rotter-Schwantes Baking Co.
Rotter had come to America as a child in 1900 from Odessa, where his father was also a baker, and opened his own bakery in 1910 on 6th and Reservoir.
According to North Grant Boulevard Historic District National Register of Historic Places registration form his partnership with Schwantes didn't last long, and, indeed, by 1922, listings for the Reservoir Avenue bakery referred to it as Rotter Baking Co.
It's unclear why the partnership didn't endure, but this 1921 news item might offer some clues.
"Three employees of the Rotter-Schwantes Baking Co., 517 Reservoir Ave. were attacked by a gang of men near Martin and Van Buren Streets Tuesday night, according to a complaint made to the police. H. M. Schwantes, one of the proprietors, was escorting Robert and John Fentress and Frank Funkey home in his automobile when the car was set on by the gang. Sticks and stones were thrown. According to Mr. Schwantes, the attacking part consisted of striking employees who quit work Sunday."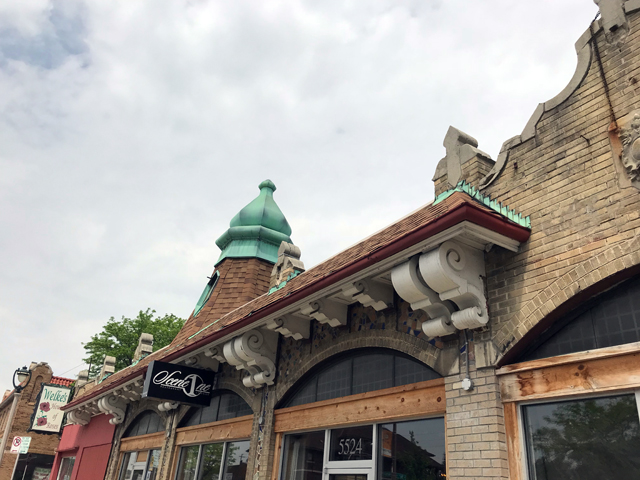 On the occasion of Rotter's 97th birthday, the Jewish Chronicle wrote, "From a 'one man shop,' he expanded his bakery to a staff of 150. His bakery was famous for its Bohemian rye bread and other Jewish breads. The bakery had 36 truck routes and serviced six counties throughout Wisconsin. Rotter had four boys and four girls and all the boys worked in the bakery. He sold the bakery in 1948 to William H. Heinemann Bakeries, Inc. He was then 65. With no thoughts of retirement he went to work for his son Marshall at National Hardware."
In a story I wrote when National Ace was closing Downtown, I mentioned that Rotter joined his grandsons in the National Ace Hardware business, working mostly as a greeter, until his death in 1983 at age 99.
As for Schwantes, a March 1927 newspaper article notes that, "A bakery at 5509 North Ave. has been sold by the H.M. Schwantes Co. to C.H. Funke, it was announced Saturday. The deal was negotiated by A.P. Stark."
On Oct. 2, 1929, Schwantes moved his bakery across the street to another Haeuser building erected in 1921 (best known to folks these days as the former Hartter's Bakery, which closed in 2004 after 40 years in business), at 5511-13 W. North Ave.
An ad celebrating "the opening of a new modern bake shop" says, "here in the new home of this well-known west side baker you will find everything to your liking. A store interior of spotless ivory Sani-Onyx with black trim of the same material, surmounted by a handsome oil painting of a garden scene of hollyhocks. In this sanitary bakeshop you will find baked goods of superior quality – made so through the use of the finest ingredients, including the freshest of eggs, the best of fruits and the highest grade of wheat flour."
In 1937, Schwantes sought to convert his bakery into "an eatery and a drinkery," but those plans were foiled by Ald. R. A. Steinhagen who refused to support a liquor license. Schwantes appears to have run the bakery until about 1940, when he and his wife Clara moved to Pewaukee, where he managed the Pewaukee Hotel for about five years before retiring.
He died in 1958 and his funeral was held two blocks from his former bakeries.
Meanwhile, back across the street, the old bakery appears to have been expanded. But who owned it remains tricky. While that newspaper note suggested Schwantes had sold it to C.H. Funke, when the expanded building opened in January 1928, a full-page newspaper ad says it was "built for Herman Schwantes, owner, and erected by A. P. Stark & Sons," which the ad describes as "real estate, loans and insurance" business.
The building permit filed with the city listed Stark Realty as the owner. Schwantes' name appears nowhere in the Department of City Development permits for the property.
Regardless, the building was presented as something of an early shopping mall. "The most unique store in Milwaukee, a complete shopping center" was home to Redell's Beauty and Barber Shop on the east end and Jarmer Brothers on the corner.
There were also a couple storefronts on the 56th Street side and one of them opened as home to Uptown Carriage Service.
"This building is acclaimed by many to be the most attractive and unique structure in the City of Milwaukee," the ad boasts. "Designed in Spanish architecture and flood-lighted at night it has already created a tremendous influence in making Upper North Avenue one of the most progressive shopping communities in Milwaukee."
A series of 1932 permits – which name Richard H. Gaenslen as the building owner – shows the same two businesses, joined by Cathryn Lisch's dry goods store and Ora Reitz's restaurant.
Once Prohibition ended, John C. Kempf opened a tavern one door east of the corner shop, which was occupied by the Jarmers into the 1950s. He called it Narrow Lane.
Also in the '30s, Miss Alice Steiner opened at hat shop in the far east shop (5522 W. North Ave.) and soon split her space in half, sharing with Sylvester Schneider's meat market, whose address became 5522 1/2 W. North Ave.
A year later, that half-space was occupied by a beauty parlor that, thanks to an arched opening cut into a wall, was expanded into the shop at 5524.
The pleasingly rhyming Bauer's Flowers – run by Al and Marilyn Bauer – opened in the corner space in 1958 once Jarmer's closed and the same year a girls' clothing store called Sugar 'n' Spice replaced a second-hand store in the 5522 space.
Wendy Bauer Sanders recalls that her dad put on the store's distinctive facade and installed the cooler for the flowers.

(PHOTO: Courtesy of Wendy Bauer Sanders)
By 1959, Edward Kircher was running the Narrow Lane tavern, and Jasper Radocha followed.
Welke's House of Roses, which is still in the space today, opened on the corner at 5528 by 1965.
A variety of other businesses continued to move in and out of the storefronts at 5522 and 5524, including a hearing aid store, a flooring showroom, an appliance sales and service business, a home remodeling showroom, Tom Wolff's Coin Exchange, a real estate office, a tailor, and mostly in the basement, recalls Bauer Sanders, Grace Smock's catering service.
Narrow Lane passed through the hands of a few owners (including Chet Chelminiak who ran it until 1989, when it was taken over by Debra Martig; and, later, in 1994, by Howard Tice), finally closing in recent years, and now Scene 1, a restaurant and bar, fills the spaces but the corner one at 5528, which, as I noted earlier, is still home to Welke's.
Schwantes is long gone, of course, but his name lingers on to those curious enough to look up at his oddball clock and try and decipher its letters.
Born in Brooklyn, N.Y., where he lived until he was 17, Bobby received his BA-Mass Communications from UWM in 1989 and has lived in Walker's Point, Bay View, Enderis Park, South Milwaukee and on the East Side.
He has published three non-fiction books in Italy – including one about an event in Milwaukee history, which was published in the U.S. in autumn 2010. Four more books, all about Milwaukee, have been published by The History Press.
With his most recent band, The Yell Leaders, Bobby released four LPs and had a songs featured in episodes of TV's "Party of Five" and "Dawson's Creek," and films in Japan, South America and the U.S. The Yell Leaders were named the best unsigned band in their region by VH-1 as part of its Rock Across America 1998 Tour. Most recently, the band contributed tracks to a UK vinyl/CD tribute to the Redskins and collaborated on a track with Italian novelist Enrico Remmert.
He's produced three installments of the "OMCD" series of local music compilations for OnMilwaukee.com and in 2007 produced a CD of Italian music and poetry.
In 2005, he was awarded the City of Asti's (Italy) Journalism Prize for his work focusing on that area. He has also won awards from the Milwaukee Press Club.
He can be heard weekly on 88Nine Radio Milwaukee talking about his "Urban Spelunking" series of stories.