In case you haven't heard, "Star Wars: The Last Jedi" comes out in theaters this weekend, where it will make literally make all of the money in the world. But it's not just going to be the biggest movie of the year; "The Last Jedi" is almost sure to be the biggest Christmas gift category of the season, with kids of all ages wanting the new toys, the new gadgets, the new action figures and the new characters.
And, of course, Disney is happy to oblige.
To help guide you through all of the "Star Wars" stuff vying for your money, as well as your family and friends' love and attention, here are eight cool gift ideas that caught my eye this holiday season. (Pro-tip: porgs).
Busted Tees is one of my personal favorite pop culture T-shirt websites, with clever clothing items repping everything from Harry Potter to "Back to the Future" to "Die Hard" to just merely funny pop culture puns and snark.
But we are not here for any of those things; we are here for "Star Wars" swag – and for $20, Busted Tees has a number of shirts that'll let you fashionably show your love for a galaxy far, far away while also giving people chuckle. I personally have the "That's No Moon" transformed into "Goodnight Moon" shirt and love it, but there's also a tape cassette and iPod reenacting "The Empire Strikes Back," a Death Star but in pretentious French shirt and more. My personal favorite this season? This Retro Galactic T-shirt, which doesn't have the snarky jokes of the other shirts but is merely a really cool, clean, slick design that makes the world's most popular franchise even more fashionable.
2. Porg Plush
You don't even need to see "The Last Jedi" to know that porgs – that little squawking big-eyed flying hamster penguin ... thing from the preview – are going to be the hottest kids toy since ... well, since the last "Star Wars" movie came out. They're weird, they're cute, they're oddly charming – they are the Benedict Cumberbatch of "Star Wars" toys. And your child most certainly already wants one. Hell, I want one.
As you'd expect, the porgs are going faster than "Last Jedi" opening night tickets, but there are still a few places where you can find yourself an adorable, animatronic stuffed porg plush in stock. Or, for the smart parent who knows that toys that talk become nightmares, there's just a classic stuffed animal porg available here. Or there's both a throw blanket and porg pillow pal combination. No matter where you find a porg and what type of porg you get, you will end up on Christmas Day with a happy child – or adult.
In short, god bless the porgs and all hail our new porg overlords.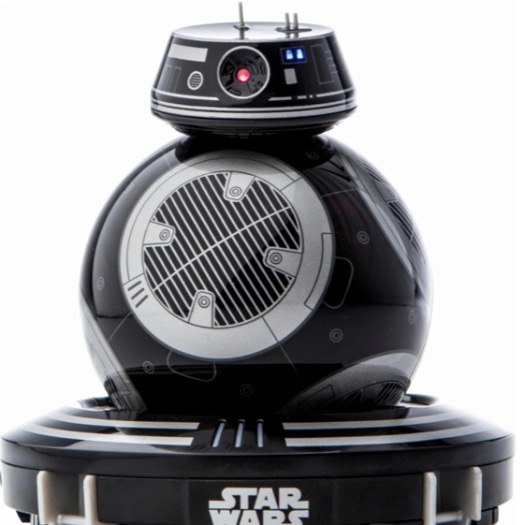 When "The Force Awakens" came out two years ago, the hottest toy that Christmas was BB-8 – and for good reason. It was a fun character with an even more fun toy – whether you bought it as a plush stuffed animal or in an app-controlled electronic form. Well, that's happening again – except this Christmas, it's BB-8's evil twin, BB-9E, complete with an Empire-approved black and grey color scheme and sharper little head knob.
But even though he may serve the Empire, hunt our heroes and potentially bring death and destruction to the Light Side of the Force, of course, you gotta get one of these little roly-poly buggers – in particular this miniature app-powered one by Sphero that you can control with your smartphone, interact with other rolling droids and more. And maybe you can even convince him to join the good guys (though he might need a new paint job then).
Poor Chewie. He lost his co-pilot and best friend in "The Force Awakens." I hope he's doing OK in "The Last Jedi." Well, if this exclusive Chewbacca stuffed animal backpack from ThinkGeek has anything to do with the movie, it seems he's going to be making some new best friends. Because who's that little big-eyed cutie peaking over his shoulder. THAT'S RIGHT; IT'S AN ADORABLE PORG BUDDY! So Chewie can now carry your stuff for you and have your back while a porg helps him out and has his back. Han who, amirite?
After seeing "The Last Jedi" about a dozen times this opening weekend, you might need a break from "Star Wars" on the big screen. So what better way to take a break then by reading a book – in particular, a book about "The Last Jedi"!?
On Dec. 15, "The Art of Star Wars: The Last Jedi" will hit shelves, providing a behind-the-scenes inside look at the new movie's breathtaking new visuals and concepts. The book includes concept art, costume sketches, storyboards and interviews with the creative minds behind the scenes of the year's biggest blockbuster – including a foreword by "The Last Jedi" writer-director Rian Johnson.
If that's not inside "The Last Jedi" enough, however, there's also "Star Wars: The Last Jedi: Incredible Cross-Sections," which takes the reader inside the inner workings of 13 nifty vehicles from the new movie. Because if we're going to start inventing these sweet spaceships and galaxy-hopping war machines in the real world, we're going to need solid blueprints and X-rays.
And yes, there is also a book featuring porgs: "Chewie and the Porgs," a children's book about Chewie dealing with the little flying monsters. Or at least they call it a children's book. I'm a grown-ass adult and I'd read it ... every hour ... daily.
Everyone knows the classic gift to give the father figure in your life: a tie. But you know what would make that yearly Christmas tie purchase out of this world? ADD SOME FREAKING PORGS!
Meet the porg tie. It's a officially licensed grey tie covered in porgs. And it is the most fashionable thing ever created by human hands – or robot hands. And you can trust me when it comes to fashion; I wear T-shirts everyday and once watched an entire season of "Project Runway." Hold on a second: "Project Runway" ... porgs ... Porg-ject Runway? Get me Lifetime Network on the phone!
It's not particularly hard to find the theatrical posters for "The Last Jedi" (see, found one) – and really, they're designed and crafted more like ads than art, cramming characters and famous faces into the frame. If you want some "Star Wars" posters that you can hang up in any room in your house or apartment as actual art, however, might I recommend dropping by Etsy and DesignDifferent, where the Toronto-based company makes really nifty and cleanly designed minimalist pop culture posters – including a trilogy of posters inspired by the original "Star Wars" trilogy. The entire trilogy will cost you $39.98.
The only down side? No porgs.
As far as website names go, This Is Why I'm Broke is one of the more accurate ones out there, jam-packed with fun, perfectly nerdy pop culture items – including "Star Wars" items from sweet spaceship-shaped drones to Rebel Alliance motorcycle helmets to a Death Star waffle iron and more.
There's plenty that would make a perfect stocking stuffer this upcoming Christmas season, from a Chewbacca seatbelt cover that'll help you look just like everyone's favorite wookie (minus the entirely fur-covered body and face part) to – my personal favorite – silicone molds that'll create perfect Death Star-shaped ice cubes to put in your whiskey or drink of choice. There's probably some genius out there who's also mastered the art of making the resulting cube hollow, so you can find the exhaust port, poke a small hole in it and fill it with Fireball, creating the most wonderfully dorky drink in history.
But take a gander through This Is Why I'm Broke and find your "Star Wars" fan something special for the holidays – and find your wallet living up to the website's name (though, if I'm being honest, the reason I'm broke is because I keep funding genetic research into creating real-life porgs).
As much as it is a gigantic cliché to say that one has always had a passion for film, Matt Mueller has always had a passion for film. Whether it was bringing in the latest movie reviews for his first grade show-and-tell or writing film reviews for the St. Norbert College Times as a high school student, Matt is way too obsessed with movies for his own good.
When he's not writing about the latest blockbuster or talking much too glowingly about "Piranha 3D," Matt can probably be found watching literally any sport (minus cricket) or working at - get this - a local movie theater. Or watching a movie. Yeah, he's probably watching a movie.