Who goes to a store just to buy pens? Or scuba flippers? Or lamp shades? These are questions we might ask ourselves while driving by some Milwaukee specialty shops. After all, big box stores have most of these items, and everything else on our shopping list, so why would someone make a special trip just for one thing?
And why repair a broken vacuum cleaner when you can get a new one for under $50? Why rent a DVD when you can stream a movie that is guaranteed not to skip?
These are all viable questions in our modern world and yet, and yet … People are going to these places. They are spending money at them. They are seeking them out.
The reasons, of course, are rooted in supporting independent business, buying something of quality and receiving service that is sometimes not available at bigger stores.
Here are eight Milwaukee businesses that, quite frankly, we have no idea how they stay in business, but we're quite pleased that they do. (Note to self: continue to actually go to these places so they stay open.)
Daly's Pen Shop

7632 W. Burleigh St., 
(414) 312-7486
In 1924, Daly's opened in the Plankinton Arcade building and left Downtown Milwaukee in 2013. The shop, now on Burleigh Street, is run by Brad Bodart. Employee Barbara Bodart, who owned the Pen & Pad Store at Mayfair Mall for 20 years, works for her son, Brad. "Business is great. There has been a huge resurgence in interest in fountain pens," says Bodart.
Bob Libbey's father started this business in 1978. "Our key to success is that we have much better service than most of the chains," says Libbey. "And we keep an eye on quality."
Hayek's
4001 N. Downer Ave., 
(414) 332-8870
Originally called the Wright Drugstore, Ernest Hayek took over the business in 1918. His grandson, Matt, currently works as the manager. "The big chains took over our cosmetics and school supplies business, but our customers still really want personal attention and we give it to them," says current owner, Bill Quandt.
Hockey Locker
2002 W. Howard Ave., (414) 325-7827
In 1997, Bonnie and Skip Semanden opened this shop after retiring from AO Smith and Briggs & Stratton. Their kids played hockey and they wanted to offer a local outlet for other hockey players and hockey families. "You can't sharpen or repair your skates online," says Bonnie.
A lamp shade store has occupied this location since 1970. Bruce Kohnke currently owns the business that sells mostly lampshades, but also lamps and lamp hardware. Kohnke also makes and repairs lamps. "We help people pick out just the right lamp shade," says employee Marita Binkowski.
Pirate's Cove Diving Equipment
1103 W. Oklahoma Ave., (414) 482-1430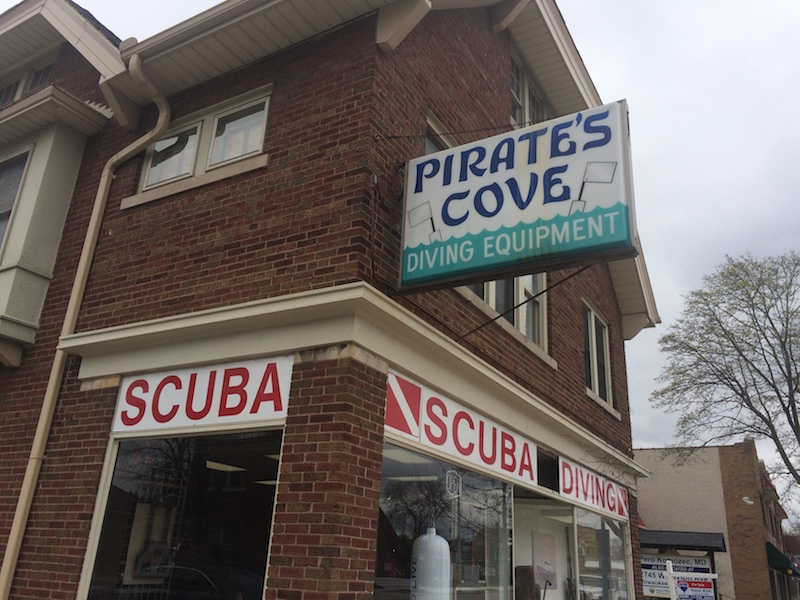 This scuba shop is 40 years old. The current owner, Gerald Guyer, offers scuba gear for sale or rent and scuba lessons and chartered outings. Lake Michigan surfers also purchase wet suits from Pirate's Cove. Although scuba enthusiasm has waned over the years, Guyer says the business will be around for at least a few more years – until he decides to retire.
Riverwest Film & Video
824 E. Center St., (414) 265-7420
Riverwest Film & Video opened on Locust Street in 1997 and moved to its current spot in 2006. It's also the home of Riverwest Radio. "When you use something like Redbox, you're really limiting the scope of what you can watch," says owner Xav Leplae.
Paul Bramski opened this vacuum repair and supply shop with his wife 32 years ago. "We stay competitive with Walmart and we carry a lot of stuff they don't have," says Bramski. "I have 250 different bags in stock right now and Walmart maybe has eight."

Molly Snyder started writing and publishing her work at the age 10, when her community newspaper printed her poem, "The Unicorn." Since then, she's expanded beyond the subject of mythical creatures and written in many different mediums but, nearest and dearest to her heart, thousands of articles for OnMilwaukee.

Molly is a regular contributor to FOX6 News and numerous radio stations as well as the co-host of "Dandelions: A Podcast For Women." She's received five Milwaukee Press Club Awards, served as the Pfister Narrator and is the Wisconsin State Fair's Celebrity Cream Puff Eating Champion of 2019.