Boy, karma is cruel.
After spending this long winter praying for warmer weather, nature heard our cries – and went a bit too hard in the other direction, cranking the heat up to near and possibly above triple-digits this Milwaukee weekend. Thankfully, being seasoned experts in all things cold and frosty, we've got more than enough methods of staving off this steamy weekend, of getting out there and having a blast without getting blasted with heat stroke.
Here are nine easy ways to beat the heat during this summer temperature surge. Stay hydrated – and stay fun, Milwaukee!
1. Get to gaming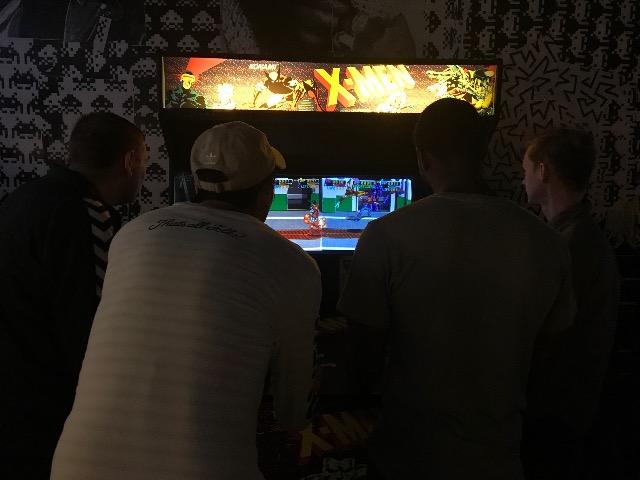 Just because the baseball diamonds and soccer fields feel like they might spontaneously combust from the heat doesn't mean you can't play games. Play indoors with Milwaukee's growing number of game-centric bars and hot spots. Jump for joysticks at the arcade bar Up-Down MKE, geek out over a board game or RPG at Oak & Shield, play party games of all shapes and sizes at Punch Bowl Social, be a pinball wizard at Blackbird or Fink's, or journey into A/C – and the past – by dropping by The Garcade family-friendly old school arcade in Menomonee Falls.
2. Fiserv Forum fountain
From Good City Brewing to The MECCA, Punch Bowl Social and more, there's no shortage of ways for adults to cool off during a sweltering summer, but there's something for the kids as well: The Fountain at Fiserv Forum. Open everyday from 10 a.m. until 5 p.m. through Labor Day, the fountain's three circles of shooting water can reach up to 10 feet high and features LED lighting to provide a color-changing light show as long summer days turn into dusk. Plus, afterward, you can hop over to the Bucks pro shop to buy yourself some dry clothes – plus A/C for free!
3. A/C and a movie
(PHOTO: Bobby Tanzilo)
Whether you're headed to the Oriental, a Marcus Theatre, one of the Neighborhood Theater Group locals, the brand new Silverspot or somewhere else, going to the movies is always a classic warm weather avoidance strategy. And considering its the summer movie season, there's plenty of stuff to see, from the terrific Elton John musical biopic "Rocketman," the surprisingly delightful denouement of "Toy Story 4," the blissfully bizarre horror/relationship comedy "Midsommar" and, for maximum relief from the heat outside, the sailing documentary "Maiden," chronicling the first all-female team to enter the Whitbread Round the World in 1989.
There's also "The Wicker Man" at the Oriental, the desert-exploring "John Wick 3," the buddy cop comedy "Stuber," which takes place during a heat wave in Los Angeles and "The Lion King" remake – but those are only if you can handle the on-screen heat. After all, you're coming inside for a break from baking in the sun, not to get dropped back into the sweaty Sahara.
4. Jump for joy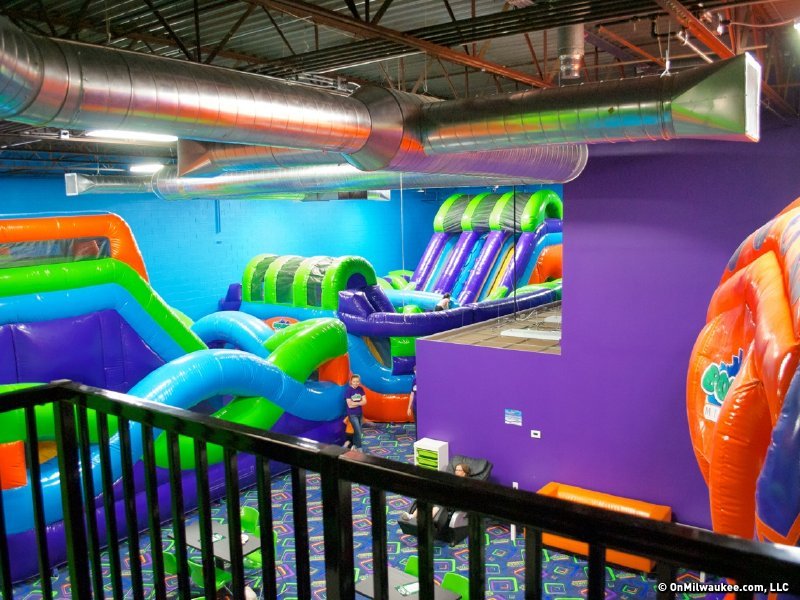 (PHOTO: Molly Snyder)
Friday marks World Jump Day because ... sure, why not. And while nobody's in the mood to jump for joy in triple-digit temperatures, thankfully there's plenty of places in Milwaukee to bounce around on giant trampolines and defy gravity without trying to defy a heat stroke. Bounce Milwaukee, Sky Zone and Rockin Jump in Brown Deer all offer places hop away from the heat – plus plenty of other activities as well to keep you and the young ones away from the UV rays.
5. Browse the books and more at your local library
(PHOTO: Bobby Tanzilo)
Whether you're a regular visitor or you haven't dropped by since that college paper, there's never been a better time to peruse your local library. They've got books upon books to explore – plus if you want to Netflix and literally chill at home but you've run out of movies and TV shows to stream, the library likely has a MUCH larger collection than the Big Red Streaming Monolith – and you don't have to worry about buffering in the middle of the best part!
6. Celebrate Miller Time (and A/C) at a hidden gem
When the thermometers are threatening triple-digits, the clock reads beer o'clock all day long. So drop by one of Milwaukee's character-filled – and, most importantly, refreshment-filled – hidden gem bars to relax with a cool brew and even cooler company. Because the only thing warm you're going to want today, and this entire weekend, is warm conversation with friends old and new.
7. Pick a museum, any museum
(PHOTO: Visit Milwaukee)
You can learn a lot during a heat wave – about the importance of suntan lotion, about proper hydration, about all of your birthmarks and which ones look like melanoma. But you can also learn some less terrifying and life-risking lessons by taking a spin through one of Milwaukee's awesome museums – whether the Milwaukee Art Museum, the Milwaukee Public Museum or any of the other smaller but just as substantial museums the city holds. Soak up that air conditioning while also soaking in some knowledge – and who knows, maybe this will be the time you finally find the second snake button.
8. Party at a pool, splash pad or water park
Sure, Milwaukee has the perfect summer sun solution with Lake Michigan, but sometimes it's so hot that even a Great Lake isn't enough to beat the heat. That's why we built our own great bodies of water with Milwaukee County's assorted public pools, splash pads and water parks. For a full list of spots to splash away the summer sun, plus hours and extra info, check out OnMilwaukee's pools guide – and just keep swimming, just keep swimming, just keeps swimming, swimming, swimming! (What do we do? We swim.)
9. Cool off with custard
(PHOTO: Bobby Tanzilo)
Extreme heat may not be very Sconnie-like, but why not battle it with the most Wisconsin weapon we have: frozen custard. There's no end to the choices as well – which means, while it might be a no-brainer to choose to cool off with custard, actually picking your preferred dessert oasis can be as paralyzing as the heat. No fear: To help, check out our frozen custard guide, filled with info to help you choose the best scoop to fight off these hot summer days.
10. Beat the heat with bowling
Don't get knocked down by the overwhelming heat; knock down bowling pins instead. Brew City is basically Bowl City as well, so as you would expect, there's plenty of places to get your bowl on. To help spin you toward the alley best for you, here's OnMilwaukee's guide to essential bowling experiences.
As much as it is a gigantic cliché to say that one has always had a passion for film, Matt Mueller has always had a passion for film. Whether it was bringing in the latest movie reviews for his first grade show-and-tell or writing film reviews for the St. Norbert College Times as a high school student, Matt is way too obsessed with movies for his own good.
When he's not writing about the latest blockbuster or talking much too glowingly about "Piranha 3D," Matt can probably be found watching literally any sport (minus cricket) or working at - get this - a local movie theater. Or watching a movie. Yeah, he's probably watching a movie.