"Summertime" is a great song – so great, that it's been covered 25,000 times since George Gershwin wrote it in 1934 for "Porgy & Bess."
One of the more enchanting – and special – versions of the jazz standard has just dropped from Nineteen Thirteen, an enigma of a Milwaukee band. Featuring Victor DeLorenzo on percussion and Janet Schiff on cello as its two permanent members, you almost have to see this group to believe it.
Which is why their version of "Summertime" is even more vexing: transcending time and space, it stands up, all on its own.
I sat down at DeLorenzo's studio to hear a pre-release version of "Summertime," then immediately caught up with Schiff to get the lowdown.
OnMilwaukee.com: Tell me how this recording came to be.
Janet Schiff: On Dec. 28, 1961 my father, Edward Schiff, made a reel-to-reel home recording of my grandmother, Marguerite Schiff playing 33 tracks of organ, piano, accordion and singing. Fifteen years ago the recording was made digital, and I heard it for the first time. I played the recording for Victor from Nineteen Thirteen a couple of years ago and we listened several times to her instrumental rendition of "Summertime." He suggested that we build a song around my grandmother's Hammond B3 solo. We presented the idea and source recording to our sound engineer, Steve Hamilton, who was just as excited to make this recording possible. We asked Monia to sing and Rob Wasserman to provide low end support on upright bass.
OMC: Did you ever imagine you'd record something with your grandmother?
JS: I lived in a musical family and she brought joy along with her music. She passed away in 1980. Even though I couldn't play my cello with her in person, she inspired my early music appreciation when we spent time together. I always asked her to play and sing. After receiving her recording from 1961 in the late 1990s I often played along, not knowing if we could ever really make a recording together. She was an amazing musician. What an honor to finally be able to play with her.
OMC: What were the technical challenges with this recording?
JS: We were working with recording technology from both 1961 and 2015. Early discussions on how we were going approach the recording included whether we should make the song sound like Nineteen Thirteen recorded with Marguerite in 1961 or whether we should bring her organ solo to the present day. We discovered that neither was a solution. We met somewhere in "Summertime" in the ether.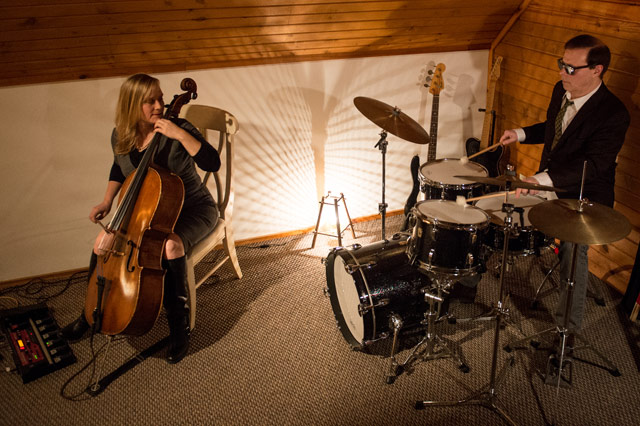 PHOTO: Doug Seymour
One of my greatest challenges was tuning my cello sharp in order to play with the 1961 recording. My 1913 cello was less than willing to play sharp for many of the recording sessions.
OMC: Why is this version of "Summertime" different than all the covers?
JS: There are over 20,000 recordings of this piece of music. Nineteen Thirteen presents Monia, who beautifully performed the vocals that you hear in only one take; Rob Wasserman, the Grammy Award winning bassist and his artful layers of both pizzicato and bowing; and of course, Marguerite Schiff. After a wait of 54 years she is officially releasing her 1961 recording of "Summertime" with Nineteen Thirteen.
OMC: How do you hope to showcase it? It's very cinematic ...
JS: Wouldn't it be great in movies?! We'd appreciate being considered for a multitude of music venues, scenarios and collaborations. If you have an idea just get in touch with us.

PHOTO: Maurice Seymour
OMC: What are the summertime plans for Nineteen Thirteen?
JS: We have lots of performances scheduled and also have room to add more. It's exciting to be playing on the main stage of Bastille Days (Sunday, July 12 at 5 p. m.). We are also looking forward to Mile of Music Festival (Aug. 7-8, Appleton).
We are headed back into the recording studio now with our goal to finish our full-length LP by the end of fall. Nineteen Thirteen's "Summertime" will be available for purchase and streaming through most digital music outlets.
Andy is the president, publisher and founder of OnMilwaukee. He returned to Milwaukee in 1996 after living on the East Coast for nine years, where he wrote for The Dallas Morning News Washington Bureau and worked in the White House Office of Communications. He was also Associate Editor of The GW Hatchet, his college newspaper at The George Washington University.
Before launching OnMilwaukee.com in 1998 at age 23, he worked in public relations for two Milwaukee firms, most of the time daydreaming about starting his own publication.
Hobbies include running when he finds the time, fixing the rust on his '75 MGB, mowing the lawn at his cottage in the Northwoods, and making an annual pilgrimage to Phoenix for Brewers Spring Training.