Opening in the midst of a pandemic was not the easiest for Supermoon Beer Co., but it might've given owner and brewer Rob Brennan a little time to work on building out his tasting room.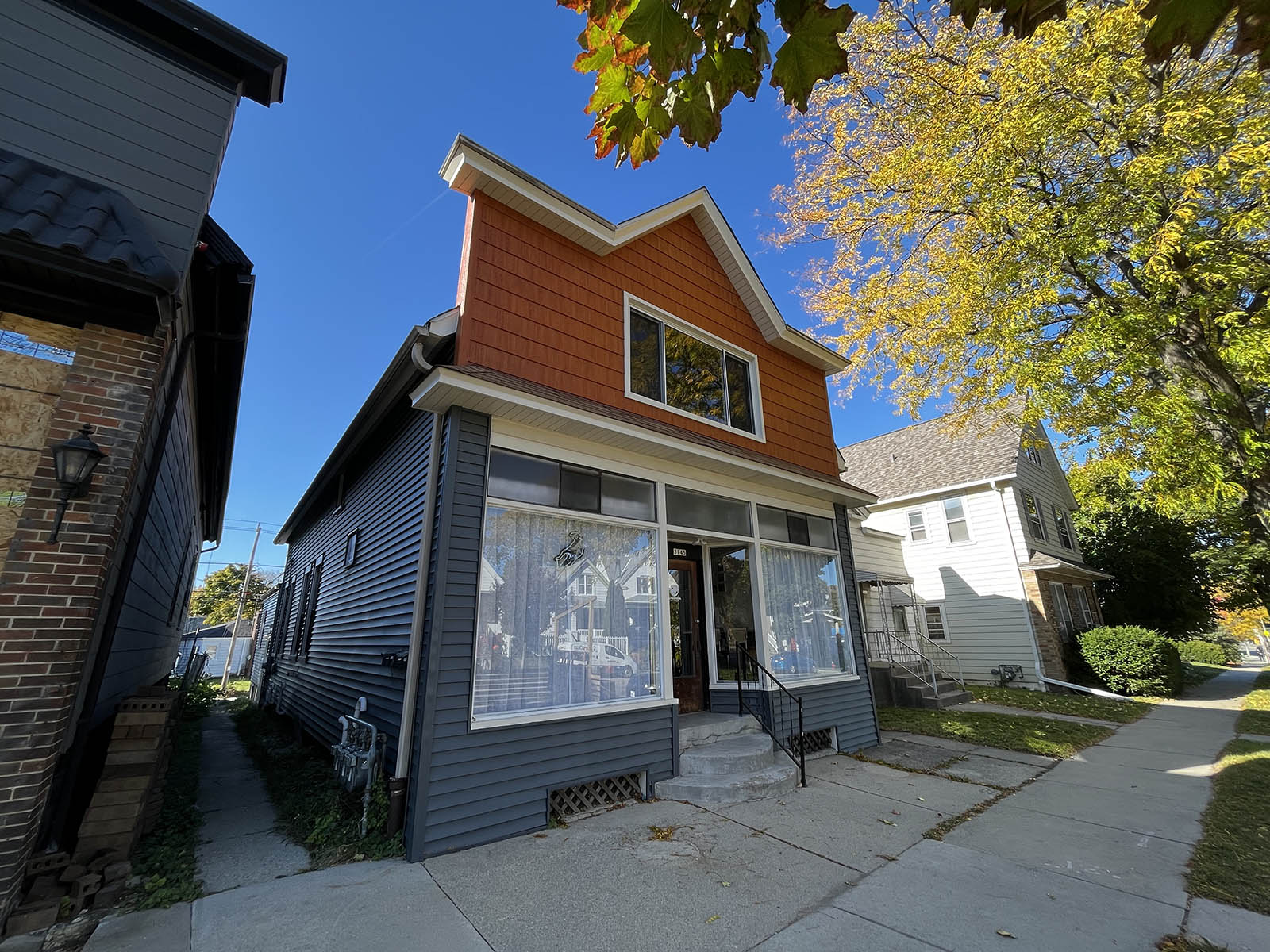 Two years later, that tasting room, in the first floor of a 1902 Bay View grocery store building, 3145 S. Howell Ave., is now complete, and worth the wait.
The brewery, which also recently expanded, adding tank capacity and more barrels for Supermoon's barrel-aged beers, is located downstairs.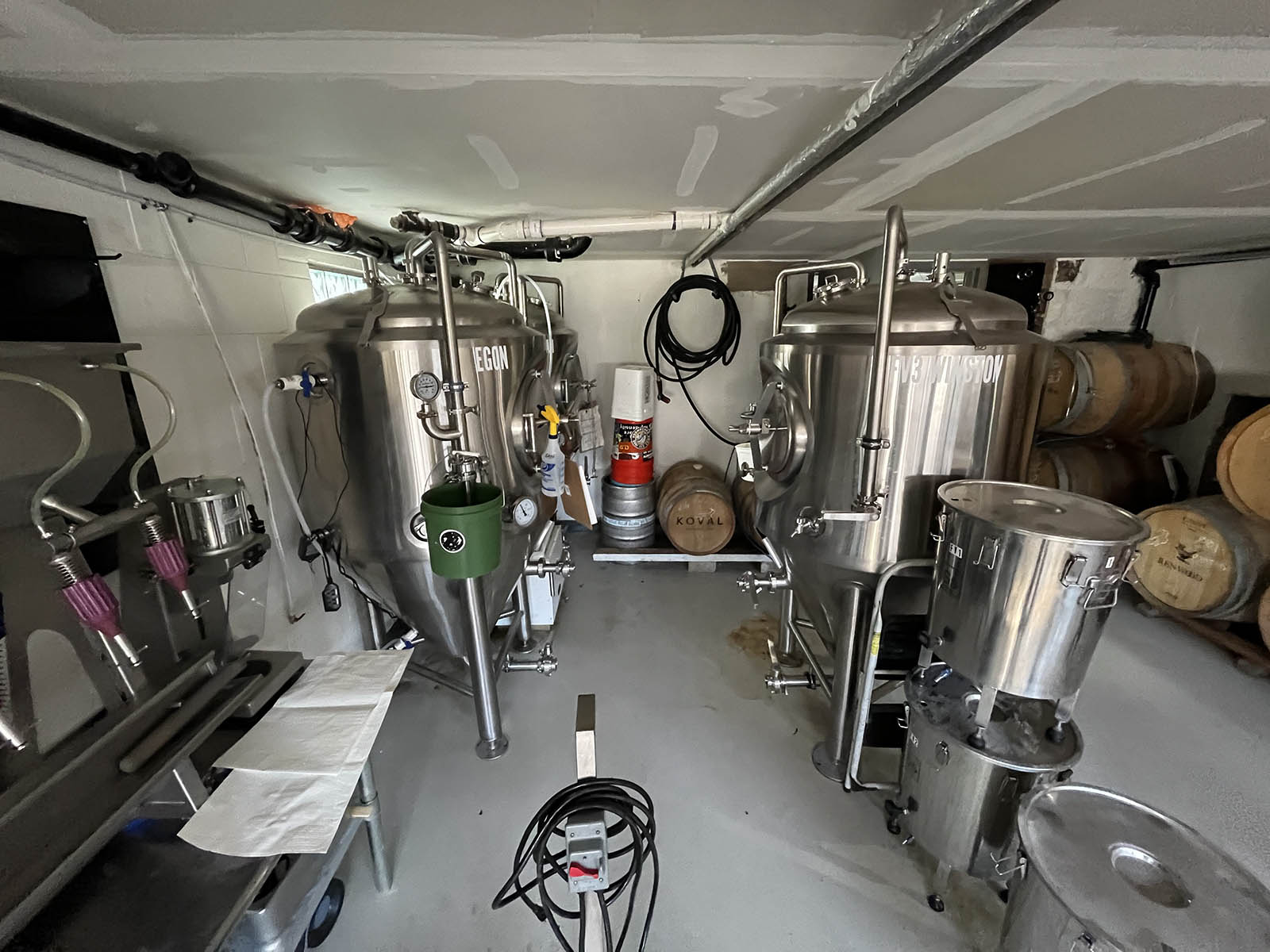 "You might recall being in the uncertain throws of a global pandemic when we asked you walk up to the front door so we could pass your beer to you under a plexiglass window," Brennan wrote in a recent email to customers and fans. "Crazy, right? Crazier still, we had been making beer and filling barrels a full 16 months before that.
"And before that, Maria and I bought this building simply in the hopes of replanting our roots from Chicago to live in Bay View. Before our son. Before COVID. Before Supermoon."
Although the space will have been open "softly" for a couple weeks by Friday, Oct. 28 at 3 p.m., that's when Ald. Marina Dimitrijevic stops by to tap the first keg of Supermoon's new "There is a Plot" gin barrel blended saison to celebrate the taproom Grand Opening and bottle release weekend.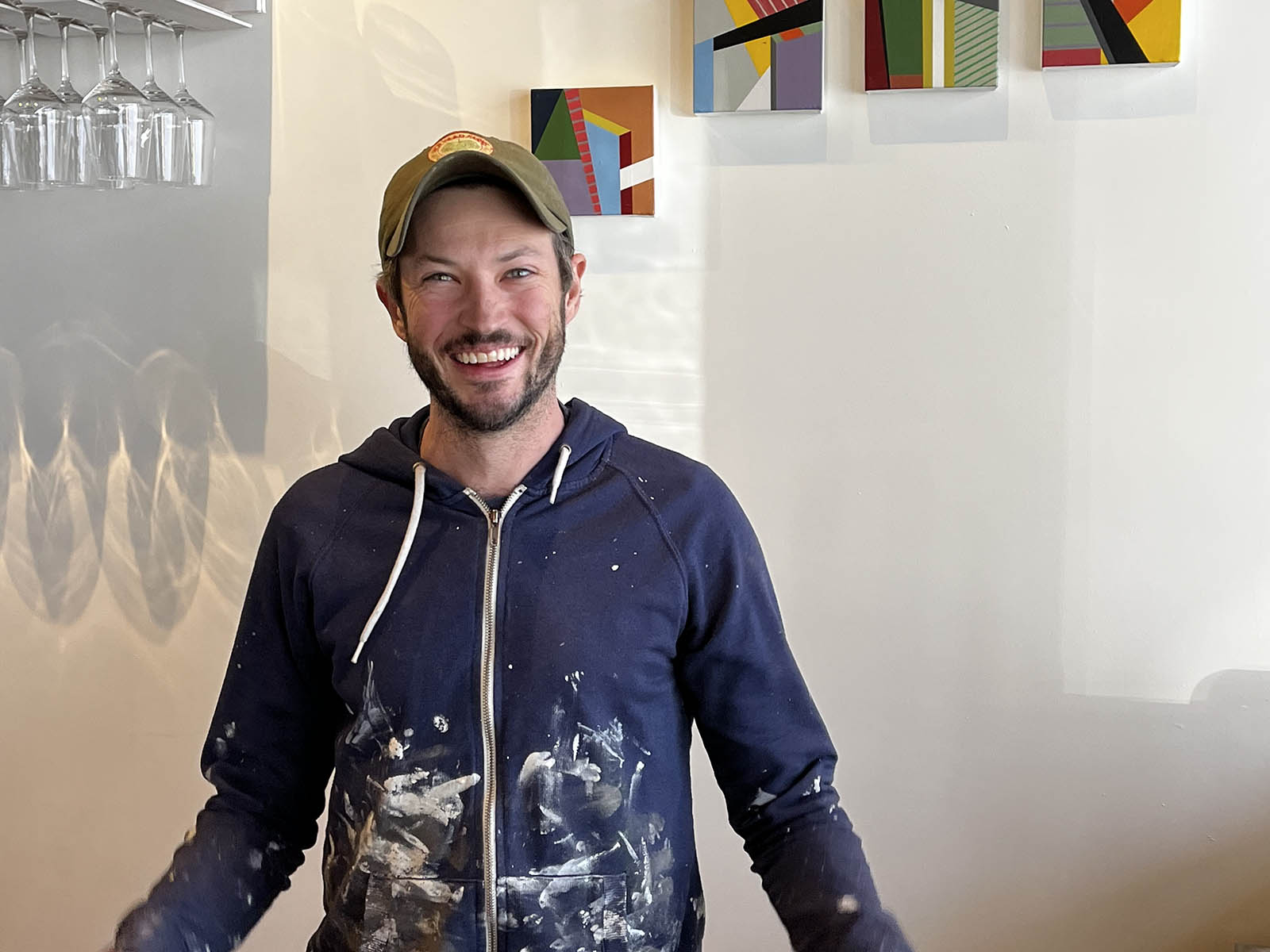 "To say it's been a long road is putting it briefly," Brennan wrote. "But for now, we'll just say thank you. There's no way we could have gotten this far without the absolutely overwhelming amount of support we've received over the years while bringing this thing to life in an epically unorthodox manner."
The new taproom space is bright, thanks to the two big display windows at the front and windows along the south wall. It's also wide open, as Brennan removed the wall separating a small back apartment to create one large taproom area.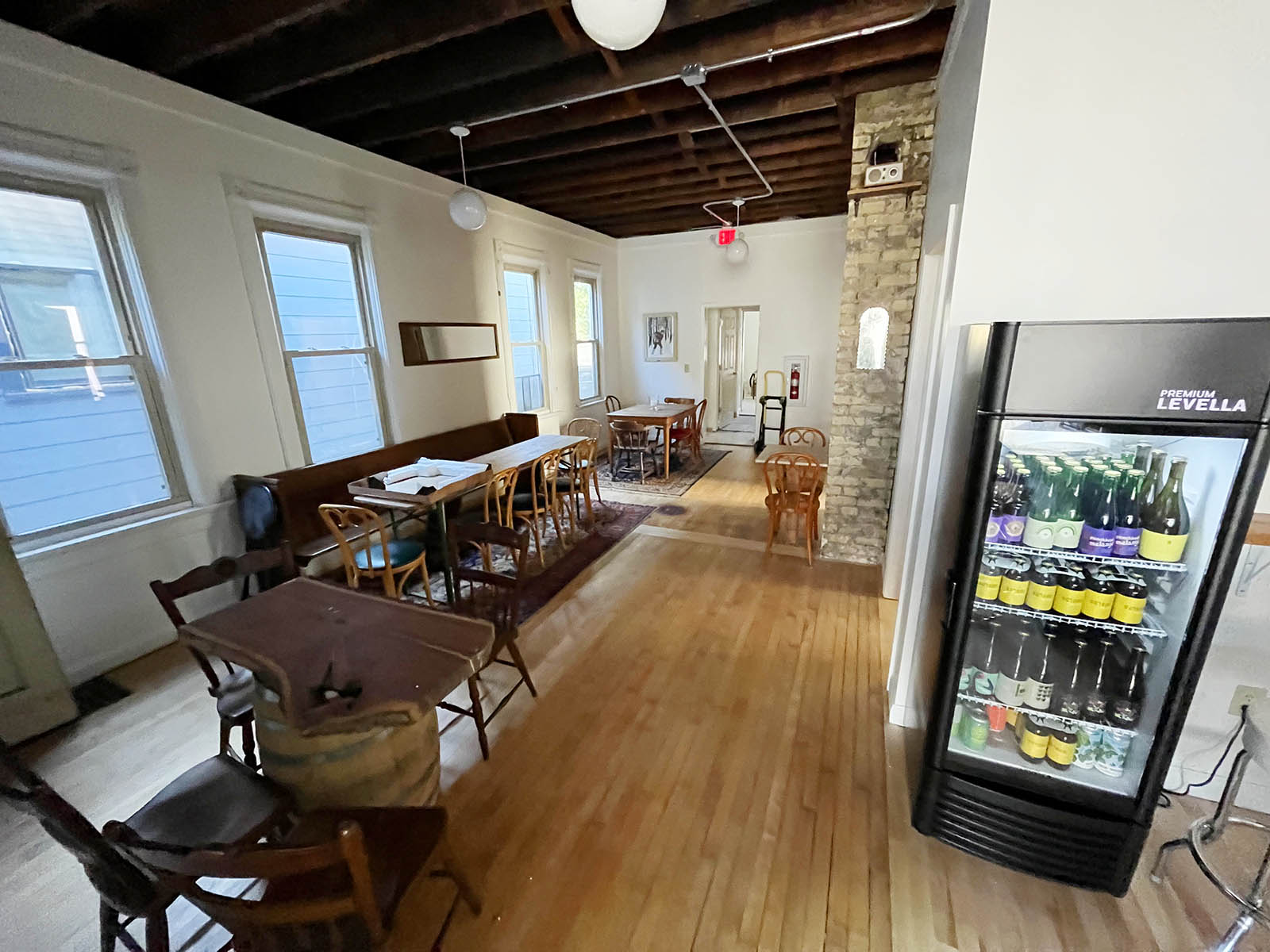 On the right is the bar, topped with a stunning Brazilian quartzite, and on the left there will be a fireplace. There's seating up in this front room, but also moving almost all the way to the back of the building.
New bathrooms were added, and there's work by local artists adorning the walls ... but not a ton. It's sparse but beautiful.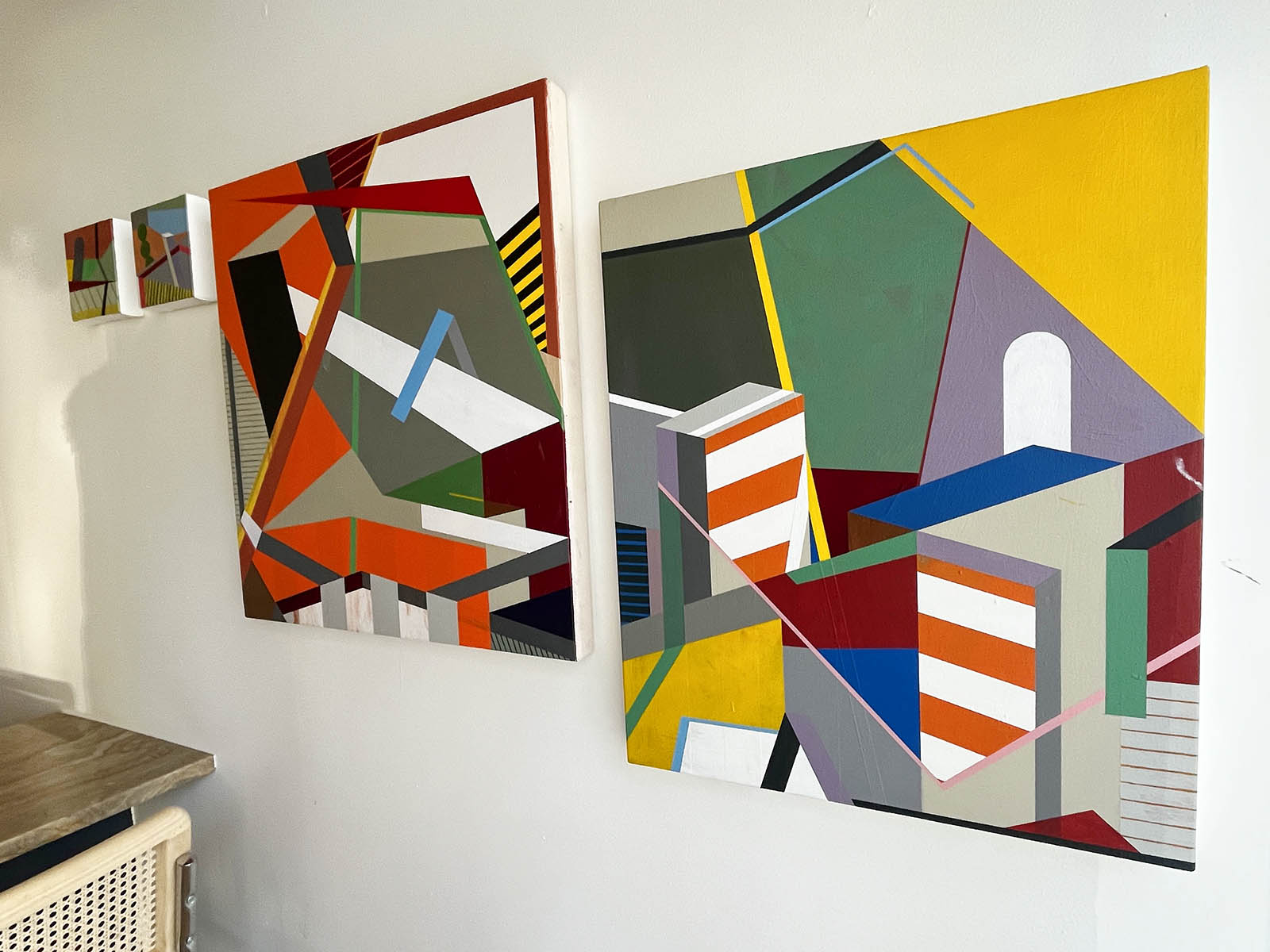 "We wanted to keep this place kind of minimal," Brennan says, referring to himself and his wife, Maria, who also played a key role in the transformation. "Not a lot of super intense design other than what's already here."
There is a small cooler with an enticing selection of Supermoon beers, too, because even though the beers had been selling out immediately, Brennan has been able to keep the beer flowing from his small brewhouse and barrelhouse.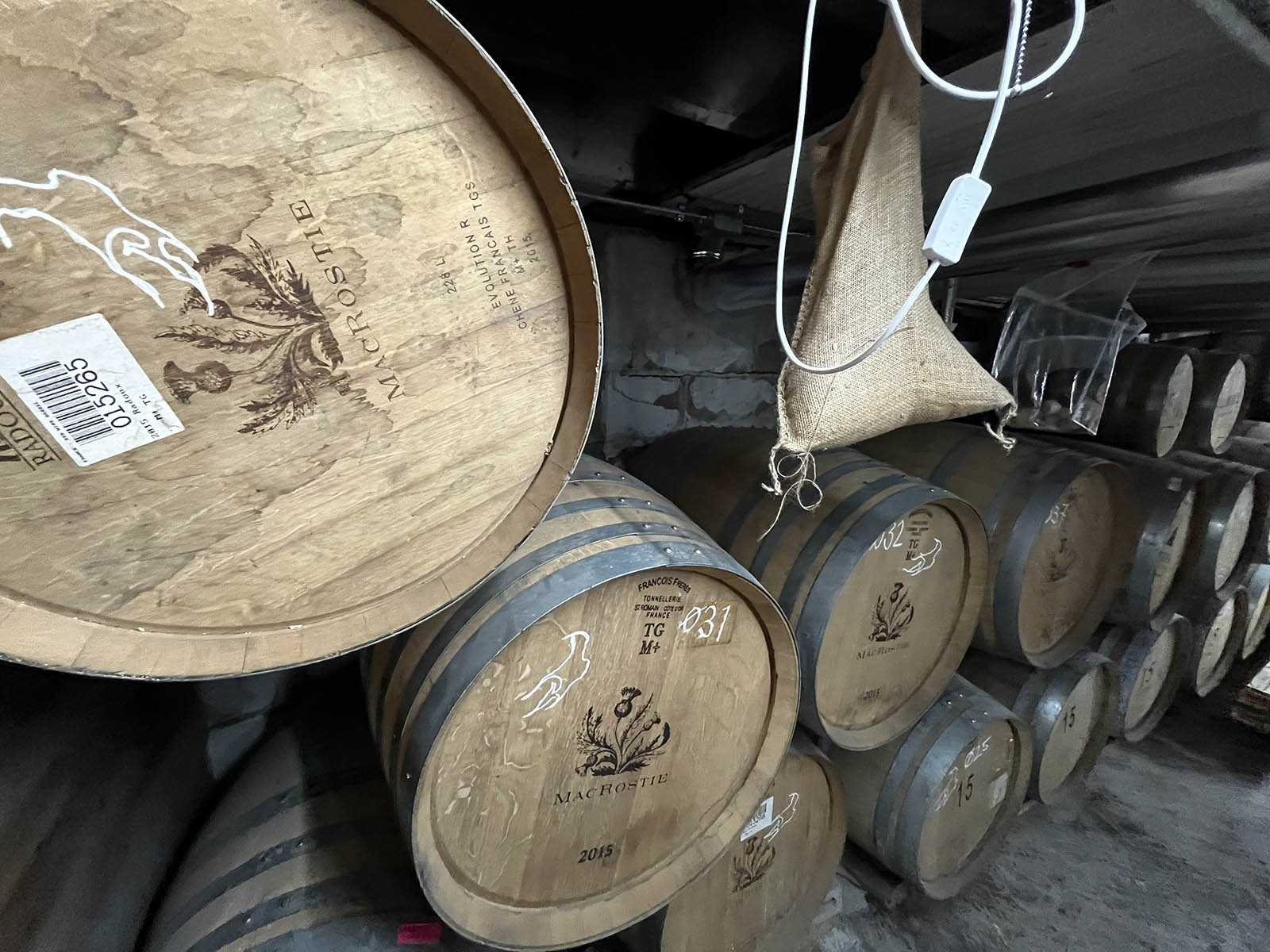 "The pipeline of mature oak-aged beer had already come to fruition by the time we sold our first beer," says Brennan. "So we've been making sure barrels are full, if we're blending and emptying them that they're steamed and re-filled within a week ... you know, as best practice.
"A lot of our barrels are on their like second, third, or fourth lives at this point. We still have about 40 active oak barrels, and a handful of larger format oak."
As for the second floor, the Brennans are eying either an events space or an AirBnB in the empty apartment up there, but that will happen later.
In the meantime, Brennan is working on keeping up and to that end, he's hired Supermoon's first three employees to work the taproom, though some of them may find themselves downstairs in the brewery, too, at times.
"We have interest from two of them to move down and maybe help with some production stuff," he says. "But this has always been a very small ship. We're probably paying them within the 96th percentile of the industry. We're really doing our best. We have a health care benefit, we have accruing paid time off.
"It's really important that we know the size and the scale of just how big this ship needs to be to make sure that people are taken care of and paid well, and that it's a successful business."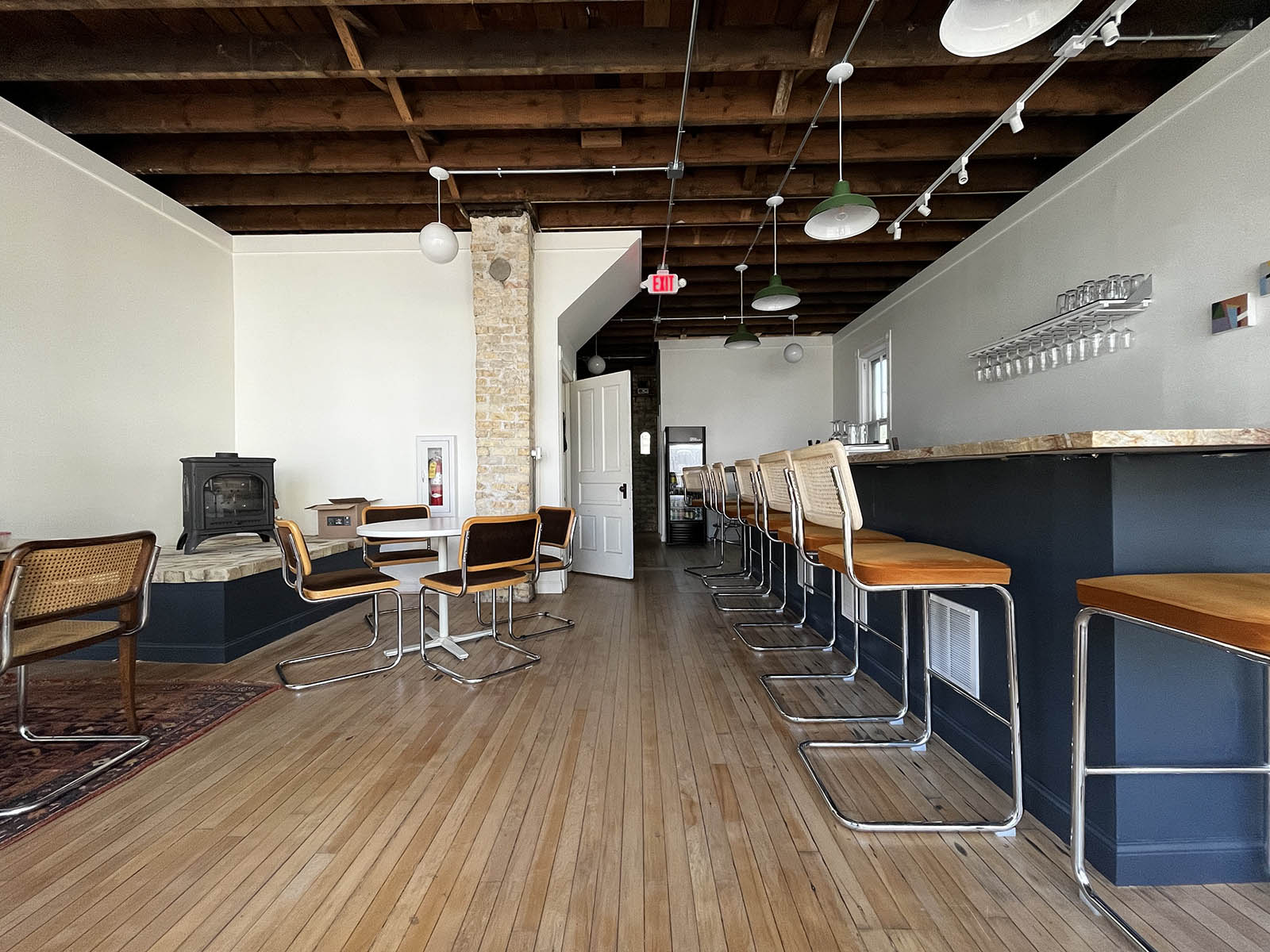 All indicators are that Supermoon is on the right track, if the unofficial opening weekend was any indication.
"It was really great," Brennan says. "We didn't make a big statement about it or anything, we just posted something in the afternoon and a lot of people in the neighborhood have been pretty closely watching this anyway. They've been drinking at our parklet patio thing for a while.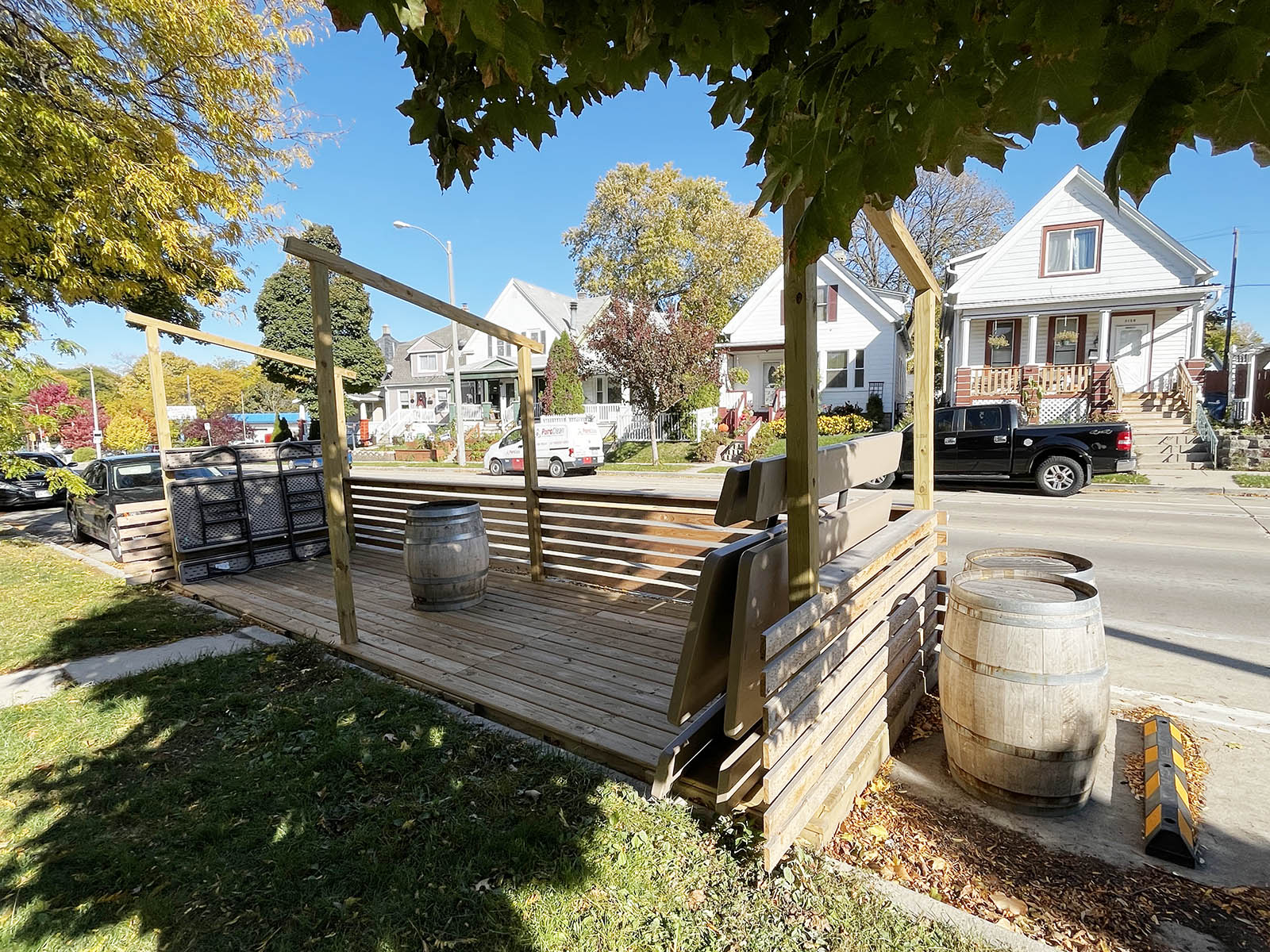 "So we started kind of letting it out into the neighborhood: we're going to soft open next week. And a bunch of them showed up and we tried some things out."
This Friday, the Supermoon Beer Co. taproom will officially and unsoftly open, as the neighborhood alder taps the first keg of the weekend's release – which can be pre-ordered here.
It's Brennan's second take on "There is a Plot," which is a blend of three gin barrel-fermented saisons plus a saison aged 12 months in a French pinot noir barrel.
"Marina is the real deal," wrote Brennan in his email. "Since planting our roots in Bay View, she has fully dimensionalized what the portrait of an involved local representative looks like – and has found time to stay connected to Supermoon making us feel like a valued constituent.
"From its inception to now, Marina has been advocating on our behalf acting as a proactive conduit to the City and authoring her own successful initiatives that keep our city moving forward – particularly the one that made it easier for us to install our parklet patio. So it's fitting that she help celebrate our grand opening."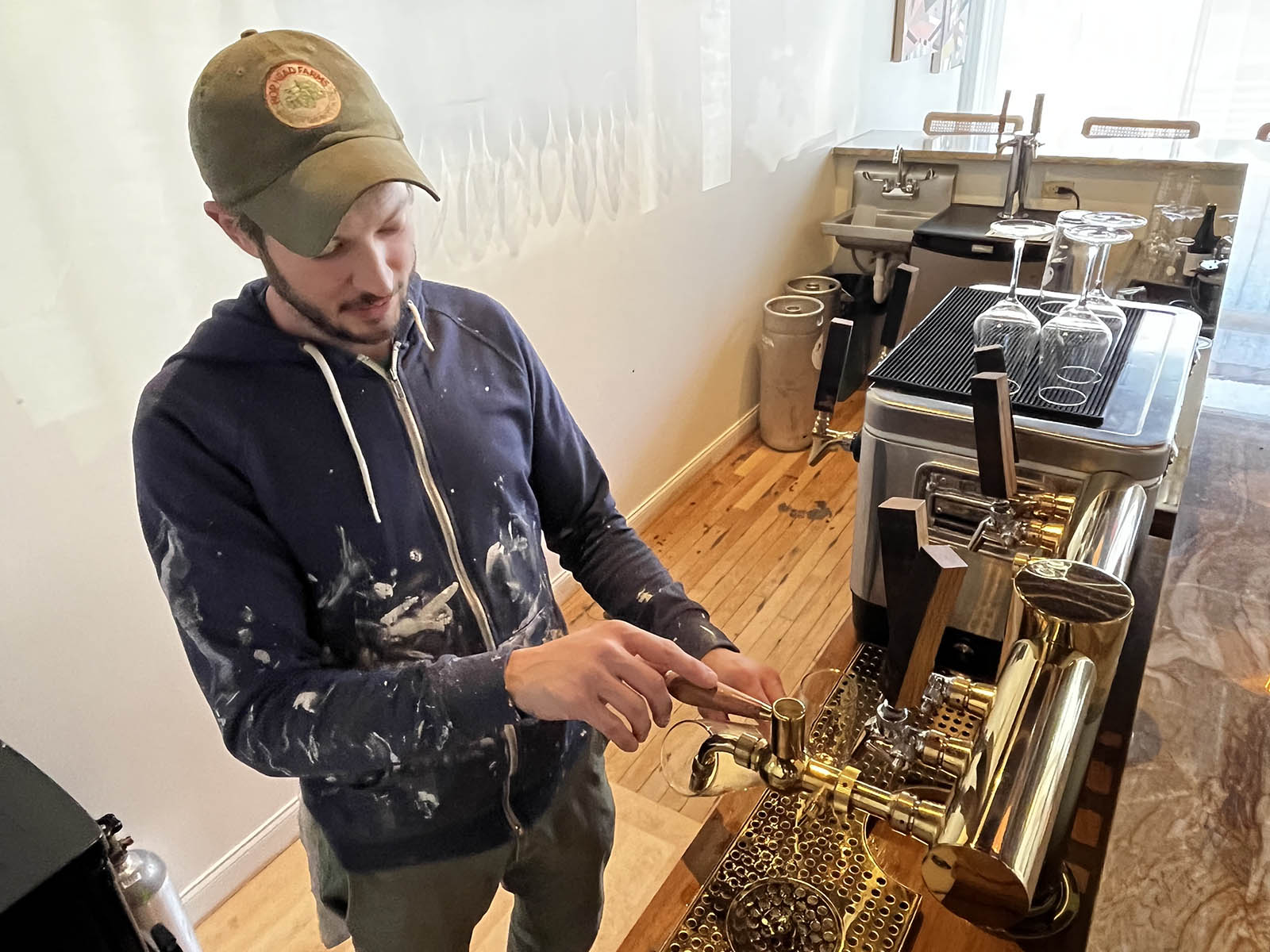 While Dimitrijevic will tap the gin-barrel brew, when I stopped in I tried the Bay View saison from a Czech side-pull faucet and it's creamy and light, with a beautiful, abundant head of foam.
If anyone could ever call a beer a lawnmower saison, this is that beer, because its extremely drinkable, though rich in flavor.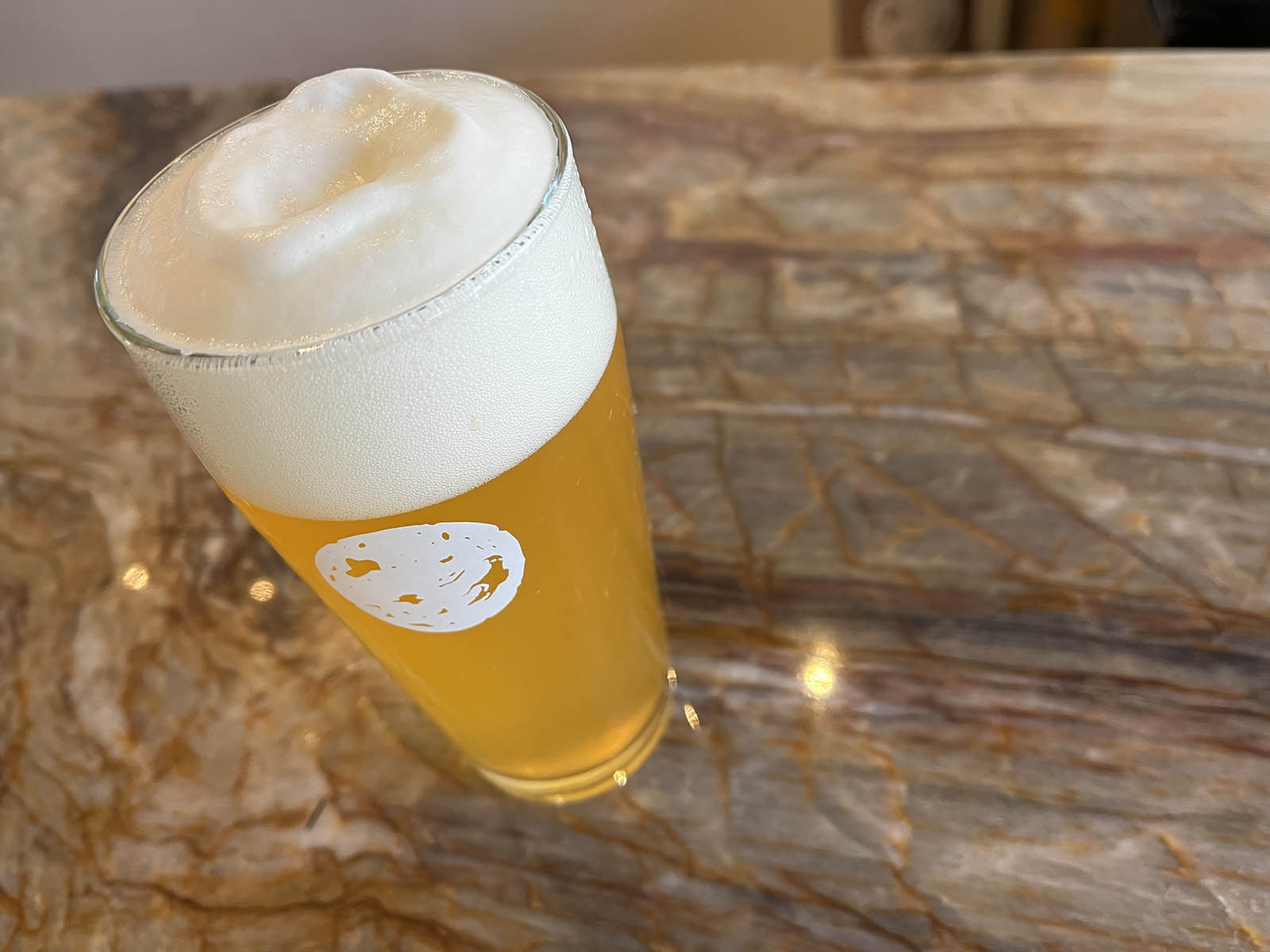 "We're a neighborhood brewery, so I want to have something kind of consistent," says Brennan, and this fits the bill perfectly, speaking not only to the neighborhood (in name) but also introducing casual beer drinkers to the kinds of beers that Supermoon crafts.
"That's the purpose of this beer. This is a clean, it is not quote/unquote 'special.' It's built to be the most approachable, friendly version possible.
"I recognize that all blended oak-aged 12-to-16-month aged saison is not entirely for everybody," says Brennan. "But I also think that there's some European philosophy and sensibility that we can speak to and serve some more drinkable neighborhood-style beers.
Born in Brooklyn, N.Y., where he lived until he was 17, Bobby received his BA-Mass Communications from UWM in 1989 and has lived in Walker's Point, Bay View, Enderis Park, South Milwaukee and on the East Side.
He has published three non-fiction books in Italy – including one about an event in Milwaukee history, which was published in the U.S. in autumn 2010. Four more books, all about Milwaukee, have been published by The History Press.
With his most recent band, The Yell Leaders, Bobby released four LPs and had a songs featured in episodes of TV's "Party of Five" and "Dawson's Creek," and films in Japan, South America and the U.S. The Yell Leaders were named the best unsigned band in their region by VH-1 as part of its Rock Across America 1998 Tour. Most recently, the band contributed tracks to a UK vinyl/CD tribute to the Redskins and collaborated on a track with Italian novelist Enrico Remmert.
He's produced three installments of the "OMCD" series of local music compilations for OnMilwaukee.com and in 2007 produced a CD of Italian music and poetry.
In 2005, he was awarded the City of Asti's (Italy) Journalism Prize for his work focusing on that area. He has also won awards from the Milwaukee Press Club.
He can be heard weekly on 88Nine Radio Milwaukee talking about his "Urban Spelunking" series of stories.