Each week, we'll be highlighting take-out from restaurants across the city. Follow along for a new take-out adventure every Thursday. Click here for a delectable repast of all the take-out we've enjoyed!
Tenuta's To Go
3902 S. Whitnall Ave. (414) 988-0042
tenutastogo.com
There might be few things more comforting than a meal at Tenuta's in Bay View in better times. I have fond memories of enjoying meals there with friends, cozying up in the always over-stuffed dining room and reminiscing over glasses of wine and thin-crust pizza. I also miss the intimate meals enjoyed while sitting at the bar, striking up conversations with bar staff and leaving for home assured that all is truly right with the world.
But the world right now is different. Nonetheless, I thought I'd try to conjure up some of that comfort by ordering take-out. Unfortunately, Tenuta's was closed this week, due to precautions taken after a COVID-19 exposure. So, it seemed as good a time as any to try out Tenuta's To Go, an operation launched by the restaurant in 2019. The menu at Tenuta's To Go is abbreviated, but contains a selection of salads, sandwiches, pastas and pizzas which can be ordered online for pick-up or delivery.
To conjure a modicum of coziness, we made an effort to plate our food nicely, light a few candles and pour glasses of wine before sitting down and taking it all in.
We ordered an appetizer, pasta and pizza, and spent a total of $49 and change, including a 25% tip). But the resulting dinner ended up feeling like a feast of creature comforts that began with an order of dense, yet super flavorful meatballs, bathed in a pool of that classically comforting Tenuta's marinara and topped with mozzarella and romano cheeses ($8).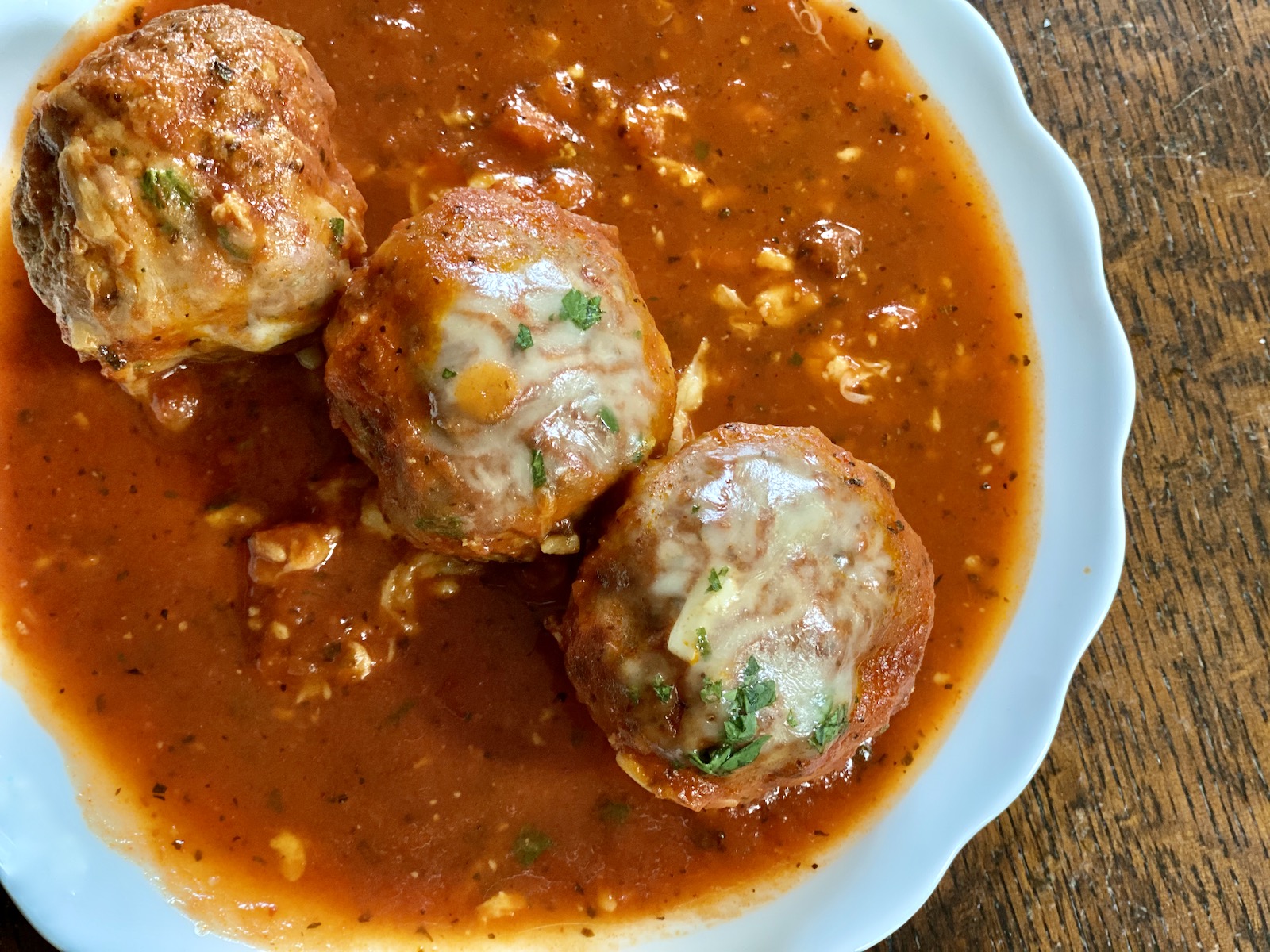 They were out of the gnocchi funghi I was craving, so I opted instead for the penne pasta with Italian sausage, ricotta and basil pesto ($14). It didn't exactly fulfill my gnocchi craving (which was a pretty steep task), but it was simple, fresh and filling. It came with a lovely fresh side salad that hit all the right notes with its combo of cucumbers, tomatoes and carrots (with a choice of ranch, blue cheese or balsamic vinaigrette).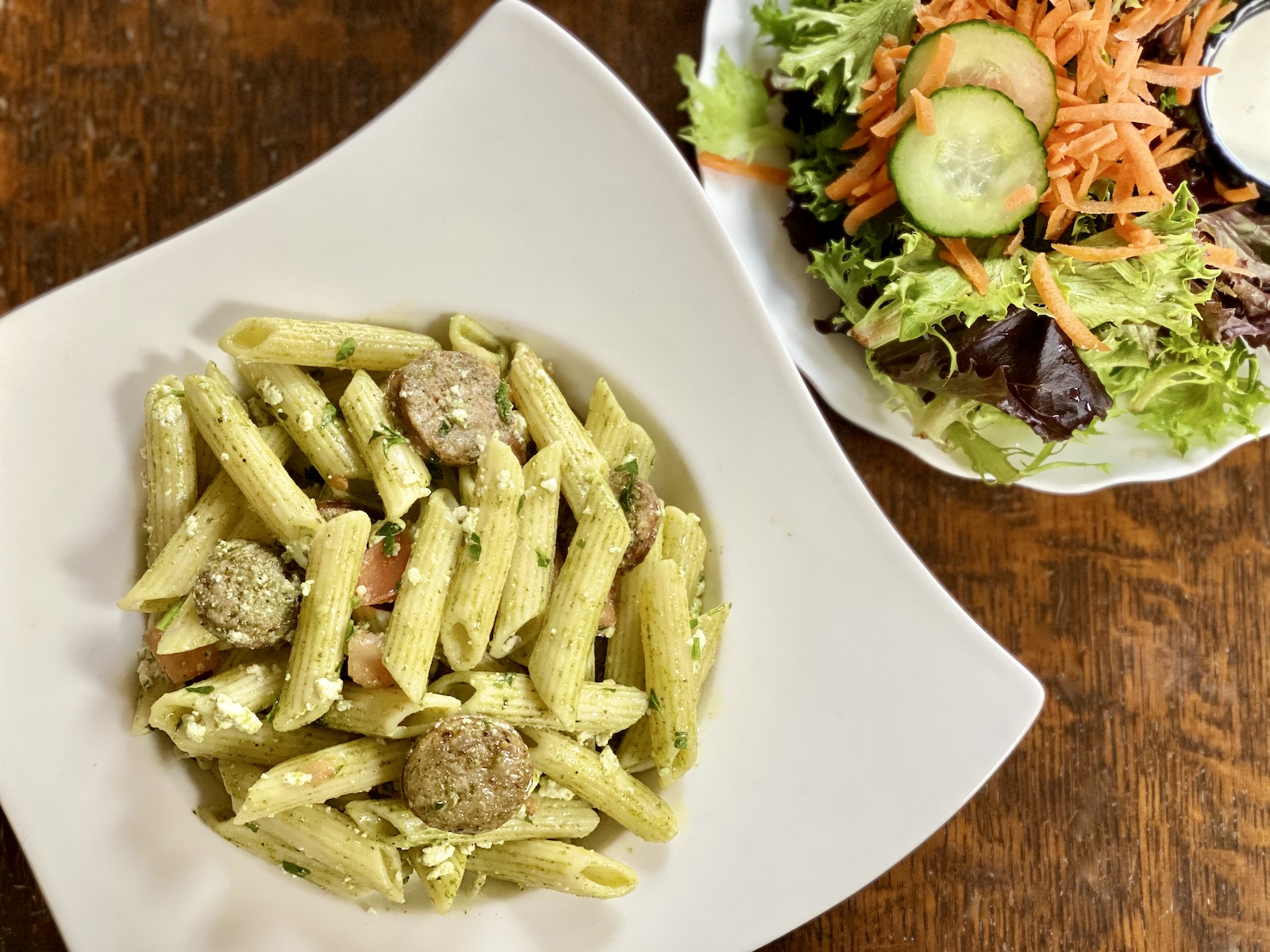 And – of course – we had to get a pizza. We ordered the Calabrese with sausage, arugula, giardiniera, fresh mozzarella and vodka sauce ($16), which worked well as a deep dish thanks in large part to the spicy, savory toppings which made a good match for the thicker crust.
I did take note that it would have been a great idea to specify that the arugula be packaged on the side, as I love the flavor that the fresh herbal leaves add to pizza. But they were still flavorful even as they wilted from the residual heat in the pizza box.

How to order
It's so easy to place your order for curbside pick-up, carry-out or delivery (if you're lucky enough to live within their delivery area). Just head to their website and click delivery or curbside pick-up, peruse the menu and click. Arrive at the assigned time, head in to the pick-up counter, give them your name and retrieve your order.
Tenuta's To Go is open Tuesday through Sunday from 3 to 8 p.m.
Lori Fredrich (Lo) is an eater, writer, wonderer, bon vivante, traveler, cook, gardener and girlwonder. Born and raised in the Milwaukee area, she has tried to leave many times, but seems to be drawn to this quirky city that smells of beer and alewives.
Some might say that she is a little obsessed with food. Lo would say she is A LOT obsessed with food. After all, she has been cooking, eating and enjoying food for decades and has no plans to retire anytime soon.
Lo's recipes and writing have been featured in a variety of publications including GO: Airtran Inflight Magazine, Cheese Connoisseur, Cooking Light, Edible Milwaukee, Milwaukee Magazine and the Milwaukee Journal Sentinel, as well as on the blog Go Bold with Butter, the web site Wisconsin Cheese Talk, and in the quarterly online magazine Grate. Pair. Share.