For the ninth straight year, October is Dining Month on OnMilwaukee, presented by the restaurants of Potawatomi Hotel & Casino. All month, we're stuffed with restaurant reviews, dining guides, delectable features, chef profiles and unique articles on everything food, as well as voting for your "Best of Dining 2015."
There's at least one aspect of restaurant development in Milwaukee that the average consumer never sees, and that's the work and planning that goes into developing a concept and seeing that concept through to fruition.
I was lucky enough to be invited to be a "fly on the wall" at Kahler Slater during the design planning process for the Bartolotta-managed restaurants, which are slated to open in 2016 at The Mayfair Collection. And here's a sneak peek at what I learned.
Previous articles in this series: Concepting, The Tavern, The French Cafe
Tacos are the name of the game for the third Bartolotta-managed concepts in the Mayfair Collection. And the restaurant itself looks like it will prove to be playful, unique and delicious.
The fast casual taqueria, located to the west of the tavern, next to the French cafe and facing southwest, will be highly visible from Burleigh Street. Inside, the restaurant will offer up a fun, trendy environment with chef-driven (translation: extra delicious) tacos.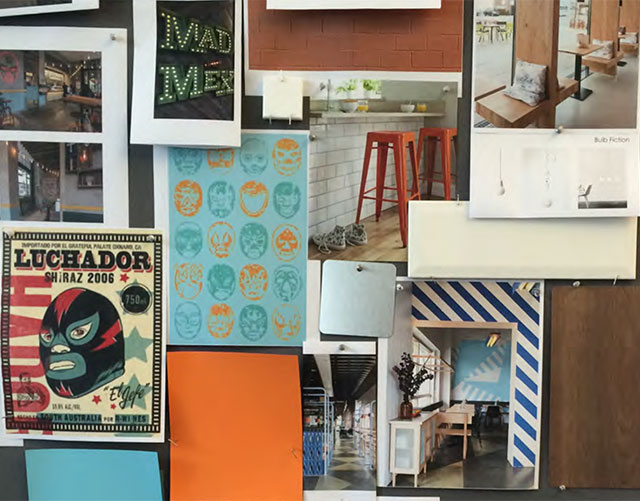 The concept was derived, in part, from personal experiences Joe Bartolotta had during travels to Cabo.
"While we were there, I fell in love with the food and the culture," says Bartolotta. "At one point, I found a Volkswagon bus, which had been modified to accommodate a mobile food business. And I ate their tacos. In fact, they were so good I literally went back there every day to eat more."
The restaurant, which will seat about 50, will utilize the same central kitchen as both the tavern and French cafe concepts – a true asset to the restaurant's menu, which will feature about 10 tacos with regular specials.
"Duck confit we make for the French cafe might translate into a taco," says Bartolotta. "It might be the same if we're doing a really great piece of salmon or wild mushrooms."
Initially, the restaurant was concepted around the celebration of soccer and its place in Mexican culture. Abstract patterns mimicked a soccer field on one wall, with hexagon tiles and a scoreboard-style menu. But, as conversations commenced, the concept changed.
"It wasn't homemade enough." says Bartolotta. "I wanted it to feel a bit more cobbled together, less pristine and chain-like."
A second concept mimicked the inside of a food truck with metal textures, lucha libre masks and playful graphic elements. For instance, the words "Taco Libre," for instance, might be displayed in lights above the seating.
Ultimately, the concept evolved from there.
"Again, we looked at a ton of other concepts to pull together our ideas," says Bartolotta. "Jana Michaelis went to a place in New York to scope out what they were doing there. We also looked at elements on Pinterest…"
Conversations evolved into a discussion of what type of chairs might fit the mood and decor of the restaurant. Should they be folding chairs? Something bright colored and fun?
"Amber [MacCracken] from Kahler Slater is really creative," Bartolotta notes. "So she took what we'd been discussing and pulled things together."
Brand colors were solidified as teal and orange – colors that were fun, bright and very much on trend. There would be subway tiles finished with teal grout and Tivoli string lights would be strewn from the ceiling. Meanwhile, stenciling on the floor would define the middle portion of space in the dining room, mimicking a wrestling ring.
Some details were developed as conversations about the menu got more detailed.
"At first, we didn't know if it would be made to order or build your own tacos," notes Bartolotta. "But, once we settled on the chef-driven made to order concept, we added the details of the ordering counter, where guests will order off of a menu."
From there, the group discussed the possibility of stencils, located on the walls and floor, which would guide customers to the ordering counter. The crew also discussed ways to engage customers with the activity behind the counter.
It was decided that the counter would be outfitted with stools where single diners can engage with the activity behind the counter. Meanwhile, darker colored wooden booths would line the outer portions of the dining room, with more flexible seating available at wooden tables.
Ultimately, the taqueria will also have a name – likely something clever that befits the space. But, a final decision has yet to be made.
All three Bartolotta-managed concepts are set to open this spring. The tavern is likely to open first, in March or April, with the taqueria following and the French cafe opening last.
Stay tuned to OnMilwaukee for more details as they develop.
Lori Fredrich (Lo) is an eater, writer, wonderer, bon vivante, traveler, cook, gardener and girlwonder. Born and raised in the Milwaukee area, she has tried to leave many times, but seems to be drawn to this quirky city that smells of beer and alewives.
Some might say that she is a little obsessed with food. Lo would say she is A LOT obsessed with food. After all, she has been cooking, eating and enjoying food for decades and has no plans to retire anytime soon.
Lo's recipes and writing have been featured in a variety of publications including GO: Airtran Inflight Magazine, Cheese Connoisseur, Cooking Light, Edible Milwaukee, Milwaukee Magazine and the Milwaukee Journal Sentinel, as well as on the blog Go Bold with Butter, the web site Wisconsin Cheese Talk, and in the quarterly online magazine Grate. Pair. Share.