This article was originally published in February of 2018.
"There's no place like home."
This was the recurring theme of many conversations I had last week with individuals who left their home (or adopted home) in New Orleans for a new life in Milwaukee. With Mardi Gras right around the corner, I'd reached out to tap their brains for recommendations for things to eat during the Carnival season.
The suggestions I received were few, and most came with reservations (you can find the complete list below). I wasn't surprised. After all, New Orleans is a mecca for the food-inclined. It's deep culinary roots, diverse cultural influences and coastal geography are all part of what makes it such a unique destination.
What did surprise me is the affection with which so may spoke of Milwaukee, despite their love and nostalgia for their lives in NOLA.
Making Milwaukee home
When Tim Farley moved to Milwaukee after living in New Orleans for eight years, he says he had a very difficult time adjusting.
"I resented everything here that was attempting to replicate New Orleans," he says. "It took a while to realize I was comparing apples and oranges. Now, I love the things that make Milwaukee, Milwaukee. The New Orleans things I love are waiting for me in New Orleans. It took a long time to realize there was no rule against cheering for the Packers and the Saints."
And homesickness isn't a rarity. New Orleans native, Simone Tamara Gautschi, came to Milwaukee four years ago to earn her degree at MIAD. She says she still misses many of the foods she loved back home.
"I think the food that I miss the most is red beans and rice, jambalaya, muffulettas and anything that is home cooked, like gumbo …" she says. "As for celebrating Mardi Gras, I just go out on the weekend before Fat Tuesday and my father will usually send me a king cake from home."
Nonetheless, Gautschi says she's had a great time getting to know Milwaukee. "I love the city, it actually reminds a lot of home," she say. "I really like it here in the summer when you can bounce around from festival to music in the square back to festival. I also love the brewery and coffee scenes up here too."
Jason Bohn, who spent five years living in Baton Rouge with his aunt and uncle, says the foods he misses most are the po'boys and king cake. "I've tried most of the 'New Orleans style' restaurants up here and they really bum me out more than anything else. If I had to pick a po'boy, The Farmer's Wife has a pretty good one … but it was like $15 and made me a 'po boy.'"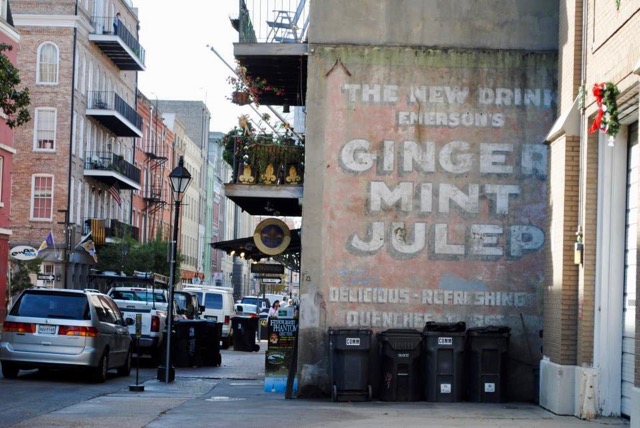 Cooking up memories
In lieu of trying to find beloved dishes, some have taken to making their own. Nicole Hensch, who lived in New Orleans for seven years, says she makes a variety of favorites.
"I get crawfish tails from Empire Fish and make my own crawfish Monica and etouffe. I also make my own king cake. I've yet to find a beignet that comes close. I always go to Maxie's on Lundi Gras; their boudin balls are a treat. Barnacle Bud's crawfish boil saves my life once a year ... otherwise I'd be flying in my own live crawfish, as well."
Maggie Lynch Gray is another who says when she craves a bit of home, she recreates it herself.
"I miss fresh seafood the most," she laments. "And I still haven't found a good source in Milwaukee." She says she regularly makes king cake for Mardi Gras, as well as a variety of other dishes. "We make red beans and rice every Monday and have introduced gumbo to several of our friends."
Restaurateurs might want to take note of the feedback from Brenda Lehman Gorenc, a New Orleans native who moved to Milwaukee in 2004. She says she has a laundry list of items she thinks could be replicated well in Milwaukee, but haven't been: "good southern potato salad, chicken and andouille jambalaya, muffulettas and beignets. These items don't require too much effort nor do they call for seafood that would drive the price up in these parts."
Little pieces of NOLA
Risha Cupit-Berzins, who was born and raised in New Orleans before moving to Milwaukee just after Hurricane Katrina, says there's simply no substitute for the food in her hometown.
"I love Milwaukee, the people and my life here. But it's hard to replicate NOLA food elsewhere," she says. "It's the same with local food anywhere. I miss real gumbo, too. Instead, I get seafood bisque if it's available at a nice restaurant. Hungry Sumo on KK has good sushi, much like Wasabi in the Marigny neighborhood of NOLA. That's a great substitution. We still order king cakes from NOLA. King Cake King is the best, to me."
Another New Orleans native, who chose to remain nameless, agrees. "I miss whole live crabs and crawfish … oh, and head-on shrimp. I have to order them online," she says, noting that the crabs carried by local stores are always too small. "And king cake. Nobody comes close."
As for fried chicken, she says: "Popeyes fills the void, but I tell people to get Popeyes in New Orleans to see how much it differs outside of Louisiana."
Most, like Christin Logarakis, who moved to Milwaukee after living in New Orleans for five years, note that it's difficult to stay away from The Big Easy. "I go back twice a year, every year," Logarakis says. "I can't stay away longer than six months at a time."
And while nothing compares to Mardi Gras in New Orleans, Logarakis says throwing her own shindig is the next best thing. So she hosts a Mardi Gras party every year on Fat Tuesday at The Landing, 2234 E Layton Ave.
Get a taste
If you're looking to get a taste of New Orleans in Milwaukee, here are the products, beverages and dishes that made the cut:
The "Milwaukee Muffaletta" at Glorioso's, 1011 E. Brady St.
The muffaletta panini at the G. Groppi Food Market, 1441 E. Russell Ave.
The fried oysters at St. Paul's Fish in the Public Market, 400 N. Water St.
Andouille sausage from Ray's Butcher Shoppe, 4640 W. Loomis Rd.
The sazerac at Maxie's, 6732 W. Fairview Ave.
The annual crawfish boil at Barnacle Buds, 1955 S. Hilbert St. (held in early June)
Popeye's fried chicken (multiple locations in metro Milwaukee)
Cafe du Monde coffee at Pacific Produce, 5455 S. 27th St.
The po'boy at The Farmer's Wife, 6533 W. Mitchell St.
King Cake from Aggie's Bakery, 7328 W. Greenfield Ave.
Another Mardi Gras favorite that was mentioned by multiple New Orleans natives was the annual Lundi Gras and Mardi Gras parties at Maxie's, 6732 W. Fairview Ave.
Lori Fredrich (Lo) is an eater, writer, wonderer, bon vivante, traveler, cook, gardener and girlwonder. Born and raised in the Milwaukee area, she has tried to leave many times, but seems to be drawn to this quirky city that smells of beer and alewives.
Some might say that she is a little obsessed with food. Lo would say she is A LOT obsessed with food. After all, she has been cooking, eating and enjoying food for decades and has no plans to retire anytime soon.
Lo's recipes and writing have been featured in a variety of publications including GO: Airtran Inflight Magazine, Cheese Connoisseur, Cooking Light, Edible Milwaukee, Milwaukee Magazine and the Milwaukee Journal Sentinel, as well as on the blog Go Bold with Butter, the web site Wisconsin Cheese Talk, and in the quarterly online magazine Grate. Pair. Share.