"Bar Month" at OnMilwaukee is back! For the entire month of March, we're serving up fun articles on bars, clubs and beverages – including guides, the latest trends, bar reviews, the results of our Best of Bars poll and more. Follow along with the #DrinkOnMke hashtag too. Grab a designated driver and dive in!
In this series, we're on the hunt for some of the area's best fish fries. You'll find commentary, pro tips and ratings of the three staples of a classic Wisconsin fry: namely the fish, the potato pancakes, and the classic Wisconsin style brandy old fashioned. View all fish fry reviews here.
Slick Willies
2301 12th Ave., South Milwaukee
(414) 762-1974
facebook.com/SlickWillysBarAndGrill
Is it a baseball bar? A biker bar? A classic Milwaukee watering hole with above average food? Slick Willies appears to be all of the above. And it's tucked away in South Milwaukee among a host of other neighborhood bars. And it's a hidden gem, for sure.
Slick Willies skews in the louder side thanks to a mix of chatty regulars and what I like to call "bar rock" playing on the stereo. Surprisingly, it wasn't filled to the gills at 6 p.m. in a Friday night during Lent. But I'm not one to look a gift horse in the mouth. After all, it was the fish fry I was after.
Fish fry offerings include beer battered cod (four pieces for $8.99 or two pieces for $5.99); breaded shrimp ($8.99); beer battered walleye ($10.99); or a sampler platter with cod, walleye and shrimp for $10.99. Fish fries are served with coleslaw, tartar sauce, buttered marble rye and guests' choice of fries or potato pancakes. Also included are soup (clam chowder) and salad, both of which can be procured from the buffet at the back right of the bar. No matter which way you cut it, the Slick Willies fish fry is a deal.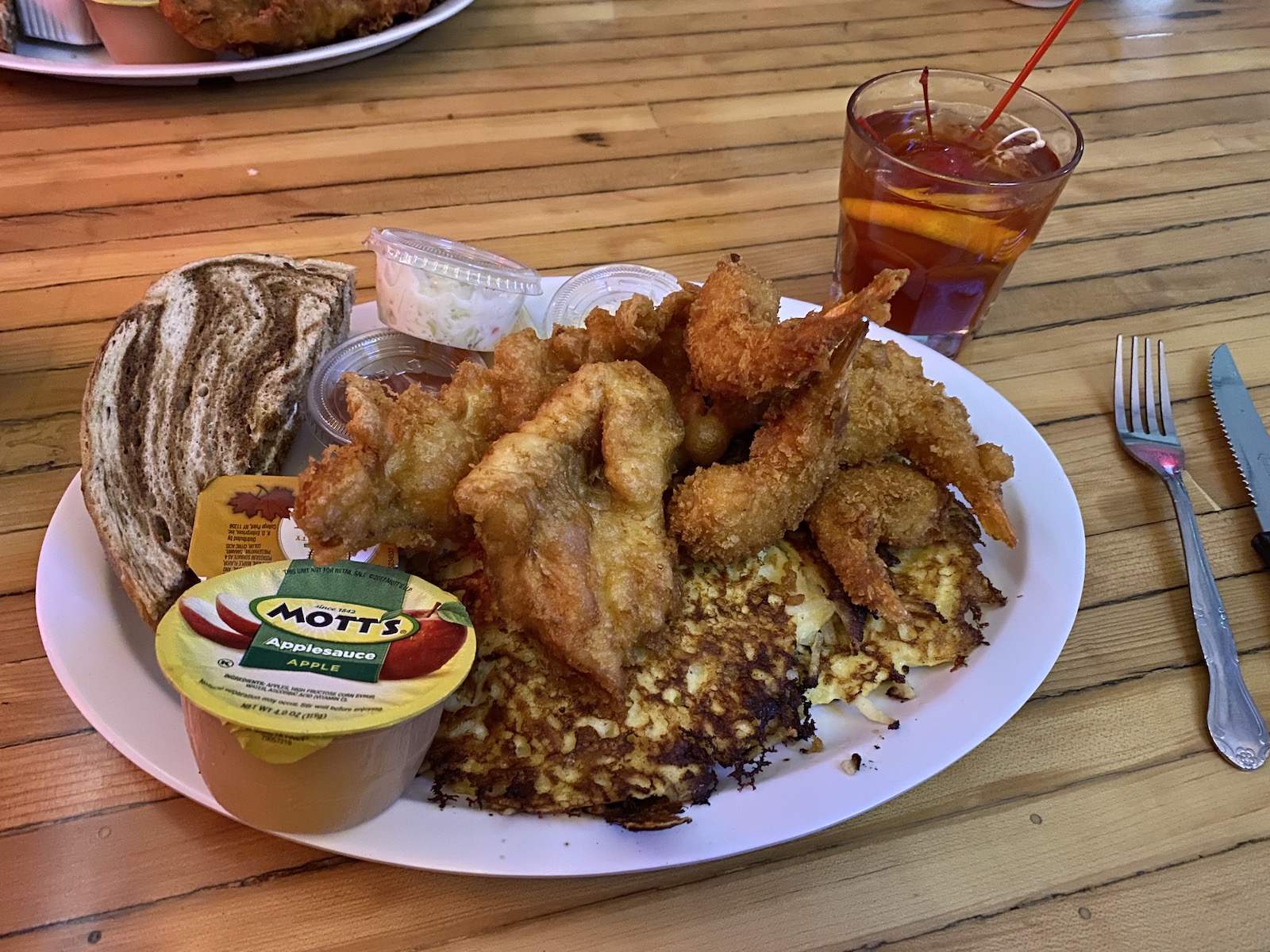 The fish
In an effort to try each of the fish offerings, I opted for the sampler, which included one large walleye filet, a large piece of cod and breaded shrimp.
Both the cod and walleye were fried in a flavorful beer batter that was light and crisp and not too greasy. Each fish retained its individual character, the cod boasting tender flesh and a mild, sweet flavor and the walleye showing off its earthier lake fish qualities (along with a few stray pin bones).
The shrimp were standard issue, but they did make me feel a bit nostalgic for the days when ordering up a plate of fried shrimp (or popcorn shrimp, which was popular at the time) was one of my childhood indulgences.
The potato
The housemade potato pancakes weren't hashbrowns, but they resembled them in build. Comprised of shredded potatoes, a smattering of green onions and a thin batter which fell through the shredded potatoes, they cooked up very much like a crepe, with a moist, loose texture and a mottled exterior that boasted little lacy edges.
They were neither crisp nor notably seasoned, and (like hashbrowns), they fell apart readily when prodded with a fork. While I probably wouldn't have traded them for fries, I found myself torn. On the one hand, they're not serving up little prefab potato patties, as so many bars do. On the other, it was hard to deny that they would have benefited greatly from a bit of salt, a more effective binding agent, and the crispness that truly sets a lovely potato pancake apart.
The old fashioned
All of that said, the classic muddled cocktail at Slick Willies put a great number of its watery counterparts to shame. The drink was pleasingly brandy forward with a solid bitters presence, two cherries skewered on a sword and tell-tale grit from the addition of sugar. It was enjoyable to drink and – as Wisconsin style old fashioneds are concerned – as solid as they come. At just $4, this was the sort of cocktail that made me feel as if I'd just traveled back in time.

Slick Willies is open daily from 6 a.m. to 2 a.m.
Got suggestions for our next fish fry? Email lori@staff.onmilwaukee.com with your suggestions. Suggested fish fry menus should (ideally) include at least one lake fish option (walleye, perch), potato pancakes and a stellar old fashioned.
Lori Fredrich (Lo) is an eater, writer, wonderer, bon vivante, traveler, cook, gardener and girlwonder. Born and raised in the Milwaukee area, she has tried to leave many times, but seems to be drawn to this quirky city that smells of beer and alewives.
Some might say that she is a little obsessed with food. Lo would say she is A LOT obsessed with food. After all, she has been cooking, eating and enjoying food for decades and has no plans to retire anytime soon.
Lo's recipes and writing have been featured in a variety of publications including GO: Airtran Inflight Magazine, Cheese Connoisseur, Cooking Light, Edible Milwaukee, Milwaukee Magazine and the Milwaukee Journal Sentinel, as well as on the blog Go Bold with Butter, the web site Wisconsin Cheese Talk, and in the quarterly online magazine Grate. Pair. Share.