'Tis Dining Month, the tastiest time of year! This means we're dishing up fun and fascinating food content throughout October. Dig in, Milwaukee!
OnMilwaukee's Molly Snyder is on a mission during Dining Month to find the best gyros in Milwaukee. Dare we say she's "On The Lamb" this October?
The Gyro Stand
1110 E. Oklahoma Ave., (414) 737-0764
gyrosstand.business.site
The Gyro Stand is the perfect mingle of Greek and Milwaukee culture with a menu primarily comprised of gyros and custard. They also serve about a dozen different burgers.
After driving by The Gyro Stand at least 10,000 times during my lifetime, I finally pulled into the small parking lot next to the humble structure adorned with palatial murals.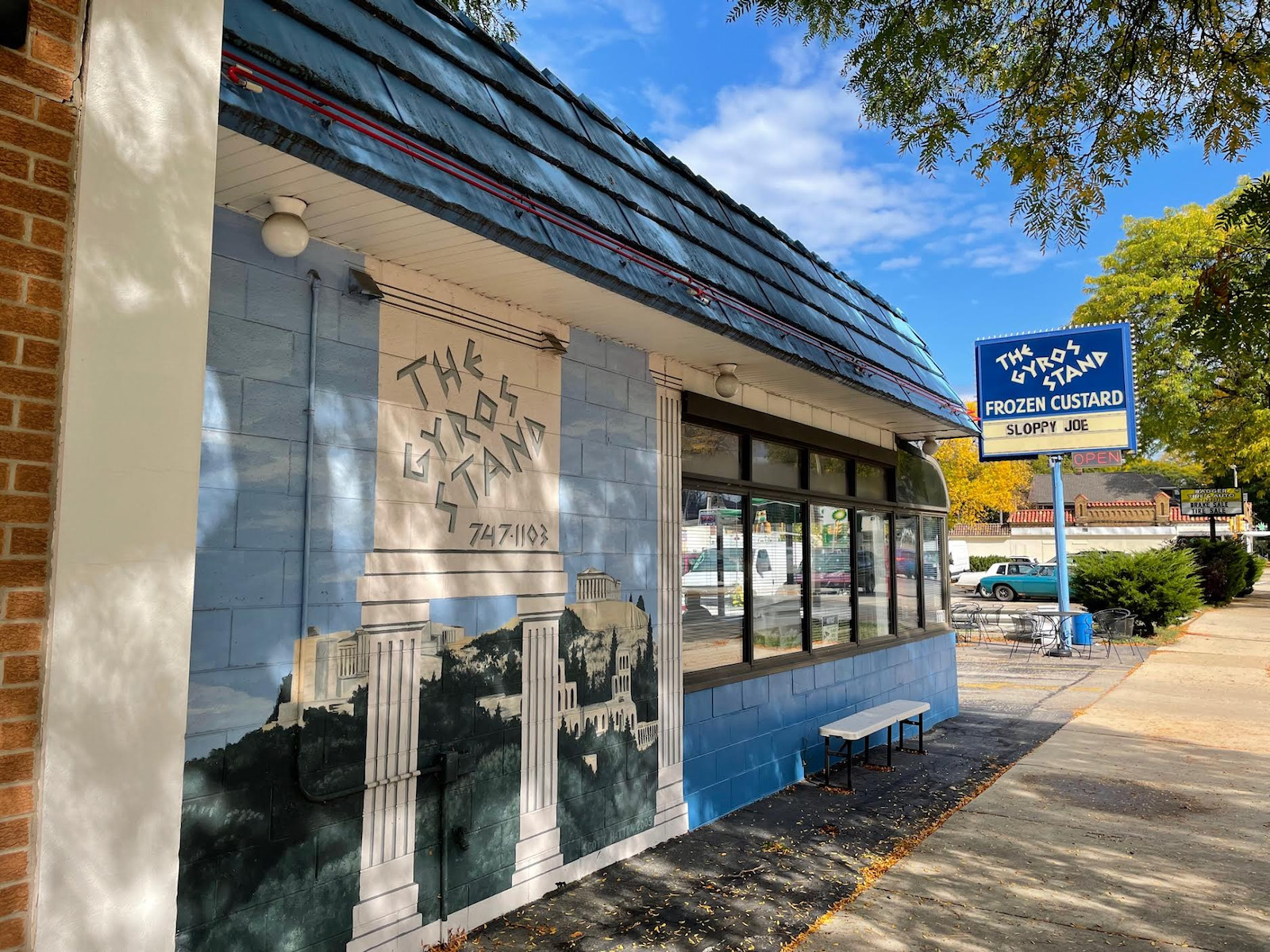 Customers walk up to the counter to order food and then sit at one of a few booths or tables or get their goods to go. My dining mate and I slid into a purple upholstered booth and got to work.
And eating a gyro is work. Like most, this gyro was a mountain: plush pita bread piled high with medium-thick slabs of shaved lamb, raw onion circles, slices of bright red tomatoes and, per our choice, a thick and creamy Tzatziki sauce. Thus, if one desires a bite of all the ingredients at once, it gets tricky. And messy. Gyros are difficult to fold and eat because they are so generously topped. Thus, some prefer to eat gyros with a fork. We did both.
The Gyro Stand's meat, made from lamb and beef and cooked on a traditional vertical rotisserie, was neither dry nor moist and flavorful with hints of garlic, cumin, oregano, salt and pepper.
It wasn't a surprise in any way, rather exactly what we want from a gyro. And the Styrofoam container was packed with enough food for two people or leftovers for the next day.
The Gyro Stand's gyro plate comes with a side of crinkly, crispy, thin fries, a salad with olives, feta and oily dressing, and a soda. Extra meat is available, but 99.99 percent of the time, completely unnecessary.
We were, sadly, too full for custard, but will be back for something called a blueberry pie sundae and a gyro dinner – to share.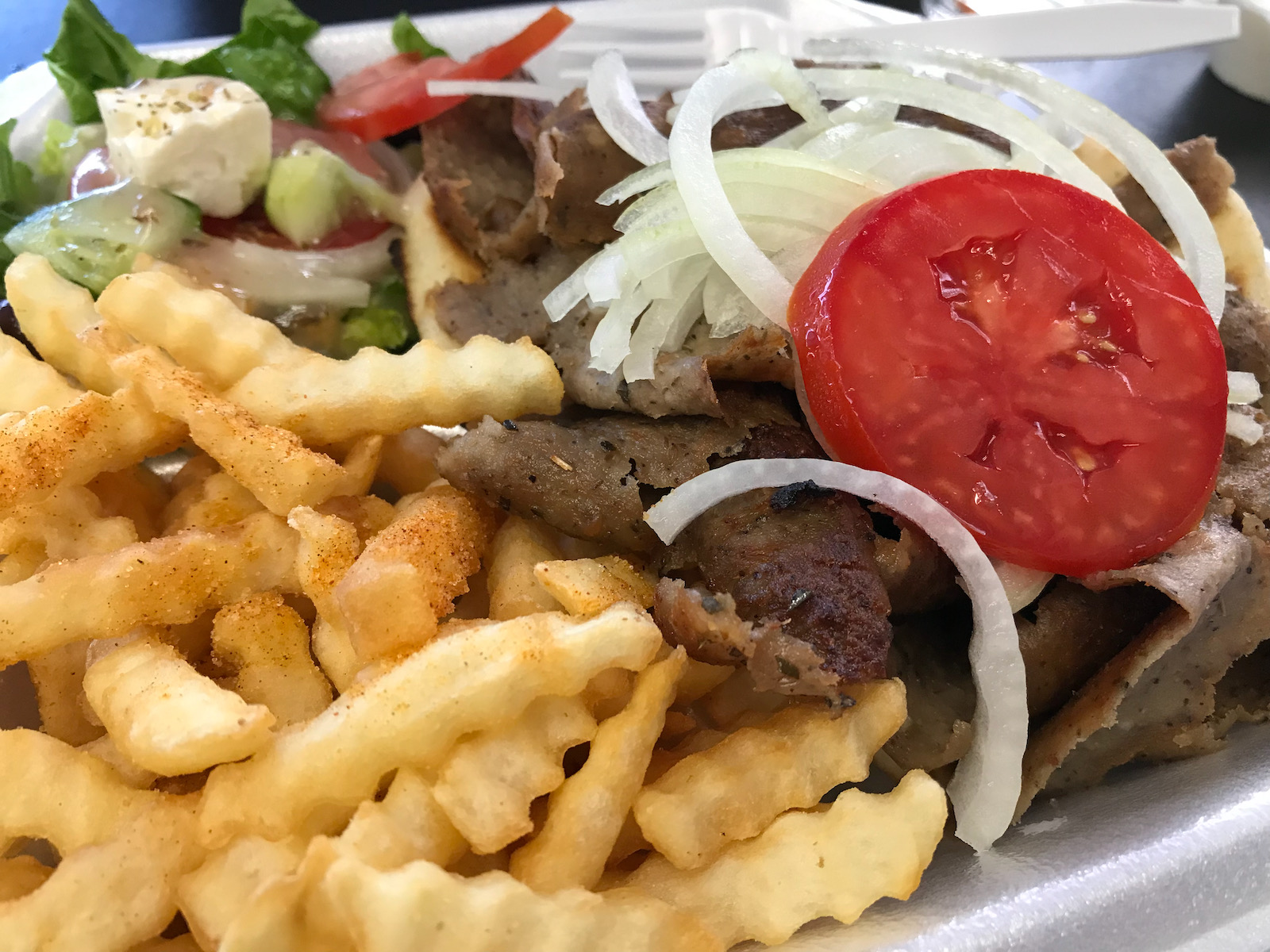 Molly Snyder started writing and publishing her work at the age 10, when her community newspaper printed her poem, "The Unicorn." Since then, she's expanded beyond the subject of mythical creatures and written in many different mediums but, nearest and dearest to her heart, thousands of articles for OnMilwaukee.

Molly is a regular contributor to FOX6 News and numerous radio stations as well as the co-host of "Dandelions: A Podcast For Women." She's received five Milwaukee Press Club Awards, served as the Pfister Narrator and is the Wisconsin State Fair's Celebrity Cream Puff Eating Champion of 2019.