Enjoy one of our favorite pieces from the past year – and here's to a wonderful start to 2023!
As diners, we often presume an understanding of restaurant industry economics based on our knowledge of supermarket pricing. But how much we pay for ground chuck, chicken breasts or seafood at the grocery store truly has no connection to how much a dish costs (or should cost) at a restaurant.
That's largely because the cost to make a dish at a restaurant includes far more than just the cost of the food itself. It includes the cost to pay the people who cook the food, along with the people who serve it to you. Beyond that, it includes a slew of "invisible costs" from the cost and maintenance of kitchen equipment to the monthly cost for rent and utilities. In the end, the price of food on a restaurant's menu reflects the costs of operating the business.
All of those costs add up extremely quickly, especially for restaurants that spend money on high quality items, source local ingredients, pay their employees fairly and provide their customers with a hospitality-driven full-service experience.
To help explain how it all breaks down, I spent an afternoon with Katie Rose and Chef Paul Zerkel, two of the owners of Goodkind. During our time together, they opened up their books, candidly shared invoices and divulged information pertaining to wages, operational costs and food costs.
Using this information, we were able to calculate exactly how much it costs for them to make their $17 Burger Nite Burger and how much of that comes back to them in profit.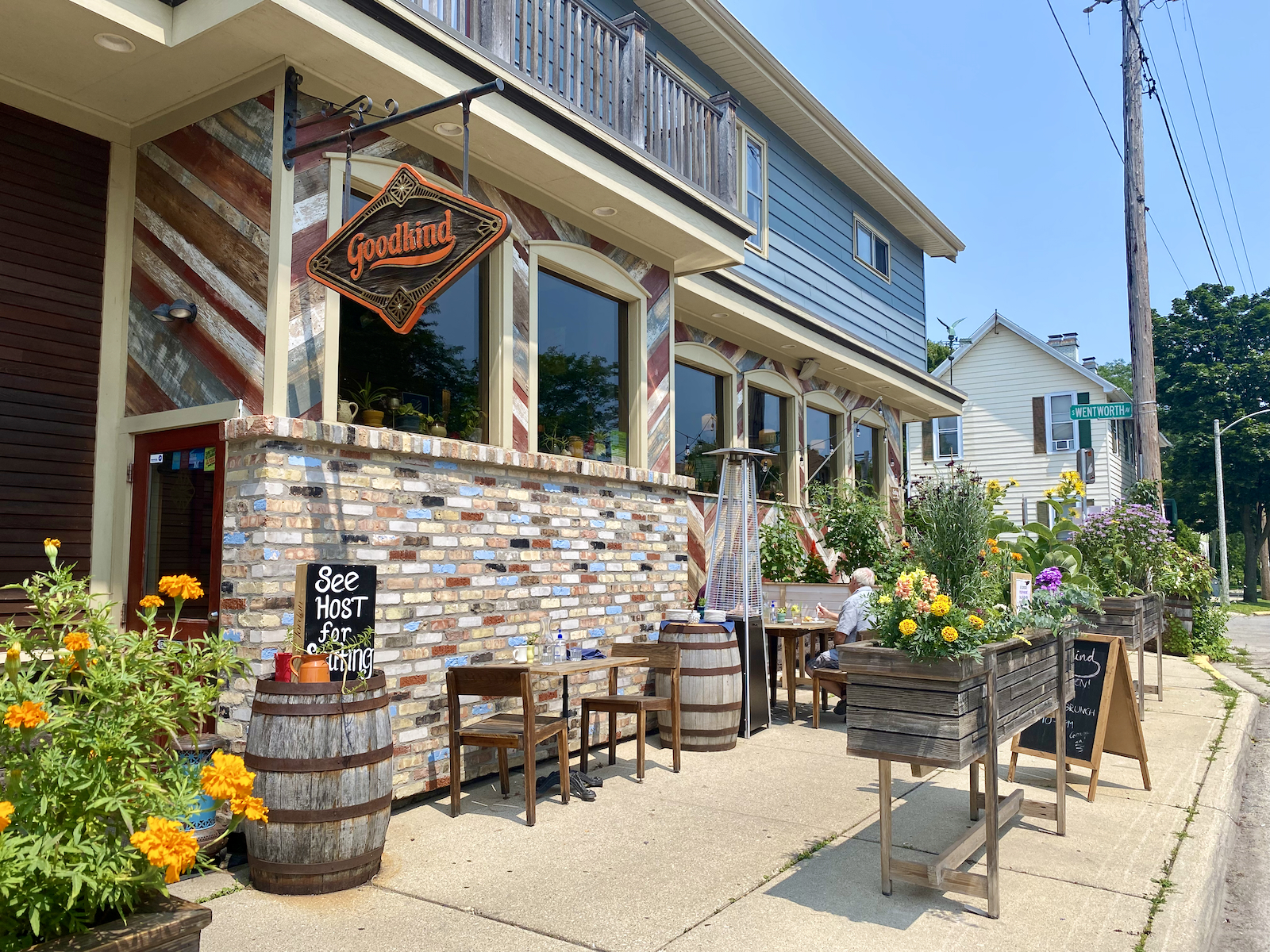 First, a little background
For those who aren't familiar with Burger Nite at Goodkind, it's a beloved and long-held tradition which launched about a year after the restaurant opened.
To encourage folks to stop in on Tuesday night (initially among the slowest nights for the restaurant), they began offering a weekly burger special. Designed by Zerkel, the toppings on the weekly burgers changed every week, varying between straightforward and downright wild.
For instance, on a Tuesday in September of 2018 when I stopped by to review their burger for my Burger Trail series, they were serving up a half-pound burger topped with heirloom tomato, sweet onion, quick pickle relish, yellow mustard, Piparra peppers and celery seed. Essentially it was a riff on the classic Chicago dog (a burger "dragged through the garden," if you will).
In 2018 – which was irrefutably the heyday for Burger Nite – the Bay View restaurant was selling right around 100 burgers a week. But, even then, nobody was making bank on the Goodkind burgers.
"It's never been a money maker for us." notes Katie Rose, who not only creates the cocktails on the Goodkind menu, but handles various tasks including finances for the restaurant. "It would be different if we used cheaper ingredients, but that has never been the goal. We create burgers that reflect what Goodkind is, and that means keeping quality high and sustainability in mind. The meat we use doesn't travel very far. The buns we use are made just down the street. And all of that matters to us and factors into our decision."
Pricing for the Tuesday night burgers started out around $12 and incrementally increased over the years, topping out at about $15 (just before the pandemic). Even then, in almost every case, the burger was a break-even proposition at best.
"We've continued to do it because it draws people in," says Zerkel. " And I have a lot of fun with it. It's become a signature item and it's also become a neighborhood thing. On weekends, we attract folks from everywhere, including folks who drive up from Illinois. But on weeknights we see a lot of regulars and many of them live in the area. And we have regulars who come in every week just to get a burger."
Due to the rising cost of food post-pandemic, Goodkind's burger is currently fetching $17. On average, the restaurant sells between 50 and 60 a week. And most people casually assume that, at $17 a burger, Goodkind must be making a pretty hefty profit.
Other people, like this gentleman who wrote a public Google review about his Burger Nite experience at Goodkind, actually believe that they're getting ripped off.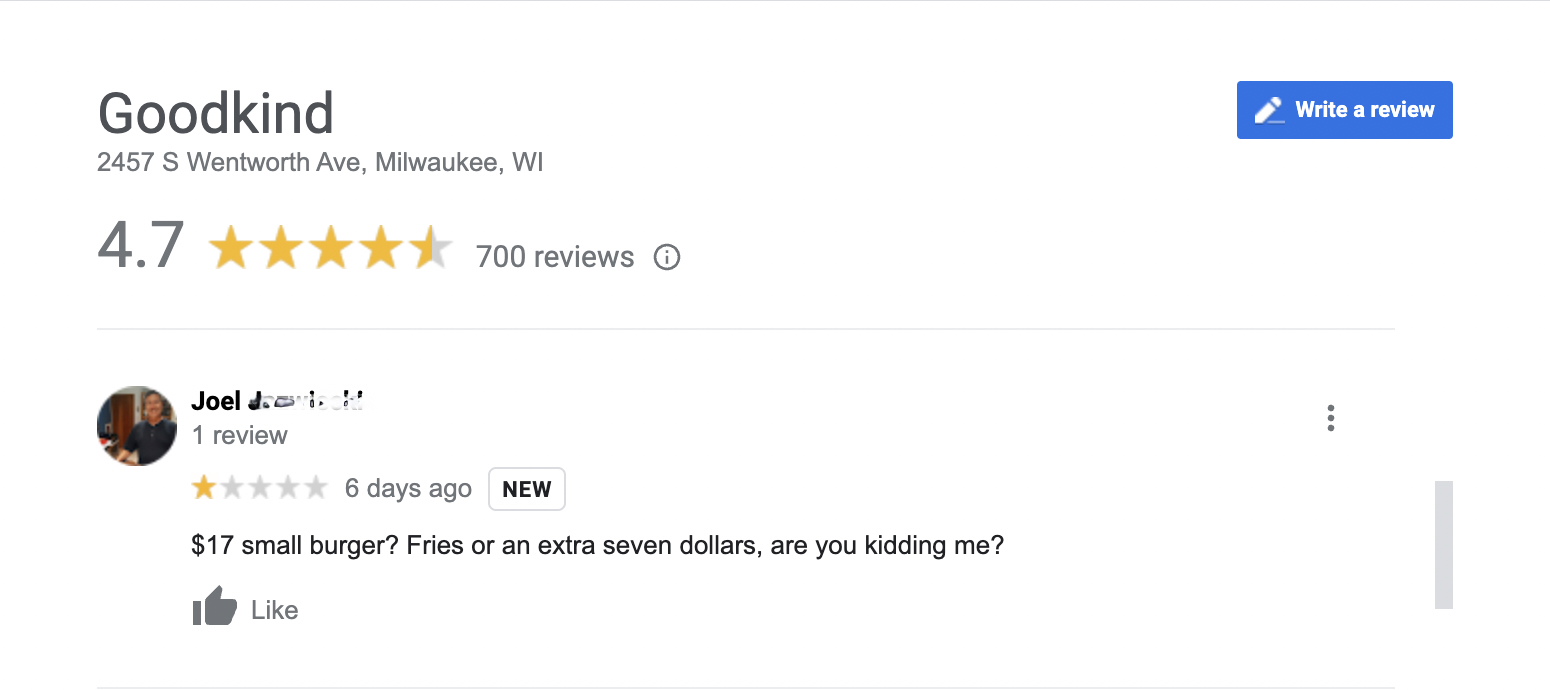 But would you believe me if I told you that 60 burgers – after the basic costs of making them are calculated – only nets Goodkind $35.40?
It's true. And yes, the rising cost of food absolutely contributes to that fact. But the cost of beef (or buns or cheese) is only part of the bigger picture.
The breakdown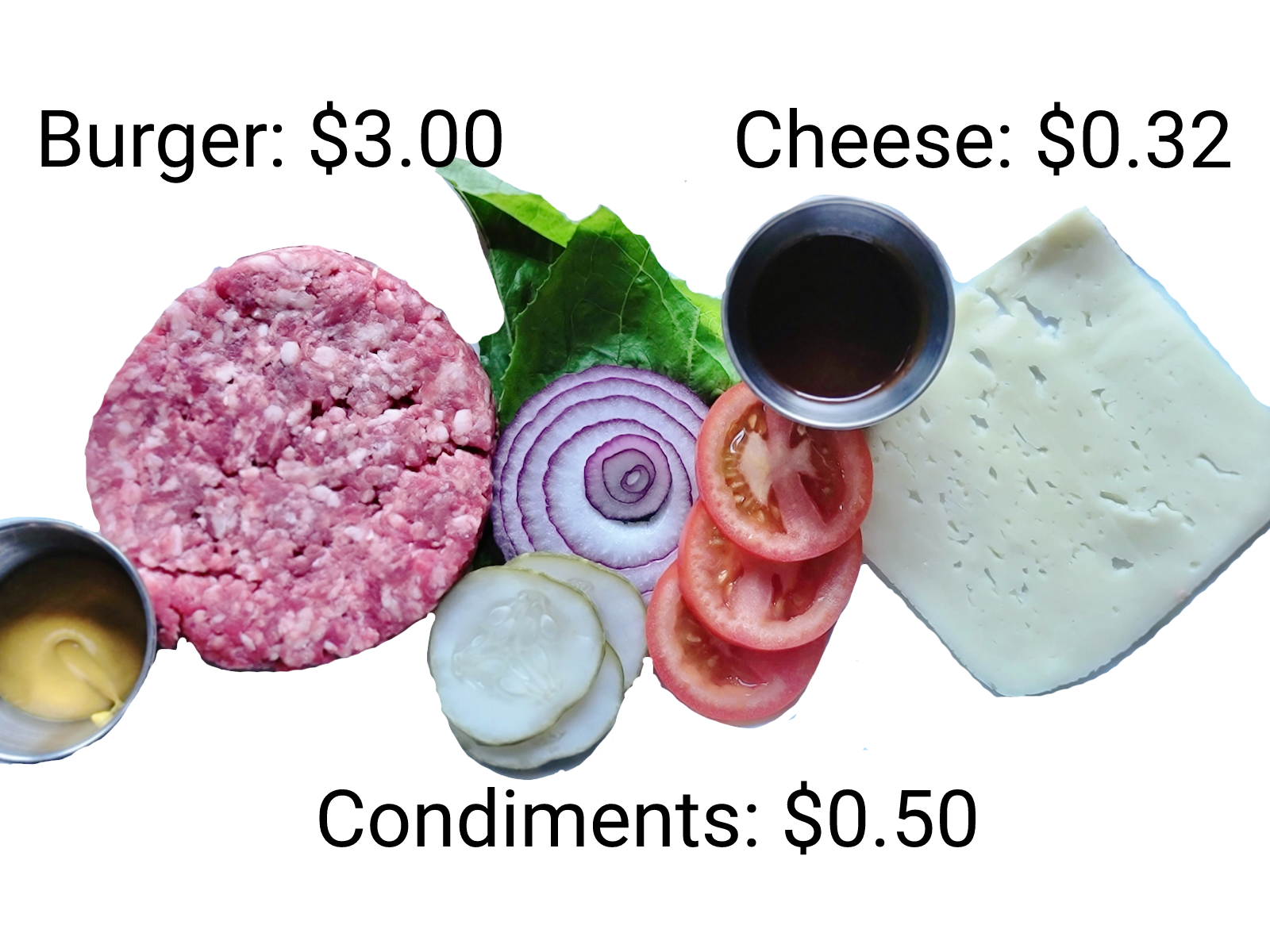 Before we get into the actual numbers, it's important to note that Goodkind sources Wisconsin-raised 21-day dry-aged beef for their burgers. They save a bit of money on the cost of the beef (while upping the quality for customers) by purchasing it in whole cuts and grinding it in house; in exchange, they spend a bit more on preparation/labor. Goodkind also saves money by making most of the specialty toppings for their burgers, rather than buying them prepared/pre-made.
That said, here's how the costs for an average Goodkind burger break down.
MENU PRICE: $17
FOOD COSTS: $5.69
Bun: $0.87
6 ounces of ground beef: $3
Cheese: $0.32
Classic condiments (ketchup, mustard, onion, pickle): $0.50
Specialty toppings: $1.00 (this is on the low side for most Goodkind burgers)
LABOR COSTS (15 minutes): $10.72
Preparation (grinding meat, preparing ingredients): $5.72
Cooking, building burger, plating: $5
Let's stop here and do the math.
$17.00 (menu price)
-05.69 (food cost)
-10.72 (labor cost)
------------------------
$0.59 (profit)
And that super simple math doesn't even account for everything. For example, things change if a customer orders their burger for carry-out. For one burger, we'd have to add a compostable/biodegradable carry-out box ($0.36) along with a recycled paper bag with handles ($0.41). That would result in a profit deficit of -$0.18.
Goodkind doesn't use a third party delivery service, but if they did (as many restaurants do), it would likely cost them an additional $2.51 for the service. This is a generic estimate based on a cost of 13% plus $0.30 per order, which is pretty average for most delivery services (though they vary from company to company and sometimes from venue to venue). Subtract that delivery fee (and the aforementioned carry-out packaging) and a single burger would result in a profit deficit of -$2.69.
Even if a customer is enjoying their burger in the dining room at Goodkind, the breakdown above also does not account for the additional labor needed to provide a full dine-in experience.
First, the labor costs above only account for Goodkind kitchen staff who actually prepare the ingredients and make the burger (most of whom make an average of $18 per hour). What it doesn't include are the salaries for the two additional cooks in the kitchen, a dishwasher and all front-of-house staff including the host, general manager, bartender or server, all of whom work together to provide the Burger Nite experience for dine-in customers.
That's a keen reminder that the most valuable players in any restaurant are the folks you never see. These are the people who prepare the food before the cooking even happens. They are the employees who wash the dishes, the people who order the food, pay the bills and clean the restaurant. They are the people who look at the guest list for the evening to determine if there's anyone with a birthday, allergies or special circumstances which need to be acknowledged or attended to.
If we include everyone who contributes to that experience, the actual cost of the labor needed to operate Goodkind for 15 minutes on an average Tuesday is $60.60 ($242 an hour).
The other big factor here that isn't included are the very basic foundational costs that come with operating a restaurant. These include things like rent, utilities, insurance, banking charges, POS system, garbage collection, pest management, hood cleaning, phone and internet service, linen service, knife sharpening (the list goes on).
One doesn't even need to see estimated costs for these additional items to understand that the $17 charge for the burger in question doesn't even begin to cover the expenses incurred to make it.
Why care?
The point of this article isn't to discourage you from heading to Goodkind – or any other restaurant – and eating a potentially underpriced dish. The point is to offer you a better understanding of the true cost of food and the impact of your purchase.
In the end, understanding at least a modicum of the economics that go into operating a restaurant and providing a hospitable experience should make us better diners.
Maybe it will inspire you to order a beer or cocktail with your burger (the margins on alcohol are always higher than food). It might prompt you to order an appetizer alongside. Even better, it might encourage you to visit more regularly, be generous with your tipping and exercise a higher level of patience when it comes to responding to the service you receive.
Even if it simply prevents you from writing an unnecessarily pointed (and uninformed) review on Yelp or Google, this article was well worth the time and effort it took to write.
Lori is an avid cook whose accrual of condiments and spices is rivaled only by her cookbook collection. Her passion for the culinary industry was birthed while balancing A&W root beer mugs as a teenage carhop, fed by insatiable curiosity and fueled by the people whose stories entwine with each and every dish. She's had the privilege of chronicling these tales via numerous media, including OnMilwaukee and in her book "Milwaukee Food." Her work has garnered journalism awards from entities including the Milwaukee Press Club.
When she's not eating, photographing food, writing or recording the FoodCrush podcast, you'll find Lori seeking out adventures with her husband Paul, traveling, cooking, reading, learning, snuggling with her cats and looking for ways to make a difference.