During a recent interview with Milwaukee creative Adam Carr, he pointed out that Historic Mitchell Street has people living and / or working there from every continent in the world. Dimity Grabowski, the owner of Think Resale, 1017 W. Mitchell St., represents Australia.
Grabowski, originally from Sydney, has lived in the United States for 24 years. She met her now-husband, Darin, while "on holiday." He was in the army at the time and the two got married, raised three children and, about five years ago, decided they wanted to start a local business.
The Grabowskis live in Oak Creek, but they knew they wanted to open a business in the city. They looked at many different locations, but decided Mitchell Street was the best fit for them.
"I love Mitchell Street. The old meets the new here," she says. "I love the hustle and bustle. It's a very international area. And I feel very safe here."
In 2011, the couple bought the 125-year-old building where the shop is now located.
"From the moment I saw this building, even though it needed a lot of work, I saw the potential. I saw it in technicolor, like Dorothy when she first steps into Oz," says Grabowksi.
Darin did most of the renovating himself, with the help of members of the Oak Creek football team where their youngest child attended school at the time.
"The boys helped us immensely. They made $8 an hour and all the pizza they could eat," says Grabowski.
The couple opened Think Resale in October 2011 and within a few years bought the building next door and expanded the business in early 2015.
"Punched a hole in the wall and here we are," she says.
Think Resale offers vintage / used items including furniture, clothing, glassware, kids items, books, instruments, art and more. The offerings are creatively and thoughtfully displayed and Grabowski says she is very picky about what she sells in her store.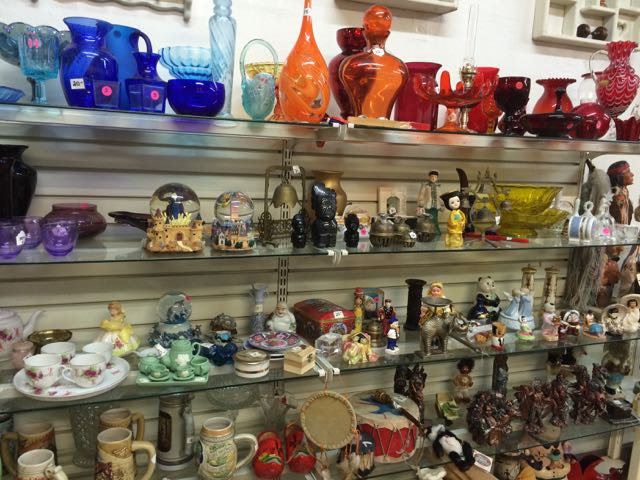 "No rips, no stains, no tears," she says. "We take a lot of pride in our items. You could pick up our shop and put it on Brady Street or Water Street in the Third Ward and it would do well there, too."
Getting to know her customers has been most important to Grabowski. She has befriended many of her customers and hired a few to work in the shop. She is also learning to speak Spanish and samples cuisines from around the world that are brought in from her customers.
"How did your wife like the Brett Favre picture?" she asks a repeat customer when he walks through the door. "Did she put it above the bed?"
Later, a mother with a couple of kids walks in. "Hola, Lucy. Hola, Nicholas!" she says. "I get to know all of my customers – their likes and their dislikes. I love people and I feel like I have all the time in the world."
Grabowski serves on the neighborhood's Business Improvement District organization and has a lot of hopes and plans for the future of Mitchell Street.
"Right now, I am most focused on getting a coffee shop here like a Colectivo," she says. "We also need more restaurants, maybe something similar to Transfer Pizza, and a grocery store."
Because of the demands of owning a small business, Grabowski says they don't get back to Australia as often as they used to. In her 24 years in the Milwaukee area, she has yet to meet another Australian.
"I've met a lot of British people, though," she says. "But that's OK. Milwaukee is my home and my shop is my home away from home."
Think Resale is open Tuesday-Friday from 10 a.m. to 6 p.m. and Saturdays from 10 a.m. to 4 p.m.

Molly Snyder started writing and publishing her work at the age 10, when her community newspaper printed her poem, "The Unicorn." Since then, she's expanded beyond the subject of mythical creatures and written in many different mediums but, nearest and dearest to her heart, thousands of articles for OnMilwaukee.

Molly is a regular contributor to FOX6 News and numerous radio stations as well as the co-host of "Dandelions: A Podcast For Women." She's received five Milwaukee Press Club Awards, served as the Pfister Narrator and is the Wisconsin State Fair's Celebrity Cream Puff Eating Champion of 2019.