Tied House's gorgeous "Elements of Nature" outdoor summer haven may have gone into hibernation for the season, but the Third Ward cocktail bar is by no means out cold for the winter. Instead, its cozy patio space has gotten even cozier, venturing back into the mountains for the return of its Apres Ski winter chalet.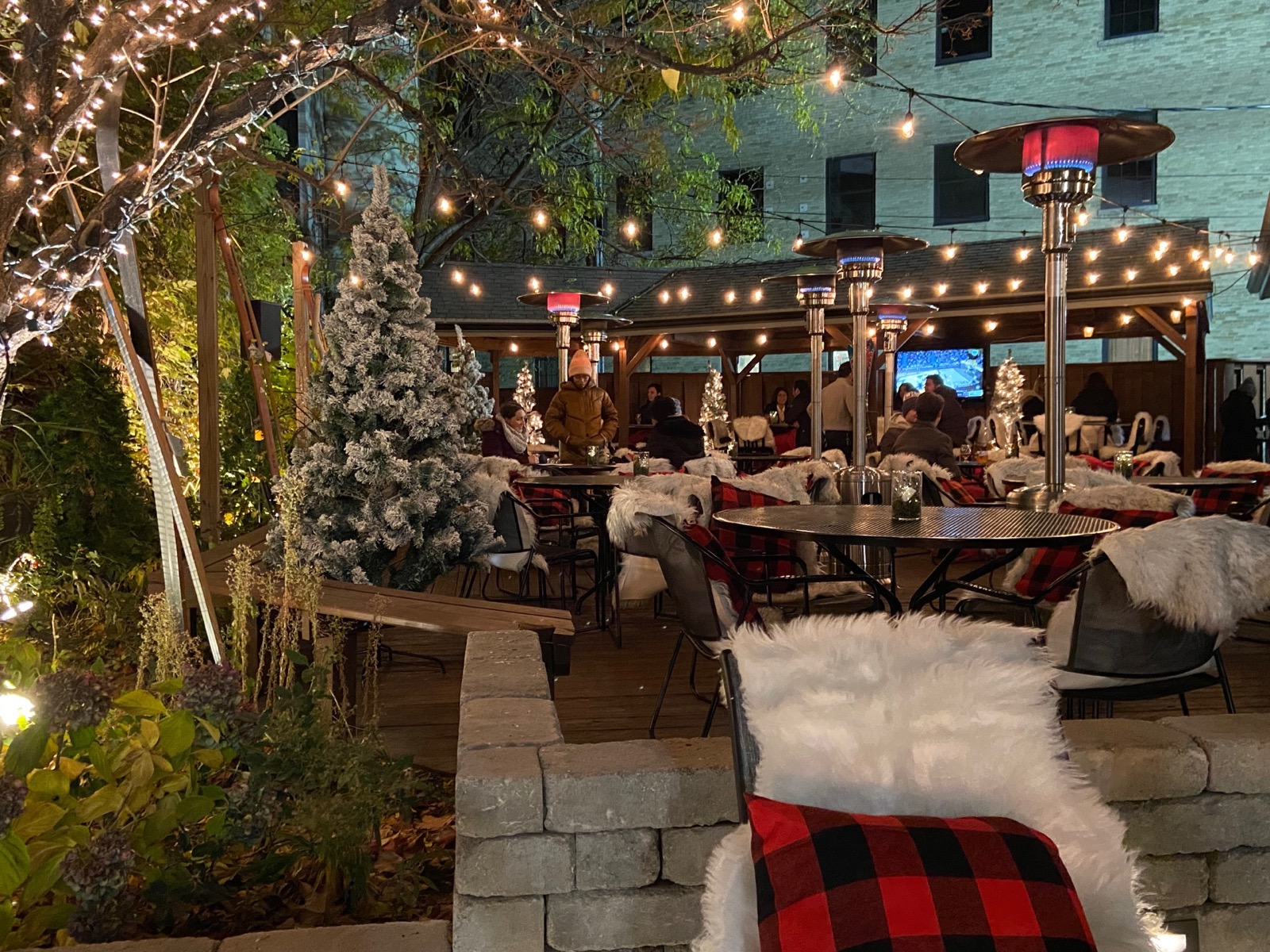 Open on Fridays and Saturdays throughout the winter season, this month marked the start of season "deux" for Tied House's ski-themed patio.
Last winter, facing an unpredictable pre-vaccine cold weather season, owners Melissa and Adam Weber pivoted away from the bar's traditional drink and food service to craft an outdoor winter winderland out on its patio: the Apres Ski winter chalet, inspired by snuggly ski lodges, cuddly cabin escapes, soul-warming cocktails ... and just a touch of the rowdy ski resort party comedy "Hot Tub Time Machine."
Jump forward a year – perhaps in a magical Russian energy drink-fueled hot tub – and after a successful maiden voyage, Apres Ski has snapped its skis back on and slid into Tied House's tucked-away patio once more, bringing some lodge warmth to the wintry lakefront.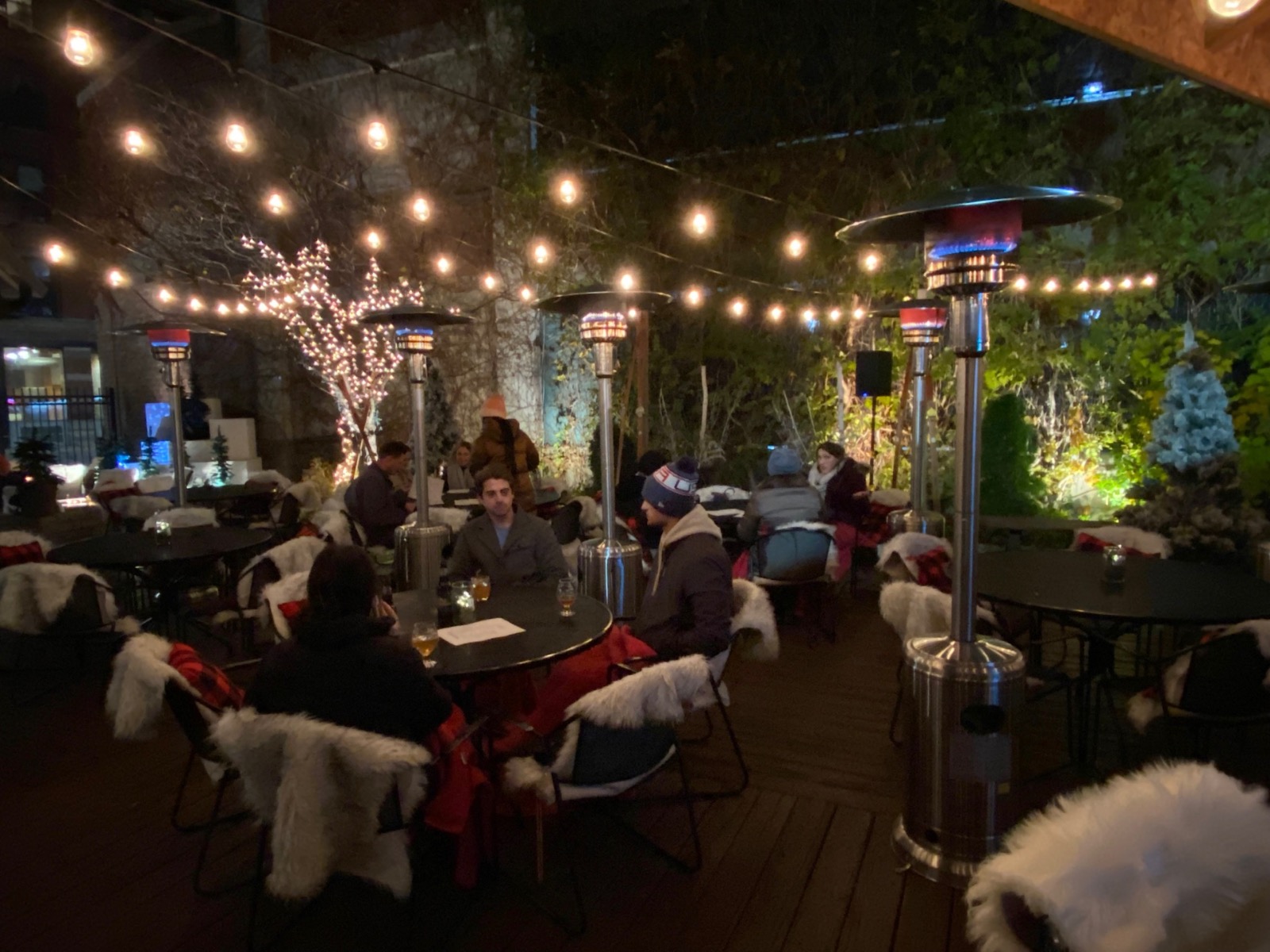 The lush greenery from Tied House's "Elements of Nature" set-up, planted throughout the patio and climbing up the neighboring building's walls, has mostly retreated for the season, but the space looks as festive as ever. Replacing the gardens are glowing Christmas lights, glossy Christmas trees and other glimmer holiday decor – including a modernist "mini Mount Krumpus" made of white cubes and small trees in the corner by firepits, perfect for helping your heart grow three times during your visit. The foliage-covered pillows donning each patio chair have turned into draped cozy furs and buffalo check cushions.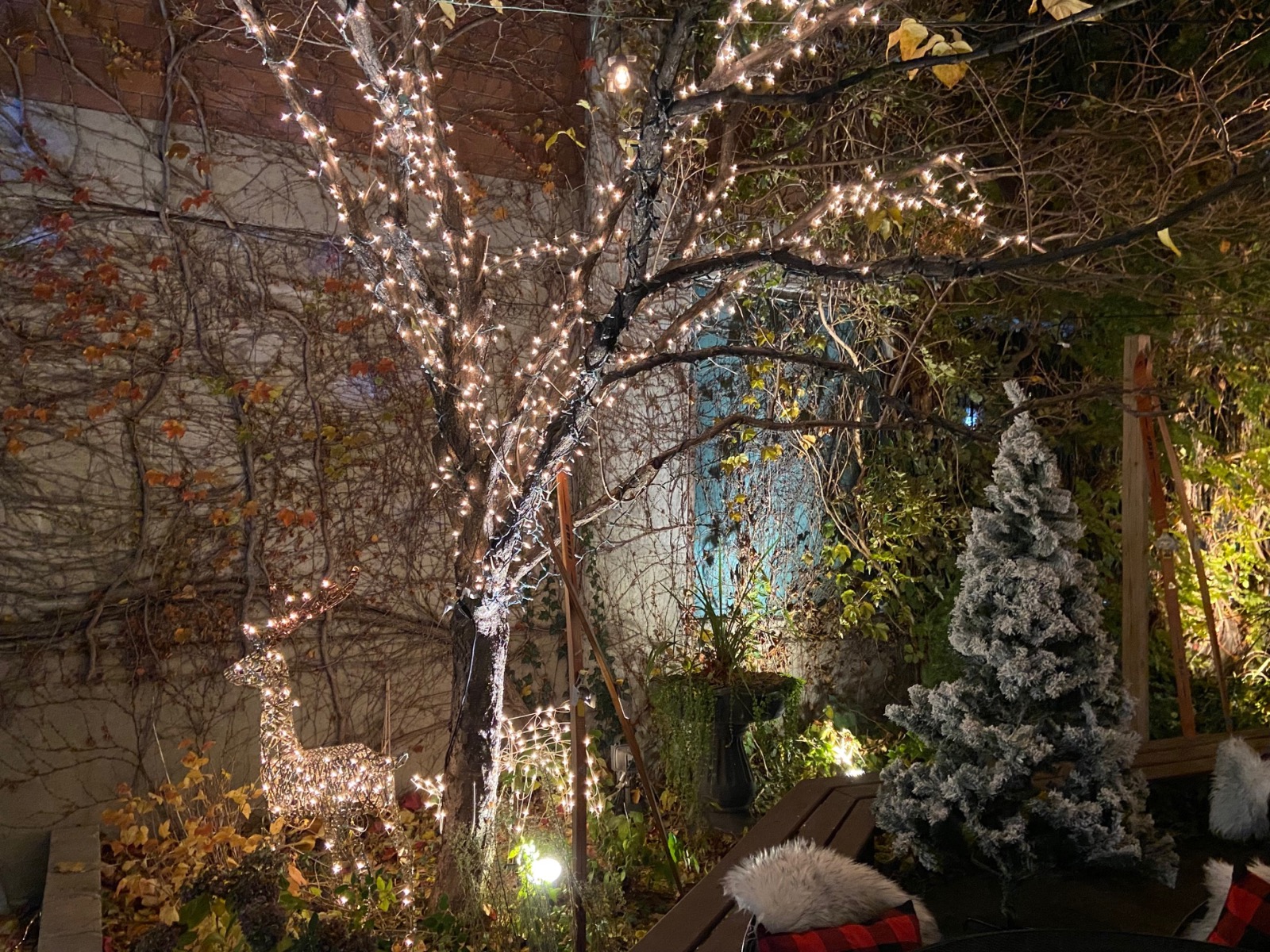 The vibes are plenty warm – but in case the temperatures outside are less so, Tied House supplies each guest with a cozy blanket. Plus, to aid in the battle against the bitter cold, the patio comes littered with fire pits and propane heaters. With their combined efforts, even on the chilliest night, the patio feels a solid 30 degrees warmer than the thermometer's reading.
The best weapon against the winter, however, is the Apres Ski winter chalet's menu of steamy "Some Like It Hot" cocktails and tipples.
The sip-worthy sextet of warm drinks mainly showcases classic frosty weather favorites – a duo of hot chocolates, a steamy apple cider, a mulled wine, an Irish coffee and a hot toddy – each with their own twist, familiar yet flavorful. For instance, in addition to its mezcal-spiked take on a spicy Mexican hot cocoa, the Apres Ski menu also offers the aptly-named Handwarmer, a classic cup jazzed up with vodka and a soothing mint foam on top.
Some mint-infused desserts and drinks can overdo the mint and turn into toothpaste, but Tied House's foam is the perfect flavor compliment, cutting nicely through the rich, soul-blanketing chocolate refreshment. The result tastes like the best, finessed version of your favorite childhood hot cocoa.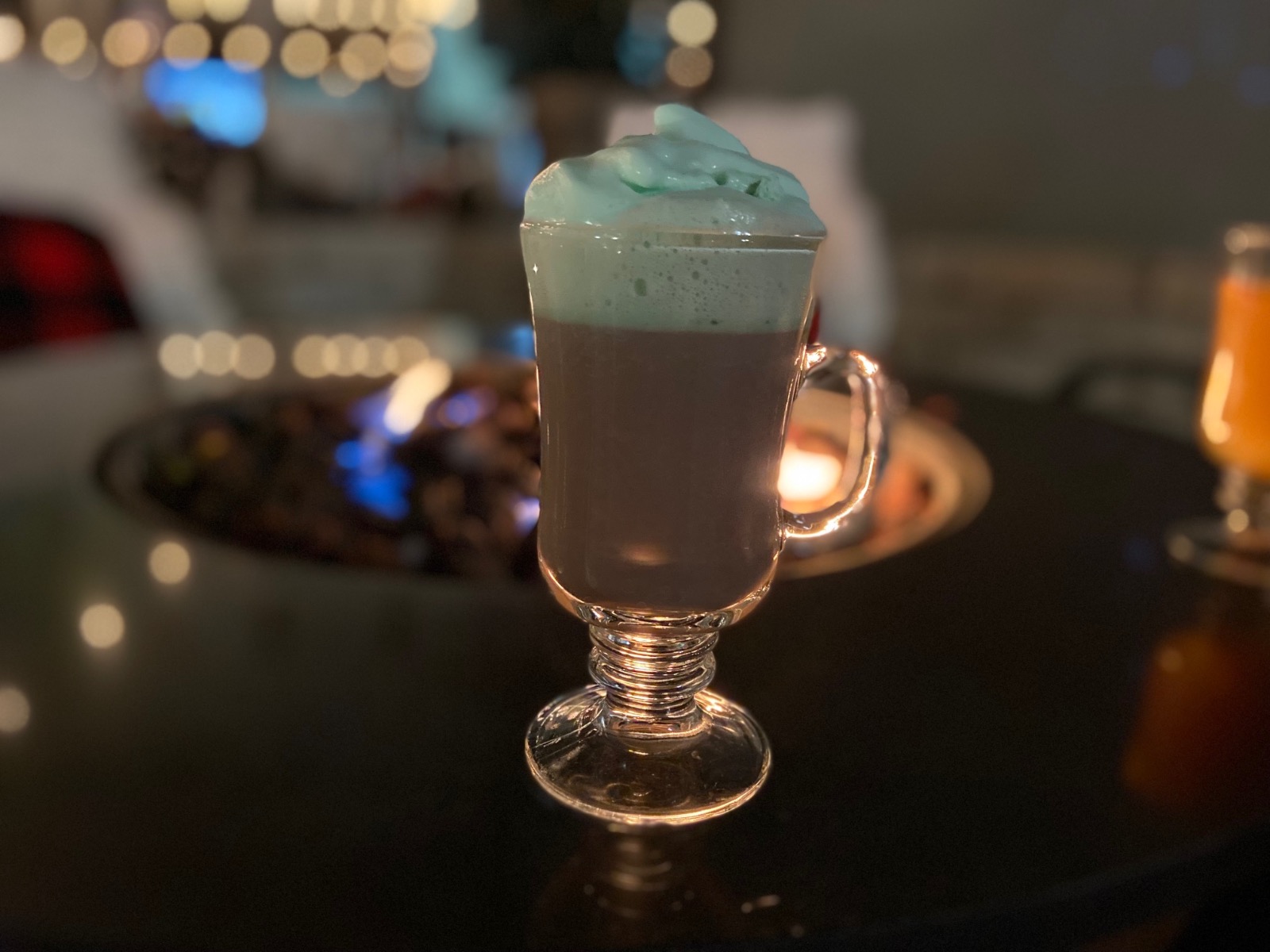 Their gussied-up hot toddy – called the "Haute Toddy" – comes with a lovely herbal B-note of lavender to go with the traditional honey and lemon, landing on the right side of medicinal, while the hot cider and mulled wine cocktails come luxuriously warmed with numerous spices and seasonings (and, of course, liquor – which, across all of the drinks, delivers its soothing kick without ever becoming overbearing or over-boozy).
For those who prefer their beverages as brisk as the forecast, the Apres Ski menu also offers seven cold cocktail options. Three of the concoctions are familiar faces from the "Elements of Nature": the cucumber-infused That One Time In Mexico, the peppery mezcal-bbased Spice Is Nice and the scrumptuous scientific wonder that is the Banana Rumma, utilizing Tied House's culinary centrifuge to create a banana and chocolate drink that's mesmerizingly light. Half a year later, the cocktail's still a delicious discovery.
The centrifuge received a new peculiar assignment for Apres Ski season two: yams. For the I Yam What I Yam, baked sweet potatoes take a ride through the centrifuge, extracting the flavor and juices which then get infused into Elijah Craig small batch bourbon and blended with pecan and a Chinese rubarb amaro into a utterly unique drink that somehow tastes rich and warm despite being a smooth cold cocktail.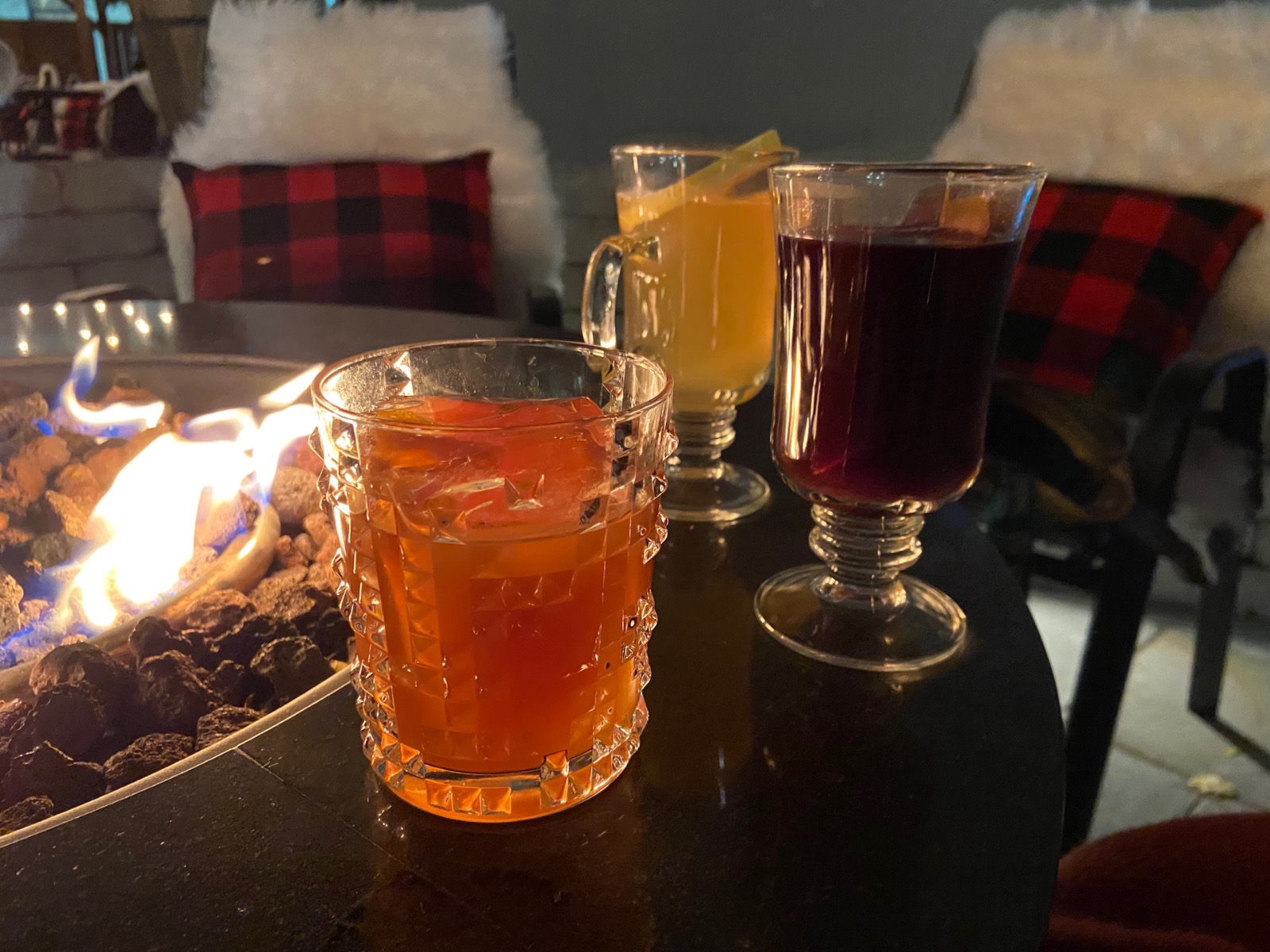 It's a little savory, a little sweet (particularly thanks to the pecan) and all wholly unexpected – like if a sweet potato Thanksgiving side and an traditional old fashioned fell in love and had a imbibable baby.
The rest of the cool cocktails are a little less adventurous but no less delectably delicious – particularly the rich yet bright key lime pie-esque Tied House Winter Sour and a creatively named gin drink called ... A Creatively Named Gin Drink. The latter drink is particularly memorable, fueled by punchy tart cranberry flavor that wakes up the senses. And speaking of a snappy wake-up, there's Espress Yourself, a delicious little espresso sipper packed with rich creamy flavor – and more than a splash of caffeine.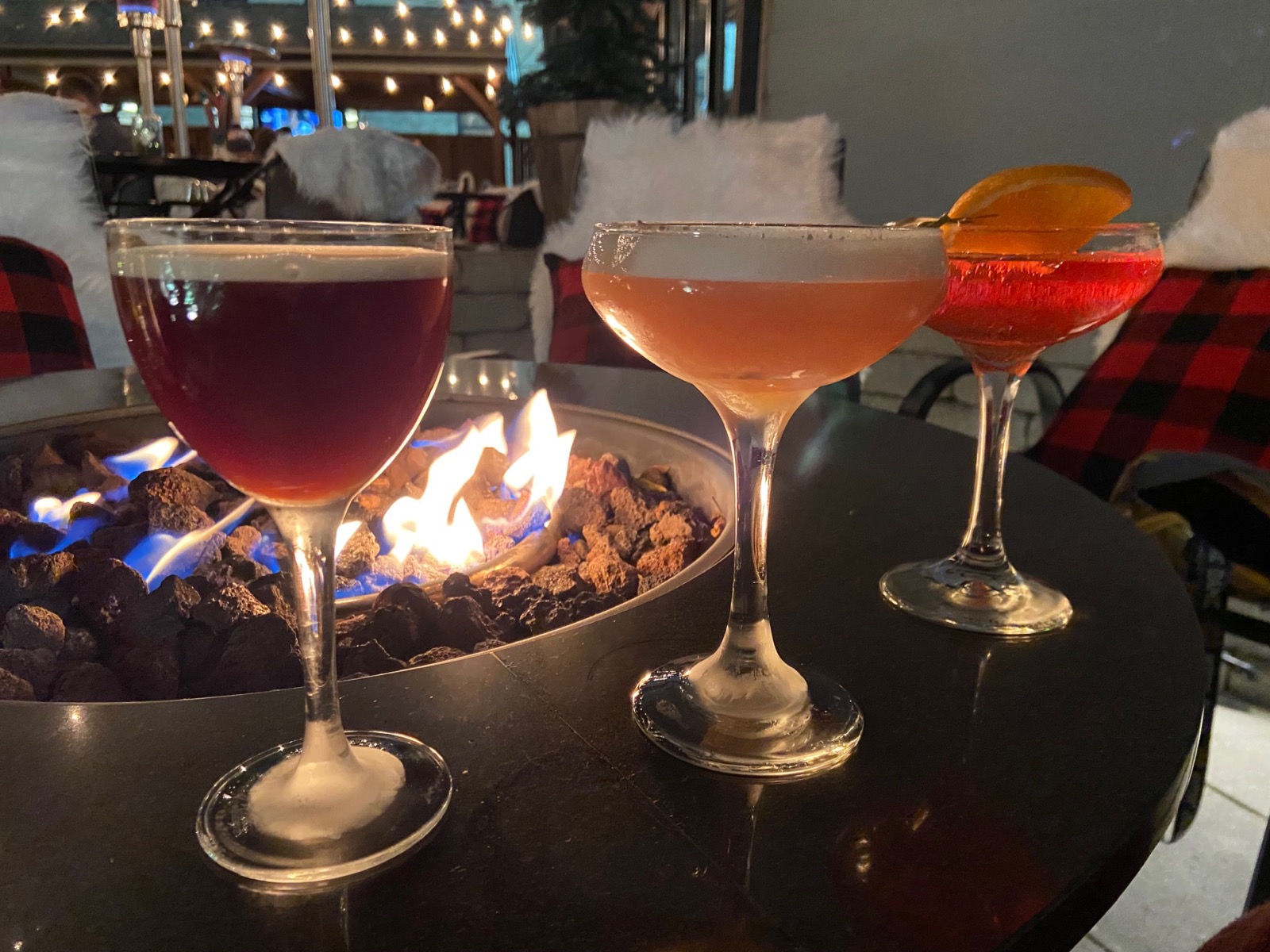 In the end, there's truly something for just about anyone at Tied House – sweet and savory, cocktail crazies and booze newbies, those thirsty for the winter classics and those craving something they've never seen before – accessible to all palates but also unique for all palates, as well.
As an added bonus, for those wanting to completely escape winter and return to the green foliage of the spring and summer, Tied House's intimate interior has opened back up to customers. Closed throughout most of the past year, the warm bar space itself is finally back in action – complete with a pathway of leftover plants from the last "Elements of Nature" concept guiding your way to cocktail headquarters.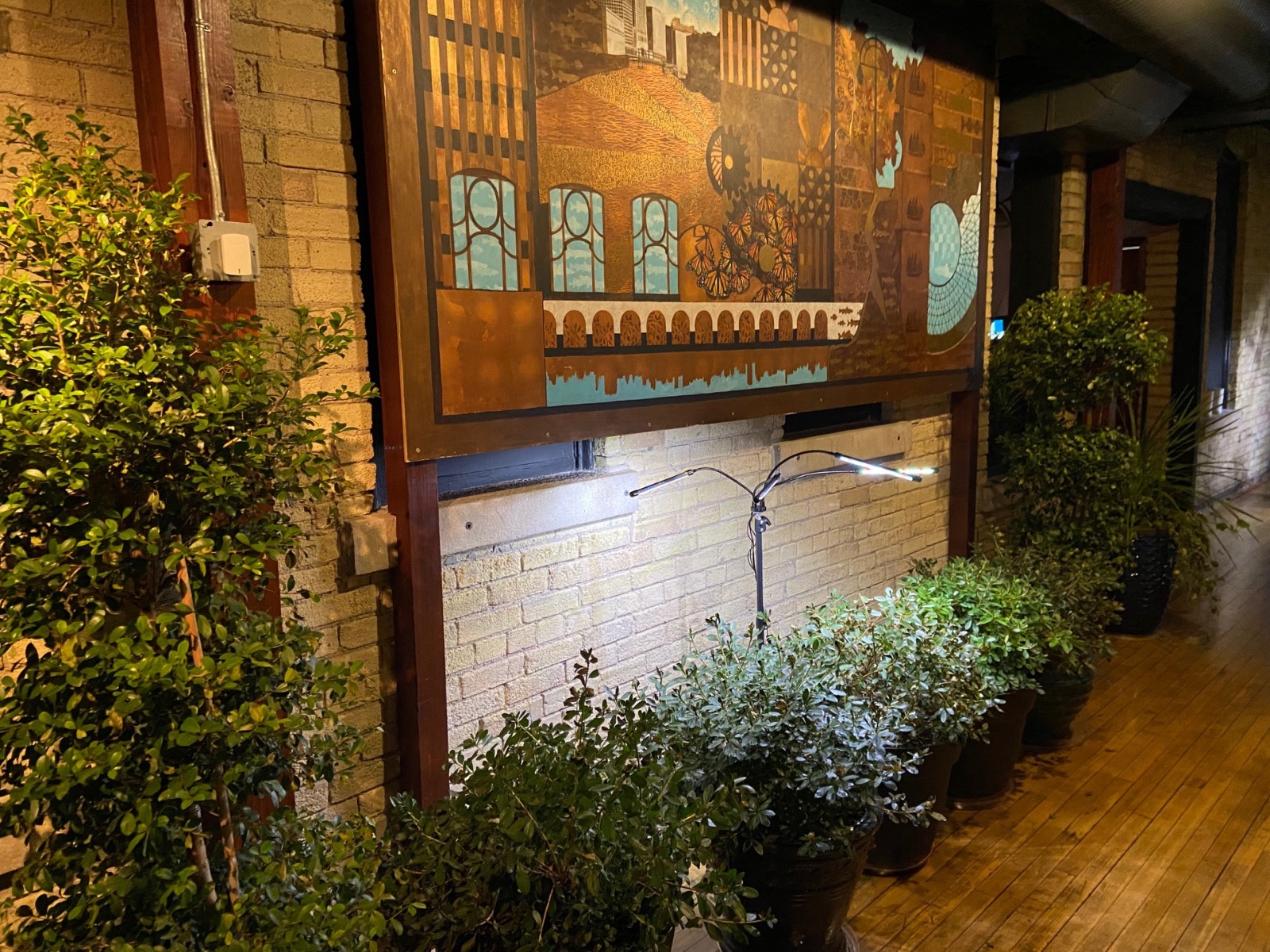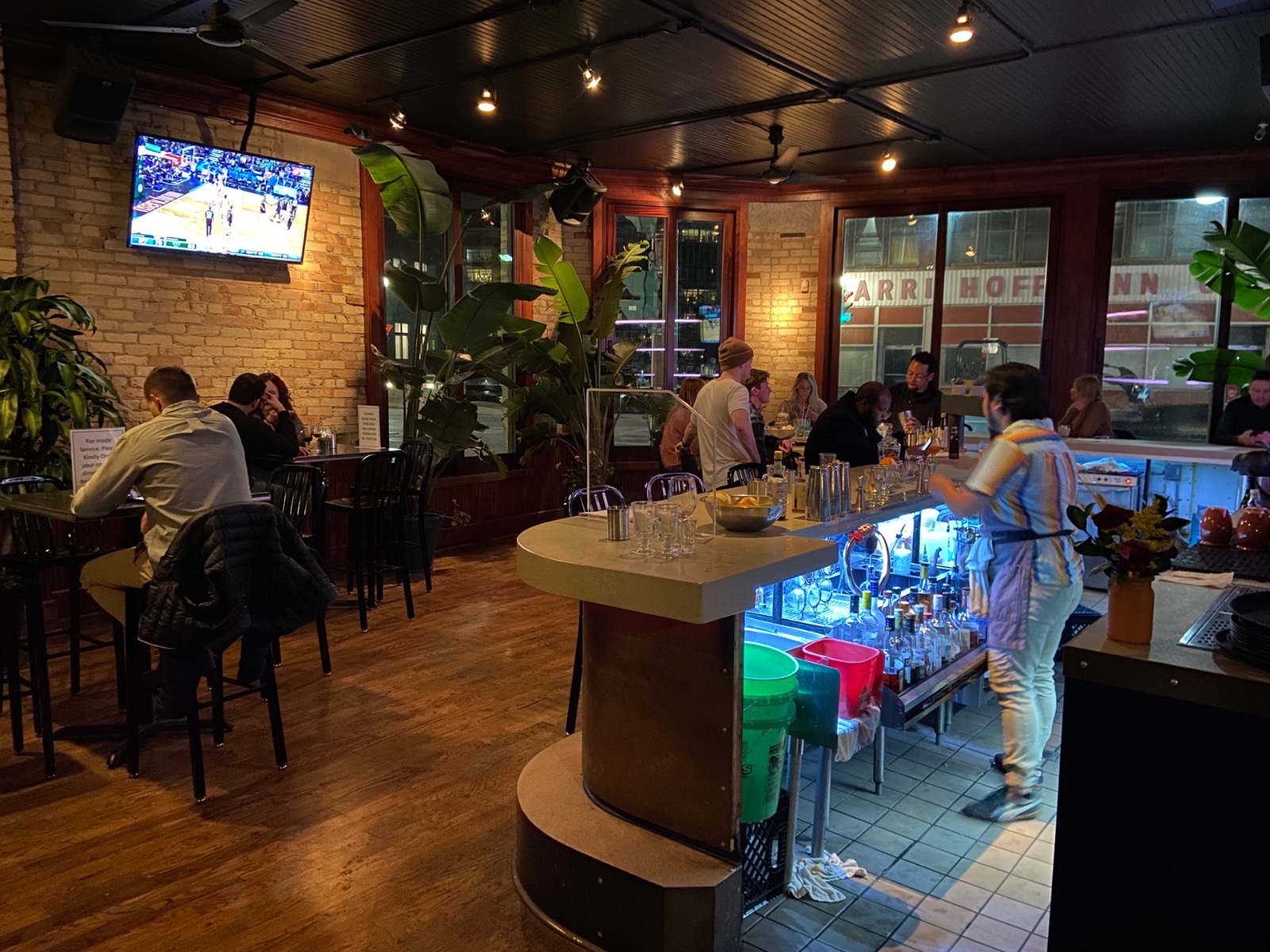 So even if the weather outside is frightful, Tied House's Apres Ski chalets – from the atmosphere to the aperitifs – are something delightful.
Tied House's Apres Ski winter chalets are open Fridays from 4-11 p.m. and Saturdays from 2-11 p.m. (last call is at 10:30 p.m. both nights) while the inside bar area is open at the same times as well as Thursdays from 4-10 p.m. To make a reservation, visit Tied House's website. And may your Christmas be boozy and bright at Tied House.
As much as it is a gigantic cliché to say that one has always had a passion for film, Matt Mueller has always had a passion for film. Whether it was bringing in the latest movie reviews for his first grade show-and-tell or writing film reviews for the St. Norbert College Times as a high school student, Matt is way too obsessed with movies for his own good.
When he's not writing about the latest blockbuster or talking much too glowingly about "Piranha 3D," Matt can probably be found watching literally any sport (minus cricket) or working at - get this - a local movie theater. Or watching a movie. Yeah, he's probably watching a movie.