Pete: In fact, isn't "Milwaukee" an Indian name?

Alice Cooper: Yes, Pete, it is. Actually, it's pronounced "mill-e-wah-que," which is Algonquin for "the good land."

-- "Wayne's World"
For us 40-something Northeasterners, the education of Milwaukee is largely based on exposure to "Wayne's World" and "Laverne & Shirley." Until recently, I pictured a Stan Mikita's donut shop next to a sausage factory and brewery on every block there (not that there's anything wrong with that). But after my recent trip to Milwaukee, I now know better. In fact, Milwaukee just earned a "Top 3" spot on the prestigious "Ryan's favorite cities" list.
Last Thursday, I thought I was flying to Milwaukee with my dad and my sister to see the U.S. Open at Erin Hills. Four days and 40,000 calories later, I am still digesting (figuratively and literally) what actually happened at "the good land." What happened was an unforgettable family adventure of fun, food and fescue in a land almost completely unknown to us. The trip was stellar and has raised the brat, er, bar on what a Father's Day can be.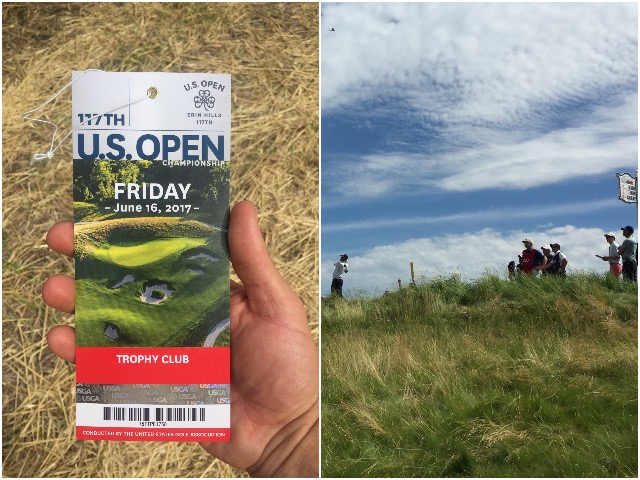 First of all, the golf was spectacular. Apparently America's first golf course designer was a glacier that carved through Wisconsin 20,000 years ago. "The good land" indeed. The layout, resources (i.e. beer and bathroom availability), grandstands and management of the event were all thorough, convenient and first-rate.
The food is an entirely different story, one that I didn't see coming and I feel compelled to take some notes on that I'm glad to share with you. Milwaukee is a bastion of all that is good in the world: delicious food, kind people, robust history, deep-rooted culture, non-stop activities and fervent sports passion. The fact that you just hosted a major golf championship is yet another feather in your foam cheese wedge-shaped cap.
I was both excited and apprehensive when my sister Anne told me that she wanted to invite our dad and me to the U.S. Open at Erin Hills this year. The U.S. Open!? Awesome. I've been to major golf events at Merion, Shinnecock, Winged Foot and Beth Page Black – all great times. Milwaukee? The good news here is that many of my colleagues are from Milwaukee, and have a passion and pride that makes them great ambassadors of the city.
I was born in Pittsburgh, raised in Philadelphia and have spent most of my career in New York City working for a Chicago-based company, so I've certainly been exposed to many elements of what can make a city great (and awful). I reached out to two of my colleagues for advice on finding good places to eat. Little did I know what this would set into motion: I had connected with two of the great ambassadors of Milwaukee, and boy did they set us straight. What happened over the next four days is a roller coaster ride of culinary bliss that I'd recommend to anyone visiting Milwaukee.
Day 1: Arrival, Sobelman's and Third Space Brewing
Immediately upon entering General Mitchell Airport, the "we're not in Philadelphia anymore" reality quickly set in. The pleasantness, cleanliness, lack of "all of our sports teams are horrible" angst, the smiles: all prime signals that we weren't in the land of Rocky Balboa and cheesesteaks.
The first move of the group was to immediately descend upon something we've never seen before: a fridge full of cheese. Wheels, fun shapes and bags of curds presented themselves, and I couldn't have reached for my wallet fast enough. Father, son and sister, walking through the airport, squeaks simultaneously coming from the wheels on our luggage and the open bag of mixed cheddar curds – a glorious start to the trip.
After check-in at our hotel, we went to Sobelman's Pub & Grill. Parking was easy, seating was available, and the food and beer selection were terrific. This was the first time I've ever seen a Bloody Mary served with an actual cheeseburger garnish and chaser of PBR.
On principal, I kicked the meal off with a can of Schlitz in a frosty pint glass and then the magic ensued. I thoroughly enjoyed "The Loser," their famous burger that came in second place in "Food Wars" on The Travel Channel. Our table was hit with The Sobelman's burger, fried cheese curds, cold local draught beer and everything else Milwaukee could throw at us – and it was glorious.
Next, we ventured up the road to Third Space Brewing. This is a terrific local venue started by two buddies who went to Camp Minikani together, along with my two buddies, back in the days of Paul Molitor. This is an older factory space rebuilt with an amazing outdoor hangout space, indoor seating and cornhole area, and, of course, really stellar brews. For the record, my dad is still incapable of saying "cornhole" with a straight face, although his tossing skills were impressive to say the least.
Last stop, just to make sure we were hydrated enough before Friday's U.S. Open play, was Old German Beer Hall on 3rd Street. Giant steins, "hammerschlagen" and live accordion music made it impossible to have a bad time. And a plate of sausages at the bar. Wow. I now think Milwaukee actually means, "You'll need Advil."
Day 2: The U.S. Open and Mader's
The U.S. Open was everything I read about and hoped it would be: lush, enormous, beautiful and intimidating.
We kicked off the day with an early Johnsonville brat with mustard and a Miller Lite to knock any remaining rust off. The golf was exciting, particularly when we stationed ourselves by the treacherous 9th green. I loved hearing it referred to as as "America's Shortest Par 5" that day, as the back pin placement made it an exciting hole to watch.
After returning to the hotel, we got cleaned up for a short drive and a late dinner at Mader's, and we'll never be the same. My dad and I split the "Tour of Germany" for two, which didn't disappoint with pork shank, smoked pork, sauerbraten, weiner schnitzel and more. The restaurant is full of German antiquities including an amazing selection of art and armor, and they even have a table there once owned by the famous Red Baron. Beer was served in steins and glass boots, and we were fortunate to come out of a meat fog just long enough to have the apple strudel with vanilla bean ice cream.
This was game/set/match for us on Day 2 – back to the hotel to enjoy a night of hibernation.
Day 3: More U.S. Open and Maxie's
The U.S. Open was an awesome experience that day, as we sat in the last row of the grandstand on 18 and watched every group play through. This was a magic spot to sit in, as we could see the tee shots on the 1st hole behind us, and the tee shots on 10 directly below us and to our right. Our forward-view has us looking over the 18th green, enjoying the approach shots, rescue shots when needed and all of the putts.
I still feel bad watching Wisconsin native Steve Stricker three-putt this green. As a contrasting highlight, we got to see Justin Thomas smack a 3-wood 299 yards to land on this 638-yard par 5 in two before making eagle and setting a course and U.S. Open record. But you know how that story ends.
Food-wise, we were tight on time and got to Maxie's just before the kitchen closed. This was in stark contrast to our prior eateries, a positively-charged, Southern food gem that could thrive in any city in America. This was my first Brandy Old Fashioned, and I opted for the sour version, which was stellar. The KC ribs, fried oysters, po boy and grits were all stellar, and the service was A+. They should sell souvenir sweatpants.
Day 4: Solly's and Departure
Our Sunday was set up perfectly to get one last activity in – and by that I mean meal – before an early afternoon flight home. The road trip to Glendale was at the speed of light; apparently most people in Wisconsin on a Saturday morning are home on their couches watching old Packers highlights and not on the roads.
We made it to Solly's, a landmark 1936 institution and a convenient, affordable family dining excellence that was the perfect cap to the trip. To this day, Herb Kohl can still apparently be seen enjoying an egg salad sandwich at the counter. My dad, upon driving up, commented, "I'm pretty stuffed from this trip. I think I'll just have a coffee and some eggs."
Well, 10:45 a.m. is lunchtime at Solly's, and the menu was too much for him (and us) to handle. I heard the server go to him first, and I wasn't disappointed at the order: "Chocolate malted milkshake, chili and chicken salad sandwich, please." My sister ordered a double Solly's burger, at which Dad added in, "Want to go halfsies?" I got the double Solly's with American, and the crinkle fries were cooked on the spot and served early, before the burger came. The root beer was delicious too – a must-get for the soda drinkers out there and a perfect compliment to the butter burger.
The counter is shaped like a giant "W," with seats all around; can this be an homage to Wisconsin or a coincidence? And we noted that the bases of the swivel diner seats were solid, wide-based cast iron, built to withstand the test of time – just like everything else at Solly's. I'm pretty sure this is what a casual restaurant in heaven looks like.
Thank you, Milwaukee: Reflections and learnings
To recap some key destinations on this trip …
U.S. Open at Erin Hills
Sobelman's
Third Space Brewing
Old German Beer Hall
Mader's
Maxie's
Solly's
Milwaukee is now a favorite city of mine, beckoning me to come back with new items on the bucket list like Curdfest, the Harley Davidson Museum, a Packers and/or Brewers game, and so much more.