Kicks. Sneakers. Shoes. Hip-hop. That's what's happening at Trusted Kicks, located at 532 N. Water St.
Trusted Kicks has been in business for six years, with its roots in an online store. Now, having had a retail location on Water Street for a year, it recently expanded to its new 1,300-square feet, which opened in the first week of June. Trusted Kicks has also secured the lease for the previous location (just next door), where it will soon offer hard-to-find hip-hop clothing lines, using the buy-sell-trade model.
Owner Rico Jones, 29, grew up in Milwaukee, graduated from Messmer High School and then went off to college for a degree in mass communications. He received a master's degree in criminal justice from Tennessee State University. He has a passion for hip-hop shoes and fashion, building his business, and building relationships and friendships – in a word: community. A natural entrepreneur, Jones has been buying, selling and trading things since he was a teenager, beginning with Pokémon and Yu-Gi-Oh! cards. Subsequently during college, he sold cars.
Now, with Trusted Kicks, his customers share in his passion. The store has a following from around the nation, and particularly in the Midwest, drawing customers from neighboring states such as Illinois, Iowa, Indiana and Minnesota, with its largest markets being Milwaukee and Chicago. Jones has networked to build relationships with rappers such as Big K.R.I.T., Reggie Bonds, as well as several NBA basketball players. He sponsors them, and in turn, they promote Trusted Kicks.
Additionally, Trusted Kicks Nonprofits has been involved in a number of giveback and incentive programs, from helping kids to succeed in school to donations for the homeless and working on the Safe and Sound program for kids with Mayor Tom Barrett.
Recently, I spoke with Rico Jones, about his business, his passions and his philosophies.
OnMilwaukee: Tell me a little bit about the history of Trusted Kicks, and what has led you to where you are now.
Rico Jones: The way the business got started was when I was in college in grad school. Like the normal college kid, I had spent all my money on tennis shoes and on things I needed. When the new shoes would come out the next week, I didn't have any money to buy another pair of shoes because I had life responsibilities. So I thought if there was a place like GameStop where I could sell my shoes for cash, or trade them in for the item I wanted, I would love to do it.
So it was GameStop that influenced you?
This was the store that influenced me. GameStop is a store that basically does the same exact thing that I do (buy, sell and trade) around the country, but they do it with video games. When I was growing up, when a new video game system would come in, you could bring your old game in, and they would give you trade-in value, or they'll pay you cash for it. Since my mom wouldn't support my game habit, I would buy, sell and trade old games to get new games. And that's when I figured that if kids would do that with video games, they would definitely do it with tennis shoes.
I realized that people like to barter. That's the key. Because when you provide people with another form of currency, you can gain more customers. They can sell something that they might deem as old, but to someone else, it's a treasure. It's like the old saying, "One man's trash is another man's treasure."
So then I just took things that I love (shoes and cars). That's what got me into the niche area of buying and selling shoes. With sneakers, I was the first person, ever, to do it. So, of course, the excitement from the public came in because people hadn't had the chance to do that before.
Tell me what hip-hop means to you. We know it originated in Brooklyn, basically coming out of the black and Puerto Rican communities with groups like Sugarhill Gang, Public Enemy and Run DMC. Some people say hip-hop is dead. But how can that be true? Obviously, you guys are busy, so that says something.
Yeah, hip-hop is probably at its biggest point it's ever been. With me being a child of the late '80s, I grew up through the '90s with early hip-hop and rap. Even into the early 2000s, one thing that I always saw was that hip-hop and fashion were hand-in-hand. You'd see a hip-hop artist like Run DMC. A good example was "My Adidas." They made Adidas famous with their song, propelling the brand to the place it is now. So going from the late '80s to 2016, you have someone like Kanye West who has teamed up with Adidas again, so they're producing cleats and basketball shoes. So the hip-hop and fashion bond is growing stronger by the day.
What do you think the perception versus reality of hip-hop culture is?
OK, I think the perception of a lot of people in hip-hop culture … let's call them slouches … lazy … people who are unmotivated. But then when they turn around and come into a place like this where everything is hip-hop based – from the music, to the clothes, to the shoes, to the images that are displayed on our walls – it becomes evident that hip-hop is a truly viable business.
So I think especially being in Downtown Milwaukee, it kind of opens up a lot of people in the business world to the hip-hop lanes. So you have people that come in in their suits, and they have certain perceptions. But then they see the shoe, and it takes them back to a time when they were pure. It was '94 or '96. And they say, "I wanted that shoe. I wanted that shoe twenty years ago, but my mom wouldn't buy it for me. And I remember Jay Z shot a video in that shoe." Or "Timbaland or Missy Elliot had that shoe on." Or, "I saw it across MTV Raps. How did you guys get this shoe?" And I say, "Well, they re-released it." So people come here, and they see an all hip-hop store … it almost triggers something to where, in my mind, everybody has a little hip-hop in them.
I talked to some of your customers earlier, and they were obviously fans. They said, "Rico always shows love." With that in mind, tell me about the Trusted Flip. Tell me what that is again, and walk me through it.
The Trusted Flip is a tactic that we use when we get to the end of a negotiation. It helps us get to a point where the customer is comfortable, and we're comfortable on two numbers. So let's say the customer's number is $15, and our number $10. So we do a Trusted Flip to find out who is going to win the five dollars.
The reason why we do that is because a lot of customers will make a good point on why they want a certain value for the shoe, and we'll make a point as to why we think the shoe should be valued as such. To make it fair, we'll go ahead and do the Trusted Flip. If we lose, they get the number they wanted. If they lose, we get the number we wanted. It's even. It also makes us more trustworthy to the customer because I tell customers, "You may be right. If you're right, we'll find out. Let's flip a coin."
That helps build relationships. And I've seen it in action. It's just fun, right? People really seem to enjoy it.
It is. And customers request it. Everyone likes to save a little bit if they can.

So was that an idea you came up with, or is it something that came out of hip-hop culture?
Well, it is something I came up with, but it is kind of mixing the hip-hop culture. It's crazy you should say that. I actually got the idea from watching a rap battle. They were arguing about who was going to rap first, and then the DJ said, "Let's flip a coin." And the rappers said OK. So yeah, it does kind of go along with hip-hop culture.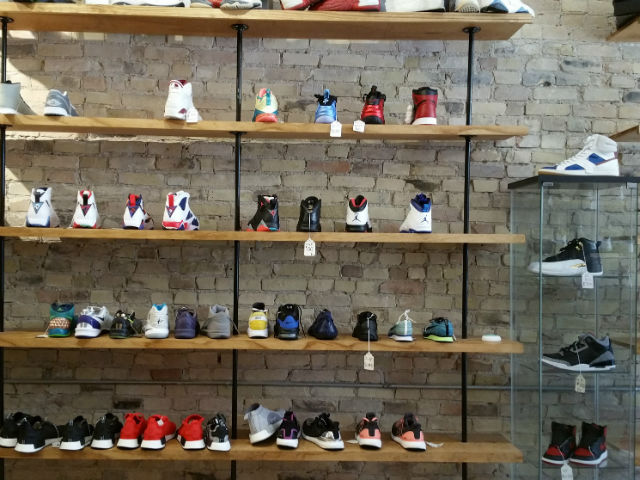 Talk a little bit about what the vibe is here. Where does that come from?
The vibe that we're pushing here at Trusted Kicks is the community vibe. So you mentioned the customers that said Rico always shows love. I say to them, "I show love, so that you can show love to someone else." It's spreading the positivity. So sometimes when you're moving along, you show love, or you give them a plug, as we call it in this culture. That's how you build relationships. That how you make friends.
The truth is, throughout my life, I've always been a nice guy. I love to see the underdog win. So let's say someone comes in and says, "I only have a hundred dollars." I'll pick a $140 shoe. Because I've been there. I've been the kid who caught the bus to the sneaker store, and then couldn't afford the shoes, so then I took the bus home feeling sad about it. That's the reason I sell used shoes. They give everyone the opportunity to obtain a pair of shoes. I wanted everyone to feel like the have a chance to buy a shoe at Trusted Kicks.
That's important to you, isn't it?
I try to keep both lanes running. If we've already made our sales goal, we might as well bump up our donation goal. We're community based. If everybody decided never to sell us another item, we wouldn't have anything. It's how I was raised. My mom was a principal at Franklin, and she retired a special ed teacher. My dad did a Hang Tough program for kids that was launched in the early '90s. So I come from that giving back realm. You could say I'm indebted to it.