Today, they stand impervious and imperial. Keep your argument short. Watch your language. Don't show them up by stepping out of the batter's box and talking back. Don't make faces or shake your head more than once. Touch them, and you are suspended.
No need to charge out onto the field to go toe-to-toe with the umpire. Instead, from the dugout, politely request that the call be reviewed by the New York powers that be. Far removed from the drama, these custodians of the video replay will deliberate for a few minutes while the fans catch up on their social media responsibilities, texting their friends about posting plans they been exploring throughout the game.
There are many reasons that baseball is no longer America's favorite sport. To resurrect the passion of the fans, baseball has instituted a bevy of new rules intended to quicken the pace the game by limiting time between pitches, number of mount visits, etc. And so, even as fans pour through the turnstiles to see bloodied combatants plummet each other at MMA events, even as football fans gasp as a jarring hit leaves a player lying on his back on the field, even as hockey players slam each other against the boards and the fans wait for combatants to take off the gloves and land good punches, baseball has become more civilized and less entertaining. Due to rule changes, home plate collisions are a rarity now and second basemen no longer fear charging base runners intend to break up the double play at any cost. If there is a bench clearing fight on the field, it is usually brief with few if any punches having been landed.
And so now, umpires are safe, players are models of civility, and fans are orderly and often disinterested or bored.
It didn't used to be this way.
At the turn of the 20th century, admission ticket promised the possibility of spikings, fisticuffs, rowdiness and mayhem. Baseball was seen as representative of the survival of the fittest competitive zeal that made America great. Part of America's DNA, this cultural connect justified winning at all costs. "I've seen players, their socks soaked in blood, playing without calling timeout … with everyone trying to be the best, it naturally led to keen battles, blood and guts," recalled Hall of Famer Napoleon Lajoie, proudly speaking of the game as it used to be.
Such win-at-all-cost allegiance also declared open season on the players one common enemy: the umpire. Expanding the rationale for umpire abuse, baseball pioneer Albert Spalding proclaimed that the fans and players assault upon umpires were simply acts of patriotic Americans exercising their democratic right to protest against tyranny.
Dated by the diamond-shaped home plate (the pentagonal home plate began around 1900), the late 19th century rendering "A Hot Time on the Diamond" shows an embattled Mr. McGoo-looking umpire determined to stand firm against belligerent players and fans. Judging by the faces of the fans ready to jump onto the field, Julius Caesar had a better chance of repelling assassins. Indeed, while calling balls and strikes, umpire McKinley heard a fan yell out, "They shot the wrong McKinley."
It seems moral deliberations concerning abusive treatment of the ump reached into the fabric of the family itself. In a 1886 Chicago Tribune publication, a youngster seeks maternal approval of his plan to belt the umpire right between the eyes: "Let me clasp his throat, dear mother, and delightful grip him with one hand and with the other punch him in the face."
Understanding his mother's reluctance to condone such violence, he assures her that "While the happy people shout, I'll not kill him dear mother I will only knock him out."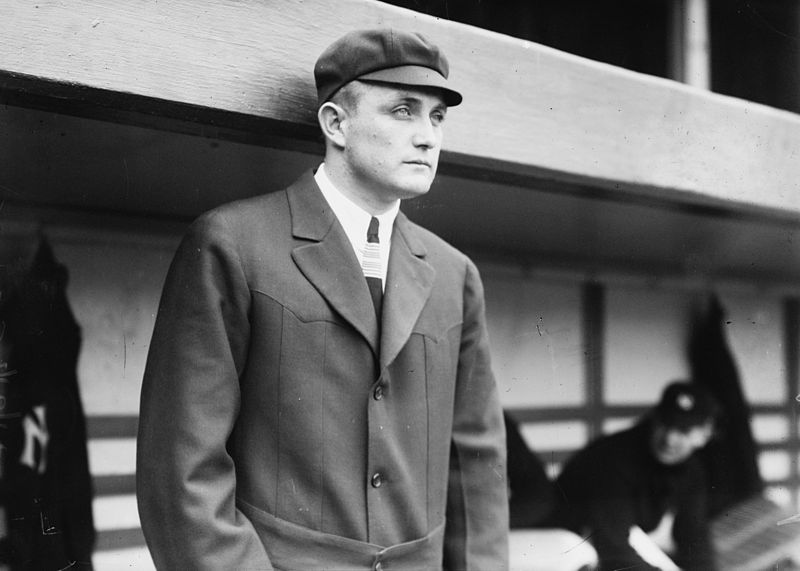 In recognition of the real potential of such behaviors, the Baltimore baseball team in 1884 installed barbed wire to discourage attacks from the fans. Only when Billy Evans, a young umpire destined for Hall of Fame inclusion, wavered between death and life as a result of having a skull fractured by a thrown bottle, did baseball begin more serious policing actions, including having a second umpire on the field. Nevertheless, the men in blue finished the game black and blue.
Umpire Jim Rice made clear the reality of the location: "I've been mob, cost, mood, kicked in the ass, punched in the face, hit with mud balls and whiskey bottles." A fellow ump commiserated: "It's a dog's life. Worse than that, since sometimes people speak kindly to dogs. We are outcasts, pariahs, things to be insulted by 10,000 fans a day."
Speaking of dogs, Central League umpire Paul Locke contended that he had once withstood all the abuse fans could dish out. He had been punched in the face, kicked in the shins, and spit upon: "But then one day a big fellow walked down to the from the stands, dropped his bulldog over the fence and onto the field and yelled, 'Sic 'em!' It was then that I resigned."
The umpire's window of abuse went beyond the game's duration. Fearful of reprisals and fans and charges of collusion with bettors, umpires traveled incognito, the hotel lodgings known only to league officials. On occasion, that secrecy could be compromised. One ump was followed to his hotel by an incensed crowd. The upstart refuge in a room on the top floor, the mob remain, threatening to lynch him in the morning. Finally, at 11 at night, he opened the window and announced he had reversed his decision against the hometown boys. Appeased, the crowd dispersed.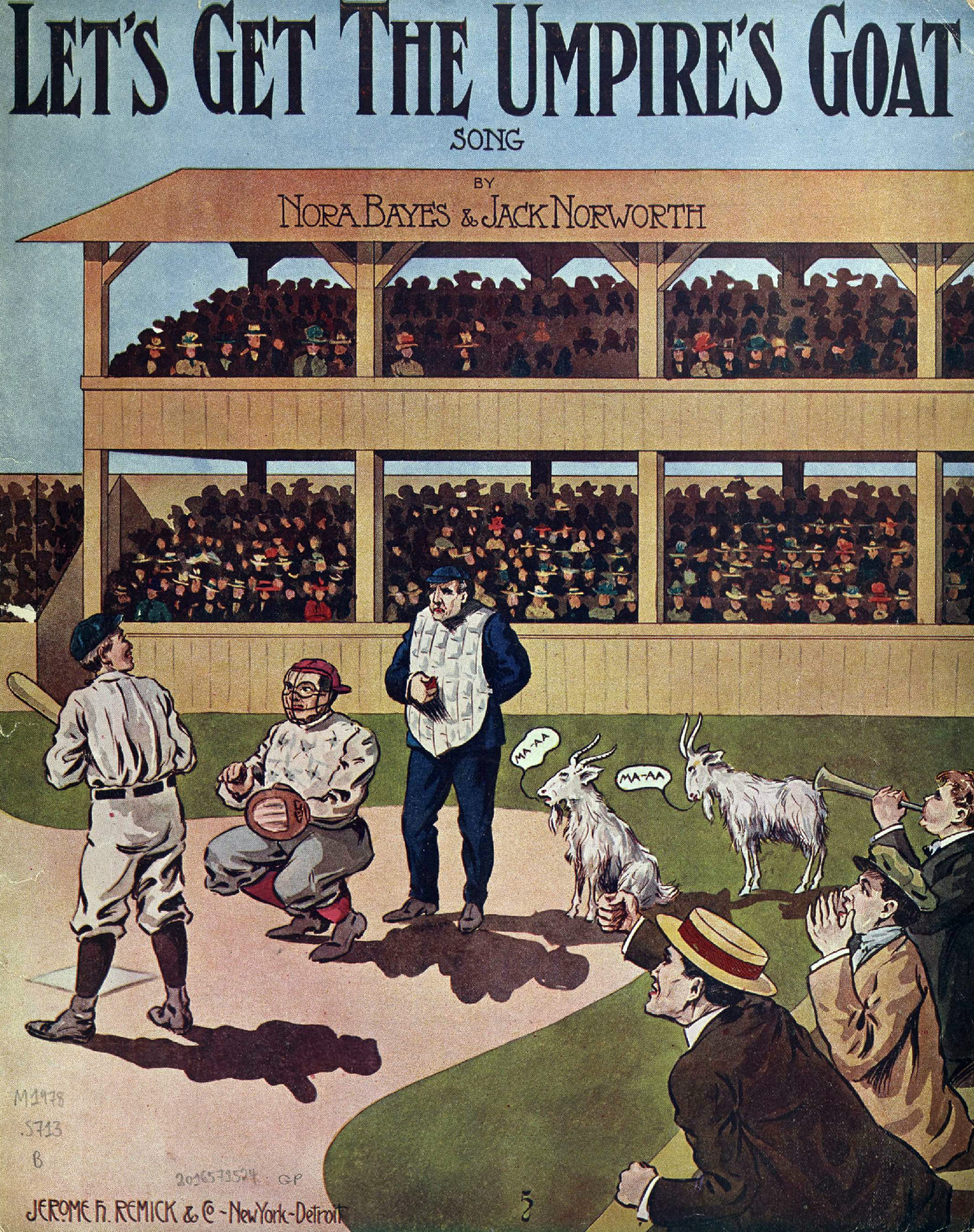 Well-known composers fed the frenzy of umpire baiting assault. In 1910 song, "Let's Get the Umpire's Goat," the ump is told to "go somewhere and die." The song was written by Jack Norworth, the composer of "Take Me Out to the Ballgame, " Norworth had never seen a baseball game prior to writing his classic, but quickly came to understand that a staple diet of obscenities and character assassinations went well with peanuts and cracker jack. A 1910 musical comedy conducted by John Philip Sousa featured a song that acknowledge the qualifications of being an ump: "an umpire needs a cool level head it is not hard to hit."
On occasion, players and managers could see eye-to-eye. Lajoie told of a minor-league game in Fall River in which he suggested to the umpire that he expand the strike zone to bring a merciful end to a game in which his Fall River team was ahead 11-2. Umpire Cunningham concurred and called the next batter out on three straight questionable strikes.
Unfortunately, Manager Lajoie failed to tell his players of the deal. The victimized batter responded by punching Cunningham, engaging in a prolonged assault. Afterward, so little of the ump's clothing remained that the players had to form an escort to the clubhouse. Still unsatisfied, the player later stole Cunningham's suit cases and burned them in a bonfire about which he danced mentally. Cunningham retired from baseball next day.
Not all umpires were passive victims willing to grin and bear it. An ex-boxer, Ump Fox frequently found occasion to display his pugilistic skills in the batter's box ring. Umpire Ferguson went further, using a bat to hit a player who had called him a liar. Hall of Fame second baseman Eddie Collins was the victim of ump abuse when an ump seemingly for no reason spat in his face, afterward explaining," I don't like college boys." Perhaps the saliva path was a symbolic repayment on behalf of all those umps who'd been hit in the face by tobacco juice.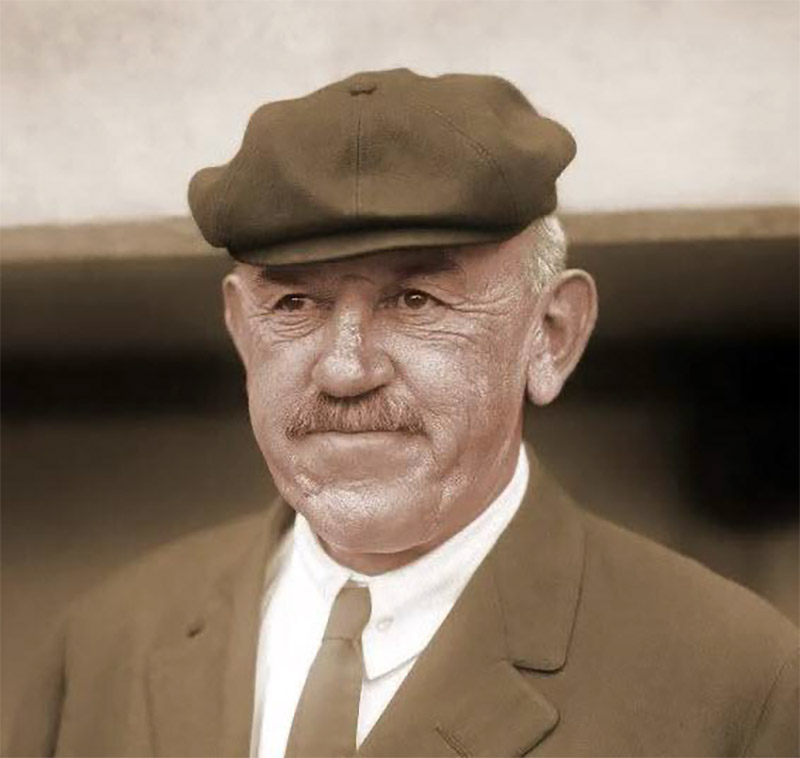 Retaliation could take many forms. Umpire Jack Sheridan refused to award first base to notorious umpire baiter John McGraw the New York Giants manager, when McGraw was hit by a pitch. McGraw was hit four more times in the same game but mysteriously never made it to first base. The reality was that umpires who engaged in retaliatory action put themselves at risk of being fired, even as those who shunned confrontation faced charges of cowardice.
Of course, it's possible to believe the umpire's plight was not so dire. The editor of Baseball Magazine (1909) recalled a minor-league game played when despite fearful verdicts, the umpire was treated like a gentleman and a czar. In fact, he got through the game without being kicked or insulted. No player or fan challenged him to a fight after the game. Perhaps then beneath those rough exteriors of fans and players were civilized natures. Perhaps they were misunderstood delinquents releasing steam.
That the umpire in the game happened to be John L. Sullivan, heavyweight champion of the world? Totally irrelevant.
After 30 plus years of teaching English in high school and college, Greg turned to his other love, baseball. In his presentations to youth and adults he has focused upon resurrecting the lives of those players whose character and demeanor both were exemplary and entertaining. Curriculum material for teachings hoping to explore the lives of these trailblazing and inspiring figures are available.
He continued teaching as an instructor for Rhode Island's Write on Sports initiative, a program that recruited youth from economically challenged families to learn sports journalism. His books on baseball include: "Before the Babe, the Emperor, Napoleon Lajoie," "In Ty Cobb's Shadow: the Story of Napoleon Lajoie, Baseball's First Superstar," and "Freedom between the Lines: Baseball and the Native American Boarding School Experience."
Ken Burns' film company said of Rubano's work, "The book is stunning, a but beautiful but horrible sad composition on the loss of a rich and storied culture. The cruelty of America seemingly oblivious to its wrongdoing is still shocking."
All are available on Amazon.