"Bar Month" at OnMilwaukee is brought to you by Miller Brewing Company, calling Milwaukee home since 1855. For the entire month of March, we're serving up fun articles on bars, clubs and beverages – including guides, the latest trends, bar reviews, the results of our Best of Bars poll and more. Grab a designated driver and dive in!
A lot has changed in Milwaukee over the years, and especially lately a lot has changed in Bay View. But one thing that's remained constant for nearly 126 years is the white clapboard tavern on the corner of Ellen Street, where Kinnickinnic Avenue bends off to the right.
One of the oldest watering holes in the city, the White House, 2900 S. Kinnickinnic Ave., celebrated its 125th birthday last October, and it appears to show no signs of slowing down.
On the contrary, current owner Sean Raffaelli, who bought the White House in 2006 from members of the extended Kneisler family, pays tribute to the corner pub's history more outwardly than had its previous owners.
Rafaelli and his bar manager for the past six years, Matthew Langoehr, have brought the old tavern and family photos down from the attic and hung them on the wall, replacing more anonymous bar decor like beer signs and posters announcing weekly specials.
"It had kind of lost its identity," says Langoehr. "We really focused on the age of the building. We focused on the original woodwork. We have so much custom stuff here that's original and that was just kind of covered up. We went back to that and made a big push to say, 'hey, we're a Bay View historic building.'
"I've always had a thing for old, historic buildings. When you walk into a place like this, you get this tingle. There's 126 years of history here.
"I hear so many great stories. We have a lot of young customers, 24, 25 years old that say, 'my mom played volleyball here," or 'this is where my parents met, this is where my grandparents met' or 'this is where my grandma had her first drink.' We've got three and four generations of customers here."

Kneisler's on opening day, 1890, above, and in 2017, below.
But, Langoehr reminds, "we're not just an old bar. We have really active volleyball leagues that start in April, too."
William Kneisler – whose family had operated groceries for two decades in Bay View – built the tavern with a loan from the Schlitz Brewing Company, making the saloon a Schlitz tied-house, meaning it sold only that brewery's products when it opened in 1891.
This, however, wasn't Kneisler's entrance to the world of taverns. His first place was on Maple Street and he ran another on Kinnickinnic Avenue, a little farther north.
Interestingly, while most of the surviving Schlitz tied-houses were constructed with cream city brick, the White House is a wood frame, clapboard building on a cream city brick foundation. However, like some of its brick cousins, this place was designed in the Queen Anne style and adorned with a couple turrets, the largest being above the main entrance.
Inside, the corner tap is extremely well-preserved. The hardwood floors remain and so does the solid wood bar. The impressive carved wooden built-ins are the same ones you see in photos dating back to the bar's opening day, and the cooler doors are original, too, even if the inner workings of the appliance have been modernized.
The metal hinges and handles on these built-ins are original, too, and many are stamped with the names of their manufacturers.
I especially like the shape of the tavern, which seems unique in Milwaukee. The copious windows mean that the bar is flooded with sunlight during the day, and when you walk in the front door you immediately have a panoramic view of nearly the entire place.
In the basement you can see where old windows and access doors have been bricked up. A back hallway – whose staircase has its original wooden newel posts and railings – leads to the second floor tavernkeeper's apartment, now inhabited by Langoehr and his canine pal – and up to the attic.
Up there, you can duck down low and go into the turrets, though they're pretty tight spaces. The back one is open clear up to the peak, but the front one, which looks out over the Kinnickinnic Avenue, has a ceiling just above the windows.
Among the many items stored up here are more old Kneisler photos and awards, as well as a trove of old schoolbooks, dated with the first years of the 20th century, and containing the penmanship of young 17th Ward School student Herbert Kneisler – who later took over the bar from his uncle – as well a some dusty old tomes with brittle and yellowed old pages full of German gothic print.
One thing I didn't see (or hear) during my visit – or any of the other times I've visited the White House over the years – are ghosts, which are among the first things folks utter when you mention Kneisler's.
Some say they've heard children playing upstairs, but the most talked-about ghost is the spirit of a woman who apparently walks through the bar late at night and can often be found hanging around outside the bathroom, according to Langoehr.
"There are a few different legends about the hauntings of the White House," he says. "I haven't had many things happen with me. I don't know if you need to be in tune with that type of thing."
He recalls one night, when he was sleeping in the apartment upstairs, there were a really loud knock on the door. Loud enough to cause Langoehr's dog to bark.
"I got up and no one was there," he says. "I hear a lot of noises in the building because the building shifts, and the way it's shaped causes the wind to skim around it really fast and sometimes it'll blow open the doors.

Turret on the outside, above, and on the inside, two photos below.
"I don't put too much into it; I'm not a believer as much in ghost stories. But a really loud knock on your door at 2 in the morning and nobody there, makes you think about it."
When William Kneisler died in 1919, Langoehr says old Bill's 39-year-old nephew Herb – a hulking fellow to judge by the photos – took over and ran the place until he passed away in 1973.
Like many taverns, the White House quickly became a neighborhood gathering place, one where election results were waited out, one where mail was stored for neighbors, one that had some of the earliest telephones in Bay View, one that rented attic rooms out to residents and one that, of course, sold beer by the bucket to hard-working Milwaukeeans.
"Kneisler paid this loan off pretty quick, and was no longer beholden to selling only Schlitz beer, after only a few years," says Langoehr. "In some of the old photos however, you can see the classic Schlitz palm tree and Schlitz logo."
The White House remains a neighborhood magnet, even now with so much competition in the neighborhood. It's a place for volleyball, a place to plug the jukebox, a place to play some board games with friends, a place to buy your mug and store it up on the shelf for your next visit. It's a beloved, neighborhood place, and has been for many generations.
"One of the things that sets the Historic White House apart from some of these other classic taverns is, it has always been a tavern," says Langoehr. "Some have started as boarding houses, union halls, etc., but William Kneisler built the tavern in 1890, as what it still stands as today.
"Even during prohibition, we never stopped selling beer. I mean, who is going to tell a bunch of old German guys they could not drink or sell beer? Kids would often take pails full of 'small,' meaning low-alcohol, beer down to the mill workers a few blocks away."
When you stop in at the White House, be sure to look at those cool historical photos on the walls that help give you a sense of just how important the place has been to Bay View for more than a century. Don't forget to shift your gaze upward, too, to see the great little model of the place, which is silver, not white.
"It was a major stop on the stagecoach line, through the late 1800s, early 1900s," says Langoehr. "In one of the photos, you can see local politicians gathering for election night results, and celebrating their victory. This was – like most large taverns at the time – also a sort of town hall. One might come here for their mail or telegraph, to get a haircut or shave, (downstairs), eat, vote, get news, etc.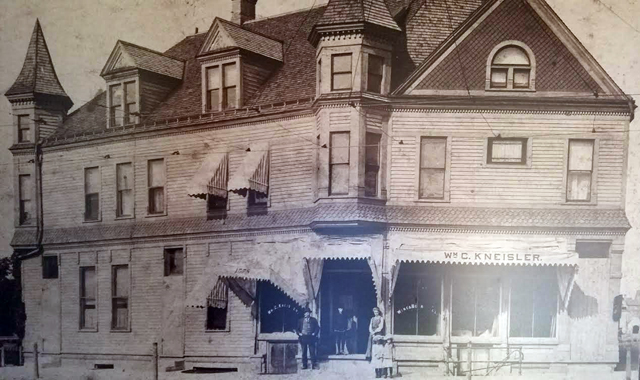 "Now, we have four nights of volleyball during the week (leagues start in April), bean bag leagues, some of the best parties in the neighborhood, especially Halloween, a VIP members club with your own engraved mug, and a customer base that spans all age groups."
That mix of modern vitality and historical character is what makes the White House so great. It looks and feels like the place you see in those old photos, but, perhaps fortunately, without the spittoons.
Born in Brooklyn, N.Y., where he lived until he was 17, Bobby received his BA-Mass Communications from UWM in 1989 and has lived in Walker's Point, Bay View, Enderis Park, South Milwaukee and on the East Side.
He has published three non-fiction books in Italy – including one about an event in Milwaukee history, which was published in the U.S. in autumn 2010. Four more books, all about Milwaukee, have been published by The History Press.
With his most recent band, The Yell Leaders, Bobby released four LPs and had a songs featured in episodes of TV's "Party of Five" and "Dawson's Creek," and films in Japan, South America and the U.S. The Yell Leaders were named the best unsigned band in their region by VH-1 as part of its Rock Across America 1998 Tour. Most recently, the band contributed tracks to a UK vinyl/CD tribute to the Redskins and collaborated on a track with Italian novelist Enrico Remmert.
He's produced three installments of the "OMCD" series of local music compilations for OnMilwaukee.com and in 2007 produced a CD of Italian music and poetry.
In 2005, he was awarded the City of Asti's (Italy) Journalism Prize for his work focusing on that area. He has also won awards from the Milwaukee Press Club.
He can be heard weekly on 88Nine Radio Milwaukee talking about his "Urban Spelunking" series of stories.