The transformation is a sight to see. While the bones of Armand Koch's 1916 Milwaukee Athletic Club building remain – as do some key interior elements, thankfully – $70 million was poured into the 12-story building at 758 N. Broadway to give it life for at least another century.
And by the looks of it, it'll be a rather comfortable century, with a fully outfitted fitness center, a completely rebuilt pool, a stunningly restored gym, a lounge, 54 apartments, six hotel rooms, a salon on the way, that incredible ballroom and, among other things, an eye-popping rooftop level.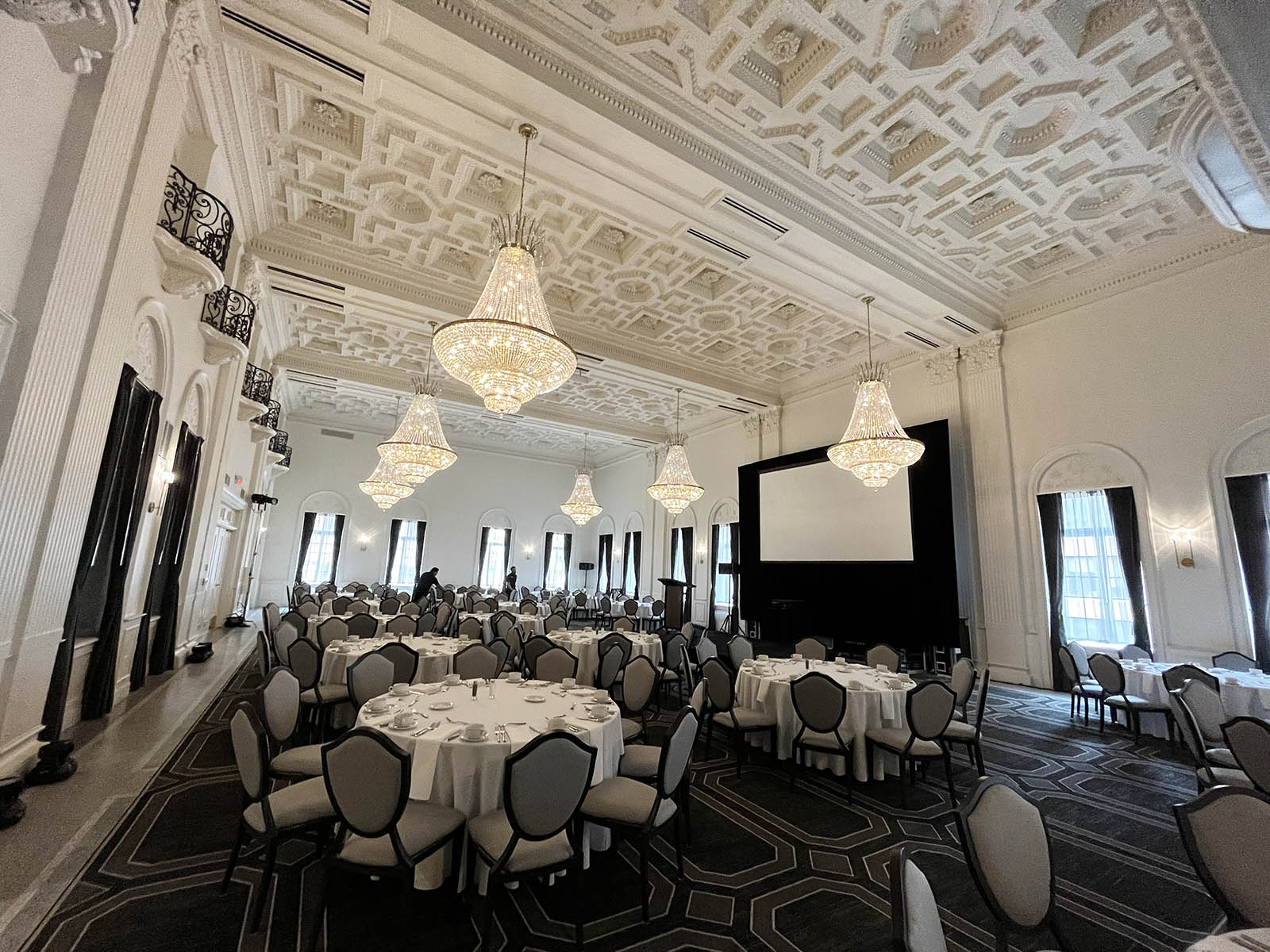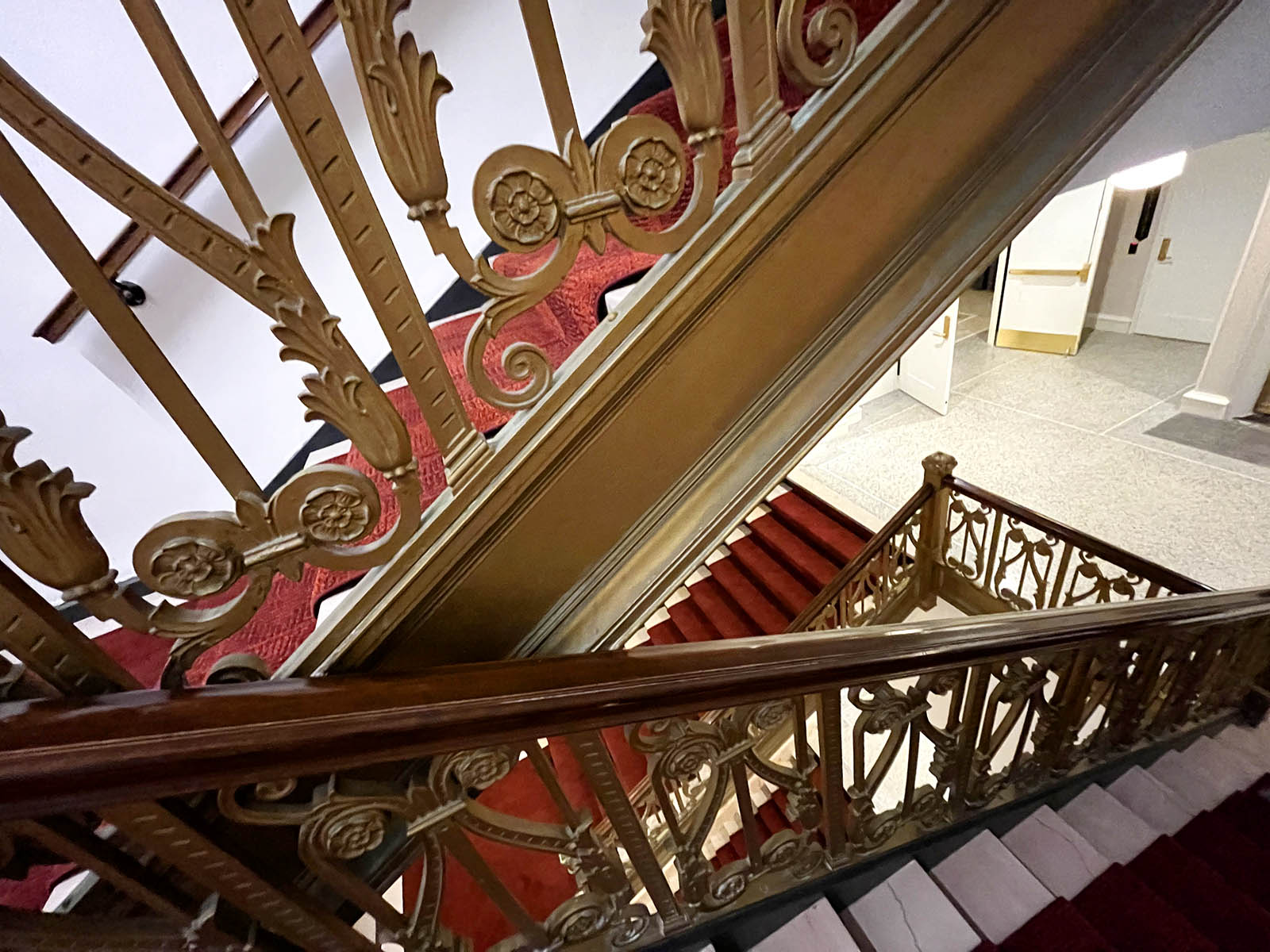 (You can read a history of the building in this Urban Spelunking story.)
The refreshed building reopened – softly – on Jan. 1 and tenants began moving into apartments in February. In April, an official grand opening event was held, drawing more than 600 people.
Developers J. Jeffers & Co. and Interstate Development Partners closed on the financing for the project in autumn of 2020. Around that time, we checked in on progress for this story. CG Schmidt is the general contractor and Kahler Slater the architect on the project.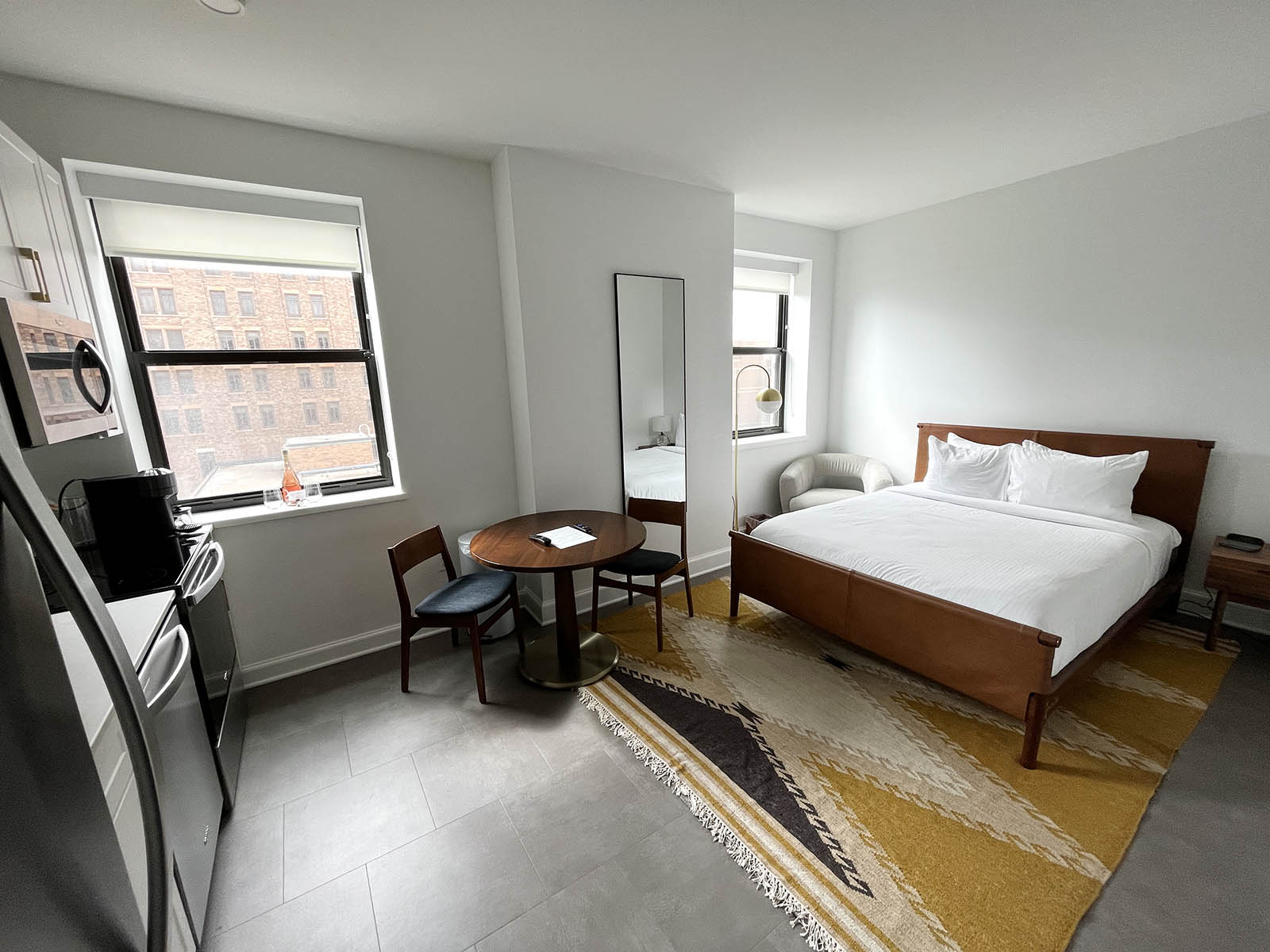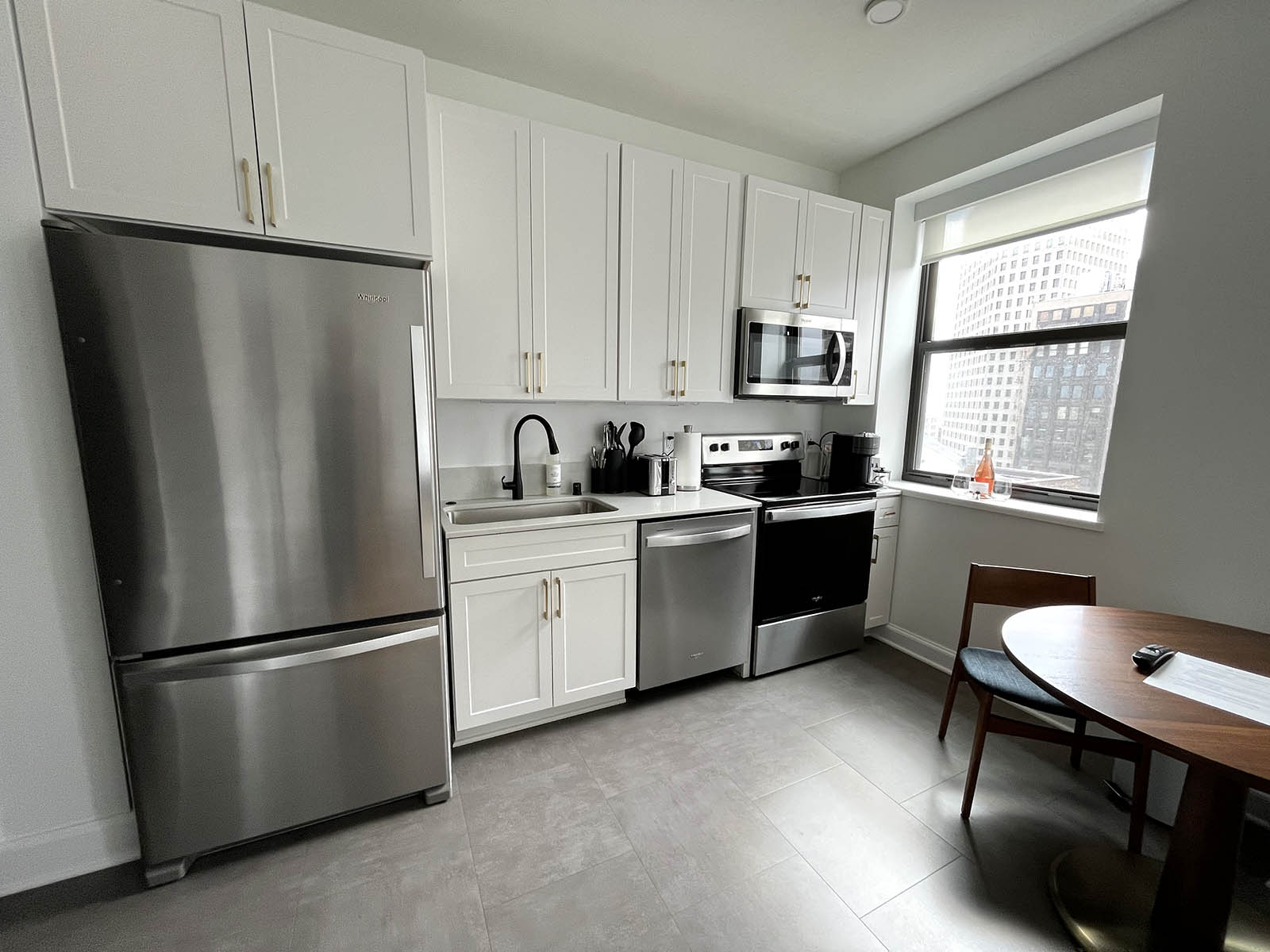 Most of the apartments – there are 26 floor plans among the one-, 12 two- and three three-bedroom units – are now rented. Square footages range from 516 to 1,448, and rents start at $1,650.
Amenities include pet washing stations, bike storage, underground parking and storage lockers and soon will add EV charging stations.
The hotel rooms – some of which are like studio apartments with full kitchens and washers and dryers – are also proving popular.
And membership is up, which seems astonishing considering how long the building was closed – with members using temporary facilities at CityCenter 735 a block away – and Covid shutting everything down for a time, too.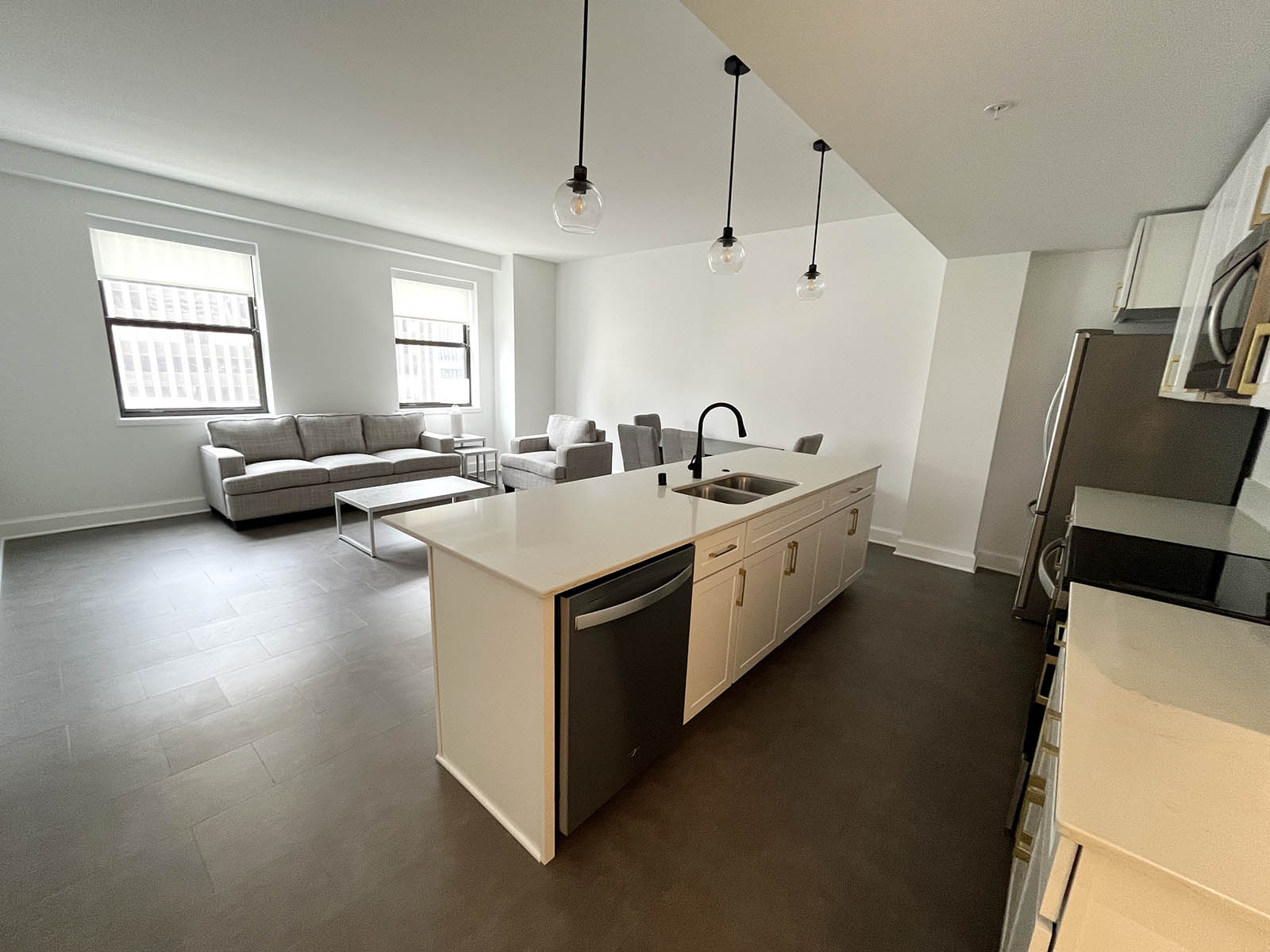 "It did drop," says developer Josh Jeffers. "The club itself was closed for a couple of years. But it was in the 800s of members before formally closing down in 2019, and I think our low point was about 450, probably, in August of 2021. It nearly killed us.
"It's almost profound that so many people – hundreds of people – continued paying their dues, and hung on, for this multi-year period."
Now, membership is up in the 900s.
"This place really means a lot to people and the community here," says Director of Membership and Events Thomas Hughes. "We're above our pre-renovation levels by about 100 and that's growing very fast and definitely also shifting demographically.
"It's a much younger crowd."
Hughes says that the average age of what was often seen as an "old boys club" has plummeted by a couple decades and many new members are in the 30s. The fact that all memberships are family memberships – and that there's a great child care space that's available to members for a nominal fee while they're using the facilities – is surely helping, too.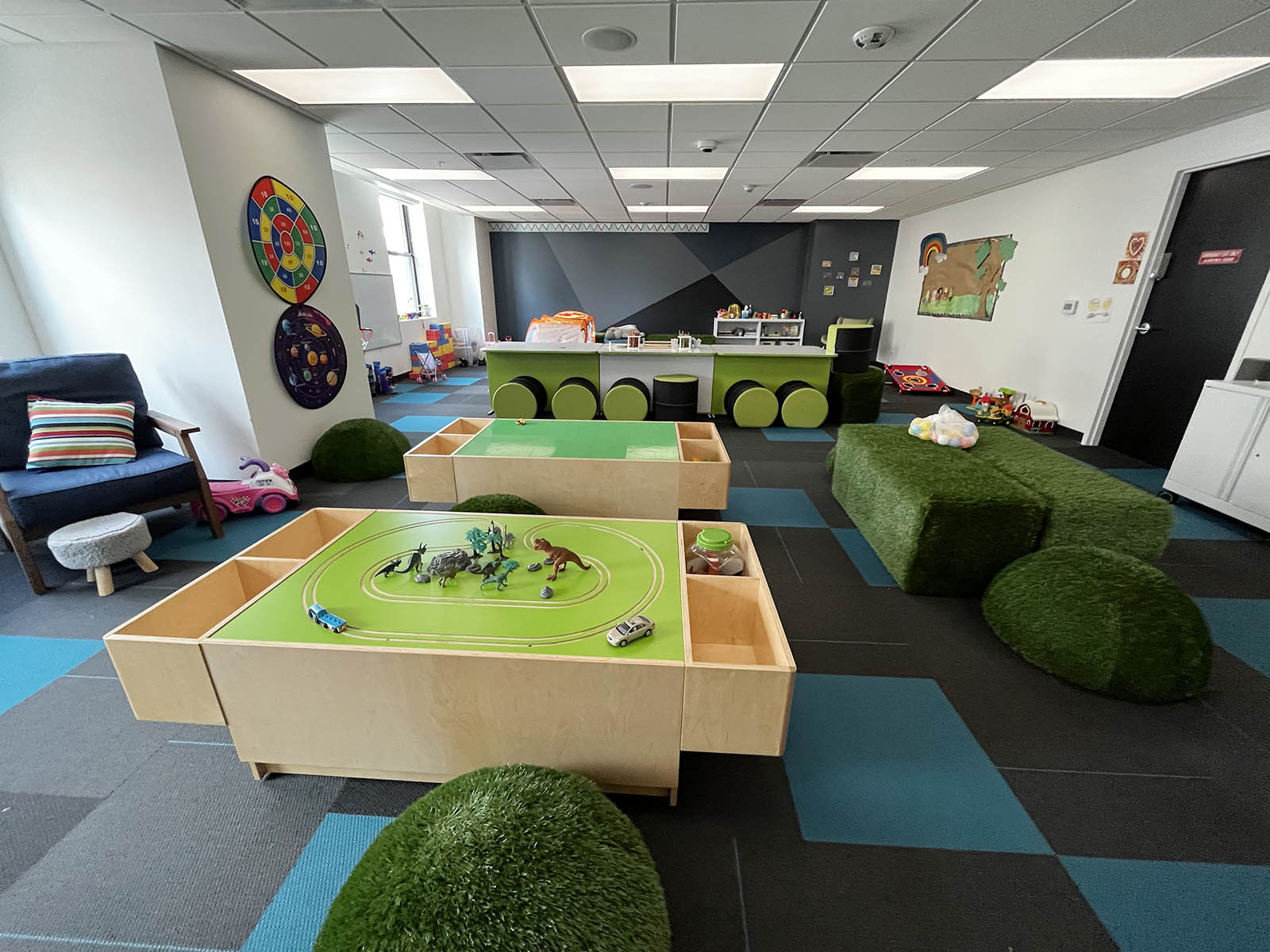 About half the current members were never in the old space and arrived at the MAC with no expectations based on past experience there.
"They had no comparison," says Jeffers. "I think for some of those members that hung on during the construction period, there was a very welcome attitude toward updating the club and renovating it. I think going back to 2018, when the renovation plan was rolled out, there was some surprise, like, 'does it really need that much?'
"Seventy million dollars is a lot of money. But a lot of the problems – stand pipes and HVAC equipment – a lot of these things have a useful life that is 75 years or less. And the only way to replace electrical systems and plumbing and mechanical equipment is to gut the entire building. How else to get to those things?"
When the steam room only works for 20 minutes a day, Jeffers offers as an example, the only way to fix it is to pull it apart and replace it.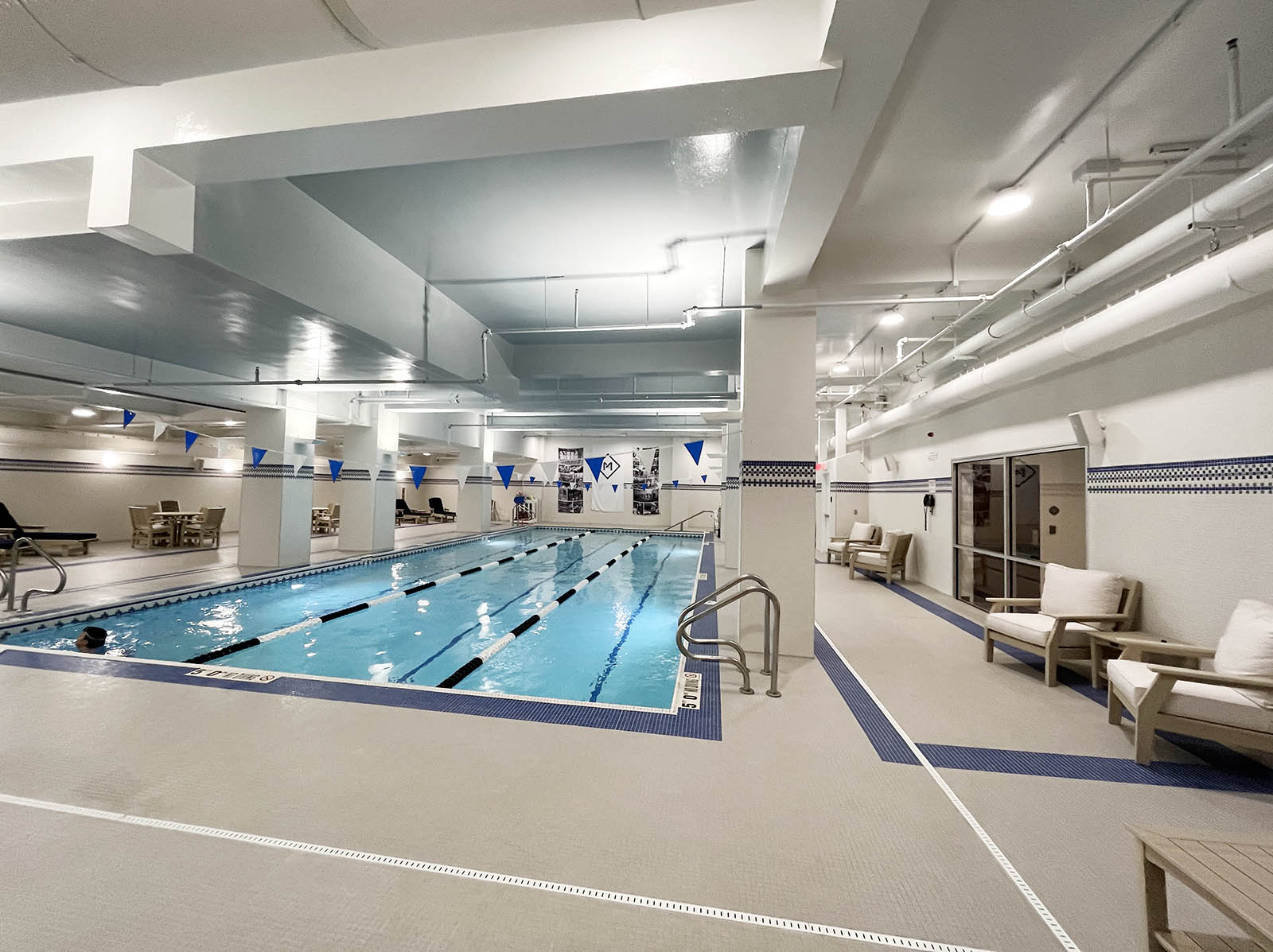 "So, in many ways this is a brand new building," he adds. "It really is brand new with all the original historic character and elements. All of that (was) retained because we did take it through the federal historic tax credit process. So all of our modifications were approved by the state preservation office and the National Park Service, but it does end up basically being a new building within the historic shell, which is amazing."
The changes are immediate upon entering. The lobby level is reconfigured and redecorated, though fortunately vintage railings and brass elevator doors and other details survive.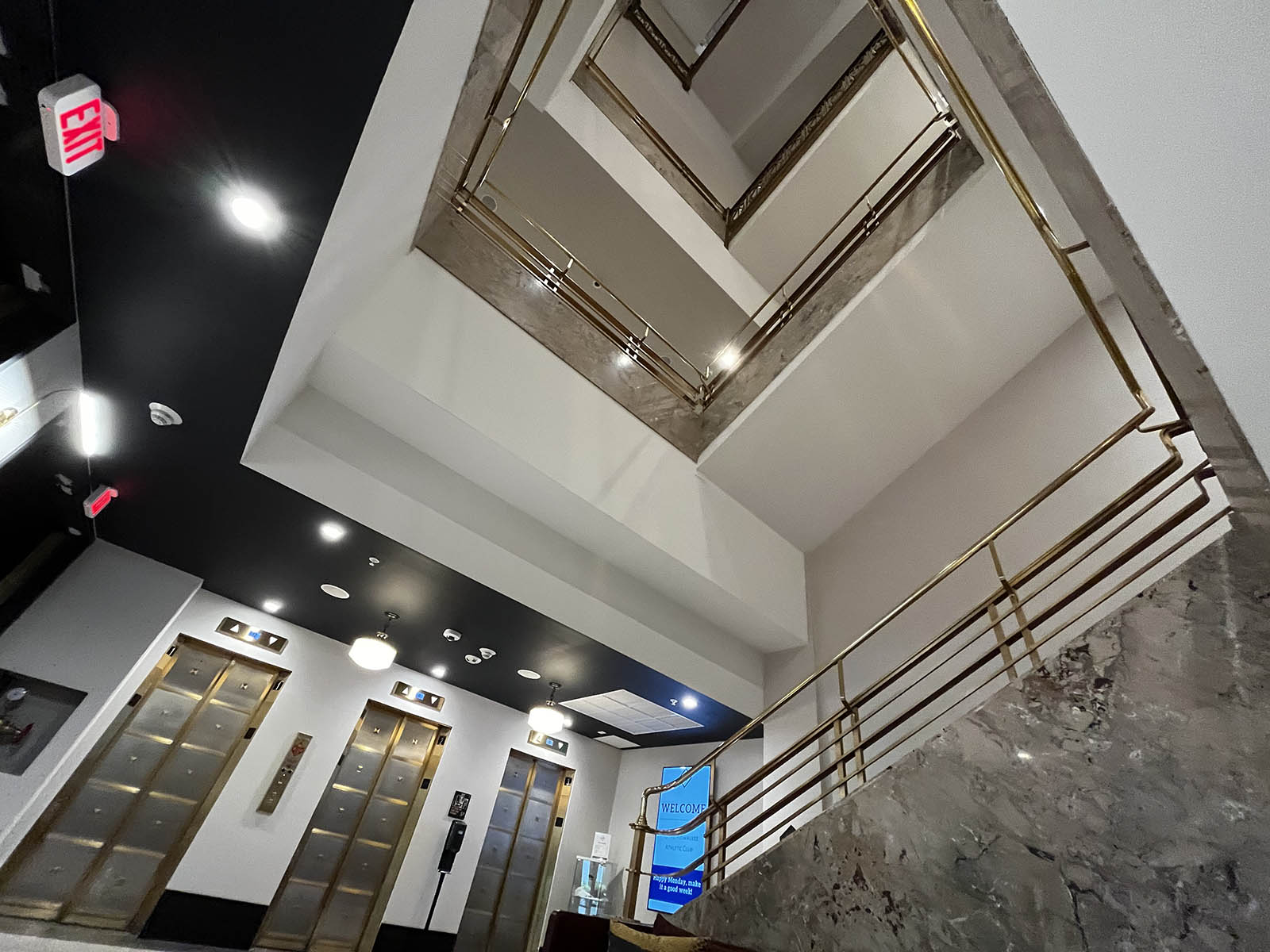 It bears noting that Jeffers loves historic buildings and has worked his magic on everything from the Mitchell and Mackie Buildings to the former Journal Sentinel offices to Racine's Horlick Malt plant – among other projects.
He also develops new construction like the Huron Building, a few blocks south of the MAC.
The MAC apartments and hotel rooms are on floors eight through 12 and so, in addition to modern fittings, they typically boast great Downtown views, too. Some of them occupy former racquetball courts and still have those floors, including the painted lines.
The club's athletic facilities are top notch.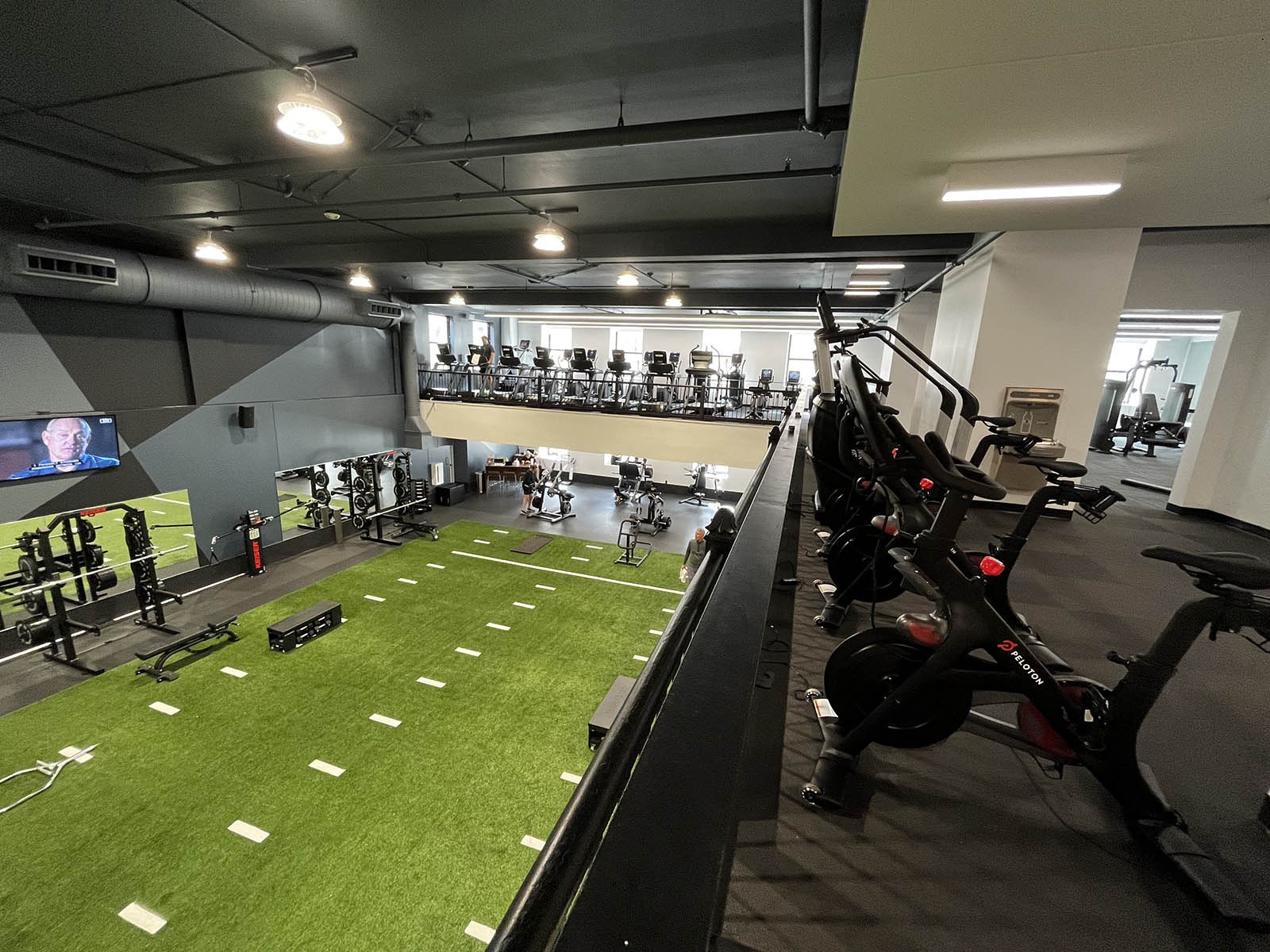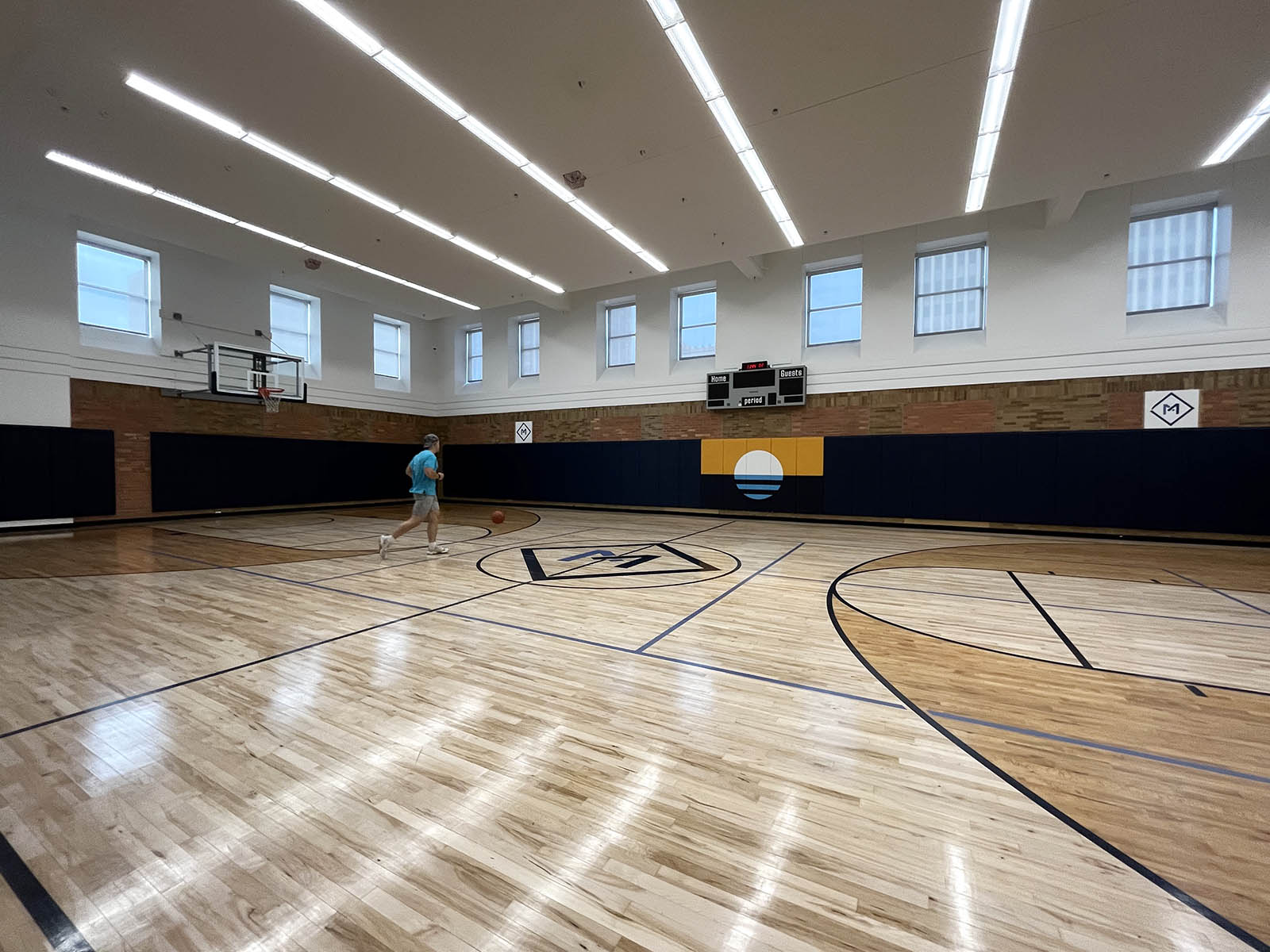 The old men's pool was filled with foam and capped with concrete, creating a floor for a bi-level fitness center with weight machines, free weights, compression chairs, group studios, locker rooms, steam rooms, saunas, massage studios and more.
The old gym has been improved, too, with once-bricked up windows reopened, a beautiful hardwood floor restored and a giant Milwaukee People's Flag wall padding – taken from Jabari Parker's old house – added.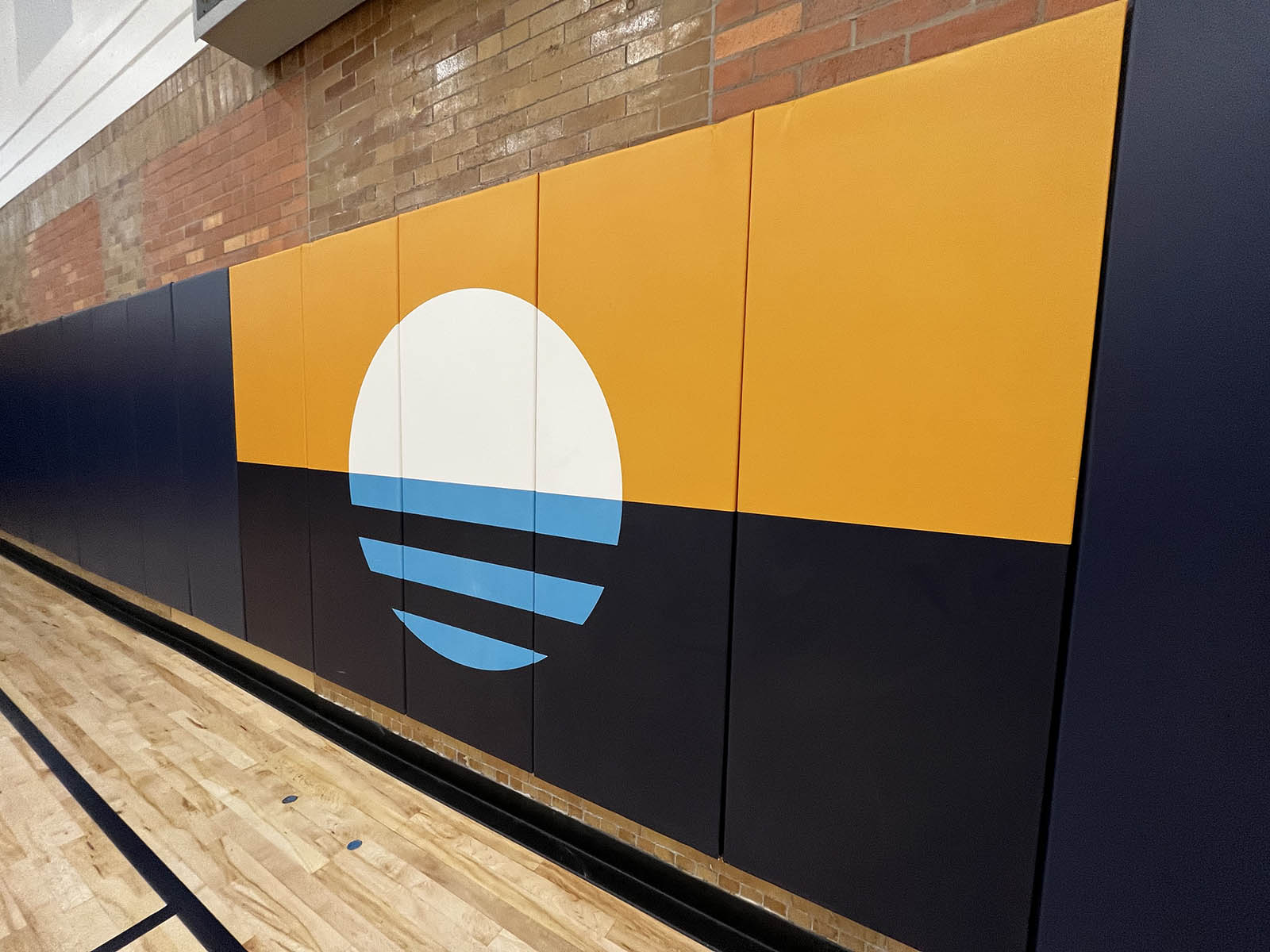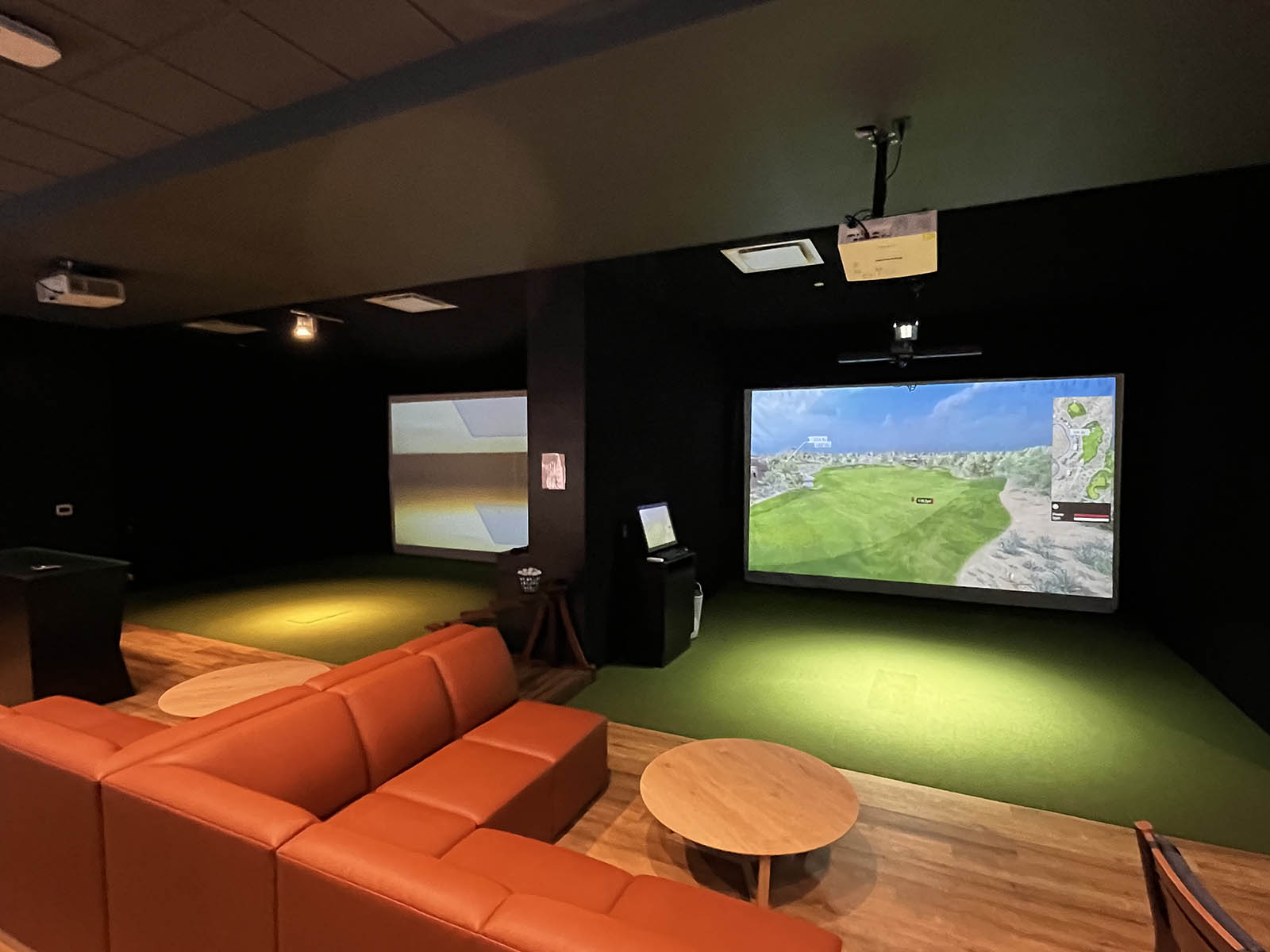 The former women's pool on the lower level was completely replaced and it's now a fully updated 20-meter salt water pool with shower facilities attached. A golf suite has a pair of high-end simulators that can also be used for a number of other sports, too, and has proved popular.
There are also renovated meeting rooms of various shapes and sizes, with the biggest being the two-story ballroom with its Swarovski chandeliers and recently uncovered and restored terrazzo floor.
There are lounges for members that rival world-class amenities like the club levels at luxury hotels.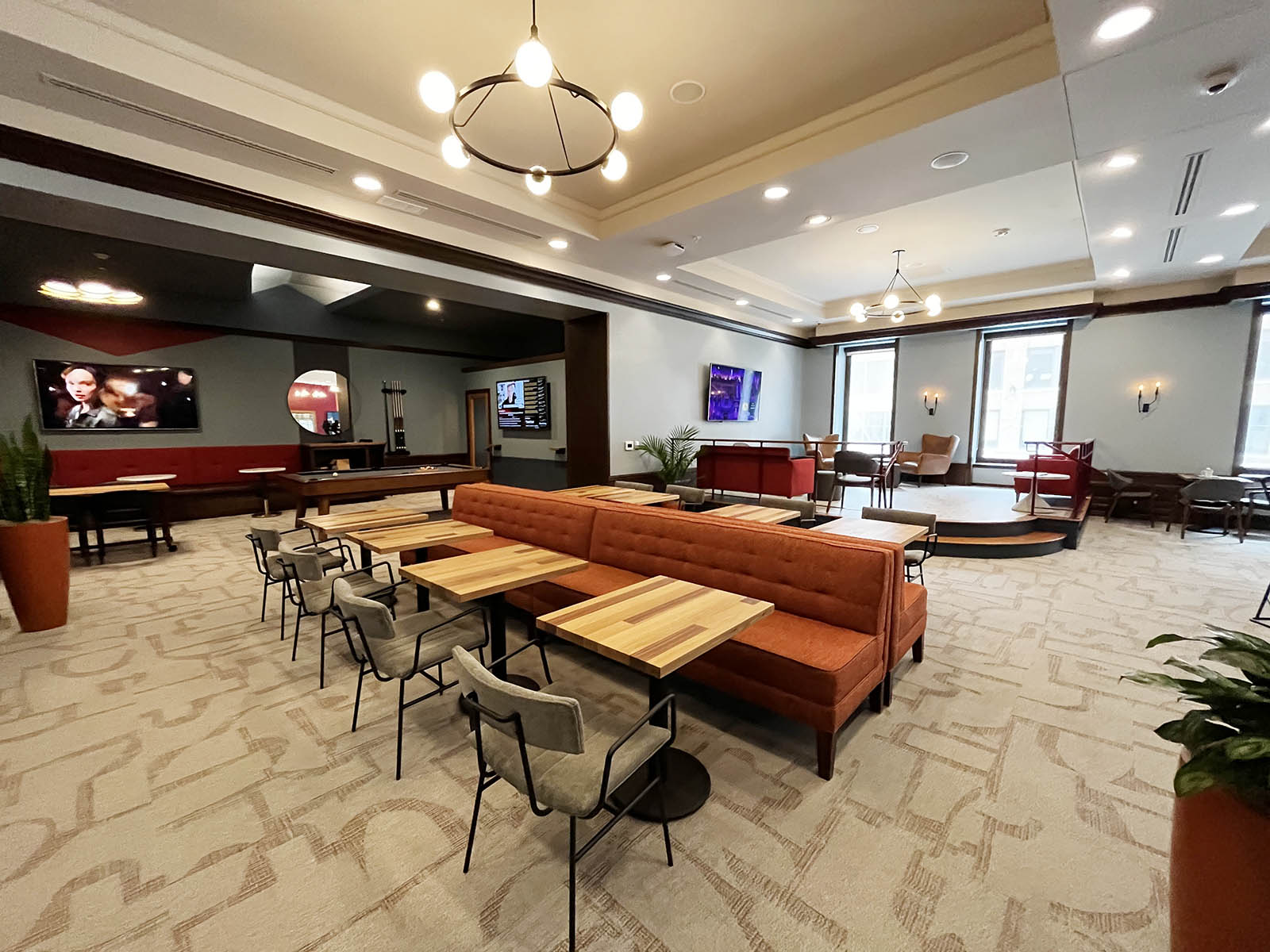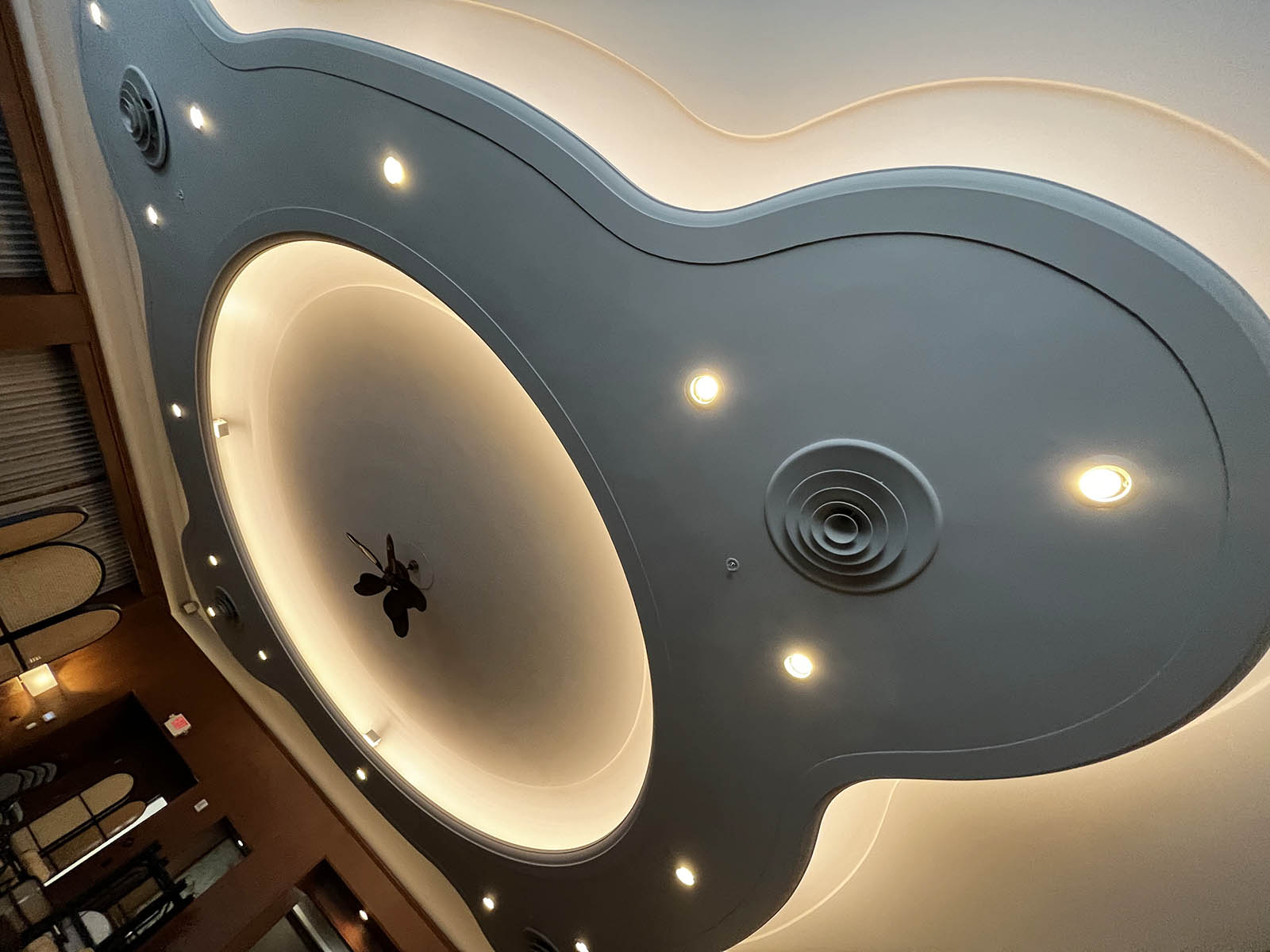 The Bali Room, with its paintings "of an era" and amorphous ceiling "blob," a completely refreshed Elephant Lounge and the room with Milwaukee artist Dick Wiken's amazing 1948 carved wood fireplace surround all survive in their mid-century glory.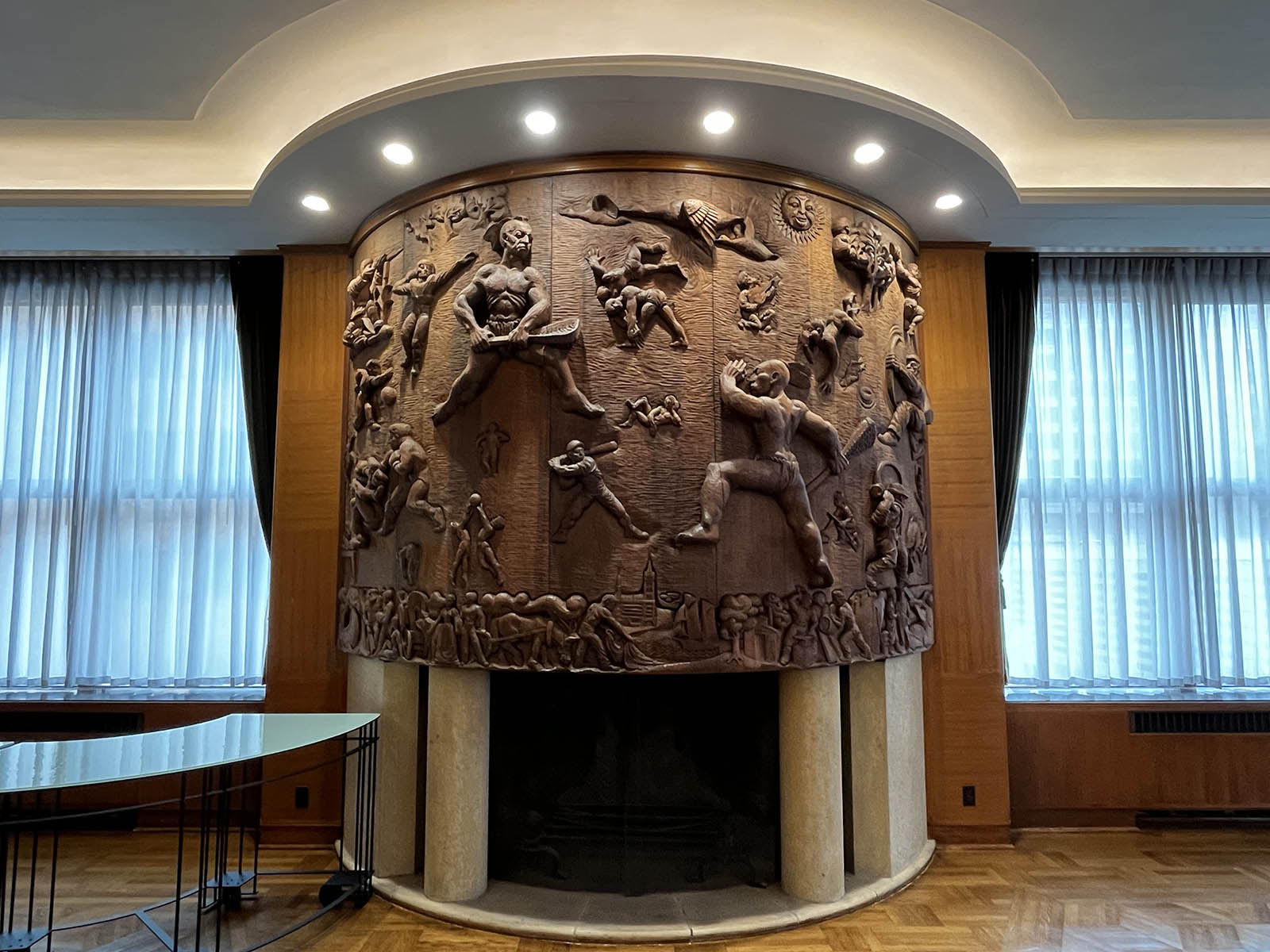 The most amazing new space however, is one that didn't even really exist before.
The elevator was extended up to the top and a beautiful rooftop restaurant and bar were added.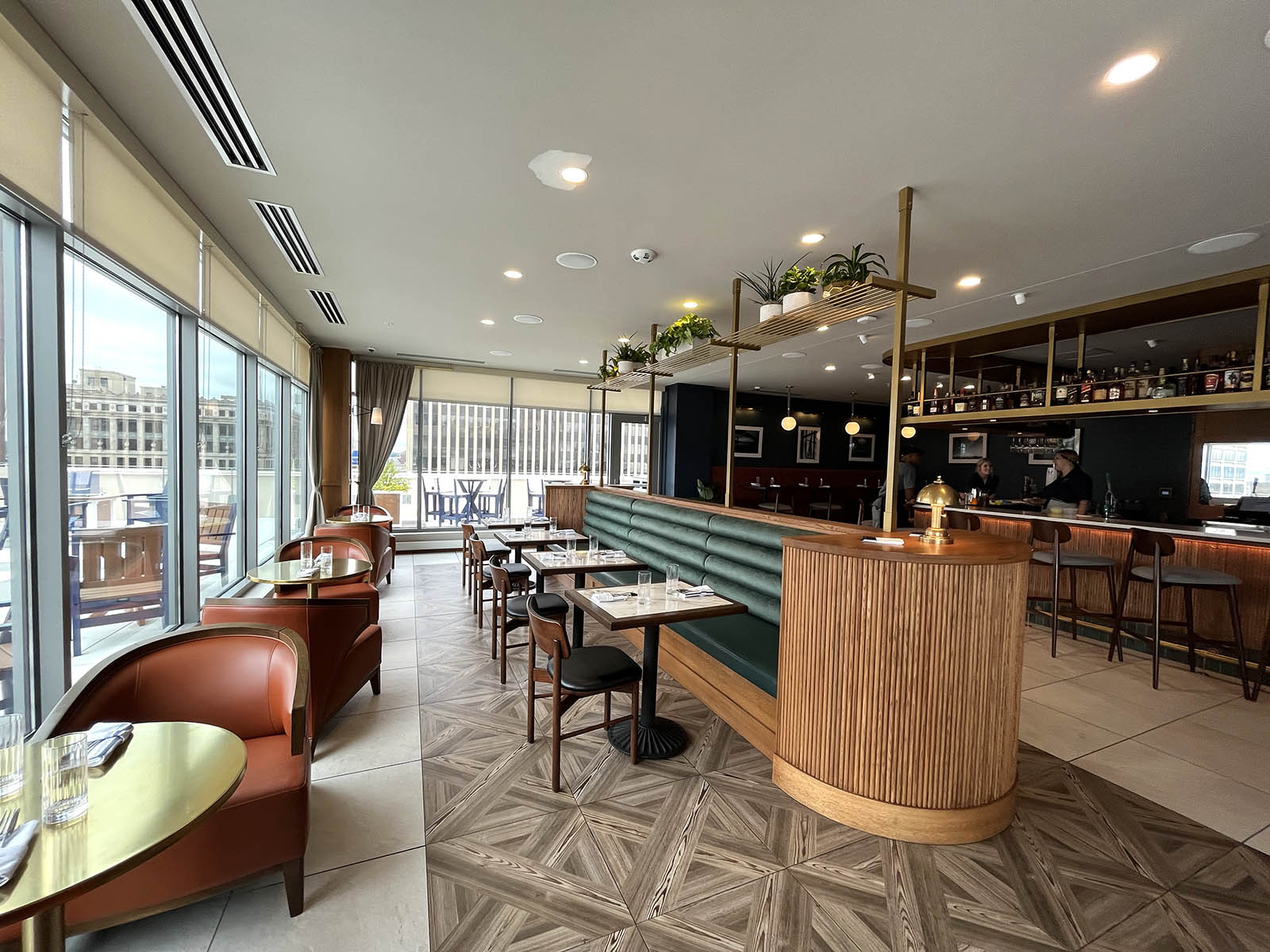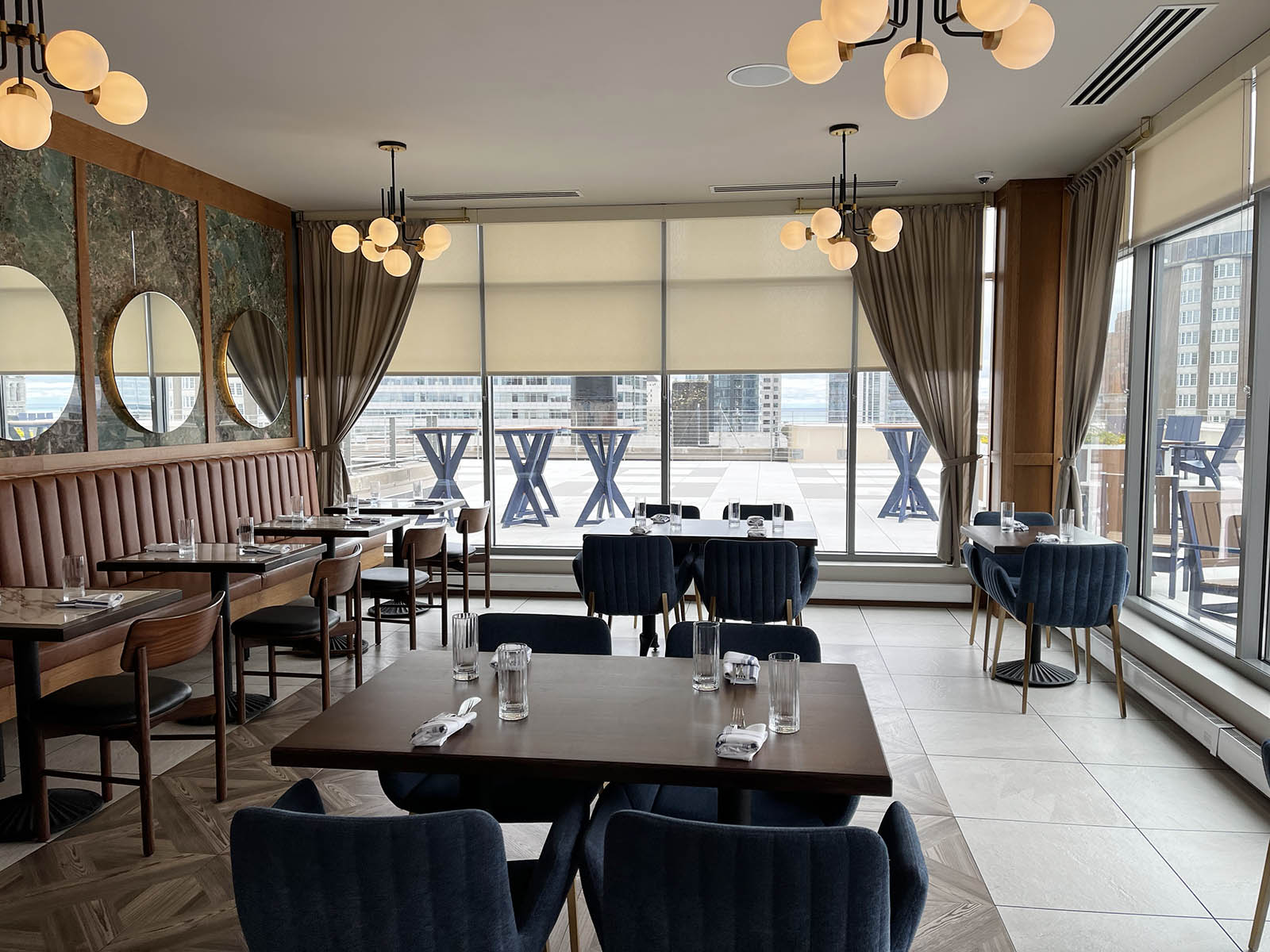 The old rooftop, which was used for a variety of events, but was sunken behind a parapet wall that blocked vistas, has been raised. Seating and tables have been added, and a platform hosts rooftop yoga and other events and programming.
The panorama in three directions – east, south and west – is one of the best you'll find.

"The biggest change was on this floor," says Hughes. "Back in the day, there was a bar where you could have events like 14 days a year, because we are in Wisconsin. The addition here is of a four-season space."
"There really isn't an activated rooftop for event use that's this high up in the city," adds Jeffers.
Back inside, we see one of the few spaces left to complete. It's a relatively small space, but with soaringly high ceilings and views over the city. It will likely be converted to an events room with wine storage, says Director of Sales Steph Skrade.
"I picture a library vibe because of that ceiling," says Skrade, hinting at the addition of rolling ladders to reach wine bottles on upper shelves.
A vacant lobby space, which had been the construction office, is set to become a salon. A tenant has signed on, but the build-out has not yet happened.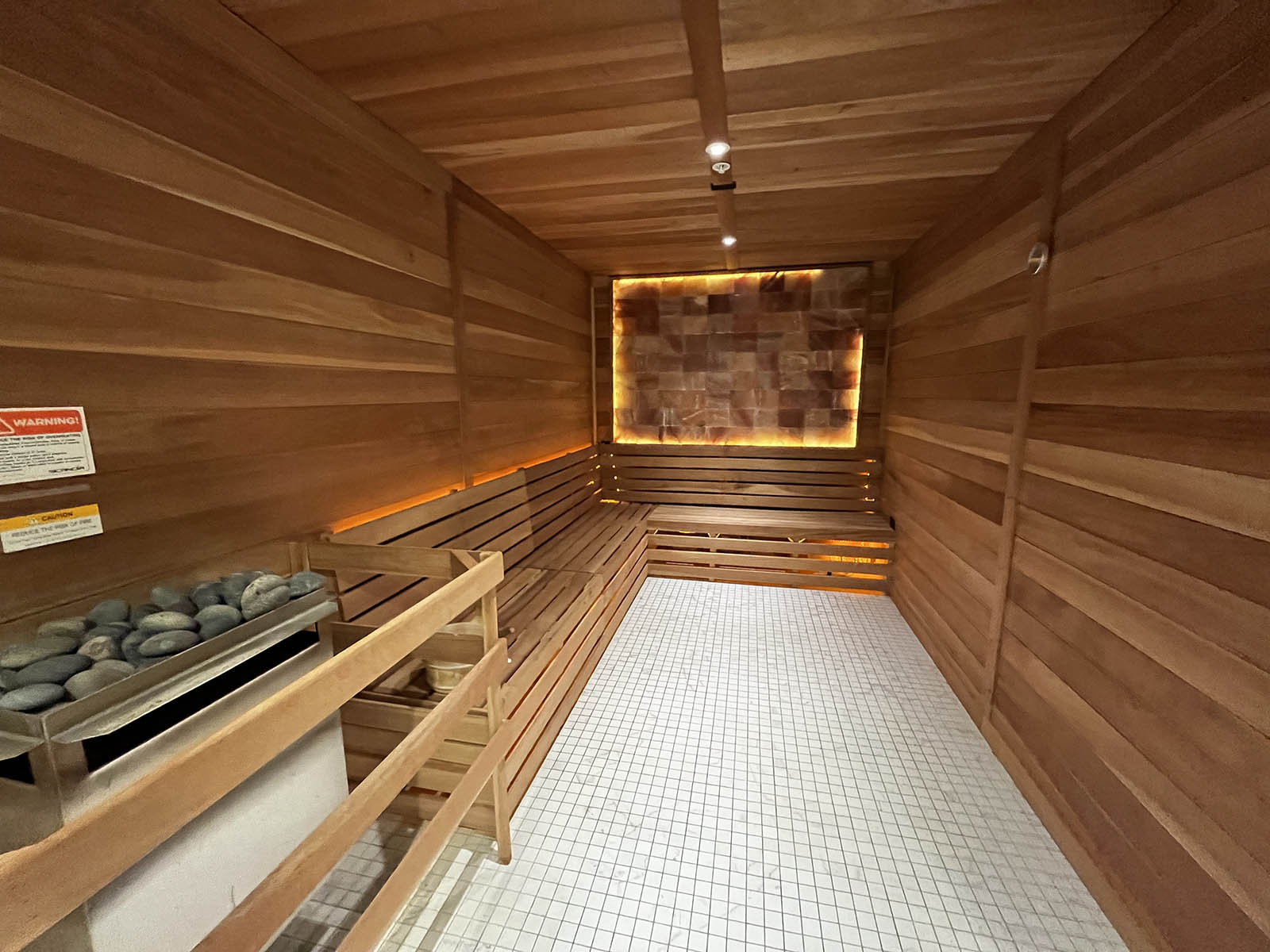 Then, the most obvious opportunity is a blank slate space that runs the entire length of the building's south side, facing Mason Street.
Here, formerly closed-up windows have been reopened, and this space is waiting for activation.
"That is where the old restaurant used to be," says Jeffers, "and this is what happens when you close on a social club in the middle of the era of social distancing. We had a lot of the intended activated areas within the building essentially just taken out of our budget.
"We closed in November of 2020 with our financing, which was before the vaccine. It was a risky time, and so the only way to really make the numbers work was to be significantly more conservative on every level."
That means that some of the food and beverage spaces – like the Bali Room – are not yet online. And it means that this big lobby space is also not yet ready.
Jeffers sees this as the main restaurant, open to the public, and potentially run by MAC staff, though he's also open to working with an outside operator if the fit feels right.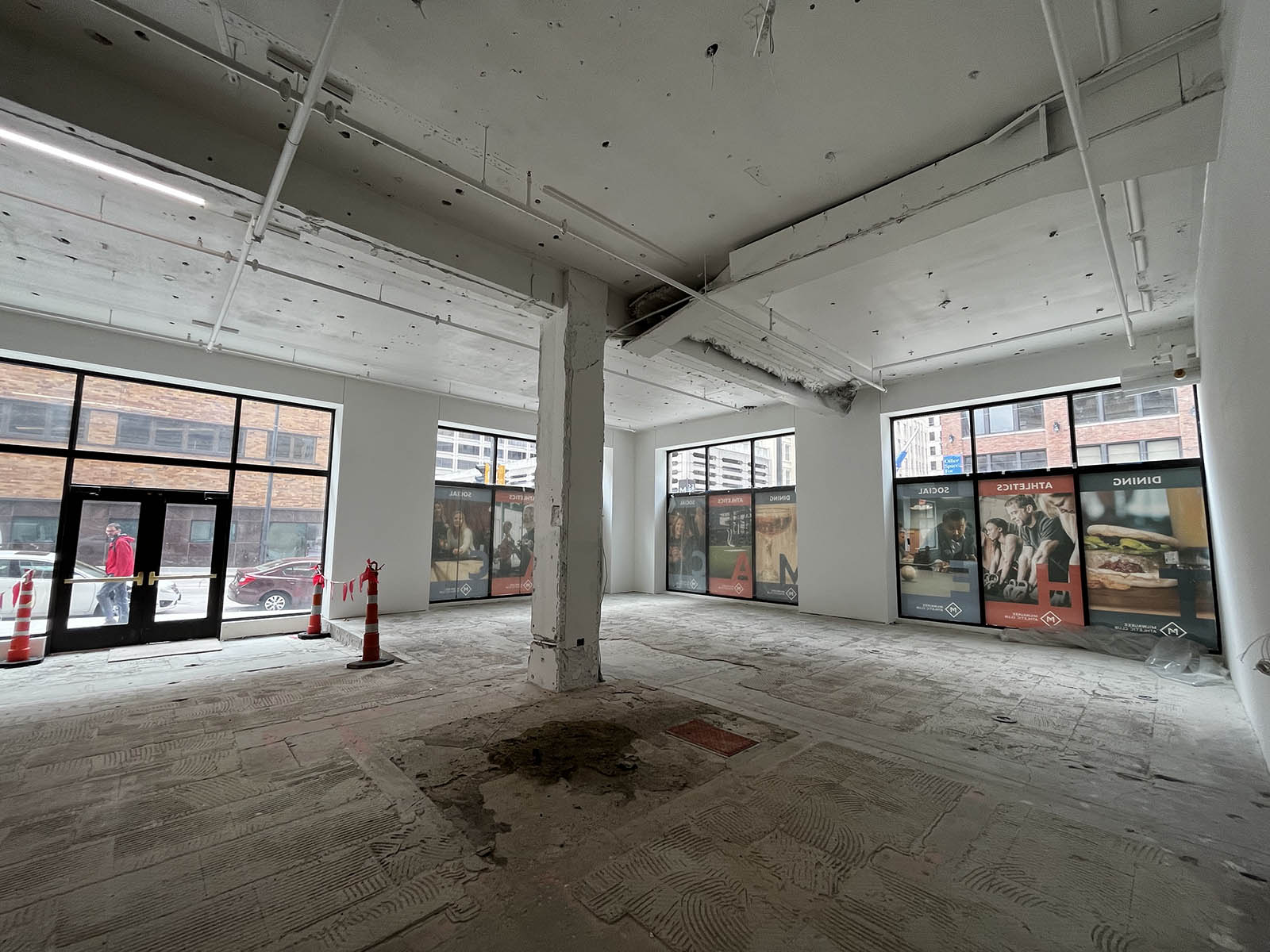 "We want it to be open to the public," he says. "We want to have a lot of high volume in there. We think of it as a way to really help energize not just the building but this corner of the Downtown. If that means outsourcing to a third party restaurant group, that's something we certainly can do.
"We did this with the Huron Building a couple blocks south, where we brought in Tupelo Honey – this fantastic, regional brand, very well-run operation – and they have knocked it out of the park in terms of energizing the building, energizing that corner at Clybourn and Broadway, that everyone said that can never happen."
But, Jeffers adds, with the pandemic still affecting things, "there aren't a lot of Tupelo Honeys walking around."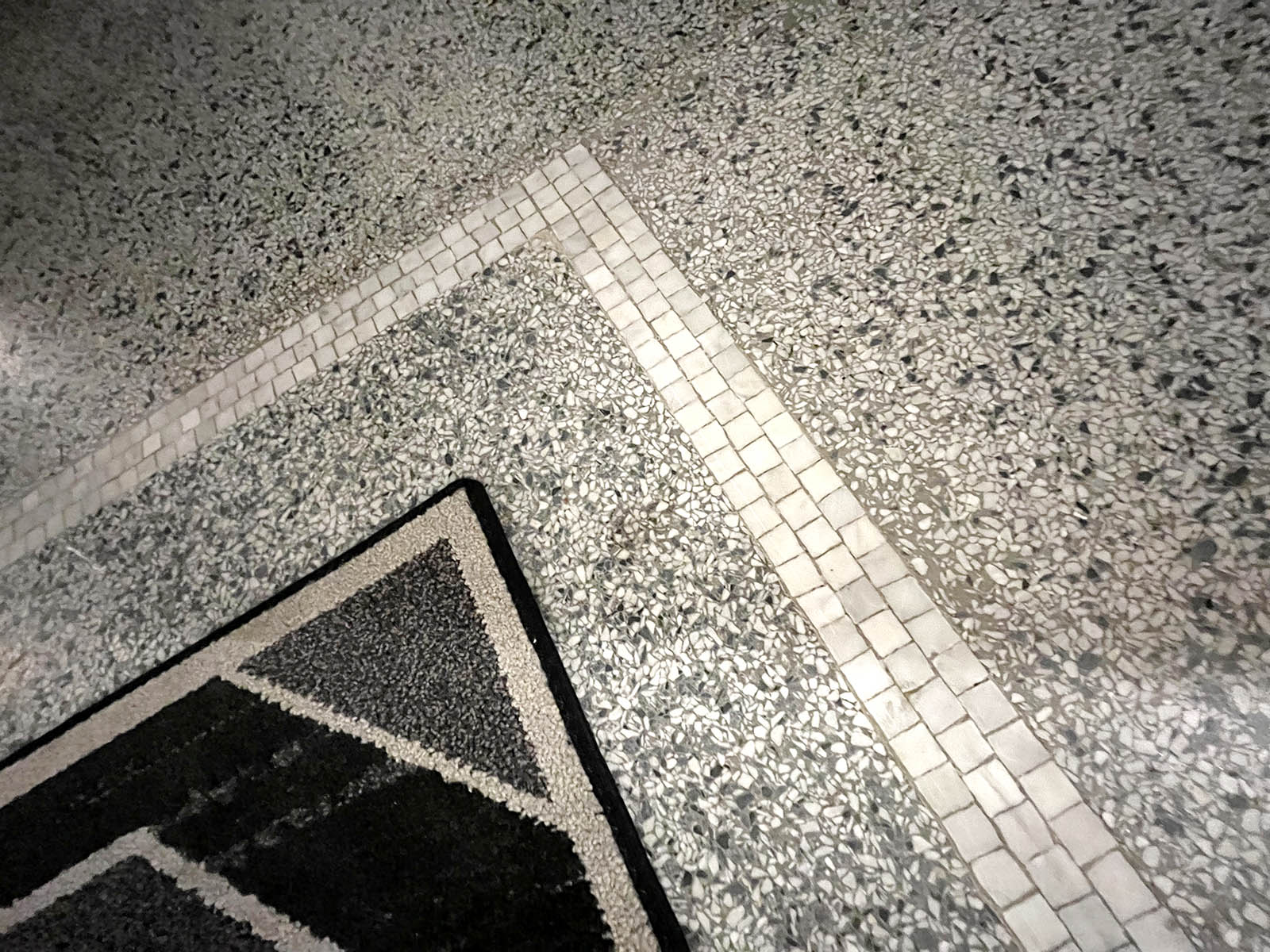 For now, the focus has been on other areas.
"Getting the apartments leased up, just getting the building reintroduced, that's really been the main thrust in the last six to nine months," Jeffers explains.
Income from those apartments, plus the hotel rooms and memberships, will help kickstart these last remaining features.
"But we've got to do it right," cautions Hughes. "Because it doesn't matter if we add 30 members a month if we have 10 members resign or 20 members resign. That's the struggle with private clubs.
"So we have a pretty tremendous focus on retention as well as growth."
Born in Brooklyn, N.Y., where he lived until he was 17, Bobby received his BA-Mass Communications from UWM in 1989 and has lived in Walker's Point, Bay View, Enderis Park, South Milwaukee and on the East Side.
He has published three non-fiction books in Italy – including one about an event in Milwaukee history, which was published in the U.S. in autumn 2010. Four more books, all about Milwaukee, have been published by The History Press.
With his most recent band, The Yell Leaders, Bobby released four LPs and had a songs featured in episodes of TV's "Party of Five" and "Dawson's Creek," and films in Japan, South America and the U.S. The Yell Leaders were named the best unsigned band in their region by VH-1 as part of its Rock Across America 1998 Tour. Most recently, the band contributed tracks to a UK vinyl/CD tribute to the Redskins and collaborated on a track with Italian novelist Enrico Remmert.
He's produced three installments of the "OMCD" series of local music compilations for OnMilwaukee.com and in 2007 produced a CD of Italian music and poetry.
In 2005, he was awarded the City of Asti's (Italy) Journalism Prize for his work focusing on that area. He has also won awards from the Milwaukee Press Club.
He can be heard weekly on 88Nine Radio Milwaukee talking about his "Urban Spelunking" series of stories.