The building is small and, aside from a lovely carved sandstone lunette above the entrance, not very ornate. But something about it still seems intriguing. I'm talking about the former Greene Museum, 3367 N. Downer Ave., on the UW-Milwaukee campus.
Completed in 1913, it was designed by Alexander C. Eschweiler, who was responsible for a number of other buildings on the campus that was originally home to Downer College. It was purchased by UWM in 1964.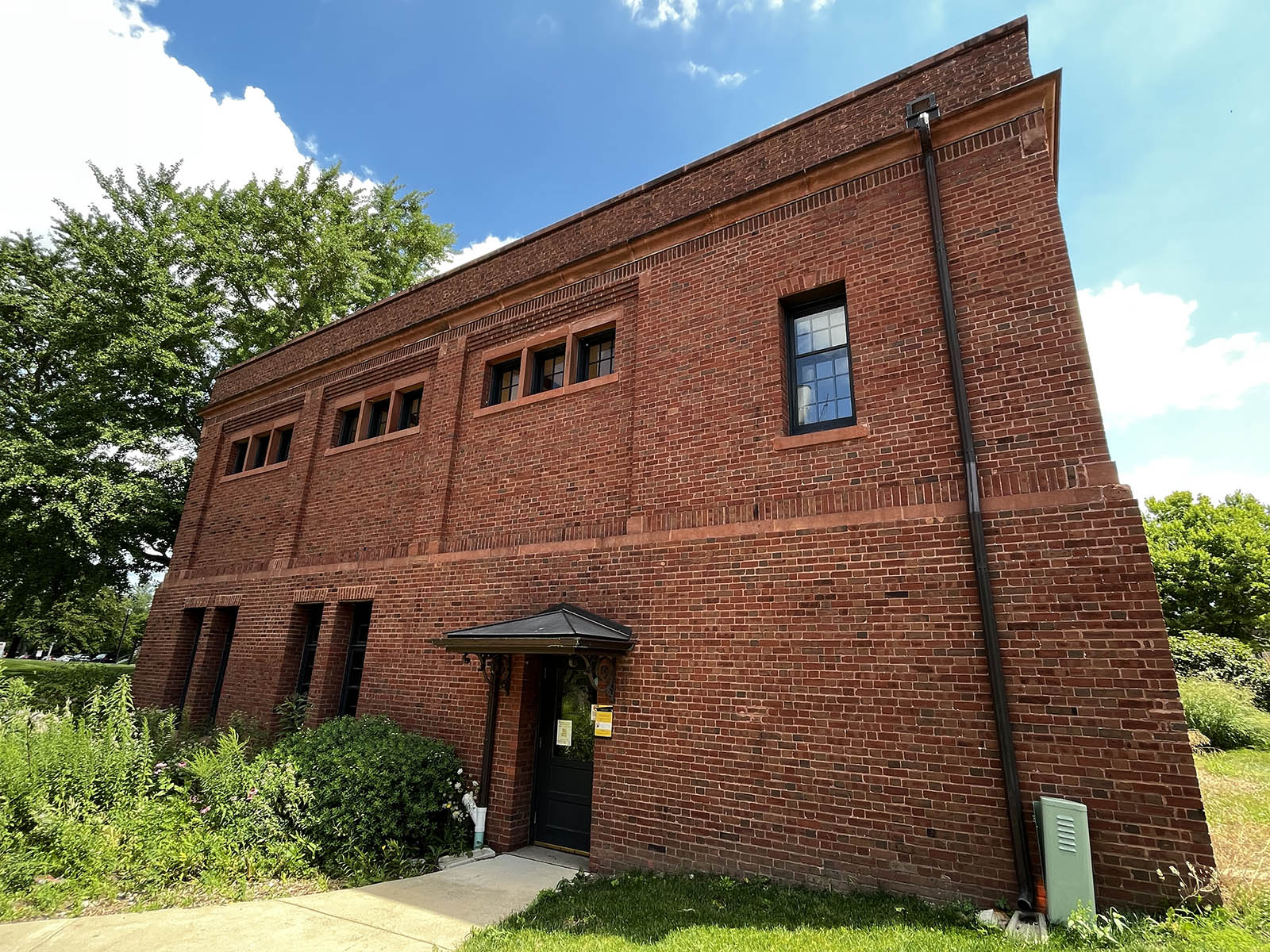 Although the two-story building – much of the lower floor is built into a little rise, hiding it from view on the Downer side – hasn't housed the Thomas A. Greene Collection since 1992, when it was moved across campus to Lapham Hall, the building is still technically called the Greene Museum.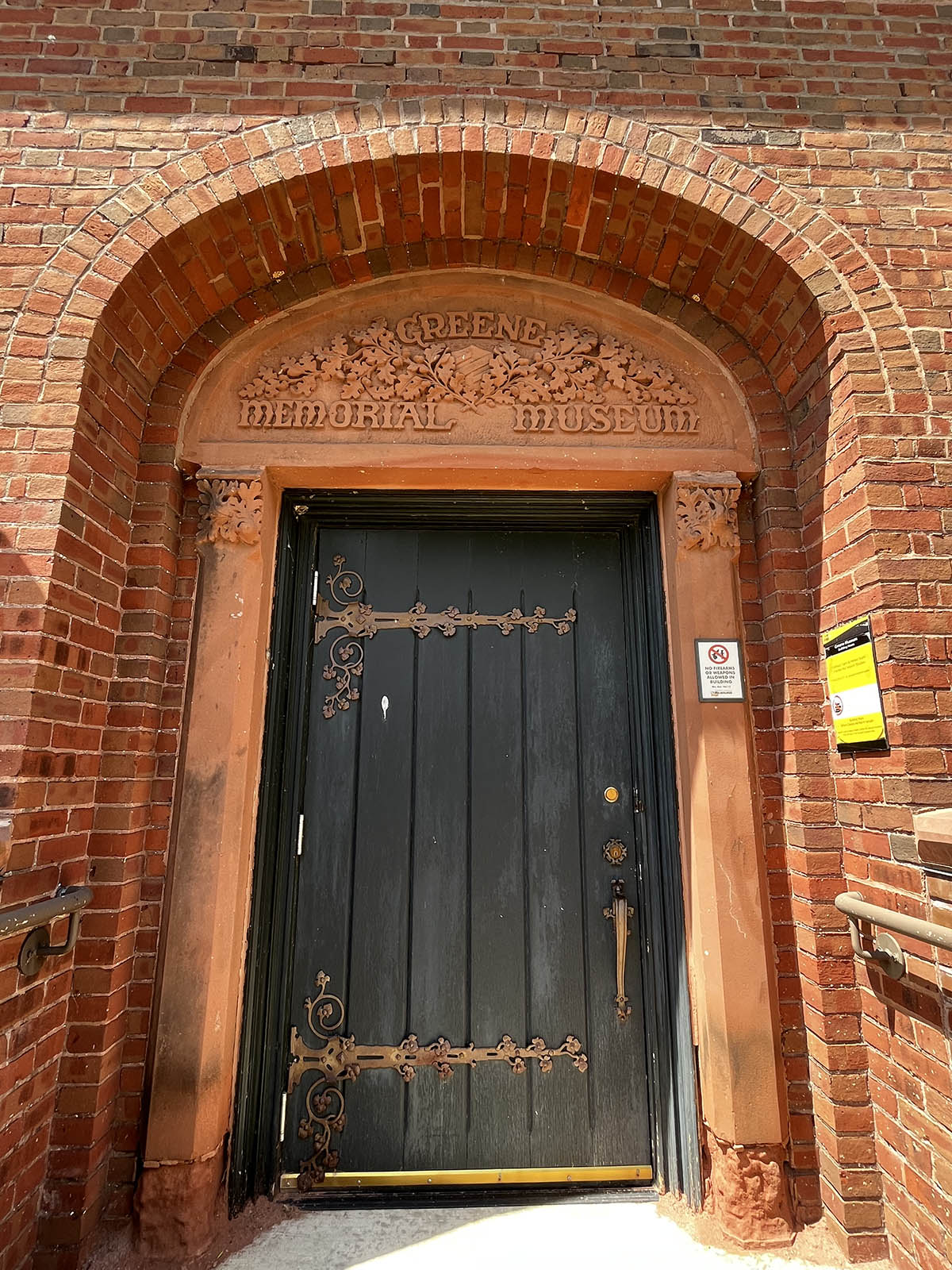 After having been empty for some years, it is now home to the Sam & Helen Stahl Center for Jewish Studies and houses offices and a flexible space used for meetings and events.
Despite having attended UWM for seven or eight years if you count post-graduate classes, I never stepped foot into the building, though it always looked interestingly out-of-time. In recent years I've tried unsuccessfully to find anyone on-site to allow me in for a peek.
But that's changed.
Who was Thomas A. Greene?
Born in Providence, R.I. in 1827, Thomas Arnold Greene got started in the drug store business at the age of 16. At just 20 years old he moved to Milwaukee and bought his own place.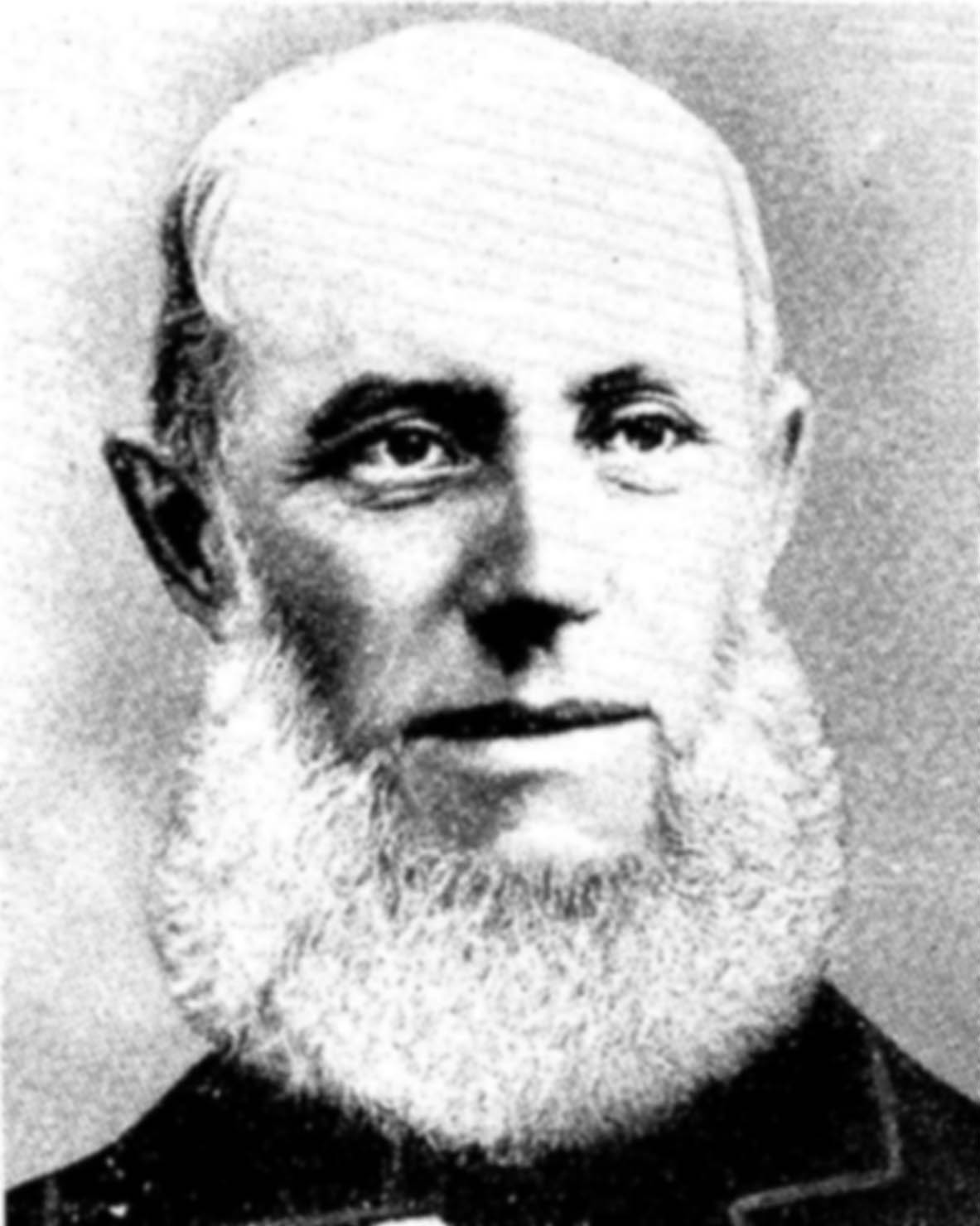 Greene quickly built a fortune after teaming with Henry H. Button – who you can read about here – to launch a wholesale pharmaceuticals company. That fortune opened doors and Greene became a well-known businessman, serving as president of the Milwaukee Gas Company and on the boards of Milwaukee Cement, Northwestern National Fire Unsurance and Wisconsin Trust Company.
His wealth also allowed him to indulge in his passion for natural history, which he'd put on hold while he was building his businesses. That rekindling was reportedly something of a prescription in itself, as his doctor was said to have suggested focusing on a hobby to counteract the stress of his work.
Geology and botany were his loves and he collected fossils and rocks in the Milwaukee area, which led him to make friends with local quarrymen, who allowed him to scour their quarries for specimens. One of those quarries is now Hartung Park. He also purchased items found by the quarry workers, and traded with other collectors.
Thanks to his work and access, Greene assembled an impressive collection of materials from the Silurian period.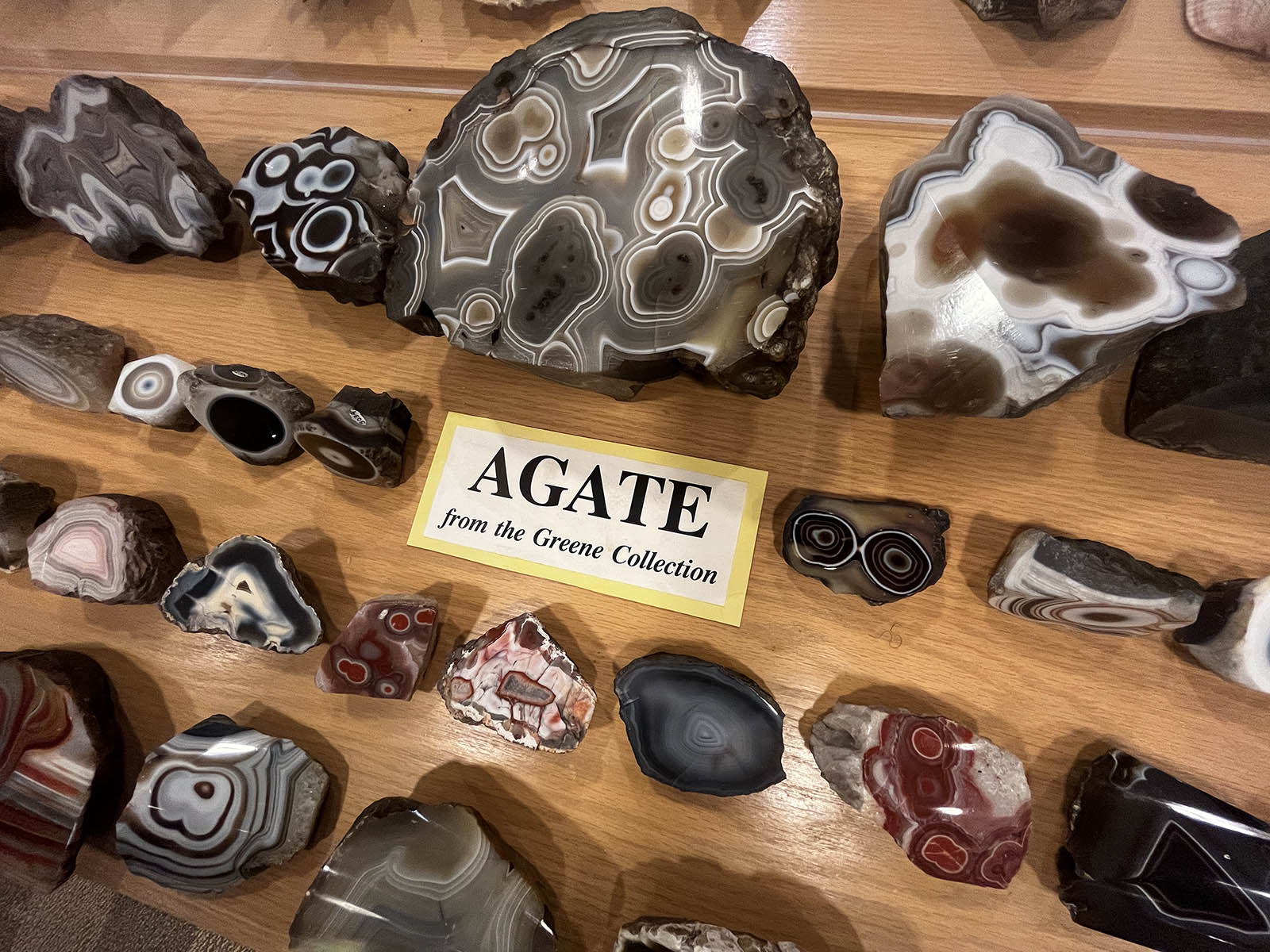 "It's the largest Silurian collection probably in the world," says UWM's Brett Ketter, who oversees the collection as something of a side gig, since it doesn't currently have its own curator/director.
"Over his lifetime, he collected, I think it was about 77,000 pieces. Most of it's downstairs (in storage)."
That Silurian collection includes many pieces from Wisconsin's Niagara and Devonian Hamilton Formations; thing like fossils of marine invertebrates such as trilobites, crinoids, tabulate and rugose corals, brachiopods, cephalopods and gastropods, among many other objects, too.
There are agates and minerals of all kinds in the museum, plus Greene's personal library, and a few other small related collections, too.
Greene spent more than $16,000 amassing his collection from 1878 until his death in 1894, acquiring roughly 75,000 fossils and 13,000 minerals.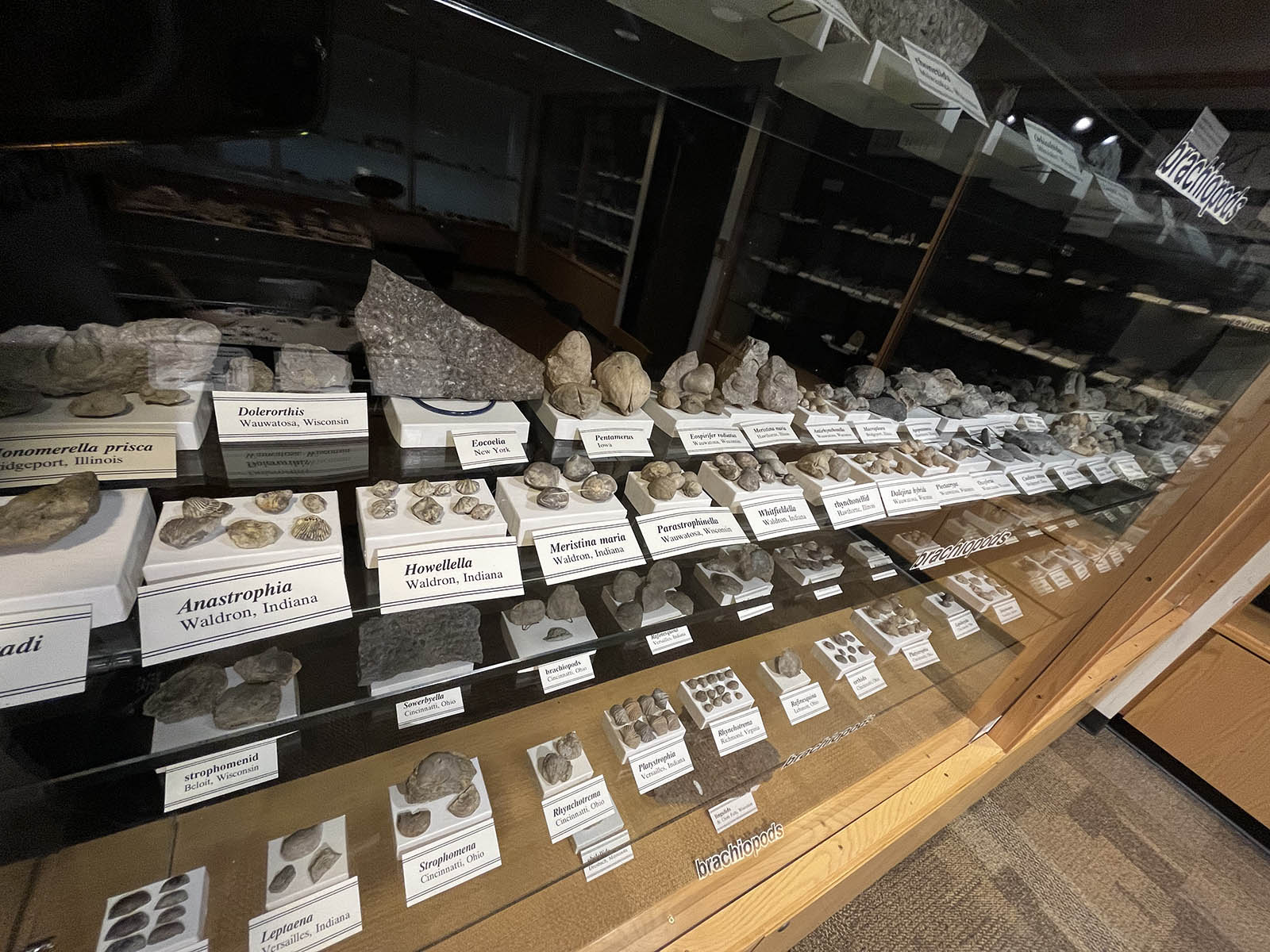 "At the time of his death," notes the application for adding the museum building to the National Register of Historic Places, to which it was added in 1993, "his collection was described as 'the largest and most complete private collection west of Philadelphia and it still is the most complete collection of fossils covering the region tributary to Milwaukee. It would be impossible ever to duplicate the collection of fossils, for the reason that most of the quarries from which they were gathered during the long course of the years have been permanently closed and filled and there is no likelihood that they will ever be worked again.'"
Greene was part of a larger phenomenon at the time, that of the amateur "gentleman naturalist" – impassioned hobbyists with the determination, connections and cash to follow their love for science. Many were key collaborators with trained scientists, who could make use of their collections and knowledge.
While often these collections were lost – divided, dispersed, sold or simply discarded – upon the deaths of their assemblers, that was not the case for Greene's impressive haul.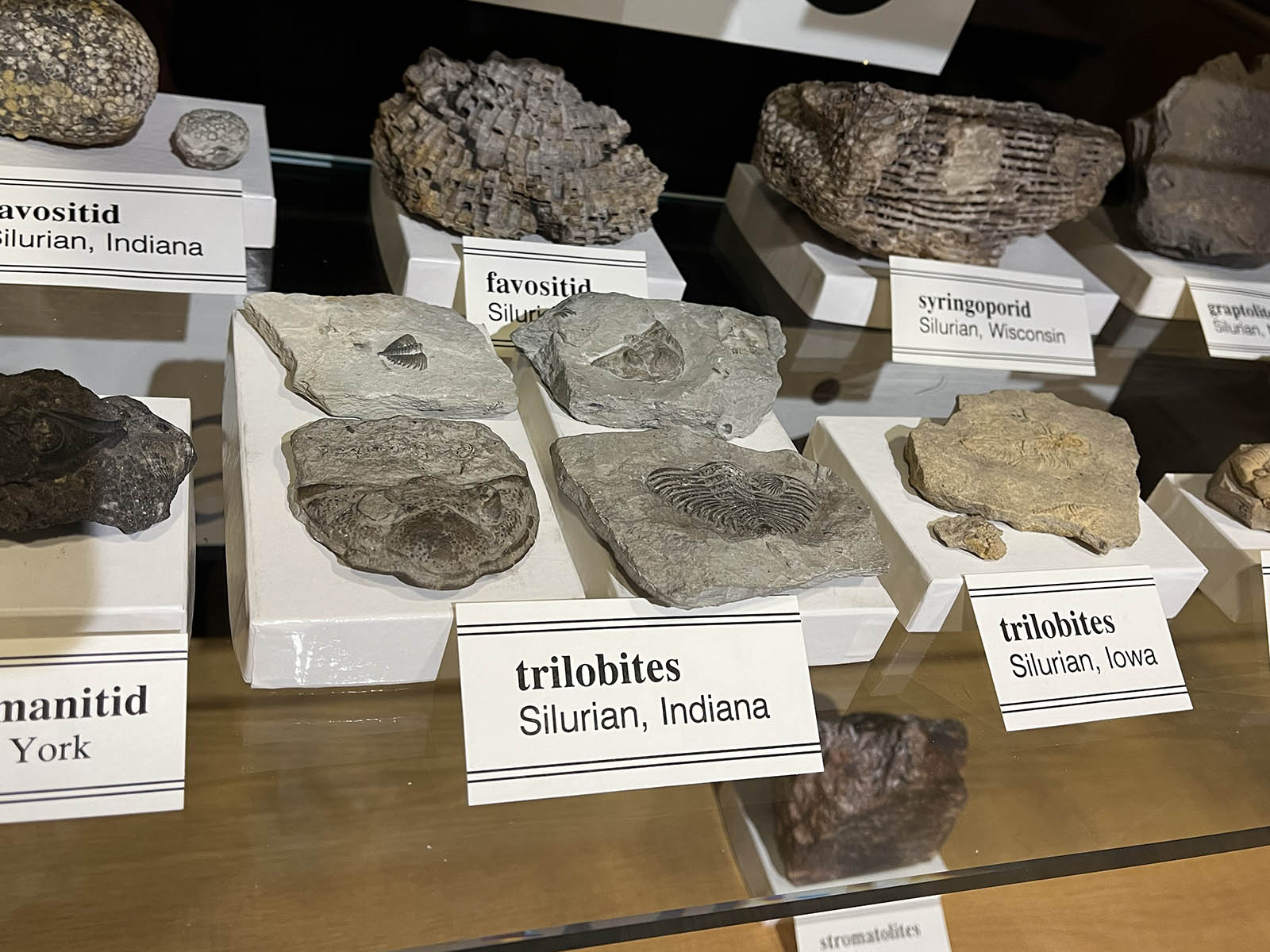 His family kept the collection together in his house for nearly 20 years until his daughter Mary Upham and son Col. Howard Greene donated it to Downer College, along with his library of related books and periodicals, the original display cases Greene had specially constructed and more.
It was, and remains, an incredible collection.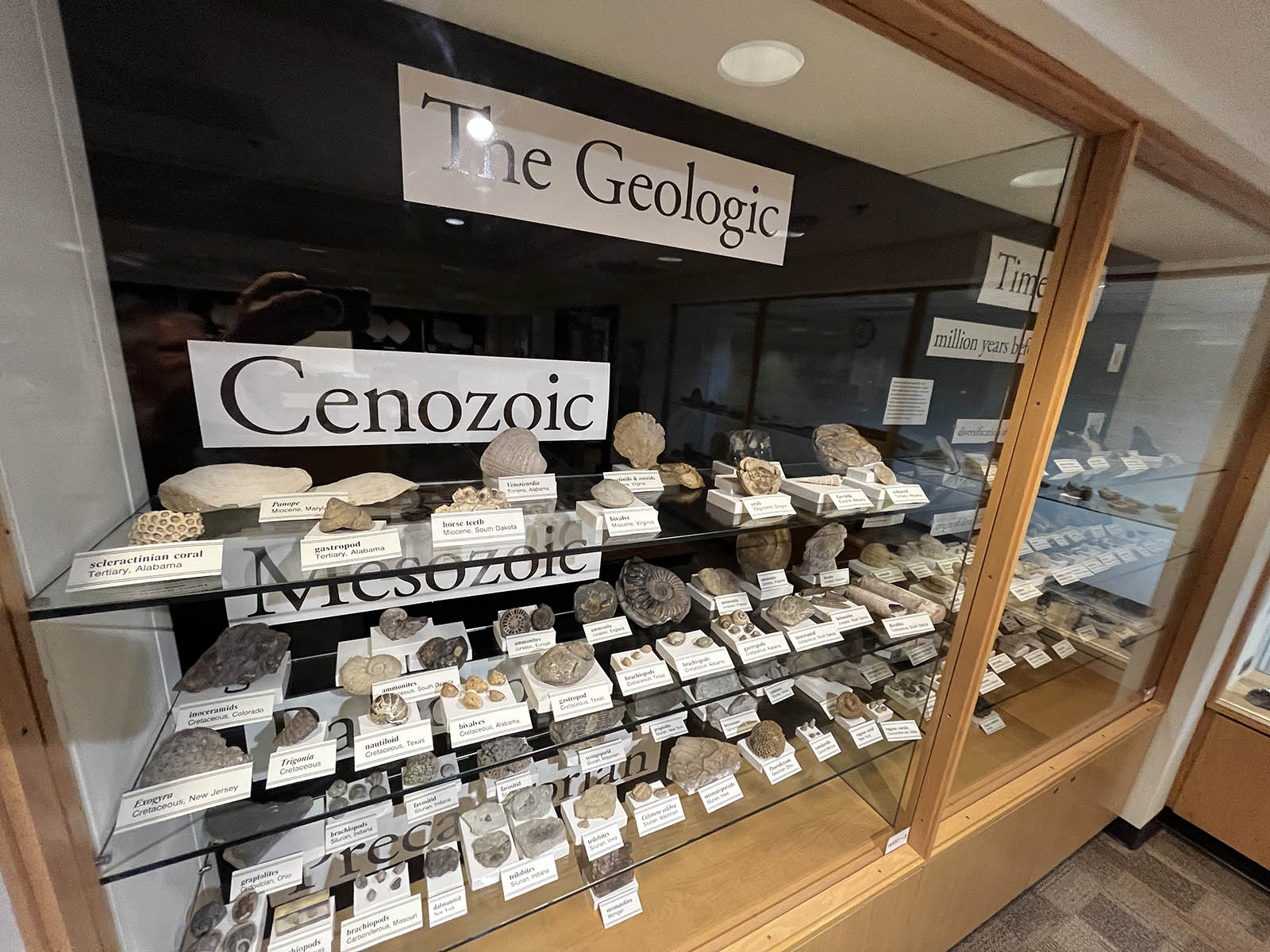 "What is exceptional about Greene's collection is that it has retained its scientific and historical integrity for 100 years," noted the application. "Most specimens are still accompanied by Greene's handwritten, specially produced labels, some bearing annotations by prominent scientists of the time. Many of the specimens remain in the order that Greene originally filed them within each drawer andt hey are still stored in the wooden cases he had custom-made for his 'cabinet.'"
The Greene Museum building
In addition to donating the collection, Greene's daughter, Mary Upham, who had often scoured for fossils and minerals with her father and later studied geology, also donated the museum to house it.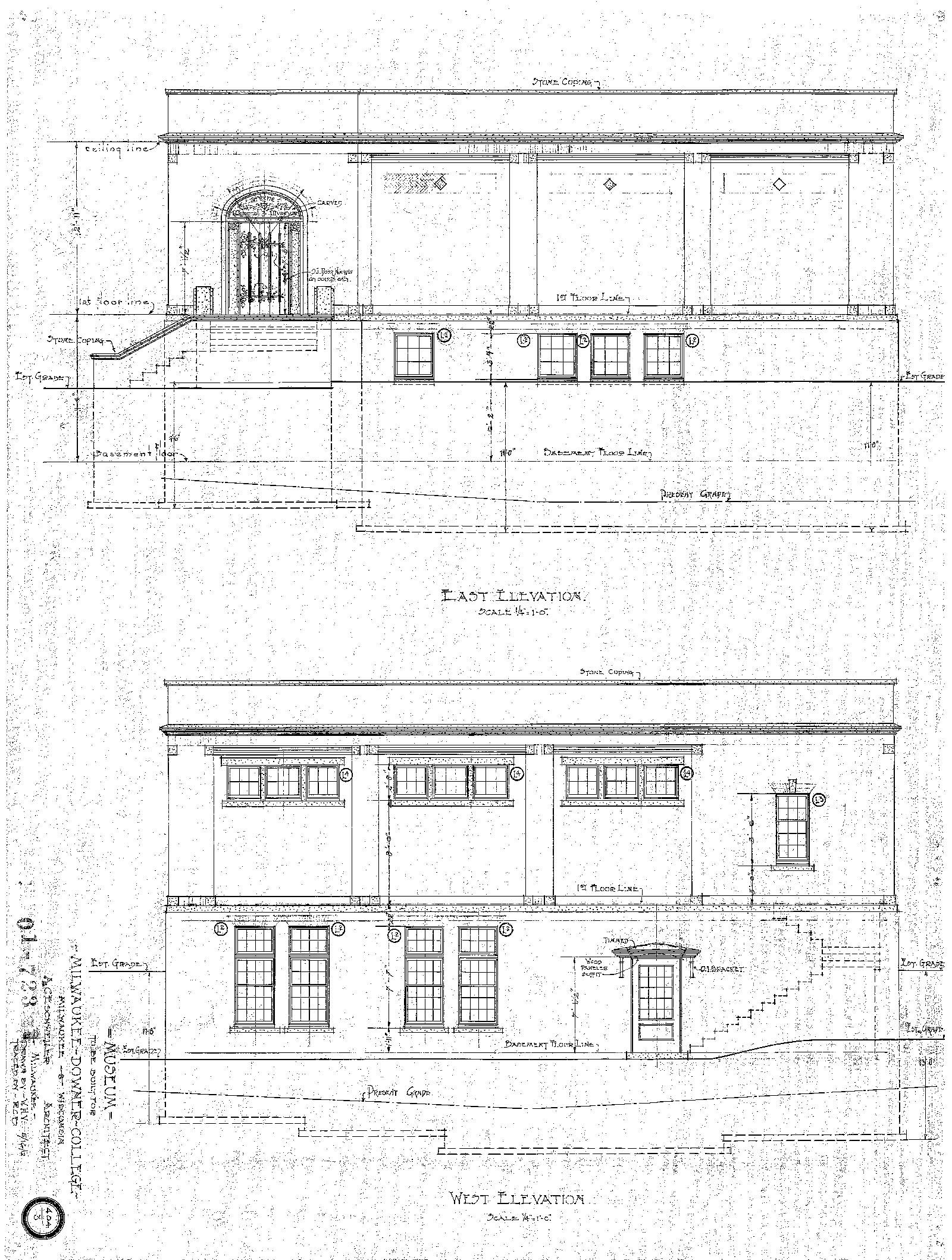 In fact, the donation of the collection was contingent on it being housed in a dedicated, fireproof building that she would also underwrite.
Thus was Eschweiler enlisted to design the structure that was, at the time the most northerly of the Downer College campus buildings. It was to be erected directly north of the Greene Library.
That church-like Gothic Revival building, constructed in 1904-5, was also designed by Eschweiler and built on a foundational gift of $10,000 from Mary Upham.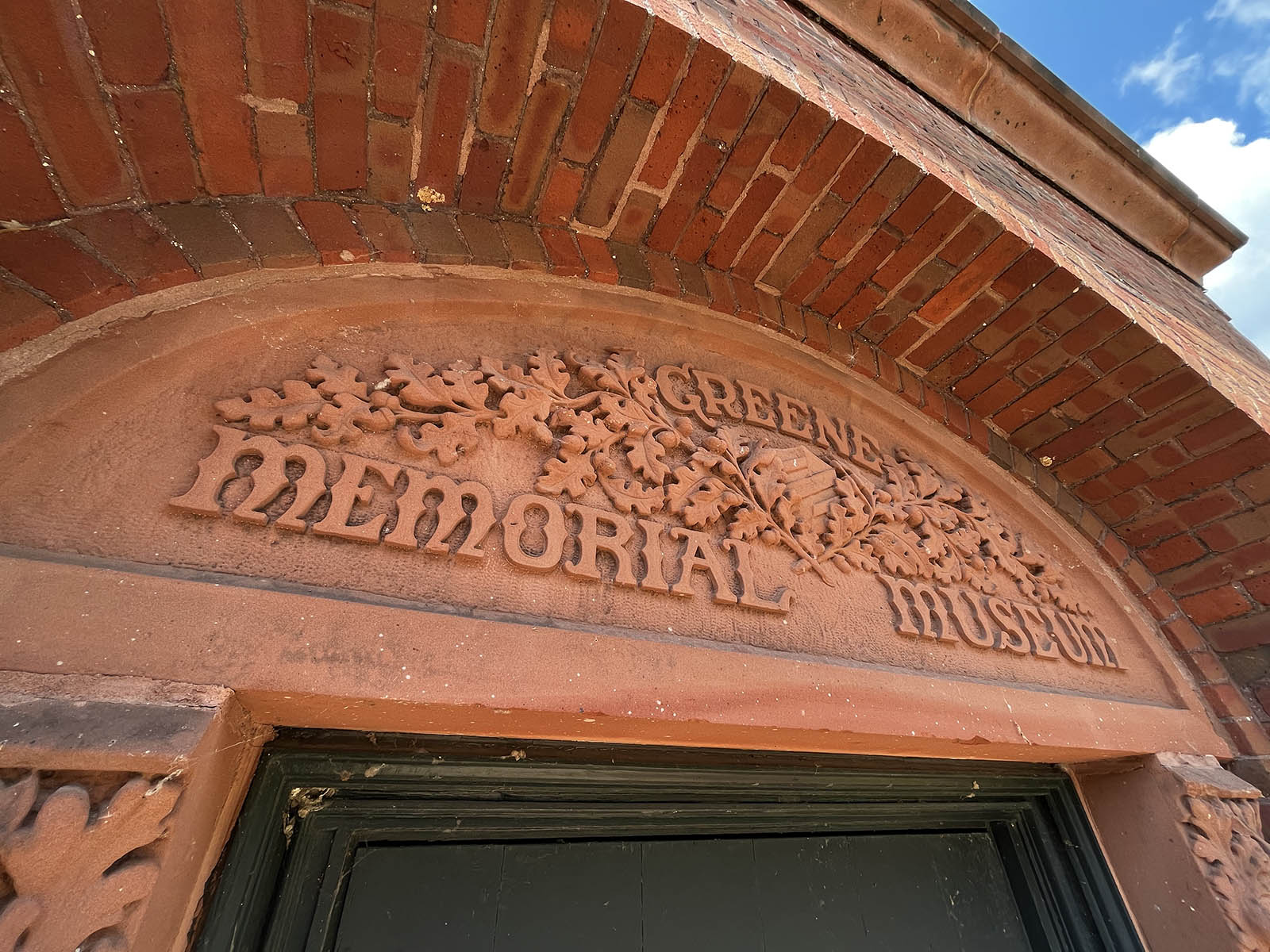 Some sources say that building was not named for her father Thomas, but for her mother, Elizabeth Lines Greene. A sealed box containing a letter written by Mary detailing the lives and her parents along with some college souvenirs was placed into the cornerstone in June 1904, suggesting that it may have been named for both parents.
Eschweiler also designed other buildings in the original Downer College "quad."
The new museum building – whose simple, red-brick style appears to have baffled folks, as one source describes it as Gothic Revival and another as Moderne-Art Deco – was more utilitarian, with a solid look that suggested safety for the important collection it was to house.
Mary donated another $10,000 for this project.
To help ensure its fireproofing, the building is built of brick and concrete with some internal steel supports, but with a rare set of concrete beams holding up the main floor. The windows are fireproof, too, with metals frames and chain pulleys. The frames were made by Milwaukee's Biersach & Niedermeyer Sheetmetal Works as a metal plate on window makes clear.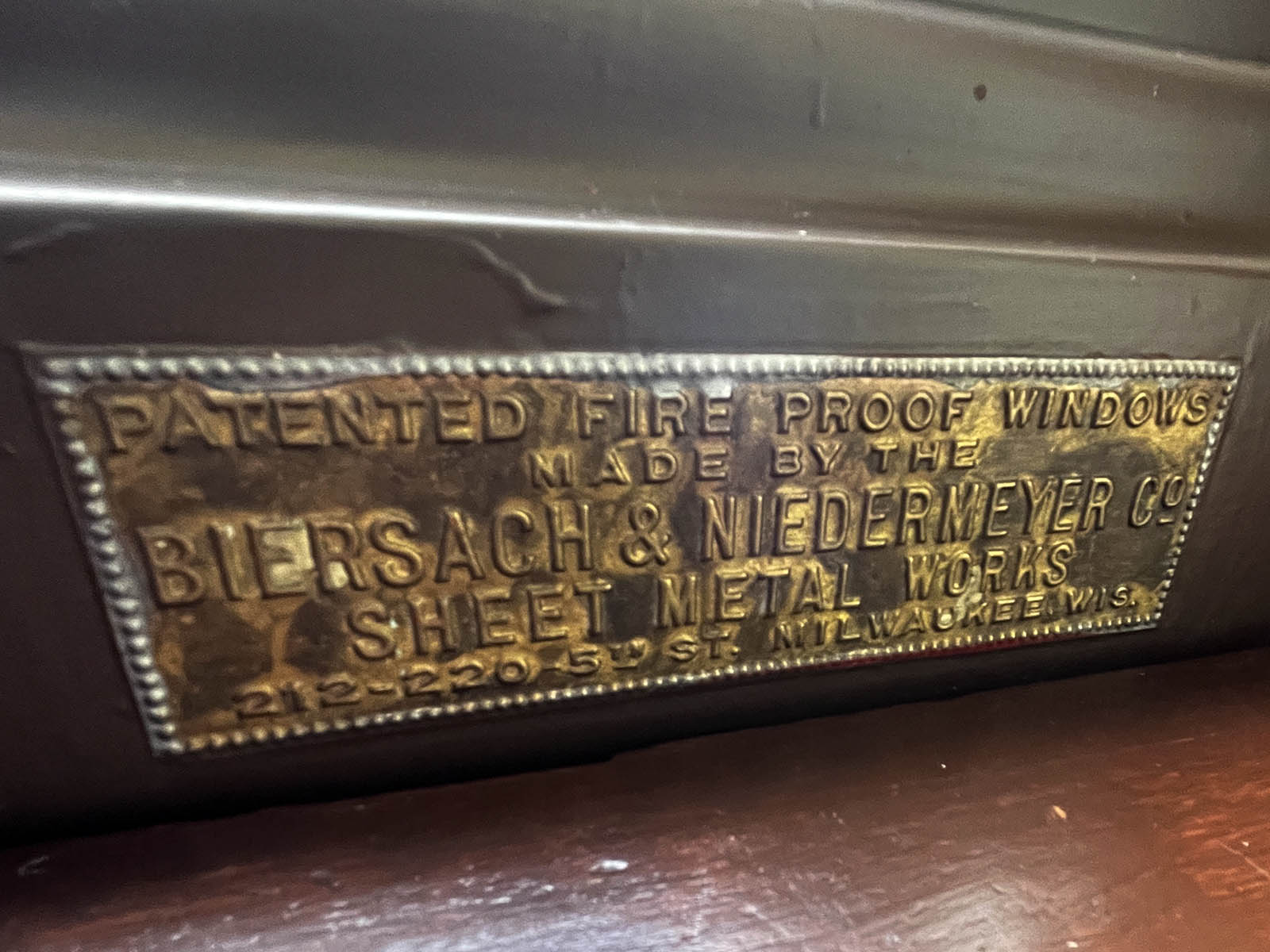 The exterior is 115 courses of Flemish bond red brick atop a foundation of concrete and brick. There are also some decorative masonry elements integrated into the facade. There are sandstone details, too, including a string course, window sills and coping at the roof line. The mortar was also tinted to match the sandstone hue.
There's a skylight in the two-level roof and the upper level has wire glass.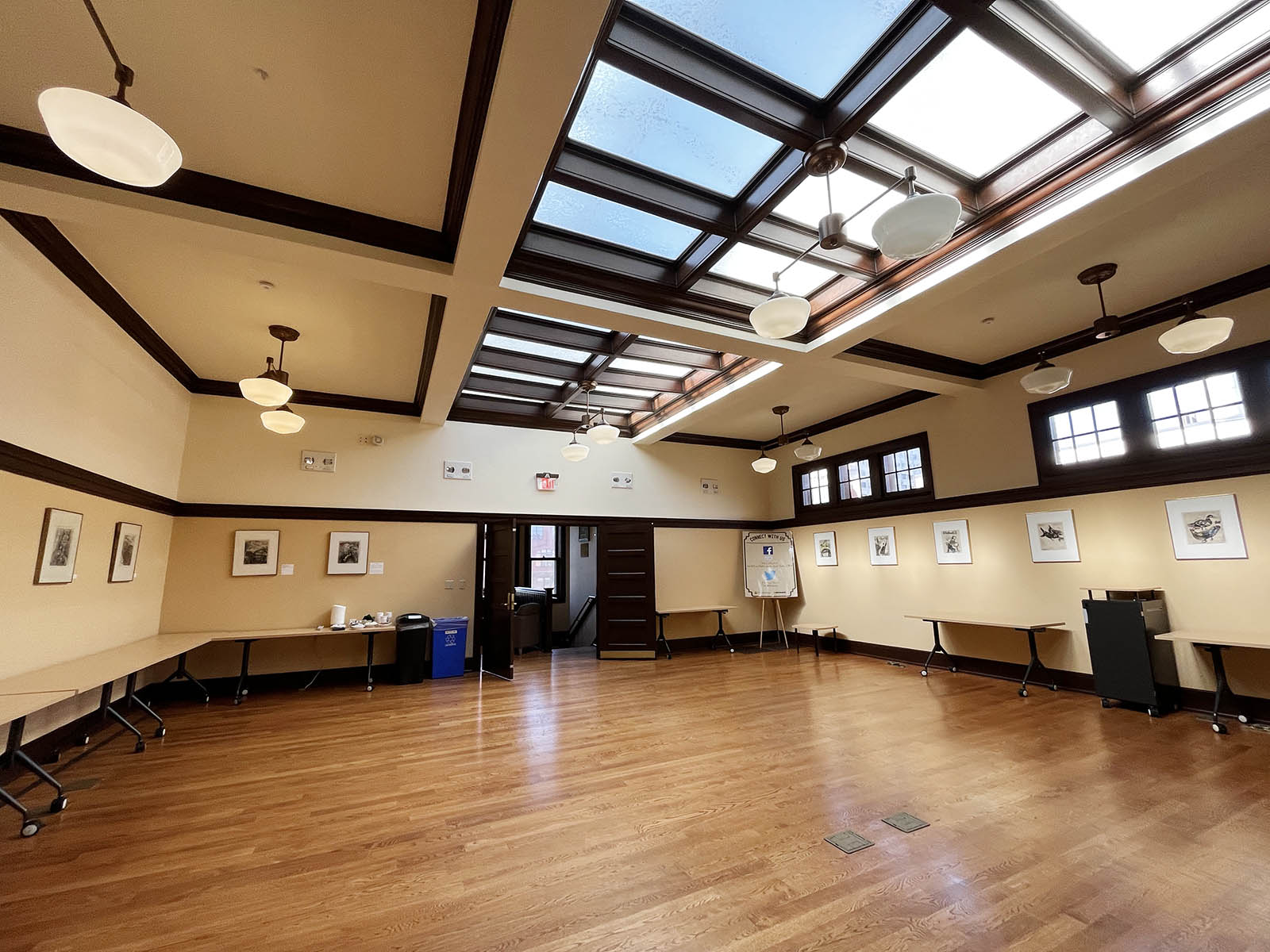 A heavy wooden door with medieval-looking metal brackets marks the main entrance, which is up a staircase on the Downer Avenue side. Just inside is a geometric tile floor. There is also a lower level entrance on the west side.
Inside there were two rooms upstairs, including a smaller office (which later held Greene's library) – part of which had originally been a vestibule space – and a large exhibits room where much of the collection was on view.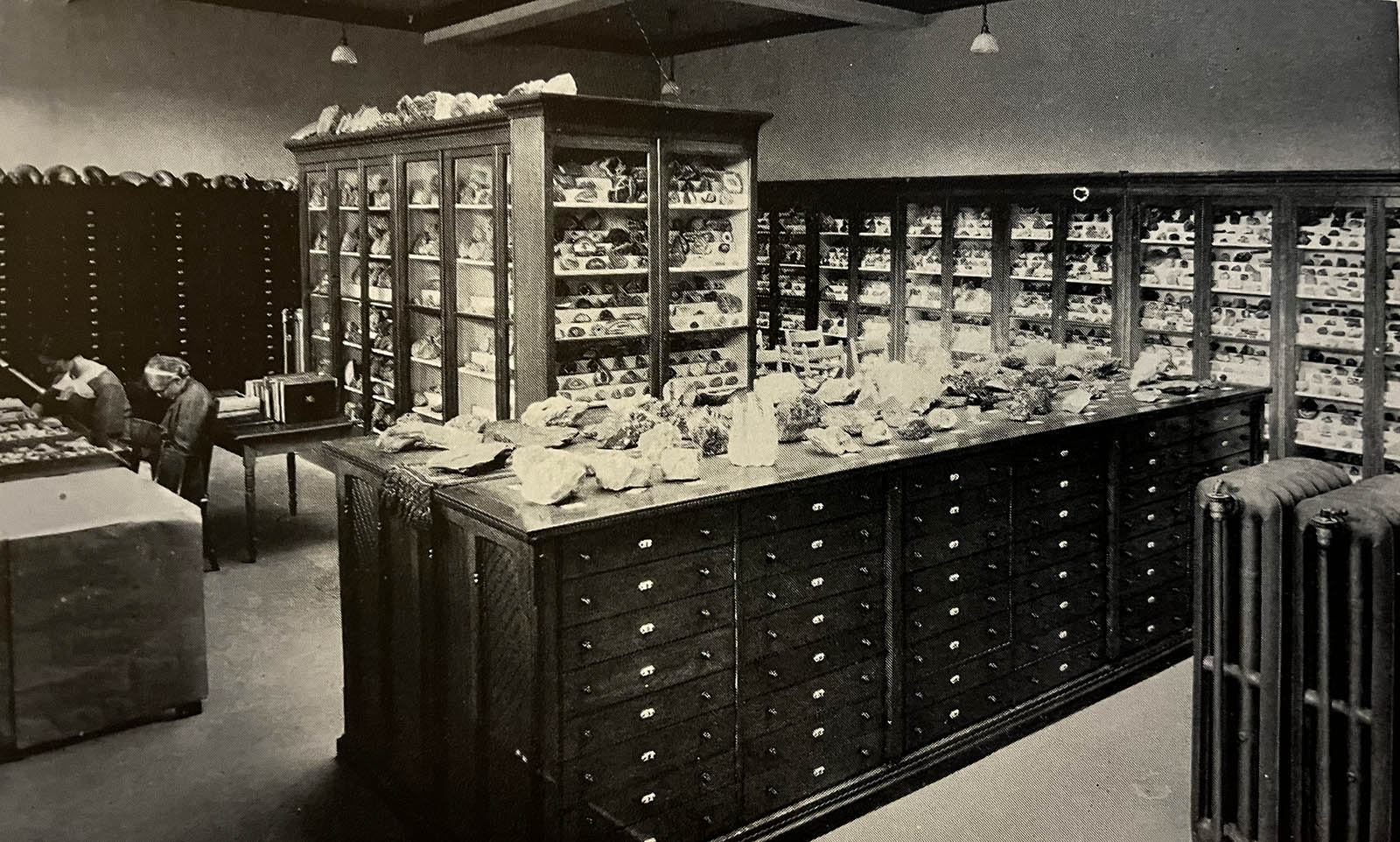 Now, with the addition of an elevator for accessbility, there is just one room – the large one. It serves as an events space and has a trio of small offices behind transparent glass. The woodwork is stunning and with the light streaming in from above, it's a really nice space to experience.
"The 20-step staircase that leads to the lower level has wooden railing and balusters with diamond shape carvings and a pyramidal finial," noted the application report. "Wooden wainscoting at railing-level is present throughout the stairwell, and there is a double-hung, sash window with 15 panes on the west wall. A small wooden corner shelf on the south wall originally held the visitor registration book."
Downstairs are two large rooms and the rest rooms.
The larger north room was originally to house the college's existing collections. In the 1960s, the report detailed, it became a UWM classroom. Today, it contains cubicles for staff.
Across a hallway is an office that was originally used as a geology and physiography classroom. That now contains the small Alan Corré Library, with books collected by the eponymous late professor of Medieval Hebrew.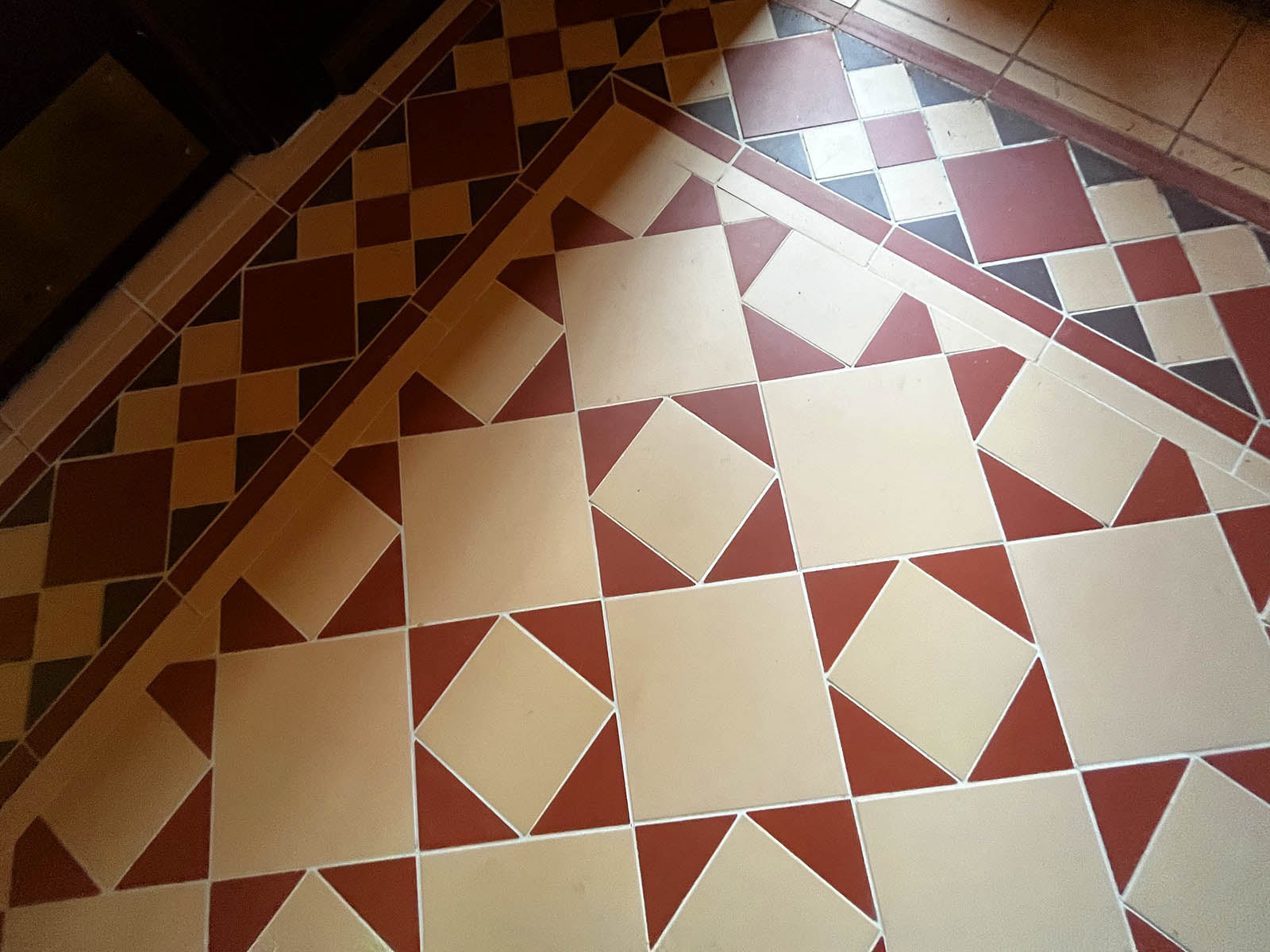 When the report was compiled in 1986, "The walls, ceilings, woodwork, including cornices and floor mouldings, wainscoting and door and window frames, and most of the doors are original. Metal protective grates were installed over all lower story windows in the 1960s. All floors and stairs have been covered with floor tiling.
"Originally, the building was steam-heated with radiators receiving steam from a power plant elsewhere on campus. The heating and lighting systems were replaced probably in the 1960s."
These days, the interior of the building is airy and bright despite the fact that it doesn't seem over-blessed with windows. That's because of that skylight, which welcomes generous amounts of light.
The Greene Museum now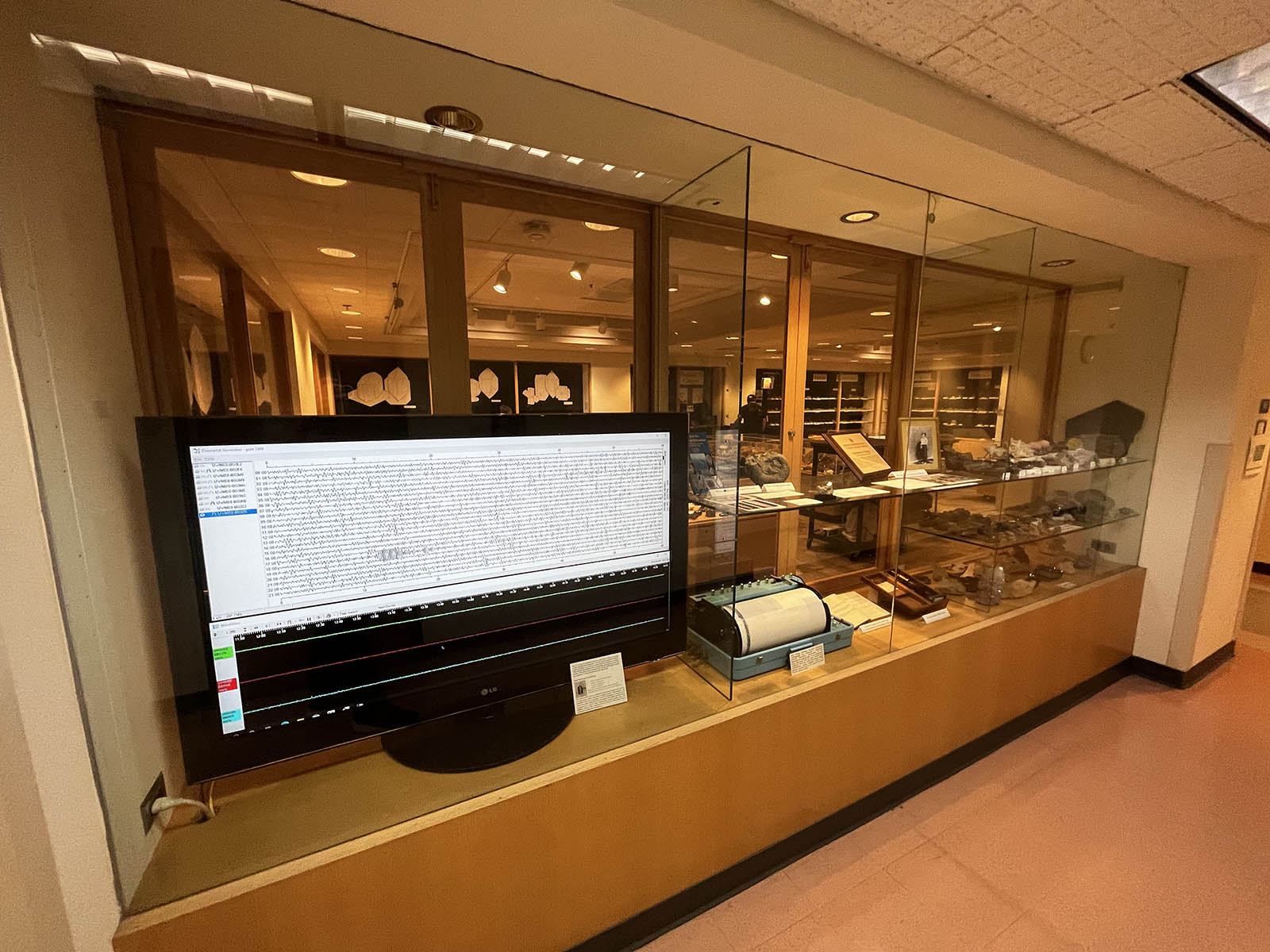 For 30 years now, the Thomas A. Greene Museum has been housed in Lapham Hall on Maryland Avenue, just north of Kenwood Boulevard.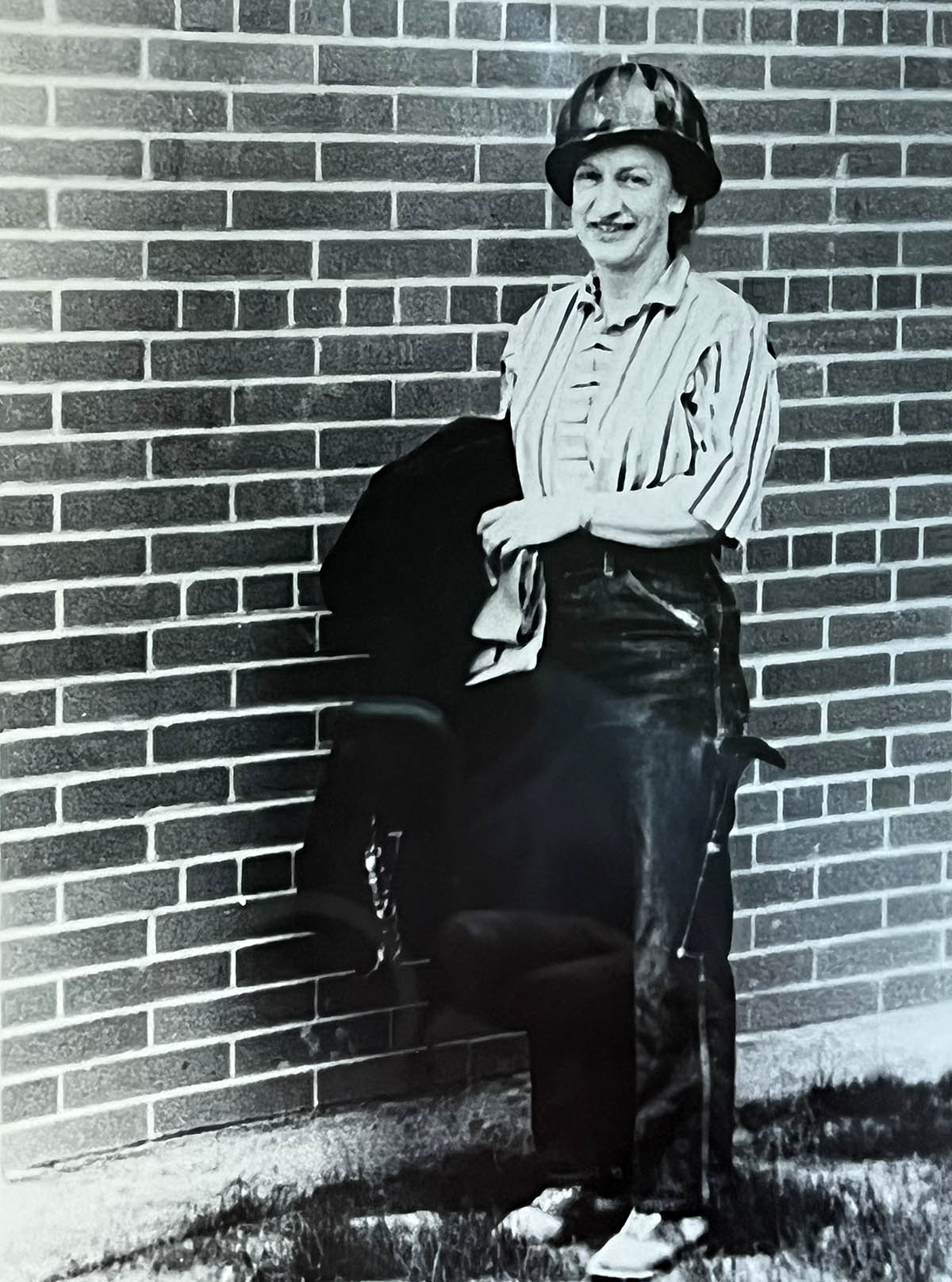 Walking down a corridor flanked with display cases filled with specimens from a variety of science departments, you know you've reached the museum when you see the display case containing a tribute to key curator Katherine Greacen Nelson – who Ketter calls the "Godmother of the collection" and about whom you can read more here – and Increse Lapham's own copy of Darwin's '"The Origin of Species," with his name inscribed on the title page.
The roughly classroom-sized space is packed with display cases full of fossils and agates and minerals and more. In a small room off the north end of the space are Greene's books.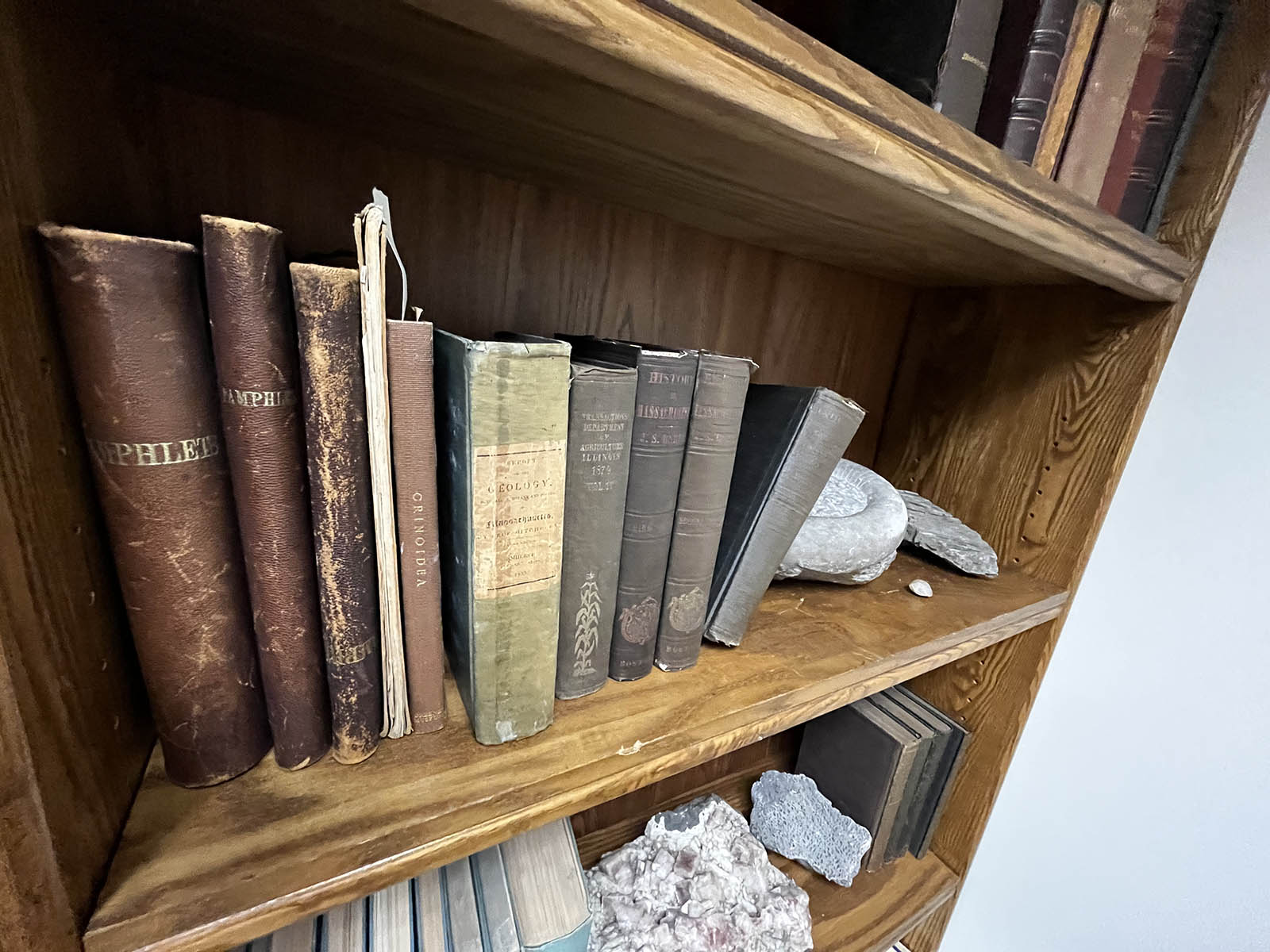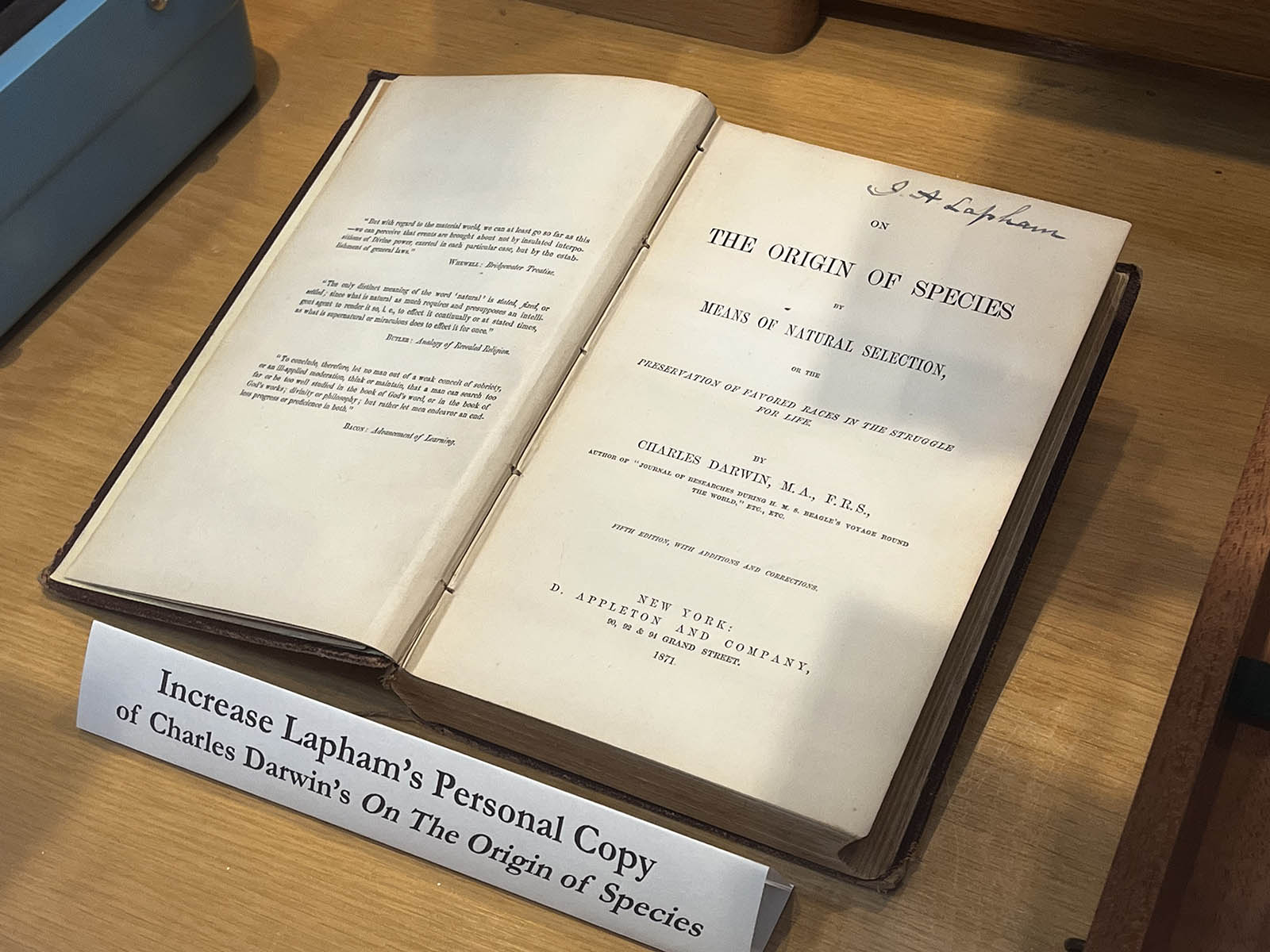 "Most of the collection is fossils, but he collected minerals as well," says Ketter. "These are his actual books. He didn't collect, necessarily, the biggest and the prettiest of them all. He wanted a teaching collection. It's set up by chemical classification.
"We have students come down here and they'll do little exercises; students are required to come here. Then there's a couple of smaller collections in here as well. This is the Zander collection (for example)."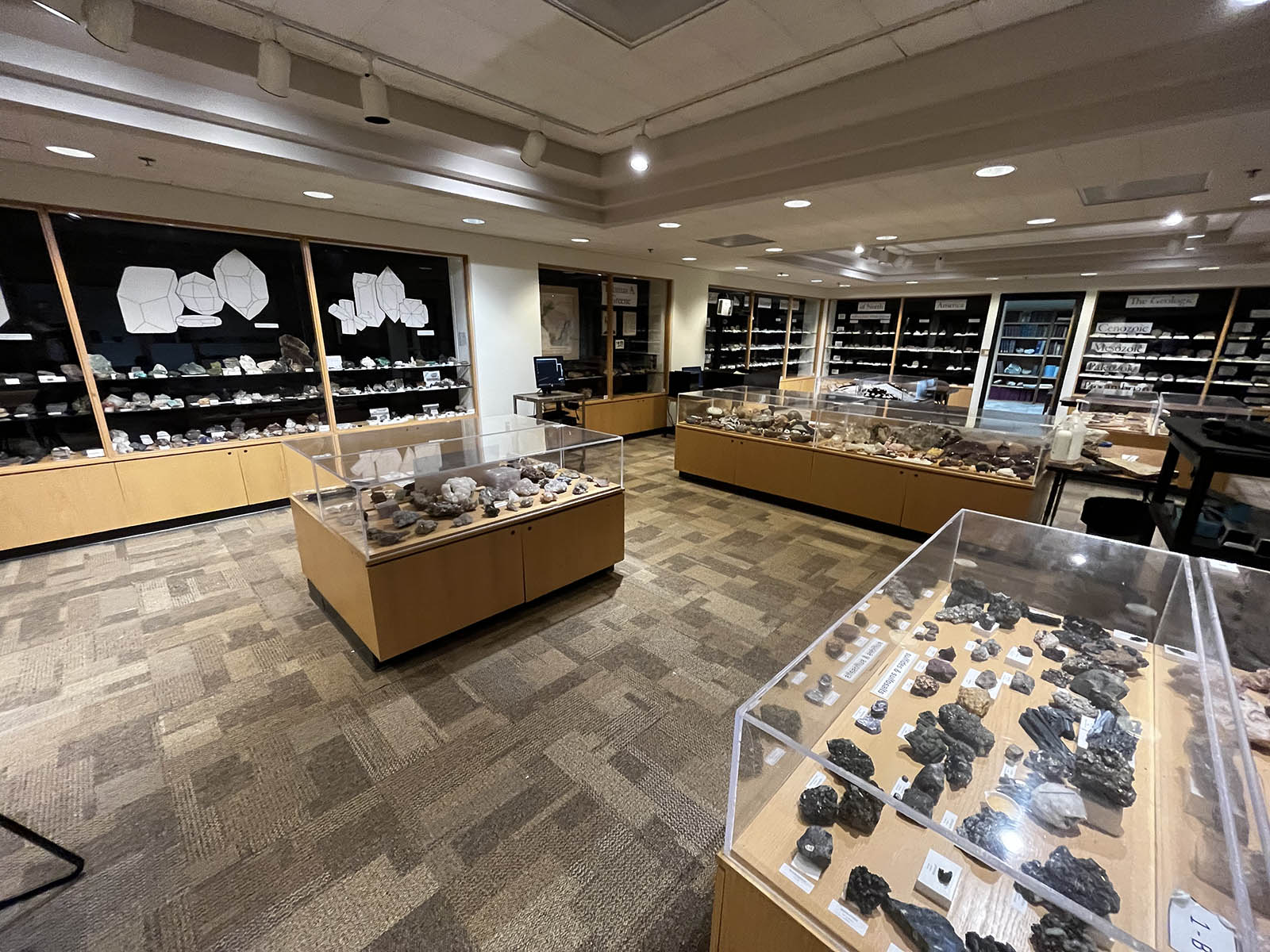 As astonishing as these packed display cases are, there are but a fraction of the collection, says Ketter.
"While the displays are located on the first floor of Lapham Hall, the vast majority of the collection is located in a climate-controlled room in the basement in a compact shelving unit and Lane cabinets," notes the UWM website. "The storage room, compact shelving and displays are all secured with separate keys and an alarm system."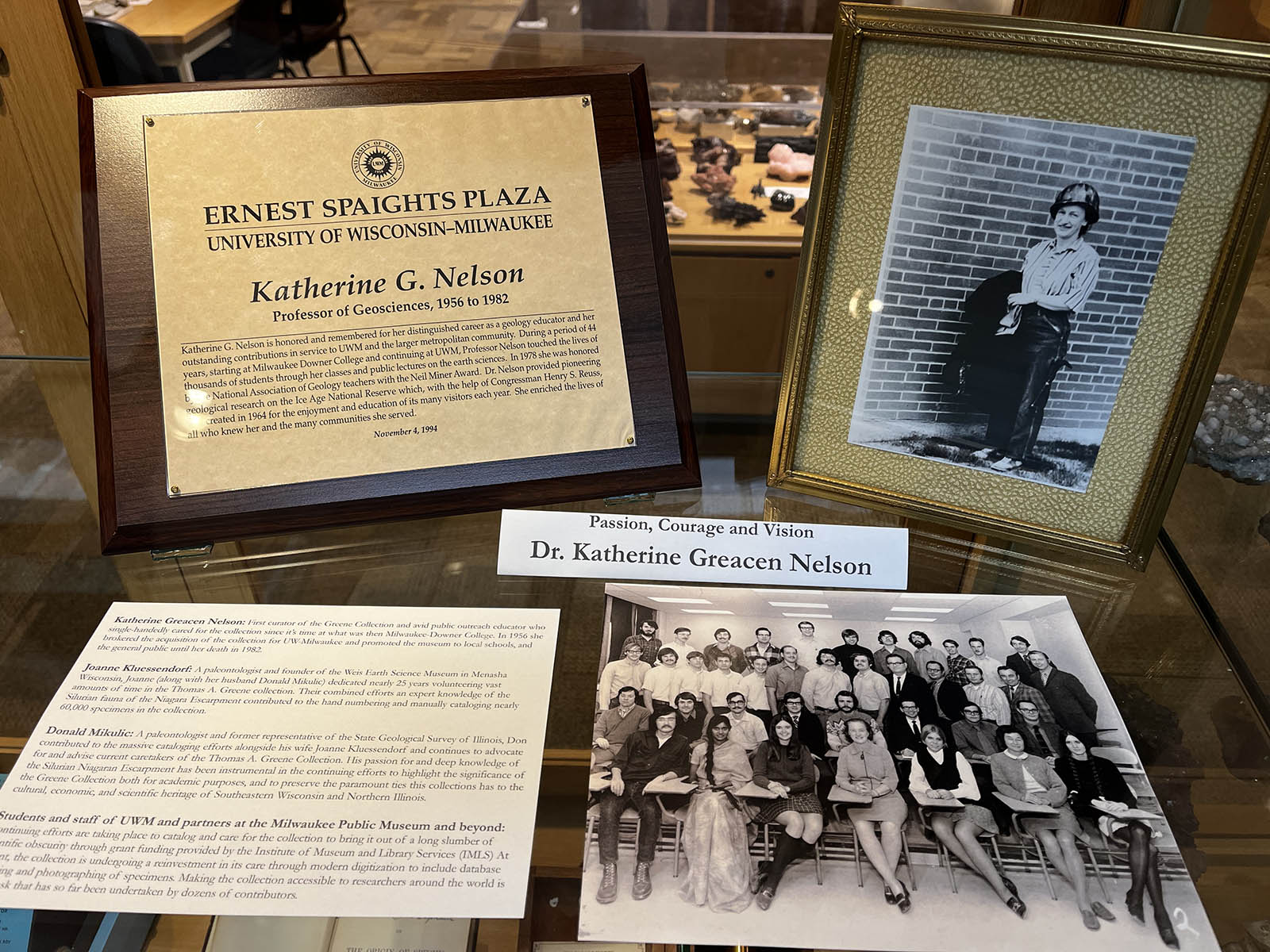 You can visit the Greene Museum, too, which is open and staffed by students during the school year. Summer you have to contact Ketter and set up an appointment. You can find details on visiting here.
The Geosciences Department also hosts a Darwin Day in February that welcomes the general public into the building for the community.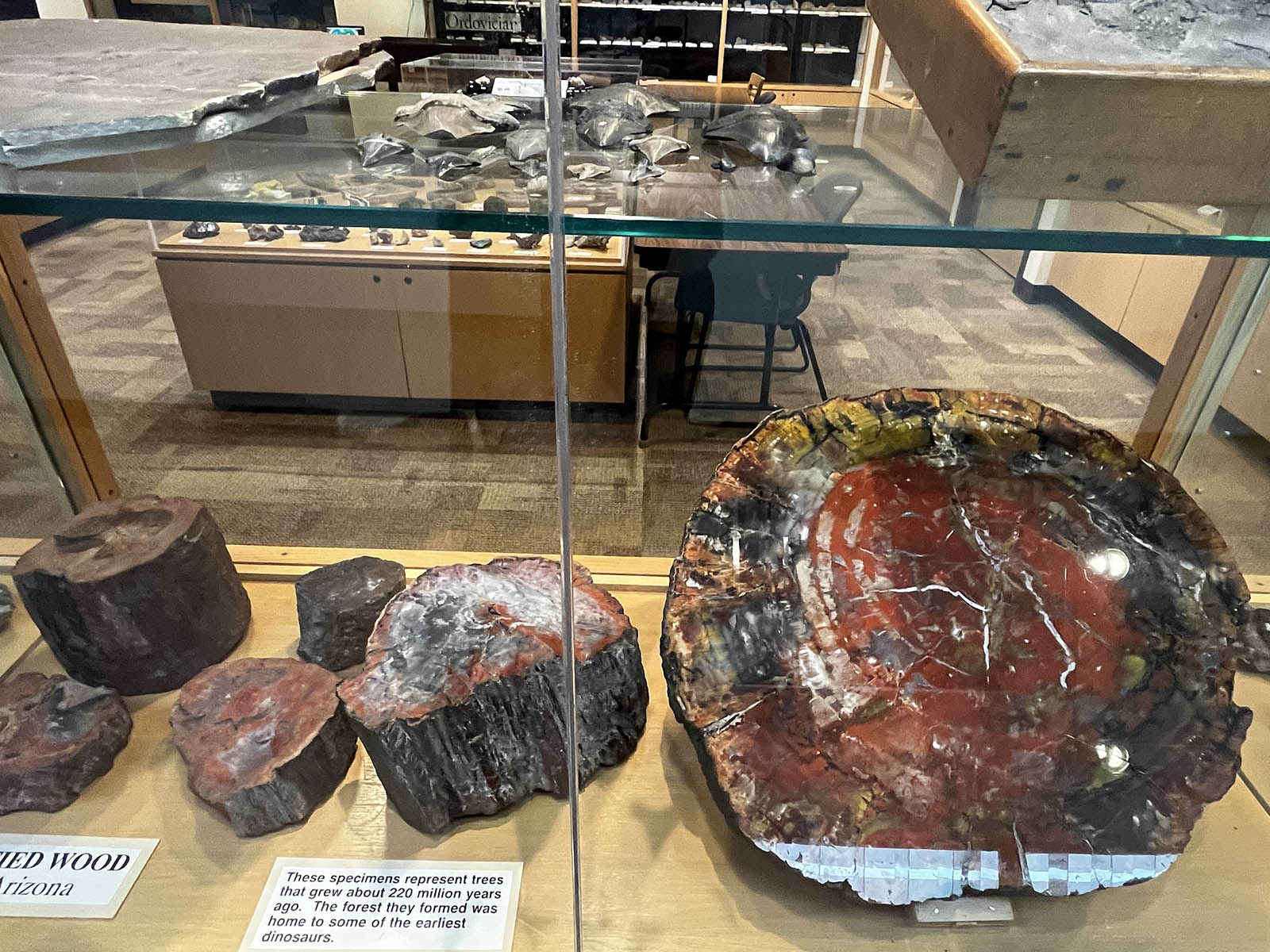 The Stahl Center for Jewish Studies
After countless attempts to see inside, last week I arrived to find the door slightly ajar, awaiting my arrival.
I'd connected with Rachel N. Baum, Ph.D., who is deputy director of the Sam & Helen Stahl Center for Jewish Studies, and she was thrilled to show off what she called, "our beautiful Eschweiller."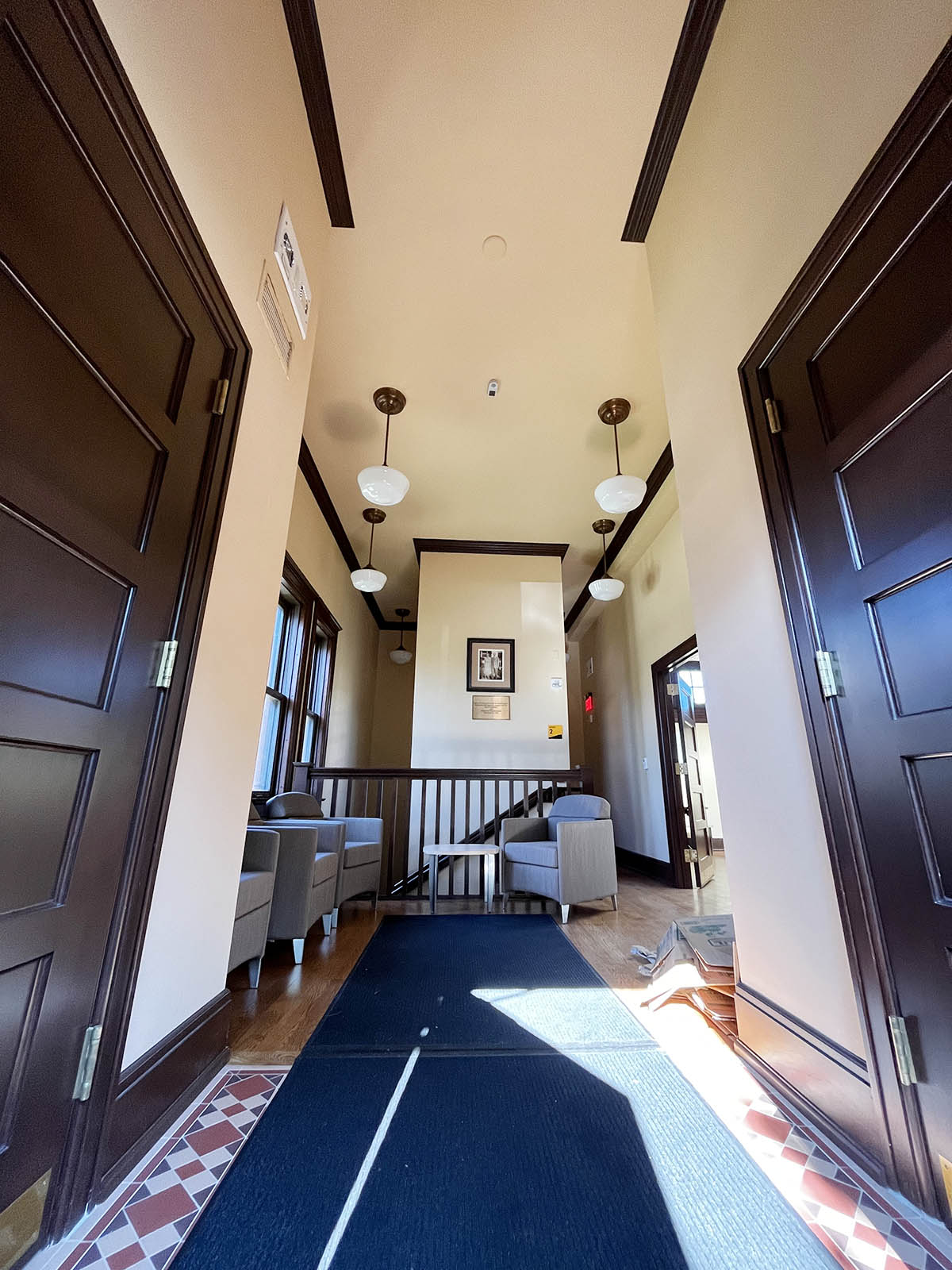 First, I asked her about the center, which opened in the building on Dec. 15, 2008.
"The department existed and was in Curtin Hall," she says as we stand amid the offices in the lower level museum room. "We had a Jewish studies program, and we had a center for Jewish studies, but the donation by the Stahl family allowed this to become the Sam and Helen Stahl Center for Jewish studies in this gorgeous building.
"It was empty because it had fallen, unfortunately, into disrepair. And so, I mean, we were all wondering, 'How are they going to take this gorgeous historic building and make it into workspaces, where we can meet with students?' And they did just such an incredible job. You can see how they managed that it feels like a real office. It's not cubicles, but also they preserved the historic appearance."
Sam Stahl helped Harry Soref start the Master Lock Co. Another donor, whose name (along with wife Phyllis') is on the offices – Nathan Berkowitz – was an executive at Master before setting out on his own and founding the Lock Corporation of America.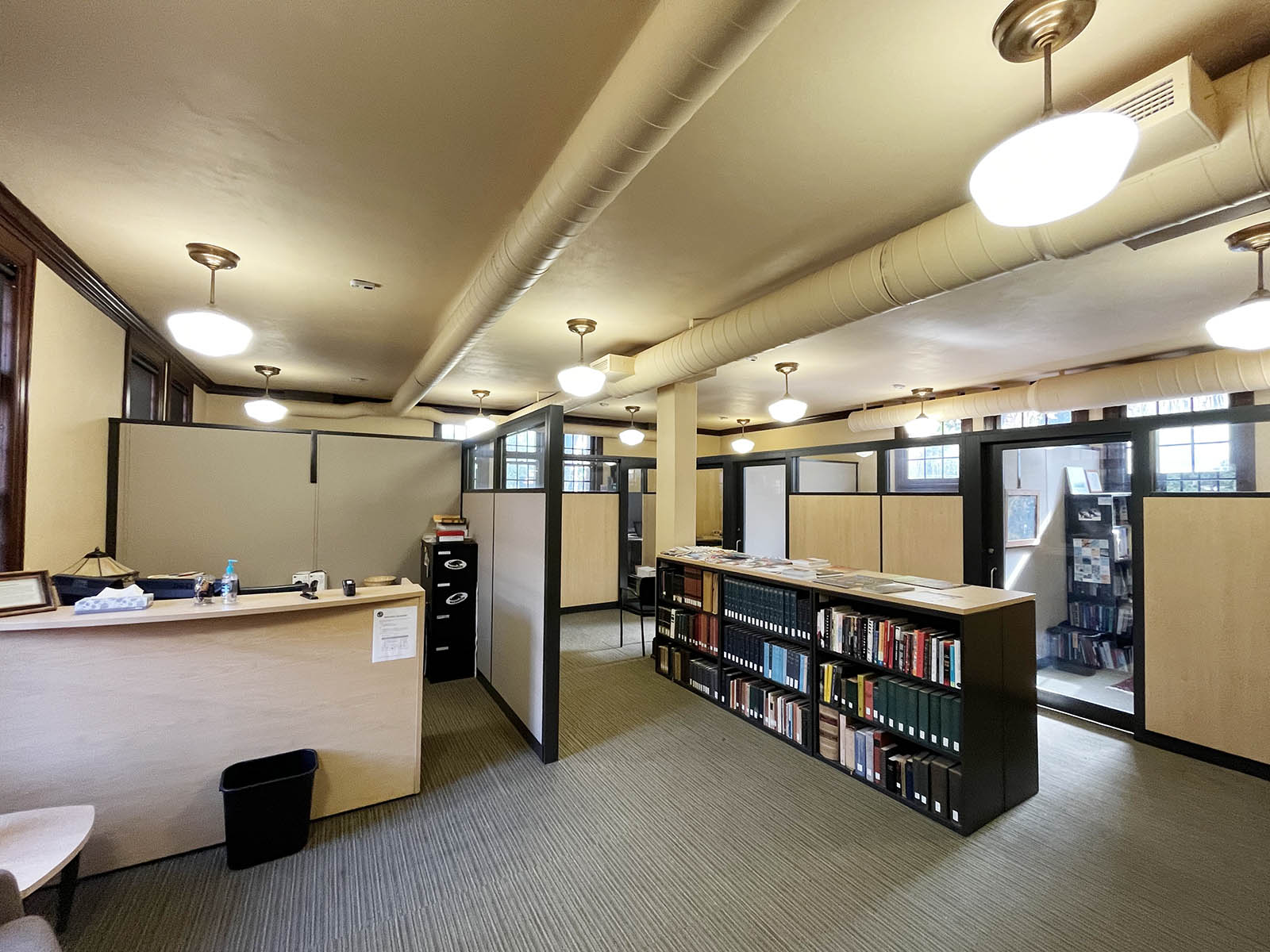 Baum says the building was in such bad shape she and her co-workers weren't even allowed inside to check it out.
"It had tape around it," she recalls. "You weren't allowed to go through. I'm sure that some people were, with hard hats, safely able to see the space, but I was only shown it from the outside.
"And so it was wonderful for us at the Stahl Center, but it was wonderful for the university, too, because they had this incredible building that wasn't being used. It was obviously very expensive, and so it wasn't something that the university was able to do on its own."
Up in the main former exhibition space, we marvel at the woodwork and at the copious light.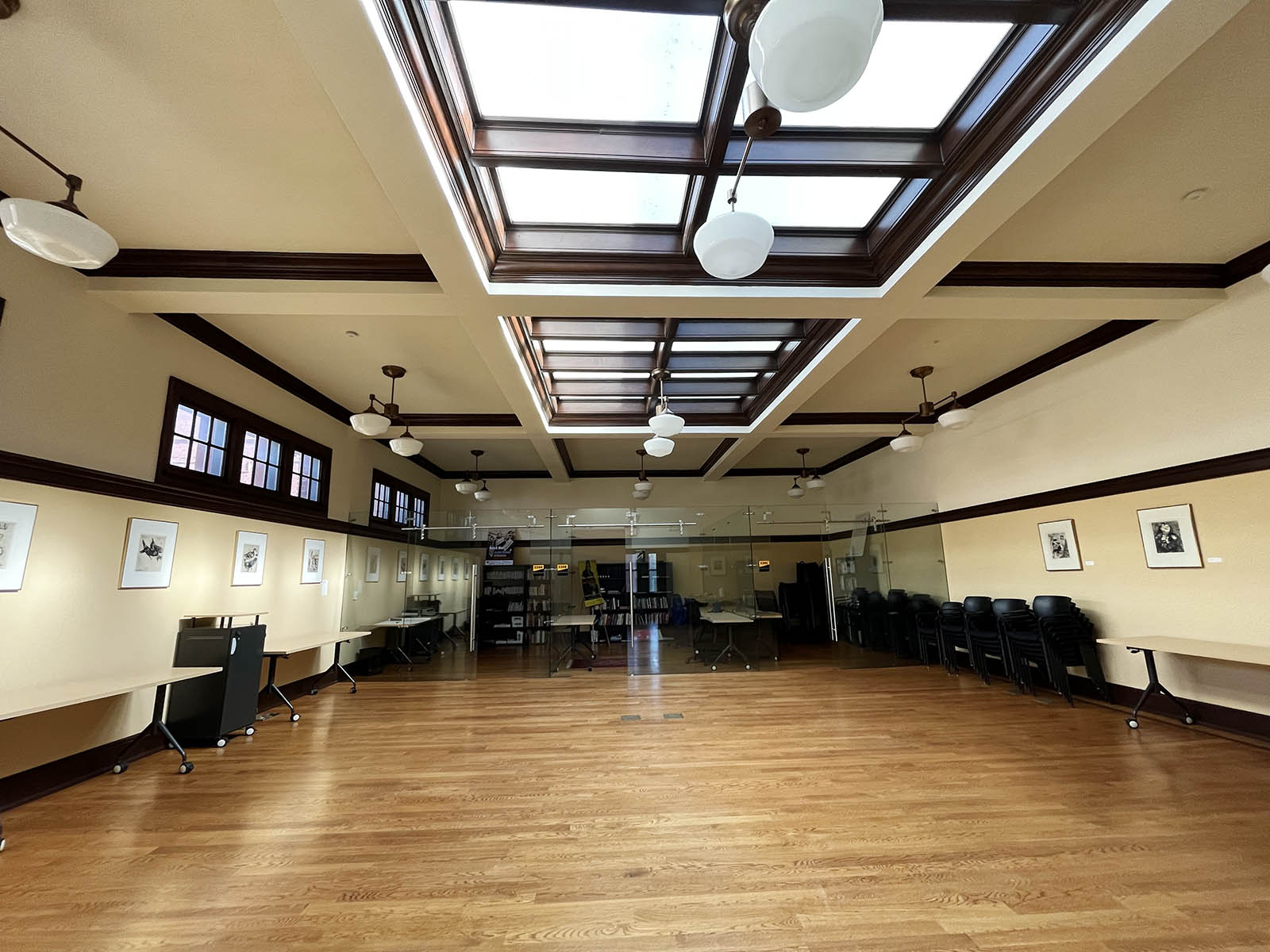 "It's amazing, isn't it," Baum asks, without expecting a reply ... she can see it in my face. "We have lectures in here, where we can line up the chairs. We have graduation for our students, where we bring in lunch and we can have them around the tables, and then we have these three offices for visiting assistant professors, or for people who are working with us. And the glass, of course, just lets all the light in."
Around the walls are framed Marc Chagall works on paper on loan from UWM's art museum.
"I do feel I really just don't get to complain about coming into work," says Baum." I'm not going to lie. Even on hard weeks I think, 'I am so fortunate to work in this gorgeous space.'"
Not a ton of folks come knocking on the door, but there are some. And a fair few of them don't what they expect, says Baum.
"Do we get a lot of people thinking it's the geological museum? Yes. (And) The fact that Greene Museum is next to Greene Hall is a great source of confusion for our students, understandably."
Born in Brooklyn, N.Y., where he lived until he was 17, Bobby received his BA-Mass Communications from UWM in 1989 and has lived in Walker's Point, Bay View, Enderis Park, South Milwaukee and on the East Side.
He has published three non-fiction books in Italy – including one about an event in Milwaukee history, which was published in the U.S. in autumn 2010. Four more books, all about Milwaukee, have been published by The History Press.
With his most recent band, The Yell Leaders, Bobby released four LPs and had a songs featured in episodes of TV's "Party of Five" and "Dawson's Creek," and films in Japan, South America and the U.S. The Yell Leaders were named the best unsigned band in their region by VH-1 as part of its Rock Across America 1998 Tour. Most recently, the band contributed tracks to a UK vinyl/CD tribute to the Redskins and collaborated on a track with Italian novelist Enrico Remmert.
He's produced three installments of the "OMCD" series of local music compilations for OnMilwaukee.com and in 2007 produced a CD of Italian music and poetry.
In 2005, he was awarded the City of Asti's (Italy) Journalism Prize for his work focusing on that area. He has also won awards from the Milwaukee Press Club.
He can be heard weekly on 88Nine Radio Milwaukee talking about his "Urban Spelunking" series of stories.