The sun is shining and our great Milwaukee summer has begun. That means there's plenty of daylight for chillin' on the patio and enjoying happy hours with friends. This year, we invite you to read along as we get to know our city even better using the 2017 Thirsty Passport, a pocket-sized field guide contains over 30 two-for-one drink offers (including cocktails, beer and wine) from some of the city's best bars, restaurants, breweries, and distilleries.
I've grown increasingly enamoured of grabbing a seat at the Braise bar. There's plenty to love about the welcoming space where the bartenders are friendly and knowledgeable and there's always something interesting to nibble, like the restaurant's steamed pork buns ($10 for a good portion).
In fact, stopping at Braise for a beer and a sandwich is a no brainer, especially on Tuesdays when it offers banh mi sandwiches and a can of Milwaukee Brewing Company Beer for just $12 all night long. The sandwiches are delicious, and there's a new offering every week, so the deal never really gets old.
If you've got your Thirsty Passport along, the deal gets even better. At Braise, the two-for-one deal is good for any tap beer. And since Braise hosts happy hour Tuesday through Thursday from 5 to 7 p.m., during which you can already enjoy half off all tap wines, beers and chef-selected small plates, your best bet is to use the passport to extend your happy hour beyond 7 p.m.
Alternatively, stop in on a weekend for dinner (grab a friend and get family style dinner for two, priced $26-36), knowing you'll be able to save a bit of cash on your beer bill.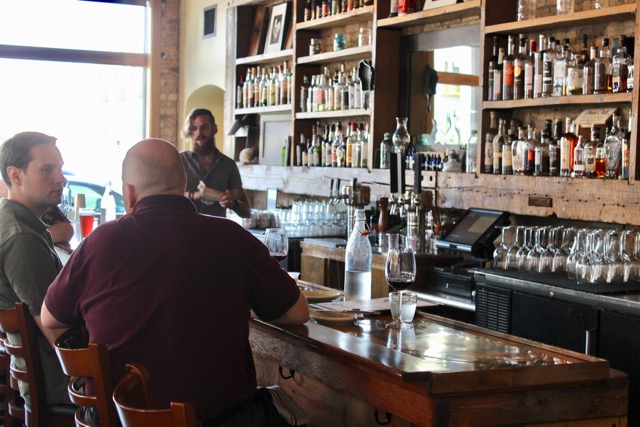 During our visit, we enjoyed Unite the Clans, a smooth complex Scottish ale from Third Space Brewing (regularly $9) along with a Double IPA from City Lights Brewing (regularly $10). We had a friendly chat with Nick, the bartender, who did a great job walking us through the brief, but well curated, tap list.
Tap beers at Braise are changed out relatively often, but other brews this week include Bounce House Pale Wheat Ale from Company Brewing ($8) and Cream City Brix Cream Ale from Enlightened Brewing ($8).
Thirsty Passports are available for $30 each (that's less than $1 per venue) and are good through Nov. 30, 2017. Get yours here. Tip your bartenders and remember the new Milwaukee toast: 414 let's have one more!
Lori Fredrich (Lo) is an eater, writer, wonderer, bon vivante, traveler, cook, gardener and girlwonder. Born and raised in the Milwaukee area, she has tried to leave many times, but seems to be drawn to this quirky city that smells of beer and alewives.
Some might say that she is a little obsessed with food. Lo would say she is A LOT obsessed with food. After all, she has been cooking, eating and enjoying food for decades and has no plans to retire anytime soon.
Lo's recipes and writing have been featured in a variety of publications including GO: Airtran Inflight Magazine, Cheese Connoisseur, Cooking Light, Edible Milwaukee, Milwaukee Magazine and the Milwaukee Journal Sentinel, as well as on the blog Go Bold with Butter, the web site Wisconsin Cheese Talk, and in the quarterly online magazine Grate. Pair. Share.