In 1978, Dawn Bersch was 10 years old and her parents, Sam and Liz Armato, bought a franchise called Wicks 'N' Sticks inside the Northridge Mall. The family moved from Rockford, Ill., to Brown Deer so they could run the store – which they did until 1990.
Aptly named, Wicks 'N' Sticks sold primarily candles and was located in the mall next to a maternity shop called Lady Madonna (which was also next door to Spencer Gifts) and across from Kay-Bee Toys and Kinney Shoes.
Bersch spent many hours of her childhood inside the shop with her parents and, when she got older, worked there.
"Nothing could ever replace the experience of working in the mall during that time period. It was a culture, a community," says Bersch. "I made so many friends: Rose from Buddy Squirrel, Ralph and Sharon from Slicers, Don the UPS guy and Randy, the customer who bought any type of rose merchandise we had."
Through the store, Bersch also befriended coworkers and now longtime pals Agnes Miller, Mary Behlert, Ellen Harris and Deb Schultz, whose father – ironically – was a firefighter and didn't want her to burn any candles at home for fear of a house fire. Schultz says she and Bersch, who have been friends now for 40 years, were inseparable as teens.
"Dawn and I were like sisters," says Schultz. "She practically lived at my house. I was the youngest of eight and she's really quiet so my parents didn't really mind or even know that she was there."
In the '70s and into the '80s, most Wicks 'N' Sticks' items were wax based, including basics like tapers, pillars, "drip candles" and votives along with more elaborate wax sculptures shaped like dragons, castles, tree faces, wizards with "glowing" eyes, parrots, butterflies, horse heads, unicorns, waterfalls, cheeseburgers, banana splits and real glasses filled with wax soda and beer.
"They all had wicks, but most people didn't burn them," says Bersch.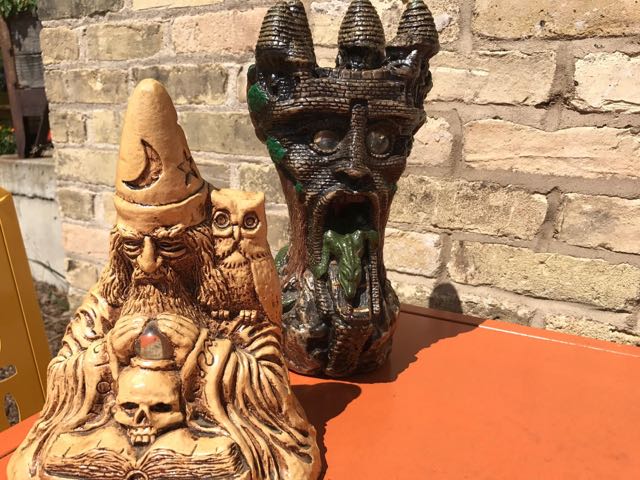 Because the food and drink candles looked so real, some customers stuck their fingernails into the candles to make sure they were, in fact, fake.
"This led us to post signs throughout the store that read 'our candles do not itch, so please do not scratch them,'" says Bersch.
Bersch remembers taking extra-special care to wrap the unicorn candles so the horns wouldn't break off.
"We wrapped the horns in bubble wrap, and the whole unicorn in tissue and then carefully placed it in a box with Styrofoam chips," she says.
Despite the careful wrapping, a man came to the store a day after Christmas and claimed the unicorn candle he bought for his wife was broken when she opened it. Bersch reminded him that they took extreme precaution wrapping and packing unicorn candles to ensure that didn't happen.
"The man got so mad he threw the unicorn on the floor and it shattered everywhere. Security came and made him pick up every single piece and then escorted him out of the mall," says Bersch.
"The month of December was crazy and sometimes it was difficult to even walk through the store because there were so many people. It was my favorite time of year, though. My mom is very creative and she put together some amazing displays and it was fun to watch her."
Because it was years before Internet shopping was a possibility, holiday consumers were bound to the mall for their gift selection. Thus, Bersch says they could sell almost anything in December.
"Especially to the guys," she says. "We could put anything out and they'd buy it because they were in a panic to get something for their girlfriends."
Although the holiday season was her favorite time of year at the shop, Bersch also appreciated the warmer months.
"I loved the quiet months of summer, when customers would trickle in, usually looking for help in purchasing a wedding candle," she says. "I also loved watching the people pass by our storefront, bags in hand, scanning the lit up store names deciding which one to hit next."
Halloween was also a big holiday for Wicks 'N' Sticks.
Later in the '80s, Wicks 'N' Sticks turned into a home decorating store featuring hurricane globes, sconces, hand-blown glass wind chimes, glass oil lamps with smokeless fiberglass wicks, music boxes, "Books of Love," collectibles such as David Winter Cottages and carved wedding candles.
Bersch's parents sold the store in 1990 because the mall was in decline and because Bersch's father wanted to move to a warmer climate. The couple moved to Las Vegas to be closer to friends – who also owned a Wicks 'N' Sticks – and the fond memories continue to burn with Bersch and with Schultz to this day.
"It was very much a family environment," says Schultz. "We'd still work there if we could."

Molly Snyder started writing and publishing her work at the age 10, when her community newspaper printed her poem, "The Unicorn." Since then, she's expanded beyond the subject of mythical creatures and written in many different mediums but, nearest and dearest to her heart, thousands of articles for OnMilwaukee.

Molly is a regular contributor to FOX6 News and numerous radio stations as well as the co-host of "Dandelions: A Podcast For Women." She's received five Milwaukee Press Club Awards, served as the Pfister Narrator and is the Wisconsin State Fair's Celebrity Cream Puff Eating Champion of 2019.