Last winter some of us started playing a new game called "how to stay safe and sane while socializing." Well, the fun continues in 2021 and 2022 with more structures and warm spots that make outdoor drinking enjoyable!
These opportunities come in many forms: tents, domes, yurts, tents and more. Below is a list of places with one of these options, and we will update this guide as new opportunities pop up. Most places offer between 75-minute and two-hour time slots, require a rental fee or deposit and have a minimum purchase policy. Follow the links for specific requirements at each location. For CDC guidelines on dining outdoors, go here.
Let's get through this winter with happiness and in good health.
At Random
2501 S. Delaware Ave., (414) 481-8030
atrandommke.com
"Magic Forest" features seven heated, greenhouse-style "cocktail huts." A festive cocktail menu is available. Go here to read more. Make your reservation online.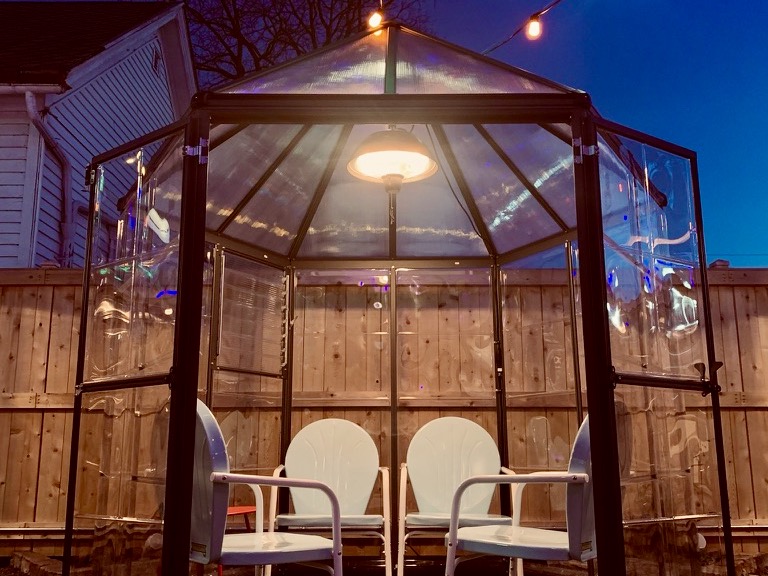 Bass Bay Brewhouse
S79W15851 Aud Mar Dr, (414) 377-9449
bassbaybrewhouse.com
Bass Bay has brought "Bubbles on the Bay" to fight the bitter cold. Bookings offer 90 minutes in a heated space. To learn more and book a bubble, visit Bass Bay's website.
Belfre Kitchen
606 Genesee St., Delafield (262) 303-5066
belfrekitchen.com
The Belfre Kitchen offers heated domes for parties of up to six people. Reservations and pre-orders are required. Click here to make it happen.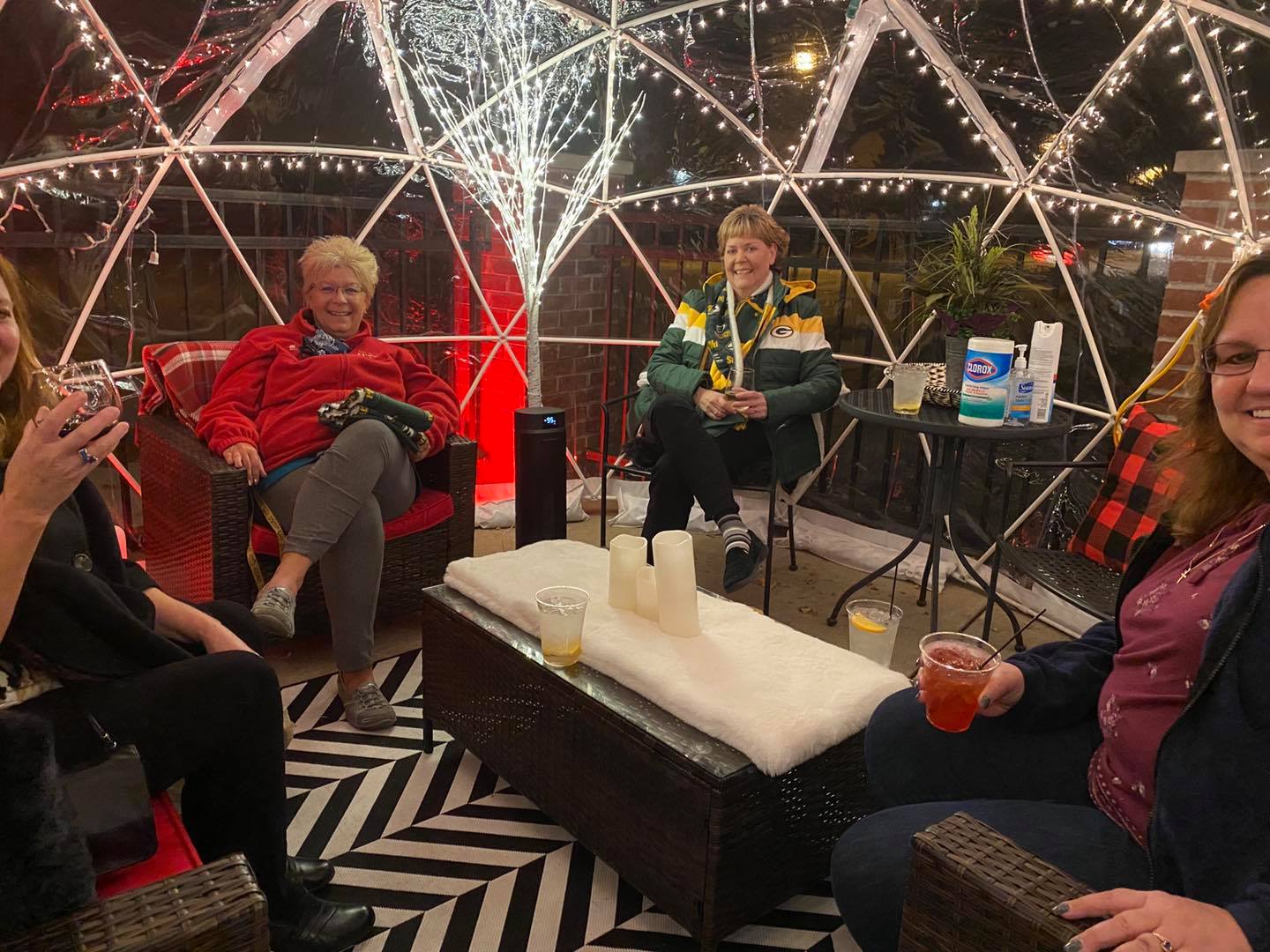 Bert's Bar
3907 S. Lake Dr., Saint Francis, (414) 744-3722
bertsbargrill.com
Bert's has heated domes for rent on their patio. Call to reserve or send them a Facebook message.
Braise Restaurant
1101 S. 2nd St., (414) 212-8843
braiselocalfood.com
Braise offers limited seating on their rooftop deck dome and dog-friendly street side tables. Reservations not required but encouraged. Go here for more.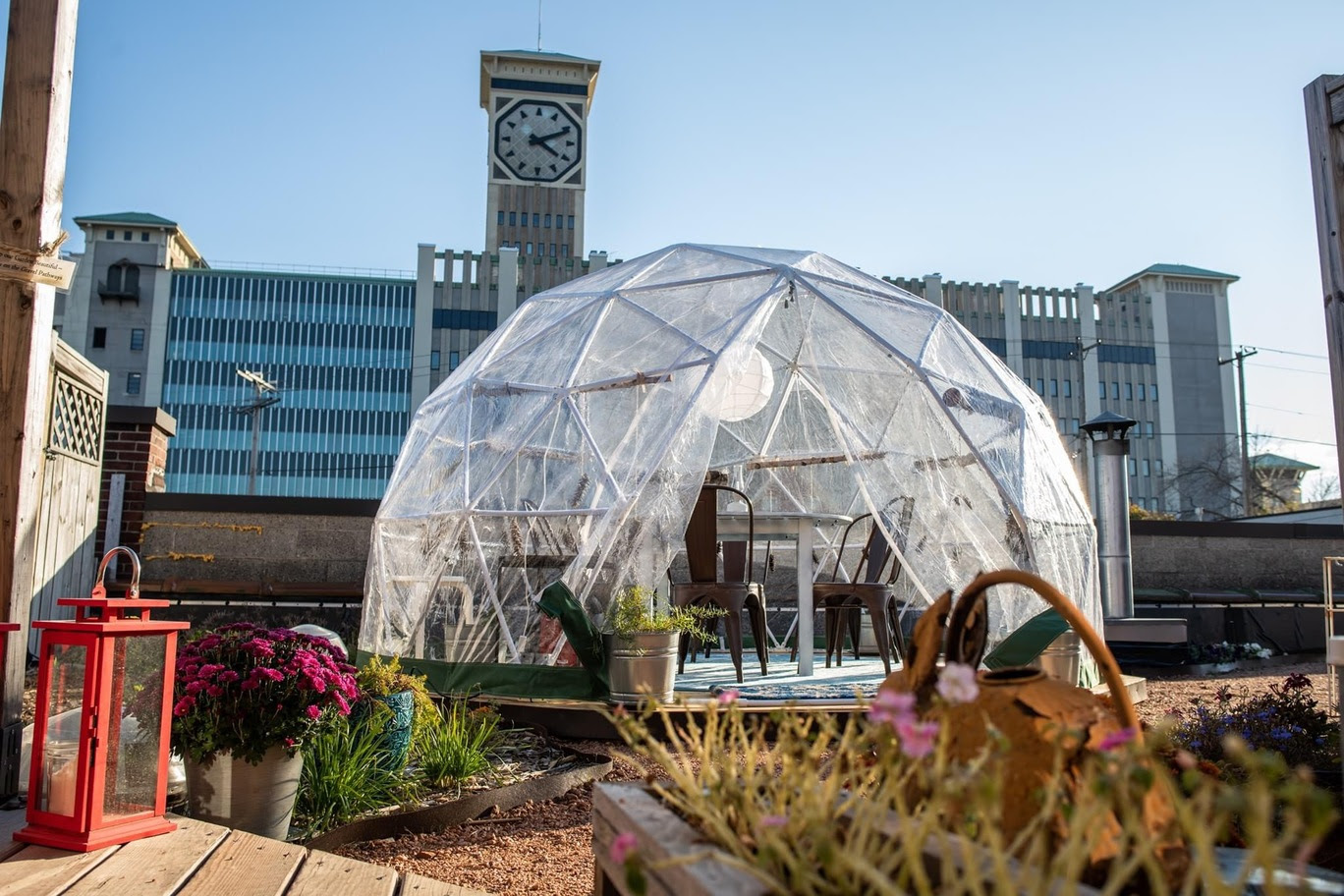 Brandywine
W61 N480 Washington Ave., Cedarburg, (262) 618-4683
brandywinecedarburg.com
Brandywine has three heated domes that are available to rent for two-hour timeframes. Call or go here for more information.
Buckatabon Tavern & Supper Club
7700 W Harwood Ave., Wauwatosa, (414) 271-7700
thebuckatabon.com
Buckatabon features several cozy Frank & Larry's Northwoods Shanties, "quintessentially Wisco" which aim to bring the best of the Northwoods ice fishing experience to you (no fishing license required).
Café Benelux
346 N. Broadway, (414) 501-2500
cafebenelux.com
Cafe Benelux has brought back their Lux Domes experience as well as the new Lux Winter Loft Bar. The rooftop experience features six private domes and one large heated tent for additional socially distanced outdoor dining. The ground-floor features an uber-cozy enclosed porch on Broadway with heated canopy dining.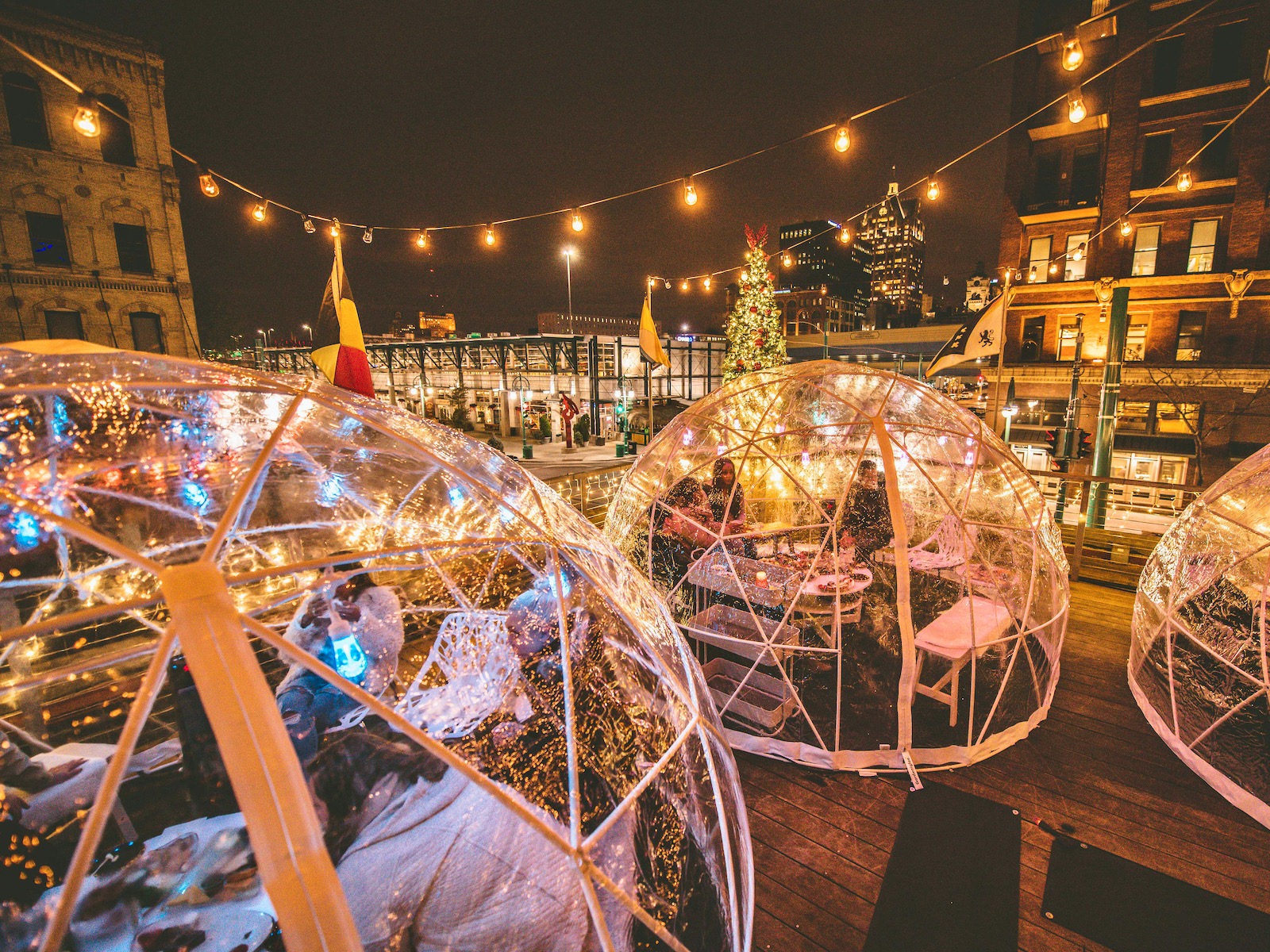 Cafe Hollander - Brookfield
20150 Union St., Brookfield, (262) 785-4490
cafehollander.com
After shopping at Corners of Brookfield, guests can celebrate winter in Amsterdam-style canal houses on the rooftop! For more information and to make a reservation, visit Lowlands Winter Experiences.
Cafe Hollander - East Side
2608 N. Downer Ave., 414-963-6366
cafehollander.com
Dine inside, outside, or in the East Side Hollander's new socially distanced Dome Village, which features four patio-side domes, and four additional canal houses dotting the adjacent Downer Ave. parklet. For more information or to make a reservation, visit Lowlands Winter Experiences.
Cafe Hollander - Mequon
5900 W. Mequon Rd., (262) 236-0107
cafehollander.com
Hollander in Mequon conjures the North Pole with five cozy, decked-out canal houses in their Holiday Row on the Patio. For more information or to make a reservation, visit Lowlands Winter Experiences.
Cafe Hollander - Wauwatosa Village
7677 W State St., Wauwatosa, (414) 475-6771
cafehollander.com
It's Holiday Row on the Bridge at Hollander Tosa where guests will find six cozy canal houses, providing family-ready photo opps and the spirit of Amsterdam to the Village. For more information or to make a reservation, visit Lowlands Winter Experiences.
Centraal Grand Café and Tappery
2306 S. Kinnickinnic Ave., (414) 755-0378
cafecentraal.com
The Winter Garden of Eten in the Centraal courtyard now features a sizeable heated tent with clear roof panels and whimsical Bohemian decor. Socially distanced seating is available, along with a live music series on Thursday, Friday and Saturday evenings through the end of March. But guests can also enjoy a similarly Bohemian experience in the Streetcar on Lincoln, a winter dining experience that will stick around as the spring thaw approaches. For more information or to make a reservation, visit Lowlands Winter Experiences.
Eldr+Rime
2300 N. Mayfair Rd.
eldrandrime.com
Enjoy a warm, private "stuga" (which is Swedish for "cabin") that accomodates up to six guests. The Stuga Experience Package offers a two-hour-long reservations with a meal of pre-selected beverage and food offerings for $200. Go here for more info and to book.
Hubbard Park Lodge & Beer Garden
3565 N. Morris Blvd., Shorewood, (414) 273-8300
hubbardparklodge.com
Hubbard Park features winter camp dining domes throughout the frosty season Wednesdays through Sundays. Various drinking and dining packages available; kid-friendly. More here.
Kegel's Inn
5901 W. National Ave., (414) 257-9999
kegelsinn.com
Kegel's has introduced three "party yurts" in their winter-friendly Brrr Garden. The structures, which can withstand 100 mph winds and 20 feet of snow are available by reservation only for groups of six to 12 people. Read more about this unique experience, inspired by Medieval royal hunting tents. Reservations can be made online.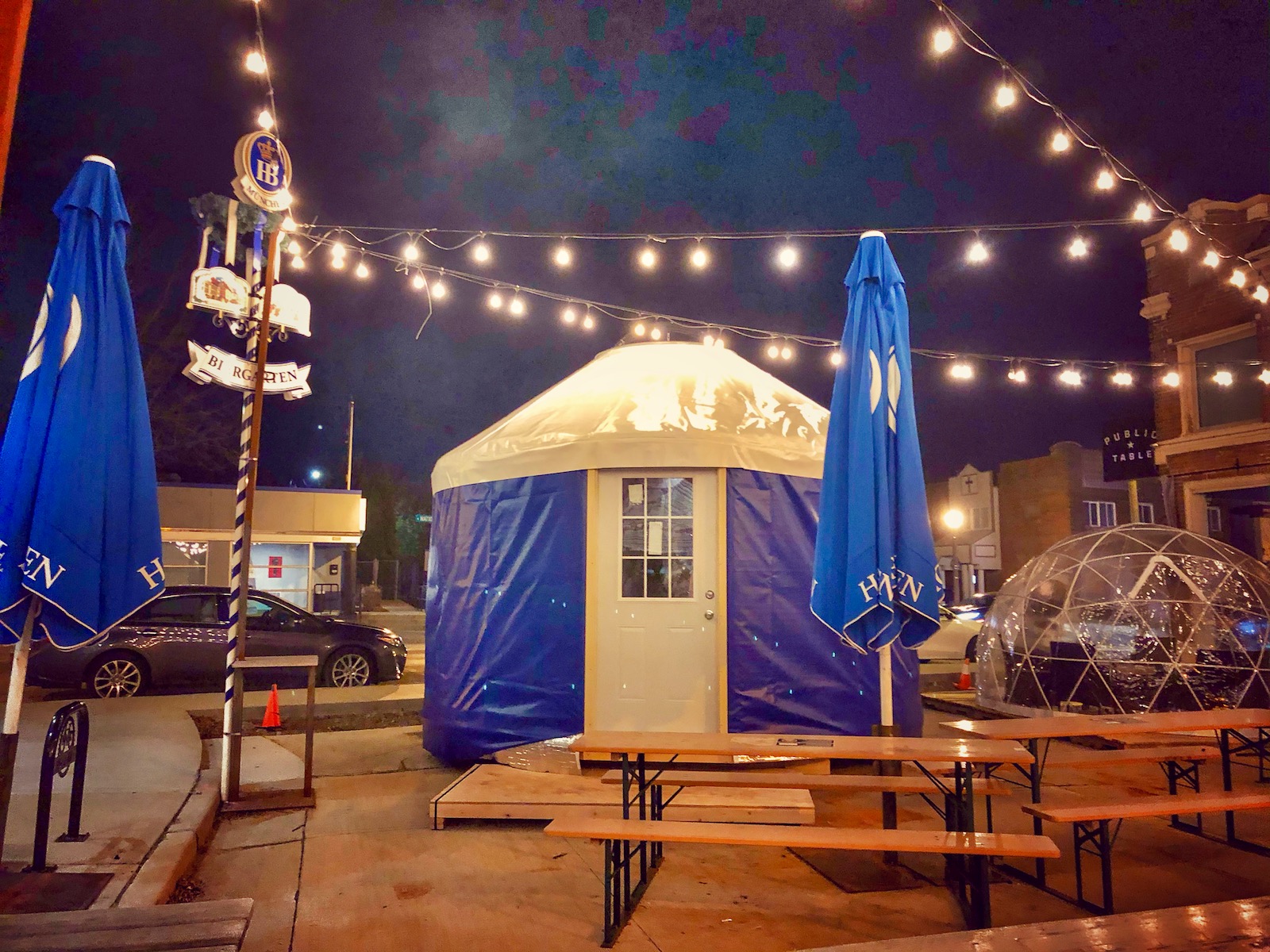 Lakefront Brewery & Beer Hall
1872 N Commerce St., (414) 372-8800
lakefrontbrewery.com
Lakefront Brewery erected on-the-river winterized "hop houses" that are available for rental by small groups. Must be 21 years old. For reservations, go here.
Natty Oaks
11505 W. National Ave., West Allis, (414) 543-2255
nattyoaks.com
Private chalets on 12,000-square-foot outdoor winter wonderland. Call or visit either the bar's website or Facebook page to reserve.
Packed Picnic Company
(414) 502-7097
Rent your own heated wintertime picnic from Packed Picnic Company and they'll set it up in a yard or park of your choice. The seasonal package comes with a mini-bonfire and s'mores! Go here for more information.
South Shore Terrace Beer Garden
2900 S. Shore Dr.
southshoreterrace.com
The Bay View beer garden has reopened for winter with 10 heated chalets. Complete details are here.
Third Space Brewing
1505 W. St. Paul Ave., (414) 909-2337
Third Space Facebook Page
Third Space now has four geodescic "Happy Domes" in their beer garden for groups of up to eight people. Cost is $25 for two hours. To book a dome, click here.
Twisted Fisherman
1200 W. Canal St., (414) 384-2722
twistedfisherman.com
Twisted Fisherman booked itself several "snow globes" and shanties for the frosty season. The heated snow globes hold up to seven people while the unheated (but include firepits) shanties can host up to eight. For more info and reservations, click here.
Zócalo Food Park
636 S. 6th St., (414) 433-9747
zocalomke.com
Rent a heated greenhouses at Zócolo Food Park. Go here to read more and here to reserve.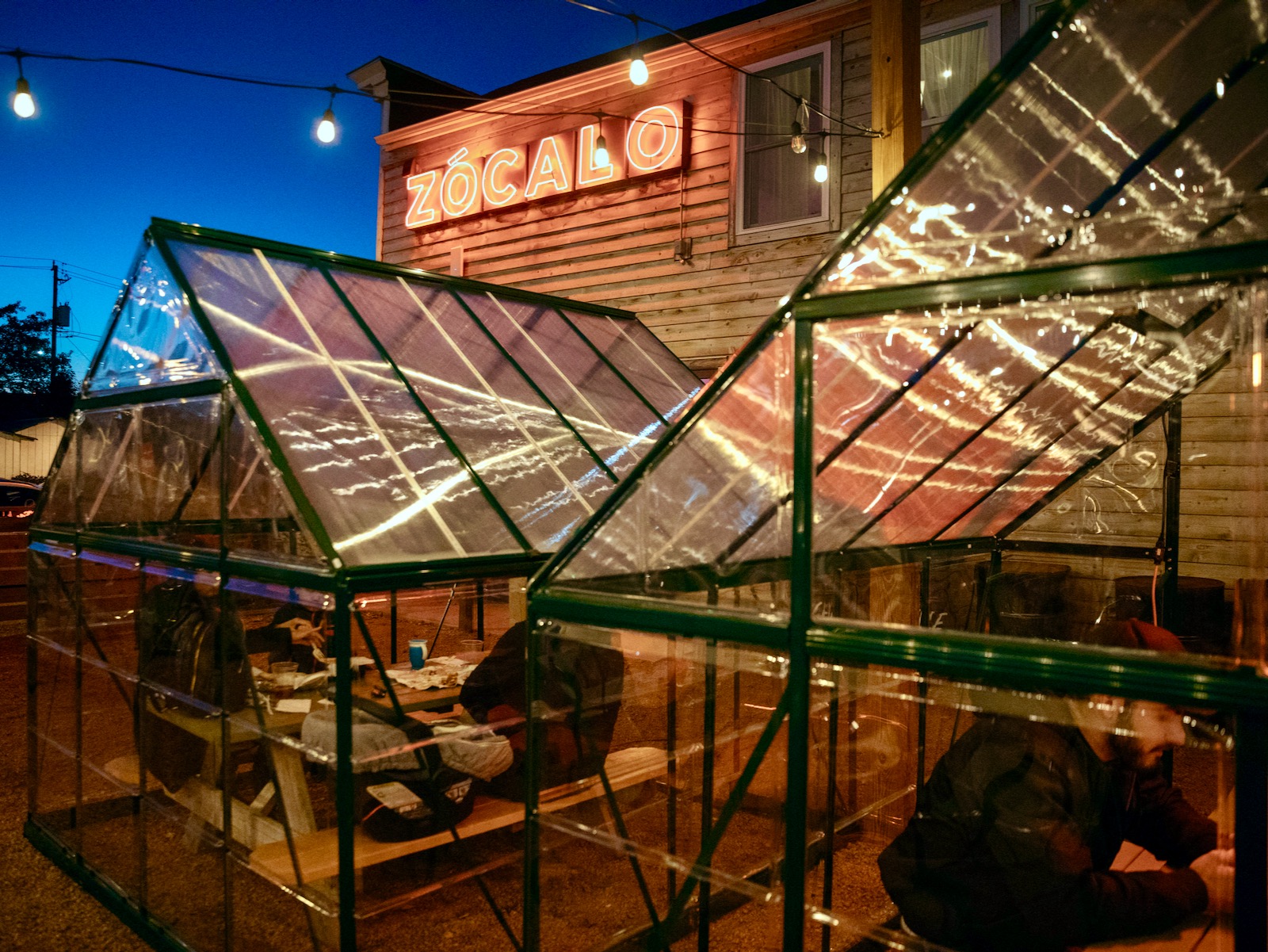 Lori Fredrich and Matt Mueller contributed to this report.

Molly Snyder started writing and publishing her work at the age 10, when her community newspaper printed her poem, "The Unicorn." Since then, she's expanded beyond the subject of mythical creatures and written in many different mediums but, nearest and dearest to her heart, thousands of articles for OnMilwaukee.

Molly is a regular contributor to FOX6 News and numerous radio stations as well as the co-host of "Dandelions: A Podcast For Women." She's received five Milwaukee Press Club Awards, served as the Pfister Narrator and is the Wisconsin State Fair's Celebrity Cream Puff Eating Champion of 2019.