Our gift to you this holiday season is Let's Eat MKE! Eat well. Save money. Support local.
Let's Eat MKE is a digital coupon book offering $10 off your meal at 20 of the best restaurants in town.
Local restaurants need your help more than ever. PLUS 10% of sales will go directly back to local spots via our charity partner Serve60.
Buy one, gift one!
This winter some of us are playing a new game called "how to stay safe and sane while socializing." It's a tricky game, but one that many bars and restaurants are trying to help us win by offering new, temporary structures for outdoor drinking and eating.
These structures come in many forms: tents, domes, yurts, tents and more. Below is a list of places with one of these options, and we will update this guide as new opportunities pop up. Most places offer between 75-minute and two-hour time slots, require a rental fee or deposit and have a minimum purchase policy. Follow the links for specific requirements at each location. For CDC guidelines on dining outdoors, go here.
Mask up and choose your posses wisely, Milwaukee, so we can get through this winter with happiness and in good health.
At Random
2501 S. Delaware Ave., (414) 481-8030
atrandommke.com
"Magic Forest" opens in the patio behind At Random on Nov. 25 and will feature seven heated, greenhouse-style "cocktail huts." A festive cocktail menu is available. Go here to read more. Make your reservation online.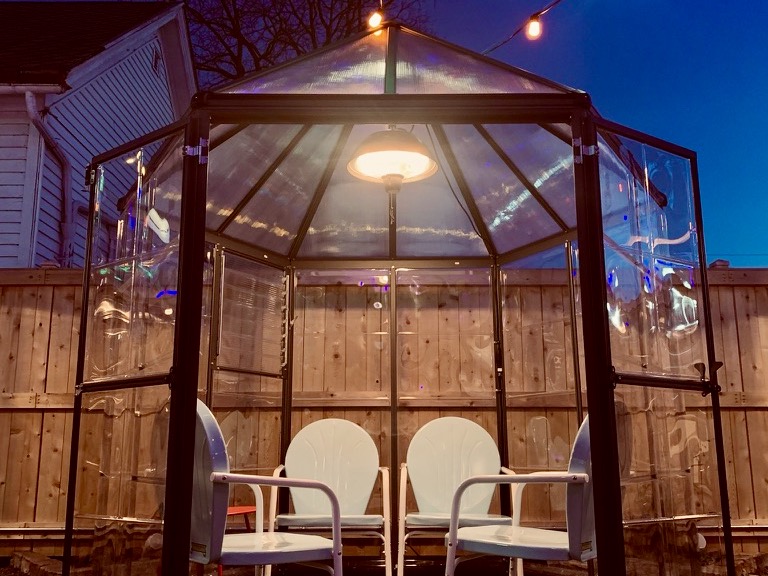 Bass Bay Brewhouse
S79W15851 Aud Mar Dr., Muskego, (414) 377-9449
bassbaybrewhouse.com
Bass Bay Brewhouse offers private, heated "Bubbles on the Bay" for up to eight people. They have two different food options and provide a warm, free cookie at the end of your visit. Go here for more info and to book your bubble.
Belfre Kitchen
606 Genesee St., Delafield (262) 303-5066
belfrekitchen.com
The Belfre Kitchen offers heated Domes for parties of up to six people. Reservations and pre-orders are required. Click here to make it happen.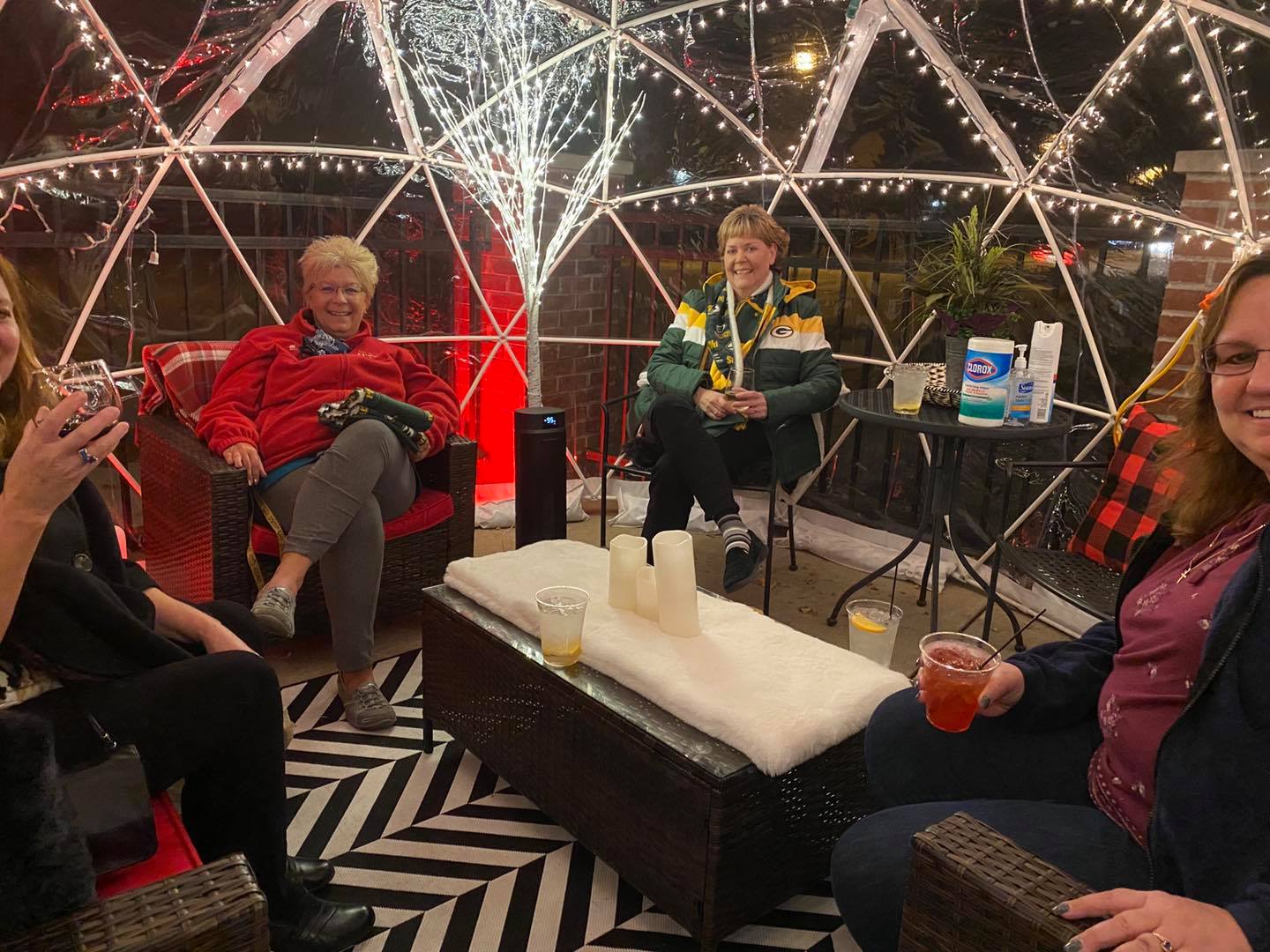 Bert's Bar
3907 S. Lake Dr., Saint Francis, (414) 744-3722
bertsbargrill.com
Bert's has heated domes for rent on their patio. Call to reserve or send them a Facebook message.
Braise Restaurant
1101 S. 2nd St., (414) 212-8843
braiselocalfood.com
Braise offers limited seating on their rooftop deck dome and dog-friendly street side tables. Reservations not required but encouraged. Go here for more.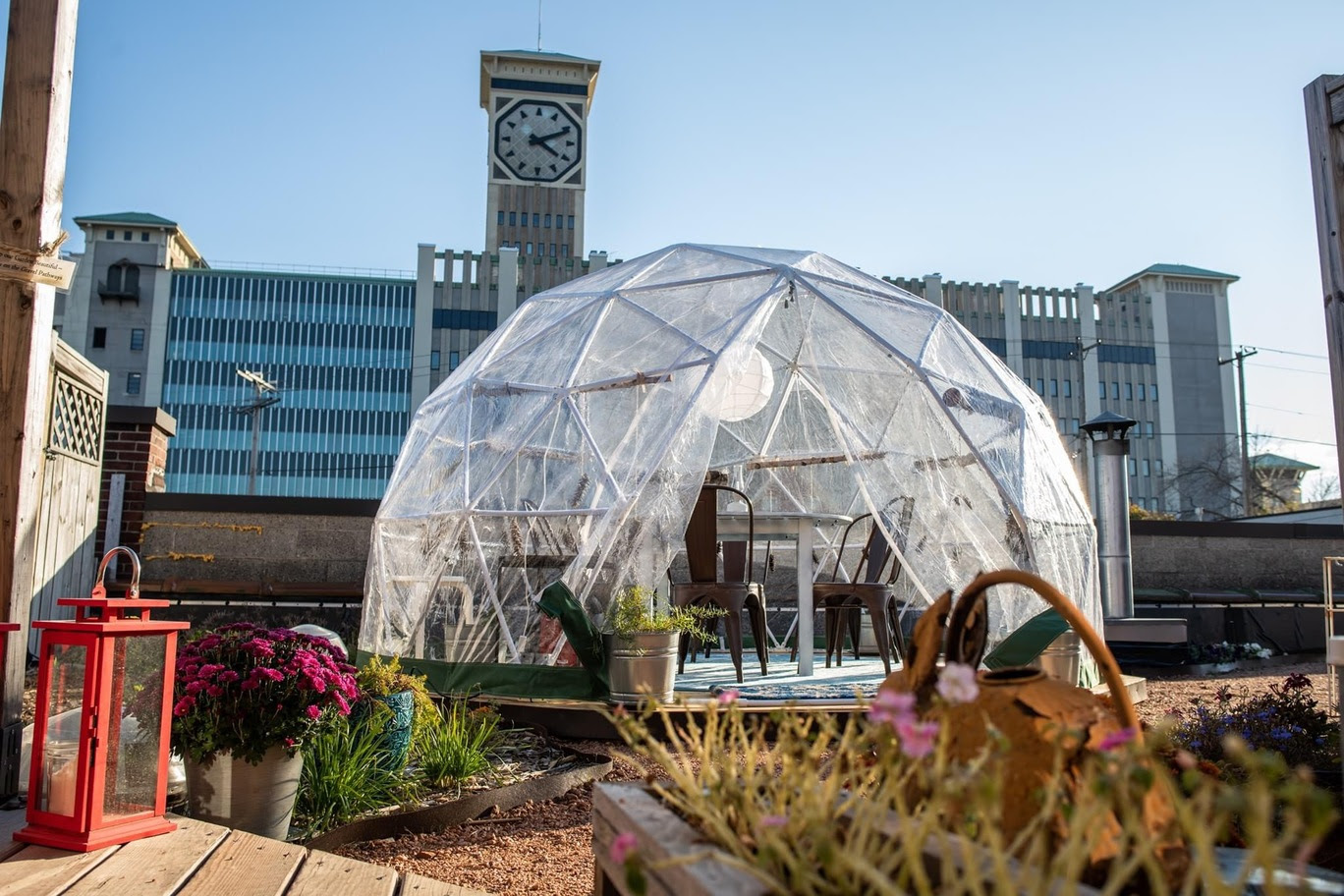 Brandywine
W61 N480 Washington Ave., Cedarburg, (262) 618-4683
brandywinecedarburg.com
Brandywine has three heated domes that are available to rent for two-hour timeframes. Call or go here for more information.
Café Benelux
346 N. Broadway, (414) 501-2500
cafebenelux.com
The rooftop Lux Domes are back for another season on the rooftop of this popular Third Ward eatery. Parties up to eight are welcome and special food and drink menus are available. Click here for all the deets.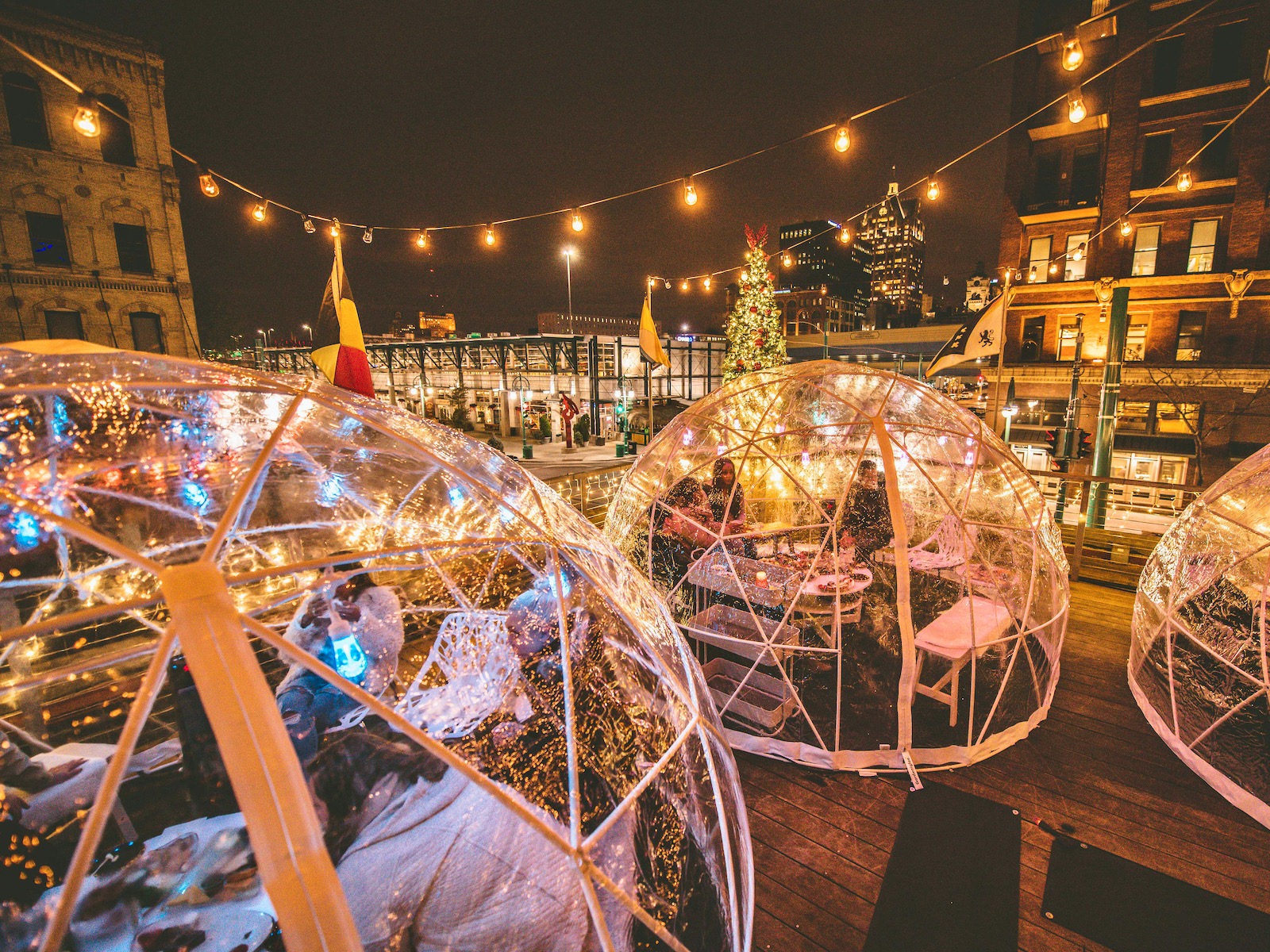 Cafe Hollander
2608 N. Downer Ave., 414-963-6366
7677 W State St., Wauwatosa, (414) 475-6771
20150 Union St., Brookfield, (262) 785-4490
5900 W. Mequon Rd., (262) 236-0107
cafehollander.com
All of the domes and greenhouses will accept reservations via phone. Brookfield's structures are "coming soon"
Dead Bird Brewing
1726 N. 5th St., (414) 930-0707
deadbirdbrewing.com
Dead Bird has a heated patio and "snow globe" tents for 4-6 people. Stay tuned for more permanent structures in the future. Read more about this opportunity here or to book now go here.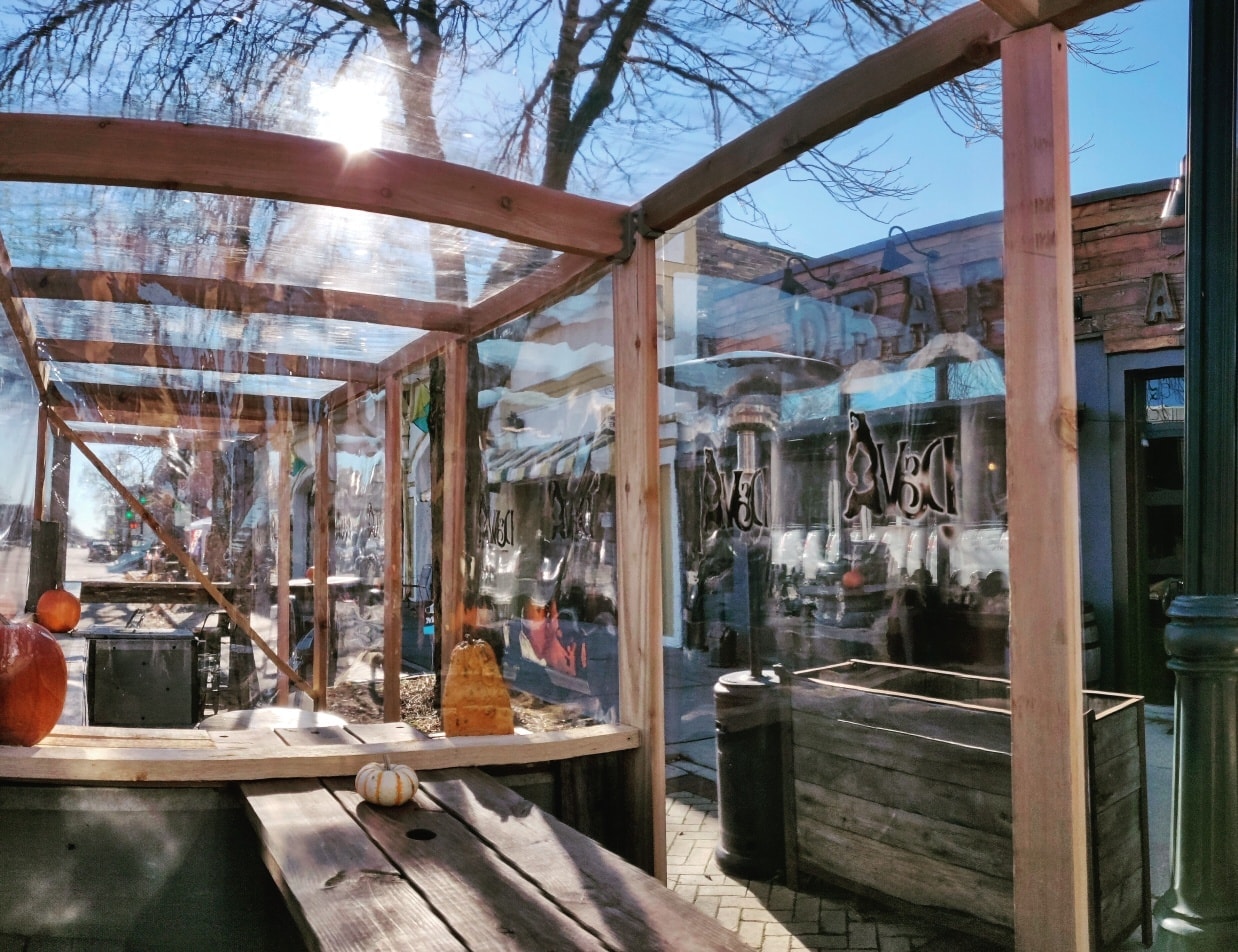 Draft & Vessel
4417 N. Oakland Ave., Shorewood, (414) 533-5599
draftandvessel.com
Draft & Vessel enclosed their parquet and now features three separate "booths" (as shown in pic above). Small groups only; dog-friendly. Go to the website or give them a call for more info.
Eldr+Rime
2300 N. Mayfair Rd.
eldrandrime.com
Enjoy a warm, private "stuga" (which is Swedish for "cabin") that accomodates up to six guests. The new Stuga Experience Package offers a two-hour-long reservations with a meal of pre-selected beverage and food offerings for $200. Go here for more info and to book.
Hubbard Park Lodge & Beer Garden
3565 N. Morris Blvd., Shorewood, (414) 273-8300
hubbardparklodge.com
Hubbard Park features winter camp dining domes from November 2020 through April 2021. Various drinking and dining packages available; kid-friendly. More here.
Kegel's Inn
5901 W. National Ave., (414) 257-9999
kegelsinn.com
Kegel's has introduced three "party yurts" in their winter-friendly Brrr Garden. The structures, which can withstand 100 mph winds and 20 feet of snow are available by reservation only for groups of six to 12 people. Read more about this unique experience, inspired by Medieval royal hunting tents. Reservations can be made online.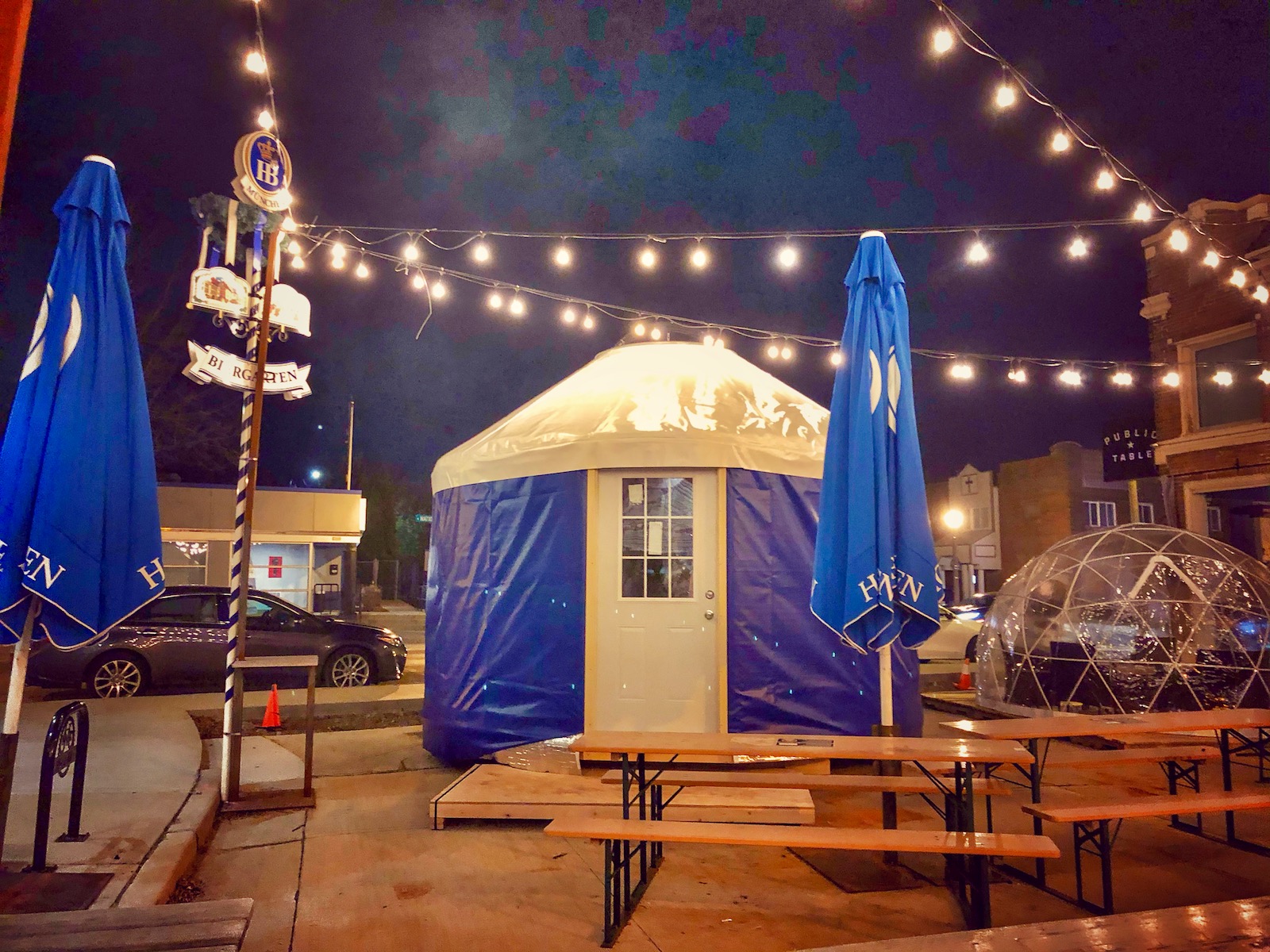 Lakefront Brewery & Beer Hall
1872 N Commerce St., (414) 372-8800
lakefrontbrewery.com
Lakefront Brewery erected on-the-river winterized "greenhouses" that are available for rental by small groups. Must be 21 years old. For reservations, go here.
Natty Oaks
11505 W. National Ave., West Allis, (414) 543-2255
nattyoaks.com
Private Chalets on 12,000-suare-foot outdoor winter wonderland. Call or visit website/Facebook page to reserve,
Nomad World Pub
1401 E. Brady St., (414) 224-8111
nomadworldpub.com
Nomad has numerous outdoor heated structures they called "Nano-Climates" on their large outdoor patio. The soace includes covered and open air seating for small groups, wind walls and a fire pit lead to the Nomad's "Endless Summer" – a heated 1000-square-foot tent with live palm trees, a slushee bar, tTVs and a giant screen/webcam of surf breaks around the world. It is also converting its summer parklet into five separate heated table areas for groups of 4. Book here.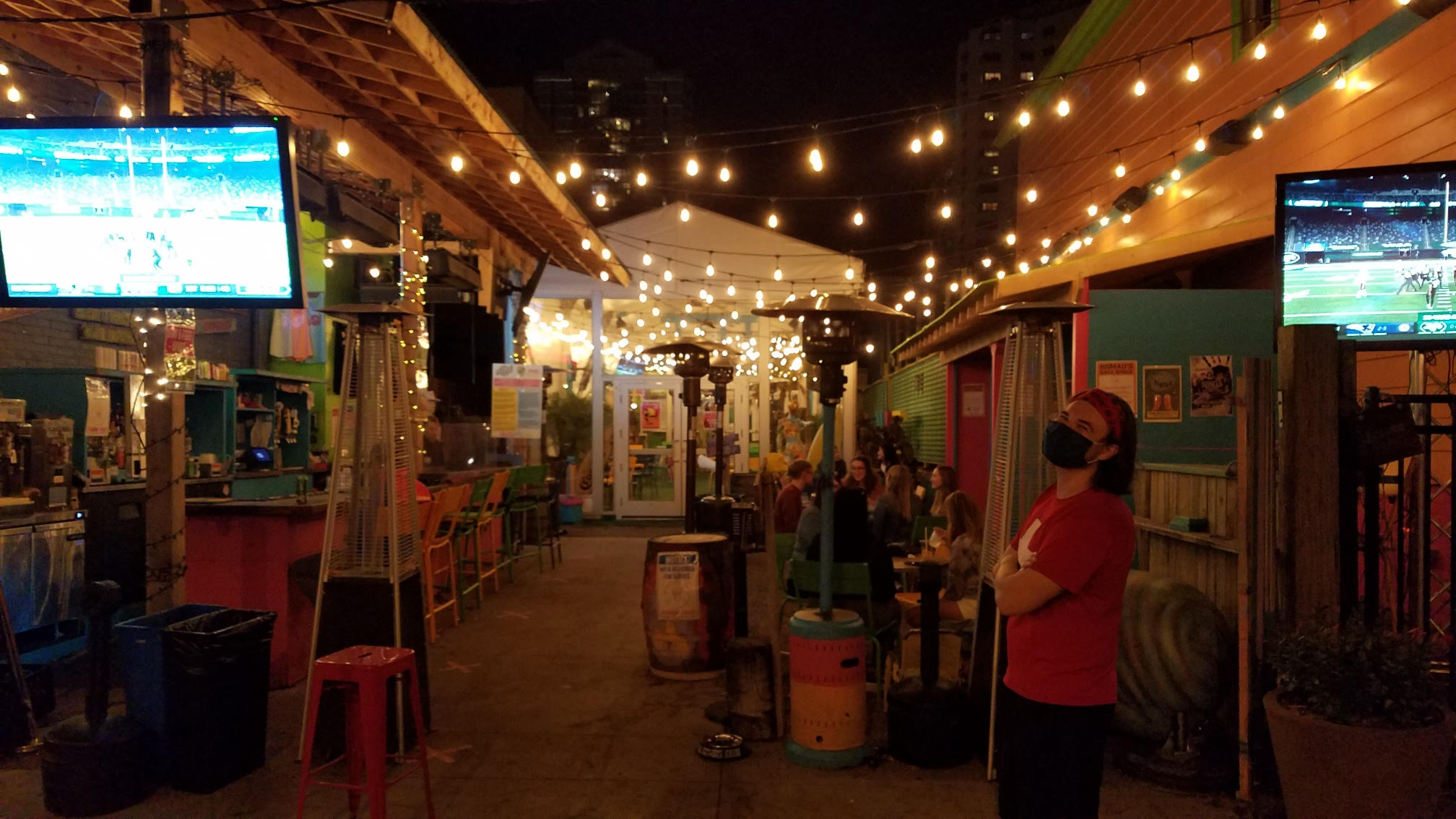 Public Table
5835 W. National Ave., West Allis, (414) (414) 488-2948
publictable.com
Public Table offers domes for up to 6 people. Call or visit Facebook to reserve.
Three Lions Pub
4515 N. Oakland Ave., Shorewood, (414) 763-6992
threelionspub.com
Outdoor, winterized patio seating is available here. Call for more information.

Zisters
13425 Watertown Plank Rd., Elm Grove, (262) 794-3924
EatZRG.com
Enjoy heated domes (in pic above) on the Zister's patio. Must be 21 years old. For more information and to make reservations, go here.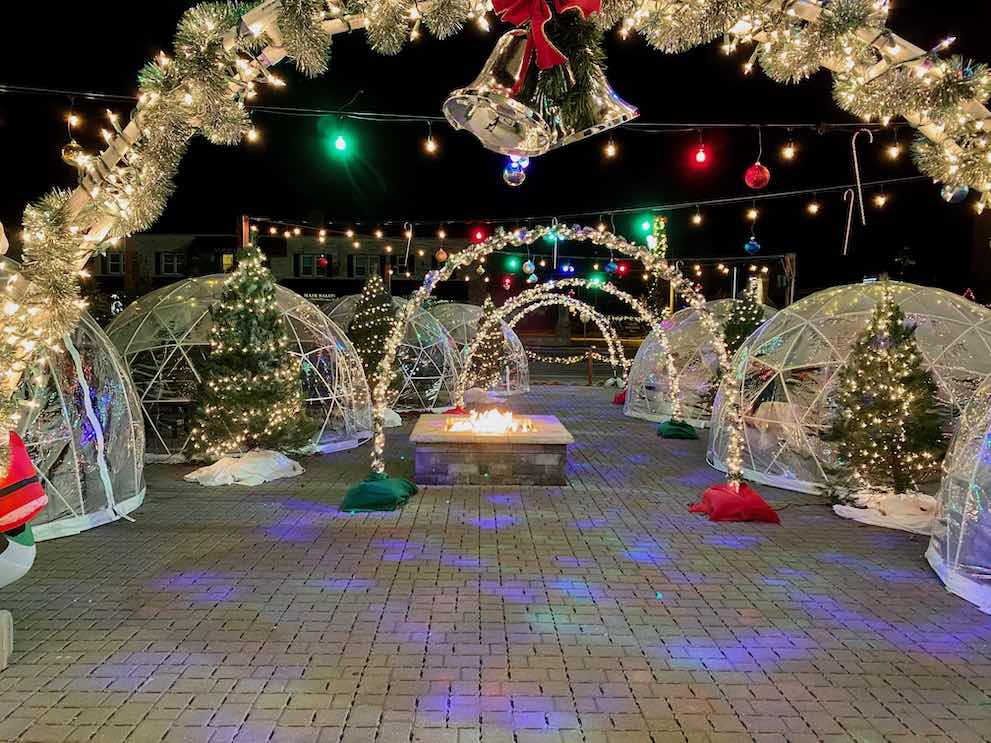 "Tom & Jerry Pop-Up" at Zócalo Food Park
636 S. 6th St., (414) 433-9747
zocalomke.com
Bryant's Cocktail Lounge will host a festive, outdoor "Tom & Jerry" pop-up lounge with heated greenhouses at Zócolo Food Park. Tom & Jerry's are a traditional holiday cocktail that Food Writer Lori Fredrich says "tastes a bit like boozy spiced custard." Holiday punch and other cocktails will also be available. Starts Nov. 25. Go here to read more and here to reserve.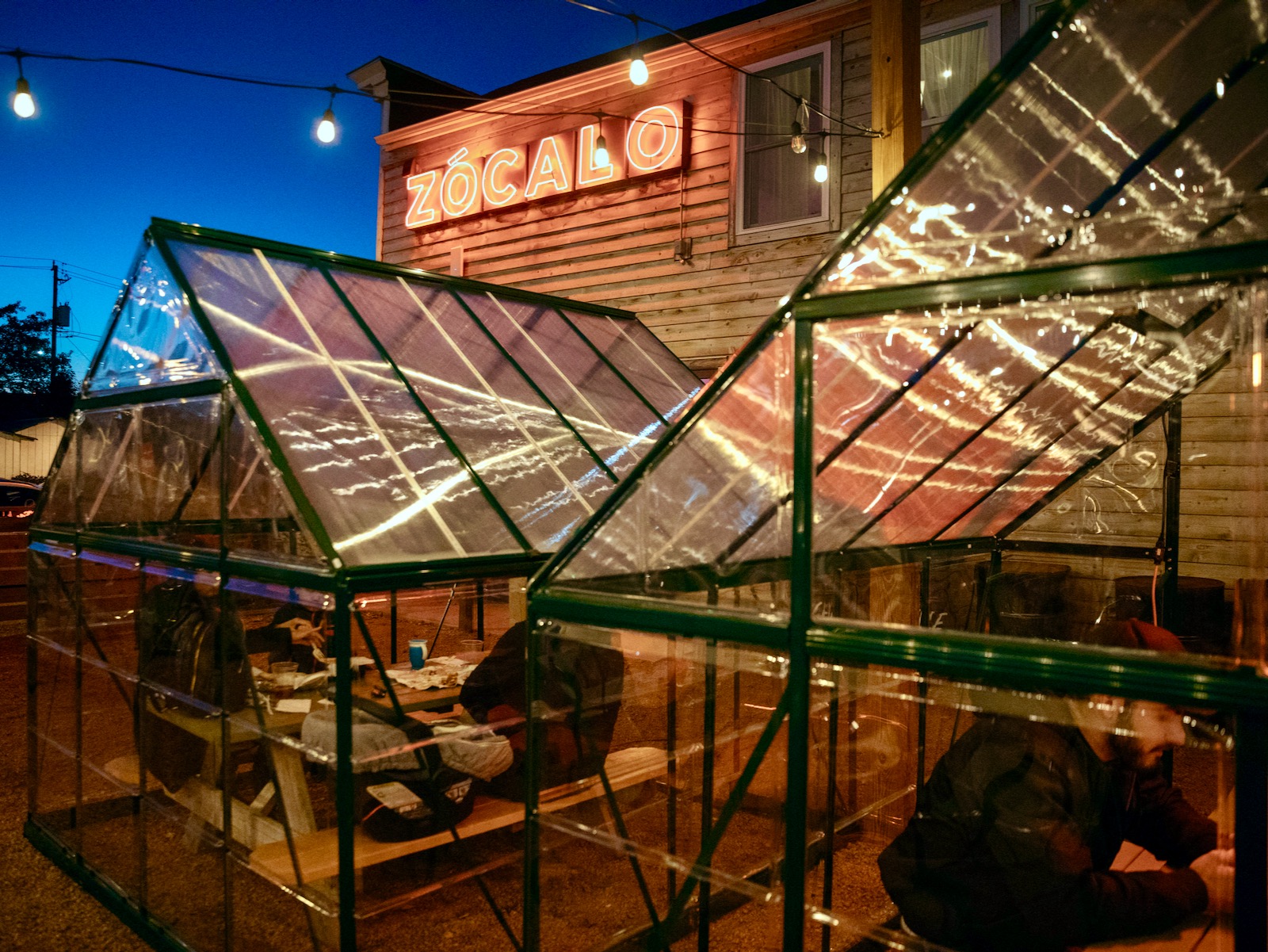 Molly Snyder grew up on Milwaukee's East Side and today, she lives in the Walker's Point neighborhood with her partner and two sons.
As a full time senior writer, editorial manager and self-described experience junkie, Molly has written thousands of articles about Milwaukee (and a few about New Orleans, Detroit, Indianapolis, Boston and various vacation spots in Wisconsin) that range in subject from where to get the best cup of coffee to an in-depth profile on the survivors of the iconic Norman apartment building that burned down in the '90s.
She also once got a colonic just to report on it, but that's enough on that.
Always told she had a "radio voice," Molly found herself as a regular contributor on FM102, 97WMYX and 1130WISN with her childhood radio favorite, Gene Mueller.
Molly's poetry, essays and articles appeared in many publications including USA Today, The Writer, The Sun Magazine and more. She has a collection of poetry, "Topless," and is slowly writing a memoir.
In 2009, Molly won a Milwaukee Press Club Award. She served as the Narrator / writer-in-residence at the Pfister Hotel from 2013-2014. She is also a story slam-winning storyteller who has performed with The Moth, Ex Fabula and Risk!
When she's not writing, interviewing or mom-ing, Molly teaches tarot card classes, gardens, sits in bars drinking Miller products and dreams of being in a punk band again.