The Wisconsin Dells and water slides have become almost synonymous and with good reason: the Dells are home to Noah's Ark, the largest outdoor waterpark in America, as well as Kalahari, Great Wolf Lodge, Mount Olympus, Chula Vista and the Wilderness Resort.
During a recent visit, we stayed at the Wilderness, and were metaphorically washed away by the offerings. There's so much to do at the Wilderness one could spend a week there and not tire of the activities – it's almost overwhelming. Almost.
There are four separate indoor waterparks – one has a swim-up bar, mind you – as well as four outdoor waterparks.
Most notable is The Great Wave, the nation's largest indoor wave pool that generates five-foot waves. The glass ceiling lets in natural light which contributes to the "real beach" feel. It's also home to the aforementioned Margarita's Swim-Up Bar.
This year, the Wilderness started selling a Wild Fun Pass that allows adventuresome guests to save 50 percent or more on activities like a sky ropes course, 3-D miniature golf, laser tag, a laser maze and go-karts. Zip line tours and horse-drawn wagon rides are also available.
Throw in multiple restaurants and bars, an arcade, golf and strolling paths, and a person, couple or family could spend their entire vacation at the Wilderness and leave feeling refreshed and fulfilled. (Maybe a bit waterlogged, too.)
However, eventually guests get out of the water and, once clothed again, it's easy to remember that there's so much to do in The Dells beyond waterparking.
"We know that visitors love our 200-plus water rides. But there are 90 other attractions that round out the array of offerings. There are timeless family-friendly icons like the Tommy Bartlett Show and Wisconsin Deer Park, scenic boat tours that take advantage of the spectacular natural beauty, high-quality entertainment options and adrenaline-pumping activities such as zip lines and roller coasters," says Bianca Johnson, marketing and communication manager for the Wisconsin Dells Visitor & Convention Bureau.
Here are 13 things to do in The Dells after toweling off. Some of it's cool, some of it's corny, but all of it is really fun.
1. Drive around at night
There are so many Dells' motels and restaurants with vintage signage that are particularly appealing in their nighttime neon glory. The Flamingo Hotel, The House of Embers and The Starlight Motel are just a few of the awesome sign offerings. The Dells have the wonderful power to make us long for a time before we were born while reveling in the present moment.
This historic photographic studio and museum was first built in 1875 as the studio of landscape photographer H.H. Bennett, who introduced scores of people around the world to the Wisconsin Dells through his work. Many of his photos are of nature or people enjoying and / or exploring nature, including his most famous photo, "Leaping The Chasm At Stand Rock," featuring his son, Ashley, making the jump between two massive rock formations. The studio, now also a museum, is believed to be the oldest photography studio in the United States. Photographers in particular will appreciate the collection of camera-related souvenirs as well as the fake-scenery, sepia photo-ops inside the museum.
Knucklehead's offers a plethora of jumping options along with a foam pit, bouncy basketball court and equally-as-bouncy dodgeball area. There's also a ropes course, 4D theater ride, bumper cars, indoor mini roller coaster, bowling alley, arcade and 10-lane bowling alley. There's a full bar and a couple of dollar-operated massage chairs for parents, or anyone else, who needs to relax for a spell. (Note: those massage chairs actually get a little sassy, not "happy ending" sassy, but you really get your $2 worth.)
Part haunted house, part tour of a Mayan pyramid, the Lost Temple will unravel your nerves. Beware of actors dressed as mummies – they creep up out of nowhere. Technically, the point of the tour is to find a magic skull, but some of us were too busy screaming our own skulls off to notice. And just in case you don't get your share of terror, there's this place that's located next door that features an insane asylum, a human autopsy and ravenous zombies:
At one time, Wisconsin was a leading timber producer in the United States. Paul Bunyan's Northwoods Lumberjack Show celebrates this history of Wisco wood with events like canoe jousting, standing block chops, axe throws, speed pole climbing, chain saw carving and more. Don't forget to wear your flannel in solidarity.
This museum promises "everything odd, weird and unbelievable" and it does a fine job following through. From shrunken heads to genetically-mutated animals to a Duct Tape Room made, you guessed it, entirely out of duct tape, the museum ranges from quirky to fascinating. For extra creep factor, check out the vampire gallery. In any case, don't reference the 1980s television show of the same name because if you do your kids will have no idea what you're talking about. True story.
7. Stroll down Broadway
Shopping for taffy, ice cream, fudge, T-shirts, moccasins, keychains and cheese – maybe not all at once – is part of the classic Dells' experience. So is squishing a penny in front of the H.H. Bennett Museum. And receiving a mystical message from Zoltar who knows all. He really does.
This water extravaganza, billed as "The Greatest Show On H20," is in its 63rd year. From Memorial Day through Labor Day, more than 200 shows take place on the lovely Lake Delton. The level of talent of the water-skiers is impressive and makes one wonder how exactly so many skilled, seemingly fearless, skiers find their way to Lake Delton. Lovers of the music from cinematic blockbusters like "Grease" and "Dirty Dancing" will particularly dig this show. (As in every 13-year-old girl on the planet – or anyone who's ever been one.) The new FlyBoard is, well, super fly – the rider actually performs tricks while balancing on a gushing spray of water. The shore action – which includes stunt motorcyclists, a rider on the world's smallest bicycle and an old-timey comedian – has less "wow factor," but is still entertaining. Beware, your kids will beg you to buy this stuff, though:
Before or after the show, hang out at Ravina Bar & Grill and dig Lake Delton from the other side. Serenity now.


You can't drive by this and not wonder what it's like inside. Although it's as outdated as Milwaukee's Safe House, it's equally as much quirky fun. Supposedly there are "hidden secrets" throughout the structure, but visiting an on-the-ceiling version of the "oval office" and the potential photo ops made us less aware of any such secrets. For $5, it's worth a run through, but upside-down Obamas are not included.
For 50 years, the Wisconsin Deer Park has been home to more than 100 deer and other wildlife including goats, birds, llamas, horses, lemurs, elk, bison and pigs. The property is 40 acres of land, but the walk-through part for visitors is the equivalent of about four city blocks. Deer "crackers" are sold inside the gift shop and are a must-purchase to enhance the experience. And although the goats don't bite, they are certainly cuckoo for crackers:
For a classic Dells experience, hop on a duck. An Original Wisconsin Duck that is. During World War II, the Ducks – amphibious vehicles that are viable on both land and water – were developed to ferry troops and supplies from ship to shore. Today, the Ducks cart tourists through portions of the most scenic areas of the Dells. Hopefully you'll get a daredevil of a driver who isn't afraid to rev up the Duck. The tours last an hour and depart about every 15 minutes or so, depending on the number of riders. Quack if you love natural beauty.
Geek out at Wizard Quest, an interactive game played in a 13,000-square foot fantasy setting called the "quadrasphere." Players' quest is to find and release the imprisoned wizards by answering the riddles and questions of the Dragons. The game is 90 minutes and parents must accompany kids under the age of 16. This is ideal for kids interested in sci-fi, Harry Potter, anime and the fantasy genre. And ladies, if you're looking for the ladies' room, it's behind this door: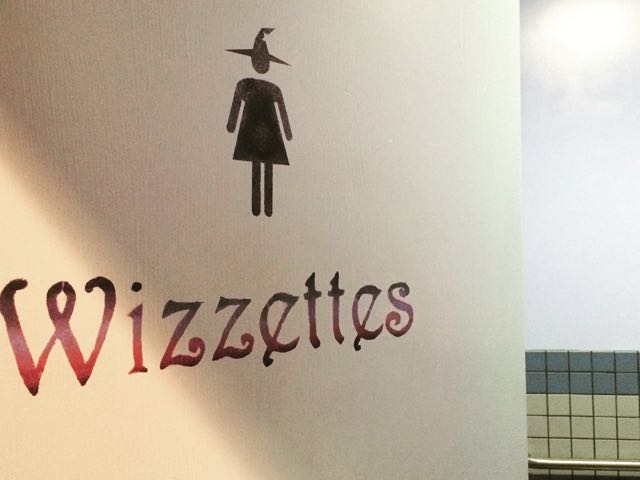 13. Mom-and-pop hotels
There are more than 50 mom-and-pop motels – along with a B&B and several vacation home rentals – for anyone looking for something a tad less bustling than the waterparks. For example, choose the Shamrock Inn and you get to bunk near a majestic unicorn. Ah, the magic of The Dells.

Molly Snyder started writing and publishing her work at the age 10, when her community newspaper printed her poem, "The Unicorn." Since then, she's expanded beyond the subject of mythical creatures and written in many different mediums but, nearest and dearest to her heart, thousands of articles for OnMilwaukee.

Molly is a regular contributor to FOX6 News and numerous radio stations as well as the co-host of "Dandelions: A Podcast For Women." She's received five Milwaukee Press Club Awards, served as the Pfister Narrator and is the Wisconsin State Fair's Celebrity Cream Puff Eating Champion of 2019.