Festival City is hopping this summer! OnMilwaukee's Festival Guide is brought to you by Potawatomi Hotel & Casino. Escape the heat and step inside!
OnMilwaukee is the media sposor for QWERTYFEST MKE, a festival and celebration of the 150-year anniversary of the typewriter's invention in Milwaukee. Find out more here.Commercial typewriters first clocked in at American offices in the mid-1870s. At the time, offices were like a man's second living room, but without women in the next room making meatloaf.
However, the arrival of the newfangled type-writer (as it was originally spelled) created a need for typists and there were not enough men to cover the clerical tasks. Or enough men willing to cover the tasks.
Somewhere in the midst of back slaps and three-gin lunches, men decided this was not their brand of work. Partially because the first typewriters made by Remington, former purveyor of guns, built them to resemble sewing machines, complete with identical flower decals. And since horses and dogs couldn't be trained to type, women were permitted to enter these 19th century man caves, but at a price. And not a fair or equal one.
In the 1870s, female typists were paid $8 to $12 a week, whereas men earned $16 to $20. This was acceptable to women because without teaching or nursing degrees, they were able to make $6 a week or less as shop girls or house cleaners.
Hence, typewriter jobs became the foundation of the gender pay gap, a legacy that continues to this day.
But there is a bright side; a ding! For the first time, women were able to earn money in the business world to support themselves without a husband. This, in turn, led to new financial freedoms for many females.
Although underpaid, women were high in demand for typing jobs. Newspapers allured "fairer" workers by printing schmoozy ads and articles claiming that "girls are nimbler, neater and steadier" making them ideal for the typewriter job. (Typists were originally called "typewriters.")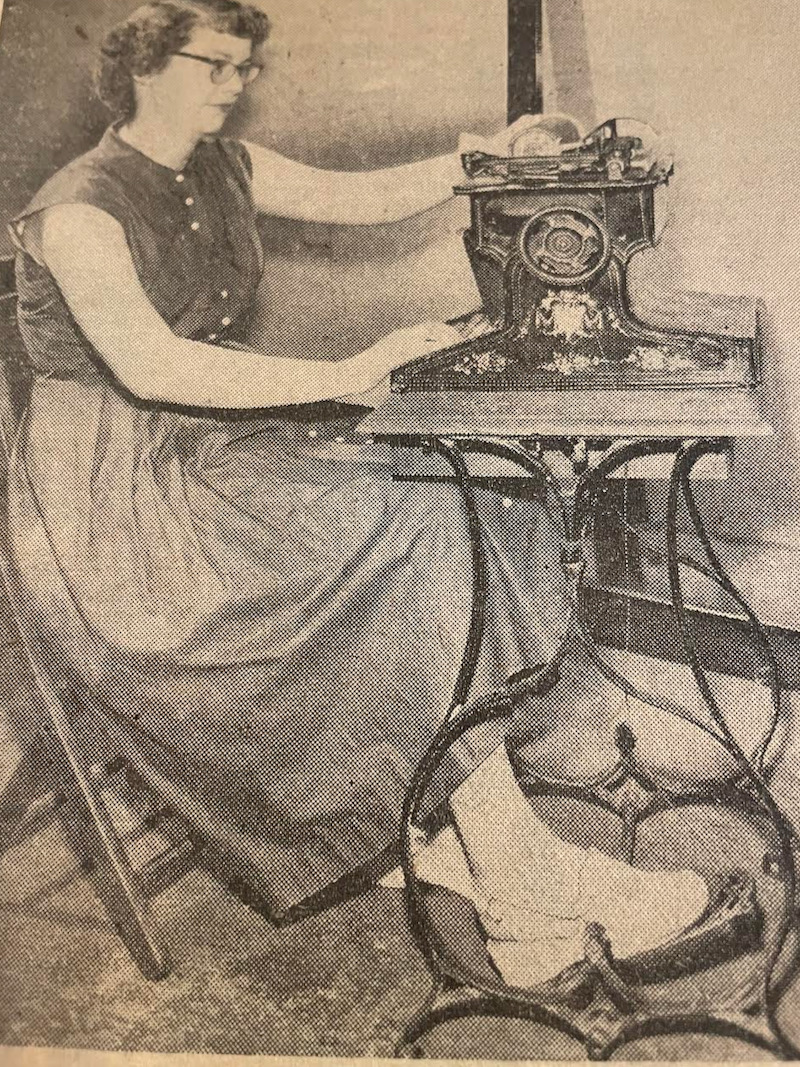 The Chicago Tribune in 1887 described ideal typewriter candidates as a "lively and good looking woman, 18-20 years old" because "old girls do not learn new tricks in the way of livelihood."
Many businessmen, however, did not welcome women into the workplace. To prevent the possibility of women in the office writings emerged insisting women's hands were capable of chores like laundry and cleaning, but were too fragile to apply their fingers to a machine.
But the desire for workers during this fledgling time in American Capitalism won out, and women were hired in droves.
By 1891, according to The Phonographic Magazine in Cincinnati, there were 100,000 professional typewriters and more than 75,000 of them were women.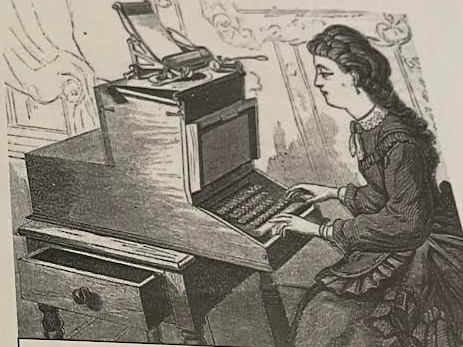 After a few years in the office, women started to open typing schools called "typing pools."Amid protests, the first typing class commenced at the YWCA in New York City in 1880 with a graduating all-women class in 1881. Unlike other "acceptable" jobs for women at the time such as teachers and nurses, typing was a lucrative skill that could be learned fairly quickly which appealed to women eager to earn their own money.
Lillian Sholes, daughter of typewriter inventor Christopher Latham Sholes, is often falsely credited as the first female typist. At 15, she modeled for marketing materials for the new machine and this photo became one of the most famous early images. However, researchers later debunked that Lillian was the first female to use a typewriter when letters from an Italian woman to her lover were discovered from 1808.
Sholes, perhaps the OG of Imposter Syndrome, had many doubts about his invention and never envisioned the typewriter to be the successful machine it remains today. (The QWERTY keyboard is still standard on English-language laptops and desktops worldwide.) Thus, he sold it to Remington for a mere $12,000 and died poor.
Sholes' great, great granddaughter, Catherine Watson, is alive and well today. "When my family gets together for holidays he comes up sometimes. They bemoan the fact that he sold his invention for $12,000 and then we all laugh at how wealthy we could have been," said Watson.
From his deathbed, Sholes regretted that he sold the rights to his brilliant communication device for so little, but he was staunchly proud that he contributed to the financial emancipation of women.
"Whatever I may have felt in the early days about the value of the typewriter, it is obviously a blessing to mankind, and especially to womankind. I am glad I had something to do with it," he said.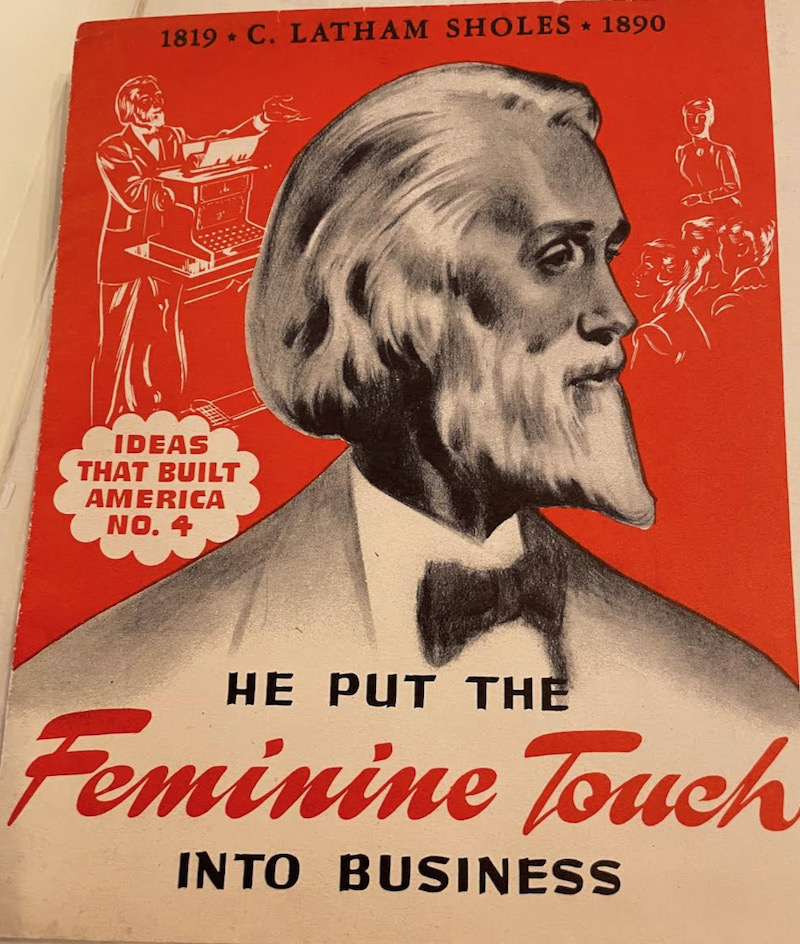 Later, a conversation was documented between Sholes and his daughter-in-law days before he died on February 17, 1890. Apparently, she said, "Father Sholes, you have done something great for the world," and he replied, "I don't know about the world, but I have done something for the women who have always had to work so hard. I believe this will enable them to more easily earn a living."
Further explore the subject of women and the typewriter during a free TypeTalk at the Forest Home Cemetery Chapel on June 24, 2023 at 4:30 p.m. The presentation, hosted by the author of this article, is in conjunction with QWERTYFEST MKE.

Molly Snyder started writing and publishing her work at the age 10, when her community newspaper printed her poem, "The Unicorn." Since then, she's expanded beyond the subject of mythical creatures and written in many different mediums but, nearest and dearest to her heart, thousands of articles for OnMilwaukee.

Molly is a regular contributor to FOX6 News and numerous radio stations as well as the co-host of "Dandelions: A Podcast For Women." She's received five Milwaukee Press Club Awards, served as the Pfister Narrator and is the Wisconsin State Fair's Celebrity Cream Puff Eating Champion of 2019.