"Bar Month" at OnMilwaukee is back! For the entire month of March, we're serving up fun articles on bars, clubs and beverages – including guides, the latest trends, bar reviews, the results of our Best of Bars poll and more. Follow along with the #DrinkOnMke hashtag too. Grab a designated driver and dive in!
Wide is the world of bitter libations. Among them is the deliciously elegant, and biologically functional, apertif.
"When you're getting up after a late Saturday night and your mouth is all cottony, a Negroni is the perfect thing to cleanse the palate and prepare for a new day." –Guy Rehorst, founder of Great Lakes Distillery
If you're Guy Rehorst, the Negroni – a cocktail made with bittersweet Campari – is an appropriate beverage for just about any time of the day. But, for most, the Negroni is primarily an apertif, consumed as a precursor to a large meal.
And it's been that way for centuries, particularly in Europe where libations like Campari, Dubonnet, Lillet, Cinzano and Pernod play an integral role in the daily ritual of hospitality that accompanies long, conversational meals. In fact, in Italy, the word "apertivo" refers to both the social tradition of pre-dinner cocktails and the drinks themselves.
And an apertif is the perfect way to begin. Derived from the Latin word aperio, which means "to open," apertifs are designed to engage the senses, open the palate and prepare the digestive system for operation. And because they're generally low in alcohol – typically between 10 and 24 percent ABV – they're less likely to get you schnockered before you have a chance to enjoy your dinner.
The perfect pre-dinner drink
Despite the fact that Americans seldom enjoy the long, leisurely and innately social meals that are enjoyed by Europeans on a daily basis, Wisconsinites might actually be somewhat prone to behaviors that make enjoying an apertif quite natural.
"It's common in Midwestern culture – particularly in Wisconsin – that people show up at the restaurant at least a half hour before their reservation," notes Katie Rose of Goodkind, whose collection of apertifs is one of the best in the city, "So, when people are looking for suggestions for something to start off their night, I like to introduce them to options that are lighter and lower in alcohol. I'm seeing more and more people interested in the idea. In fact, Cocchi Americano on the rocks is cool now."
"Cocchi," as fans of the beverage often call it, is a wine that's been fortified and aromatized with bittering cinchona bark, citrus peel, spices and other botanicals. And it's been gaining in popularity along with other light refreshing bitter spirits like Aperol, a reddish colored apertif which bears a prominent orange flavor and less astringent bitter notes.
And, although you can always opt for a glass of wine before dinner, research shows that bitter liqueurs really do assist in readying your digestive tract for what lies ahead.
"With this type of beverage, you have all the flavor, but you're not inundated with alcohol or sweetness," Rose explains. "Apertifs are often herbaceous or floral. But, they're also flavors that are great for opening up your palate, perking it up, and getting you ready for your meal."
Rose says she also relies heavily on bitter spirits and fortified, aromatized wines as modifiers for cocktails.
"They're completely essential foundations to cocktail making because they're so flavorful," she says. "They add so much – including balance – but they don't weigh the drink down with a high alcohol content."
Start with a cocktail
And if someone is looking for a way to dip their toes into the waters of bitter libations, cocktails are often an accessible way to try them out for the first time.
At Goodkind, you can try the Wild Cherry Rose featuring cherry and rose hip infused vodka, the rosy and slightly bitter Aperol and Cocchi Torino, a vermouth that's rich with flavors including Artemisia and citrus.
For those more interested in whiskey, there's the Wry Word, a rye-based cocktail which makes good use of complex flavors including the herbal funk of yellow chartreuse and Luxardo Maraschino (made with the bitter pits of cherries).
Rose says she's a particular fan of Rinomato L'Apertivo Deciso, an Italian bitter liqueur which makes use of three bittering agents – gentian root, cinchona bark and wormwood – and is described as both an "homage and a challenge to the aperitivi traditions of Piedmont."
"On the nose, there's this really creamy orange sweetness," she says. "And then you're hit with the bitter notes. It's in the same realm as Campari."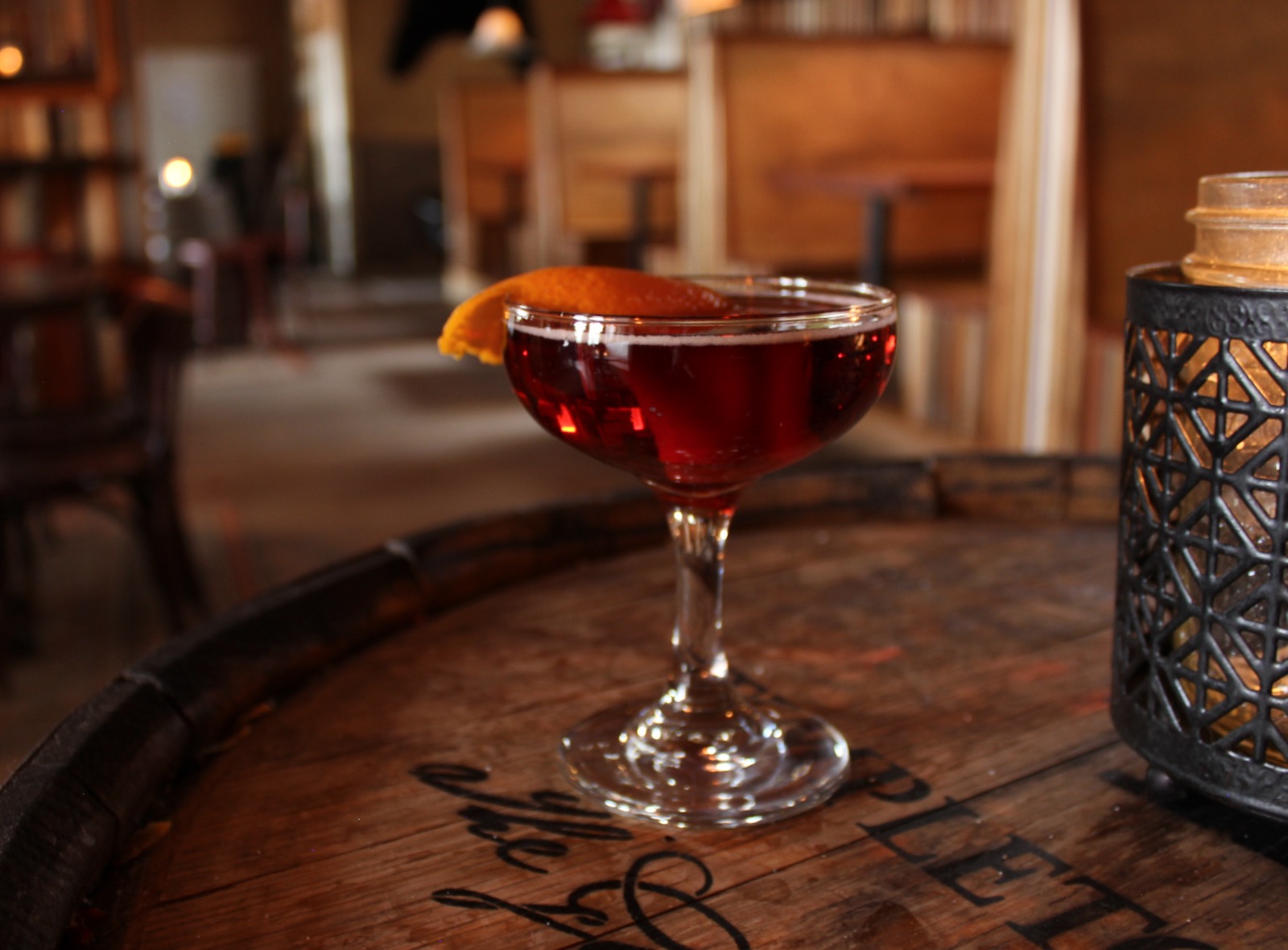 And, of course, there's always Rehorst's go-to: the Negroni. It's a cocktail served at a variety of local spots, from Boone & Crockett to Bittercube Bar & Bazaar. Justin Burich, co-owner of Voyager Wine Bar says embodies the spirit of Italy and its carefree elegance.
"In the States we kind of dress it up," he says. "We pour the gin and the Campari into a beautiful glass and garnish it with something pretty. In Italy, they slam a glass of ice on the bar, add the components and you pretty much have to stir it yourself with the orange peel they give you as a garnish. It's meant to be a brutish drink. It's made of beautiful things that are slapped together in the most carefree way. It screams Italian. And it's delicious."
Lori Fredrich (Lo) is an eater, writer, wonderer, bon vivante, traveler, cook, gardener and girlwonder. Born and raised in the Milwaukee area, she has tried to leave many times, but seems to be drawn to this quirky city that smells of beer and alewives.
Some might say that she is a little obsessed with food. Lo would say she is A LOT obsessed with food. After all, she has been cooking, eating and enjoying food for decades and has no plans to retire anytime soon.
Lo's recipes and writing have been featured in a variety of publications including GO: Airtran Inflight Magazine, Cheese Connoisseur, Cooking Light, Edible Milwaukee, Milwaukee Magazine and the Milwaukee Journal Sentinel, as well as on the blog Go Bold with Butter, the web site Wisconsin Cheese Talk, and in the quarterly online magazine Grate. Pair. Share.