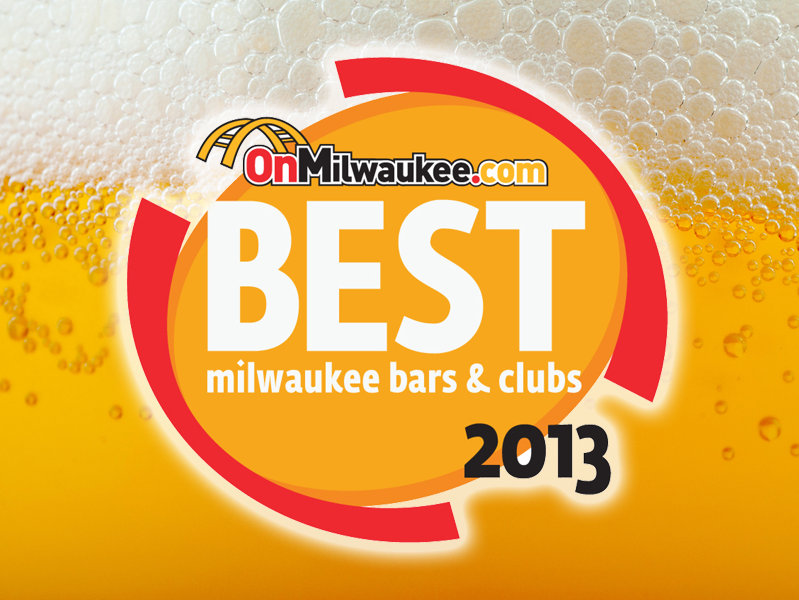 Your picks for 2013's best Milwaukee bars
"Bar Month" at OnMilwaukee.com is back for another round – brought to you by Aperol, Pinnacle, Jameson, Fireball, Red Stag and Avion. The whole month of February, we're serving up intoxicatingly fun articles on bars and clubs – including guides, the latest trends, bar reviews and more. Grab a designated driver and dive in!
This year, we're trying something new for our 10th annual "best of bars" awards. Instead of publishing 50 articles – one for each category winner – we're posting the best of the best in one daily updating list.
We're also adding a special bartenders' pick, in addition to our editors' pick. So not only will you see the bars you voted for, you also will see winners picked by people from within the service industry, as well as the favorites from our editorial staff.
Our bartender panel consists of: Josh Pietrykowski (Ashley's Que), Diane Dowland (Monkey Bar), Brian West (Alcoholmanac), "Sherm" Matt Sherman (Champions), Sam Berman (Sabbatic/Ten Bells).
Please note, the bartenders/owners abstained from voting in categories in which their bar was nominated.
So check back regularly as we announce the winners all month. And don't forget to tip your bartenders ...
Best Bar in Walker's Point: Steny's
Runner up: Sabbatic
Editors' pick: Lucky Joe's Tiki Room
Bartenders' pick: Sabbatic
The venerable sports bar Steny's took top honors from our readers in this category. With a great location, delicious bloody Marys, tons of TVs and plenty of room, it's a great place to tailgate before or after the game.
Best Bar in the West Suburbs: Leff's Lucky Town
Runner up: Cafe Hollander
Editors' pick: Colonel Hart's
Bartenders' pick: Leff's Lucky Town
Leff's blew away the competition here with almost 30 percent of the vote. The coombination of good food, affordable drinks, tailgating parties, volleyball and a swining patio make Leff's a staple stop on Milwaukee's near West Side.
Best Sports Bar: Major Goolsby's
Runner up: The Highbury Pub
Editors' pick: Steve's on Bluemound
Bartenders' pick: 4th Base
There are soccer bars, ping-pong bars, volleyball bars, great post-softball league bars and stadium area bars, but, come on, Milwaukee, you know that there's only one Major Goolsby's. One of the longest-lived Brew City sports bars, Goolsby's is a major draw before and after sporting events of all kinds at the Bradley Center and the Arena and a must-go place during March Madness.
Best Bar On/Near Milwaukee Street/Cathedral Square: Whiskey Bar
Runner up: Flannery's
Editors' pick: The Belmont Tavern
Bartenders' pick: Bad Genie Rock Lounge
Whiskey Bar has created an upscale casual atmosphere with diffused lighting, wide leather chairs, sectionals and sofas and -- as the name suggests -- a solid selection of whiskeys. It's a great bar to see and be seen.
Best Bar in the South Suburbs: Club Paragon
Runner up: St. Francis Brewery
Editors' pick: Redbar
Bartenders' pick: Redbar
The "World's Best Dart Bar" is popular with locals, who love its epic daily Happy Hour (11 a.m.-6 p.m.) and Sizzlin' Saturday deals. They also serve bar food and host a killer Mardi Gras celebration.
Best Bar in the North Suburbs: Three Lions Pub
Runner up: Camp Bar
Editors' pick: Three Lions Pub
Bartenders' pick: Camp Bar
The British Pub located on Oakland Avenue in Shorewood caters to those want to watch sports, trivia or karaoke. Darts and foosball are also available for guests who want to enjoy a variety of imports, ciders and local brews.
Best Bar On/Near North Avenue/UWM: The Hotel Foster
Runner up: Von Trier
Editors' pick: The Hotel Foster
Bartenders' pick: Champion's Pub
The Hotel Foster reappears as a reader's top pick after winning for Best Atmosphere. Aside from the unique setting, guests are treated to a changing menu of cocktails and beers across a wide price range. You can find your favorites, fine spirits, as well as Hotel Foster originals.
Best Bar in On/Near Water Street: The Safe House
Runner up: The Harp
Editors' pick: Bar None
Bartenders' pick: Rogues Gallery
It should come as no surprise that The Safe House is your favorite Water Street area bar. After all, it's world-renowned – a place where Milwaukeeans bring out of town guests, a place where many of us had our first drink when we came of age, a place Milwaukee just loves to hang out and get its espionage on.
Best Bar in Riverwest: Foundation
Runner up: The Mad Planet
Editors' pick: Foundation
Bartenders' pick: Foundation
It was a clean sweep for Foundation, who took the title with a heady 10% lead over its nearest competitor. Maybe our readers are so tired of winter that it makes them love this tiki bar on Bremen Street even more. Either way, they sure do make a mean Mai Tai.
Best Bar in The Third Ward: The Wicked Hop
Runner up: Milwaukee Ale House
Editors' pick: The Irish Pub
Bartenders' pick: The Irish Pub
The Wicked Hop serves great food, but is a favorite among readers when it comes to drinks, too. From the award-winning Bloody Mary to the good beer selection to the sports-focused environment that's even fun for those who are not sports' focused, the Hop's got it going on.
Favorite bartender: P.J. Johnson (Wolski's)
Runner up: Katie Rose (Burnhearts)
Editors' pick: Paul Kennedy (Tonic)
Bartenders' pick: Paul Kennedy (Tonic)
Paul Johnson – who goes by "PJ" – has spent almost two decades behind the bar at Wolski's Tavern. Quick witted, fast with the pour and super easy to talk to, Johnson is the embodiment of the bartender who's made Milwaukee famous.
Best Bar for a Bachelor Party / Boys' Night Out: Silk
Runner up: Trinity Three Irish Pubs
Editors' pick: Jo-Cat's Pub
Bartenders' pick: Silk
Apparently, OnMilwaukee.com readers equate boys' nights out with strip clubs, because Silk had almost double the number of votes of the runner-up, Trinity Three Irish Pubs. If you're into that sort of thing, Silk is one of the biggest gentlemen's clubs in the area with a roster of more than 200 women on staff.
Most Eclectic Drink Menu: Bryant's
Runner up: At Random
Editors' pick: Bar 360
Bartenders' pick: Bryant's
The menu at Bryant's is so eclectic, it doesn't even exist. That's right, the extremely knowledgable cocktail servers and bartenders simply ask you what flavor you'd like, then they draw from decades of accrued knowledge and recipes to make you a tall, blended and delicious beverage. Of course, there are still classics on the menu like The Brain Buster. Bryant's is one of a kind.
Best Downtown Bar: Old German Beer Hall
Runner up: Mo's Irish Pub
Editors' pick: Karma
Bartenders' pick: Old German Beer Hall
Readers and our bartenders panel agreed that Old German Beer Hall is Milwaukee's best Downtown bar (outside the Water Street and Cathedral Square/Milwaukee Street zones, which had their own categories). Makes perfect sense, too. After all, what says Milwaukee more than an old German beer hall? Especially one on Old World 3rd Street, where old Milwaukee lives on.
Best Marquette Bar: Sobelman's
Runner up: Caffrey's
Editors' pick: The Harp and Shamrock
Bartenders' pick: The Harp and Shamrock
Marquette tipplers long loved Angelo's on 16th and Wells. When Sobelman's moved in an replaced pizza with burgers, it proved a recipe for success, leading the Marquette area landmark to name Sobelman's best Marquette bar.
Best Bar On/Near Brady: Wolski's
Runner up: Nomad World Pub
Editors' pick: Jamo's
Bartenders' pick: Joe-Cat's Pub
It might be the fresh, free popcorn, it might be the comfortable atmosphere, it might be the hospitable barkeeps or it might be the famous bumbper stickers, but in any case, Wolski's nabbed the top spot as the best bar on or near Brady Street.

Best Bar District: Bay View
Runner up: Brady Street
Editors' pick: Walker's Point
Bartenders' pick: Walker's Point
Bay View continues to be favorite for OnMilwaukee.com readers, with a variety of options within walking distance of one another up and down Kinnickinnic as well as on Delaware, Howell and Logan.
Best Bar in Bay View: Sugar Maple
Runner up: Burnhearts
Editors' pick: Tonic Tavern
Bartenders' pick: Blackbird
It was a razor-thin margin, but Sugar Maple defended its title as Bay View's best watering hole for 2013. The Lincoln Avenue bar was also voted Best Beer List this year. Sugar Maple is famous for offering over 60 craft beers on draft and an event calendar full of regular live music, DJ's and comedy nights.
Best View: Blu
Runner Up: Barnacle Buds
Editors' Pick: Blu
Bartenders' Pick: Friday's Front Row Sports Grill
Blu's view of Downtown Milwaukee – and the lake, depending on where you're seated – continues to be the readers' favorite. The perspective of the city from the 23rd floor of the opulent Pfister Hotel is truly like none other.
Best Pub (Not Irish): Nomad World Pub
Runner Up: Three Lions
Editors' Pick: The Standard
Bartenders' Pick: McGillycuddy's
Nomad World Pub is an East Side favorite and the readers' choice for a casual, comfortable bar to grab a drink and / or watch a game. In the summer months, outdoor seating on the bustling Brady Street make it the ideal spot to see and be seen, day or night.
Best Wine List: Balzac
Runner up: Bacchus
Editors' pick: Dream Dance Steak
Bartenders' pick: The Capital Grille
Belly up to Balzac, oenophiles, because it's got the best wine list in town, according to OnMilwaukee.com readers. Just off Brady Street, Balzac is a wine lover's dream and one of the best places for an intimate night out. The runner up and the editors' and bartenders' picks likely have considerably larger wine lists than the winner, but it's not exactly a fair comparison, since those bars are located in fine dining restaurants.
Best Bar for a Bachelorette Party/Girl's Night Out: Lucille's Rockin' Pianos
Runner up: Victor's
Editors' pick: La Perla
Bartenders' pick: Victor's
Two dueling grand pianos and a variety of drink specials – as well as the ability to get the girl's involved on stage – makes this the reader's top choice for a night out.
Best Theme Bar: Safe House
Runner up: Old German Beer Hall
Editors' pick: Camp Bar
Bartenders' pick: Lucky Joe's Tiki Bar
The Safe House is cleaning up this year, having previously nabbed the crown for Best Bar to Take Your Kids and Best Gimmick. The Safe House's espionage-themed space has been drawing Milwaukeeans and out-of-towners to International Exports, Ltd. since 1966.
Best Chain Bar: Bar Louie
Runner up: SPiN Milwaukee
Editors' pick: Bar Louie
Bartenders' pick: SPiN
A good chain bar shouldn't seem like a chain bar at all. Bar Louie has two Milwaukee locations, one on Water Street and one at Bayshore Town Center, plus dozens more nationwide, but customers love that its sleek, trendy atmosphere and friendly waitstaff always make them feel like it's their neighborhood watering hole.
Best Bar in a Restaurant: Milwaukee Ale House
Runner up: Rumpus Room
Editors' pick: Bel Air Cantina
Bartenders' pick: Odd Duck
With live music, a large, open bar and dining area, and two great patios – plus beer that is brewed on-site – it seems almost obvious that Milwaukee Ale House would nab this title.
Best Patio/Outdoor Seating: Barnacle Buds
Runner up: Horny Hideaway
Editors' pick: Estabrook Park Beer Garden
Bartenders' pick: Barnacle Buds
Guests can boat up or walk up while enjoying live music and oysters in a large outdoor area located just off the Kinnickinnic River in Bay View.
Best Gay Bar: La Cage
Runner up: Hamburger Mary's
Editors' pick: This Is It
Bartenders' pick: This Is It
La Cage is Milwaukee's oldest LGBT dance club, with two dance floors, four bars, mega video screens, drag shows, theme nights and new and retro dance songs cranking all night long. Gay, straight or undefined, this club is a fun place to drink, socialize and burn off steam.
Best Martinis: Hi-Hat Lounge
Runner up: Elsa's
Editors' pick: Hi-Hat Lounge
Bartenders' pick: Elsa's
It looks like according to readers, writers and bartenders, there are two top spots for martini's in Milwaukee. The winner of the readers' poll for best martini is Hi-Hat Lounge, a choice that OnMilwaukee.com's editorial staff seconded. Second among readers was Elsa's on Cathedral Square, which is the go-to martini place for our bartender panel. Looks like you've got a little taste test ahead of you, Milwaukee.
Page 1 of 2 (view all on one page)

Next >>




Facebook Comments
Disclaimer: Please note that Facebook comments are posted through Facebook and cannot be approved, edited or declined by OnMilwaukee.com. The opinions expressed in Facebook comments do not necessarily reflect those of OnMilwaukee.com or its staff.