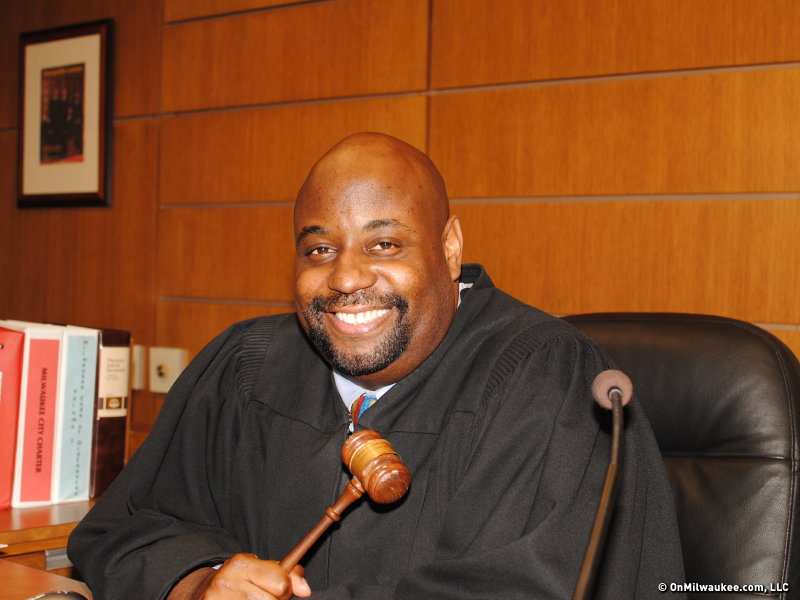 Milwaukee Talks: Judge Derek Mosley
Judge Derek Mosley, a graduate of Marquette Law School, worked as a prosecutor for the City of Milwaukee for eight years before he became a judge at 31, making him the youngest African-American judge in the history of the state.
"It thrust upon me much more responsibility," says Mosley. "'To whom much is given, much is expected.'"
For those who know him and his commitment to Milwaukee – particularly Milwaukee youth – Mosley has surpassed expectations on both sides of the bench and through social media where he often sends witty and informational messages signed by "Your Friendly Neighborhood Judge."
Mosley is a Milwaukeean truly working to improve the city and is the epitome of an unsung hero. In this latest installment of Milwaukee Talks, Mosley shares stories about courtroom shenanigans, growing up in Chicago, the possibility of a future reality TV show and his advice on how to make Milwaukee stronger.
OnMilwaukee.com: So what kinds of cases do you handle?
Derek Mosley: All municipal ordinance violations – retail thefts, assault and battery, marijuana, etc.– building code, health code – "dirty dining" – and juvenile cases.
OMC: How many cases do you handle a year?
DM: 140,000.
OMC: What are some of the most outrageous things you've seen in your courtroom?
DM: Defendants dressed as clowns – floppy shoes and red nose – a defendant reaching in his pocket to turn his phone off and a bag of weed fell out, someone smoking in the courtroom. I had someone standing before me, whose phone rang, and they answered it and kept talking to the person on the other line, while they were standing before me. Many years ago I had a defendant on trial for carrying a concealed weapon where they pulled the knife out while on the stand to show me that it wasn't that menacing. How he got through security I will never know. Since then we have improved our court security.
OMC: Your position is an elected position, right?
DM: Right. I'm elected every four years. I was appointed to the bench in 2002 and I've been reelected every four years. The next election is in 2015.
OMC: What would you do if you didn't?
DM: Probably go into private practice, but I wouldn't mind teaching undergraduate level criminal justice classes.
OMC: You infuse humor in your courtroom quite often. Can you expound?
DM: By its very nature, court is an adversarial process. I use humor to defuse situations. Someone is going to win, and someone is going to lose. We try to at least make the process fun.
OMC: You use social media, particularly Facebook, to educate people but again, you do it with so much humor. Was this a conscious decision?
DM: I thought about what gets shared the most on Facebook. Funny stuff. If I said, 'Today is New Year's Eve. Be careful,' nobody cares. But if I say 'Today is New Year's Eve and if you get picked up for drunk driving you're going to spend the rest of the night drinking toilet wine,' well, that gets shared. People respond to humor.
Social media is an amazing resource and a way for me to share a lot of important information with the community.
I'm also trying to merge cultures through social media. I have 4,000 friends on Facebook, and about 2,000 of them are black/Latino and 2,000 of them are white and they don't know each other. They all live in Milwaukee, they pass each other on the street on a daily basis, and yet, they don't intermingle. It doesn't make sense to me. I have to meld these groups.
There are fantastic neighborhoods in this city that many who live here don't know exist, or would be hard pressed to pick out on a map. Like Harambee/Bronzeville, Clarke Square, Halyard Park, Havenswood, Enderis Park, Grantosa Heights and Piggsville.
OMC: Where did you go to law school?
DM: I graduated from Marquette Law School in 1995, and I'm still involved with the school in helping recruit and retain law students of color. MULS is really committed to diversifying the Milwaukee legal community.
OMC: What did you do after law school?
DM: After interning with the FBI in (Washington) D.C. and the Army Judge Advocate General Corp (JAG) at Fort Carson (Colo.), I had aspirations of becoming a Special Agent or a JAG Officer, but I was offered a job with the Milwaukee County District Attorney's Office as an assistant district attorney so I took it. Best decision I ever made. I loved my eight years there.
OMC: Did you always dream of being a judge?
DM: I think every prosecutor believes they can be a judge. I was no different, but I became a judge at 31 which made me the youngest African-American judge in the history of the state, and thrust upon me much more responsibility. "To whom much is given, much is expected."
OMC: How many African-American judges are there in the state of Wisconsin today?
DM: At all levels of the judiciary in the state there are 10. And five of us are Marquette grads. But out of the 252 municipal judges, there are only three of us (two are in the City of Milwaukee).
OMC: Did you have a career mentor?
DM: Judge Victor Manian. He was a Circuit Court judge and the first one I clerked for. He could sentence someone for life and they would walk away thanking him. I really admired his judicial temperament and wisdom. He gave me my first clerking job and I hope he is proud of his decision.
OMC: You have so much personality it's not surprising you're on the radio and, did I hear, potentially on television soon?
DM: I also do a radio show every second Friday of the month called "Here Comes the Judge" on 1290AM WMCS from 4 to 6 p.m. where I answer legal questions about Municipal Court and alert people to recent changes in the law. Some of the dialogue can be quite funny and informative.
I've been in very early talks with a production company in L.A. which is considering doing a reality show about night courts across the country, and my court has made the short list. I will keep you posted. Page 1 of 2 (view all on one page)
Next >>
Talkbacks
rkerhin | Dec. 18, 2012 at 10:18 a.m. (report)
I met Derek around 11 years ago and I can say with confidence that he is not only a great judge, but a wonderful, warm human being as well. I am proud to call you my friend, Derek. Happy Holidays to you and your family! Richard Kerhin
Facebook Comments
Disclaimer: Please note that Facebook comments are posted through Facebook and cannot be approved, edited or declined by OnMilwaukee.com. The opinions expressed in Facebook comments do not necessarily reflect those of OnMilwaukee.com or its staff.