10 of the best lakeside patios in Lake Country
Note: The contents of this guide were checked for accuracy when this article was updated on Sept. 19, 2017 at 11:01 a.m. We continually update the thousands of articles on OnMilwaukee.com, but it's possible some details, specials and offers may have changed. As always, we recommend you call first if you have specific questions for the businesses mentioned in the guide.
Every Milwaukeean has a Lake Michigan story and for the next seven days OnMilwaukee will share as many as possible during "MKE Lake Week," sponsored by the Harbor District. Love our lake? You're in the right place.
Summer might be fleeting, but there's still plenty of patio weather remaining before autumn's chill sets in. Of course, when it comes to patio dining, there's nothing more relaxing than a lakeside seat where you can enjoy the fresh breeze and the sound of the water lapping against the shore.
And some of the best patios in the bunch can be found in Lake Country.
Here are ten of our favorites.
1. Artisan 179
179 W. Wisconsin Ave., Pewaukee
(262) 691-0200
artisan179.com

Located in the quaint Village of Pewaukee, Artisan 179 offers delightful lakeside dining on its quaint sidewalk patio. Enjoy well-crafted cocktails, artfully produced dishes and live music Thursday, Friday and Saturday evenings. Whether you visit for lunch or dinner, you'll find a wide-ranging menu that includes creative small plates, burgers and sandwiches and entrees that run the gamut from pasta to seared fish, steak and pan seared ostrich.
2. Edgewater
W278 N2315 Prospect Ave., Pewaukee
(262) 696-4578
edgewaterpewaukee.com
Formerly Sandbar sports pub, the Edgewater has taken on new life under owner Bernie Kook, who aspires to transform the historic property into a Lake Country Supper Club. Once home to Hotel Edgewood, the former hotel and restaurant has seen its way through Prohibition and two World Wars. Currently, the lakeside deck at the Edgewater offers plenty of seating, along with sandwiches, salads, build-your-own burgers, pizza, smoked nachos and Friday fish fry. And when the weather gets chilly, panoramic windows inside the formal dining room offer a picturesque view of the Lake Country sunset.
3. Foolery's Liquid Therapy
N52w35091 W. Lake Dr., Okauchee
(262) 567-1940
foolerysliquidtherapy.com
If you're looking for a casual hang-out with great casual fare, Foolery's Liquid Therapy might just fit the bill. They offer a full menu of appetizers -- including wings, fried calimari and nachos -- along with sandwiches, salads and affordable entrees. Even better, their spacious deck overlooks one of the picturesque bays of Okauchee Lake.
4. Gina's Sports Dock
W278 N2315 Prospect Ave, Pewaukee
(262) 695-9600
facebook.com/Ginas-Sports-Dock
This quaint sports bar on the eastern shore of Pewaukee Lake is a haven for locals looking to watch the game, play darts or just enjoy an afternoon of Rummikub. Their casual menu is filled with pub fare including appetizers like deep fried green beans, mini corn dogs and cheddar nuggest, along with a collection of sandwiches and specialty burgers (read our review of the MOAB: Mother of All Burgers). But, in the summer, it's the restaurant's unique beach bar, a sand-strewn patio complete with colorful picnic tables and a walk-up bar that is the star of the show.
5. Hacienda Vieja
685 Valley Rd., Oconomowoc
(262) 354-0949
haciendaviejaoconomowoc.com
This Silver Lake gem has gorgeous lake views inside and out. Tall windows throughout the dining room offer views that make you feel as if you're right on the lake. Meanwhile, a quaint outdoor patio offers full service al fresco dining. Enjoy Mexican favorites like burritos, tostadas and enchiladas along with house specialties like banana-leaf wrapped tamales Oaxaqueños, mole verde or chicken tinga. Daily specials include offers like buy-one-get one margaritas (Monday and Wednesday) and mojitos (Thursday) along with $1 tacos on Tuesdays after 2 p.m.
6. The Hideaway Bar & Grill
N55w34657 Road E, Oconomowoc
(262) 567-5441
facebook.com/twodamesandonedude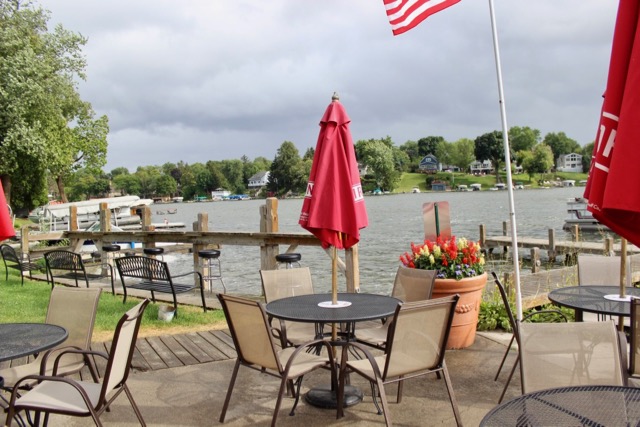 If you're not "in the know," it definitely takes a bit to find this hidden gem located just off a stretch of Road E on the western shore of Okauchee Lake. But, it's worth the trek. Their patio is beautiful, and folks are friendly. Known as a popular gathering place for Packer games, they're a prime spot for bar fare like burgers and wings. But, we've also heard rave reviews about their Parmesan crusted cod fish fry with grilled veggies.
7. Lakeside Supper Club
37238 Valley Rd. Summit
(262) 567-5242
thelakesidesupperclub.com
Enjoy old and new-school favorites at this rustic lakeside eatery featuring a large wrap-around deck sporting picturesque views of Silver Lake. Grab a classic cocktail and enjoy an entree like crab and shrimp mac, five meat meatloaf, or grilled plates like Wisconsin BBQ ribs, grilled mahi-mahi or a 16-ounce porterhouse steak. Happy hour includes half-price appetizers and two-for-one deals between 3 and 6 p.m.
8. Le Rendez-Vous at the Point
N52W35002 Lake Dr., Oconomowoc
(262) 468-4038
lerendezvousatthepoint.com
Ooh la la! Spend a beautiful day on the well-manicured patio at Le Rendez-Vous at the Point on Okauchee Lake. It's the perfect spot to enjoy a glass of wine alongside Burgundy escargot or baked brie. And it's a lovely destination for a variety of French cuisine including bouillabaisse, Bordeaux braised short ribs, and classic steak frites. Friday fish fry offerings include classics like Riverwest Stein battered lake perch alongside Provencal roasted cod.
9. Panga Bar and Grill
34422 Delafield Rd., Oconomowoc
(262) 337-9550
barpanga.com
Let your hair down on Panga Bar's patio, where the surf always seems to be up. Grab a beer and have a seat at one of their colorful tables facing the southern edge of Upper Lake Nemahbin. Need a snack? Enjoy chips and guacamole, fried clam strips, cheese curds or hummus. Or take your pick from a moderately sized menu of panini, sandwiches and salads. Thanks to rentals at Nomad Board Sports, you can also grab a pontoon, kayak, canoe or paddle board and make a gorgeous Lake Country day of it.
10. Seester's Mexican Cantina
161 W. Wisconsin Ave., Pewaukee
(262) 746-9400
seestersmexicancantina.com
What would Pewaukee Beach be without at least one casual Mexican cantina to offer up refreshing margaritas and Mexican favorites on a colorful patio with the perfect beachside view? Seester's menu includes a variety of options including street tacos, enchiladas, tamales, burritos and a Friday fish fry featuring lightly battered fish, seasoned potatoes and salad. Other signature specials include vegetarian quesadillas and tinga tostadas.
Facebook Comments
Disclaimer: Please note that Facebook comments are posted through Facebook and cannot be approved, edited or declined by OnMilwaukee.com. The opinions expressed in Facebook comments do not necessarily reflect those of OnMilwaukee.com or its staff.