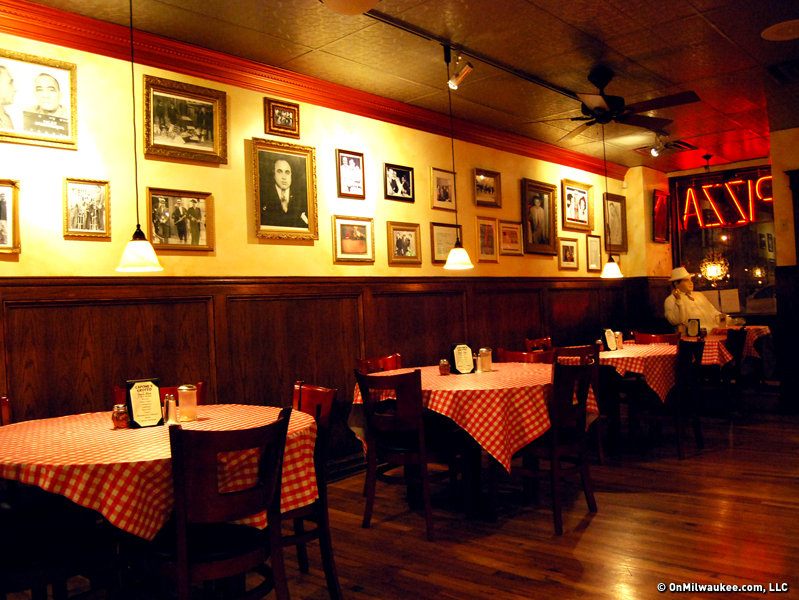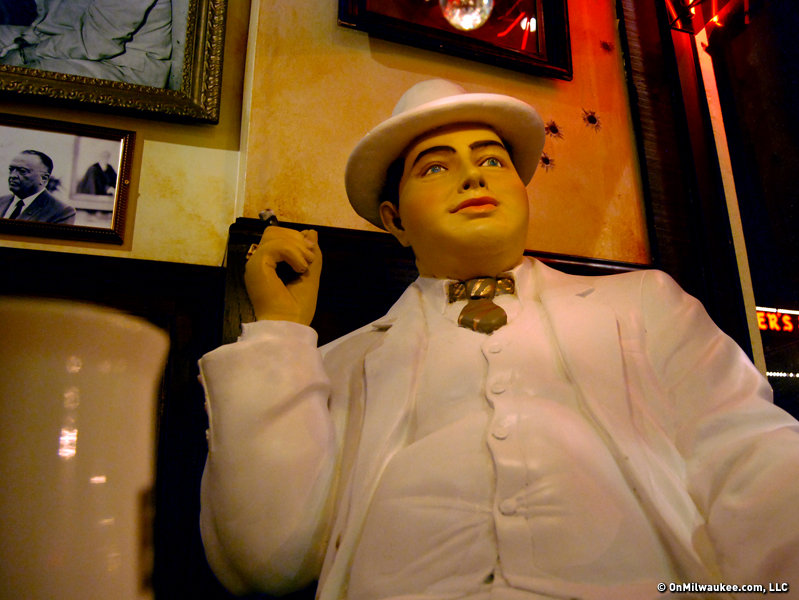 Find easy Italian dining at Capone's 3rd St. hideout
Capone's Grotto & Little Italy Olive Oil Company opened on Halloween '08 at 1003-1007 N. Old World 3rd St. The bar and restaurant combo replaced Jewel of India, which has since relocated 5114 S. 108th St. in Hales Corners and changed its name to Taj Mahal Indian Restaurant.
The reason for the double name has less to do with its product than the time period it's trying to conjure. Tavern fronts ran rampant in the 1920s and early '30s when the sale of alcohol was illegal and many saloonkeepers created alias businesses through which they'd serve booze on the sly.
Little Italy Olive Oil Company restaurant, then, is the alias for the adjacent bar, Capone's Grotto. Get it?
Even the staff members use fake monikers like "Zola" on their nametags.
Little Italy's long, narrow dining room appears in traditional Italian-American style, with red and white checkered tablecloths and nice low lighting. But then there is the litany of black and white framed photographs and mug shots of mobsters covering almost every square inch of wall space and, to top it all off, a life-sized replica of Al Capone himself perched at a small table near the front window with painted bullet holes sprayed across the wall behind him.
But even if the theme is a bit overstated, the atmosphere is pleasant and the food, while fairly simple, is enjoyable.
Every menu category has a name, as in "Al's appetizers," "Sammy's sandwiches" and "Elliot's entrees," and the fare is heavily centered around Italian classics: calamari ($8.95), chicken parmesan sandwich ($7.75), meat lasagna ($9.95 / $11.95), spaghetti ($7.95 plus $2 meatballs) and create-your-own pizza (11-inch small and 14-inch large).
Rotating daily specials supplement the regular menu, offering different items such as slider burgers ( $6.95), which are served in "Capone's style" with caramelized onions and drizzled with honey Dijon mustard.
The family-style pizza meal combo ($25) comes with a large, three-topping pizza, an order of garlic bread and four soft drinks.
There's also a kids' menu featuring spaghetti, chicken tender and grilled cheese, all for $5.95.
Through the sliding door the divides the restaurant from the bar, Capone's Grotto does have the feel of an artificial hideout. Faux cracks and crumbles stretch entire walls, alluding to the type of underground speakeasy that Capone and his fellow gangsters might have inhabited during the Prohibition Era.
Little Italy Olive Oil Company serves dinner until 11 p.m. on Sunday though Thursday and until 1:30 a.m. on Friday and Saturday. The Grotto hosts live music on weekends.
Facebook Comments
Disclaimer: Please note that Facebook comments are posted through Facebook and cannot be approved, edited or declined by OnMilwaukee.com. The opinions expressed in Facebook comments do not necessarily reflect those of OnMilwaukee.com or its staff.