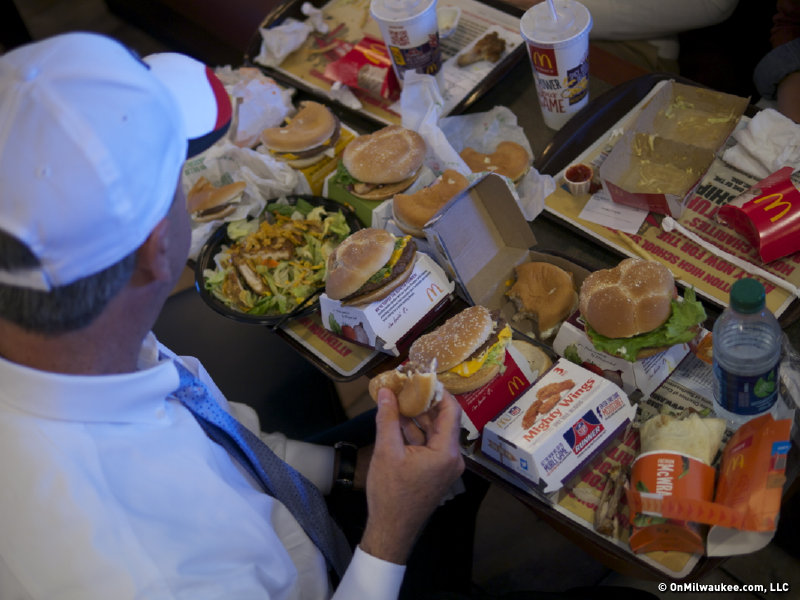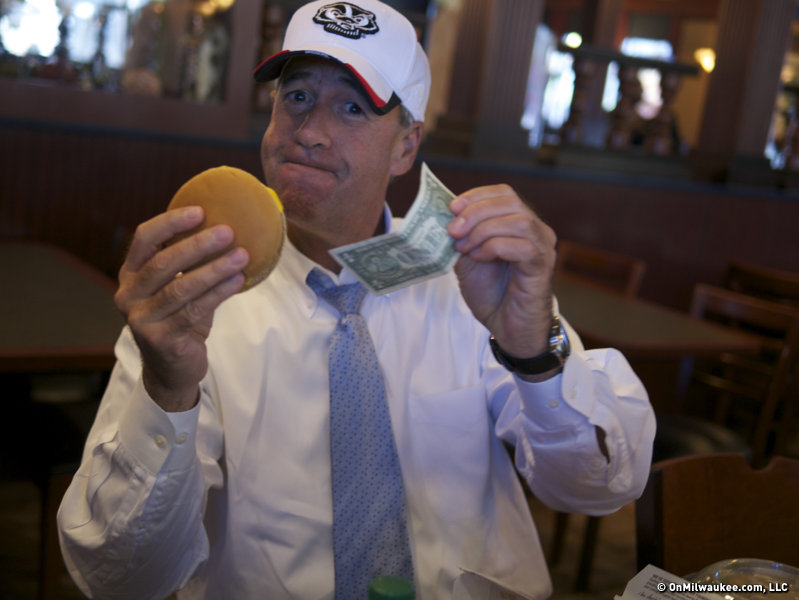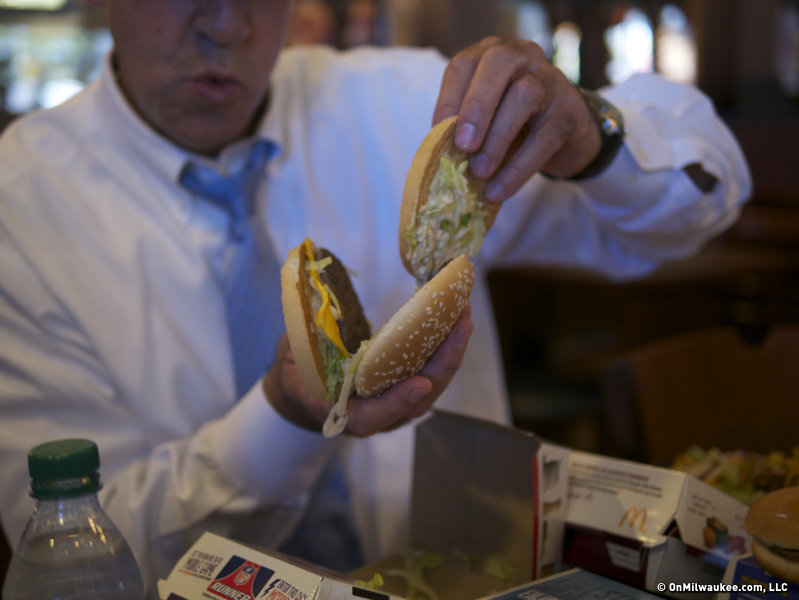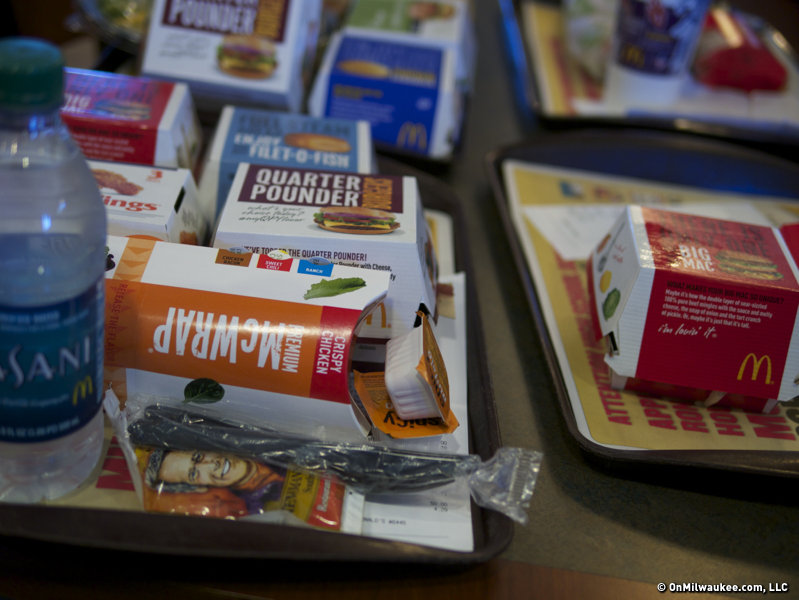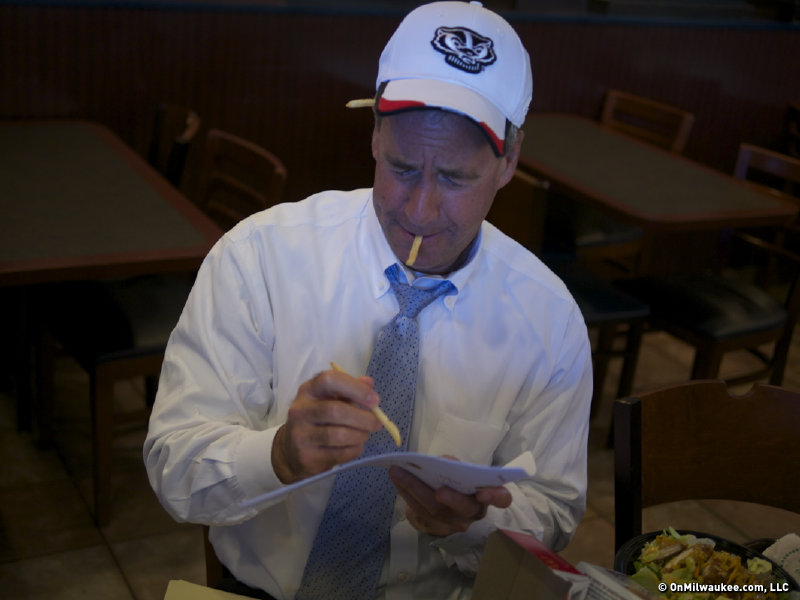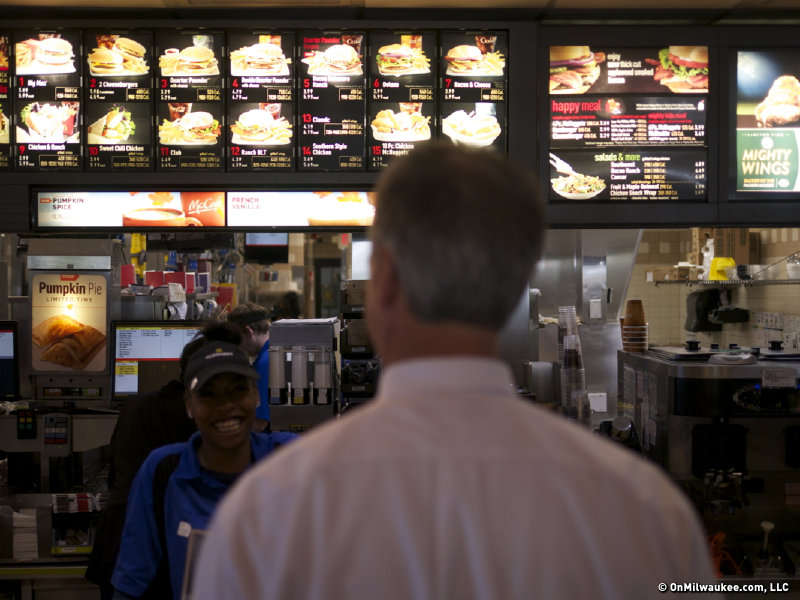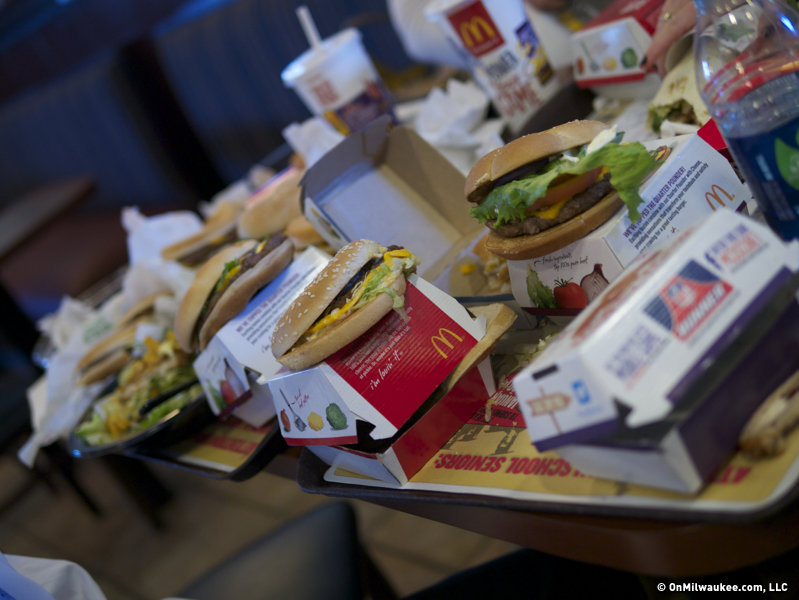 McLovin' it: The meat of the order
For the seventh straight year, October is Dining Month on OnMilwaukee.com, presented by the restaurants of Potawatomi. All month, we're stuffed with restaurant reviews, delectable features, chef profiles and unique articles on everything food, as well as the winners of our "Best of Dining 2013."
Most restaurant reviews contain words like "senses," "palate pleasing," "ambience" and "presentation." And with good reason. If you are going to spend the money for an experience (and not just a quiet public place to break up with a psycho companion) you want those aspects and more. A review, while subjective, serves best to set your expectations.
I feel as comfortable eating at a white tablecloth establishment as I do from a red checkered plastic covered picnic table. And I happily admit it.
I am never surprised at how McDonald's has served 945 billion people, yet half of the people you know claim to never go near it. They lie.
On the other hand, there are people I know and trust and witnessed in the drive-thru who may occasionally revisit one or two items on the vast McDonald's menu … and have not rigorously sampled all of the fare. For those upstanding honest consumers, I volunteered to supplement OnMilwaukee.com Dining Month with this review of ALL OF the menu items at McDonald's.
This was not, contrary to the accompanying photos, an exercise in gluttony. Sure, I've seen the movie in which that guy tries to hurt himself. I have also seen the commercials that make certain limited time items at McD's look like the apple in the Garden of Eden.
With a nod to moderation and a desire to provide a serious review, I recently ordered each item on the menu and took a bite (or eight) of each. I needn't dwell since, after all, who among us has not sampled McDonald's French fries? I didn't think it would take two large orders to find the right words … but so be it. Yet, even those among us that can simultaneously drive a car, hold a phone and eat a meal, may not know if the Premium Crispy Chicken Ranch BLT Sandwich is worthy of the starring role in one's Shirt Stain Avoidance Period (which is what I call lunchtime).
So here it is, with tongue not in cheek but engaged in culinary swirling: a serious review of the entire McDonald's menu in three parts. We'll start with the meat of the order.
Double Cheeseburger: For a long time it was on the dollar menu. Lately I have seen it creep up an additional 20-30 cents. Either way, for this price it is one of the best values on the planet (and trust me a peasant in Ghkskheohvstan would gladly fork up their weekly pay for this taste sensation). Basically, the loads of cheese, pickles and salty sweet ketchup work with the two patties of OK meat to make this both taste and slide down like a slider.
Serving size: 5.8 oz.
Calories: 440
Calories from fat: 210
Saturated fat: 11 g
Protein: 25 g
Cheeseburger: Half the sodium and half the taste. Pass.
Serving size: 4 oz.
Calories: 300
Calories from fat: 110
Saturated fat: 6 g
Protein: 15 g
Hamburger: Beats a microwave burger ... but barely.
Serving size: 3.5 oz.
Calories: 250
Calories from fat: 80
Saturated fat: 3.5 g
Protein: 12 g
Grilled Onion Cheddar Burger: These actually are only a dollar. The cheddar doesn't have a strong taste but the onions give it a little more to think about (like a crazy neighbor on a sitcom). Again, it's OK and actually impressive if you want to treat your whole baseball team for under $10.
Serving size: 4.1 oz.
Calories: 310
Calories from fat: 120
Saturated fat: 6 g
Protein: 15 g
McDouble: I think this is a double cheeseburger with less cheese. This is Wisconsin. Feel free to specify this alternative if you are from Illinois, Minnesota or semi-lactose intolerant.
Serving size: 5.3 oz.
Calories: 390
Calories from fat: 170
Saturated fat: 8 g
Protein: 23 g
Daily Double: I cringe when Alex Trebek says those words. Not only do you have to still come up with the question but not you also have to think further and consider the consequences. In this case, you are looking at a double cheeseburger with lettuce, tomato and white stuff. It's fine, but I think you can find better alternatives in the new deluxe burgers.
Serving size: 6.8 oz.
Calories: 440
Calories from fat: 220
Saturated fat: 9 g
Protein: 23 g
Quarter Pounder with Cheese: This is good. I can't say the meat quality would stand up on its own … or even with scaffolding. But you get a nice bun, and cheesy coverage that would make an NFL Pro Bowl cornerback proud. The ketchup provides the lubrication. And unlike some of the smaller burgers, the onions actually taste like onions. Best of all, each bite includes all the ingredients. Your last bite will not be all bun. This is also one of the easiest burgers to eat in a car.
Serving size: 7.1 oz.
Calories: 520
Calories from fat: 240
Saturated fat: 12 g
Protein: 30 g
BLT Quarter Pounder: I see no point to putting lettuce in this. It adds nothing to the taste. It's like putting a duvet on a bed. On its own the bacon actually isn't bad. And the bun has no sesame seeds (which cause drug testing errors). But all in all, it's not exciting. Without the burger, it isn't even a BLT.
Serving size: 9.3 oz.
Calories: 640
Calories from fat: 310
Saturated fat: 14 g
Protein: 37 g
Bacon Habanero Ranch Quarter Pounder: This is a pretty good burger. Perfect combination of bacon, sauce and a good sized (albeit still not mouthwatering) patty. Like the BLT Quarter Pounder, this has the upscale bun. You feel like an aristocrat. I like it.
Serving size: 8.3 oz.
Calories: 610
Calories from fat: 280
Saturated fat: 13 g
Protein: 37 g
Big Mac: The two all-beef patties may not be anything to write home about. But the special sauce makes this an American institution. The lettuce and onions are pretty devoid of taste. But like a Claude Monet paining, when you put it all together you have art. I do find myself resenting the middle bun – it's too big. And I have never been able to eat a Big Mac without spillage. But for all the negatives, it just works. I would drink this if necessary.
Serving size: 7.6 oz.
Calories: 550
Calories from fat: 260
Saturated fat: 10 g
Protein: 25 g
Mac Snack Wrap: This is a Big Mac in a tortilla wrap. While easier to eat on the run, it's boring.
Serving size: 4.4 oz.
Calories: 330
Calories from fat: 170
Saturated fat: 7 g
Protein: 14 g
McRib: When it comes around for a limited time, I find the time. This is the microcosm of what McDonald's does so well. It is all about sauce you can chew. Whatever this meat is, is not important to me (and no, I am not fooled by the grill marks that look drawn on with a Sharpie). The bun is OK. Pickles are good and they go with the big onion chunks on this rather than the Big Mac onions that have been beaten and tortured to flavor submission. This is great BBQ sauce (think a bit better than Sweet Baby Rays). Now that the sauce is available in little packs, maybe a little of the mystique is gone. But if you have the patience to hoard and empty the number of packs necessary to replicate this sauce slobbering goodness yourself, you wouldn't be going to a post-haste restaurant.
Serving size: 7.3 oz.
Calories: 500
Calories from fat: 240
Saturated fat: 10 g
Protein: 22 g
Bacon & Cheese Quarter Pounder, Deluxe Quarter Pounder and Double Quarter Pounder with Cheese: These remind me of a nine-minute Steely Dan song. I get it already.
To be continued ...
Facebook Comments
Disclaimer: Please note that Facebook comments are posted through Facebook and cannot be approved, edited or declined by OnMilwaukee.com. The opinions expressed in Facebook comments do not necessarily reflect those of OnMilwaukee.com or its staff.