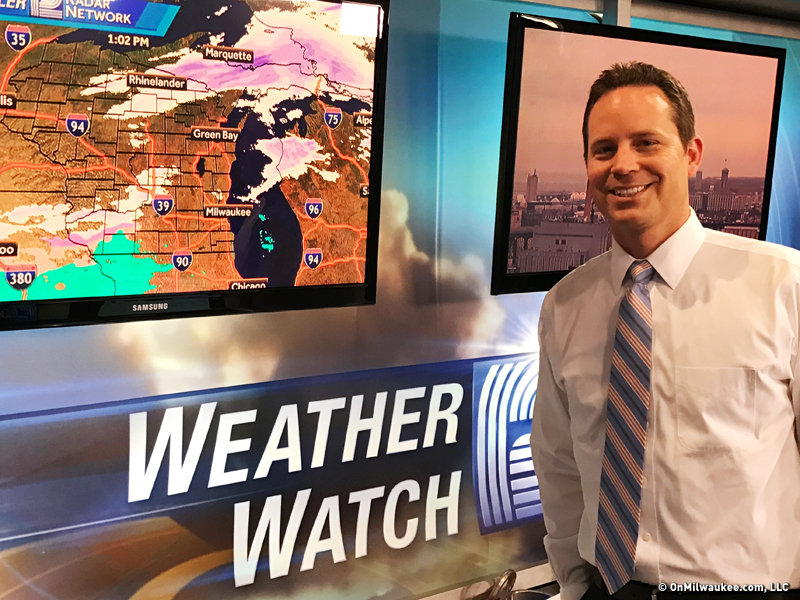 Milwaukee Talks: WISN meteorologist Jeremy Nelson
Last week, we sat down with WISN meteorologist Jeremy Nelson for a Milwaukee Talks interview as he prepared to say goodbye to Brew City.
After more than seven years on the air in Milwaukee – plus more time in TV in Madison, where he graduated from the University of Wisconsin – Nelson's last day on air here is Friday, before he leaves for a job as chief meteorologist at Channel 12's sister station WJCL in Savannah, Georgia.
We asked him about his path to meteorology, living in Milwaukee and his upcoming move. Enjoy this Milwaukee Talks with departing WISN-TV weatherman Jeremy Nelson.
OnMilwaukee: When I asked you about doing this, you didn't really have any news to share that I knew about.
Jeremy Nelson: Right, I was delaying, delaying, delaying a little bit, getting back to you because I knew, but I was like, "Welllll ... "
Did they know yet here (at WISN)?
Yeah, my move down there was within the company. Everything's great.
Why Savannah, Georgia?
I was first introduced to the city because in early October, when Hurricane Matthew occurred, I went down, along with some other people within the company, to help our stations in the Southeast. So I was at WESH, our affiliate in Orlando, for two days and then I was in Savannah for five days.
Is that common to sort of share with each other in an emergency?
Sometimes, yeah. I know a couple of reporters went for the company when the Pulse nightclub shooting happened in Orlando. There's been big tornadoes over the years in Oklahoma, sometimes one or two people, but there were so many stations that were impacted by the hurricane. Our station in Greenville, South Carolina, sent a helicopter afterward to Savannah that they were able to use. So it was great that they were able to pull all the resources. When I was in Savannah, there was about 19 other people, from engineers to producers, web staff, reporters, meteorologists.
So even though the trees were swaying and the rain was coming down, you fell in love with Savannah?
Yeah, it's really a beautiful historical city, even though they were kind of in semi-crisis mode. They had a curfew three of the nights I was there where you couldn't be out after, I think it was 9 or 10 p.m. So, all the streets had to be clear because there were still lots of power outages. There were trees down everywhere, and they would serve that time overnight to help clean up.
Had you had any connection before that?
That was my first trip down there. I've travelled quite a bit, but that was my first extended time down in that area
I assume it was probably a combination of things, but did you go there for the job or for the location, or a little bit of both, because you're not chief meteorologist here?
Certainly, one of my goals has been to be a chief meteorologist. That was some part of why I came into this company ... down the road, that would be certainly one of my goals. And it was great to stay within the company, because I think Hearst just has a long-standing tradition of good journalism and caring about employees. They don't just say that, they actually show it.
What's the difference between meteorologist and chief meteorologist? Do you get a blazer or something?
(Laughs) I don't know. When I worked in Kansas City, it was explained to me probably the best. It's like whoever is working that shift, whether it's weekend mornings, weekend nights, weekday mornings, weekday evenings, the person that's there at the time, you're basically the chief because if something's going on, you have to be able to handle it. That's why it's been great being here. I mean we've had very talented meteorologists on staff over the seven years I've been here. Two of them have been two of the longest standing meteorologists in the city.
Well, now with John Malan retiring, that moves them further up the ladder.
Yeah, it does. I mean Mark (Baden) and Sally (Severson) really have been – now with some of the recent retirements, so coming up with John, and also Vince Condella – they're some of the senior people on the market.
Was the response here what you expected when you made the announcement? Did you hear from viewers?
I'm on social media all the time, so once they announced it here then I put out some Facebook posts and stuff like that. Sometimes it's like you do things in your job and you connect with people and they're always out there. But sometimes if it's a big weather event you hear from them, or this time, it's a career/life change and, yeah, the support was tremendous. They were like, "Oh, can still do long-range forecasting? Is that going to go away?" I was like, "Well, I'm pretty easy to reach."
But you will be focused presumably on a different area.
Right, but yeah, I mean if the weather is quiet down there and someone has a question, I can certainly help them out. It's like now, if people are travelling to Florida or they go on vacation, they may send us a question or an email or social media and say, "Hey, going here this week. What's it going to be like," and we help them out.
Likely there will be somebody here who will do a long term forecast once you're gone.
Yeah, hopefully.
I think that work doesn't just go away, does it?
(Laughs) No, I don't think so. No, I mean everyone in this business, meteorologists certainly have things they're really strong with and passionate about. I would say being on social media, blogging, long-range forecasting certainly were things I was really passionate about. Also, I try to go out to as many schools as possible, connect with kids. I have two of my own so I know how important it is.
How long have you been doing that? How did it start?
I've been doing weather talks pretty much any job I've had in TV, but the school shoutouts, that was something that someone came up with here. We were just talking about it, and we were like, "Well, let's give it a try." I was more than happy to take that on. Each year, I bet I average about at least 4,500 or more kids that are in the shoutouts.
That's incredible, isn't it?
Yeah, and the common thing we find is when you go to these schools they are so happy to have positive news and get the kids on, and they get a kick out of it.
I go to schools a bit and I have to say that the energy when you go into the schools – it doesn't matter where they are, who the students are – there's just always this really exciting atmosphere in a school, I think.
Right, in this day and age with social media, I mean kids can almost be their own stars on a daily basis, if they've gotten their parents' permission, if they have Instagram or do Facebook live or something. But there's still something about it when they're like, "I'm going to be on TV," that they get really excited about.
Oh yeah, I imagine they're all telling everybody else about it.
Oh yeah, I get responses from the teacher to say, "Oh my gosh, the whole day, that's all they've talked about."
OK, so maybe this is sort of a bad time now to have you introduce yourself to Milwaukee, but for people who don't know, tell us a little bit about where you grew up and how you got into meteorology.
Originally, and I haven't lived there in a really long time, but originally from Minnesota. So I grew up there, and then I went to college at the University of Wisconsin in Madison. That's where I got my degree. I've worked in Michigan, Wisconsin, Kansas City. It was one of those years where I lived Kansas, worked in Missouri, type if thing. It's just cut in half, the city, right down the state line.
Were you in Kansas City right before here?
Yeah. I also worked in Madison for five years, too, after college.
Were you a weather geek kid?
Yeah, I was always pretty fascinated with the weather. I kind of knew early on … That's a lot of people that are meteorologists or get into a weather field; they're kind of hooked early.
Is the TV meteorologist a dream that kids have, or do you come to that later?
I don't (think so) necessarily. I think that more happened along the way. It was more I loved to forecast the weather. I do that as a challenge because it's something different. Whether you're here and there's four distinct seasons, or if you're somewhere, like some people think, "Oh, in Phoenix, that must be easy every day." Well, they get a monsoon season. They get changes. Even a few-degree difference here and there can impact people.
Then the challenge I guess is making that interesting. If the only difference is few degrees here and there every day then how do you make that interesting every day?
(Laughs) Yeah, I mean there are obviously some locations that are more interesting than others but, like I saw when I was in Savannah, hurricanes can be absolutely life-changing to huge areas over a lot of square miles. If we get something around here, severe weather wise, and it's, say, a tornado, I mean I covered the one … I was on the night the one hit in Eagle. That was devastating to people there, but it has a fairly focused path that it goes over, where a hurricane, you may have an entire coast that is in a threat area.
Where does Milwaukee fit in in terms of challenging or interesting places to be a meteorologist?
Oh, it definitely is (challenging). One, you're next to a body of water and that right there can create microclimates. We see lake breezes. You can see lake effect snow. We have our four distinct seasons so things are always changing, and yeah, it's certainly a challenge.
Is that what keeps it fun, keeps it interesting?
Yeah, I would say it keeps it fun. Sometimes I would say it's frustrating.
What are some of the unique challenges here?
I would say lake effect snow. We don't seem to get that much here because the wind has to be perfect. It has to be this northeasterly wind. A lot of times that's primarily the direction. I would say one of the most challenging things is in the spring, when it's an April day. Everyone is like, "All right, I'm really for it to warm up." Here in Milwaukee it might be in the 40s. Then if we're on TV and we show the temperature map and there's a warm front close by, trying to nudge in, battle the lake breeze. Then you look around, say Janesville, Madison, maybe as close as Waukesha, it's 65 or warmer. That's kind of cruel.
So that's a challenge where maybe you forecast a day and you're like oh, it's going to be mild, and then maybe the warm front sits 10 miles just southwest. Yeah.
Then I imagine you get people who are angry. Do you get angry phone calls?
Yeah, it kind of went from when I started my career, maybe you'd get more phone calls, emails. Now it's just transitioned into social media.
Page 1 of 2 (view all on one page)
Next >>
vxyecbrw
Facebook Comments
Disclaimer: Please note that Facebook comments are posted through Facebook and cannot be approved, edited or declined by OnMilwaukee.com. The opinions expressed in Facebook comments do not necessarily reflect those of OnMilwaukee.com or its staff.