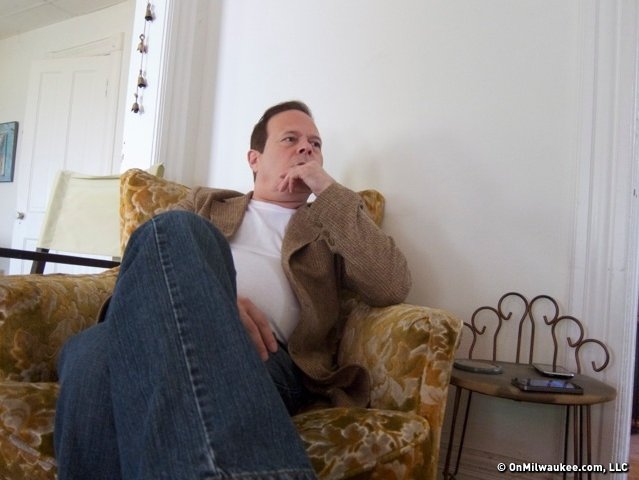 Milwaukee Talks: Violent Femmes drummer Victor DeLorenzo
Victor DeLorenzo may be best known for his drumming in the iconic Violent Femmes, but he always has a wide range of other projects in the works.
Yesterday, DeLorenzo released a self-titled album that he spent nine years working on. The experimental record features Femmes' singer Gordon Gano on the track "Dr.Um," a play on words and a celebration of drumming. There's also a disco version of the Femmes' song "Good Feeling."
Three is the magic number, it seems, for DeLorenzo, who is also in two other trios: Nineteen Thirteen and Lorenzo Menzerschmidt. He also performs and works with his three children in a variety of ways.
He will also perform in three upcoming events with the Femmes after a five-year hiatus. The Femmes will play the Marcus Amphitheater stage on opening night of Summerfest, Wednesday, June 26.
The show announcement was leaked and the co-headliner remains in question. (It has been rumored to be Wilco, but other sources report this is not true. Stay tuned to OnMilwaukee.com for the news once it breaks.)
Recently, we sat down with DeLorenzo and talked about his new album, his many musical endeavors and the upcoming Summerfest gig. We also reminisced about the Violent Femmes' history, from unexpected attention from Chrissie Hynde to the strife over the Wendy's commercial.
OnMilwaukee.com: Are you pleased with your new album?
Victor DeLorenzo: Yes. It was a worthwhile project. It really taught me patience. I've been working on it for nine years. The reason it took nine years is because I have always been in the midst of doing other projects, traveling, working as a producer, writer and lecturer. I wanted to make a recording that the whole record would be drums, percussion and voices.
And then I started playing with a bunch of different groups in Milwaukee, including Prestige Atlantic Impulse. They're on a couple of the cuts. There's an obscure Zombies B-side, "I Remember When I Loved Her," and it features all of the members of my family.
Gordon (Gano) and I did a song together, too. I could see it being a single, for lack of a better word.
I also did a cover of (Violent Femmes') "Good Feeling" with Kim Manning, a singer and keyboard player with George Clinton's group. It's a disco version of the song that sounds like one you might hear in Germany in the '80s. Gordon and I would go to these German discos after playing shows and I wanted to create a song that was in line with that.
OMC: How was the Summerfest show announcement leaked?
VD: Somehow the information got to the person who does the website for Violent Femmes and they inadvertently put it on there even though the news wasn't officially released yet. I know Summerfest wanted to make the announcement on April 10 and they were preempted and it screws up their selling the tickets. It was an honest mistake made by someone who does not live in the area. A clerical error that went wrong.
OMC: Are you looking forward to the show?
VD: I can't wait to play in front of a Milwaukee – a Midwest – audience. And to be back at the Marcus Amphitheater after all these years. We had been playing the side stages, but the last time we played the Marcus was maybe '86.
OMC: Are the Femmes officially touring?
VD: No, we're not touring. We've agreed to do certain events. We're doing the Coachella for two nights. We're doing Bottlerock – a big festival in Napa – and then Summerfest. And that's all.
None of us want to do a big tour right now. I don't know about the future, but it's all baby steps for right now.
OMC: When was the last time the Femmes were together?
VD: The three of us haven't been in a room together for 5 1/2 years. We're all gonna meet in Los Angeles on April 11 and rehearse the 11th and 12th and play on the 13th.
Brian (Ritchie) lives in Tasmania, so it's harder for us to stay in contact. Gordon lives in New York City and we've kept more in contact.
OMC: You live in Milwaukee full-time, right? On the East Side?
VD: Yes, I always have. I travel so much and I never felt the need to relocate. By being in Violent Femmes it proves you can take something around the world but you don't have to leave Milwaukee.
OMC: How did Nineteen Thirteen start?
VD: I had met (cellist) Janet (Schiff) at various improvisational get togethers / recording parties and we played well together. I have an affinity for stringed instruments and players because my daughter, Perry, graduated from the University of Indiana with a violin degree. I like to hear string instruments played. It makes me feel comfortable.
One afternoon Janet called me and told me she was playing at the Circle A Cafe and asked if I wanted to sit in. I said, "Yeah, sure, I'm game." I like to throw myself into situations where I don't know what the hell's going on. And I got down there, and there was (drummer) Scott (Johnson). It was fantastic, really fun. The audience seemed to really like it.
I said I would love to play with them again, and they said they would like that, too. So I asked Scott how long he's been playing with Janet and he said, "This is my first night, too."
"Wow," I'm thinking, "Janet is really adventurous." That's what started it.
We have a four-song EP and two songs finished for a full-length album that will come out next winter. We are playing at Bastille Days this summer and will release a single, most likely, beforehand.
We play the second Thursday of every month at the Jazz Estate. It's fun for us to have a home base and a semi-residency so people know where we're going to be at least once a month.
Page 1 of 3 (view all on one page)
Next >>
Talkbacks
LegallyBlonde | April 2, 2013 at 11:48 a.m. (report)
Great interview, thanks Molly. I grew up with Victor (Mr. Delorenzo's) son, Mal. Victor has always been such a personable guy. The whole family is so friendly. Great to hear he's "getting the band back together". Unfortunately I cannot make the Marcus show, but I'm sure it will be one to remember.
Facebook Comments
Disclaimer: Please note that Facebook comments are posted through Facebook and cannot be approved, edited or declined by OnMilwaukee.com. The opinions expressed in Facebook comments do not necessarily reflect those of OnMilwaukee.com or its staff.