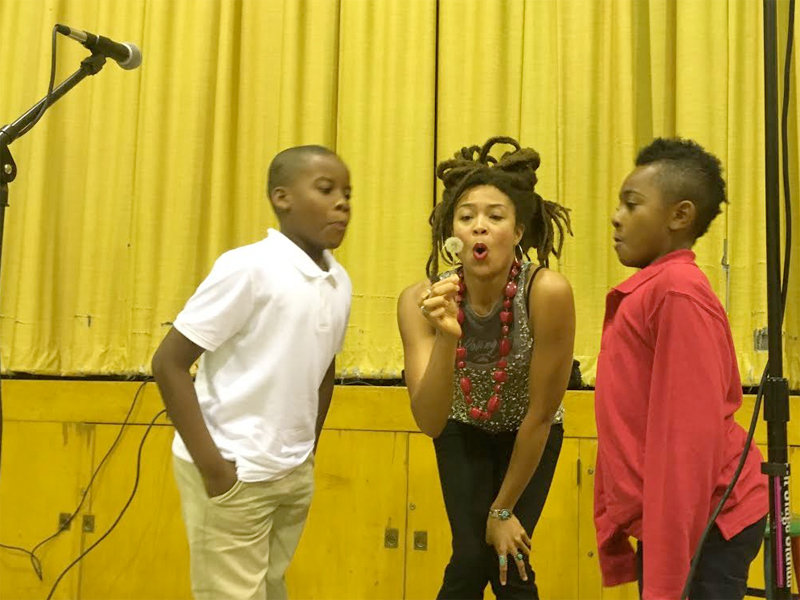 Folk-blues singer/songwriter Valerie June plays at Turner Hall Ballroom at 8 tonight as part of the tour for her anticipated new record, "The Order of Time."
But I'm pretty sure the best moment of the day will come when she welcomes about 15 kids from MPS' Lancaster Elementary School to the venue at 4:30 p.m. to watch her soundcheck and then spend some time at a meet-and-greet.
The event was organized as part of the Turnaround Arts program of the President's Committee on the Arts and Humanities. Four MPS schools – Lancaster, MLK, Sherman Creative Arts and Roosevelt Middle School of the Arts – participate in the program, which integrates art, dance, music, theater and more across other subject areas.
The meet-and-greet will be something of a reunion because June visited Lancaster Elementary, a K3-8 school near 68th and Hampton, in September. That's when the photo you see above was taken.
At the school, June performed and talked to kids, who had been researching June and her music for a couple weeks – drawing pictures of and writing essays about her.
June's connection to Lancaster via the Turnaround Arts program is expected to last two years, during which time she will continue to visit and connect with kids whenever possible.