Every Milwaukeean has a Lake Michigan story and for the next seven days OnMilwaukee will share as many as possible during "MKE Lake Week," sponsored by the Harbor District. Love our lake? You're in the right place.
In honor of OnMilwaukee's Lake Week this week, I decided to commune with Lake Michigan the best way I know how these days: I went for a run.
I run wherever I can. Whatever is convenient each day. It might be near home, or near work, or near the school my kids attend, near my hotel if I'm traveling. But my favorite route is any one that includes a view of Lake Michigan.
Despite what my kids say – based on my dislike or disinterest in waterpark tube slides – I am, in fact, a beach and water person. I spent the first 17 years of my life living fewer than three miles from the Atlantic Ocean.
Some of my fondest childhood memories are of the crowded Manhattan and Brighton Beaches on a summer Sunday, the Mets game or Paul McCartney & Wings blaring from transistor radios, the sound of the surf, that sandy, sunburned, salt-air-whipped feeling on your entire body.
Now, at just under seven miles from Lake Michigan, my current home is the farthest I've ever lived from an ocean or the inland sea that is our engulfing eastern neighbor. Luckily, I find myself at or near the lake nearly every day anyway.
Today, the next-to-last day of summer before autumn's arrival Friday was a gorgeous day to run at the lake, so I did. It was warm but breezy, the sun's rays tempered by the wind.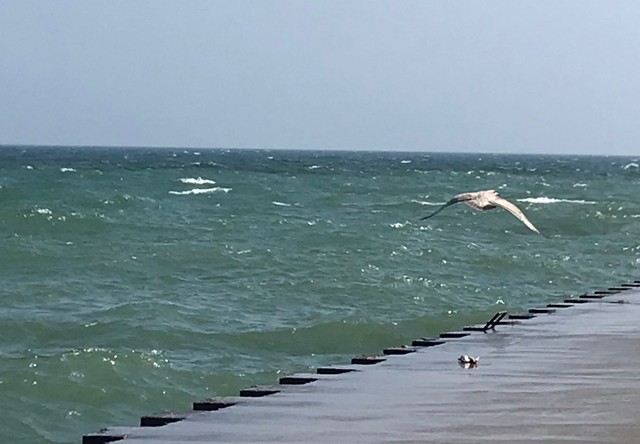 There was a smell of fish in the air, the caw of the lake gulls – some of whom were diving to peck away at an impressive catch on the wharf – and, while I was out on the breakwater, the sound of waves crashing up onto the wall.
In fact, I got nearly to the end of the jetty when one of those waves leaped up from behind the barricades and surprised me, giving me a good soak. That turned me around, feeling a little shocked and more than a little reinvigorated, helping spark me…
Read more...